You cannot visit this beautiful island without stopping at the Blue Lagoon Cyprus. Check out this post to find out why it's an unmissable spot and the best way to spend your time there.
Necessary Spacing
If you're short on time, here's how to enjoy the Blue Lagoon in Cyprus in the best way!
---
The Blue Lagoon Cyprus
Set in the stunning Akamas National Park, the Blue Lagoon in Cyprus is a perfect place to visit for a relaxing day trip. You can even hire a boat to drive there yourself – we HIGHLY recommend this, even if you have no experience!
It is the biggest lagoon in the Akamas peninsula, and the most popular – for very good reason!
There's a small beach area, which has quite a few rocky ledges but it does have sandy areas that you can sunbathe on.
Luckily, as the water tends to be so clear, you can usually see the places to avoid.
That's the real attraction here though – the water. It's crystal clear, warm and just incredible to swim and snorkel in.
The bottom of the lagoon is mostly soft and sandy, which means it's a great place to enjoy for all of the family without worrying about getting hurt.
Plenty of fish live amongst the larger rocks too so don't be startled if you see some!
Read More: Try These Best-Selling Paphos Excursions!
---
Ways To Get To The Blue Lagoon Cyprus
There are 3 main ways to reach the Blue Lagoon in Cyprus, and each has its own merits. You can take a boat tour and sit in the bay, hire a buggy to drive to the beach or rent a boat and drive it there yourself. Take a look at the three different ways and decide for yourself which is the best!
Here are my top recommended tours to explore the Blue Lagoon beach and the surrounding areas!
---
Self Drive A Boat
Personally, I think this is not only the best way to visit the Blue Lagoon, but a bucket list activity you should try at least once when you're in Cyprus anyway!
You don't need ANY boating experience at all – you just need to be over 21 with a full driving licence from your home country.
There are a variety of boats to choose from, with varying horsepower, so pick the one most suitable for you and your group. Most of the boats seat between 6 – 8 people so not only will you be able to split the cost and enjoy a private boat trip for cheaper, it's really fun to take turns driving!
We drove a 150hp boat similar to this one and it was ideal. We started pretty slowly as we got used to the power and steering, but by the end of our trip, we were speeding along the coast like pros! I'm sure the actual professionals would disagree but we got really comfortable and it felt like we'd been doing it for years.
You'll get a life jacket and a safety briefing before you get in the water, and then a trained staff member will take you out to your boat to teach you the ropes. There aren't many rules, and it isn't difficult to follow what they're telling you so you really don't have to worry if you've never done anything like this before.
There's also a safety boat that drives up and down the coast to make sure that everyone is still okay. They'll come up to your boat, introduce themselves as the safety team and then leave you be unless you have any worries or need help.
It's a great reassurance because it really doesn't feel like they're watching over your shoulder, but they're there in case you get into any difficulties.
Read More: The Best Sandy Beaches In Paphos
Once you're confident with the basics of boat driving, your helpful instructor will actually guide you out of the harbour themselves – to avoid any unfortunate collisions!
As soon as you get to the open water, it's your turn! The member of staff who helped you out will be picked up by another boat, so you can get started straight away. Trust me when I say it will only take a few minutes to get used to it, and you'll be off having the time of your life!
Read More: The Most INCREDIBLE Villas In Paphos
I'm also prone to a bit of seasickness, so I was slightly worried about being out on the boat all afternoon. However, our first trip had been cancelled a few times due to bad weather and rough seas, so when we were told that it was a good day to be out on the boat, it was a relief to know that the water would be quite calm!
I honestly can't recommend hiring a boat out to the Blue Lagoon in Cyprus enough. You can book for a few hours, half-day or full-day, but we recommend at least the half-day to fully enjoy the boat.
You can stop a few times along the way to the main lagoon in some of the little caves, bays and rock formations which add to the fun!
Key Information
Tour Duration: 1, 2 or 4 hours/full day
Pickup Included: No
Age Suitable For: All
Need To Take: Driving licence
Extra Info: Must be over 21 to drive boat
Read More: Cyprus Winery Tours – All Of The Best!
---
Boat Tour
This first option is the easiest for people who just want to turn up, enjoy the Blue Lagoon and be taken back again.
My recommendation is to take a sightseeing boat trip because it also involves seeing other parts of the Akamas that you'd miss otherwise
Check out availability and possible deals below!
There are three options for the boat tours:
Take a sightseeing cruise which could include visiting the Troodos mountains as well as a Blue Lagoon tour
Get picked up from Paphos and taken to Latchi harbour
Drive yourself to the harbour and book a tour directly from the boat companies
You can book a Blue Lagoon Cyprus boat trip that includes complimentary juice, fruit, cake and wine. These also depart morning and afternoon so you can choose the best time to suit you. Don't forget to book in advance, especially in the summer months as this type of trip is super popular.
This Wine Tasting and Blue Lagoon excursion is also a really fun way to explore the local area and see what the land has to offer too!
Key Information
Tour Duration: 8 hours
Pickup Included: Yes
Lunch Included: No
Start Time: 8am
You'll be picked up nice and early at a designated spot in Paphos and then start your journey up the coast. Depending on the day, the itinerary might change – if the water at the lagoon is calmer in the morning then you'll go straight away, and if it's going to be better for swimming in the afternoon then you'll go then instead. It really doesn't matter which order you do the activities in but it's something to note!
You'll stop to see the unique sea caves and the local banana plantations, as well as visit a winery to sample a few of their wines.
Lunchtime will be spent in the pretty fishing village of Latchi at a restaurant of your choice. Your tour guide will recommend places, but ultimately it is up to you where you eat. Check out some TripAdvisor reviews before you get there so that you aren't wandering around for too long once you arrive – there isn't a lot of spare time for lunch so you'll want to grab something quickly.
There are a few cool photo opportunities on this tour – one is the Baths of Aphrodite. Legend has it that the Goddess of Fertility and Love, Aphrodite, bathed in a pool here amongst these gardens.
Another interesting place you'll see is the Edro shipwreck. The boat got stuck in 2011 and the authorities felt it best to leave it where it was!
If you only want to see the Blue Lagoon and aren't interested in the surrounding areas, then obviously go for option 2 or 3. There aren't huge differences between the two choices – it's more about personal preference or ability (i.e. you don't drive).
Making your own way to the harbour isn't difficult, and you can enjoy a leisurely drive on the way. I'd recommend Pentaras Rentals if you are hiring a car from Paphos. We rented two different cars from there and they were reasonably priced, had great customer service and the cars felt safe.
Read More: Check Out These Awesome Boat Trips From Paphos
If you'd prefer to be picked up from Paphos and taken to the harbour, then you can easily book a boat trip that offers this.
You'll still get complimentary drinks, and plus a buffet lunch is included.
However, there are some really good tours that are worth considering that offer more than just a Blue Lagoon visit.
Hire A Buggy, Quad or 4X4
If you're looking for an adrenaline boost before you go swimming, then hire a buggy or a quad bike to drive yourself into the bay! We have written a whole guide about hiring a buggy in Paphos here!
It's a more flexible way to get there because you can choose when you go and how long you stay for.
One thing I would say about this option is that it can be very dangerous, and I would not recommend it for people who are not used to driving these types of vehicles.
If you hire a 4×4 car, then it is probably safer for families, but again, only if you're a confident driver.
Talk to the company you want to hire from as not all cars will be insured for these types of roads – and some of the rental agencies put a tracking device on the car so they'll know if you've been on the wrong kinds of roads or not!
The reason for this is that the road leading to the Blue Lagoon is narrow, bendy and unsealed. There are also some steep drops without barriers, so you just have to make sure you're driving slower than you would usually and be more alert for oncoming traffic!
We hired two different cars from Pentaras Rentals and were very happy with them, so pay them a visit!
---
Where Is The Blue Lagoon Cyprus?
The Blue Lagoon is tucked away in the northwest cape of the Akamas National Park. It's around 50km away from Paphos town centre and can take around 1 hour 30 minutes to get there.
The small fishing town of Latchi is only around 11km away, and depending on your method of transport can take between 30 minutes to an hour.
You can also spot the Blue Lagoon from the peak of the Aphrodite Trail – there are some stunning views from the top of the mountains.
---
How Long Should You Spend At The Blue Lagoon Cyprus?
The amount of time you should spend at the Blue Lagoon differs depending on how you got there originally.
If you've taken a boat tour, then you'll probably be there for between 1 and 4 hours (but this will be different for each tour). The tours that include other activities will only stay at the Lagoon for around an hour for swimming and snacking. It takes around 45 minutes to get there so that's included in the tour duration.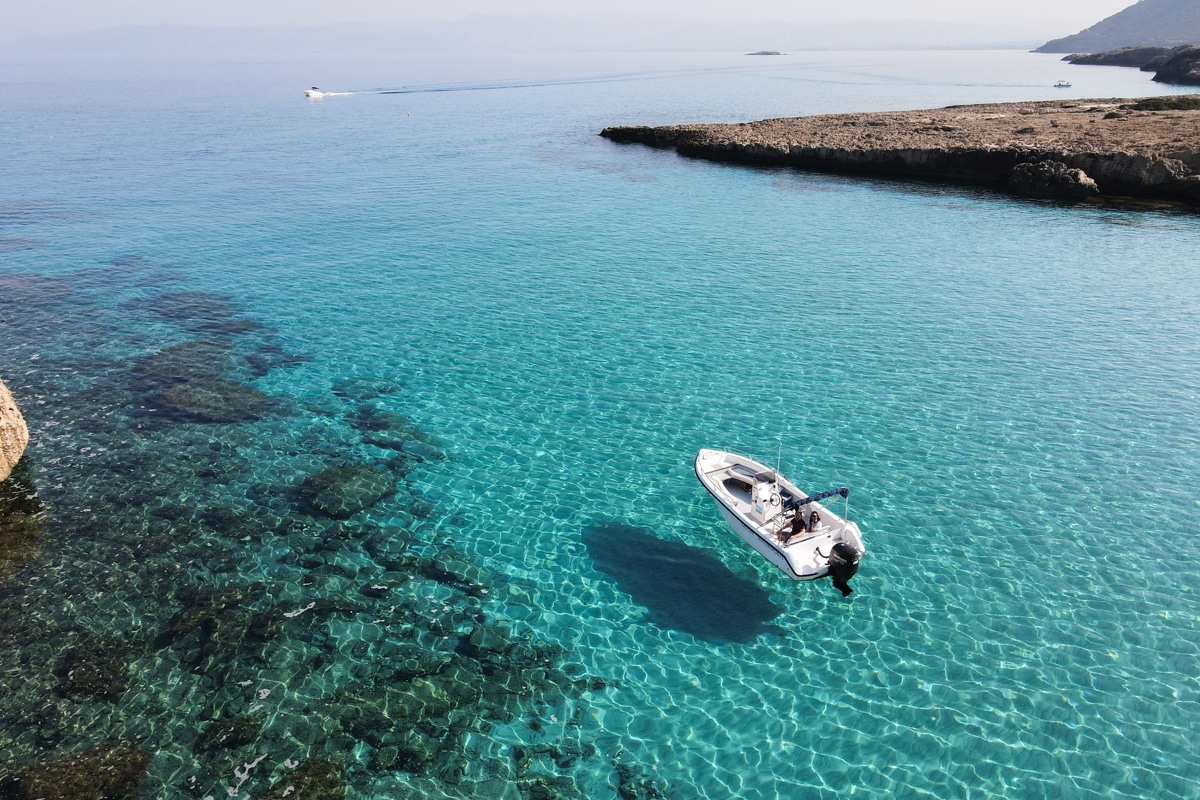 If you are visiting the Blue Lagoon independently, then I would say 4 hours is a good time to spend there! If you are hiring a boat, then make sure you add in enough time to actually drive there and back – hiring it for half a day will probably be enough.
Once you're there, you can swim, snorkel and sunbathe but there are no kiosks, sunbeds or activities being run here so make sure you bring equipment, towels and a good book!
Read More: A Guide To Boat Rental In Paphos – Including Yachts!
---
What Should You Take To The Blue Lagoon Cyprus?
Like I said before, there are no facilities at the Blue Lagoon, so you need to be fully self-sufficient.
Take anything you'd need for a desert island trip!
Food and water are obviously the most important items if you aren't going on a boat tour. Bring easy things to eat like crisps, fruit and sandwiches.
Read More: Looking For More Beaches in Paphos? Check Out This Mega List!
You should also take more water than you think you need, especially in the height of summer! Even in November, we took a couple of 1.5l bottles with us and needed it all in just a few hours as it is so hot. There is also limited shade on the beach so there's no escaping the sun!
Bring all of the essentials you would for any other beach day – here are my top recommendations.
If you're stuck on what kind of towel to take with you then take a look at this microfibre poncho. We absolutely love ours and it is insanely helpful when you need to change on the beach. They dry fast and pack down super small so you'll be able to fit one in your day pack easily enough. Check out the price here.
Don't even think about stepping out in the sun without protection! This factor 50 sun cream from Sunbum is vegan, reef-safe and smells like summer, as well as being dermatologist approved! It's non-greasy, easy to apply and doesn't leave a white cast so you can quickly rub it in and get on with your adventures! Take a look on Amazon here.
If you're in the market for an action camera then our current recommendation is the GoPro Hero 9. Yes, the Hero 10 is currently the flagship but it doesn't have that much more than the Hero 9 and costs a lot more. The front-facing screen is a godsend for selfies and video and you get the famous GoPro durability and stabilisation that they are now renowned for. Check out current deals here.
If you're looking for a snorkel kit then check out this Greatever mask and snorkel. We have been on so many snorkel and boat tours where the snorkel hire was dreadful and it ruins the experience. If you have room then definitely take your own set. Take a look at our recommended kit here.
---
---
When Should You Visit The Blue Lagoon Cyprus?
There are a couple of things to think about when planning the timing of your trip to the Blue Lagoon.
Summer is obviously a great time to visit Cyprus because of the hot weather, but it is also incredibly busy during this time. You might struggle to book tours – and even if you do manage to snag a spot, there will be hundreds of other tourists doing the same thing as you!
Read More: Is Paphos Old Town Worth Visiting?
We visited Cyprus from the end of October until the end of November, and it was PERFECT. There were still tourists around so it didn't feel like a ghost town, but there were also plenty of spaces on the tours that we went on and not many other people around.
It only rained once during our trip, but one of our boat tours was cancelled at first because the water was becoming a bit rough. After a few days, it calmed down and we had the ideal conditions for being at sea.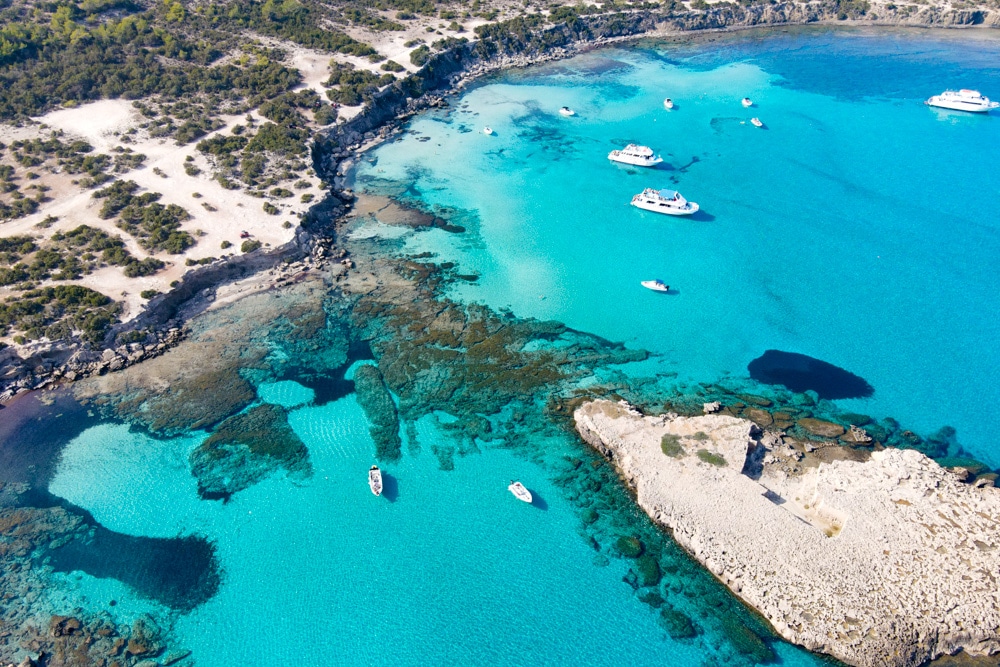 I personally think that September would be a fantastic time to visit Cyprus. The peak season is slowing down, and hotels are reducing their prices but the weather is still gorgeous. April/May would also be a good time to visit for similar reasons.
So, if you're looking forward to a trip to the Blue Lagoon on your trip to Cyprus, make sure you think about these things!
Once you're in the country, consider what time of day is best to go.
If you're on a tour, you won't get much say and the operator will plan accordingly so you don't have to worry.
If you're going independently, I would say to get there from around 11 am and spend the best part of the afternoon at the Lagoon. Too early and it might be a bit chilly, and too late and there will be more people around and it won't be as picturesque!
Read More: Here Are The Best Bars in Paphos!
---
Where You Should Stay Near The Blue Lagoon Cyprus
There are some incredible places to stay on the west coast of Cyprus, from adorable boutique hotels to huge relaxing resorts.
Read More: The Best Boutique Hotels in Paphos!
If you're planning on staying in the Paphos region, here are my top picks:
Budget Hotel
These self-catered apartments are perfect for travellers looking for somewhere basic to sleep, cook and sunbathe! Georgia Apartments is set just north of the harbour area, away from the hustle and bustle but close to beaches and local restaurants.
There's also a restaurant owned by the hotel if you don't fancy cooking one night, and a bus stop with buses to nearby Coral Bay for a change of scenery.
Click here to book your apartment.
Family Resort
Paphos Gardens Holiday Resort
If you've got kids, you'll want plenty of activities to keep them entertained, but why not book somewhere that's got a spa treatment area for the adults too?!
Paphos Gardens Holiday Resort has a huge outdoor swimming pool, a restaurant and a tennis court. It's perfectly located only 500 metres from the beach, which is far back enough from the bars to get a good night's sleep!
The apartments have a small kitchenette, a balcony/terrace and are all non-smoking, making them ideal spaces for families.
Couples Getaway
As a couple, you'll want comfort, style and peace – this is exactly what you'll get at the Aliathon Aegean!
The freshly decorated rooms are modern and spacious, and some offer a great pool view.
The hotel is located along the beachfront so you'll be in the middle of all the action to explore the nearby cafes, restaurants and bars.
---
Near The Akamas National Park
If you'd rather stay closer to the Akamas National Park, the trails and the harbour, then here are some fantastic options:
Budget Hotel
AlkioNest Hotel Apartments
Staying in a self-catering apartment is usually cheaper than a hotel room because you save on all the expensive meals out!
However sometimes you want to treat yourself to a night off cooking, and AlkioNest Hotel Apartments are ideal for that as they have kitchenettes but also a restaurant on site!
There's an outdoor pool with sun loungers, umbrellas and a bar.
Nearby you'll find the famous Blue Lagoon, the Baths of Aphrodite and the pretty fishing village of Latchi.
To book a room here, click this link.
Family Resort
Staying at Papas Villas is a unique experience for the whole family! It's a huge four-bedroomed house that can accommodate up to 8 people, so bring the in-laws too for when you need a break from the kids!
There's a pool with sun loungers and a BBQ area – great for those late summer evenings.
Not far from the property is the beach, so you'll wake up to beautiful ocean views every day too!
Click here to book the whole house.
Couples Getaway
Caprice Spa Kosher Resort
With a spa centre, an indoor pool, an outdoor pool and a wonderful buffet selection, Caprice Spa Kosher Resort is a fantastic place to stay if you're looking for a bit of luxury!
All of the suites are equipped with a kitchenette,r but if you'd rather not cook then there's a restaurant on-site too.
The resort is only a 7-minute walk away from the beach and around 15 minutes from the centre of Latchi village, so you have everything you need around you, but with the added bonus of peace and quiet!
Frequently Asked Questions
Can you drive to the Blue Lagoon Cyprus?
Yes, you can drive but you need to make sure that you have the right type of car (and insurance!) to do so safely. The roads are unpaved and bumpy so hire either a 4×4, a buggy or a quad bike.
Can you swim in the Blue Lagoon?
Of course! Swim, snorkel and relax in the Blue Lagoon – you can also dive nearby too.
Are there sharks in the Blue Lagoon Cyprus?
It's unlikely that you'll see a shark in these waters, but it has been known!
How far is the Blue Lagoon from Paphos?
It is around 50km from Paphos to the Blue Lagoon.
Can you see turtles at the Blue Lagoon?
Turtles are usually spotted at the famous Lara Beach, where they lay their eggs. However, we were told that some turtles visit the Blue Lagoon, but you'd have to be very lucky to see one!