The nightlife in Paphos has it all. From cocktail bars to craft beer pubs to karaoke, there's going to be something for you. This guide will show you exactly the best places to go for the best Paphos nightlife!
---
Paphos Nightlife
When I first came here, I kind of expected the nightlife in Paphos to be your typical Mediterranean beach club vibe. I was very much mistaken – you really have a wide range of places to go!
Of course, they have a strip where you can drink cheap, strong drinks and wake up with no regrets (maybe) but Paphos also has some really nice places to drink good quality drinks and maybe watch the sunset over a quiet sea.
Read More: Don't Miss Out On Visiting The Blue Lagoon!
Types Of Nightlife In Paphos
It's not for me to decide where you go! So choose the option below that best suits what you're looking for and the link will take you straight down to my top list. If you're unsure then carry on scrolling to take a look at all of the best bars in Paphos. Click here to go straight to the start of the list.
Read More: The New & Rejuvenated Paphos Old Town
Cocktail Bars In Paphos
Paphos is not Ayai Napa. It might be similar one day but right now it really excels at incredibly atmospheric nights out with exceptional drinks. That's where the cocktail scene comes in. I cannot recommend the following cocktails bars enough. I really advise checking all of them out. These are in no particular order, they are all the best. this is the pinnacle of nightlife in Paphos in my opinion.
---
Mr. Tippler – Old Town
Nestled in an unassuming alley in the heart of the incredibly beautiful renovated section of the Paphos Old Town, Mr. Tippler is in a class of its own when it comes to trying something you've never had before.
They specialize in home-brewed products, like cocoa-infused bourbon and fig leaf-infused Campari, and even dabble with lactic acid powder, creating dairy-free strawberry and cream syrup for a truly unique experience every time you visit.
This variety is then guaranteed with weekly pop-up menus putting twists on timely classics as well as new creations coming from 'the master' behind the bar.
The bar itself gets busy on Fridays and Saturdays when there will be a DJ and the gorgeous outside seating area will be packed so get there reasonably early (9.30 pm) if you are thinking about getting a good table.
Check out their Instagram as well as they run ad hoc events such as carnivals parties etc. They are very active online so news and events will be up to date.
Oh, and one last thing. Order a 'Remedy' cocktail. It's a smoke-infused whisky cocktail served in a Russian doll. Need I say more?
---
Read More: The Most Incredible Villas In Paphos
---
SOHO 79 – Old Town
Recently opened, 'plush' is the only word I can think of to adequately describe SOHO 79. The interior is so good but because of the heat of the summer, you'll find almost every single person outside in the seating area. However, if you sit up at the bar, it's up there as one of the best date spots in Paphos.
One thing I love about a good cocktail bar is the service. Staff always seem to be that bit friendlier and that bit more accommodating. SOHO 79 is no exception. I'm the kind of annoying customer that always wants to change the spirit in the cocktail to something else. Not only were they happy to do it, they gave me a selection and recommended other choices.
It gets nice and busy on the weekends which is when the live music will be, so check out their Facebook page for reservations so you're not disappointed.
---
Kinky – Old Town
Another cocktail bar from old town?! Wait until you see the next recommendation.
Kinky has recently re-invented itself into a cocktail bar after a couple of stints in other industries (including a clothing store) but, to be honest, this has got to be the one. I feel like the owner, Nickolas, has found a passion that will find its way into you when you visit. I didn't mean for that to sound weird.
A quick word from the man himself from when we visited:
'When you do something you love, it's not all about the money. I just want people to have fun.'
I hope this iteration of Kinky does bring the money in though because it really is a gem.
The bar prides itself on having a ridiculous selection of alcohol which I can really attest to. Everywhere you look is a shelf laden with bottles. 150 gins, up to 80 rums, and a locked whiskey cabinet hiding a €2500 bottle for any of you cash heavies out there!
The staff really cannot do enough for you and, even when it's busy, run around trying to give each and every person a more personal experience. Oh, and we were given some complimentary hazelnuts which Jade says is rare as hell and she was sold immediately.
Read More: The Top Boutique Hotels in Paphos
---
Rum & Jam
I love the name and I love the cocktails. Rum & Jam is another bar that prides itself on its homebrew products, making its own cordials and ingredients from scratch. This really gives their cocktails a premium feel that is difficult to get elsewhere.
The bar itself is at the bottom of a side street BUT Rum & Jam actually owns the street itself. This means that they have a lot more flexibility in what they can do outside.
One of these things is getting local food companies to come down with their mobile setups and sell food on-site whilst Rum & Jam handle the drink. This means that you'll get a really good selection of food as well as drink on different days you go.
On the weekend there will either be live music or a DJ which really works well with the outdoor seating arrangement as this is one of the few places you can really get some privacy sitting outside.
Check out their social media for more information on what you can expect on the day you go.
Read More: The BEST Winery Tours In All Of Cyprus
---
Clubs In Paphos
It is no secret that the club scene in Paphos has been hit hard in recent years. However, this doesn't mean that the once-famous Bar Street doesn't still hold a few gems.
Loft Club
I think everyone would agree that Loft Club is the best club in Paphos. It is everything that you would expect from a decent Mediterranean club. Beautiful decor, good music (Greek and English pop), good drinks and a good crown (especially in high season).
You don't really have a massive amount of quintessential clubs to choose from in Paphos so if this is what you want then look no further than Loft. Make sure you book in advance to guarantee entry.
---
Flairs Bar
One of the only remaining clubs/bars on Paphos bar street. As of writing this, Paphos bar street is not in the best shape. Flairs Cocktail Bar is trying its best to keep the old flair going (sorry for the pun).
To be fair though, if you're looking for a decent night out, decent music, a nice dancefloor and mega-cheap drinks then I highly recommend going to Flairs. If you're looking for a club then is a great place to go out drinking before heading to Loft.
Don't go too crazy on the cheap cocktails though because Loft won't let you in if you can't stand up! Although if you're having that much of a good time you may as well stay at Flairs. It's always a good night.
Prices start at €6 euros for spirits and €6/€7 for cocktails but everything is 'buy one get one free' so obviously, buy two… (except Champagne unfortunately!)
---
Beach Bars In Paphos
If you're coming to Paphos then I assume that you are going to be visiting one of her many beaches. And what better way to spend a day by the beach than also spending that day having a beverage with the sand in your toes!
There are so many beach bars in Paphos that You can't really go wrong. However, the following 3 have, in my opinion, the best atmosphere and best experience of the lot.
Read More: Check Out All (23) Of The Best Beaches In Paphos
---
Thea Beach Bar
This is your quintessential does it all beach bar. You can grab a sun lounger next to the sandy beach and blue waters, order a drink to your sunbed and… well what else do you need? Free wifi? Good food? Decent music? Sunset views? Well, you can have all that too.
This is where you come to relax and not move for the rest of the day.
---
Antasia Beach Club
This is probably my favourite beach bar in Paphos. The sunbeds are cheap (€2.50 each), the beach is one of the best in the centre of Paphos and the bar is definitely the nicest-looking beach bar there is.
You also get some really good facilities, including showers, toilets and sunbed service. These are definitely the best facilities in Paphos which get regularly cleaned.
I would get down here really early if you're coming in the high season (June – August) as you won't get a spot if you're late. The drinks are not the cheapest but for the location, I reckon they are pretty reasonable.
---
Sandy Beach Bar
This is the beach bar for the ultimate chill vibe. Think, wooden huts, cheap beers and good music. They have all the facilities that you would want: showers, changing, drink, volleyball, loungers (€2.50 each + €2.50 for an umbrella) and music.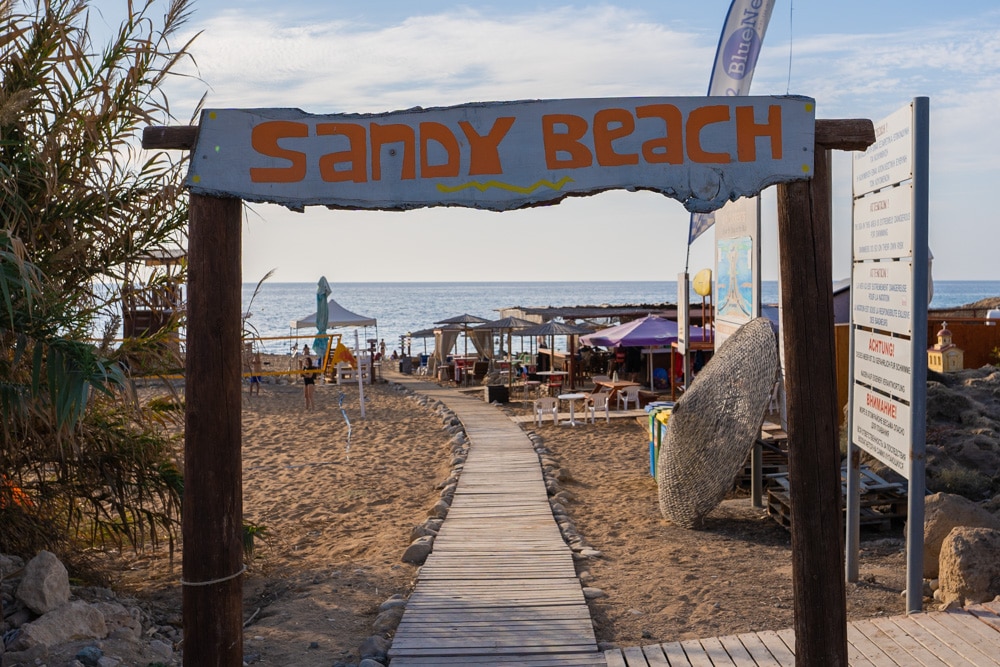 If you want to get the most out of your money then grab a bus up to Sandy beach and spend the whole day here. I highly recommend getting out of Paphos centre at least for one day during your visit and this beach bar is one of the best places to come and relax.
---
General Bars
Paphos is a haven for bars and to be honest if you're looking for a generically decent place to have a drink and relax then you don't really need this guide at all. Just walk outside and you're sure to find a half-decent bar within a couple of minutes at most.
However, there is always going to be a venue that shines and this list highlights those venues.
---
The Bottle Bank
The Bottle Bank is a great little bar that excels at offering a personal touch. The owner mixes with the customers and tries to make the experience as good as it can possibly be. Things like song requests and sports channels are always considered.
The prices are also very reasonable which cannot be said for many of the bars on the front just around the corner.
They have €15 Shisha in loads of flavours and also have karaoke evenings so if you're into that then you're almost guaranteed to have a decent night at The Bottle Bank.
---
The Wooden Pub
The Wooden Pub is a little unassuming bar near the harbour and seafront. If you were out and about looking for a bar then you might miss it surrounded by large tourist-centric bars all over the harbour area.
However, The Wooden Pub has a really good selection of beers and local drinks at a really good price compared to those around it and the service is very good.
We were there on a busy evening and free crisps were given to us and the staff checked on us regularly with a smile. I genuinely think this place is one of the best places to go in the Harbour area.
---
Flintstones Bar
This is exactly what you expect it to be and that's a good thing!
Whenever the cocktail specials are ordered a large horn is blown and it is served with sparklers in the glass. There are life-sized statues of the characters all over the bar and tonnes of nostalgic collectables covering the whole venue.
The cocktails range from €5 – €7 which is very competitive considering the location. They have burgers and tested sandwiches on the menu. This would be a decent place to bring the kids too with children's cocktails and the decor.
Popcorn is continuously delivered to your table free of charge and the staff might be the most hospitable and nice people in any of the bars we visited. It is suited to an older audience but don't let that put you off!
---
Sports Bars
It doesn't matter that you're on vacation. If the game or race is on then you gotta watch it. I get it. These are the best Paphos bars to watch. I have only recommended the places with the best atmosphere.
---
Alexanders Sport Bar
Alexanders prides itself in the number of independent screens they have for the sport. They are extremely accommodating to people wanting different channels and sports throughout the day.
You can almost guarantee that you'll be able to get the game that you want and find a decent place to watch it.
This is the sort of service that you're simply not going to get at any of the pubs/restaurants with screens. Also, a lot of the other venues do not have independent screens so even if they have loads of screens they might not be able to get your game on. Alexanders will.
---
Shamrocks
This is your quintessential Irish Bar with a decent amount of screens. You can get a good pint and the seating/location is very good. They have over 13 bars and ciders on tap which is a rarity for Paphos bars and I couldn't even count the amount of optics behind the bar
The staff try to be accommodating to channel requests but they typically advertise what game/games they are playing and that will bring in a crowd for those particular games which may mean yours can't be on.
If what you want to watch is not on a big game day then they will certainly change the channel for you. It's also right next to the beach so you can take a short walk to the sand at halftime.
Oh and there's Guinness on tap… obviously.
---
King's Road
One of the best places in Paphos to watch football/soccer. It's got loads of huge screens and advertises exactly what will be shown on its Facebook page. Although you're looking for football then you can pretty much guarantee that it will be on.
They have a decent food menu and the prices are reasonable for the venue. It's not just for football though, if you're looking for something else, just check their Facebook for what they are showing and ping them a message and they will be happy to let you know what is on so you don't waste your time.
---
Pit Stop Pub
All of the Paphos bars above show the F1 but if you're going to watch it then you may as well go to the Pit Stop Pub. As the name suggests, it's all things racing. Even the faucets in the toilets are petrol pumps.
Apart from the racing theme, it's as you would expect. There are big screens showing the race and other sports and a decent menu for food and drink.
---
Speciality Bars In Paphos
There are not many bars specializing in a particular type of alcohol in Paphos but if you're looking for a wine bar or a gin bar then look no further than the following two recommendations for nightlife in Paphos.
Read More: Have A Look At The Best Boat Trips Paphos Has To Offer
---
Ambiance Gin Bar
This is the best gin bar in Paphos without a doubt. This small bar has nearly 300 different gins from around the world and the bar staff knows all of them inside and out.
The manager here tried every single gin they have available during the lockdown. Apparently, the lockdown was not as boring for everyone!
When we arrived, we were asked a series of questions about what flavours we liked and the bar staff picked out select gins, tonics, and flavours to personalize a drink for us. This sort of knowledge is unparalleled and if gin is your drink then you have to check out Ambiance.
Ambiance is in a very good location in Old Town, right next to some very large bars and restaurants in the main plaza. So, if you're looking to check out a few bars in Paphos on one night then this area has plenty for you.
---
Boulevard Wine Bar
Boulevard has a very large outdoor seating area that gets really busy on the weekends which creates a very nice atmosphere to go along with your glass of wine. The bar itself is situated right on the central plaza so none of the tables are cramped and you get some really nice views of the government buildings and fountains.
As you can imagine, they have a fantastic selection of wine from all different price points and the staff are exceptionally knowledgeable about the menu. But fear not if you are not the biggest wine lover out there, there are many standard drinks you can choose from.
If you're looking for a bar that has a lively atmosphere in a beautiful setting then this is the place for you.
Read More: The Absolute Best Excursions To Do In Paphos
---
The Old Fishing Shack
This is the best craft beer pub in Paphos by a long way. The shelves are literally stacked from head to toe with every type of beer from all over the world. The owner, Athos, really knows his stuff so feel free to let him choose your beers all night. That's what I did anyway!
The Old Fishing Shack is the type of place where you go for the expertise and variety and not necessarily the location or comfort. If you are looking for incredible views and comfy chairs then this isn't for you but you really will not find the same quality anywhere else.
---
Honourary Mentions
A few places that I thought were really nice but couldn't put them in any of the above best of the best.
Memories
Memories is a very cheap cocktail bar in Paphos that has a very friendly and accommodating owner. When we were there that has the chase on tv (a popular British quiz show) and many cats lounging around the bar.
If you're looking for nice cocktails at very affordable prices and a peaceful evening then check out memories.
Also, a big shout out to T&J's Fish and Chip shot next door. I swear this is the best fish and chips you're going to get anywhere in Paphos so make a night of it and only have to walk a couple of meters.
---
Anerada
This is a small bar at the beginning of the Paphos Old Town. The decor is really nice and the prices are very reasonable. They have live music on some days and it's in a really relaxing area of the town.
The waitress that served us on the day couldn't do enough for us and even went as far as making us a cocktail she just made up on the spot.
---
The Dome
The Dome is right on the seafront in the heart of Paphos and offers some incredible cocktails served alongside their very good sushi menu.
It is known for its very relaxing atmosphere and reasonable prices.
It closes quite early after high season and if it wasn't for this I would have it in the Cocktail Bars section as it deserves to be there but it is closed for too long to be recommended there. If you are there in high season then definitely check them out.
---
Other Things To Do In Paphos
If you've sampled a few too many bars in Paphos then you might need a bit of a cultural break! Here are the top things not to miss out on in Paphos!
Blue Lagoon
Set along the northwest coast of Cyprus, the Blue Lagoon is an absolute gem and you can't miss it whilst you're here! We visited twice and loved it both times!
You can hire a self-drive boat and spend the day floating on the crystal clear water – I'd HIGHLY recommend doing this! It was such a fun experience and you don't even need to have driven a boat before!
If you're not comfortable driving a boat, or you would rather take advantage of unlimited wine, then jump onto a boat tour and enjoy the lagoon that way!
Read More: Everything You Need To Know About The Blue Lagoon
Wine Tasting
It's a little-known fact that Cyprus is actually a great place for wine! There are some lovely vineyards in the mountains, so take a day to explore what they have to offer (if you're not too hanging from cocktails in the Old Town, that is!)
Take a trip to the Troodos mountains and book your wine-tasting experience here.
Waterpark
No holiday is complete without a visit to a waterpark!
The Paphos Aphrodite Waterpark is the best place to relax, have fun and release your inner child all day!
Buy your tickets in advance here.
Troodos Mountains
The nearby Troodos mountains are gorgeous. Not only is the scenery incredible, but there are some quintessential pretty villages up here to explore. If you hire a car (which we highly recommend!), you can drive around yourself but there are plenty of tours that can take you for activities such as cheese tasting and wine tasting.
Baths Of Aphrodite
Legend has it that the beautiful Goddess of Love and Beauty bathed here and gifted it with fertility powers.
Read More: Here is How To Visit The Baths Of Aphrodite
Splash yourself with the water three times and find yourself with a new family member nine months later!
Surrounding the baths are some stunning hiking trails which I recommend that you take too.
---
What To Pack For A Party Holiday In Paphos
Make sure you bring the essentials for your trip so that the only thing you have to worry about when you get to Cyprus is the location of the bars in Paphos!
If you're looking for a portable speaker then check out the JBL Flip 5. In my opinion, it is the best portable speaker in the world right now in terms of price and quality. Going to a secluded beach and listening to decent-sounding music makes all the difference so take a look here!
Jade really doesn't get on well with flip-flops so she always takes a couple of pairs of sandals (in case one pair breaks) on every trip we go on. We recommend checking out these CUSHIONAIR sandals which are comfortable, durable and affordable (the holy trinity!). We chose these because they are vegan suede but there are lots of different materials and colours to choose from. Check them out here!
Don't even think about stepping out in the sun without protection! This factor 50 sun cream from Sunbum is vegan, reef-safe and smells like summer, as well as being dermatologist approved! It's non-greasy, easy to apply and doesn't leave a white cast so you can quickly rub it in and get on with your adventures! Take a look on Amazon here.
If you're planning on going to the beach then make sure you have some flip-flops in the bag. There is nothing worse than getting sand in your shoes or socks and there is nothing better than feeling the sand on your feet. We recommend an affordable pair like these Old Navy casual flip-flops. They will get the job done and shouldn't break almost immediately as other brands might. Check them out in more detail here.
If you need protection from the sun then grab a hat before you travel. This Adidas original is affordable, protective and looks the part. Check out the price here.
If you haven't already got a swimming costume then what the hell are you doing?! Have a look at this gorgeous high waist bikini and get a swimsuit before you leave. I absolutely love the dual colour option but there are loads of colour options available. Take a look here.
If you're looking for a snorkel kit then check out this Greatever mask and snorkel. We have been on so many snorkel and boat tours where the snorkel hire was dreadful and it ruins the experience. If you have room then definitely take your own set. Take a look at our recommended kit here.
---
Where To Stay In Paphos
Paphos has plenty of hotels and apartments along the coast, throughout Old Town and in the city. Click on the links below to check the latest rates, availability and those all-important reviews!
For my favourite boutique hotel options, check out this full guide!
---
---
Frequently Asked Questions
Where is the nightlife in Paphos?
The few remaining clubs are still situated around bar street and Ayiou Antoniou road and some of the best bars are situated in the harbour area. However, I believe the best nightlife in Paphos is up in Old Town where the pedestrianised area has some fantastic bars that still get good crowds all year round.
What is the nightlife like in Paphos?
Nightlife in Paphos has changed from the stereotypical Mediterranean clubs and bars to a more sophisticated bar and cocktail scene. There is a desire to bring back the glory days of the bar street but that is yet to happen. However, the cocktail and bar scene is very good.
What's the drinking age in Cyprus?
17
What is the best bar in Paphos?
I think it has to be Mr Tippler. There are so many fantastic bars in Paphos but Mr Tippler in the Paphos Old Town is one of the best bars I've ever been to.
---
There are so many bars in Paphos so I know some of you might think I've missed an absolute cracker of a bar. If that's the case then let me know in the comments and I'll be sure to check it out!
---