The new and rejuvenated Paphos Old Town is a must-visit when in town! Let me show you why and how to make the most out of your trip.
Necessary Spacing
What To Do: Explore the Paphos Old Town market, take a craft class and visit the stylish bars
Where To Eat: Grab a kebab at Souvlaki Livadias or sit down at
Where To Stay: Casa Mespilea for a traditional and friendly guesthouse
Your Paphos Old Town Guide
Not everywhere you visit will have a so-called 'old town' where the original hustle and bustle of the city used to permanently reside. Crowds of people slowly disperse to other areas throughout the years, so the area becomes run down and 'old'.
This was exactly the case with the Old Town in Paphos up until very recently. Its streets were pretty much deserted and buildings were windowless and neglected in large areas of the town.
I have been told that this is largely down to large modern shopping centres being constructed closer to the tourism hotspots which dried up the Old Town Paphos streets overnight.
However, this has all come to an end. The Paphos Old Town has been completely reimagined and investment in its quiet streets and quaint alleys has transformed the area into a definite must-see when visiting Paphos.
Read More: The Best Paphos Excursions To Take! & The Best Boat Trips Paphos Has To Offer
---
Things To Do In Paphos Old Town
You'll find plenty to keep you busy in the Old Town of Paphos regardless of the time of year. Depending on where you're staying, you might need to climb a few hills to get there so wear appropriate footwear!
Paphos Old Town Market
What mazelike winding streets would be complete without a tightly packed and varied local street market?
The Paphos Old Town market is exactly what you would expect. You'll find a selection of hand-crafted local products like soaps, fabrics, and crafts, mixed in with souvenirs and garish ornaments to remember your trip to Cyprus.
We have a tradition to buy a Christmas bauble from every place we can and the Old Town market in Paphos is exactly the type of place we would be looking for.
This is also where you will find some of the most reasonable prices in all of Paphos for this sort of thing.
Being a distance from the beach and the more touristy places brings the prices down to a more justifiable amount. Justification for making your fridge door look even more magnetic…
Read More: The Most Incredible Villas In Paphos
---
Arts and Crafts
Paphos Old Town has an abundance of local arts and crafts shops that will take you away from the more mass-produced souvenirs at the street market if you are looking for something more artisan and authentic.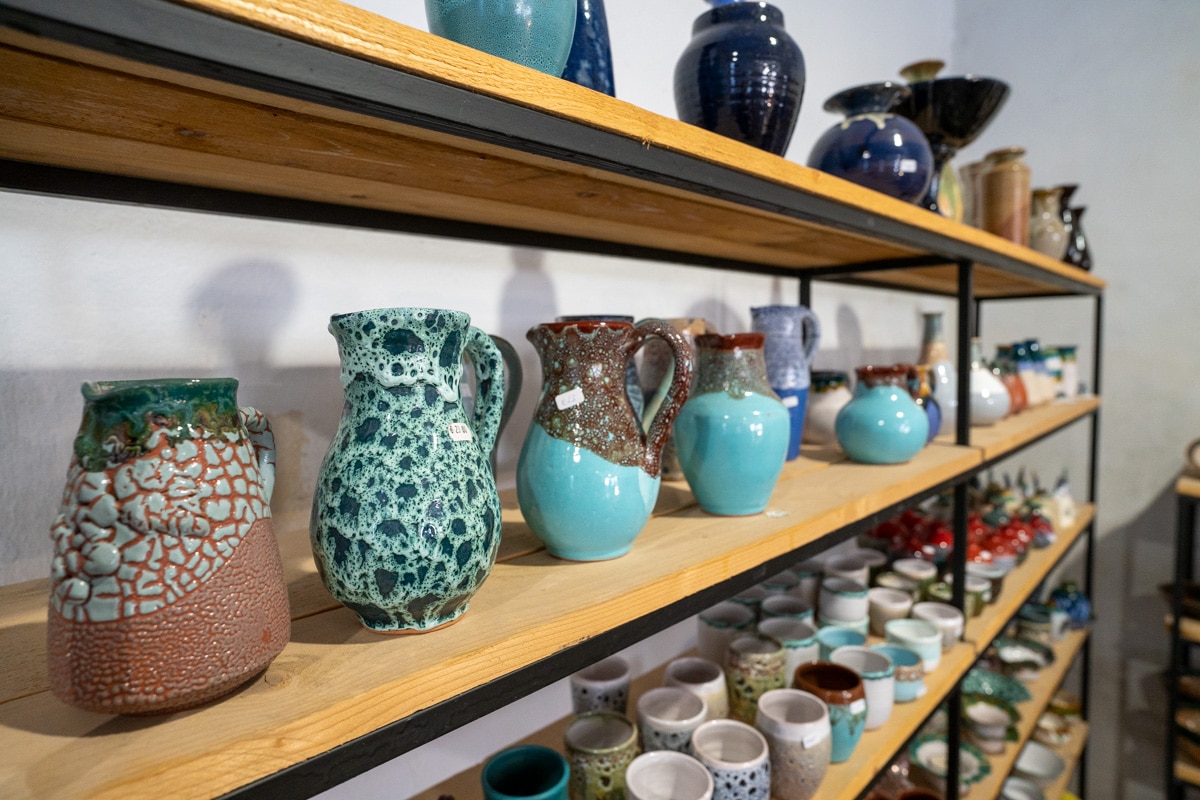 We visited 'The Place' which has a fantastic array of local art, pottery, glassware, leather, jewellery, drink, and more.
I particularly like their hands-on approach where you can sit and watch the experts creating the goods throughout the whole shop.
If crafts are your kind of thing then definitely check out The Place but also just take a walk through the winding streets and you will come across other fantastic local produce shops hiding in every corner.
This is definitely the best place in Paphos to find something to fill that extra space in your luggage to remember your trip (you do have extra space in your luggage right?).
---
Street Art
Whilst walking around the Paphos Old Town, remember to look out for the countless incredible murals and paintings dotted around.
The quality of this art is some of the best I have seen and really brings uniqueness to the streets.
I have included a few that I snapped whilst walking around but there are countless others to find.
You could easily spend a couple of hours searching around trying to find new paintings and this would inevitably lead you to find other hidden gems like tucked-away restaurants and fantastic bars.
---
Drinking Scene
I have to be honest, I think this is what the Paphos Old Town does best. If you compare the Paphos strip near the beach with Old Town there is no competition.
If you want a club then the strip is the only place to go but Paphos Old Town does nearly everything else better.
If you're looking for a cocktail bar, wine bar, gin bar, or simply a place to sit outside and enjoy your evening then the Old Town in Paphos is the best place to do it.
We spent an evening walking around and trying out different places to sit and drink and we ended up reviewing some of the best-rated bars in all of Paphos. Every single place we went to was 5-star. Check out the entire article on Paphos Nightlife here.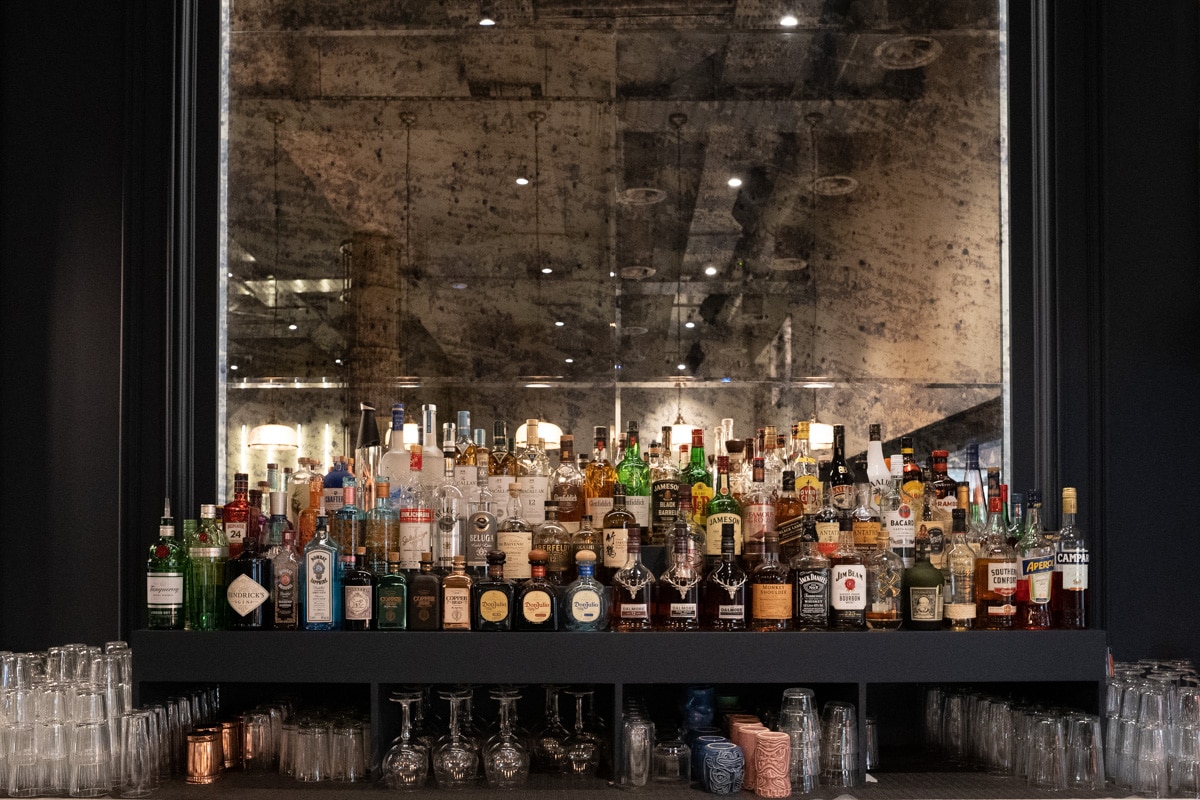 The cocktail bars are some of the best and most passionate I have ever been to. Paphos Old Town has an incredibly friendly and community-based culture among its bars, which is so refreshing.
Every place we visited around the Paphos Old Town wanted to help us find great other places to drink once we had left their bar. This type of community really shines through everywhere you visit.
I highly recommend the following places to drink if you're visiting the Paphos Old Town in the evening:
Cocktail Bars – Kinky, SOHO 79, Mr. Tippler, and Rum & Jam.
Gin Bar – Ambiance
Wine Bar – Boulevard
Coffee Bar – Cafe NERO (fantastic lookout and really bustling late into the evening)
---
Read More: Don't Forget To Visit The Blue Lagoon!
Places To Eat In Paphos Old Town
There are plenty of amazing places to eat in the Old Town, especially if you're after traditional Greek or Cypriot food. Treat yourself to a sit-down meze meal, but try some of the smaller, hole-in-the-wall places too!
Souvlaki Livadias
We stumbled (quite literally) across this takeout place searching for somewhere still open after our intense night of sampling the best cocktail bars in Paphos Old Town. (This job has some serious perks).
Souvlaki Livadia is, simply put, the best post-drinking food I have ever had. You might be thinking, well, that was just the drink talking. That's what I thought, so I ordered from there when I was less inebriated and BOOM, just as good.
However, it's not just a late-night fast-food restaurant. You can eat here at any time of the day and sit outside in the quiet streets, tucking into some genuinely good food.
Laona Restaurant
THERMOPILON 71
Honey Restaurant
Agora Tavern
SOLI AEPIA
Read More: Explore Paphos With A Rental Bike
---
Museums
Ethnographic Museum
A little look back into the history of Cyprus and how others used to live.
Opening times: Monday – Saturday: 10am – 5pm ┃ Sunday: 11am – 1pm
Paphos Archaeological Museum
A recently renovated archaeological museum takes you back in time to some of the most ancient discoveries from around the Paphos district and the local area.
Opening times: Tuesday – Sunday: 10am – 5.30pm ┃Monday: Closed
---
Places To See In Paphos Old Town
Markideio Theatre
This is a really beautiful piece of architecture that is right in the heart of the Paphos Old Town. There were no current productions on whilst we were in Paphos (due to Covid-19) but if you want to see a show then check out information online to see if they are back up and running.
I recommend just having a walk past and having a look at how they have converted the old theatre into a modern piece of art.
---
Agios Kendeas
This is the central church in the Paphos Old Town and is said to be the most beautiful in all of Paphos. Just like the Markideio Theatre above, I recommend taking a walk around just to see the architecture.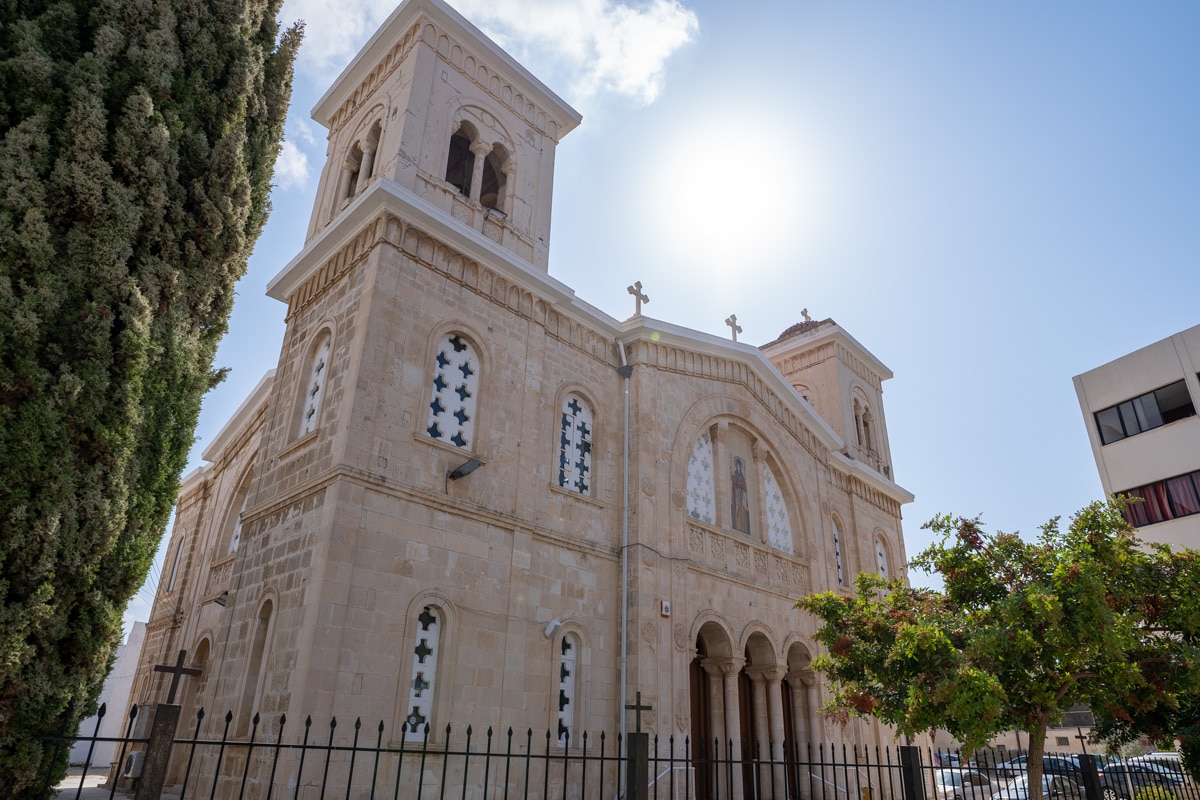 It was not open when I went past and I could also not find any information online regarding opening hours. If you want to check out the inside then take a walk past and see if it's open. It's all part of the fun! Let me know what you find out in the comments.
---
Art Gallery
There are many art galleries dotted around the Paphos Old Town. If you like having a look or are interested in purchasing some art whilst you are in Paphos then I recommend checking out these galleries.
The Paphos Old Town is definitely the place to do this so don't miss your chance whilst visiting.
---
The Town Hall
The town hall is another neoclassical building restored to all its glory in the Paphos Old Town. This area is surrounded by gardens and fountains and is especially quiet and tranquil during the day.
This is a great place just to have a short walk around and maybe grab a spot of lunch to have in the gardens.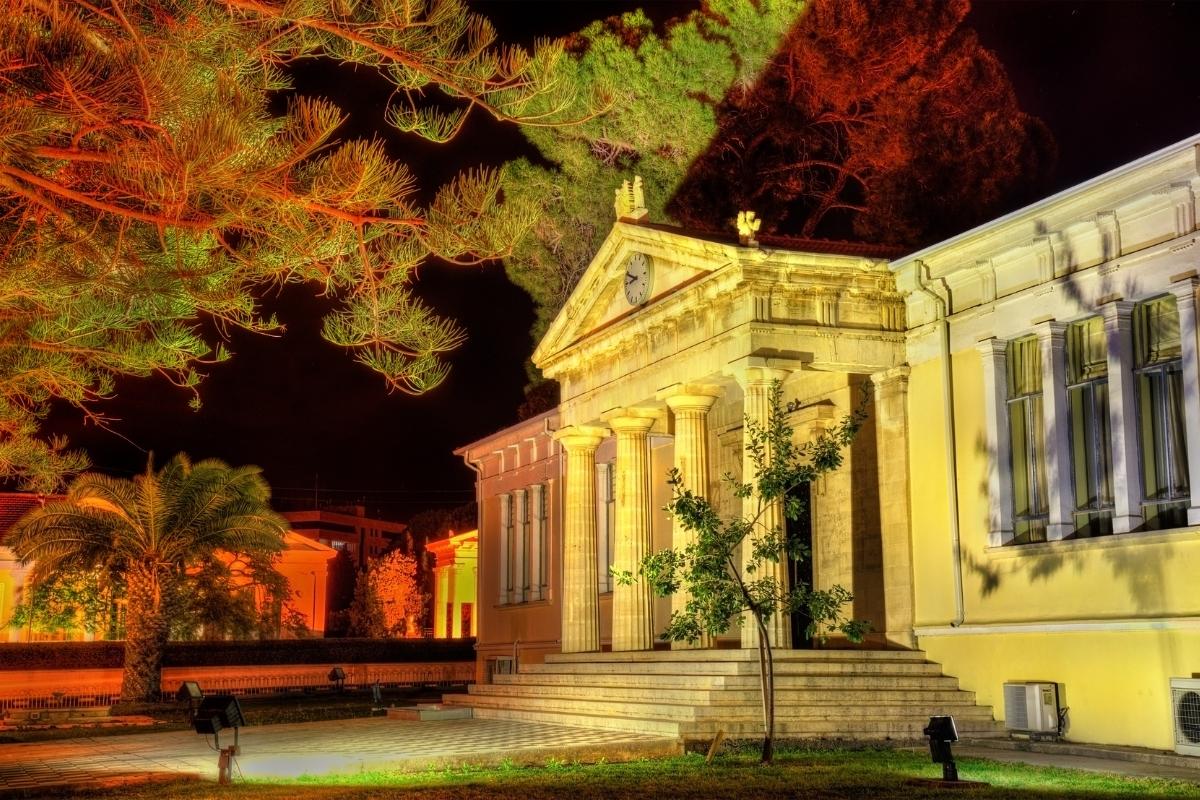 ---
The Paphos Municipal Library
I actually didn't go into the library as it was closed when I went past (a running theme of Covid-19), however, sunset soon followed and this whole area really comes to life.
The library, along with huge areas of the Paphos Old Town, was renovated very recently. This is due to Paphos being declared the Cultural Capital of Europe in 2017.
I recommend going in if you can but if not then come in the evening and admire the entire area's new lighting which captures the architecture beautifully.
Opening Times: 7.30 am – 3 pm Monday – Friday
---
Kennedy Square
If you go to Paphos Old Town you will find yourself at Kennedy Square sooner or later. It's actually exactly the location of the Boulevard and Ambiance bars I recommended above.
This has to be where most of the investment has gone into. Very good restaurants surround the square and new fountains and lighting has gone in to give it a really nice feel even in the dark.
If you are struggling to know where to eat, drink or find an entrance to the winding streets of Paphos Old Town then head to Kennedy square. Once there, you'll find what you're looking for.
---
Places To Stay In Paphos Old Town
If you're not looking for a typical beachside holiday and would rather have the peace and quiet away from the loud touristy areas (whilst still being a simple journey to these areas) then Paphos Old Town is the exact place you should stay whilst in Paphos.
---
Book your favourite hotel here

Where will you go?
---
I have selected a few of the best options with different types of accommodation below, remember to click on the links to check out prices, location, availability and location.
Read More: Check Out These Pretty Boutique Hotels in Paphos
Guest House Accommodation – Casa Mespilea
If you're staying in the Paphos Old Town then I assume you are looking for something a bit more authentic. Well, what better way to complement that experience with a guest house hosted by passionate locals.
Casa Mespilea has incredible reviews and boasts an isolated courtroom garden where food and drinks are served giving you complete peace and tranquillity.
The rooms are well presented and comfortable, all of which come with a tea/coffee maker. Check them out here.
Hotel Accommodation – Unique Staying
I always include a room that does exactly what it says on the tin. You cannot go wrong with Unique Staying. You will get a modern clean hotel room with all amenities. No-fuss, no dramas. 200 other customers seem to agree too with a huge 9.1 review on booking.com. Take a look at the rooms here.
Apartment Accommodation – Royal Seacrest
Sometimes you just need the comforts of home or you want to be able to actually make your own breakfast without having to get up at a ridiculous hour. Then staying in an apartment is the best option.
Royal Seacrest does this very well and is in a great location for Paphos Old Town.
As you are a little way from the action in Old Town then I recommend hiring a car for your stay. This is made much easier by having free parking at Royal Seacrest. Something you may not get elsewhere.
There's also a really nice pool so… need I say more? Check out the images and availability here.
---
---
Frequently Asked Questions About Paphos Old Town
Is it worth going to Paphos Old Town?
The Old Town in Paphos has recently been rejuvenated and it has a new fancy eating/drinking culture that is very pleasant. Not only this but this is where you can get some very high-quality locally produced arts and crafts. I highly recommend spending at least a couple of hours in Old Town.
Should I Stay In Paphos Old Town?
If you're looking for a more peaceful, less touristy Paphos experience then this is the perfect place to stay. If you're looking for close proximity to the beaches then the Kato district is a better option.
How To Get To Paphos Old Town?
It's a 30-minute walk if you are staying in Kato Paphos. You can get a local Taxi or download the Bolt App (like uber) or you can get the 610 bus from the Harbour. If you are staying elsewhere and wish to get a bus then check out the Paphos bus website to plan your trip.
---
I really hope you enjoy your visit to Paphos Old Town as much as we did. As always, if you think or know of anything in the Old Town that I haven't written about or you want some information then chuck your question in the comments section below!
---