There are many Paphos boat trips to choose from but how will you decide?! This guide will explore all the options to help you make the best decision.
Paphos is right next to some of the most pristine and gorgeous Mediterranean sea you could possibly ask for. So what better way to explore that coastline than jumping on a boat trip in Paphos?
But you already know that because that's why you're here! So let's jump straight into it. Remember, use the contents below if you're looking for something, in particular, to help save time.
Oh and if you're interested in activities over land as well then have a read of our guide on the very best excursions that Paphos has to offer here.
---
Blue Lagoon Akamas Excursion
If you're thinking about going to the Blue Lagoon (which you should be) then there are a couple of ways you can do it.
You could make your way to Latchi and grab a boat over which will cost you around €20 + transport. Have a look here if that's what you're thinking.
Or you could take this tour, pay €15 extra, and get so much more.
The tour comes with an hour at the Blue Lagoon (3 hours on the boat in total), stops at the Edro III Shipwreck, a short wine tasting, the Baths of Aphrodite and the sea caves.
Even if you don't want to do any of those other things, you get transport to Latchi and the same boat and trip that you would get if you only went to the Blue Lagoon.
This, for me, is a no-brainer.
Who's This For?
Families, couples, groups and solo travellers. This is for anyone who wants to visit the Blue Lagoon in the most simple and stress-free way as well as maximise their time in Paphos.
Key Information
Blue Lagoon boat trip
Suitable for all ages
5 stops total
3 hours on boat
1 hour of swimming
8 hours total
Lunch not included
Read More: The Most Incredible Villas In Paphos
---
Self Drive Boats – Blue Lagoon
I recently found out that renting a boat is actually much more affordable than it sounds.
If you're thinking about going to the Blue Lagoon and you're part of a group then this is the only option you should be thinking about.
If your group is big enough (6-8) then having your own boat may actually turn out cheaper than getting a tour to take you out to the Blue Lagoon.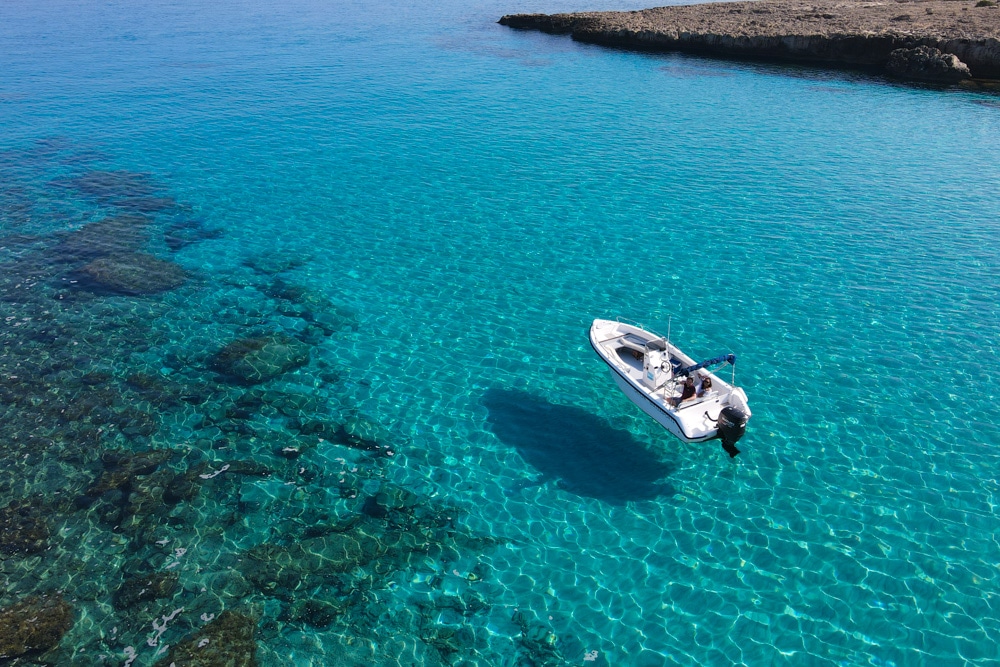 Not only that, but you'll get so much more time at the Lagoon and have complete flexibility on the other coves and lagoons. If you go on a tour then you're going to get around 1 hour of swim time.
If you get the 4-hour option (other durations available) then you'll be getting at least 3 hours at the Lagoon.
The Blue Lagoon is also split into 2 sections where the big boats cannot go into the shallower area. This means that you will be away from the tourists and only near other rental boat customers.
Also… you get your own boat.
And let me put your mind at ease, you can drive a boat. Neither of us had ever driven a boat before until this trip and it was easy as well as mega fun.
If you're not in a group then it will come to more than going on a tour but I still recommend checking out the prices to see if you can warrant it.
Who's This For?
Groups and Families mostly but there aren't many more romantic things to do than float in the Blue Lagoon with your partner.
If you are a couple and are In Paphos in October/early November then I highly recommend doing this. The Lagoon will be quiet and beautiful.
Read More: How To Hire A Yacht In Paphos
Key Information
4 hours (other durations available)
Self drive
Pay fuel at the end
Time starts after orientation
Very trustworthy organiser
Driving License Required (international accepted)
Different power and luxury options available
Lifejackets included
Departure from Latchi
Suitable for all ages
---
Jolly Roger Boat Trip
This has got to be the most fun Paphos boat trip for families, full stop. It's literally exactly what you expect it to be. This includes; face painting, shows, dancing and more.
The trip has a stop in a great swimming location where you can literally walk the plank into the water (don't worry, you don't have to walk the plank, there are ladders).
I'm struggling to capture how fun this day actually is, and what makes it even more surprising is how good the value is. You get lunch, welcome drink, fruit and pick-up included in the price.
One of the biggest selling points for me is the fact that they don't just cater for the kids. They don't want all the parents to be sat there having a boring time whilst the kids have fun.
Trust me, the staff are so into the roles and will get you having just as much fun as the little ones.
Who's This For?
The Jolly Roger boat trip is best for families with young children but, to be honest, I recommend it to anyone wanting a fun relaxing day and not having to go out of Paphos centre.
Key Information
6 hours
Suitable for all ages
Pick up/drop off included (in Paphos)
Starts and finishes in Paphos harbour
Welcome drink
Lunch included
Fruit
Loads of entertainment
Use of snorkel equipment included
---
Blue Lagoon Sunset Cruise with BBQ
It's nice when a tour does exactly what it says on the tin. You'll get picked up in Paphos, driven to Latchi (1 hour), board a boat, drive to the Blue Lagoon and spend around 2 hours there, get served Cypriot BBQ during the sunset, drive back to Latchi and then back to your hotel in Paphos.
Need I say more?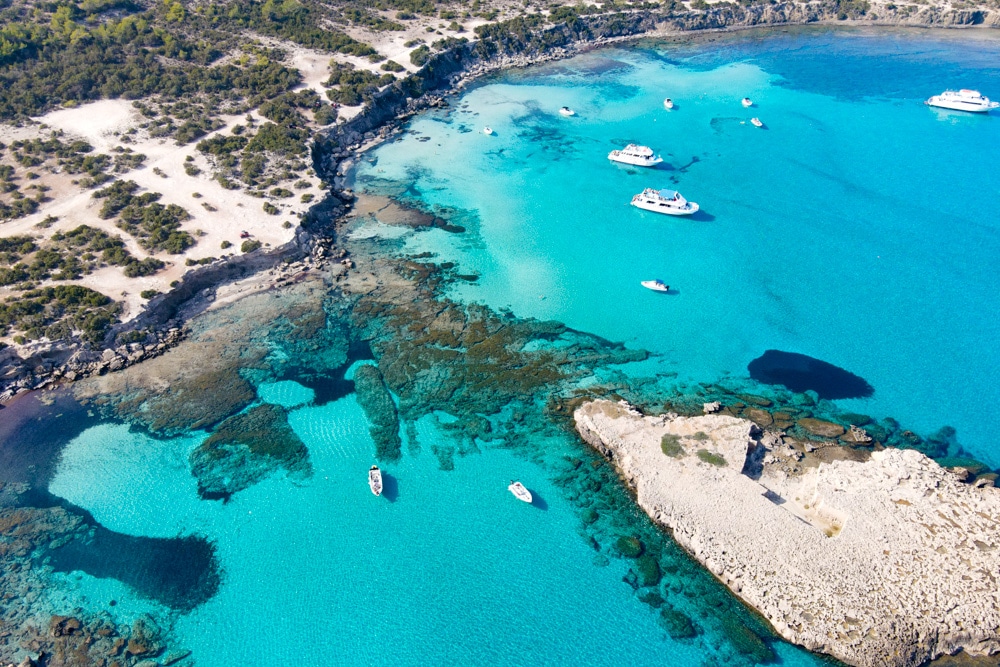 The Blue Lagoon can get a bit busy during the middle of the day so you will have the opportunity to have a swim when it is a bit quieter.
It gets extremely hot in Paphos in the summer so coming in the evening may just make the Blue Lagoon that little more bearable to maximise your experience.
Local white/red wine is included, as well as juice. Water is not so make sure you bring some for the trip.
All of our experiences with 'Constructour' (the tour provider) have been exceptional. All the way from booking to the guides so rest assured that you will be in good hands.
Who's This For?
Everyone. However, I do think that this could be quite good for groups. What's better than free-flow wine and swimming during the sunset. This is in no way a party boat but you can certainly have a good time.
Key Information
6 hours
Suitable for all ages
Pick up/drop off included (in Paphos)
Local white/red wine included
Cypriot BBQ Included
3 hours on the boat (approx)
2 hours at the lagoon
Bring water
---
Wave Dancer Night Dinner Cruise With Fireworks
The Wave Dancer crew offers two options to enjoy their tour. The standard or deluxe. The standard comes with a good full course buffet dinner and no pickup from your hotel.
Whereas, on the deluxe tour you will be picked up from your hotel, and receive a 3-course gourmet meal with waiter service and a glass of champagne. The deluxe option is also for adults only.
Both options come with fantastic entertainment, guaranteed tables just for your booking (not mixed with other groups), and a private firework display
I, personally, would book the deluxe as it is not that much more and the waiter service is so much nicer. However, that may be because we are a couple and it's a fantastic romantic night out.
If you have children, you will have to go with the standard option.
Either way, the reviews speak for themselves. This will almost certainly be the best evening of your trip.
Who's This For?
Everyone. I particularly think this is one of the best Paphos boat trips for couples looking for the ultimate romantic evening.
Key Information
3.5 hours
3 course gourmet meal (deluxe)
Full course buffet (standard)
Entertainment
Firework Display
Hotel transfers (deluxe)
Paphos Harbour
---
Jet Ski To The Blue Lagoon
Look, a jet ski is a boat. Is it? I don't know but it's damn fun so why the hell not have a little look.
If you just want to grab one to have some fun then I recommend going down to Pachyammos beach in Paphos.
They have two companies down there that organise lots of watersports and they are not far from the centre.
You'll be looking at around €50 – €150 depending on how long you want to have the jet ski for. This is usually for two people though.
However, if you want something a little more adventurous, you could make your way up to Latchi and hire a jetski to drive up the coast and see the gorgeous scenery (including the Blue Lagoon) up in the North. It just adds a bit of adventure to your day.
I understand that's quite a long way to go for only half an hour on the jet ski so you could make a day of it by exploring the Adonis/Aphrodite trails and the Aphrodite baths.
Who's This For?
Anyone who wants to have a go on a jet ski. For groups of families, I recommend sticking in Paphos and grabbing a jet ski from one of the many vendors on the beach.
---
Private Yacht
You want the ultimate in Paphos boat trips. No compromise. Well, this could genuinely be that. You get the beautiful Bavaria 41 yacht and a captain to pilot it.
This is a charter so you are in control of when you would like to go, what you would like to see, what you would like to do and how much money you eventually spend.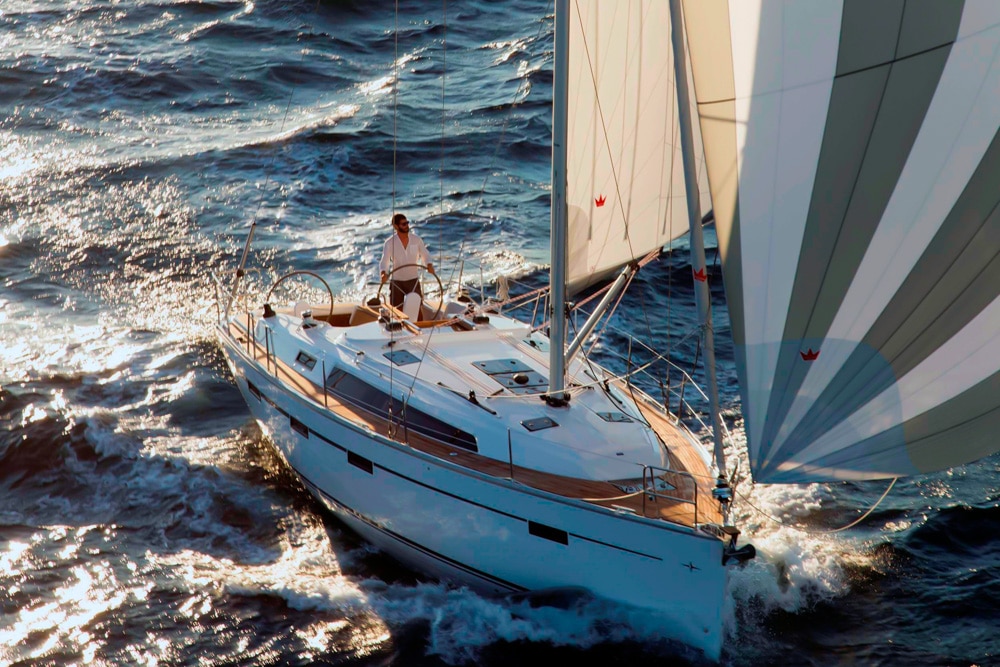 This is another tour run by our friends at Latchi Charters who really are the best provider of private hire in this whole region.
I'm not going to sit and list everything you can get, if you're looking at hiring a yacht then you know what you want.
---
Fishing Trip
There are not many options for fishing trips in Paphos and your best bet is to travel up to Latchi and experience a great 3/4 hours of fishing off the Akamas coast.
All the equipment is included and a local guide who knows their stuff accompanies you the whole time. If you check out the tour, you will notice that there is the option to stop at a lagoon to swim and relax.
If you're like me and only want to fish, rest assured, this is a private tour and you will be able to fish for as long as you have time.
If you're looking for a fishing tour with some people that are huge anglers then keeping the lagoon swim in the tour may also be a great way to make the whole group happy!
Key Information
3-4 hours (depending on the package)
Fishing equipment included
Guide included
Starts at Latchi harbour
Suitable for all ages
---
Blue Lagoon Tour
This is the Blue Lagoon as simply as it can get. You make your own way to Latchi Harbour, board the boat, it takes you to the Blue Lagoon, you spend an hour at the lagoon where you can swim and relax and then you come back.
Throughout the trip, wine and juice are served free of charge.
If you are already in Latchi or you have your own transport to get to the harbour from Paphos then this is a great option to save money.
There are no frills but the boat itself is very clean and well kept. You cannot go wrong with this trip if the only thing you want/need is a trip to the Blue Lagoon.
Who's This For?
Budget savvy travellers or people with their own transport. If you decide to go with the Blue Lagoon Akamas Excursion above, then this will be the same type of boat that will take you for the Blue Lagoon portion of the trip.
Key Information
3 hours (approx)
Wine and juice included
1 bour at the Blue Lagoon
Cheapest Tour to the Blue Lagoon
---
Half-Day Tour From Paphos
If you don't want to go up to the Akamos and would prefer to start in Paphos, finish in Paphos and see the gorgeous coast that Paphos has to offer then this is the tour for you.
You can enjoy views of the sea caves, the famous Coral Bay beach and St Georges Island. The boat will stop for optional swimming and snorkelling so don't forget your swimwear and your snorkelling equipment!
The boat comes with a decent buffet lunch and pick up/drop off to your hotel so this really is a 'pay and stop worrying' type of experience.
There is also a free open bar throughout the trip so… yeah that.
Read More: Check Out All Of The Best Nightlife In Paphos
If you're looking for a Paphos boat tour that ticks all the boxes and doesn't mean you have to travel away to the starting point then this is the tour for you.
Who's It For?
This tour really ticks all the boxes for all groups and solo travellers.
Key Information
4 hours
Buffet Lunch Included
All alcoholic drinks included
Swim stop
Pick up/drop off
Snacks
Starts and ends in Paphos
---
---
What Can You Expect From Paphos Boat Trips?
If you've had a read through this post, it will have become obvious that there are two great locations where the best Paphos boat trips are starting, Paphos Harbour and Latchi Harbour.
Read More: Find Out How You Can Cycle Around Paphos Too!
Paphos Harbour
This is definitely the most convenient starting point if you are staying in Paphos as most of these tours come with pick up/drop off and even if they don't, it will not be very difficult to get down to the harbour yourself.
The coastline near Paphos is not as wild and incredible as the Akamas in the north so the tours that start in Paphos tend to be more about entertainment than sightseeing. That doesn't mean that you cant get a boat trip from Paphos that shows the beauty of the coast, however.
Latchi Harbour
Latchi is approximately 1 hour from Paphos and is a very popular destination to grab a boat tour if you're staying in Paphos or Latchi.
The reason it's so popular is that it has close and incredible access to some of the most striking and beautiful coastlines that this region of Cyprus has to offer. It also has access to the very well-known Blue Lagoon.
If you're in the market for a Paphos boat trip then I highly recommend coming up to Latchi for at least one day. This can be easily achieved by either booking a tour which has transport included or by grabbing the Polis bus from the Old Town Market bus station (more information in the transport section below)
Read More: Paphos Old Town – New & Rejuvenated!
Transport
If you are staying in Paphos or Latchi then it is a simple walk or taxi to their respective harbours. If this is not possible then most tours have hotel pickup/dropoff if you are staying in the town where the boat trip starts.
If you are staying in Paphos and the boat trip is in Latchi then you have a few choices. The easiest way is to book a trip with transport included. The tour company will pick you up from your hotel or a designated pick up spot close to your hotel and take you up to Latchi harbour direct.
Your second option is to make your own way there via personal transport or public transport. I only recommend hiring a vehicle when I think it will significantly improve your trip and Paphos is a good example of this. Some of the best beaches and sights do not have public transport links or are a little far, so hiring in Paphos is a pretty decent idea.
However, if you would like to grab a bus to Latchi, which is what we did, then grab the 645 bus from Caravella station in the Paphos Old Town. This will cost you around €1.50 per person for a return trip. Check the up to date timetable and route map here
Equipment
All Paphos boat trips in this list come with lifejackets for every person present on the boat.
Any equipment that is necessary for the trip (for example fishing gear for a fishing trip) is included in the cost of the trip.
All self-drive experiences come with the necessary radio equipment to have constant contact with safety crews and the ground staff at all times.
The self-drive boats have an additional fuel charge at the end of the trip where you pay the exact amount of fuel that you have used. All other trips come with the fuel included in the cost of the trip.
Some of these Paphos boat trips have stated included snorkel equipment. However, due to current hygiene restrictions and recent history, many of the tours have pulled this from their experience. They may also not have updated this on their websites or listings. Please be advised that if you want to snorkel, I strongly recommend bringing your own gear. This can be purchased from shops close to either harbour if you forget.
For photos outside of the water, we also recommend bringing a good camera – the Akamas region is just so picturesque, you'll regret it if you don't!
Frequently Asked Questions
What are your favourite Paphos boat trips?
My favourite trips in this guide have to be the Blue Lagoon Akamas Excursion, the Jolly Roger, the Blue Lagoon self-drive boat and the wave dancer dinner cruise.
Which Paphos Boat Trips are good for families?
The best Paphos boat trip for families is easily the Jolly Roger experience. The crew get into the roles so incredibly well that it is impossible to have a bad time.
Which Paphos boat trips are good for couples?
The best Paphos boat trip for couples is definitely the Deluxe Wave Dancer Night Cruise. The waiter service, food, drinks and firework display, all on your own private table is unparalleled for couples.
Which Paphos boat trips are good for groups?
The self-drive boat at the Blue Lagoon is the best boat trip for groups hands down. You might actually end up spending less money than a normal tour if your group is large enough (6-8). Also, the Half Day Tour From Paphos is another great option, especially because there's a free bar and no need to travel up north.
Which is the best boat trip from Paphos Harbour?
I think there is a top 3 depending on what you are looking for. For groups it's the Half-Day Tour From Paphos, for families it's the Jolly Roger Boat Trip and for couples, it's the Wave Dancer Dinner Cruise.
Which is the best boat trip from Latchi Harbour?
The self-drive boat is definitely the best way to experience the Akamas coast and the Blue Lagoon. It's also much more affordable than you'd think, especially if you're in a group.
---
Have you been on any Paphos boat trips that are not on this list and are also great? So great you think they should be on the list too? Please let me know in the comments below so I can check it out!
---