From single-day self-drive boats to long-term yacht rentals, this guide has everything you need to know about boat rental in Paphos.
---
For those of you with more than 30 seconds, I have gone into more detail and provided many more options below. However, I really do believe the above options are the best that boat rental Paphos has to offer.
Read More: The Complete Guide To The Blue Lagoon In Paphos
---
Single Day Self Drive Boats
Let's start with the most popular type of boat hire in Paphos by far, single-day self-drive boats.
The reason these are so popular is simple, they are much more affordable and give you an absolutely unforgettable experience. We got ours from Latchi Watersports Centre and, to be honest, this is the best service we have received.
Read More: All Of The Best Excursions In Paphos
---
Standard 50HP Self Drive
Let's get something out of the way straight off the bat. If you are planning to go to the Blue Lagoon and there is a group of 4 or more of you then renting a boat in Paphos is the option you have to choose.
I'm not usually one to say such a bold statement but you're going to pay as much, if not more, for a 1-hour tour for the 4 of you and this way you can have 4 hours at the Lagoon and you have your own boat…
If there are only two of you then you might want to check out our guide to boat trips in Paphos, although I still recommend the seld drive boat experience above all.
The boat itself can hold up to 6 people so you really can save some money and increase your Blue Lagoon experience 10fold by doing this.
You get a cooler and snorkelling equipment included in the price for all occupants and a thorough safety briefing before heading out. Don't worry, this safety briefing does not count towards your 4 hours, that starts when you are out at sea.
There were only 2 of us so there are more cost-effective ways of exploring the Akamas coastline than this but nothing that quite compares and I believe it's well worth the money, especially for this entry-level 50HP version.
Read More: Cyprus WINERY Tours – All Of The Best!
---
Luxury 70HP Self Drive
Basically the exact same as the boat above but with a little bit of a nicer touch, like decent cushioned seats. It is only a very small amount more and also takes up to 6 people.
Check out the price here to see if you can justify that little bit more money.
---
Luxury 250HP Self Drive
This is the pinnacle of small self-drive boats. It has a freshwater shower, toilet and an exceptional sound system all built-in! The seating area even converts into a full sunbed…!
The 250HP engine will also allow you to feel some real power as you speed towards the Lagoon or any other destination you have planned.
If you're looking for the best Blue Lagoon experience that Cyprus has to offer then this is it. Check out how to book here and make sure to ask for the Karnic SL701 which was brand new last year.
Read More: Sandy Beach And All Of The Other Sandy Beaches In Paphos
---
Sail Boats – Yachts
Going out into the Cypriot Medditareanean is a beautiful experience, however, there is nothing quite like opening up the sails and experiencing the wind through your hair.
There are a good amount of options in sailboat rental Paphos if all you want/need is a single day. However, you will have to get in touch with the companies directly to negotiate the price for long-term hire. I will go into more detail below.
---
Bavaria 41 Luxury Private Yacht Charter
This is the pinnacle of sail yacht rental in Paphos. The Bavaria 41 comes with 3 cabins, an extensive upper deck with social areas and sunbathing sections and a huge swim platform that can be lowered into the water.
When you are spending this kind of money, you want to be sure that you're getting your money's worth. Once booked, Latchi Watersports will speak to you about exactly what you want from your day trip and you will be able to tailor it completely to your needs.
Maybe this will be diving, jet skis and water skiing boats at the ready, or just a decent lunch fully prepared and delivered to the boat fresh. Either way, they will make sure the experience is exactly what you want.
A dedicated captain with extensive experience will always be present so you don't have to worry about any of the sailing throughout the experience. However, if you want to get involved, the captain will more than happily accept the help and even teach some of the basics if you want to have a go! Check it out here.
Read More: Paphos Buggy Rental – Complete Guide
---
Jeanneau Sun Odyssey
This is very similar to the Bavaria 41 but is ever so slightly smaller. However, this slight change in size is a very large difference in charter cost.
So if you are looking for boat hire in Paphos for more than one day, then the Jeanneau Sun Odyssey might be exactly what you are looking for.
Like the Bavaria 41, it can be tailored exactly to your needs, including diving instructors/equipment, waterskiing, jet skiing and more. So you don't have to worry about a single thing once aboard.
The customer service at Latchi Watersports Center has never let us down so you can be comfortable in the knowledge that you're in safe hands.
Visit the Latchi Charter Website to have a look at the prices, availability and booking options.
---
Large Motor Boats
These large motorboats are packed to the absolute brim with every possible facility and luxurious trim that anyone would ever possibly need.
If you are looking for space, with your Paphos yacht hire, above everything and are not interested in opening up a sail then this is the section for you.
Azimut 68
At over 20m long and a capacity of 20 people, this is one of the largest and most luxurious boats in Paphos. It comes with 4 cabins that sleep 7 so you won't be able to take 20 people if you are planning on spending a week on the boat.
However, the people that do stay will be getting a double cabin where two of them have their own on-suites. The interior space is huge but I find myself drawn to the top deck of the boat and it would be difficult to get me down for anything but a swim in the ocean.
Contact Latchi Charter directly for prices and availability here.
---
Sea Ray 52
If you are looking for all of the elegance and luxury of the Azimut 68 but don't need to bring along 20 people and have 4 cabins then the Sea Ray 52 is the boat for you!
Boasting 2 double cabins, one with ensuite, and a kitchen/dining area, the Sea Ray 52 looks as beautiful on the inside as it does on the out.
I recommend this for a group of 4 or a small family looking to experience the pinnacle of luxury for a more reasonable price.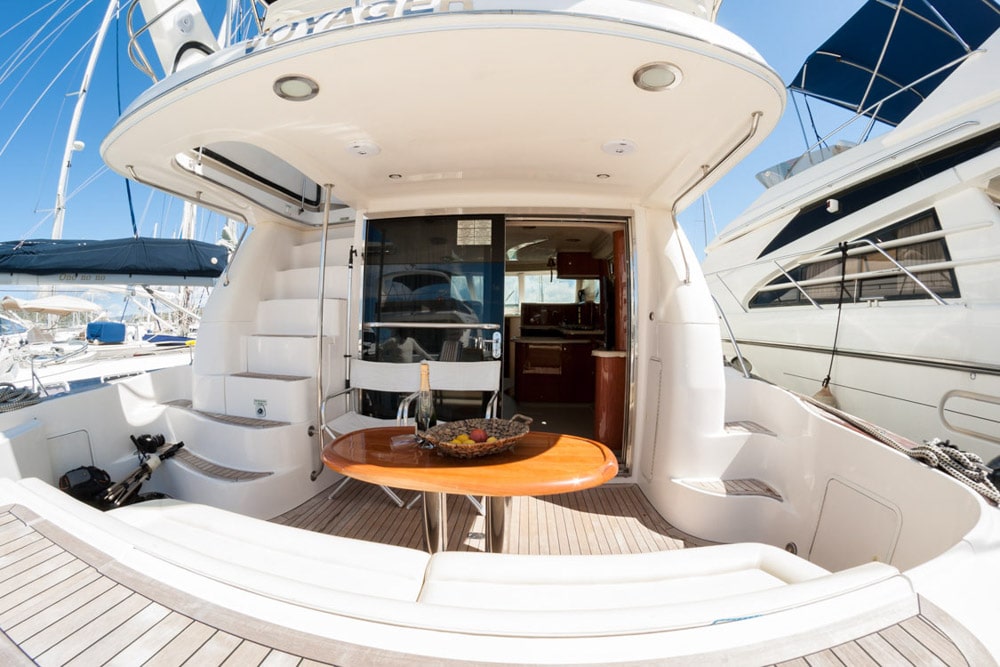 Contact Latchi Charter directly for prices and availability here.
---
Companies
I have heavily used and recommended Latchi Watersports Center in this guide but that doesn't mean that there aren't other options available.
---
Latchi Watersports Center
We used Latchi Watersports Center for everything we did and experienced whilst we were in Cyprus.
Their communication with us, even before we used their services, was great and they did everything they could to make the experience more memorable. I cannot recommend them enough.
They are situated next to Latchi Harbour and you can see their location on the map above.
---
Latchi Charters
Latchi Charters is run by Latchi Watersports Center (above) but deals with their more exclusive and luxury rentals. You will get the same customer service experience as above, including tailoring the charters to anything you could possibly want to do.
They are also located at Latchi Harbour, which you can see above.
---
Georges Boat Hire
Also located at Latchi Harbour, Georges Boat Hire specialises in day trips to the Blue Lagoon and the Akamas coastline in a range of self-drive boats.
The options they have are very nice and vary from affordable to very luxurious options with inbuilt speakers and showers.
You can see them on the map above or check out their website here.
---
Mahimos Boat Hire
Another boat rental situated in Latchi Harbour, Mahimos Boat Hire also specialises in single-day trips to the Blue Lagoon in self-drive boats.
HOWEVER, they have one of the only truly sports ribs that I have seen for hire in this area. The Scorpios VIP Speedboat. You can take up to 8 people and get some serious speed for that extra rush.
They also have some great smaller options if you are on a strict budget. Check out their website here.
---
Click & Boat
This is a website where lots of local boat owners put their boats on to rent them out privately. This can be a really good place to go to grab a bargain and usually has a massive variety of boats available.
If you are looking for a long-term boat rental in Paphos then this could be the option for you so check out the website here.
---
Tips About Boat Rental Paphos
Latchi
You've probably noticed that most of the best opportunities to hire a boat in Paphos start in Latchi. So, you might be wondering what's the best way to get there before your trip.
Well, the best way is to simply stay in Latchi overnight and walk down to the harbour in the morning. I recommend staying at the Villa Lara (check it out here).
---
Book your favourite hotel here

Where will you go?
---
If you are already staying in Paphos then you can either get a bus, taxi or rent a car for the day. We chose to hire a car for the day and that cost us €20 per day and we used Pentaras Rentals which were very good.
You can also book your hire car before you arrive in Cyprus for peace of mind, so check out the best deals here.
What To Take With You
This completely depends on what type of boat rental Paphos you have chosen. If you have gone with one of the self-drive boats to the Blue Lagoon, take lots of water and some lunch and keep it in the onboard cooler.
You'll also want a decent camera to capture the best memories!
If you don't have a camera then I HIGHLY recommend the Panasonic Lumix ZS70K. It is an affordable point-and-shoot camera that can be picked up and used by anyone of any ability. The camera captures gorgeous images and surprisingly excellent video whilst fitting in your pocket. The main difference between this and your phone's camera is that it also has an incredible optical zoom so you won't miss any of the shots you need to take. Check it out here.
You could even take a couple of beers but make sure the person driving doesn't drink, this is still illegal even though you're on a boat.
Snorkelling gear is usually included so you shouldn't have to take this but double-check with whatever company you have chosen to use.
If you are going with a more luxury option then speak to your provider, tailor the experience with them and you shouldn't have to take anything except your swimsuit.
Drone Flying
To fly your drone in Cyprus you need to be EU certified which you should do in your home country (if you are from the EU).
If you are from the UK you will have to do the EU certification in the EU, no matter what you have in the UK. I did my EU licence in Malta which then gives me the ability to fly in the whole EU.
If you're currently in the market for a drone then take a look at the Mavic Mini 2. The Mavic Mini 3 recently came out which has made the Mini 2 even more affordable. I don't personally think the upgrade is worth it currently (considering the incredible price of the Mini 2). I have flown all over the world and my Mavic drone has never let me down. The small size and weight of the Mini series is also perfect for travellers so it really is a no-brainer. Take a look at the current price here.
Check out this website for more information on the drone laws for Cyprus.
I recommend flying as high as you are able on your licence as this gives the most fantastic views of the Akamas and gives that true feeling of scale in your pictures.
REMEMBER, if you are going to take videos and shots from a boat (even one that is anchored) TURN OFF the return to home function for the flight. Boats tend to drift and if you lose connection at any point, you don't want your drone to automatically fly itself into the sea where the boat used to be…
Read More: Bike Rental In Paphos – Everything You Need To Know
---
---
Frequently Asked Questions
What's The Best Place To Get Boat Rental Paphos?
I believe Latchi Watersports Center is the best place to hire boats in Paphos. I know this is in Latchi but Latchi is the best place to hire a boat and have the experience you are craving.
How Much Is Boat Rental Paphos?
It ranges from €120 for a small self-drive boat for 4 hours, all the way to €2000+ per day for the most luxurious sailboats and yachts.
Where Is Boat Hire Paphos?
Latchi. This seems strange as this is not actually Paphos and takes a little bit of time to get to. However, this is where the vast majority of the best options are as this northern part of the island is not as strictly protected due to it not being a natural haven for the turtles.
Is Boat Rental Paphos Worth The Money?
If you are in a group then the more affordable options actually tend to be CHEAPER than getting a tour to some of these locations so yes it is absolutely worth the money. Make sure to check the prices to see if you can save some money whilst highly improving your experience.
Why Are All The Boat Hire Paphos Options In Latchi?
Latchi has access to the Blue Lagoon and the incredible views of the Akamas in the north. You are not allowed to go around the corner and sail down the west coast of Cyprus as it is protected due to the turtle population. That's why people come to Latchi from Paphos, to have the best experience possible.
---
There you go guys, that's all of the best boats and yachts available in Paphos. I know a lot of these boat rental Paphos options are a little bit away from Paphos but trust me, it's worth the trip.
---