I visited EVERY SINGLE beach in Paphos to make sure that you discover, enjoy and remember your trip to one of the incredible Paphos beaches.
---
The Best Paphos Beaches
I read a review once that said no Paphos beaches existed and all they saw was desperate tourists jumping off the docks. It blew my mind.
So much so that I decided to write this article so no one ever misses the incredible Paphos beaches and sights you can see during your trip to Cyprus.
Remember to check the contents below if you're looking for something in particular. There are quite a few beaches in Paphos, so you might as well save yourself some time!
Read More: The Best Excursions You Can Take In Paphos
---
Large Sandy Beaches
These are all the Paphos beaches that are about relaxing and catching the rays. They all have shower/toilet facilities and you'll be able to hire a sunbed/umbrella. You can't go wrong with any of the following options.
---
SODAP Beach
If you don't want to leave the Paphos centre then this is the beach for you. It has beautiful soft sand, the best-looking beach bar in Paphos, very good facilities, sunbed hire and incredible swimming.
However, if you're coming in high season then this is an early day. The beach isn't the biggest place in the world and, due to its quality, gets busy quick. It's worth getting up though.
Read More: Here's How To Rent A Bike in Paphos
Antasia Beach Bar is on the beach and allows you to take your drinks away to your sunbeds (€2.50 each + €2.50 Umbrella). They are not the cheapest in the world but the convenience is hard to deny.
There is parking next to the beach for €1 for 4 hours (coins only) but it is small and I'll be surprised if you get a space.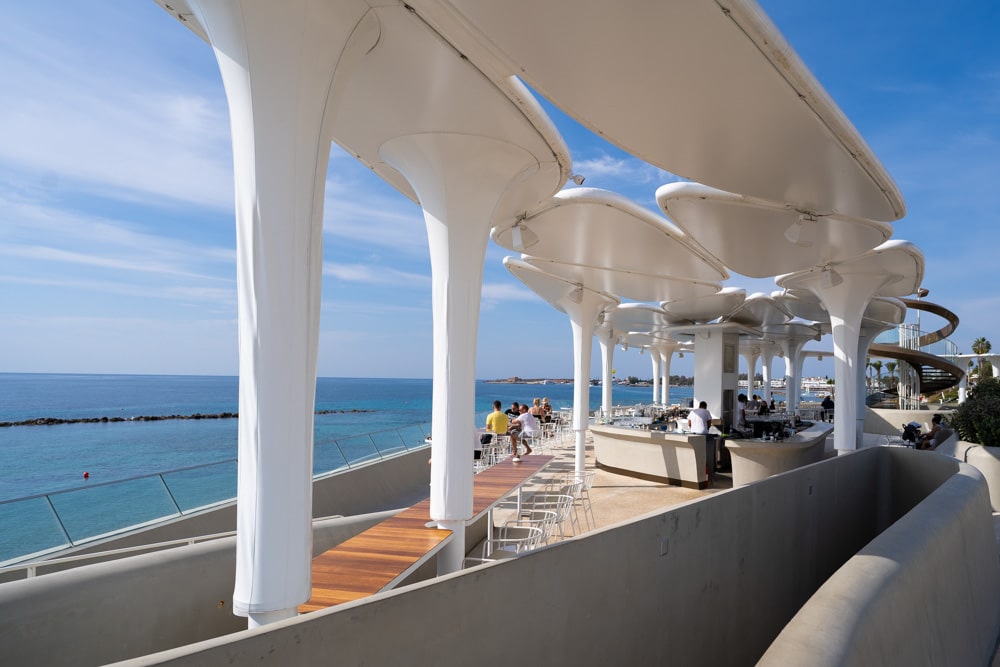 The swimming is protected by large rock banks and is as good as it gets. I highly recommend spending one good day at SODAP beach.
Read More: Complete Guide To The Sandy Beaches In Paphos
---
Faros Beach (Lighthouse Beach)
Of all the Paphos beaches, Faros Beach might be the most underrated on this whole list. The beach has very good soft sand throughout and a decent amount of space to be able to set up and accommodate a decent crowd.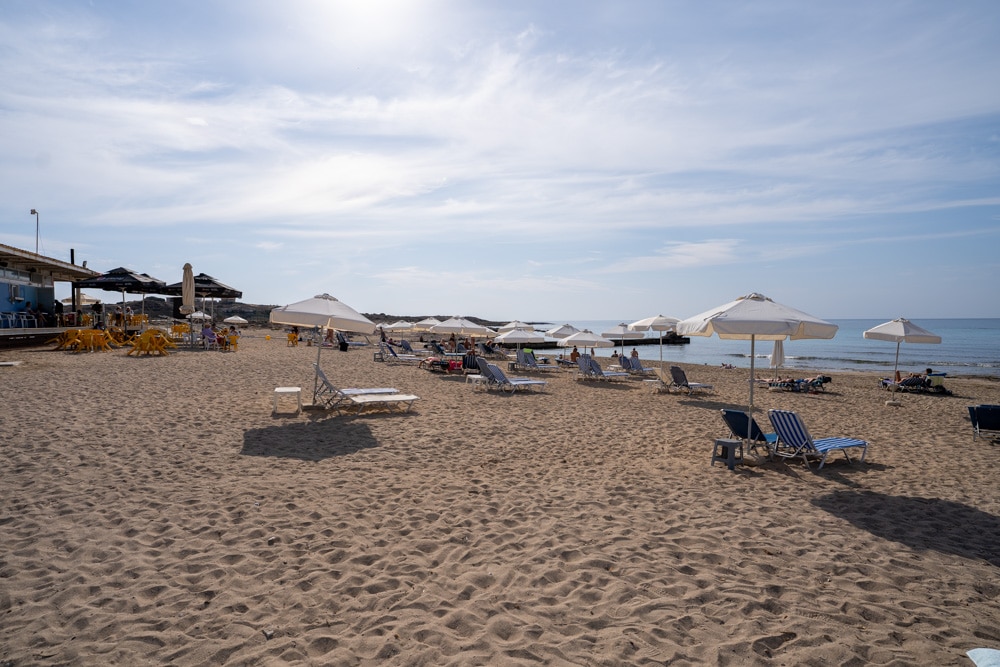 It has a volleyball pitch, a sand football pitch, sunbeds, shower block, toilet block, cafe with food/drink, lifeguard and well-protected swimming.
The facilities are a little outdated but still function completely well.
There is a decent sized car park next to the beach but I would recommend getting here early if you are visiting in high season to prevent disappointment. It's pretty close to the centre so you may be able to walk depending on the location of your accommodation.
Read More: Enchanting Boutique Hotels in Paphos You Should Stay In
---
Venus Beach
Venus Beach is a large sandy beach with a good amount of space to set up your towel and start your day. The swimming is gorgeous and protected with a large rock bank. The beach has lifeguards and a small hut to buy drinks.
There is a very large area to park but it is not paved so be careful coming down onto it with any hire cars. I actually think the car park is big enough for the whole beach so you should be able to find somewhere to park.
I recommend getting there early if you want to get a prime bit of sand near to the sea, especially during the high season. However, there are sunbeds and umbrellas for hire if you cannot find a space.
The beach also has a decent enough shower and toilet block but don't expect too much. It does what it needs to.
Read More: Renting A Buggy In Paphos – Everything You Need To Know!
---
Sandy Beach
This is hands down the best of the Paphos beaches for anyone looking for a chill vibe. They play music all day, organise events, have DJ's, volleyball tournaments and more. There is a lifeguard on duty all day and it's one of the only places in Paphos that you can catch a good surf.
They have toilet facilities, sunbeds, decent priced drinks, food and showers.
The sand here is some of the best you're going to get in all of Paphos and there is a decent amount of space to go around. You can get parking down by the beach but this may fill up quickly but there is also parking up by the road. If you don't have a car, you can always grab the 622 bus which stops nearby.
The music here is loud as the whole beach is now catered for a younger audience in general so if you are a family with young kids I think there are better options but in low season this is an absolute gem for anyone. Check out their Facebook page to see what is coming up.
Read More: The Complete Guide To The Paphos Nightlife
---
Coral Bay Beach
This is one of the best-known beaches in Paphos and for good reason. It's a long stretch of soft sand that can accommodate a decent amount of people and has great swimming.
There is a permanent lifeguard, shop, toilet/shower block (€1 to use the shower), 2 restaurants and watersports on the beach, so there is everything you could ask for. There is even a place where you can get an on beach massage.
There is a decent amount of parking near the beach and tarmac parking opposite the road. There is also a bus stop right at the beach (bus 615) so there is no need for a car. The shop is also quite a nice touch as not many beaches have one. You can buy suncream and beach toys, etc.
Get here nice and early in the high season and you're guaranteed the perfect beach day for the whole family and all ages.
---
Rikkos Beach/Yeroskipou Muncipal Beach
Rikkos Beach is a proper beach area with all of the facilities you could possibly want. It probably has the most complete set of facilities out of all the Paphos beaches. Including; arcade, kids play area (Luna Park), multiple restaurants/bars, volleyball, tennis club, grass areas, watersports and more.
The beach itself is also massive with huge areas of good sand to set up. Even with all this space, I still recommend getting there early in the high season. With so much to do and the obvious cater to tourism, Rikkos beach can get very busy.
If you're driving there is A LOT of parking. So much that I reckon you would be able to get a space at any time of day. I don't recommend trying that out though. Get here nice and early – it gets so warm in the mornings, you might as well make a day of it.
There are lifeguards and the swimming area has been protected with large rock banks out to see so it's a fantastic place for anyone to have a swim.
---
Small Sandy Beaches
Here you have a great selection of smaller sandy Paphos beaches that have fewer facilities than their larger cousins. However, you might be able to have your own private beach if you come at the right time of year.
Read More: How To Visit The Blue Lagoon, Cyprus
---
Pachyammos Beach
I would say that this is the beginning of the main beach strip in Paphos centre and it's a pretty decent start. Pachyammos Beach is a small crescent-shaped sandy bay with very well protected swimming so would be fantastic for families with children.
You have access to multiple watersports vendors and if you don't get a spot on the sand then there are some big hotels nearby where you can get a sunbed on the grassy areas for around €2.50 each, plus €2.50 for an umbrella.
You also have access to an ice cream van and a lot of decent restaurants and bars.
The only issue is that there will be jet skis around all day so if you're looking for a peaceful place to soak up the rays then this is not the place for you.
---
Kefalos Beach Playground
Kefalos Beach is just down the coast from Faros Beach and is situated right outside a large accommodation complex. It is a decent-sized mostly sandy beach (mixed a little with shingle) where you should be able to get a decent spot. I would get here early in high season as it can get busy considering the large complex behind it.
There are no public facilities at the beach but there are facilities in the complex in case of an emergency. Just remember to check with staff that this is allowed before using them to avoid a telling off.
There is a volleyball court and a small bar where you can buy cocktails and beers for a reasonable price. There's even a small (tiny) mini-golf course.
---
St Georges Beach
St Georges Beach is a small yet well-equipped beach with soft sand. It has a very nice grassy area above the beach with a cafe that serves food and drink and there are sunbeds, showers and toilets available. There is also ample parking which I reckon will be free throughout the day.
Most of the beach is flat rock where there is a ladder to climb down into the very good swimming in the crystal blue waters but there is also a couple of small sections of sand if you get there early enough.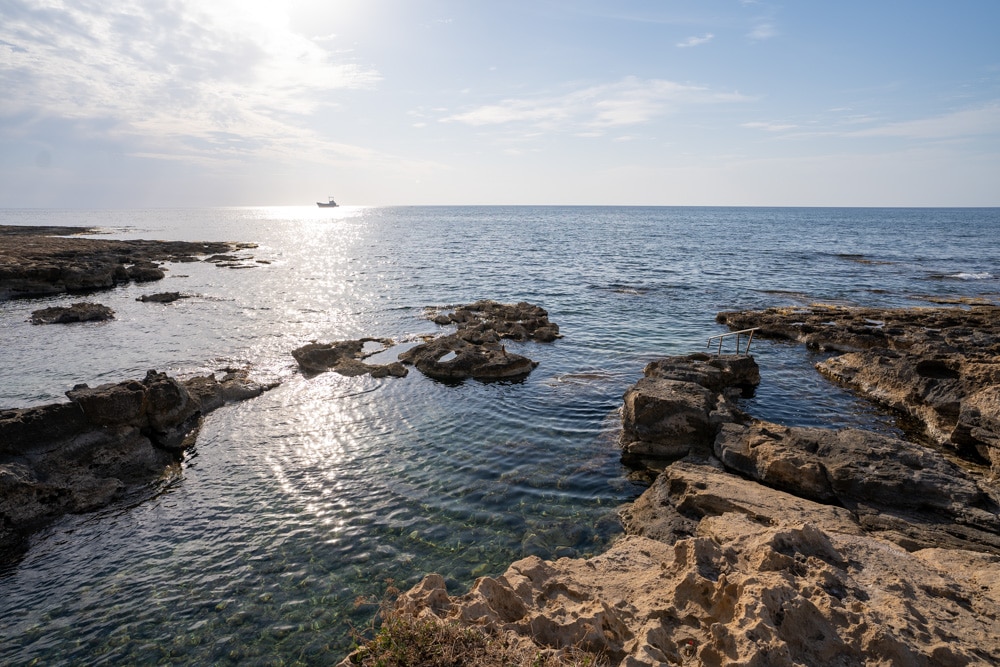 If you do manage to get a spot on the sand then this is actually a very decent beach in Paphos to spend the day. You can catch the sun very well and the facilities and swimming really make it a contender.
---
Laourou Beach
Laourou Beach is a bit of a strange one for me because it has fantastic facilities – free shower/toilet block, huge restaurant, kids arcade, lifeguard, ATM, huge car park, Bus Stop (615) and sunbeds/umbrellas – but it's actually quite a small beach where most of the sunbeds are on the path (with a sprinkling of sand on)
Now, this is definitely not a bad beach. The swimming here is to die for. It is protected by a sea wall and the water just shines an absolutely perfect blue.
I highly recommend getting here very early and getting one of the sunbeds down by the water. If you manage to do this then Laourou Beach is going to be a fantastic day out.
Read More: Check Out The Rejuvenated Paphos Old Town
---
Kafizis Beach
This little Paphos beach is so nestled in the environment that it's almost a secret at this point. That is until the massive new hotel, Cap St George, was built right next to the beach.
This isn't necessarily a bad thing though as it is still open to the public and the hotel is a very stunning piece of architecture. It also comes with a nice restaurant and facilities right next to the beach.
There is also a permanent lifeguard on duty and now lots of very high-quality sun loungers and bean bags. These will have to be rented from the hotel though.
I imagine that once Cap St George starts accepting large numbers of guests that this beach will become more of a private beach for the hotel but you could always stay at the hotel and that solves the problem!
---
Adventure Lover Beaches
These Paphos beaches are a little off the beaten track and come with the peace and serentiy of going a little bit further than the majority. They also have some good snorkelling opportunities!
---
Ranti Forest Beach
Ranti Forest Beach is a great place to come if you hire a car and can drive down the south coast a little way. It's a 20-minute drive from the centre of Paphos.
When you arrive you will be greeted by some decent picnic benches and a toilet block in the gravel car park. You can then drive all the way down to the beach. This road is actually pretty decent (paved) and you don't need a 4×4 to get down. There is parking (gravel) at the bottom right next to the water.
I recommend going to the toilet before you go down as it's a bit of a climb just to use the facilities.
The beach itself is fine shingle (not sand) but don't let that put you off. It's huge and has incredible swimming and views and because it is 20 minutes away, it's always going to be quieter.
---
Koskinas Beach
This is a small but beautiful little sandy beach with a fantastic view of the MV Demetrios shipwreck. There are no facilities to speak of except parking and bins.
I recommend coming down to Koskinas Beach in the offseason to watch the sunset slowly fall into the horizon and to get some epic photography of the shipwreck.
Obviously, you might as well make the most out of the lush swimming so get here a couple of hours before sunset. In the off-season, you will be able to get a space. If you're a registered drone pilot then this is a paradise. Imagine flying out to the shipwreck during sunset. I did it and it was spectacular.
---
Prestos Beach
Prestos Beach really is an adventurer's paradise. It is a tiny sandy beach nestled between the white rocks and has some of the best snorkelling opportunities in all of Paphos.
When you're not swimming in the perfect water, you can explore the rocks, arches and caves close to the beach.
There are no facilities at all so make sure you bring water and food for the day. There is a car park at the top of the hill near the beach. I recommend coming down to Prestos Beach if you're trying to avoid the crowds in the summer or if you basically want a private beach in the low season.
There is no phone signal down by the beach so you can expect a quiet, relaxing day.
---
Ina Beach
Ina beach is another natural beauty that is completely untouched by any form of infrastructure on the beach. If you can get down here early (in the high season) and get a space on the sand then you're in for a fantastic day of swimming and snorkelling.
The swimming here is insane. The whole bay is crystal clear and you can go for a swim down the coast to see the arches and caves. You only have to look at the pictures to see how incredible spending a day here would be.
I highly recommend coming here if you want to explore any Paphos beaches after September as you'll have the beach to yourself (probably). There are no facilities though so make sure you bring food/drink for the day.
It was a little bit of a pain to get to, down a housing estate, but there were no private property signs and the parking in the estate is very good.
---
White River Beach
You will definitely need a car or taxi to get up to White River Beach but it's a truly spectacular site, towered over by an imposing cliff to the left. There is parking down closer to the beach or on top of the cliff where you can then walk down to the beach.
The beach used to have basic facilities and a place to buy food/drink but unfortunately, all of that is now gone and there are no facilities to speak of. The beach itself is shingle and pebbles but you can almost guarantee that you'll have some peace and quiet.
The scenery here is on another level and you can really lose yourself in the tranquillity of this remote location. Remember to bring food/drink for the whole day. This is the last beach you can get to (in the north) before requiring a 4×4.
---
Toxeftra Beach
This is a huge sandy/shingle beach just to the north of White River Beach. You will need a 4×4 if you want to park near the beach or it's a quite short walk from the White River Beach parking.
This is a turtle nesting beach so you are not allowed to bring umbrellas and there are absolutely no facilities available.
The swimming can also be quite rough and the bottom isn't sandy so I recommend water shoes.
In my opinion, this beach is less for relaxing and sunbathing and more about the sheer beauty of the landscape, nature and sense of peace you will get here.
It could be one of the best Paphos beaches to watch the sunset with your partner in total serenity. Maybe anywhere I have ever seen.
---
Lara Beach
Lara beach is an extremely well-known beach in Paphos for its sea turtle conservation efforts. It has been a prime nesting ground for sea turtles for centuries and when you visit you will be able to see why.
It is so remote that there are no facilities at the beach at all and you must make sure to take everything you came with back home again. Don't be those people…
You are NOT ALLOWED umbrellas on the beach but people do this anyway. The reason is pretty obvious as you can pierce a nest. I recommend bringing a little shade tent if you are planning to spend the day here sunbathing.
I don't actually recommend doing that though as there are better and closer beaches to do that. The swimming here can be quite rough and there is no lifeguard on duty.
I do recommend coming just to see the natural beauty of the area and to learn a little about the conservation efforts. You can do this by taking one of the off-road tours through the region which I also recommend. It's a great day out.
---
Other Gems
These few Paphos beaches have great potential so don't count them out. Have a look and they might surprise you with a great day by the waves.
---
Mandria Beach
Mandria Beach is just to the south of Paphos (20-minute drive from the centre). It has all of the facilities you would want; a toilet, shower, lifeguards, sunbeds (€2.50 each) and a well-priced bar. However, these facilities are a little less refined than in the centre of Paphos and this is to be expected.
However, the benefits to this are a guaranteed less busy Paphos beach and the ability to have some decent volume music playing from the bar.
The beach itself is a half sand, half shingle mix so there are plenty of areas of sand to get a towel and soak up the rays. The sunbeds were a little dated when we went but still well worth the price if you're staying all day.
The bar arranges events, parties and live music so if you're thinking about checking out Mandria beach the have a look on their Facebook page to see if something is on or coming up.
---
Anaouliontas Municipal Beach
This Paphos beach isn't even on Google and we accidentally found it on one of our beach discovery days we did for this post. But it really is a little gem.
It appears that the 5* hotel behind the beach (Elysium) has a monopoly on the beds and facilities at the beach but I spoke to staff and they advised that they do not own the beach. which makes sense as it is a Municipal Beach.
I don't think I would recommend going down and trying to get a space on the beach without paying for the hotel services as there really isn't that much space left. However, you can pay €45 each for a day pass to use all of the hotels facilities.
If you're thinking about doing this then I highly recommend that you just spend one night (or more) in the hotel as its not that much more for a couple to spend the night, which gives you a pass to all the facilities anyway. Check out the hotel here.
---
Dimma Beach
Dimma Beach is a very small beach which the parking (for 20 cars) is a little optimistic. Its size doesn't take away from its potential though.
If you're looking to spend a whole day soaking up the rays then this isn't the beach for you, there are better Paphos beaches. However, the swimming here is fantastic and the sun sets right behind the MV Demetrios shipwreck. This means that if you're looking to do some photography/aerial photography with the sun behind the wreck then this is the place to be after high season.
Just like Koskinas beach, you might as well get here a few hours early and spend some time in the gorgeous blue water.
---
Blue Coral Beach
Blue Coral Beach is a large pebble beach with little sand but incredible views. The restaurant/bar is also very nice and has very good facilities and nice sunbeds (€5 a bed).
The swimming here is not protected by a sea wall and there are riptide warnings in place. However, there is a lifeguard on duty at all times. If you have children I think there are better places to go for a swim.
I actually think this could be the best of all the Paphos beaches to come in the evening and watch the sunset from the restaurant. I recommend calling the restaurant in advance to see if you can book a table on the decking. This would be a very nice place to have an evening meal.
If you're not much of a swimmer then Blue Coral Beach is a decent place to come and get a sunbed and grab a tan as the sunbeds are pretty decent.
---
Not Recommended
Alikes Beach
The only beach in Paphos I visited that I don't recommend. It's right next to St Georges Beach which is perfectly good. The reason I don't recommend as there are dangerous currents here and there isn't even anywhere to get into the water.
I have only written about it as the beach is on Google and I don't want people to visit and be disappointed.
---
What To Take To These Paphos Beaches
Be prepared for your trip to Cyprus and make sure you have everything before you go for your Paphos beaches visits! Here are our top recommendations for products we think you'll love.
If you haven't already got a swimming costume then what the hell are you doing?! Have a look at this gorgeous high waist bikini and get a swimsuit before you leave. I absolutely love the dual colour option but there are loads of colour options available. Take a look here.
Don't even think about stepping out in the sun without protection! This factor 50 sun cream from Sunbum is vegan, reef-safe and smells like summer, as well as being dermatologist approved! It's non-greasy, easy to apply and doesn't leave a white cast so you can quickly rub it in and get on with your adventures! Take a look on Amazon here.
Travelling with hundreds of books isn't feasible, so packing a Kindle is a no-brainer! The latest Paperwhite has a 6.8″ display so it's much better than reading on your phone. There's also a warm backlight and an incredible 10 weeks of battery life! This version is even waterproof so you can relax by the pool with peace of mind. I've had my Kindle for 10 years and it's still perfect – this is a purchase that will last you a lifetime! Check out the full specs here.
If you're planning on going to the beach then make sure you have some flip-flops in the bag. There is nothing worse than getting sand in your shoes or socks and there is nothing better than feeling the sand on your feet. We recommend an affordable pair like these Old Navy casual flip-flops. They will get the job done and shouldn't break almost immediately as other brands might. Check them out in more detail here.
If you're stuck on what kind of towel to take with you then take a look at this microfibre poncho. We absolutely love ours and it is insanely helpful when you need to change on the beach. They dry fast and pack down super small so you'll be able to fit one in your day pack easily enough. Check out the price here.
If you're looking for a portable speaker then check out the JBL Flip 5. In my opinion, it is the best portable speaker in the world right now in terms of price and quality. Going to a secluded beach and listening to decent-sounding music makes all the difference so take a look here!
Jade really doesn't get on well with flip-flops so she always takes a couple of pairs of sandals (in case one pair breaks) on every trip we go on. We recommend checking out these CUSHIONAIR sandals which are comfortable, durable and affordable (the holy trinity!). We chose these because they are vegan suede but there are lots of different materials and colours to choose from. Check them out here!
Whether you're climbing mountains and need a fresh cold drink, or catching an early morning flight desperate for hot coffee, you should be travelling with a Thermoflask! It is incredibly insulated and keeps liquids cold for 24 hours, or hot for 12. It also comes with two lids so you can choose whether you need a straw or just a mouthpiece. These stainless steel bottles are BPA-free and come in some beautiful colours too! Check the options out here.
If you need protection from the sun then grab a hat before you travel. This Adidas original is affordable, protective and looks the part. Check out the price here.
If you need some sunglasses then take a look at our recommended pair right here. Kev has just done 7 months without a pair because he couldn't find any he liked on the trip and it was just a lot of complaining about the sun. Don't be a Kev… Find out the price of not being a Kev right here.
If you're planning on relaxing on the beach with some music or a good audiobook then you're going to need some decent headphones. We currently recommend the JBL Vibe in-ear pods as they produce brilliant sound and do not cost hundreds of dollars like the flagship brands. Check out current deals here.
---
Frequently Asked Questions
Which is the best beach in Paphos?
It completely depends on what you're looking for. Out of all of the Paphos beaches, I'd recommend SODAP for the best location and facilities. For the best location and party atmosphere, go to Sandy Beach. If you want to see where the turtles lay their eggs, head to Lara Beach.
What are the best Paphos Beaches for families?
The best beaches in Paphos for families are SODAP, Rikkos, Coral Bay, Venus beach and Laourou beach.
What are your favourite Paphos Beaches?
My favourite beaches in Paphos are SODAP, Venus beach and Ranti Forest.
What are the best Paphos beaches for couples?
If you want to have a nice meal and watch the sunset then Blue Coral Beach is a really good option. Otherwise, you could go to the secret beach on this list!
---
There are a few to choose from but choice is never a bad thing! What are your favourite Paphos beaches? Have I missed any from my list? I literally drove the coast so I'm hoping I didn't miss anything. Let me know in the comments section below!
---