Visiting the Baths of Aphrodite might be on your list of things to do in Cyprus. Find out why and how exactly you should explore the area, and see what else this gorgeous part of the country has to offer!
Necessary Spacing
The Baths of Aphrodite are best seen on a tour that takes you to multiple attractions in the Akamas region. You can visit the Blue Lagoon, local wineries, and the famous shipwreck on the coast.
Click here to book your Akamas tour.
You can also hire a car to see the Baths of Aphrodite – hire your car in advance here.
---
The Baths Of Aphrodite
In Greek mythology, Aphrodite was the Goddess of love and beauty. Along the southeast part of the coast, lies a rock known as Aphrodite's Rock. Legend has it that the Goddess was born here, so it's another famous landmark in Cyprus.
It is said that she bathed in the little pool, now known as the Baths of Aphrodite.
The pool is said to have fertility powers – if you splash the water on your face 3 times, it means that babies are coming!
Read More: Visit The Blue Lagoon Too!
What To Expect At The Baths of Aphrodite
So. If you're visiting Cyprus and you've heard about Aphrodite's Baths, the chances are that you'll want to go just because of the legend.
I have to be COMPLETELY honest here. The baths themselves are pretty underwhelming, to say the least.
However, please don't let that put you off visiting! Let me explain.
There's a large car park at the entrance, which is great if you've driven because you don't have to worry about finding a legal space. You don't have to pay and there are plenty of trees to park under if you want to be in the shade.
There's no entrance fee, and you can spend as long as you like there.
The Baths of Aphrodite
After a short walk from the car park through the trees, you'll follow some steps down and hear the trickle of water.
The Baths of Aphrodite are clearly signposted, and you'll immediately see the famous pool.
It's quite dark because there are a lot of trees covering it, and it is also very small. You definitely can't swim in the Baths of Aphrodite!
There's a bit of a smell too – but only when you really get close to the water.
As I said, you're coming here for the legend and the mythology surrounding the area. Don't expect a beautiful flowing waterfall with any Goddesses lying around!
Once you've taken your obligatory picture, move on to the trails and look out for the views!
Read More: All Of The Best Sandy Beaches In Paphos
---
Botanical Gardens
Before you even get to the baths though, the Botanical Gardens lie at the entrance just past the main gates.
It's a pretty space, with plenty of trees and plants that have plaques for you to learn from. There's a large pagoda and amphitheatre-style seating.
If you're only here to visit the baths, then it's a lovely place to sit down and relax. Bring a packed lunch and enjoy the views, especially in the summer.
Nature Trails
There are two gorgeous nature trails that you can walk along near the Baths of Aphrodite. These are 100% worth doing and the best reason to come up this way into the Akamas peninsula.
Make sure you take PLENTY of water. In parts, there is no shade and the Cypriot sun is strong. Even in November, when we went, it was incredibly hot and we didn't realise how long the trails were so only brought 1L of water between us! Don't make this mistake!
Aphrodite Trail
This is the red trail with the best views of the coastline. It's around 8km long and it is quite steep in places. Don't let that put you off though – it's a beautiful, peaceful walk with very rewarding scenery the whole way.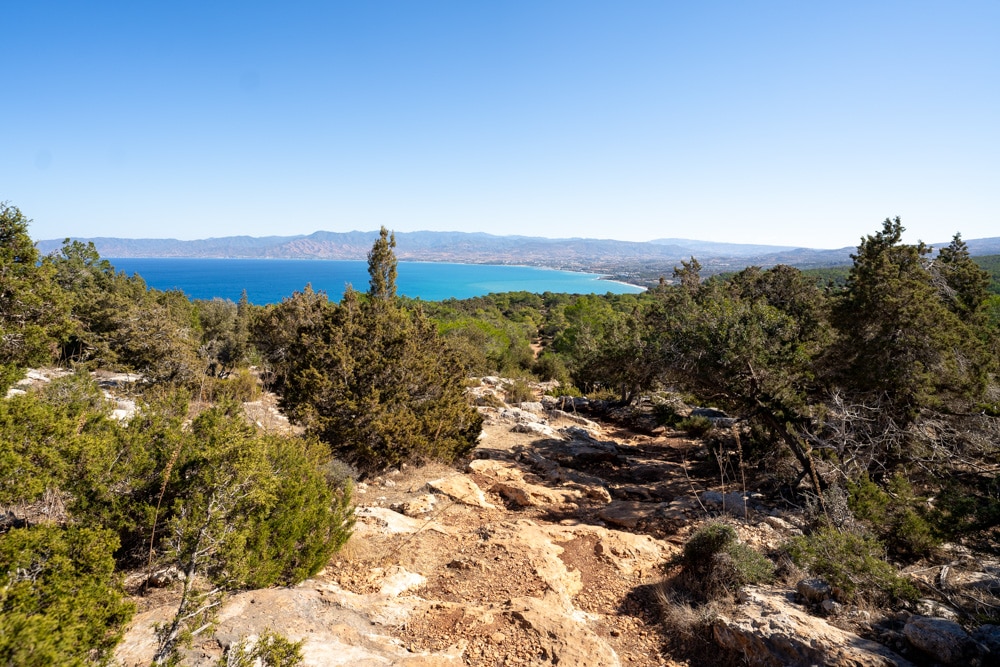 Adonis Trail
The blue Adonis trail follows the Aphrodite for around 2km, and then as you can see, breaks off to the left.
It's also a great hike, but further inland with more of the landscape to see.
The whole trail is around 7.5km.
If you're visiting the Baths of Aphrodite, you should definitely take one of these trails.
---
Where Are The Baths of Aphrodite?
The Baths of Aphrodite lie in the Akamas National Park, in the northwest part of Cyprus.
If you're driving, there are plenty of signs pretty much all the way from Paphos, so it's easy enough to get to.
The nearest village is Latchi, which is where the tour boats come from. There are also plenty of shops and restaurants here if you wanted to eat near the harbour.
From the Aphrodite trail, you can see the gorgeous coastline, and this is where the famous Blue Lagoon is. You could go on the hike and then walk down towards the bay to swim if you wanted to make a full day of it.
---
How To Get To The Baths of Aphrodite
The Baths of Aphrodite are actually very easy to get to. You can either take a tour, drive yourself or get the local bus.
Taking a tour like this one means that you get the best of both worlds – easy transportation to the Baths of Aphrodite and you get the chance to visit other local attractions too. It's also good to get a tour if you can't drive or don't want to hire a car abroad.
However, driving yourself if also a good option. Take a look at some good rental deals here. I'd recommend booking early, especially in the summer holidays!
Getting a bus is also fine, but you're limited by the timetable, so you can't just explore and change your plans if you are planning on getting a bus back.
Here's how to get to the Baths of Aphrodite:
Take a Tour
Taking a tour to the Baths of Aphrodite is a great way to see other interesting parts of the Akamas National Park too.
Read More: Try Out These Awesome Paphos Excursions!
There are a variety of tours that you can choose from, but here are my top picks designed to give you the best day out!
Blue Lagoon (Akamas) Excursion
Tour Duration: 8 hours
Pickup Included: Yes
Age Suitable For: Any
Need To Take: Lunch/money
Extra Info: Snacks available
Jeep Safari to Akamas National Park
Tour Duration: 8 hours
Pickup Included: Yes
Age Suitable For: Any
Need To Take: Lunch/money
Extra Info: Max. 12 people
Driving A Rental Car
Hiring a car in Cyprus is easy, and I recommend it for trips to the Akamas National Park if you can.
Don't forget to bring your full driving licence abroad with you if you're going to hire a car.
Remember that you need to drive on the left in Cyprus too! Be a little bit wary of the buses that steam along the roads and around blind corners, but in the countryside, you probably won't see many other cars.
By Bus
Take bus number 645 from Paphos Municipal Market bus station, in Old Town. It leaves at 3 minutes past the hour, every hour. This is normally the Karavella Station, but it's being rebuilt so you'll need to go here (directions from the harbour).
Read More: Fun Things To Do In Paphos Old Town
It will cost you €1.50 and take around sixty minutes. Take the right change.
You'll then need to jump off at Polis Chrysochous and get on bus number 622 to the Baths of Aphrodite.
Have a look at the local bus website to see exactly where to get off, because Google Maps hasn't quite got it right! You can also ask your bus driver – they'll be more than happy to let you know when to get off.
This journey will take around 30 minutes and there's a bus stop at the baths.
Be aware that the afternoon buses are not as frequent, so time your trip well enough so that you aren't just sitting waiting for a bus in the baking heat. Have a look at the schedule here.
---
When To Visit The Baths of Aphrodite
You could visit the Baths of Aphrodite at any time of year and see the same thing.
However, if you're going to hike the trails, I would recommend going in the low season.
This is mainly because of the weather! You need to be so careful because of the risks of dehydration and sunstroke, so visiting in the cooler months is safer.
November was pleasant (but still quite hot) so choose a cloudy day if you can!
---
Where To Stay Near The Baths of Aphrodite
Paphos is a great place to base yourself if you're staying on the west side of the island.
It's also not too far from the Akamas National Park for some beautiful day trips.
---
Book your favourite hotel here

Where will you go?
---
However, if you're looking for somewhere a little less busy, then Polis or Latchi are good options. They're small villages, and Latchi has a harbour where you can take all sorts of boat trips from.
Read More: How To Rent A Boat In Paphos
Eco-Friendly Camping at the Baths of Aphrodite
Unique accommodation is always more fun, and the Aphrodite Eco Camping site is no different.
The cute teepees are spacious, clean and come with a little veranda.
You can also bring your own tent if you want a more wild experience!
There are also laundry facilities, a shop and free WiFi for those of you who want the nature aspect of your stay, but want to enjoy the luxuries of home too!
Book your tent/hut here!
Recommended Hotel in Paphos
Paphos has some gorgeous hotels to stay in that don't break the bank. Casa Mespilea is one of those, and it's certainly somewhere you won't forget in a hurry!
Read More: Take A Look At These Gorgeous Boutique Hotels in Paphos
With gorgeously decorated boutique rooms, a cute and tranquil back garden and a restaurant serving incredibly local food – this is an excellent place to stay and is perfectly located in the heart of Old Town.
Recommended Hotel in Latchi
Latchi has some fantastic villas, and this Latsi Apartment is one of them.
Just a 2-minute walk from the beach, it's got WiFi, air conditioning and a fully equipped kitchen. You can also hire a car from here.
This place is great for groups or families who need more amenities than the standard hotel can offer!
Check out availability and prices here.
Recommended Hotel in Polis
If you are looking for a chic, friendly hotel in Polis, stay at the wonderful Polis 1907.
It's a bed & breakfast, so you don't even have to leave the room in the early hours of the morning to fuel up for the day!
There's a lovely garden/terrace area and an on-site bar.
Polis 1907 is located in the centre of the town.
---
If you're not really planning on doing any major hiking then we recommend that you check out these AKK walking shoes. There are extremely lightweight, breathable and have memory foam insoles to make them super comfy. Don't make the mistake of spending loads of money on insane walking boots if you don't need to! Check them out here!
Jade really doesn't get on well with flip-flops so she always takes a couple of pairs of sandals (in case one pair breaks) on every trip we go on. We recommend checking out these CUSHIONAIR sandals which are comfortable, durable and affordable (the holy trinity!). We chose these because they are vegan suede but there are lots of different materials and colours to choose from. Check them out here!
---
---
If you're going to hike the trails, enjoy the botanical gardens or swim at the Blue Lagoon, then definitely take a trip to visit the Baths of Aphrodite!