Are you looking for the aptly named Sandy Beach Paphos or simply looking for sandy beaches in Paphos? Here we give all the information about both!
Necessary Spacing
Sandy Beach – If you are looking for the exact beach called Sandy Beach then this is a chill beach with a variety of events (DJs, parties, etc) and tournaments (volleyball) throughout the high season. The music is good and loud and it is the perfect beach in Paphos for people wanting to have a good time.
Sandy Beaches In Paphos – If you are looking for other sandy beaches in Paphos then I recommend SODAP Beach in town or Coral Beach/Riccos beach for families.
If you're looking for accommodation in Paphos then check out our top recommendations for; Budget | Luxury | Villa
---
Sandy Beach Paphos
Sandy Beach Paphos is an average-sized sandy beach 5km north of Paphos town center. There are a few other sandy beaches in Paphos but none cater to the younger audience quite as well as Sandy Beach Paphos.
If you are looking for a chill vibe, loud music, volleyball tournaments, good surf, well-priced drinks, beach BBQs, live DJs, and crystal blue water then Sandy Beach Paphos is the best (and only) beach in Paphos to really tick all of these boxes.
Read More: The Blue Lagoon Paphos – Complete Guide
---
Facilities
Sandy Beach Paphos has;
Shower Facilities
Bar
Food
Toilets
Volleyball
Sunbeds
Parking
Lifeguard
All of the facilities on Sandy Beach are pretty basic. The toilets are portaloos and do not expect loads of space in the changing facilities and showers. However, they are all serviceable and add to the relaxed vibe that Sandy Beach Paphos does so well.
One thing that Sandy Beach Paphos does quite well is the sunbeds. When you turn up you will see two distinct areas of sunbeds. The sunbeds on the left, as you walk in, are reserved for Azia Hotel guests. But, the sunbeds near the bar are all available for hire from the bar itself.
These sunbeds are very good and have a variety of different options available. The sunbeds start around €5 if you also want an umbrella and €2.50 on their own. The full beds cost a little more and go very quickly!
There is a SMALL amount of parking at Sandy Beach Paphos. I do not recommend assuming that there will be space and driving up. I highly recommend getting the 615 bus which stops very close to the beach. This also means that you can relax and have a drink and not have a designated driver!
To get to Sandy Beach Paphos, the bus you want to get is the 615 bus to Agiou Georgiou Ave bus station. There are plenty of stops in the Paphos town center, but check out the full timetable here to see the best option for you!
Read More: Boutique Hotels In Paphos – ALL OF THE BEST
---
Events
Sandy Beach Paphos organises events throughout the peak season. These include;
Beach Parties
DJ Sets
Comedy Sets
Volleyball Tournaments
BBQs
To see what they have planned for the dates you will be at Sandy Beach Paphos then check out their Facebook page here.
---
Location
---
Where To Stay For Sandy Beach Paphos
Paphos is the homo of holiday apartments and Villas. I have never seen so many options for full apartments with kitchens and pools. You would think that this drives the price up a lot but it really doesn't. Of course, there are some luxury villas, which you will see below, but also some affordable options too. Check out our 3 recommended options for Sandy Beach Paphos below.
Villa
Here you get to choose from a 3 or 4-bedroom villa with its own private pool. The Villa is also really close to Sandy Beach Paphos which makes it the perfect accommodation for a group of friends looking for a great time!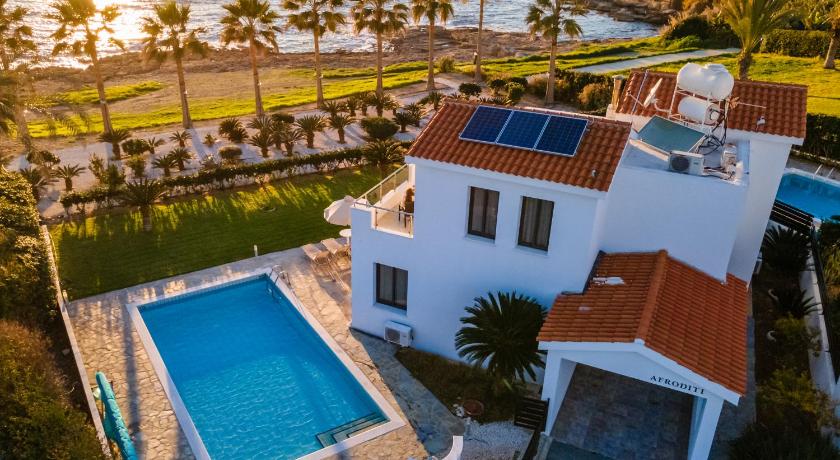 Villa
Terrazza suites are also right next to Sandy Beach Paphos and have options for 2 or single-bed apartments. This is an even better option if you are solo travelling or in a couple! There is even a restaurant on site.
Apartment
To get something more affordable then you will have to come closer to the town itself. Moutallos Rooms are affordable apartments a couple of km from Sandy Beach Paphos. They come with decent facilities with plenty of space.
Read More: The Best Villas In Paphos!
---
Other Sandy Beaches In Paphos
SODAP Beach
SODAP Beach is right in the heart of Paphos and has the most modern facilities of any of the beaches in Paphos. It has many decent sunbeds available to rent for €2.50 (an additional €2.50 for an umbrella) and excellent shower/toilet facilities.
The swimming here is excellent and protected by large man-made sea walls. There is a bar on site that will bring you drinks. Drinks can even be ordered from your phone and someone will turn up to your sunbed with your drinks.
The actual beach area is not the biggest in Paphos and I guarantee this will be absolutely packed out in the high season. If you want to come to SODAP beach in the high season then you are in for an early start if you want to guarantee a sunbed for the rest of the day.
Read More: The Best Boat Trips In Paphos!
---
Faros Beach (Lighthouse Beach)
A seriously underrated sandy beach in Paphos, Faros Beach has a massive amount of space for people to find a spot on the sand. The beach has volleyball facilities and even some beach football pitches. It has a shower block/toilet block with a small cafe serving food attached.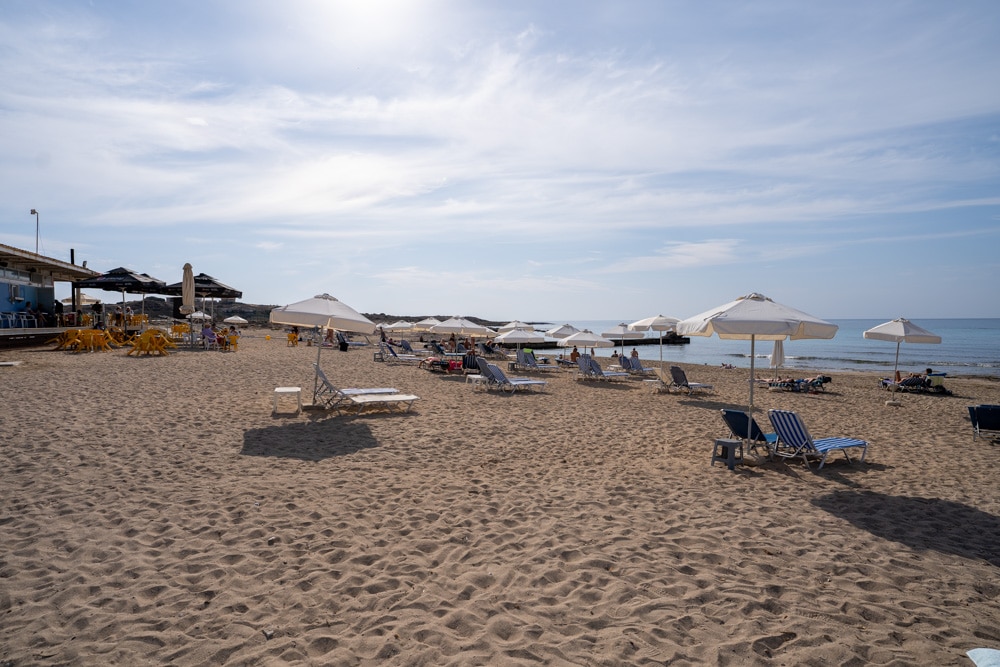 The facilities are a little old but they are significantly better than Sandy Beach Paphos so if you are happy with Sandy Beach then you'll be very happy with Faros Beach. There is a decent car park but, in the high season, you will want to get there early.
Faros Beach does have some sunbeds but, like the facilities, they are a little old. I recommend just bringing a towel and finding some space on the sand. The sand is nice and soft and will be more than comfortable enough for a nice long day of soaking up the rays.
Read More: The BEST Winery Tours In Paphos
---
Venus Beach
Venus Beach is going to be one of the best beaches in Paphos in the near future. It has a really good amount of space and nice soft sand with man-made sea walls making swimming incredibly calm and safe for everyone.
At the moment it has a very basic shower and toilet facilities and a small vendor selling drinks. expect this to change very soon with more significant shops and facilities.
Sunbeds are available to hire and the beach has a very large car park where you should be able to find a space. Beware though, the car park is not paved and maybe a bit rough for a small hire vehicle.
Read More: How To Hire A Boat In Paphos
---
Coral Beach
Coral Beach is probably the most well-known beach in all of Paphos. It has a super long stretch of gorgeous soft sand and loads of great facilities.
Coral Beach also has; watersports, 2 restaurants, a permanent lifeguard, a toilet/shower block, a shop, and even massage facilities on the beach itself.
The beach has a very good car park but inside the car park, there is a bus stop that stops directly next to the beach. The bus is the same as Sandy beach Paphos (bus 615).
There are plenty of sunbeds but I always recommend you get here nice and early if you would like to guarantee a sunbed and the perfect day for the whole family.
---
Rikkos Beach/Yeroskipou Muncipal Beach
Rikkos Beach has to be the biggest and most well-facilitated beach in all of Paphos. It is truly huge. It has entire areas dedicated to restaurants, arcades, play parks, and other facilities all the way down the beach. This is the best option for families, by far.
If you are driving, there is a huge amount of parking so you shouldn't have to worry about parking at any time of the day but don't take my word for it and make sure you get there nice and early.
This might also be the best option in the high season as there is so much space you are guaranteed to still get space somewhere on the beach. The swimming is great with large protected areas which makes the swimming safe for everyone.
Read More: Paphos Old Town – The Best Place In Town?
---
Lara Beach
Lara Beach is quite a way north of the town but is one of the most picturesque and perfect beaches in all of Paphos. However, it is a protected area due to the turtles nesting on the beach.
This means that you are unable to have umbrellas here as it is against the rules, just in case you pierce a nest. I recommend coming up to Lara Beach for a day trip to see how gorgeous it is but I don't really recommend staying here all day. There are no facilities to speak of and you will have to bring everything you need for the whole day.
To get to Lara Bay I recommend going on a tour that has ATVs or buggies. You can do this drive in a 2WD but please don't, especially if it is a hire. Most hire companies (maybe all of them) will say you are not allowed to make that journey in a 2WD but we still see loads of people attempting it. We even saw a hire vehicle with the bumper hanging off at one point. We have written a whole guide to renting a buggy in Paphos here!
Read More: The Best Excursions In Paphos!
---
What To Take To Sandy Beach Paphos
Below is a list of all the things we think you need to take to Sandy Beach Paphos, and any beach you ever go to! I have also added an essentials list at the bottom which I think all travellers need during their trips!
If you haven't already got a swimming costume then what the hell are you doing?! Have a look at this gorgeous high waist bikini and get a swimsuit before you leave. I absolutely love the dual colour option but there are loads of colour options available. Take a look here.
If you need some sunglasses then take a look at our recommended pair right here. Kev has just done 7 months without a pair because he couldn't find any he liked on the trip and it was just a lot of complaining about the sun. Don't be a Kev… Find out the price of not being a Kev right here.
If you're looking for a portable speaker then check out the JBL Flip 5. In my opinion, it is the best portable speaker in the world right now in terms of price and quality. Going to a secluded beach and listening to decent-sounding music makes all the difference so take a look here!
If you're in the market for an action camera then our current recommendation is the GoPro Hero 9. Yes, the Hero 10 is currently the flagship but it doesn't have that much more than the Hero 9 and costs a lot more. The front-facing screen is a godsend for selfies and video and you get the famous GoPro durability and stabilisation that they are now renowned for. Check out current deals here.
Don't even think about stepping out in the sun without protection! This factor 50 sun cream from Sunbum is vegan, reef-safe and smells like summer, as well as being dermatologist approved! It's non-greasy, easy to apply and doesn't leave a white cast so you can quickly rub it in and get on with your adventures! Take a look on Amazon here.
If you're stuck on what kind of towel to take with you then take a look at this microfibre poncho. We absolutely love ours and it is insanely helpful when you need to change on the beach. They dry fast and pack down super small so you'll be able to fit one in your day pack easily enough. Check out the price here.
Jade really doesn't get on well with flip-flops so she always takes a couple of pairs of sandals (in case one pair breaks) on every trip we go on. We recommend checking out these CUSHIONAIR sandals which are comfortable, durable and affordable (the holy trinity!). We chose these because they are vegan suede but there are lots of different materials and colours to choose from. Check them out here!
If you're planning on going to the beach then make sure you have some flip-flops in the bag. There is nothing worse than getting sand in your shoes or socks and there is nothing better than feeling the sand on your feet. We recommend an affordable pair like these Old Navy casual flip-flops. They will get the job done and shouldn't break almost immediately as other brands might. Check them out in more detail here.
---
Other Things To Do In Paphos
The Blue Lagoon
We went to the Blue Lagoon on a self-drive boat… It was as insanely good as it sounds. This is, by far, the best way to experience the Blue Lagoon. We have made a video about all of the ways to get to and experience the Blue Lagoon which I have put below if you would like some more information. Book the exact boat we took here now or have a read of our entire guide to the Blue Lagoon here.
---
Troodos Mountains
We visited this incredible area on the very highly rated 100% Cyprus tour. The tour takes you to all of the best places in the Troodos mountains and I highly recommend jumping on it, we had a fantastic time. We made a complete video about it which I have put below! Check out the exact tour we went on here.
---
Baths Of Aphrodite
Even though I don't rate the actual Baths of Aphrodite, the Adonis trails that are part of the area are absolutely fantastic. Check out the video below to see how you can do this and read more about the Baths of Aphrodite here.
---
Old Town/Nightlife
We went to all of the best bars in Paphos, only to check them out for of course, not for our own enjoyment… What a good excuse to do it though! It wasn't really what we expected and we discovered that some of the best nightlife in Paphos is actually in the old town. Check out our entire article here or watch the taster video below!
---
Aphrodite Waterpark
The Aphrodite Waterpark is a super cool and huge waterpark that caters to everyone. If you are into waterparks or you are part of a group of friends/family then this is probably the best family activity you can do in all of Paphos. Check out how to book here!
---
Wine Tasting
Paphos and its surrounding area are actually quite well known for their great wine and wine tours. If you are into that sort of thing, I know we are, then why not jump onto a wine tasting in Paphos tour? Check out our recommended wine-tasting tour here!
---
---
Frequently Asked Questions
What Is The Best Sandy Beach Paphos?
If you are looking for a chill vibe then Sandy Beach Paphos is the best choice but if you are looking for something a little more family friends then I recommend Rikkos Beach.
Is Sandy Beach Paphos Worth It?
It is the only beach in Paphos that truly caters to a younger audience that wants loud music, drinks, and a good time. If that's what you're looking for then it's not only worth it, it's your only option.
Do Sandy Beaches In Paphos Cost Money?
None of the Sandy beaches in this list cost any money to enter. There will be additional fees for sunbed hire. This tends to be around €2.50 – €5.00
Is Sandy Beach Paphos Good For Children/Families?
Not really. the beach is much more for young adults. There will be loud music and drinking throughout the day. This doesn't mean that the beach is a bad place but there are better beaches in Paphos for children.
What Sandy Beach Paphos Is Good For Families?
The best sandy beach in Paphos for families is Rikkos Beach. It is huge and has all of the facilities that and child/family would ever want/need.
---
That's our whole guide to Sandy Beach Paphos. Let us know in the comments section if this article was helpful and if there is anything we can add to the article to improve it in any way!
---