This post may contain some affiliate links which means we can earn commission at no extra cost to you.
Diamond Beach Iceland is one of the most beautiful natural places we have ever been to. Check out everything you need to know here!
When I say beautiful, I'm really not exaggerating. From the very beginning, staring out into the Norwegian Sea standing amongst blocks of perfectly formed glacier ice, to the very end, following the ancient glacier winding back into the mountains. Diamond Beach Iceland really is worth the trip.
If you are specifically looking for Diamond Beach accommodation then click here for our top recommendations.
What Is Diamond Beach Iceland?
Diamond Beach is the result of glacial ice breaking off of the Breiðamerkurjökull glacial tongue into the famous Jökulsárlón Lagoon. This ice that collects in the Jökulsárlón glacier lagoon then slowly makes its way out into the sea.
The whole process breaks up these huge chunks of glacial ice into thousands of incredible blocks that wash up on the jet black sand of Iceland's east coast. The contrast between the glistening ice and sand makes for truly breathtaking sights.
What To Do At Diamond Beach In Iceland
Diamond beach is definitely the most famous name to come from this area. However, it is only one small piece of the whole attraction.
The park is also home to the deepest lake in the whole of Iceland, a glacier that is actively breaking into the lagoon and a mountain range giving an entire backdrop to possible seal and orca sightings!
The whole visit will take you around 2 hours if you have a quite leisurely walk whilst also taking some time to try and spot the local wildlife.
Diamond Beach
Firstly and most importantly, get yourself down onto the beach and walk amongst the ice diamonds decorating the whole area.
You'll be very surprised about how big some of the blocks can be and you'll be able to have some serious fun trying to get those Instagram worthy shots from all sorts of angles.
The beach is really quite big but for some reason, the crowds of people tend to stick together in the middle like a bunch of penguins trying to keep warm.
Have a walk literally 1 minute in either direction of this group and get yourself some lovely pictures without the crowds.
Pro Tip
Don't get sand in your camera! It's very easy to forget you're on sand because of the incredible blackness of it but you are! Everyone knows that sand is the devil to all electrical equipment.
Whilst you're strolling about the ice diamonds like a happy Ice Queen (or king, although it doesn't have the same ring to it) remember to glance over at the glacial river and into the sea as often as you can. The amazing Iceland Diamond Beach is home to many seals which you can quite easily see as long as you stay alert.
However, Diamond beach is also home to one of the best places to see orca whales in Iceland. Now, I'm a huge wildlife person and I get excited just writing about it (and we didn't even see one!), so if you're like me then there are some good vantage points on the bridge just behind the diamond beach or some better lookouts on the north side. Good luck!
Jökulsárlón Lagoon
Once you have finished with Diamond Beach then cross the road and walk up to Jökulsárlón glacial lagoon. When I say walk I don't want you to think its a hike or something, you may have even parked next to when you first arrived. Jökulsárlón Lagoon is literally 100m from the beach.
Jökulsárlón Lagoon is a huge glacial lake that rests at the foot of the Breiðamerkurjökull Glacier. This is where all of the ice comes from that makes up the famous Diamond Beach in Iceland. As far as the eye can see, there are huge blocks of glacial ice towering over one another slowly breaking down until escaping to the sea.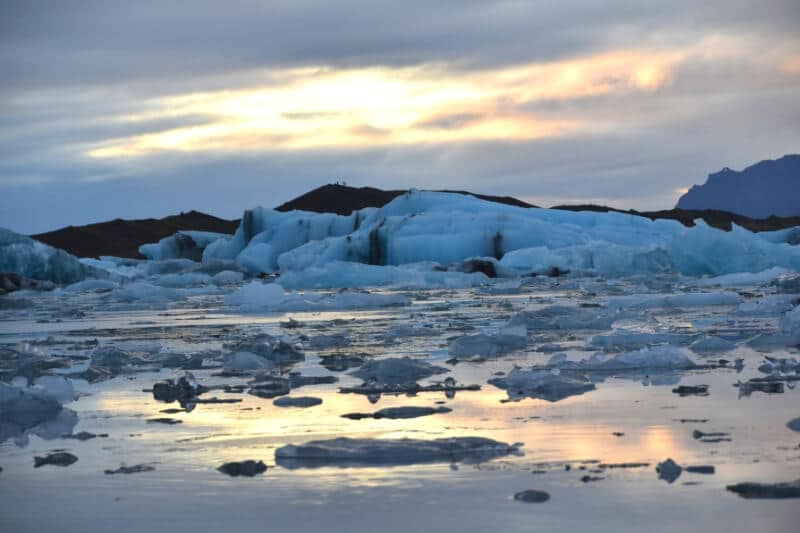 If the sheer scale of this process does not capture you instantly then the cracking and rumbling sounds that echo around the lagoon will surely pull you into its beauty.
The giant blocks at the back of the lagoon are moving so slowly that during your time there they will seem to not have moved. However the closer you get to the short river at the front, you will start to see this destructive process in real time.
The smaller blocks now tumble and turn as they make their way to the sea, occasionally hitting one another causing a deep rumbling echo.
Jökulsárlón Lagoon is actually less than a century old and only started forming in 1935 due to rapidly increasing temperatures in Iceland. Already, the lagoon is nearly 250m deep which is the deepest in all of Iceland.
So, when you are looking at the brilliant blues, blacks and whites of the huge blocks at the back, remember, they may go down very deep into the crystal depths.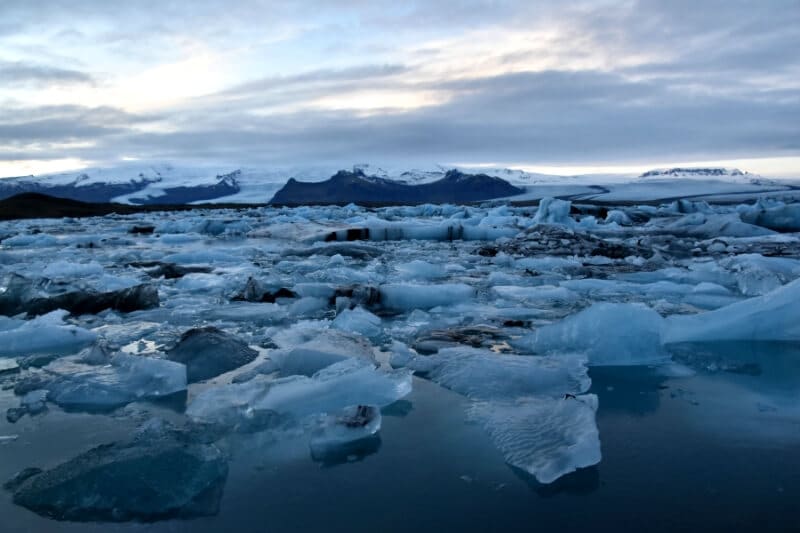 How To Get To Diamond Beach Iceland
Diamond Beach is situated, quite conveniently, right next to Route 1 which is the main road that goes around the entirety of Iceland, so getting there is quite easy.
However, you're going to have to plan your trip quite well because it really is nowhere near some of the biggest attraction in Iceland, for example, the Golden Circle.
It all completely depends on what your plan is in Iceland, what you want to see and where you will be staying. I've made a list below of some of the most common ways of getting there.
Car Hire
The majority of people that come to Iceland hire a vehicle for the duration of their stay. This is because so many of the national parks and incredible sights in Iceland are free to visit. Therefore, you don't need to spend huge amounts of money on day tours which pick you up from the hotel and give you very little more than you could do yourself.
If you are coming to Iceland for a short visit (less than two weeks) then I highly recommend hiring a decent 4×4 from one of the many rental companies and enjoy the freedom it provides.
If you have decided to do this then simply drive to Diamond Beach when you have the time.
Pro Tips
Along Route 1 there are many little places you can stop to have a look at huge waterfalls and glaciers that are right next to the road. A good way to break up your journey is to stop at one of these many attractions along the way.
Plan your trip to minimise how much driving you do in the dark. The often icy roads in Iceland are well surfaced and well maintained but there is still no reason to increase the risk by driving at night.
Van Hire
If you're thinking about a long trip to Iceland then definitely consider renting a van. They can range quite significantly from around $70 a day, all the way up to $300 for a serious motorhome. It all depends on what sort of trip you want. Something to consider, however, is there are certain roads in Iceland that require you to have a certain type of vehicle.
I strongly recommend finding a camper that allows you to travel on F-roads as some of the coolest places to visit are hidden at the end of these roads.
You CANNOT camp on the side of the street or a car park, you must check into a campsite. Campsites usually have access to hot showers, toilets and all the usual facilities. You have to bear in mind this additional cost, which is around $15 a night per person.
Driving around Iceland from hotel to hotel may seem like the more economical or convenient option, however, being able to camp out at some of the more rural areas and the freedom a camper gives you can dramatically improve your Iceland experience.
Like hiring a car, simply make your way round to the ice beach when you have the time.
Pro Tips
Remember that northern Iceland is one of the best places in the whole world to witness the Aurora Borealis (northern lights). Having a camper in the middle of nowhere will come in handy for sure.
Day Tour
This is only really a recommendation if you are travelling alone. If there is more than one of you then it really isn't cost effective at all. For less money, you could rent your own, very nice, vehicle and have the freedom that gives you.
Even though I don't recommend a day tour to Diamond Beach for more than one person, if you can't drive yourself then this is a good second option. This option is a lot better than getting public transport as it takes over 8 hours to get to the Diamond shore from Reykjavik on the bus so you won't be getting there and back in one day if you get the bus.
The only issue with a day tour there is that the cost is much higher for something that is essentially free after transport costs.
Nevertheless, have a look at this tour of the south coast of Iceland all the way up to Diamond Beach. If you are going to get a tour then I highly recommend this one.
Public Transport
There is a bus from Reykjavik to the town near Diamond Beach, Jökulsárlón, that takes 8 hours and 20 minutes. There you can get a short taxi ride of about 5 minutes to Diamond Beach. I don't recommend this option unless you really do not have a choice because it is not an efficient use of your time. It also really grates on me that the 5-minute taxi ride at the end will cost you nearly $30!
Have a look at how to get a bus from Reykjavik to Diamond Beach here. Don't forget that you can go directly from the airport to the capital if you need to.
Best Time To Go To Diamond Beach Iceland
Time Of Year
The beauty of Diamond Beach is that it is a 365 day a year phenomenon. The ice in the lagoon and the glacier is constantly breaking away into the sea, meaning that there is always new ice diamonds being washed up on the shore.
The size of the ice blocks changes throughout the year but this isn't really dependant on the season. We visited Iceland in winter and the ice diamonds were small to medium-sized. None were taller than a person by quite some margin. If you take a look at some of the pictures others have got from Diamond Beach Iceland, the blocks can be huge. This is just pure chance.
If you are going in November Or April, have a look at our guides to visiting Iceland in November and April for more things to do. You can also visit in the peak season of June.
Time Of Day
Depending on the time of year you go can change when you want to get there, for example, we travelled to Iceland in November. This meant that the highest the sun got all day was barely above the horizon. This means you can get beautiful low sun shots all day.
I don't recommend driving in Iceland in the dark in the colder months because the roads tend to be icy and this just increases the danger. However, getting there before sunrise does mean you can get some beautiful shots of Diamond Beach.
Diamond Beach Iceland is a beautiful place all day so unless you want a very specific type of picture then anytime is good.
Safety At Diamond Beach Iceland
This should go without saying but seriously do not climb on top of some of the bigger icebergs. They are literally blocks of ice with sharp jagged spikes and edges covering their entire surface. If you slip, which you probably will, you may get seriously hurt.
To make matters worse, people actually have been stuck on icebergs that then float out to sea. I know it sounds like a cartoon but this actually happens at Diamond Beach. 
If that wasn't enough, if you do start floating on one of the icebergs then there is a chance that you'll flip the iceberg and get trapped underneath, leading to drowning.
And lastly! If you do manage to get out of the water, wet, then you could suffer from severe hypothermia within minutes and die. 
Wildlife At Diamond Beach Iceland
Seals
There are a number of different species of seal on offer at Diamond Beach, however, you will be lucky to see any other than the common harbour seal. If you are a keen wildlife enthusiast then you may see a grey seal, or, if you're extremely lucky, even the odd walrus!
Orcas – Killer Whales
If you are really lucky (we were not) then you may see a pod of orcas swim past as you walk amongst the ice diamonds. It is said to be one of the best places in the whole country to be able to see the orcas from the shore due to the large presence of seals. However, do not be disheartened if you don't see any as it is a rare sight.
The best place to stand is definitely to the north of the glacier river as this area gives the best vantage point of the surrounding sea. Good luck!
What To Take To Diamond Beach In Iceland
Camera
Diamond beach is a nice open area which benefits very well from natural light. Therefore you don't need to have too crazy a camera to be able to capture some truly beautiful pictures. If you have a particularly new phone that is known for its camera setup then you will be surprised at the images you can capture.
If you are looking for a perfect travel companion in the form of a camera then I highly recommend the Sony DSCHX90. This really is the perfect travel camera for enthusiasts as the cost is low, it offers very good low light performance, very good picture quality and a very respectable zoom.
The camera will fit in your pocket and it's so light you will hardly notice it even there. If you want something that has more to offer than a phone camera but you don't want to shell out too much for an interchangeable lens kit then this is the one for you.
Warm Clothes
It rarely gets crazy warm in Iceland but you really must go prepared, especially in the winter months. You will want to be wearing multiple layers including a thick fleece lined coat with thick trousers.
You're going to be near the sea and playing around ice so it is going to be wet, therefore I highly recommend waterproof shoes/boots. You really don't want to ruin your day by getting wet feet in icy conditions.
It goes without saying that you will also need, gloves, hat and warm socks to accompany everything else. I am pretty good when it comes to the cold but Jade really wished she had invested a bit more into her gloves as towards the end it was all she was thinking about.
Lunch
You will be able to purchase a nice lunch when you get there as there is food available, things like fish & chips etc. However, if you want to save some money (which you will as Iceland is very expensive) then grab some lunch from one of the local shops where you are staying.
Cost Of Diamond Beach In Iceland
Driving
I have worked out at current fuel prices in Iceland of $1.90, that an average 4×4 will cost around $50 in fuel each way, so $100 in total. However, I have to say that fuel prices do fluctuate and you may have a much more or less fuel-efficient vehicle. Use $100 as a rough estimate.
Diamond Beach
Visiting Diamond Beach Iceland does not cost a thing once you are there. The parking is free and there is no entry cost to the beach.
Diamond Beach Iceland Accommodation
If you are wanting to get to the beach very early for the sunrise, or even the sunset, then I don't recommend driving a long distance in the dark.
Luckily there is some very nice accommodation very close to Diamond Beach. Here is my selection of the best for budget and best luxury Diamond Beach accommodation.
Best Budget Accommodation – Diamond Beach Iceland
The undisputed best value accommodation anywhere near Diamond Beach, Iceland. Skyrhúsid Guest House really is not what you would expect from the cheapest available guesthouse. You only have to take a look at a couple of the pictures to see that beautiful wooden cabin feeling that you're going to get from this property.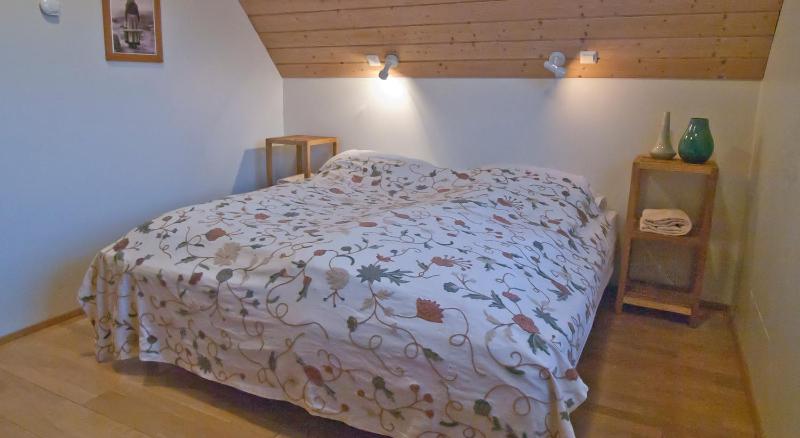 I know cosy is sometimes used to describe something that is small and uncomfortable but that really isn't the case here. The rooms are adequately sized and you won't feel like you have gone budget at all.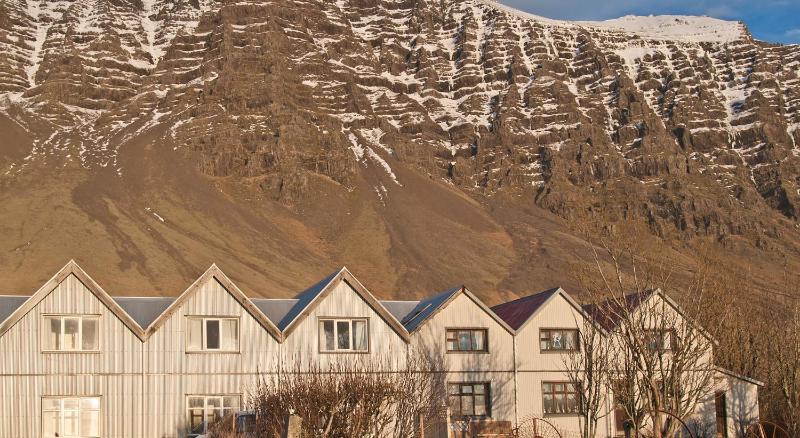 Diamond Beach is a simple 10-minute drive away and this guesthouse is in a prime location for exploring all of south-east Iceland. 
Best Luxury Accommodation – Diamond Beach Iceland
This hotel isn't just beautiful, it is also in quite a perfect location. Some rooms have incredible panoramic views of the area and you may even see the coveted northern lights!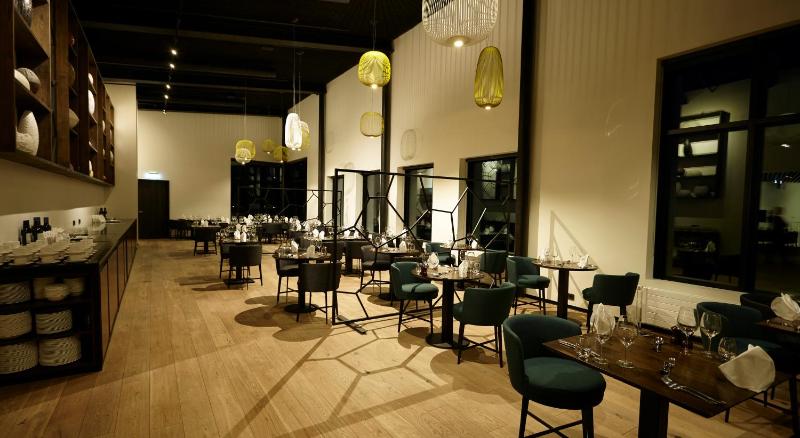 If you really are looking for that extra special thing to separate it from the rest, Fosshotel Glacier Lagoon has access to an incredible on-site hotel and sauna/steam rooms. That must be the best way to heat up after a day in the ice.
Diamond beach is very close, 18.6 miles, and the hotel is in a very good location to explore all of the other wonderful sights the south-east has to offer.
Nearby Attractions To Diamond Beach In Iceland
The south-east of Iceland has some beautiful places to see. It is especially famous for its waterfalls. This is because the whole south-east cost is next to the Vatnajokull Glacier situated in the mountains. The melting of this glacier, running off of the mountains and into the sea, makes some of the most incredible waterfalls in Iceland. 
But it isn't just the waterfalls to get you excited. There are also some brilliant ice lagoons, mountains and national parks for you to visit. Read on to find out what else there is to do near Diamond beach, Iceland.
Fjallsárlón, Iceberg Lagoon
Just down the road to Diamond Beach, there is Fjallsárlón, Iceberg lagoon. This lagoon is an amazing opportunity to get and close to the icebergs as there are very reasonably priced boat tours around the lagoon. If you want to add a little bit of adventure and awe to your day trip to Diamond Beach Iceland then stop in at Fjallsárlón.
Have a look at the availability of these tours HERE.
Svartifoss Waterfall
Svartifoss waterfall is one of the most popular waterfalls in all of Iceland due to the beauty surrounding the waterfall. It is a 30-minute walk from the visitor centre and it is recommended that you have decent walking boots to tackle the hike. It is well worth it however as the waterfall really is spectacular.
Breiðárlón Lagoon
Only 5 minutes away from Diamond Beach Iceland is Breiðárlón Lagoon. This lagoon is probably the second most popular lagoon in all of Iceland, however, due to its proximity to Diamond Beach and Jökulsárlón Lagoon, people tend to ignore it. This means that there is hardly ever many people there.
If you are wanting a much more tranquil experience plus some of the most beautiful landscape scenes on offer in Iceland then have a pop down to Breiðárlón Lagoon. It's so close that you won't regret it.
Þórbergssetur Culture & Heritage Center
If you want to relax a little and get out of the cold then you could pop and see the Þórbergssetur culture and heritage centre. This museum focuses on how people survived in the 1930s as well as the history of the nation.
If you are into museums and history then definitely go and take a look. If you're not then there is quite a good restaurant there so if you're driving past then stop and grab a bite to eat!
Frequently Asked Questions About Diamond Beach Iceland
How Much Does Diamond Beach Iceland Cost?
Entry and parking are free, the only cost is getting there. This varies on the vehicle you are using and its efficiency, however, roughly $100 in fuel from Reykjavik.
Where Is Diamond Beach Iceland?
It is in the south-east of Iceland right next to the Route 1 highway that circumnavigates the whole of Iceland.
When To Visit Diamond Beach Iceland?
There is no best time to visit Diamond Beach Iceland as the glacier is constantly releasing ice into the sea which is continuously gathering up on the black sand beach.
Is There Parking At Diamond Beach Iceland?
Yes, there is ample parking, it is free and it is right next to Diamond Beach.
How Long Does It Take To Get From Reykjavik To Diamond Beach Iceland?
It takes about 4h 20m by car to get to Diamond Beach from Reykjavik. This is Route 1 all the way.
---
Do you know of any other activities nearby Diamond Beach? Have you got any suggestions to would be travellers of how to make this experience even better? Please let us know in the comments below!
---
Click on the image to repin this post!