Malta may be small but its rich history and incredible landscapes mean that you'll need a good plan for your weekend in Malta. Find that plan right here!
---
A Weekend In Malta
I know that a lot of you will be working Monday to Friday but I am hoping that it is possible for you to book your flight on the Friday after work. Of course, taking the Friday off would be even better to make the most out of that extra day but I know it is not possible for some.
This weekend in Malta starts by flying on Friday evening but it is more than possible if you decide to fly on Saturday so, if that's the plan, just make some minor edits to my itinerary to fit your travel arrangements!
Read More: More Time? Check Out Our 4 Day Malta Itinerary Here!
---
The Flight Out & Accommodation
I recommend getting a flight to Luqa Malta International Airport on Friday. If you are going after work then this will be quite a late arrival but we are not planning on doing anything the first night because of this.
If you do manage to get there early enough to make the most of your evening then I recommend walking around the beautiful Valletta streets and finding yourself an incredible restaurant to sit back, relax and take in the insane grandeur of this old city.
As you only have a weekend in Malta, you simply must stay in the heart of the action! I highly recommend staying in Valletta itself or at least in one of the neighboring suburbs to minimise travel time (Marsa, Sliema, Gzira, Senglea, Birgu, or Copspicua).
Below are my 4 recommended accommodation options in Valletta with varying different budgets in mind. Remember, as this is only a weekend in Malta, this is a great opportunity to treat yourself to a nice boutique option that a longer vacation may render unaffordable!
Accommodation can be very difficult to book at short notice in Valletta so all of the above options may already be gone if you are planning on spending your weekend in Malta very soon. If that is the case then have a look at the map below to show you all of the currently available accommodation options in Valletta and nearby! Remember to put your dates in first!
---
Day 1 – Saturday
Morning
Get up nice and early and enjoy your traditional Maltese breakfast at your accommodation. If your accommodation is lacking in this department then simply walk the streets of Valletta and find one of the MANY small bakeries or cafes that are open in the morning, serving delicious traditional delicacies.
The first time we went to Valletta we went searching for this exact thing with no prior knowledge and without looking on Google Maps for any help. We found countless of these little eateries almost immediately so make a little of adventure of it and don't ask for any help!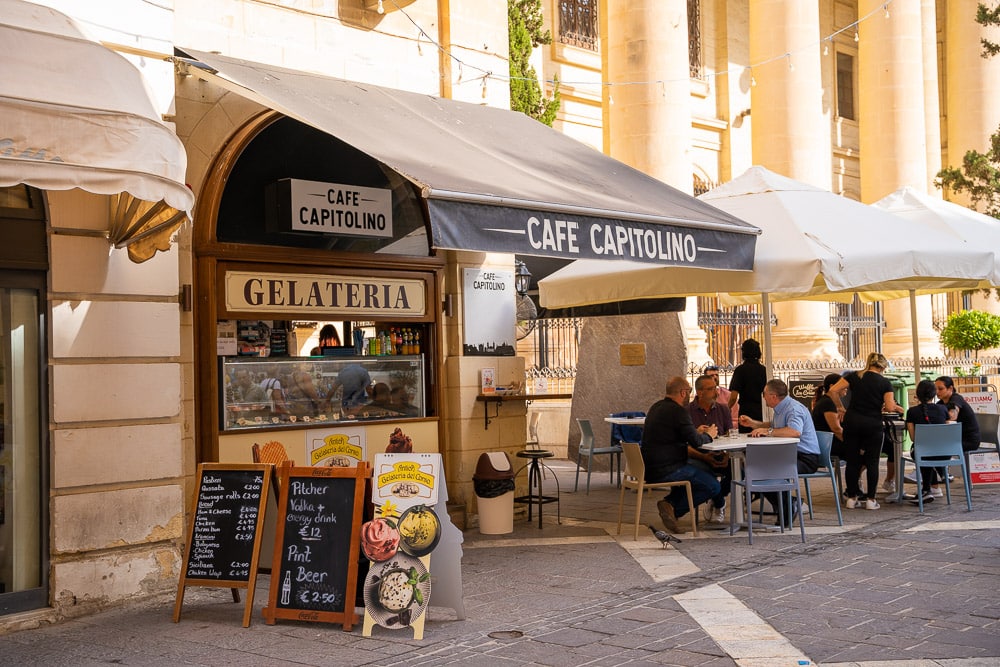 Next, you have two options, you can either go on an incredibly highly rated walking tour of Valletta city or explore the city in your own time. There are pros for both options, however! The walking tour will come with a very knowledgeable guide who will take you to all of the best spots in the town in a 3-hour tour that covers the whole city. This option is by far the most time efficient and gives you ample time in the afternoon to do something else (the tour finishes at 1 pm).
Of course, exploring the city at your own pace will be a more relaxed and cheaper approach (the walking tour is still quite affordable in my opinion).
The walking tour takes you to the following locations so if you do decide to do it by yourself you can design your own little tour tailored to yourself! Bold are my must-visits.
The New Parliament
Pjazza Teatru Rjal
Our Lady of Victories Church
Il-Berga ta' Kastilja
Upper Barrakka Gardens
Auberge d'Italie
Palazzo Parisio
St. John's Co-Cathedral
St George Square
Grandmaster's Palace
Lower Barrakka Gardens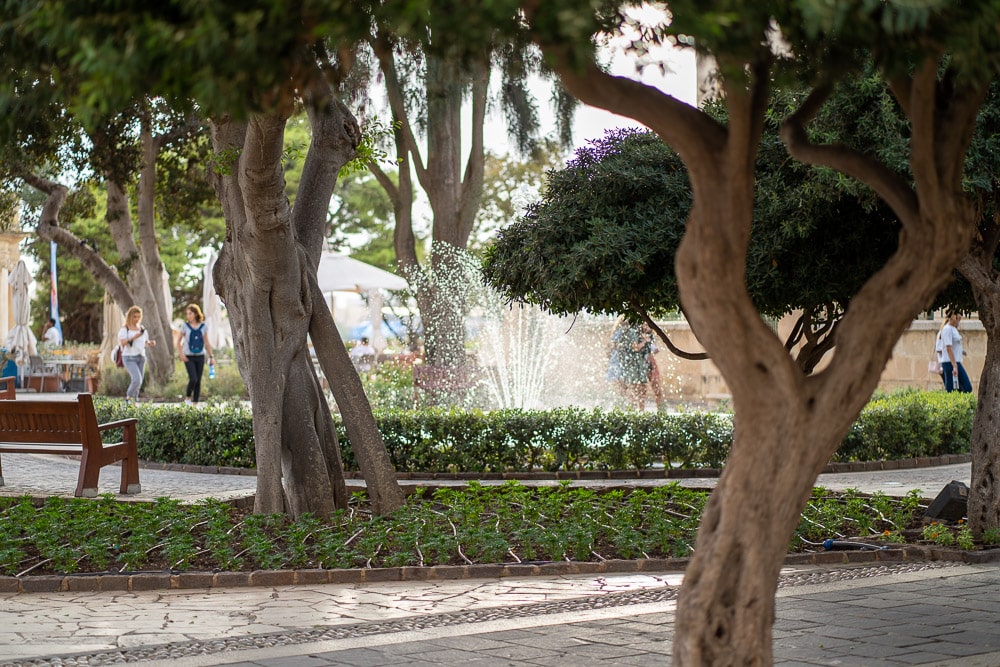 Lunch
After the walking tour (or during your self-made adventure) it'll be lunchtime! I recommend heading down to the waterfront (map below) to grab a very short ferry ride over to the three cities.
There is a larger ferry to get across called the 'Valletta – 3 Cities Ferry' or there is another option called the 'Lascaris Water Taxi Station' which is a more personal, smaller wooden water taxi. Both are very affordable but you can expect to pay a little more for the Lascaris option as it is smaller. If you are a couple then you can pay extra to have a private crossing on the Lascaris Water Taxi which is pretty romantic (this is what me and Jade did).
When you pull up in Birgu, you'll see why I have brought you here for lunch. The marina is simply stunning and there are ALOT less people here; it is the perfect place to relax and enjoy a Maltese lunch. There are plenty of restaurant options but I recommend Don Berto and if the weather is good, sit outside and soak up the Mediterranean sun as you eat.
Afternoon/Evening
Grab a taxi using Bolt (a taxi app Android/Apple) to Mdina – The Silent City. I recommend getting a taxi as the bus is over an hour long and wastes a significant amount of your weekend in Malta and the taxis in Malta are very affordable compared to other countries.
Mdina may be my favourite place in all of Malta. Its incredible architecture and eerie grandeur are quite extraordinary. When you get there, take your time to walk through the city at your own pace. It is a very small place so you do not need a tour to ensure you see everything. If you would like a walking tour of Mdina then check out my guide to the best ones available here.
I would recommend that you just go into Mdina without a plan. As you walk around, you'll discover all of the hidden shops, museums, restaurants, and spectacular views. As you only have a weekend in Malta, I do not recommend venturing into Rabat (the adjacent town). It's a lovely place but there is more than enough to see and do in Mdina itself for one afternoon.
I have two options for dinner;
Stay In Mdina
There are some truly amazing restaurants in Mdina if you decide to stay the evening here. Choose from the options below!
In the high season, these restaurants can become fully booked very easily so remember to reserve a table before you fly out!
Head To Sliema
After spending a few hours in Mdina, head to Sliema and get your Bolt taxi to a small boat called Guadalupe. This little boat is a fantastic place to watch the sunset with a great meal and even greater cocktails.
We found this little gem on an impromptu walk along the seafront and we have been recommending it to everyone ever since.
Nightlife
After this long day (and tomorrow's epic adventures) I can understand if exploring the Maltese nightlife is not really on your to-do list. However, if your game then head down to Paceville in St Julians which is the nightlife capital of the whole country.
There is an establishment here catered to everyone (even casinos) so take a stroll around and find your perfect watering hole. If you're looking for a club then the two most well-known clubs are Sky Bar and Havana. Both have very different vibes but are great in their own right.
---
Day 2 – Sunday
This is going to be a much shorter section because there is only one amazing thing you should do on day 2 of your weekend in Malta and that is visit the stunning Blue Lagoon. The best way to do this is by booking yourself on a boat trip up to the Lagoon. I, personally, love this 6-hour catamaran adventure that takes you to multiple swimming spots and moors at the Blue Lagoon in a quieter section to avoid the crowds (the crowds get pretty intense in the high season).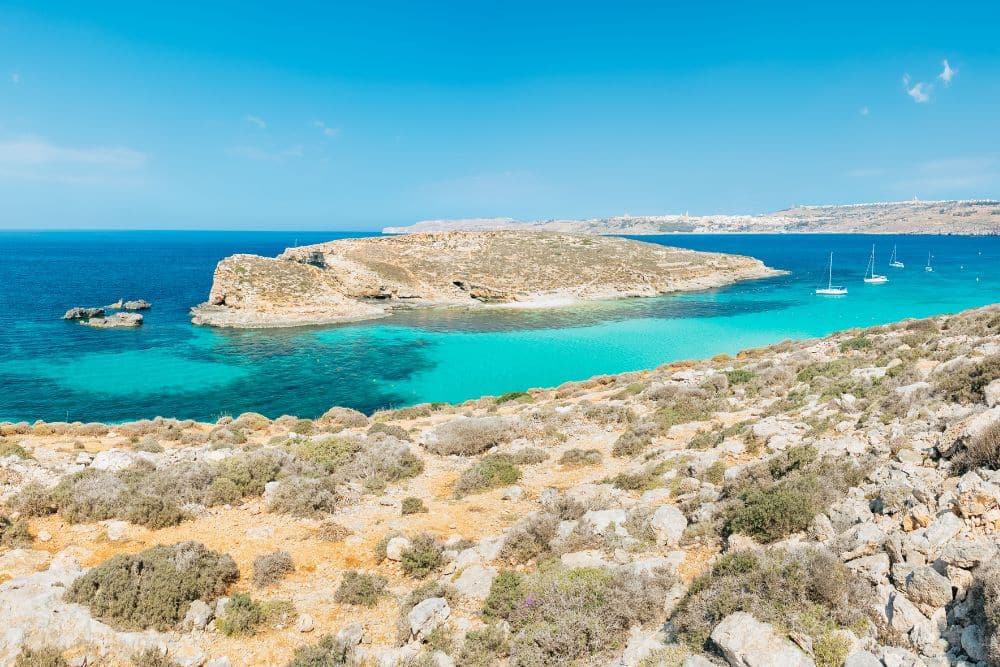 You can, of course, get a small ferry across and find somewhere on the shore to lay down your towel but I HIGHLY do not recommend doing this in the high season. The shore becomes absolutely packed very early on in the day and the noise and sheer quantity of people ruin the experience in my opinion. Getting a boat means that you have space on the boat to sunbathe and have access to swimming spots the people on the shore do not have.
The reason why this catamaran tour is so damn good is the fact that there is a lot of space to relax and sunbathe as well as a BBQ and drinks on board (both additional cost).
To get a boat tour, you will have to make your way up to the start point which is in St Pauls. This is around 25 minutes by taxi depending on the time you leave. Again, I recommend getting a taxi over a bus as this will save you time.
Check out the Catamaran tour that I am recommending here.
Afternoon
You will be back in St Paul's at around 3:30 pm and after making your way back to the hotel to pick up your bags, it will be time to head to the airport for your flight home! Your room checkout time will probably be earlier than 3:30 pm so make sure you check out in the morning before you leave for St Paul's and ask your hotel to leave your bags there for you to pick up later.
If you have not taken much luggage then take it with you on the Catamaran and you may have time to explore St Pauls when you get back to dry land!
---
Final Thoughts About A Weekend In Malta
In all honesty, a weekend in Malta will only scratch the surface of this amazing country. We spent a month here and fell in love with everything from the people and the history to the overwhelming beauty and drama of the landscapes.
That being said, a weekend in Malta is enough time for you to catch the Malta travel bug and I am almost certain that you'll be heading back in the future to explore and experience everything else this wonderful Island has to offer.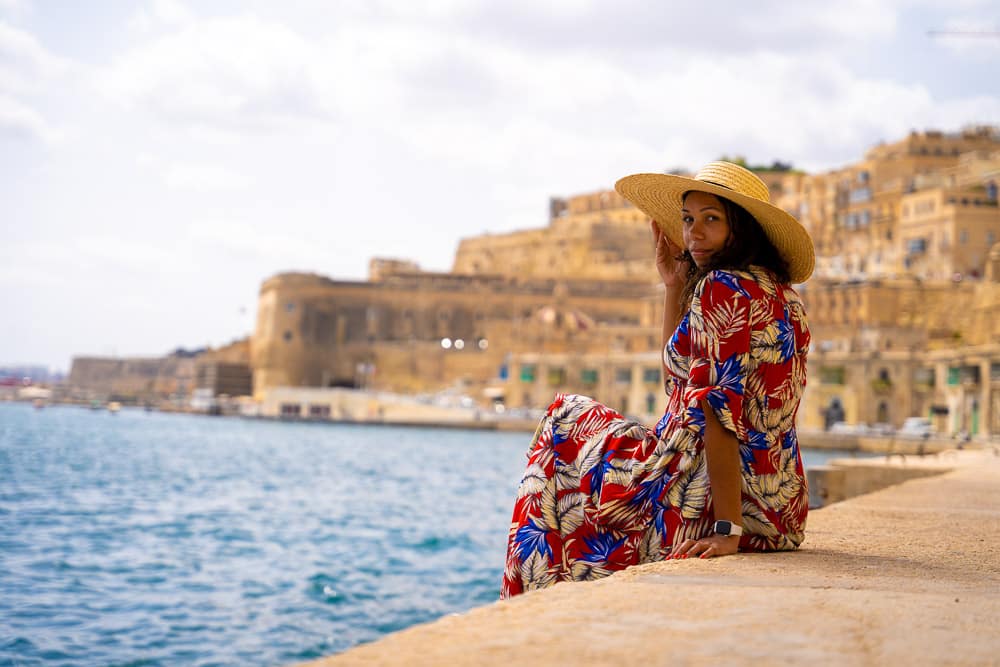 ---
When To Spend A Weekend In Malta
Dare I say it… Malta is a year-long destination!
The winter months don't get too cold and the prices for all the accommodation can be less than half or more! However, the temperature isn't quite high enough to experience the incredible beaches and the Blue Lagoon so if you want to do this exact weekend in Malta then I recommend from May to October.
The actual best time to go to Malta is definitely Late September – Early October. There are nowhere near as many tourists and the weather is actually better then than at any other time (not too hot like the middle of summer). As you are planning a weekend in Malta, I am assuming the time of year doesn't particularly matter so definitely try to go around this time.
---
What To Take For A Weekend In Malta
Here is a short list of all of the things that I think are important for your weekend in Malta. I have also included a travel essentials list at the bottom that I think all travellers should have!
If you need some sunglasses then take a look at our recommended pair right here. Kev has just done 7 months without a pair because he couldn't find any he liked on the trip and it was just a lot of complaining about the sun. Don't be a Kev… Find out the price of not being a Kev right here.
If you haven't already got a swimming costume then what the hell are you doing?! Have a look at this gorgeous high waist bikini and get a swimsuit before you leave. I absolutely love the dual colour option but there are loads of colour options available. Take a look here.
If you're worried about powering your devices on your trip then the simple solution is to take this EPIKA worldwide travel adapter. We have used it all over the world and it has worked flawlessly. Being able to charge up to 5 devices by USB (4 USB-A's + 1 USB-C) plus a full power outlet socket is incredibly useful and works as an all-in-one solution. Check it out on Amazon here.
Don't even think about stepping out in the sun without protection! This factor 50 sun cream from Sunbum is vegan, reef-safe and smells like summer, as well as being dermatologist approved! It's non-greasy, easy to apply and doesn't leave a white cast so you can quickly rub it in and get on with your adventures! Take a look on Amazon here.
If you're stuck on what kind of towel to take with you then take a look at this microfibre poncho. We absolutely love ours and it is insanely helpful when you need to change on the beach. They dry fast and pack down super small so you'll be able to fit one in your day pack easily enough. Check out the price here.
If you're planning on going to the beach then make sure you have some flip-flops in the bag. There is nothing worse than getting sand in your shoes or socks and there is nothing better than feeling the sand on your feet. We recommend an affordable pair like these Old Navy casual flip-flops. They will get the job done and shouldn't break almost immediately as other brands might. Check them out in more detail here.
For city exploring and shorter hikes, you'll need a decent day pack. We recommend one like Osprey's Arcane, as not only can it hold a 15″ laptop, water bottle and everything else you would need day to day but it is also incredibly stylish (we think). We have used Osprey for loads of different bags over the years and they have all been perfect. Check out the Osprey Arcane on Amazon here.
---
Other Things To Do In Malta
Gozo
Gozo is a small island to the north of the Maltese mainland (it is very close). It has some of the best beaches (Ramla L-Hamra), the best sights (Cittadella), the best activities, and the best accommodation in the whole country. As it is an island, it also attracts fewer tourists because, for some reason, tourists hate to get a very short boat over. Use this laziness to your advantage and visit Gozo!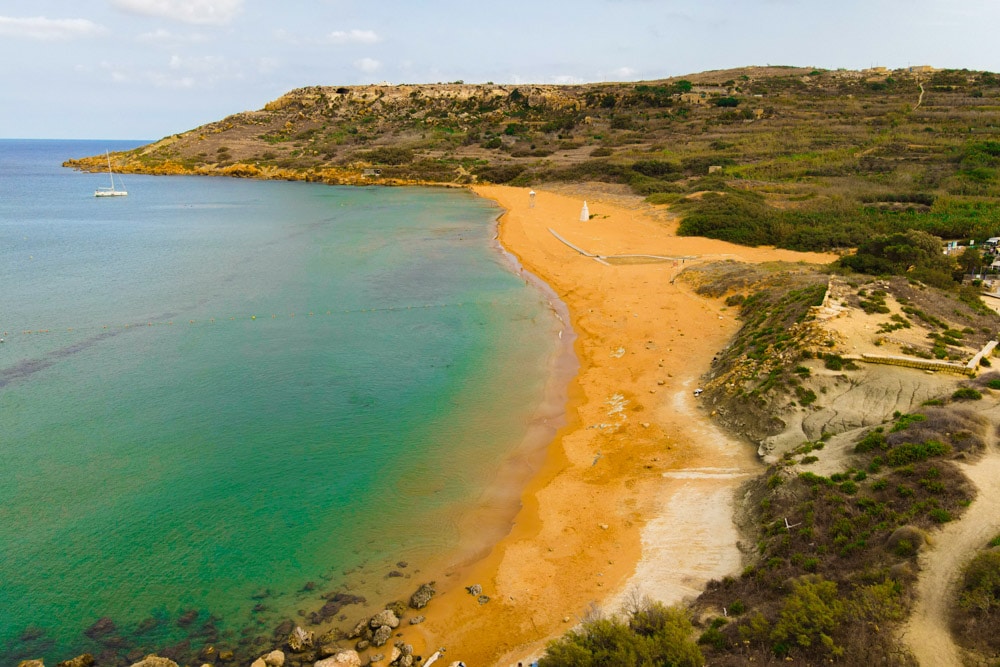 ---
Popeye Village
When they filmed Popeye in 1980, they left the entire setup and turned it into a cool Popeye-themed park/waterpark. We went for the day and we absolutely loved it so it's not just for kids. However, if you are travelling with children then this is probably the best place in the whole country.
Check out all of the available waterparks in Malta here!
---
Day By The Pool
If you want to go to Malta to just sit back and relax then there are loads of hotels and resorts where you can buy day passes and use their facilities. There is a pool out there waiting for you to swim and sunbathe next to with a cocktail so find out more in our complete guide here!
---
Mellieha
Mellieha is a small town near the north of the mainland. It has one of the most stunning churches I have ever seen and has Mellieha Bay beach which is the best beach outside of Gozo. It is also right next to the Red Tower and Popeye Village. If you had more time than a weekend in Malta then Mellieha would be the place we recommend you stay!
---
Comino Island
The Blue Lagoon is situated on Comino but so many people just go to Comino for the Blue Lagoon and nothing else! We had a walk around the entire small island and walked past incredible old structures, saw awesome views, found a hidden beach, and had one of the most amazing walks we've ever had. At some points, we couldn't see another human anywhere as far as the eye could see. I highly recommend making a day of Comino as well as the Blue Lagoon.
---
---
Frequently Asked Questions
Is A Weekend In Malta Enough Time?
Is it enough time to get a taste of what this incredible country has to offer? Yes. Is it enough time to see all of the best sights and activities? No.
How Much Does A Weekend In Malta Cost?
It can range from £300 per person (including flights) all the way to whatever you can dream of. If you were to book yourself a nice hotel in Valletta, eat out every day, and do all the activities on this list then you will be looking at £800 – £900 for 2 people.
Should I Spend A Weekend In Malta?
Absolutely. Malta is an incredible country and a weekend in Malta is more than enough time to get a taste of what Malta is all about but, rest assured, you'll be coming back for more!
---
That's our entire guide to spending a weekend in Malta! Let us know what you think in the comments section below!
---