Villas in Mirissa are numerous and varied. We visited the best that Mirissa has to offer to help you choose the best villa in Mirissa for you.
#1 Villa In Mirissa
If you don't want to read the whole article then do yourself a favour and book a few days at the stunning Sri Sharavi. In our opinion, it is the best all-around villa in Mirissa and you just cannot go wrong. We recommend having a look through the whole post but if you just don't have time then click here and book.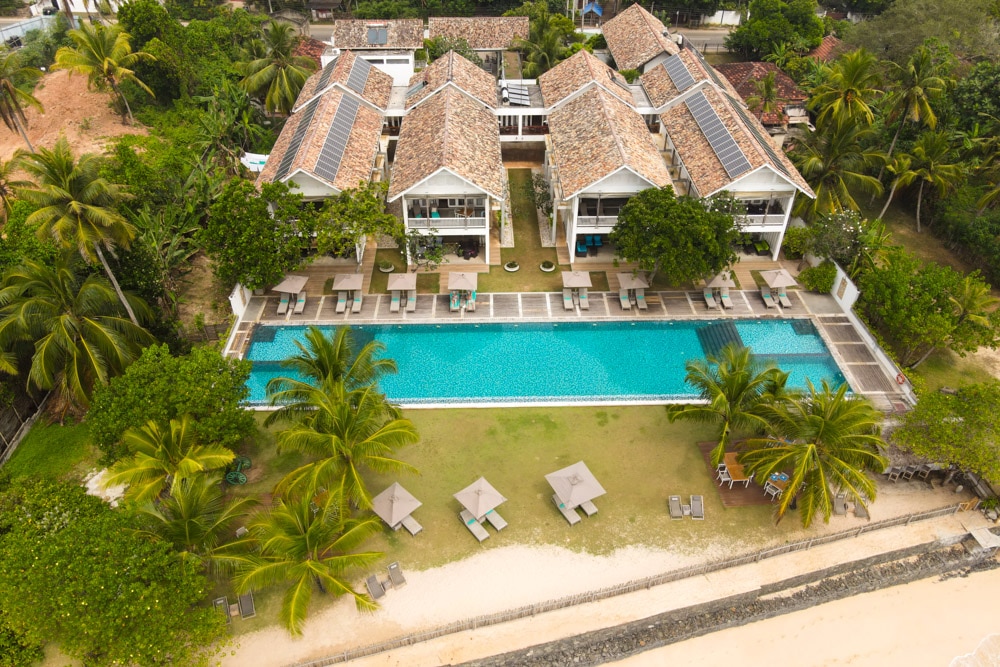 ---
The Best Villas In Mirissa
The guide below goes into detail on all of the best villas in Mirissa. BUT, before you delve into the fine details, watch this video showcasing some of the best. The video includes villas for all budgets so you're sure to find something in there!
Read More: The Best 10 Boutique Hotels In Mirissa
---
Sri Sharavi
Do you know that feeling you get when you know someone has sat down for a long time and really thought about the fine details before the very first brick was laid?
That's Sri Sharavi.
Every space, every corner, every chair and every colour has been meticulously chosen to create an atmosphere of luxury and intent.
---
Check Out The Reviews Of Sri Sharavi Here
---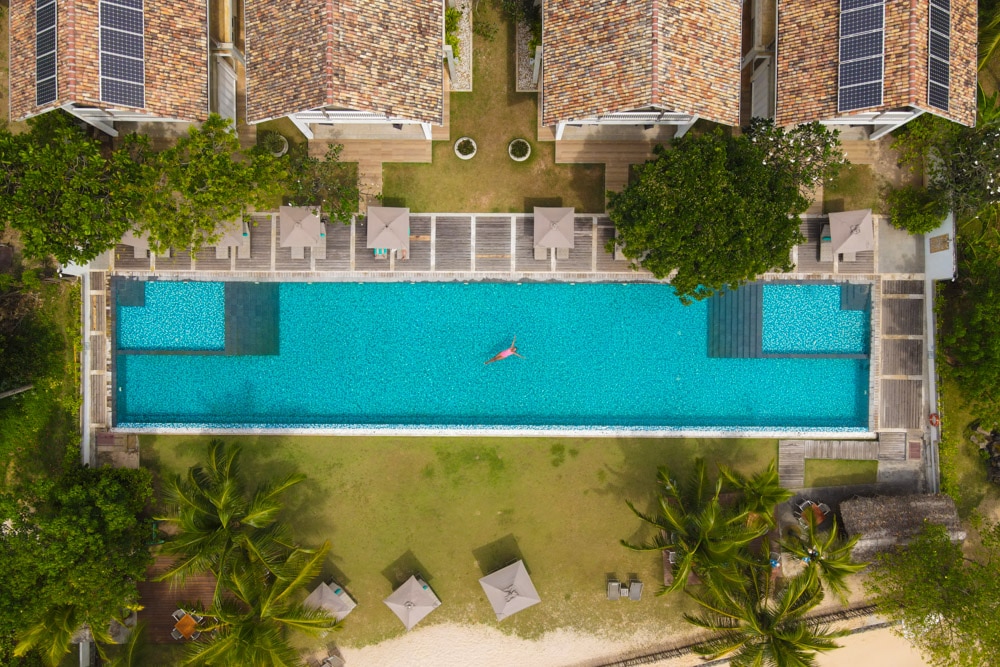 The whole place makes you feel like you are on holiday. You cannot help but smile and take in its warm features and friendly staff. If that's what you're looking for then look no further and check your dates right here.
Read More: The Complete Guide To Secret Beach Mirissa
Unique Selling Points
On-site masseuse (the only place we visited where they have a dedicated member of staff in the on-site spa).
The biggest pool we saw in all of Sri Lanka (largest saltwater pool in south Sri Lanka).
On-site bar… Actually quite rare for villas in Mirissa.
Incredible sea views (from the master bedroom in each villa it is truly outstanding).
Sri Sharavi has an on-site spa with a dedicated member of staff. We did not come across this feature anywhere else in Mirissa (usually an external company comes in). Jade grabbed an oil massage and she can confirm that it is worth every penny. From how she described it, it might actually be worth more than that.
There are actually 4 separate villas at Sri Sharavi which you can see quite clearly from the photos. This means that you can hire out a single villa (which holds up to 8 people in 3 rooms) or hire the whole lot for a really big group of people. There are also 2 little rooms tucked around the back of the 4 villas which puts the whole capacity up to 36.
However, if you are not in a group do not despair! Sri Sharavi books out individual rooms for couples, families and smaller groups so this gorgeous location can be enjoyed by anyone.
Interestingly, when we were playing around with Booking.com to see prices at different times of the year and different group sizes, we noticed something quite cool. When we had a group of 4 couples, we were automatically placed in the 4 master bedrooms on the top floor of the 4 separate villas.
This means that you can go as a group of friends and each have the best room in the house, no more short straw without a sea view! This is a great feature.
The onsite bar and restaurant are genuinely brilliant and the pool is simply stunning. There is no other pool in Mirissa that can compare to the Sri Sharavi pool. The pool is 5ft deep for its whole length with 2 dedicated shallow spaces for children at either end.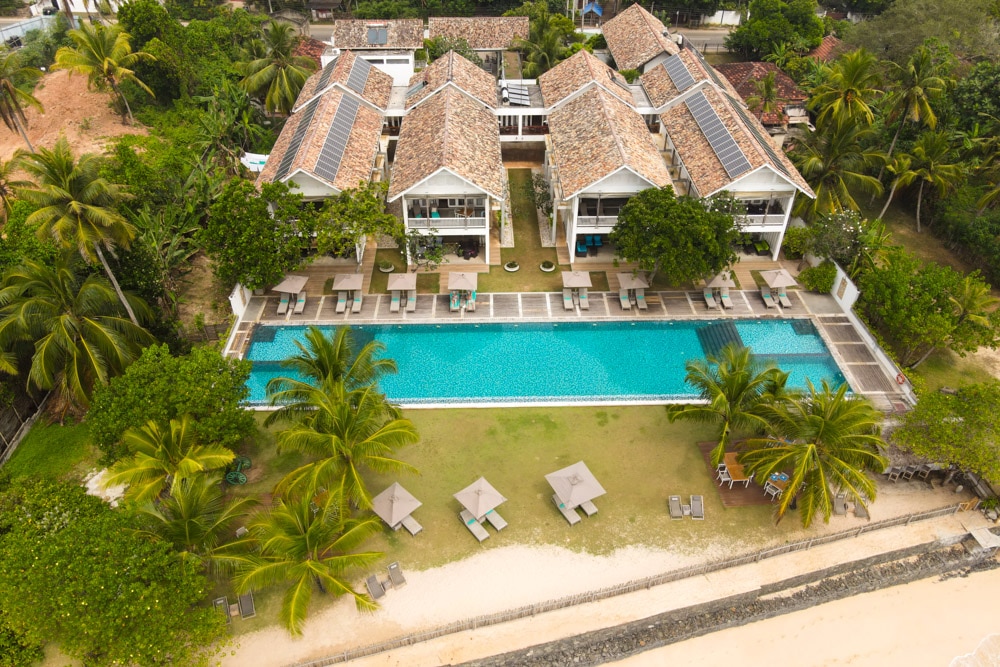 Every single one of the many sunbeds has a fresh towel placed on every morning and the location couldn't be any better. The whole garden gets fantastic sunbathing as the sun makes its way through the sky right in front of the villa.
I could talk about Sri Sharavi all day but I think you get the point. If you are a solo traveller, couple, group or family then this is the cherry on the cake. There was absolutely nothing I could improve. Have a look at booking and availability here.
Things To Note
Free bikes which are very good quality and come with helmets! (this is a big deal in SE Asia)
Wine cellar… Need I say more?
Boutique shop on site selling swimsuits and other travel-related items.
Yoga can be organised in the morning on the dedicated yoga decking next to the sea.
The staff are absolutely brilliant.
There are phones in each villa for room service.
Breakfast is included, and it's good.
Anti-bacterial gel, after sun and mosquito repellant, is all included in the bathrooms.
If you can think of something to improve after your visit, please let me know and I will put it here!
Read More: Colombo To Mirissa – Complete Guide
---
Siri Wedamadura
Siri Wedamadura is situated to the west of Mirissa town centre, right next to the west entrance to the famous Mirissa Beach.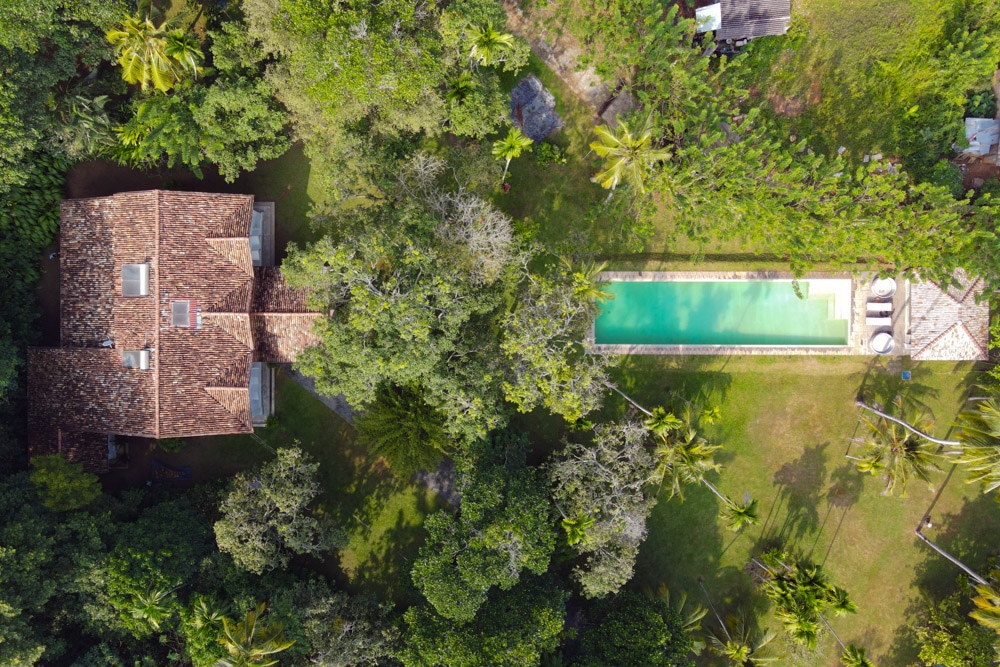 The villa has 4 rooms and accommodates 8 very comfortably. The house is fully staffed with a housekeeper, chef, gardener and pool staff.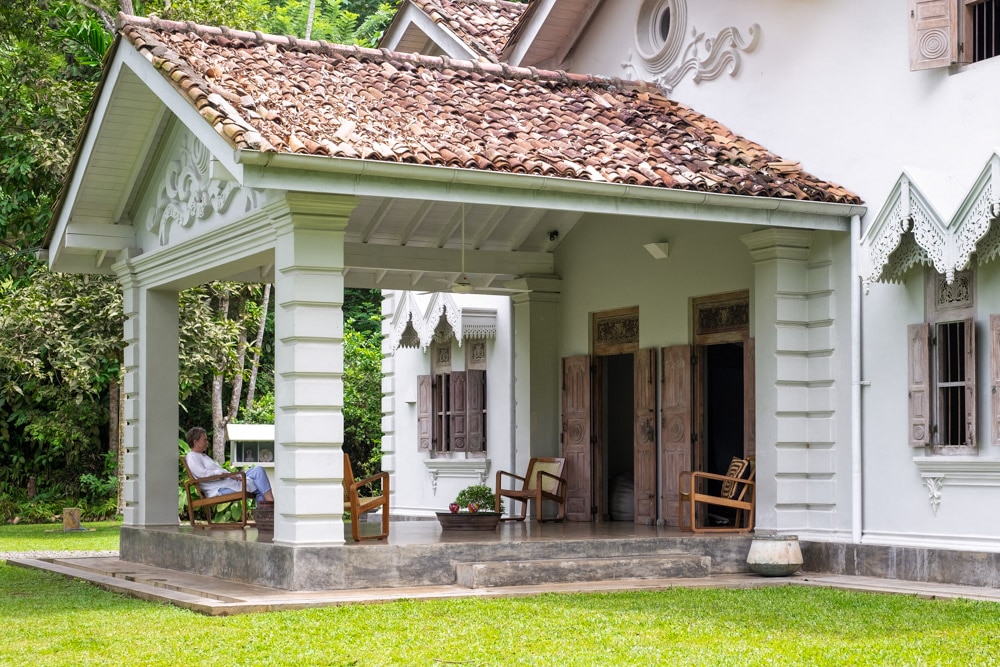 So many villas in Mirissa have the moniker 'colonial villa' in the name, but you soon realise that this is simply not true. We asked one villa if they were a colonial villa and they said 'no, no, it was built on the ground where a colonial villa used to be'…
This is not the case with Siri Wedamadura. This gorgeous home was built in 1849 and stayed in the same family all the way to 2010. This is when the current owners took over and transformed the 5 acres of run-down jungle and sorry-looking architecture into the absolute gem of serenity and style that it is today.
Unique Selling Points
The price literally surprised the hell out of us for Siri Wedamadura. It is as luxurious as many of the villas on this list and probably has the best garden of all of them but the price simply does not reflect how gorgeous this place is. Siri Wedamadura may be the best value for money of any villa in Mirissa. See the prices right here.
The garden is sublime. It completely protects you from the hustle and bustle of Mirissa and there are peacocks, monkeys and other wildlife walking around and enjoying the garden alongside you. Perfect.
Siri Wedamadura embraces this peace completely by giving customers a dedicated area for yoga to the front of the house, overlooking the spotless gardens and pool.
The pool itself is 20 metres long with a pool house at the bottom end. This house can easily accommodate all 8 of the guests with room to spare. You'll find yourself in the pool house more often than anywhere else!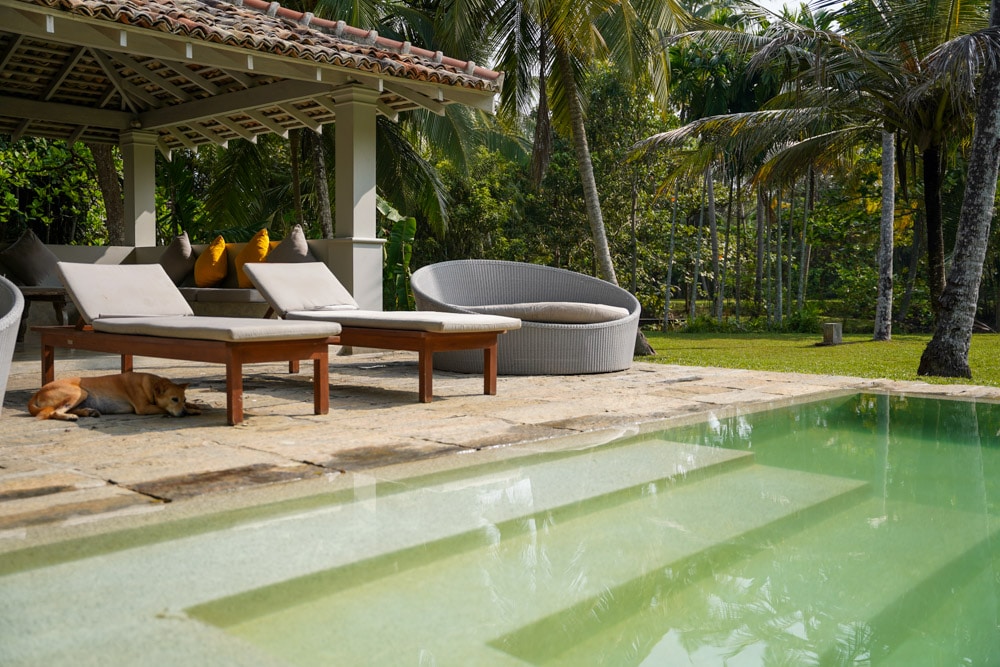 Things To Note
Whilst the villa does not have direct beach access, Mirissa beach is literally a 1-minute walk from the property.
Siri Wedamadura is situated very close to Mirissa harbour which is where all of the whale watching tours depart.
1 room is double and the other 3 are listed as singles (2 single beds in each). However, you can request these to be doubles so if there is a group of couples going then this can be amended. Don't forget to request this!
You can only book out the entire villa – you are unable to book individual rooms. This means that you are guaranteed complete privacy.
Villa Oceane
You only have to take a quick look at the image above to see just how picturesque and gorgeous Villa Oceane is. The villa is perfectly nestled between overhanging palm trees that allow you to enjoy this amazing space in peace.
---
Check Out The Reviews Of Villa Oceane Here
---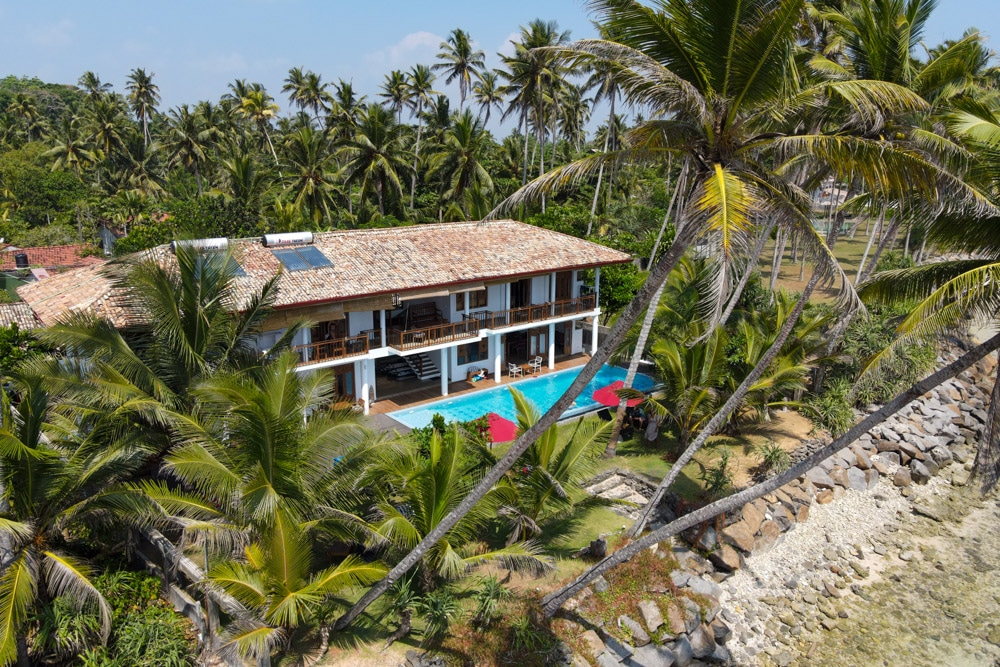 Every single one of the 5 bedrooms is sea facing with the three first floor bedrooms commanding the best views.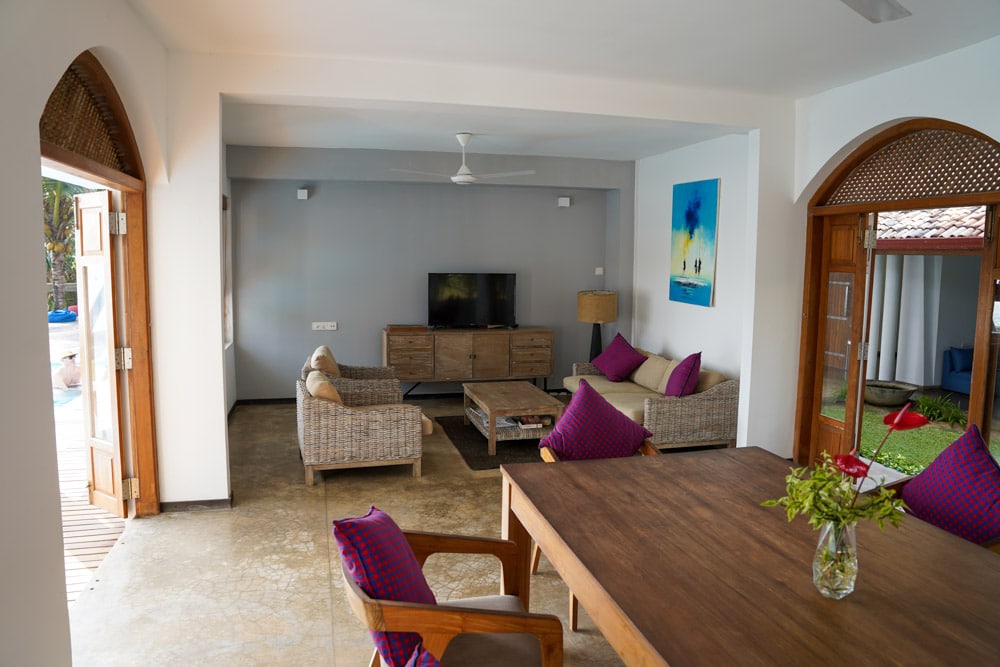 Unique Selling Points
We asked the staff what they were most proud of at Villa Oceane and they all agreed that the food is number 1. Everything is prepared fresh and ingredients are bought daily. It was very nice when we went.
The staff here will help you with literally anything that you could possibly want. If there is anything you want to do or anything you need they will help arrange it.
Villa Oceane is situated right onto the beach with private access to the water straight from the villa. This area is slightly rocky and the surf here is one of the most famous in all of Sri Lanka (there's a surf competition that happens right in front of the villa where people come from all over the world). So, this area might not be the best for leisurely swimming.
HOWEVER, do not despair! This entire area of the coastline has a unique visitor that can easily be seen at any time. Sea Turtles! Grab your snorkelling equipment and have daily swims with countless of the majestic creatures right at your doorstep. Whilst we were there we saw at least 10 swimming around right at the foot of the villa.
One of the things we really liked about the property was the lounge and garden areas. The lounge is very nicely decorated and can comfortably hold all 10 people staying and the garden is well proportioned and comes with enough space for everyone to get a nice place to sunbathe and enjoy the weather.
Villa Oceane is 6.7km from the main Mirissa beach. Whilst this is one of the further away villas in Mirissa, this location does give it a much higher level of quiet and privacy. So, if you're not looking to get involved in the hustle and bustle of Mirissa central then Villa Oceane could be exactly what you're looking for.
Things To Note
The entire villa can be rented but individual rooms can also be rented. This means that it can be difficult to get the entire villa as it would have to be completely empty when you require it. I highly recommend booking well in advance if you want the whole place.
Villa Oceane does not allow outside guests into the property so this helps maintain a good level of privacy.
The pool is a very good size, not too big and not too small. This makes Villa Oceane very good for families as well as groups.
All of the staff have experience in high end 5 star hotels and the manager is an ex head butler. This level of expertise will be very apparent during your stay.
---
Villa Atulya at Ocean's Edge
If it's tranquillity, a personable touch, and a uniquely furnished home away from home, then Villa Atulya is the place for you!
Run by a friendly and passionate couple, the villa has been designed and adorned with care, in order to make you feel as welcome as possible.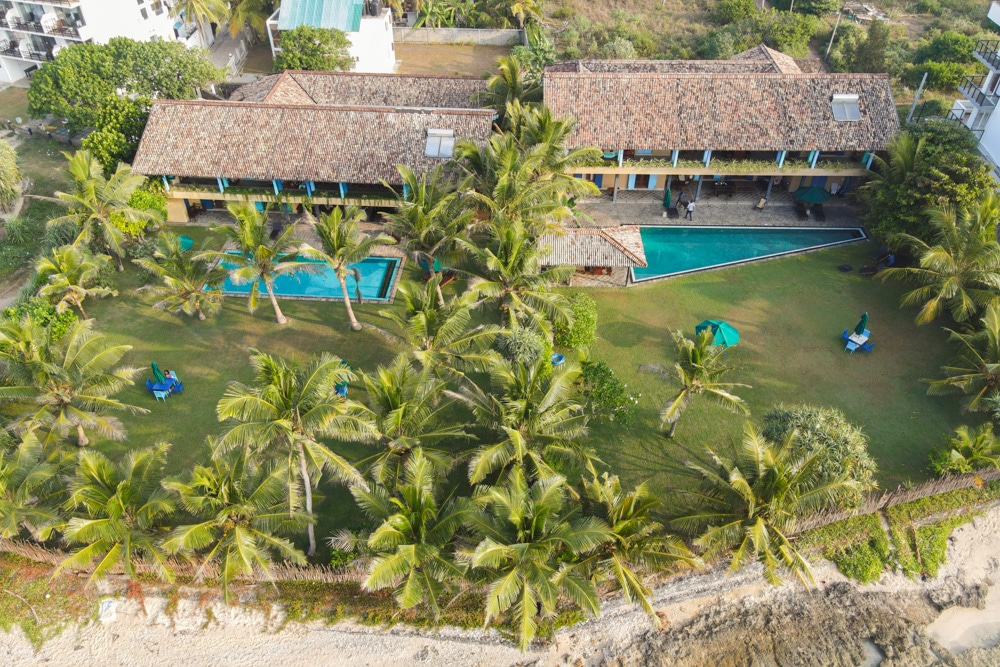 Read More: The Best Elephants Safaris In All Of Sri Lanka
Unique Selling Points
There are 10 staff employed here to cater for your every need – you'll be living like royalty whilst you're here! You can literally ask them for anything – whether that's being flexible with the time of your breakfast if you'd rather have a lie in one day, a delicious cold coconut at lunch, or going to the market to get fresh seafood for your romantic dinner!
You can also buy your own ingredients and ask the chef to prepare something for you with them, which is a fantastic service.
---
Check Out The Reviews Of Villa Atulya Here
---
As the name suggests, the accommodation is set on the beachfront. Spread over 8000 square feet, Villa Atulya is actually made up of two buildings – each with 5 beautiful ocean-facing rooms, sleeping up to 10 people in total.
You can book each room individually – perfect for honeymoon couples! If you're really lucky, no one else will have booked into the villa which means you could essentially have the whole place to yourself!
However, even if every room is taken, you'll barely notice because the space is so large for such a limited amount of guests.
If you have a large group – a big family holiday or just getting your friends together for a once in a lifetime trip, you can book out the whole villa.
Depending on your booking type, Villa Atulya is flexible with date changes and cancellations, so be sure to lock in your holiday as soon as you can (especially if it's in high season) as you won't lose out if you unfortunately can't make it anymore. Book the whole villa here.
The impressive buildings are wonderfully decorated, and the huge garden space is stunning too.
There are two vast swimming pools, with plenty of places to sunbathe, without feeling too crowded
Fast WiFi is offered throughout both of the villas, and there are plenty of nooks and crannies to enjoy a good book, or even play a friendly game of chess!
Each of the spacious rooms has air-conditioning – a must in the high season. You can enjoy the complimentary toiletries in your large private bathroom.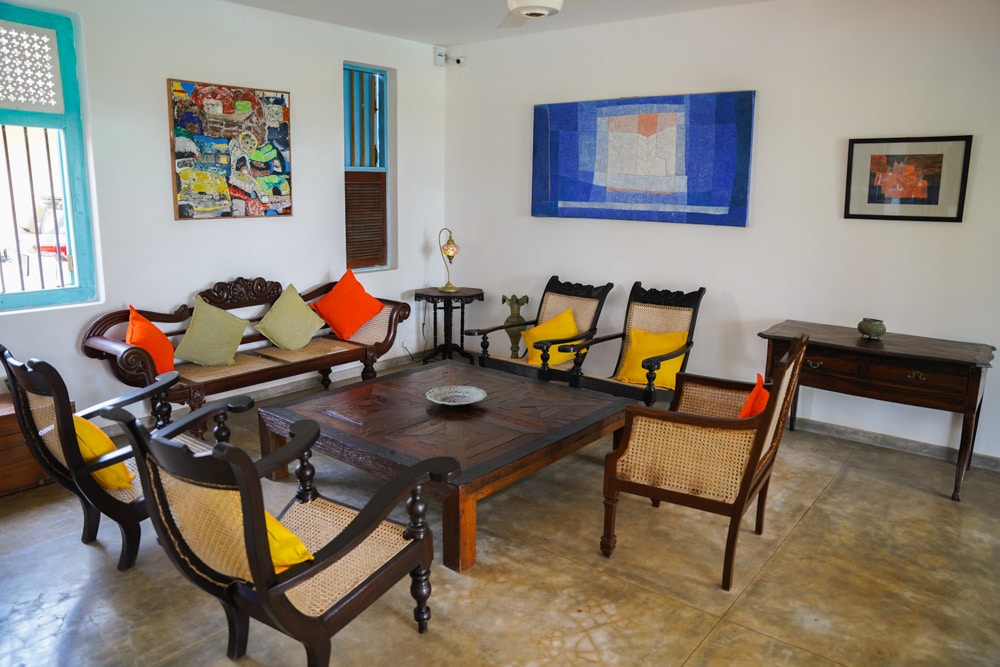 The helpful staff at Villa Atulya can help you to organise tours, transport to the airport or even just a tuk-tuk driver for the surrounding area.
Villa Atulya is an ideal place to come to experience the warmth and kindness that Sri Lanka is famous for. It's a calm and quiet place to relax, unwind and enjoy uninterrupted serenity.
Things To Note
You'll only find paper straws here and excess plastic is minimal – it's clear to see that the owners here are intent on protecting the environment.
Included in the price is an absolutely delightful breakfast, which will certainly not leave you hungry! There is a menu here, but if you would like something in particular then feel free to ask for it and the staff will see what they can do.
Mirissa Beach is a short tuk-tuk ride away from the villa, which means you won't be disturbed by loud parties or blaring music at night. If you do want to venture over to the main town, it will take you around 3 minutes so you aren't too far from all of the restaurants, bars and whale watching tour companies.
---
Villa Saltasia
Villa Saltasia is pretty much exactly how I would want a small Sri Lankan villa to be. Peaceful, intimate, cosy and private. If these things pique your interest then look no further, check out how to book here.
The privacy comes from the villa only having 4 rooms, sleeping a maximum of 8 people. So, it doesn't matter if the whole villa is booked out, the quiet serenity of this gorgeous building is always maintained.
Unique Selling Points
The staff are incredibly helpful when it comes to organising and arranging tours, cars, taxis and activities for the visitors. They even have a full print out of information in every room to help you make the most out of your trip.
They are very eco conscious which can be seen throughout the property. For example; glass bottles for water and the distinct lack of plastic wrappers for toiletries and other items.
The location is fantasitc to make the most out of Mirissa and give you some peace and quiet.
They tend to book out individual rooms and not the whole villa but nothing is stopping you from booking out all 4 rooms if they are available. This could be a fantastic option for a small group of friends or a family holiday.
However, because they book out rooms individually, you'll have to be pretty lucky to get the whole place available when you want it. I highly recommend booking well in advance if this is your plan, you can always modify or cancel the booking 30 days before (always double-check the cancellation policy as this is subject to change).
As of December 2021, they have a new restaurant on-site. This has a selection of Sri Lankan dishes and Italian dishes (the owners are Italian so expect good things). The chairs and tables can be moved directly next to the ocean which allows for an incredibly romantic and scenic evening dinner.
The villa itself is located right next to Coconut Tree Hill so this is a really good opportunity to get up nice and early to get that Instagrammable shot that we all know and love. If you get there too late then there are way too many people.
Read More: Our Guide To Coconut Tree Hill
This also means that Villa Saltasia is just on the end of the main Mirissa strip. This makes it incredibly convenient to walk into town but also far enough away to not hear all of the music, hustle and bustle that this area experiences. Whoever said you can't have it both ways…
---
Check Out The Reviews Of Villa Saltasia Here
---
Things To Note
There are 2 sea facing rooms and 2 rear rooms at Villa Saltasia. If you are booking an individual room then see if you can book a sea facing one as why not! Rest assured that the rear rooms are incredible good so don't let this put you off.
Breakfast is included and it is one hell of a breakfast at that.
---
Lavendra Villa
I couldn't have said it more perfectly in the video above, 'this is the place to come if you want the villa vibe but on a bit more of a budget.
However, this doesn't really do the point justice. Lavendra has 8 rooms and holds up to 20 people. So, if you split the price with a big group of friends, family or colleagues then the price is unbelievable. Take a look at what I mean here and check your dates and prices.
---
Check Out The Reviews Of Lavendra Villa Here
---
Lavendra Villa can also be booked room by room so you do not need to hire the whole place out. Whilst we were there, there were many different groups of people.
Unique Selling Points
The price is unbeatable.
This unbeatable price includes breakfast… Insane
They have free bikes that you can use at any time, also included in the price.
The area is a few minutes (via tuk tuk) to the beach so it is incredibly peaceful.
The staff will help you with anything you need, from tours and vehicle hire to a simple tuk tuk to town.
The on-site restaurant has an a la carte menu so you can get food throughout the day if you are planning on just laying on the hammocks by the pool all day.
There's no reason to leave.
You could also get one of the rooms with a kitchen which will give you true flexibility and freedom to do whatever you want throughout the day.
The pool is actually the best thing about the entire place. Because of the price, the rooms and restaurant are incomparable to somewhere 10 times the price and understandably so (they are still very good). However, the pool is really punching above its weight. It's a good size with very stylish tiling and decking throughout.
The sunbeds are comfortable and there are also a few hammocks to be enjoyed. This is all capped off with a very nice backdrop of trees and well-kept gardens. I wouldn't be surprised if you spent a considerable amount of your time next to the pool.
All in all, Lavendra Villa is unbeatable on this list for the sheer price. Siri Wadamdura may just beat it on absolute value (that place is astoundingly good value for money, click here to see it) but Lavendra can be enjoyed by just about anyone with any budget. Take a look at reviews and how to book here.
Things To Note
I have said that it is only a few minutes to the main Mirissa beach, however, this is by tuk tuk. If you wanted to walk then it would take 40 minutes and is roughly 3km. I strongly recommend just getting a tuk tuk which can be arranged with the staff at the villa.
Alcohol is not served on site so when you go into town make sure to come back with any 'provisions' you may want.
---
Villa Vista
Set in 8 acres of gorgeous land, Villa Vista is the perfect property to bring a group of friends or family to enjoy a peaceful trip to Mirissa.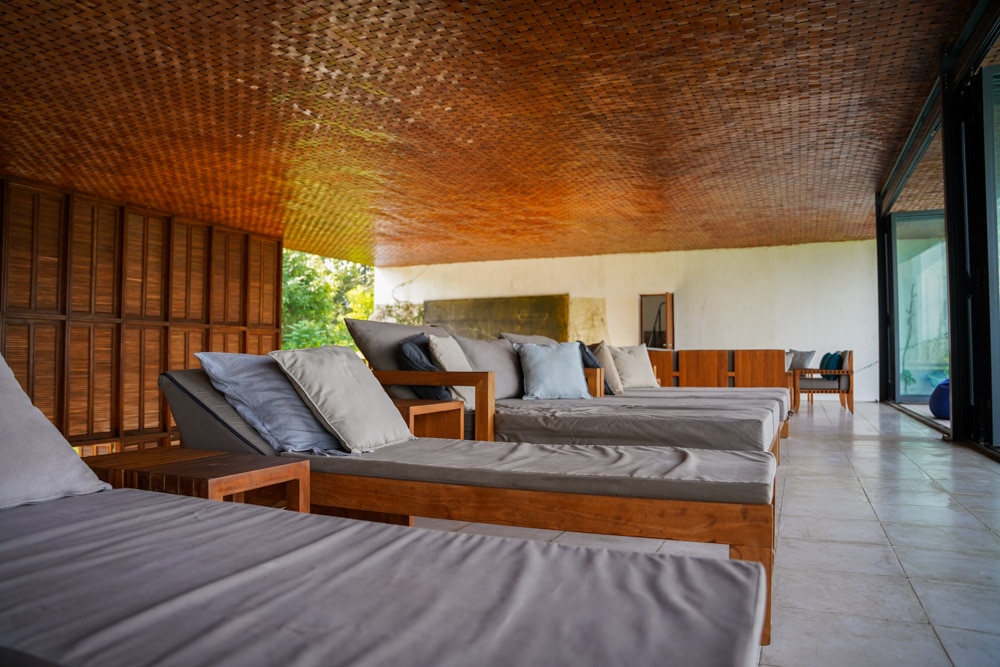 Staying at Villa Vista is a truly unique experience. The building itself is set back from the main road, with the long, winding path leading up to the villa providing the utmost levels of privacy and peace.
Unique Selling Points
The infinity pool gives you unparalelled views of the lush tropical gardens, as well as the nearby Weligama Bay. Once you've finished swimming, the moving deck slides across to give you a great space for sun lounging.
One of the best things about Villa Vista is the spacious summer hut that sits on top of the cliffs near the ocean. You can ask the staff to arrange a barbecue here, or just enjoy a cocktail or two as you watch the stunning sunset.
A small path from the summer hut leads you down to a private beach area, where you can enjoy the soft sands and rippling waves.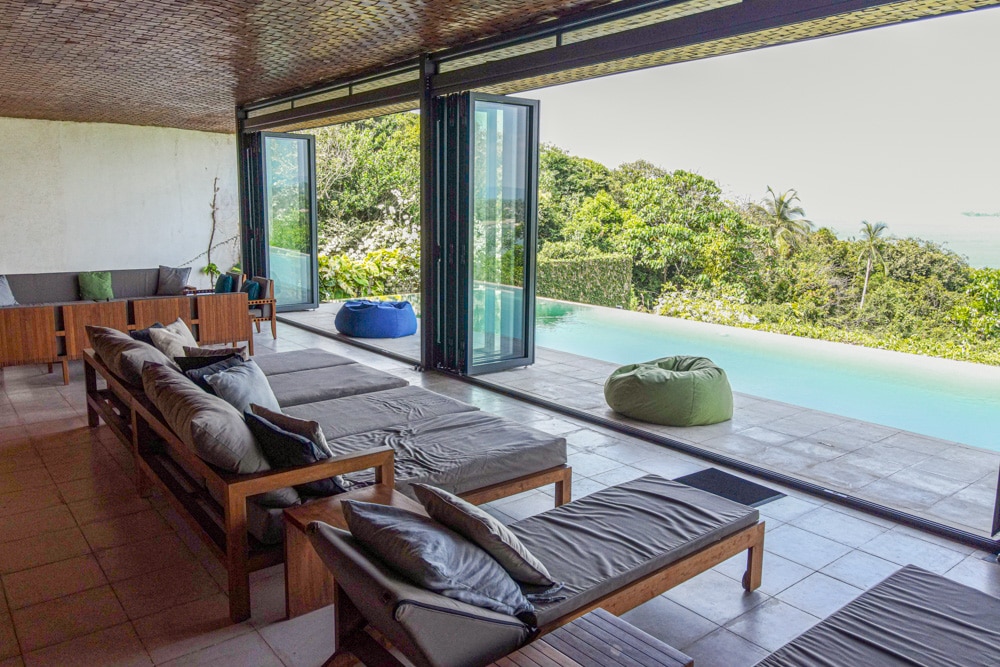 One of the first things you'll notice here is the delicious yet subtle scent wafting through the villa. The staff truly know how to make your experience special, and it's small details like the essential oils diffuser that will leave lasting memories of your visit.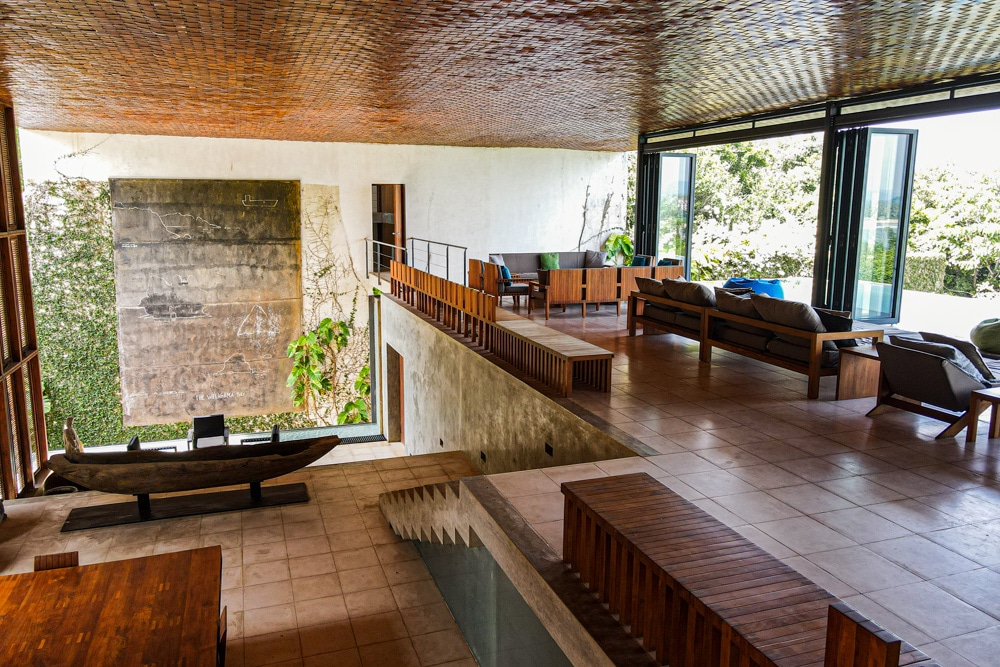 Book your stay at Villa Vista here.
The three bedrooms can sleep 7 people, and everyone will have plenty of space. However, the dining area can accommodate up to 20 people so you can definitely enjoy a social gathering or two here!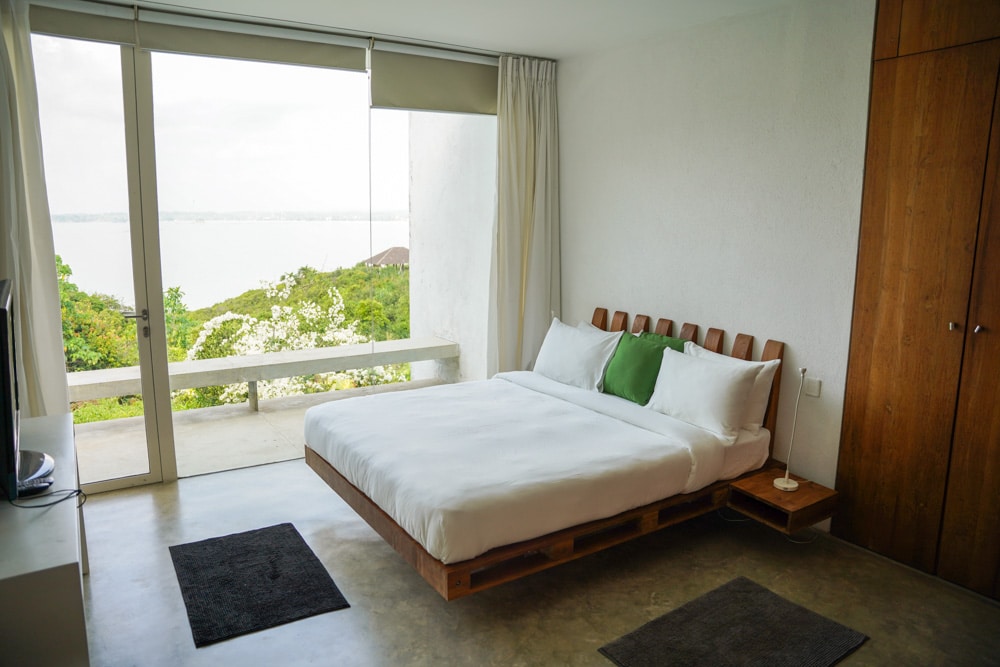 Each room has floor-to-ceiling windows so that you can take in the extraordinary views of the bay. Two of the bathrooms are furnished with a bathtub as well as a shower.
If you've relaxed enough (unlikely – you're on holiday!) then you can use the on-site gym. There are distinctive underwater windows that look straight out from the gym into the swimming pool, so you can work out with a pretty unique view!
---
Check Out The Reviews Of Villa Vista Here
---
The architecture and interior design are breathtaking – you won't find accommodation like it anywhere else in Mirissa. Check availability of the villa and cottage here!
Things To Note
Two dogs live at the villa – they're friendly but large so make sure you everyone in you party is comfortable with furry friends!
Not only can you book the main house, but there is a gorgeous cottage on the land that you can rent too. It sleeps two, has its own private pool and barbecue area.
The villa is part of the Serendipity Collection, which also owns a variety of yachts. You can ask the staff to arrange a trip on one of these for you!
---
Lantern Boutique
Lantern Boutique Villa has the best beach out of all of the villas in Mirissa that we went to, and that includes the incredible beach at Villa Vista.
It wins this accolade as the beach is right on the doorstep, is extremely quiet and the sand is lusciously soft. And if that wasn't good enough for you, turtles literally walk up onto the beach at night and lay their eggs. Whilst we were there, staff from the Office of Conservation was collecting these to protect them from poachers.
We spoke to other guests who had actually watched the turtles come up, whilst enjoying their evening by the sea. How can anything beat that? If nothing can then check out availability here.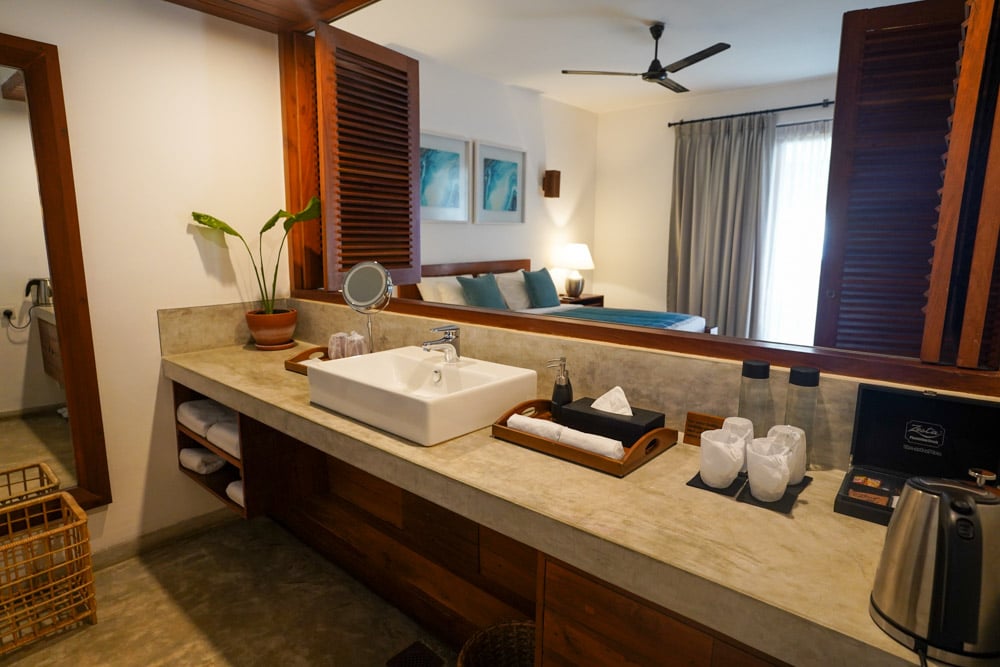 Unique Selling Points
Incredible Beach, the best villa beach that we saw during our month stay.
Great sunbeds that includes double bed variants (Jade says these are called cabanas).
The on-site bar and restaurant are very good and the food variety and quality is exceptional.
Lantern Boutique comes with 6 rooms so the maximum party size is 12 people. So, if you book a single room, you can rest assured that you will still have a very high level of peace and privacy.
---
Check Out The Reviews Of Lantern Boutique Here
---
The on-site bar and restaurant accept outside guests and we were informed that the maximum capacity is 40 people. We asked a few of the long term guests whether this had ever been reached and it hadn't even got close. One couple actually didn't realise that outside guests could even come in so that says a lot.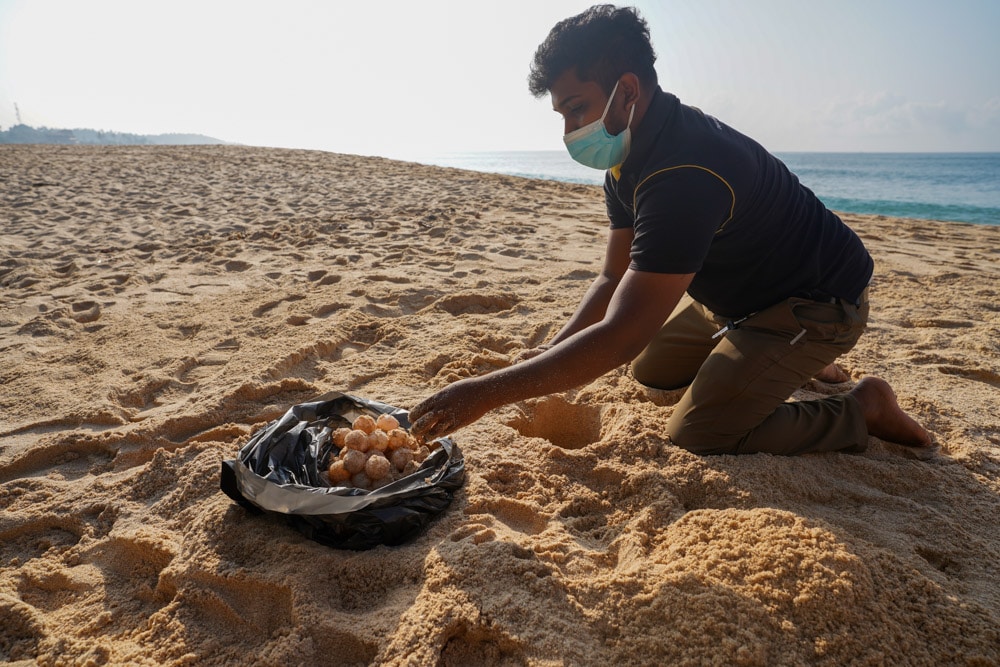 All of the 6 rooms have a sea view but I would recommend getting one of the upstairs rooms as they command the best views. The downstairs view does have a really nice patio area though so don't worry if the upstairs rooms are not available. Check availability here.
The rooms themselves are very well laid out and I would actually call them suites more than just rooms. They have a nice sitting area separate from the bedroom and the bathroom and bedroom have a large wooden shutter between them which really helps with the light in the room.
Things To Note
The eggs Benedict is extremely good and you should definitely try it when you are there.
You cannot swim in the sea directly in front of the villa as it is dangerous, however, safe swimming is very close by and you have a lush pool at the villa.
There is a volleyball court on-site.
---
Mirissa Beach Villa
With two pools, an impressive garden and beautifully decorated rooms, Mirissa Beach Villa is an idyllic and blissful place to stay.
This is THE place to stay if you are looking for somewhere you can relax and feel fully at home, whilst being waited on hand and foot!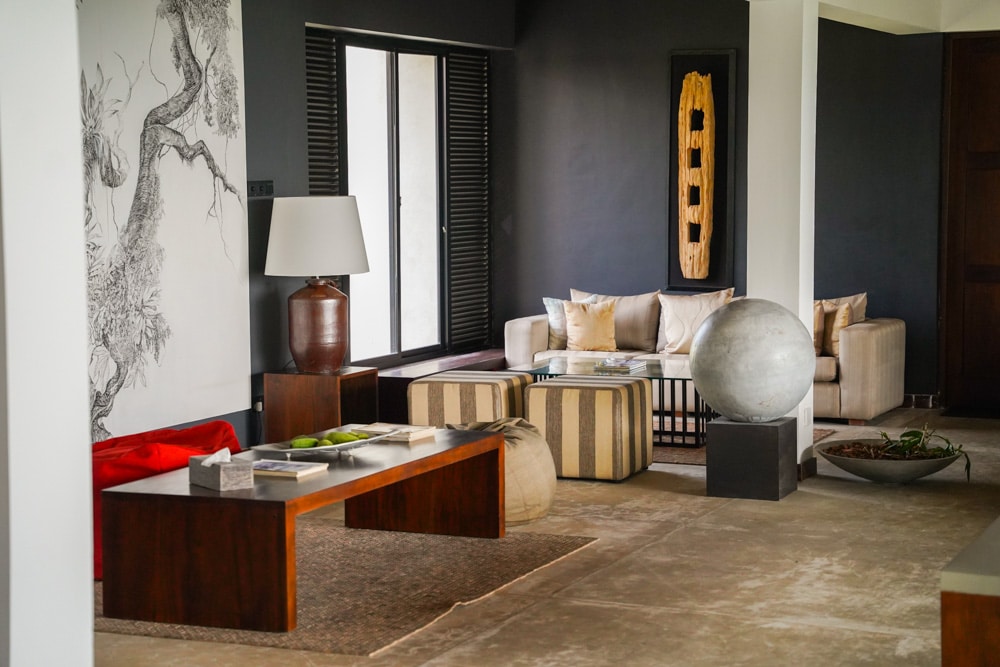 You can find a snug corner of the villa or a tucked-away spot in the garden to savour the peace and quiet – the staff are fantastically discrete so you won't be disturbed. At the same time, you'll always be able to find someone to request a drink, lunch or anything else that will make your stay more comfortable.
The living space is cosy yet functional with plenty of open space and is furnished delicately without feeling too cluttered.
There are sunloungers around the pools, as well as in the garden if you want to just relax in the sun.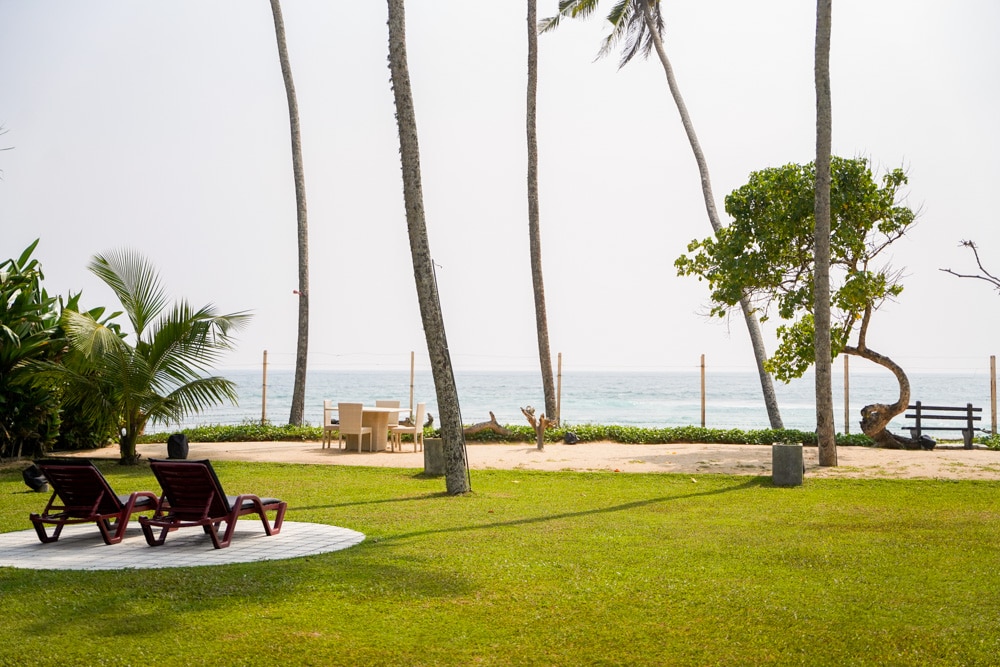 There is a lot of attention to detail here – from the paved areas for the sun loungers to the small hut at the end of the property for turtle spotting or enjoying a massage.
Just outside the villa is a small beach area that you have easy access to. It's a little rocky but you can walk a few metres along the beach to find soft gorgeous sand.
Unique Selling Points
The staff can help you organise some really unique tours, like experiencing a trip on a seaplane!
It's not every day you get a choice of outdoor swimming pools, but here you can pick from a saltwater or a freshwater pool.
Breakfast is included and you can choose from a delicious Sri Lankan meal, or something from the Western menu if you fancy a change.
The chefs can also prepare lunch, dinner and snacks for you – just say the word and they'll be on it.
We enjoyed an incredible lunch here – after 2 months in Sri Lanka trying hundreds of local dishes, the dhal here at Mirissa Beach Villa was literally the best I've ever had!
There are four sea-facing rooms and two extra rooms at the back. These extra two rooms are still just as carefully decorated, with tranquil views of the pretty garden behind the villa. Take a look at the rooms and the views they get here.
We highly recommend Mirissa Beach Villa as it just ticks every box! The location is perfect, the rooms are homely and comfortable and the gardens are so picturesque. The other villas in Mirissa on this list are gorgeous, but this one has an edge to it and you really won't want to leave!
---
Check Out The Reviews Of Mirissa Beach Villa Here
---
Things To Note
You can book a room with breakfast included, or you can choose to have dinner included as well!
The villa is about a 20 minute walk away from the main beach in Mirissa – or just a few minutes in a tuk tuk that you can ask the staff to arrange.
You can book the whole villa, or individual rooms, so it's ideal for groups, honeymooners and families.
---
Other Villas In Mirissa To Consider
We were unable to go to all of the villas in Mirissa during our stay so here are a few more fantastic options that you should definitely check out if none of the above are available.
---
Three Gables Boutique Villa
With a gorgeous ocean view and only four luxury rooms, Three Gables Boutique Villa is a fantastic choice when you're looking for an intimate stay in Mirissa.
Only the guests at the villa have access to the facilities and restaurant, so if it's seclusion and privacy you want, then this is the place to stay.
You have access to a private beach area directly outside the villa. If the ocean isn't your thing, then don't worry because the infinity pool is dreamy and you probably won't want to leave it!
---
This is one of the best villas in Mirissa – read the incredible reviews for yourself!
---
Things To Note
The menu has a mix of Asian and Western dishes, and dietary needs such as kosher, halal and vegetarian and can easily be catered for.
Some rooms have a bath tub so try to book one of those if you love a bit of a indulgence whilst you're on holiday like I do!
---
Ubuntu Beach Villas by Reveal
Two exceptional buildings lie side by side to form Ubuntu Beach Villas in Mirissa. The modern and airy spaces are carefully designed so that you have the best views of the ocean and beach!
You can book eight rooms which is the whole villa or if you only need four rooms then you can book out half of the place. Another, more popular option is to just book one room – Ubuntu is really popular with couples!
---
Check Out The Reviews Of Ubuntu Beach Villas Here
---
Both the living area and the rooms are very spacious, and the complimentary toiletries in the bathrooms are perfect for a long relaxing bath.
Click here to see images of the stunning villa.
Things To Note
Breakfast is included but the restaurant is just next door at the equally beautiful Lantern Boutique Villa (we went there and can confirm that the famous eggs Benedict is worth the hype!)
There is no spa on-site but that staff will happily arrange for you to visit the spa centre across the road.
---
Nisala Villas
Nisala Villas comes with 5 rooms and can accommodate up to 10 people. It doesn't appear that you can book out rooms individually which means that you will be booking out the entire villa all to yourself. This is the best way to guarantee complete privacy and ultimate peace.
Nisala Villa was one of the places we really wanted to visit. Unfortunately, it was booked for the entire duration of our time reviewing villas in Mirissa. This says a lot itself. When you visit, please let us know if it is as incredible as we think it is.
---
Check Out The Reviews Of Nisala Villas Here
---
The villa itself comes with a stunning infinity pool, gorgeous seating areas, bar, gym and more. Check out all of the facilities here.
Things To Note
You can only book out the entire villa.
You have your own kitchen and laundry service.
It has a 'cinema style' lounge!
Minimum stay of 3 nights.
They can actually arrange a water plane to fly you from Colombo to a nearby lake. That's a hell of a way to start the trip.
---
Red Cliffs Mirissa By The Serendipity Collection
Hidden away at the top of a ridge overlooking Weligama Bay and Mirissa Harbour, Red Cliffs Mirissa is the striking sister villa of Villa Vista.
The swimming pool offers some incredible views of the ocean, and you really will feel like you're in paradise all the way up here, away from the hustle and bustle of the main road.
The three bedrooms can sleep a total of six people, so it's the perfect place for a getaway with the family or just your best friends!
Everything you need for a comfortable stay is here – a private kitchen, a large living space, a barbecue area and laundry facilities.
Click here to see more images of this incredible place.
Things To Note
There is a private beach area you get access to.
You can also rent out the one-bedroomed cottage that lies at within the property grounds.
---
Fire Moon Garden by Peacock Villa
This gorgeous colonial-style villa is the smallest one on this list, which gives it an incredible exclusivity and personal feel.
There are only two bedrooms, each with a double four-poster bed, ensuites bathrooms and veranda area.
The impressive saltwater swimming pool is over 15 metres long and sits directly in front of the villa so you can just jump right in once you've enjoyed the delicious breakfast that the helpful staff will bring you.
---
Check Out The Reviews Of Fire Moon Garden Here
---
If you'd prefer to cook your other meals yourself, then by all means use the fully stocked kitchen that offers appliances that you will rarely see in other villas in Mirissa, such as an oven, blender and fridge freezer!
Click here to see more images of this incredible place.
Things To Note
It's only a 9-minute walk away from the beach but is surrounded by peaceful gardens so you won't be disturbed by the busy parties on Mirissa Beach
You can spend your evenings on the Silver Moon Terrace which is a 10 metre high tower in the gardens. You're treated to insane views of the local wilderness.
---
Top Things To Do In Mirissa
Whilst you are staying at one of these incredible villas in Mirissa, you can enjoy some of the best activities that the whole of Sri Lanka has to offer.
Whale Watching
This is the most famous thing to do in Mirissa. Jump on one of the many whale watching tours, we took one by Eagle Eye and you can check them out here.
This is one of the best places in the world to see these beautiful creatures so do not miss this opportunity. They leave from Mirissa harbour so you couldn't be any closer.
Surfing
Mirissa and its surrounding areas are one of the best places in Sri Lanka to surf, from beginner to advanced.
There are loads of schools and hire shops all down the coast or you can simply ask your villa to help you organise this.
Mirissa Beach
This is one of the best beaches in the whole of Sri Lanka so do not miss the opportunity to check it out. The waves here can be quite big so it's not the best for small children but it's insanely fun if you want to have some fun.
I recommend also coming down in the evening for a candlelit dinner by the beach. It's the best way to eat whilst you're in Mirissa so don't miss out.
Galle
I recommend taking a day trip up to Galle to check out Galle Fort. The old fort has a beautiful charm to it and you can really spend a whole day walking through the many museums, shops, cafes, beaches and fortifications. It's a world heritage site so definitely go and check it out.
Read More: Check Out All Of The Best Beaches In Galle Here & The Best Things To Do In Galle!
Read More: These Are The Top Ways To Get From Galle To Mirissa!
Yala Safari
Mirissa is a little bit further from Yala and it is recommended that you start the tour from Tissahamarama. However, if you are not going that way then you can still get picked up REALLY early in the morning and be driven to Yala to experience the best activity in all of Sri Lanka.
We absolutely love it and can't recommend it enough. Check out our recommended tour from Mirissa here.
Read More: How To Choose The Best Sri Lankan Safari & A Guide To Making The Most Of Of Your Yala Safari
Frequently Asked Questions
Which Villas In Mirissa Are Good For Couples?
The best villas in Mirissa for couples are; Sri Sharavi, Lantern Boutique and Villa Oceane.
Which Villas In Mirissa Are Good For Families?
The best villas in Mirissa for families are; Villa Atulya, Lavendra Villa and Mirissa Beach Villa.
Which Villas In Mirissa Are Good For Groups?
The best villas in Mirissa for groups are Lavendra Villa, Villa Oceane, Villa Atulya, Siri Wedamadura and Sri Sharavi.
Should I Hire Out A Complete Villa In Mirissa Or Just A Room?
You will get much more privacy if you go for the whole villa but you will spend considerably more. A lot of the villas in Mirissa above are very small and only accommodate a small number of people. If you want the best of both worlds then book a room in one of the smaller villas where you can get privacy and value for money. I recommend Saltasia or Lantern Boutique.
How Much Are Villas In Mirissa?
They range from £10 per day all the way up to £1500 per day so it totally depends on what you are looking for. Take a look at the whole post to see what you want.
---
And there you have the top 13 villas in Mirissa. You really cannot go wrong with any of the choices above, but if you have any more recommendations then please do let us know in the comments section below!
---