This post may contain some affiliate links. We'll get a couple of quid if you use the link – at no cost to you of course. We'll also always be honest and only suggest companies, hotels or products we actually think are worth it!
Rated one of the best places in the world to see the majestic blue whale, have a read to see your best options to go whale watching in Mirissa, Sri Lanka.
Introduction to Sri Lanka
Sri-Lanka's biggest selling point has to be its multitude of opportunities to experience nature at its finest. From the world-famous Kandy-Ella train route to the huge wildlife parks harbouring the coveted Sri-Lankan leopard, Sri Lanka has plenty of fun things to do. Explore temples in Kandy, hike mountains in Ella, chill on the beach in Mirissa or go wildlife spotting in Yala.
Of course whale watching in Mirissa is up there with the best of them. You are almost guaranteed to see the largest sea mammal in the world, the blue whale, along with a variety of other marine life, for example; Byrd's whales, dolphins and turtles.
Disclaimer
Because Sri Lanka is very cheap in comparison to the stereotypical 'western country' this means that whale watching in Mirissa is a lot cheaper than other places in the world you may be able to go. Because of this tourists flock in great numbers to Mirissa just to go whale watching.
If you choose to go then you will be on a boat with quite a few other people and there will be a large number of boats. You will see other companies breaking the rules and speeding towards the whales and getting too close. We have only given one company suggestion in this post because we know from experience they abide by the rules.
The Best Season for Whale Watching in Mirissa



There are no tours in the peak of monsoon season from May – June. However sea condition can also be bad from July – October. So if you suffer from seasickness or you just want to have a more pleasant ride, the best time to go is between September – April.
No tours – May – June
Choppy Tours – July – October
Optimum time – September – April
There is a constant presence all year round from these majestic creatures so do not be worried about your chances of seeing them at any of these times.
Cost of Whale Watching in Mirissa



Raja and the whales currently charges;
6500 LKR – £29 – US$42 – 1 Adult
4000 LKR – £18 – US$26 – 1 Child (under 12)
Free for children under 5
This fee is almost identical across the board in Mirissa but as I said before, we cannot vouch for any other company so do your research carefully if you go with someone else.
Who to use
So as you might've guessed, after extensive research, we chose to go with Raja and the Whales. None of the reviews we read about Raja and the Whales said anything about the boats going too fast towards the whales or getting too close. This was one of our main concerns and if you do see anything like that written about a tour company then it should be avoided.
All of the companies will advise you that they adhere to the whale watching guidelines that have been set out. However it is simply not true. When we were out there on the boat roughly half of the other boats were chasing down the whales, getting too close and clearly impacting on the whales' routine more than necessary.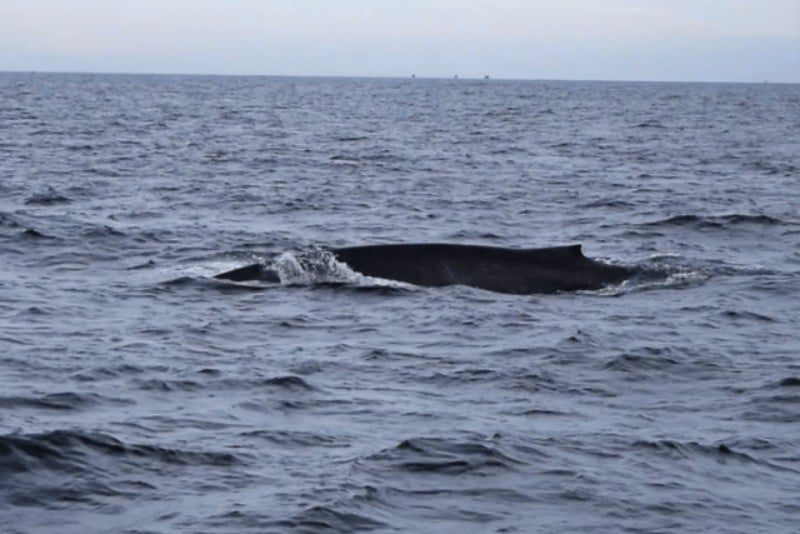 We strongly advise Raja and the Whales and, for your own peace of mind, this is not any form of endorsement.
Itinerary
It'll be an early 6.00am start to get down to the docks to check in, pay and climb aboard the boat.
You'll then leave in a sort of convoy out to wherever the spotters have seen the whales.
We were lucky as the whales were not too far away and it took roughly an hour to get to them.
We then spent around an hour observing the whales, listening to talks about them and trying to get the best photo of the legendary tail fin.
After that you simply turn around and head home, we got served some sausages, egg, bread and watermelon on the return leg.
What are you going to see?
Let me be completely honest. If you are on a good reputable boat that adheres to the laws, you will not see the full length and sheer size of the whales. This is purely because the vast majority of the blue whale is below the surface. At the distance you are at you cannot see even a shadow in the water.
What you will see is the fountain of water erupting from the whales blow-hole as they come up for air. You will see the iconic tail fin rising out of the water as they plunge back into the depths. So is it worth it? 100%. Just to know you are so close to these truly monstrous creatures is humbling in itself.
General Advice
Buy sea sickness tablets!
Do not eat breakfast before.
Don't get on a boat without life jackets!
You can easily buy sea sickness tablets in Mirissa in any pharmacy and they are ridiculously cheap. They work and the Indian Ocean is not calm. Raja and the Whales recommends Avomine – we used it and it works wonders but do be aware that you might become very drowsy a few hours after taking it.
The company should provide a breakfast which has been specifically chosen to minimise sea sickness, such as ginger biscuits and fruit. Take a tablet anyway because you don't want to be that unfortunate person missing out on the whale sightings because you're being sick over the side of the boat!
  TIP: Spend a fantastic 10 days in Sri Lanka with this jam packed itinerary!
Accommodation
Mirissa has a very nice selection of different hostels, hotels and villas available for every type of traveller.
Take a look at this comprehensive list of the best hotels available in Mirissa for all different prices ranges so check that out below
---
Do you know of any other reputable tours for whale watching in Mirissa? Have you had any bad experiences? Have any questions about our experience with Raja and the Whales? Let us know in the comments section below!