Rated one of the best places in the world to see the majestic blue whale, have a read to see your best options to go whale watching in Mirissa, Sri Lanka.
Whale Watching With Eagle Eye
We have been whale watching in Mirissa twice and our experience with Eagle Eye whale watching was absolutely brilliant. Throughout the tour, they adhered to the regulations involving whale watching in Mirissa and we managed to see the incredible blue whale thanks to their constant communication with other vessels. Very highly recommended.
---
Sri Lanka's Incredible Nature
Sri Lanka's biggest selling point has to be its multitude of opportunities to experience nature at its finest.
From the world-famous Kandy-Ella train route to the huge wildlife parks harbouring the coveted Sri-Lankan leopard, Sri Lanka has plenty of fun things to do.
Explore temples in Kandy, hike mountains in Ella, chill on the beach in Mirissa or go wildlife spotting in Yala.
Read More: How To Enjoy A 10-Day Sri Lanka Itinerary OR The Complete Guide To The Best Yala Safaris!
Of course, whale watching in Mirissa is up there with the best of them. You are almost guaranteed to see the largest sea mammal in the world, the blue whale, along with a variety of other marine life, for example; Bryde's whales, dolphins and turtles.
---
A Typical Itinerary For Whale Watching In Mirissa
It's going to be an early start. If you are only going to Mirissa to go whale watching then I recommend staying close to the harbour. Check out The Point for an affordable and highly recommended choice.
6:30 am – Pick up from the hotel.
If you are staying in Mirissa, all of the companies should provide hotel pick-up included in the cost. Departure is at 7:00 am so this is now a good time to take your sea sickness medication if you need it.
Jade took Avomine the first time we went whale watching in Mirissa as this was highly recommended. However, this really knocked the socks off of her and she looked like a zombie for the first 1.5 hours of the trip.
If you don't like the sound of that then she tried out Sea-Band for the second trip and wasn't sick. A quick disclaimer though, the second time was MUCH calmer and she did feel close to sickness a few times throughout the trip.
As always, we are not medical professionals so please do your own research and speak to a professional.
7:00 am – Departure
At this point, everyone should be seated and ready to go whale-watching in Mirissa! You will pull out of Mirissa harbour along with a magnitude of other vessels.
This is one of the prettiest moments of the trip as Mirissa harbour is quite beautiful with the myriad boats of varying colours and the stunning sunrise. Be ready with the camera as this is when the trip really begins.
This is also when the trip becomes harder to pinpoint. During our first-time whale watching in Mirissa, we spent the next 1.5 hours steaming out to sea without stopping and the second time, we were stopping to watch dolphin pods within the first 30 minutes.
This is, of course, due to the unpredictability of wild animals.
Pro Tip
All of the whale watching in Mirissa companies work together to try and keep the industry as good as it can possibly be.
They maintain radio contact throughout the trip and give each other sightings and locations.
This means that you truly do have the best possible chance of seeing the animals that you want to see most.
Your tour operator will do everything they can to get you to see what everyone wants to see, whales! They will stop to see large pods of dolphins if they are close by, but the whole point is whale watching in Mirissa so they know what you want.
Read More: Colombo To Mirissa – Complete Guide
The tour operators are looking to make the tour around 4 hours so expect to be making your way back to port at around 11 am. This can also change considerably as they may come back early if you have seen everything that you want to or they may stay out a little longer if you haven't been lucky so far.
11 am – 12 midday – Return To Port
You will be dropped off where you started. Most operators are not providing transport back to your hotel so you have a couple of options.
There are tuk-tuk's waiting at the port to take you wherever you want.
You could take a short walk to Mirissa Beach and spend the day there. It's the perfect time to head down to the beach and set up for the rest of the day.
Or, you could head to Secret Beach which is actually quite close to the harbour. This is a really good opportunity to check out the gorgeous beach hidden away.
Read More: The BEST Guest Houses In Mirissa
---
Who To Use For Whale Watching In Mirissa
On our most recent trip, we used Eagle Eye Whale Watching.
Breakfast – Yes
Lifejackets – Yes
Water – Yes
Sea Sickness Tablets – Yes
Pick Up – Yes
To see the full list of included items then check them out on Viator here.
From the moment we arrived, the staff were helpful and polite. Of course, when people are there to film a video about your business you kind of expect this sort of treatment.
However, the communication from the captain throughout the trip, to all of the passengers, was cordial and full of information. There was also a point where he asked if everyone was ready to go back and when people said 'just one more sighting!' he happily obliged.
The food was actually better than we thought it would be. It comprised of sandwiches, bananas, pineapple, ginger cake and mini baguettes. This is not all served at the same time but throughout the trip. They don't bring around bottles of water but simply ask and they will provide this.
In the harbour, staff came around and asked people if they would like seasickness tablets so if you have forgotten or are worried on the day then this is a very handy service.
The staff were located throughout the vessel and each of them was trying to help with identifying and talking to people about the different animals we were seeing.
Pro Tip
Don't sit right at the front. Choose a side of the boat. The best location would have to be directly to the left or right of the captain.
This is because when the sightings start happening, everyone directly in front of the captain is not allowed to stand up as this would inhibit the captain's view.
Yes, if you choose a side then you might get the odd time when something is happening on the other side but they always make sure both sides get the same treatment.
Surely this is better than being told to sit down during the whole encounter.
Read More: How To Travel From Galle To Mirissa
Private Whale Watching Tour
If you don't like the sound of getting on one of the larger boats then there are options for small private tours. If there is a group of you (max 6 in the tour below) then this doesn't work out hugely more expensive and you get a much more personalised experience.
Check out the private whale watching in Mirissa tour by Summer Dew Tours here.
---
The Best Season for Whale Watching in Mirissa
There are no tours at the peak of the monsoon season from May – June. However, sea conditions can also be bad from July – October. So if you suffer from seasickness or you just want to have a more pleasant ride, the best time to go is between September – April.
No tours – May – June
Choppy Tours – July – October
Optimum time – September – April
Pro Tip
There is a constant presence all year round from these majestic creatures so do not be worried about your chances of seeing them at any of these times.
---
Cost of Whale Watching in Mirissa
Sri Lanka is very cheap in comparison to the stereotypical 'western country' this means that whale watching in Mirissa is a lot cheaper than in other places in the world you may be able to go.
Adult (18+) – $50
Youth (11-17) – $50
Child (5-10) – $30
Infant (<5) – Free
We do try to keep these numbers up to date but you can double-check the current prices of the Eagle Eye whale watching tour here.
This price is pretty typical when booking the tour online, which I highly recommend. You can of course get better deals if you shop around in Mirissa itself, or speak to your hotel.
However, there are some very iffy tour operators in Mirissa that consistently get too close to the whales, break the rules or do not offer basic things like food, drink and sometimes even lifejackets (although this is less common).
Read More: Check Out This Instagrammable Spot At Coconut Tree Hill!
Pro Tip
The tour companies also tend to reserve their upper deck seats to people who book online and their lower deck seats to local bookings.
This can affect what you see throughout the day and at worst being on the unfortunate receiving end of an ill customer above you.
Even if you book online, call the company and see their policy with this as if you do not have a reserved seat up at the top, I HIGHLY recommend getting to the boat at 5.45 am to make sure you get a seat on the top.
We got there at 6 am for filming and the upper deck was already half full.
---
What To Expect Whale Watching In Mirissa
So, you know the itinerary but what's the actual whale watching in Mirissa experience like?
The Boat
If you are planning to go with Eagle Eye Whale Watching or one of the other companies offering a large boat then there will be quite a few other people with you.
Everyone will have a seat but I won't lie and tell you you'll have loads of space. However, this is completely normal in Mirissa. If this does not sound like your cup of tea then definitely check out this private tour instead.
I, personally, think the larger boats are the way to go because they have an upper deck and you can see further and get better sightings.
Rule Breaking
You may see other companies breaking the rules and getting too close to the whales. This was significantly less prevalent on our second trip and I think the large presence of police boats has helped with this issue.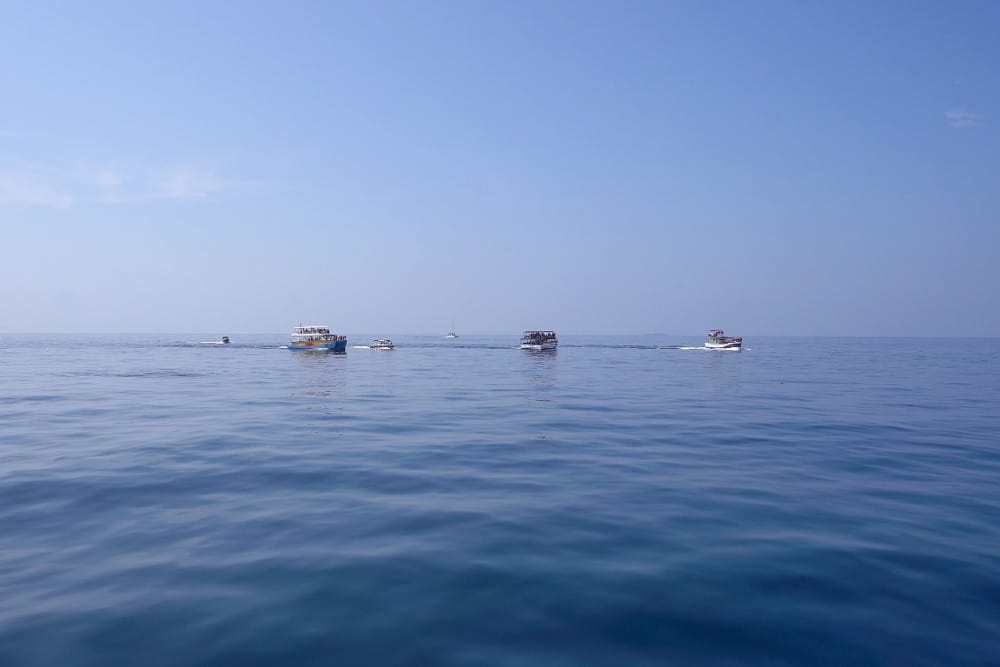 You may want them to get closer and speed towards the whales to get the best sightings but there are strict rules and rule-breaking will only lead to greater sanctions, less boats and higher prices.
On our trip, Eagle Eye Whale Watching observed all the international rules and maintained a good distance from the whales.
The Indian Ocean
This is not a calm body of water. Even in the peak season, the waves can be significant. This isn't to say that it is always like this. On our second trip, the sea was uncharacteristically calm but our first was quite choppy.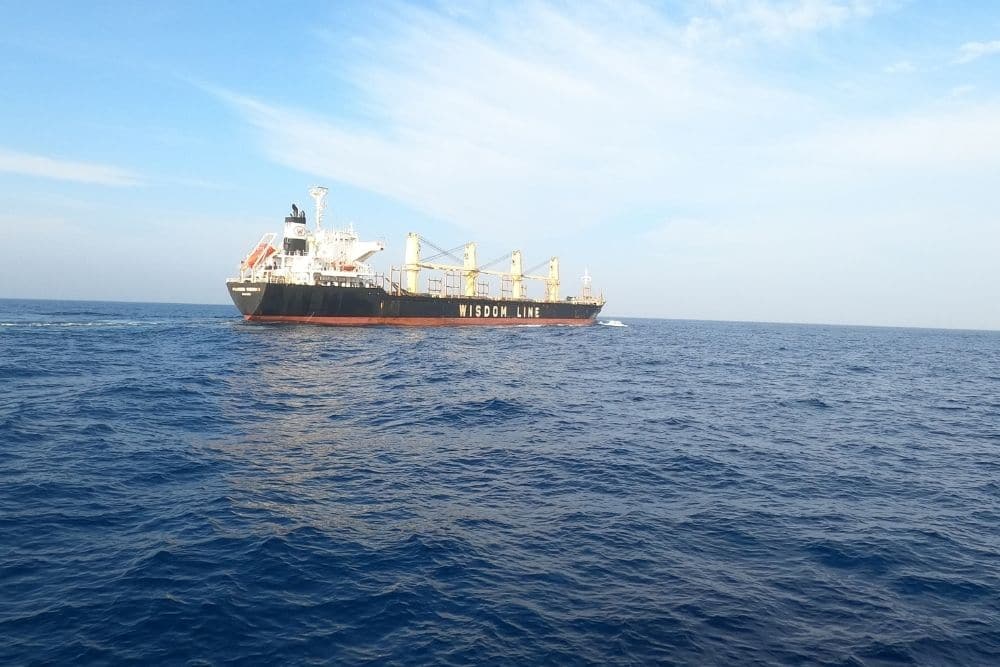 I strongly suggest some sort of seasickness remedy if you are a sufferer. I am pretty good with the waves so didn't use medication either time but even I was iffy with the first occasion.
Next-Day Trip
You should have a clause with your boat that you get to go on the next day's tour if you do not see a whale.
This clause will always be on the following day as the insurance, which is part of your ticket, covers these first two days. This means that if you don't see a whale then you will be able to try again the following day.
However, if you are not available the following day then, unfortunately, you will not be able to negotiate a different date, because of this insurance limitation.
Pro Tip
If you can, make sure that the following day is clear so you can easily jump on the next day's tour if you don't see a whale.
Read More: Here's How To Take The Train From Kandy To Colombo
---
What Could You See Whale Watching In Mirissa?
Let me be completely honest. If you are on a good reputable boat that adheres to the laws, you will not see the full length and sheer size of the whales. This is purely because the vast majority of the blue whale is below the surface. At the distance you are at you cannot see even a shadow in the water.
What you will see is the fountain of water erupting from the whales' blow-holes as they come up for air. You will see the iconic tail fin rising out of the water as they plunge back into the depths. So is it worth it? 100%. Just to know you are so close to these truly monstrous creatures is humbling in itself.
It isn't just blue whales that you are likely to see, however. Here is a list of all the species that might be on show when you go whale watching in Mirissa.
Blue Whales
Obviously, if you go blue whale watching then there has to be a chance of seeing a blue whale. As I have said previously, Mirissa and Sri Lanka have the best chance of seeing them in the whole world no matter the time you go.
Read More: Your Ultimate Guide To Beruwala Beach
Bryde's Whales
The Bryde's whale can measure up to 15 metres and is another great spot if you manage to see one on your trip. They are also off the coast of Mirissa all year round as they are commonly known as the tropical whale. This is because they spend their entire lives in the tropics. Their name is actually pronounced 'broodess' whale but I highly doubt you will hear anyone get that right!
Sperm Whales
It blows my mind that there are three species of whale that you have an extremely high chance of seeing. We saw both the Bryde's and the Blue whales but sperm whales are just as common. These beasts can measure over 20m long and are the largest toothed predator in the whole world. I hope you manage to see one but if you do, I will be very jealous.
Whale Sharks
Is it a whale? Is it a shark? Well even though the name is confusing, it is actually a shark and the largest fish in the world. It can measure up to 12 m in length and is probably the best sea creature to see whilst you're on the trip.
This is mostly because it is the easiest to take incredible pictures of. They swim very close to the surface of the water and the colours and patterns across their body really make for some great shots.
Dolphins
You will almost certainly see various species of dolphins on your trip as there are so many boats for them to swim in the wake.
There are over a dozen species apparently living in the waters of Sri Lanka so I won't list them all but if you choose to ride with Eagle Eye Whale Watching then your guide will be able to identify them for you.
Final Advice For Whale Watching In Mirissa
Buy sea sickenss tablets just in case.
Do NOT eat breakfast before the trip.
Don't get on a boat without life jackets.
Wear your lifejacket.
Get to the boat at least an hour early.
Try to sit to the left or right of the captain.
Book online before for peace of mind.
For a bit of history on whale watching in Mirissa then take a look at this article.
---
Accommodation For Whale Watching In Mirissa
Mirissa has a very nice selection of different hostels, hotels and villas available for every type of traveller. We actually visited 9 of the best villas in Mirissa which I highly recommend you check out here.
Read More: The Top 10 Best Boutique Hotels In Mirissa
Best Villa For Whale Watching In Mirissa
Siri Wedamadura – Book Here
If you have decided to have a read through our article on the best villas in Mirissa then you would have seen Siri Wedamadura on the list.
---
Check Out The Reviews Of Siri Wedamadura Here
---
It genuinely surprised me how affordable this villa is. If you are in a small group then 100% check out the villa because I am sure you will be surprised at the cost. If you're thinking about staying longer in Mirissa then this could also be a great option.
Best Hotel For Whale Watching In Mirissa
Brave Resort Mirissa – Check Availability Here
If you have any experience with hotel rooms in Sri Lanka then this is the quintessential example of one. You will get a decent double bed in a clean white-tiled room.
---
Check Out The Reviews Of Brave Resort Here
---
The hotel is actually a pretty decent place to stay in Mirissa if you're planning to stay for a while. It's close to the beach, Mirissa town and whale watching.
Best Hostel For Whale Watching In Mirissa
Yes Beach Hostel – Check Availability Here
Exactly what you would expect from a hostel plus a little more. They have a restaurant, bar, garden and private beach area. You can get a room in a mixed dorm or a private double room.
---
Check Out The Reviews Of Yes Beach Hostel Here
---
Yes Beach Hostel is right next to the port so it's perfect for whale watching in Mirissa.
Read More: The Best Accommodation In Mirissa For EVERY Budget
---
Camera Settings For Whale Watching In Mirissa
If you don't have a camera then I HIGHLY recommend the Panasonic Lumix ZS70K. It is an affordable point-and-shoot camera that can be picked up and used by anyone of any ability. The camera captures gorgeous images and surprisingly excellent video whilst fitting in your pocket. The main difference between this and your phone's camera is that it also has an incredible optical zoom so you won't miss any of the shots you need to take. Check it out here.
Shutter Speed
This is the most important setting whilst photographing whales in the wild. You are going to be on a rocky boat a long way from the whales. If your shutter speed is low then you will end up with blurry, rubbish images. Even if you're a surgeon, I would pay to see someone keep a camera steady in the rough Indian sea.
Luckily it's very easy to set the shutter speed to a nice high level to counter the unpredictable movement of the sea. Simply set your camera to shutter priority. Cameras all have very slightly different settings but look for the setting with the big S. When you are in shutter priority, set your shutter speed to a minimum of 1/1000. If it's a nice bright day you will be able to go even higher than this if your images are still blurry.
When To Start Snapping
No one wants to be holding their camera up to their face for 2 hours waiting for a whale to dive down. Luckily the whales give you ample warning before they swing their tails high into the air. The first sign is to listen for the whales breathing, this will be a big blow of water and air out of their blowhole.
They will do this a few times to get as much oxygen in their system before diving. The next thing you want to be looking for is a slight arch in the back of the whales. When they are breathing they just float at the top of the water. When they are ready to dive they arch their back.
That's when you need to be ready to snap away, that's when the tail comes up and you get the picture to mount on your wall.
Luckily, any good tour guide you go with will be constantly calling out when different whales are about to dive so, in all honesty, you'll probably just be waiting for instruction.
If you're actually looking for a camera perfect for an upcoming backpacking trip then check out my comprehensive guide to backpacking cameras for all people, all budgets and all situations.
---
---
Frequently Asked Questions
How Much Is Whale Watching In Mirissa?
If you book online the avverage is around $50. If you book locally then it can get much lower than this but it varies wildly. If you're paying much more than $50 and it isn't private then you're being ripped off.
What Is The Best Whale Watching In Mirissa Tour?
We recommend Eagle Eye Whale Watching. Our experience was exactly what you should expect from a large boat.
Can I Get A Private Whale Watching In Mirissa Tour?
You can, it's roughly twice the price per person of the bigger boats which isn't bad if you think about it. Check out a private tour here.
Is Whale Watching In Mirissa Worth It?
100%. Mirissa is one of the best places in the world to see whales, including the blue whale. It is also one of the cheapest places in the world to do this activity. We went on the west coast of Australia and the price difference is staggering.
How Long Is A Whale Watching Tour In Mirissa?
They tend to be around 4 hours but could go on slightly longer than this but usually it will finish early (around 3 hours total).
---
---
Do you know of any other reputable tours for whale watching in Mirissa? Have you had any bad experiences? Have any questions about our experience with Eagle Eye Whale Watching? Let us know in the comments section below!
---