Galle is a stunning city on the south coast of Sri Lanka. It is surprisingly easy to see all the things to do in Galle so let us show you how it's done!
Necessary Spacing
There are quite a few things to do in Galle but the best is definitely just spending a day in the Galle Fort amongst its many museums, sights and things to do. here
If you're looking for accommodation then check out these top recommended budget, mid-range and luxury options!
---
Things To Do In Galle
If you're planning to go to the south coast of Sri Lanka (or you're already there) then you're in for a treat! The whole of the south coast is cram-packed with gorgeous beaches, incredible wildlife and perfect peace.
It is the first destination on our jam-packed 7 day Sri Lanka itinerary so be sure to check that out too!
While Galle is not necessarily the best place for beaches and serenity (it's still damn good), Galle shines when it comes to history and architecture.
So, without further ramblings, let's get straight into the best things to do in Galle.
Read More: A Perfect 10 Day Sri Lankan Itinerary
---
Historical Things To Do In Galle
Let's start with the best of the best, the history of this beautiful city.
---
Galle Fort
A Unesco World Heritage Site, Galle Fort is a huge fortress on the southern peninsula of Galle City and is easily the very best thing to do in Galle.
This is because nearly all of the best sights and attractions and within its walls. So, you can knock off so many items on your list, just by coming and visiting the Fort.
But that's not to say that the fort itself isn't worth a visit. Walking around its outer perimeter in the evening is one of the most peaceful things to do in Galle. Couple this with a stunning sunset and you have the most romantic place on the south coast.
This is proved by the many couples huddling away in all the nooks and crannies throughout the walk.
I recommend an evening walk around the perimeter of the Galle Fort to truly capture the stunning views and incredible history.
Read More: Check Out The Secret Beach In Mirissa – It's Just Down The Road From Galle
---
Galle Fort Old Town
The fort was originally designed to fortify the whole city of Galle and back in the 17th century, it did just that. As you can imagine, the city now sprawls in every direction from the fort, making the original buildings the 'Old Town'.
I always love visiting the old town whenever I go abroad as they tend to have some of the most beautiful and unique areas. The Galle Fort Old Town does not disappoint.
This is where you will find some of the best hotels, restaurants and shops anywhere in Galle.
The whole of the Galle Fort Old Town is not as refined and preserved as some others that I have visited but the charm is definitely still there. I relaxed with a beer in one of the many balcony cafes and didn't regret it.
Read More: How To Get From Galle To Colombo
I recommend spending some time in the mid-afternoon walking around the streets and getting lunch in the old town. This is a great time to utilise the shade that the old town provides.
---
National Maritime Museum
The National Maritime Museum is right at the main entrance of the Galle Fort and is a great way to start your day exploring the whole fort area.
It's a short, 30-minute, activity in a relatively small museum which quite nicely displays the growth of the maritime economy and the animals that live nearby. It may be short, but it is also relatively cheap:
300Rps – Adult
150Rps – Children
250Rps – Camera License (to take photographs) OPTIONAL
2000Rps – Video License (to take videos) OPTIONAL
You don't have to pay for the licenses if you don't take any videos or pictures so don't worry about that too much!
The highlight of the museum is definitely the Bryde's whale skeleton that is suspended from the ceiling. You may have been to museums with something like this before, but, this museum is so small that the whale skeleton is so close to you. It really puts the size of these creatures into perspective, and this is a relatively small example!
I recommend going to the National Maritime Museum at the beginning of the day as you enter the Galle Fort.
---
Historical Mansion Museum
The Historical Mansion Museum is a huge private collection of artefacts from the colonial period to much older. It's crazy just how much stuff is crammed into this restored Dutch house.
Luckily, there is no entrance fee at all, so if you like browsing through all sorts of miscellaneous items throughout history then this is definitely one of the best things to do in Galle.
We spent about half an hour having a look around but you could quite easily spend more than that if you really wanted to take it all in.
Everything on display is also for sale so if something particular catches your eye then you could be going home with a relic from yesteryear!
Whilst we were there, a craftsman created jewellery in the centre courtyard, near to the old well. However, you might also see other examples of old trades whilst you're there.
I recommend having a look through the Historical Mansion Museum after lunch. Let your food go down in the coolness of the house and take in some history!
---
Flag Rock
Right on the southernmost tip of the Galle Fort lies Flag Rock. This is where flags would be used to communicate with ships out to sea or to signal the fort of approaching ships.
However, today, this is easily the best location to catch the incredible Galle sunset. I don't recommend checking out the sunset here on a weekend as it will probably be packed but during the week it's a great photo opportunity.
When we were there we saw an advert to jump off Flag Rock into the sea below. Apparently, the locals do it often and it has become a bit of a local tradition. However, we were probably there at low tide because it looked way too shallow to me.
If you're going to have a crack at jumping off then I recommend doing so when you see locals doing it as they are the ones to know when and how to do it (hopefully).
I recommend coming here on a weekday evening to check out the incredible Galle Sunset.
---
Galle Fort Lighthouse
The Galle Fort Lighthouse is a beautiful white building surrounded by tall palms. This combination of architectural and natural beauty makes it easily the best place in all of Galle to get that Instagram worth picture.
Spend some time here trying to capture that perfect picture and if you're a drone pilot, definitely spend some time capturing this beauty from the air. If you circle out to sea then you'll be able to capture much of the fort as well in your epic video.
As always, make sure you are fully registered in Sri Lanka, which I recommend doing BEFORE you come into the country as if you don't register, customs may take it at the airport. Plus if you have an accident then you're in for a tough time. Check out the national drone website here.
I recommend spending some time taking some cool pictures.
---
Galle Fort Clock Tower
Let's be honest, most clocktowers are just towers with clocks on. A good photo opportunity but nothing more. However, the Galle Fort Clock Tower has at least some pretty cool history behind it.
It was built entirely from public funding for a doctor named Peter Daniel Anthonisz. Local tour guides like to say that this was because he was such a people person and everyone loved him. It could also be from a grateful patient…
I didn't know him so I couldn't tell you. All I know is that he got a cool clocktower made for him and it's a really good spot to grab some pictures and fly your drone! You can also get a pretty good view of the Galle International Cricket Stadium from the walls here.
Similar to the lighthouse. I recommend spending some time taking pictures and having a rest in the shade.
---
National Museum of Galle
The National Museum of Galle is aptly situated in the oldest remaining building in all of Galle Fort. As you can imagine, it tells the tale of Galle throughout its history, including a relatively new exhibit showcasing Sri Lanka's trade relationship with China throughout the years.
35Rps – Adults
20Rps – Children
Due to its very low price, I definitely think it's worth checking out, even if it's not really your thing. You'll soon realise that getting out of the blaring sun in the middle of the day is a priority and what better way to do that than having a look around.
---
Dutch Reformed Church
The Dutch Reformed Church was completed in the mid-18th Century and has a good high vantage point over the rest of the fort.
If you enjoy walking through and learning about some of these old religious buildings then this is one of the best things to do in Galle for sure.
Quite handily, there's is a guide waiting to tell you all you need to know about the rich history of the church, including a baptism gown worn by a prominent 18th-century commander hanging on the wall…
I recommend the Dutch Reformed Church to anyone who has an interest in religious buildings and wants to learn more.
---
The Best Natural Things To Do In Galle
The nature in Sri Lanka is one of the best I have seen anywhere in the world. Take a look at these next options that show why Galle is no exception to this rule.
---
Whale Watching In Galle
The best place to go whale watching in Sri Lanka is just down the coast in Mirissa. However, if you don't have enough time to go just that little bit further down the coast then you can actually go whale watching in Galle.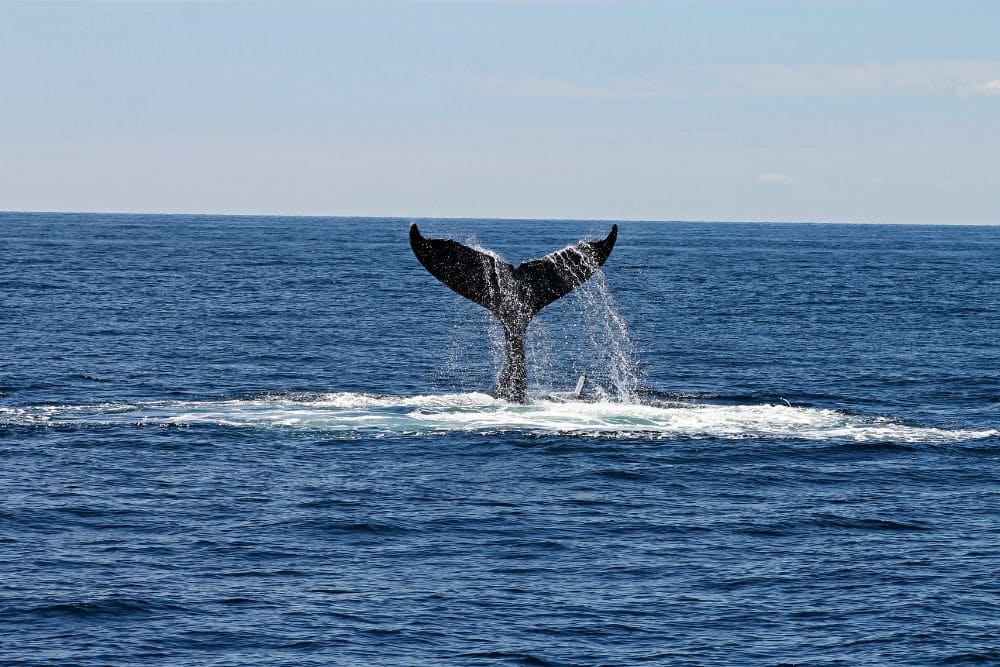 You will have the opportunity to see many different species of whales, including the mighty blue whale.
Read More: Our Guide To Whale Watching In Mirissa
We have now been a couple of times and, let me tell you, it is extremely worth the money. Check out this tour from Galle for more information.
I highly recommend spending a morning whale watching in Galle. It is by far one of the best things to do in Galle.
---
Sea Turtle Hatchery Centre
I always try to do my research before recommending anything to do with animals as there are unfortunately many tourist attractions throughout the world that appear harmless but are in fact terrible.
From what I can see, there is a serious issue in Sri Lanka regarding the safety of the turtle eggs once they are laid in the sand. People dig them up and sell them illegally in great quantity.
On the other hand, places like the Sea Turtle Hatchery Center do protect these eggs and allow for greater numbers of turtles to reach the sea.
---
Book your favourite hotel here

Where will you go?
---
Despite this, this then creates demand for eggs for this hatchery as they are not government-run so they rely on donations and entry fees to survive. There is then the possibility of accepting eggs from any source, no matter if they would have been safe in the wild.
I am not for a second implying that this family is not completely devoted to the task of helping and sustaining the turtle numbers. It's just something to consider.
If we accept that this is a necessary human intervention then I do think it is one of the best things to do in Galle whilst you are here.
---
Jungle Beach
Located on the coast off Rumassala sanctuary, this gorgeous small stretch of beach gets a lot fewer tourists due to the mountain road that leads through the jungle to the beach. Most people decide it's not worth it and go for an easy-to-access beach elsewhere.
Read More: Beruwala Beach + Secret Paradise
However, for the adventure lovers among us, this is definitely one of the best things to do in Galle as you get a pretty secluded, peaceful and incredible bit of sand, almost undisturbed.
I don't recommend trying to do the path after sunset so don't wait around on the beach after dark.
I recommend this beach for anyone with a bit more adventure in their soul but not after dark.
---
Rumassala Sanctuary
Also known as Rumassala Hil, it is believed that Hanumantha, the monkey god, dropped a piece of the Himalayan mountains which later became known as Rumassala Sanctuary.
The famous Japanese Peach Pagoda and Jungle beach are present within the sanctuary which are both definitely worth a visit too.
There are certain species of Fauna and Flora that are endemic to Sri Lanka that can be seen here so if you're interested in the natural history of Sri Lanka then keep your eyes peeled!
I recommend visiting the sanctuary in the morning when you are planning to spend a day by the beach on one of Unawatuna's famous beaches.
---
Read More: Don't Miss Udawalawe National Park For Amazing Elephant Sightings
The Best Other Things To Do In Galle
A couple of examples that don't quite fit in the examples above!
---
Dutch Hospital Shopping Precinct
This restored hospital is the best place to grab a drink or a meal in all of the Galle Fort Old Town, and maybe in all of Galle. It's also a stunning building, priding itself as one of the oldest in all of the Galle Fort.
It has a few restaurants to choose from and views you could die for. At night, when the lights turn on, it's also a really romantic place to come and grab a bite to eat.
I highly recommend coming here if you're in the need of a drink or a decent meal.
---
Japanese Peace Pagoda
This gorgeous symbol of peace is nestled high in the Rumassala sanctuary and can be seen from the ramparts of the Galle Fort.
It is one of a number of Peace Pagados in Sri Lanka and is intended to symbolise peace for all people, not just the Buddhist believers that inspired its creation.
The Rumassala Sanctuary is in this list of things to do in Galle so why wouldn't you have a little journey to the top of the sanctuary to relax in the tranquillity of the Pagoda whilst soaking in the incredible views from the top.
I recommend going to the Japanese Peace Pagoda whilst visiting the Rumassala Sanctuary.
---
What NOT To Do In Galle
I can only think of one but I think it is important to add it to the list.
---
Water For Elephants
This is a local tourist attraction set on a large plot of land to the west of Galle.
I am only putting this in to advise NOT to do this activity. It is quite common and accepted knowledge that riding elephants is not ok and the amount of 'breaking in' needed to train an elephant to do this is not acceptable.
They let you ride elephants here so it's a no-brainer to avoid. Trust me, there are better experiences and better places to experience these wonderful creatures.
---
Best Tours In Galle
Here is our definitive list of the best tours you can take in Galle. They range from safaris to cycling tours so have a look through to see if anything catches your eye.
---
Yala National Park Safari
This is the one activity in all of Sri Lanka that I think is a must-do. It is one of the best things I've ever done.
I didn't know you could do a Yala safari all the way from Galle but it turns out you can! It's an early start if you're going from Galle but it's is 100% worth it.
Read More: Our Complete Guide To All Sri Lankan Safaris & The Complete Guide To The Best Yala Safaris
---
Cycling Tours
There are a number of different cycling tours you can take that vary in difficulty and length. However, it's a great way to see the city and gets you out to places most people do not go!
Here are three to choose from. Make sure you choose one suitable for everyone that's travelling with you.
---
Galle Fort Cooking Class
We try to do a cooking class wherever we go and Sri Lanka is no exception. So when you get the opportunity to take a cooking class in one of Galle Fort's best restaurants, you take it!
What's also nice is you get a recipe book at the end so you don't just immediately forget everything you have done. Or maybe that's just me…
---
Galle Fort Guided Tour
When you visit Galle, taking a trip around the Galle Fort is an absolute must. The area literally has the vast majority of things to do in Galle.
There is no better way to see the fort than to have a look around with a local who knows all the history and quirky facts.
---
Whale Watching
There are not many options for whale watching in Galle but luckily there are some! This is because they tend to leave a bit further south in and around Mirissa.
However, don't despair! If you're not going around that far, take this tour and you won't regret it.
---
Places To Stay In Galle
There are many options but we have narrowed it down to some of the best options that you just cannot go wrong with.
Read More: Going To Mirissa After Galle? Check Out These Incredible Villas For Every Budget
Budget – Oynise Beach Cabin
It's on the beach, how much more can I say!
It's incredible value for money but it may not be for everyone. Check out the page to see what I mean. However, with the reviews it has, it may be exactly what you're looking for.
---
Mid-Range – DiNi Galle
It's a 4-minute walk to the beach and you have the option of AC in your room.
The rooms are good and clean and the beds are comfortable. DiNi Galle is definitely worth the money so make sure to check them out here.
---
Luxury – Le Grande
This place has it all, including sea views and views of the beautiful Galle Fort.
I think the best thing to do is click through and have a look at the official page. It'll blow you away for sure.
---
---
---
Frequently Asked Questions
What is the best thing to do in Galle?
I think looking around the Galle Fort is the best thing to do in Galle. However, this is entirely subjective so make sure you read through the whole list to see what the best things to do in Galle for you are.
How many things to do in Galle are there?
In my list, I have 16 things to do in Galle but that doesn't mean there aren't more secrets to be found!
How long to see all the things to do in Galle?
I actually think you can do all the things to do in Galle in a couple of days although you might want 3-4 days to do it at a relaxing pace.
Should I stay in the centre of Galle?
Tuk-Tuk prices are so reasonable that you can easily stay 6-7km out of the centre and not even notice it on the final bill for the trip. Your accommodation may also be cheaper. It certainly doesn't affect you seeing all the things to do in Galle.
---
There you go, guys! This is my definitive list of things to do in Galle. I hope it was helpful. If you know anything that I have missed then let me know in the comments section below.
---