This post may contain some affiliate links which means we can earn commission at no extra cost to you.
St Agatha's Tower (The Red Tower) is possibly the most famous of all the towers in Malta and is a definite must-visit. Let us talk you through what to expect and how to make the most of your trip!
If you have been to Malta then you will almost certainly have seen the Maltese towers dotted around the country, each of them in equally commanding locations. However, they pale in magnificence to the famous St. Agatha's Tower, affectionately known as The Red Tower.
Just like the others, the Red Tower was built to act as a lookout and forward operating base. If the defending forces noticed an attack coming, they could signal other towers on the horizon which would do the same, all the way back to Valetta to warn the capital.
Read More: Top Things To See and Do For A Week In Malta
---
A Brief History
Built-in 1649, the Red Tower has the extraordinary ability to sustain 50 men for 40 days in case of a siege. This is partly down to the ingenious water collection system the tower had installed to collect rainwater for the men.
Of course, over the centuries, the Red Tower had become in a state of disrepair, but unlike other towers in Malta, it was given a new lease of life and restored to its former glory. This is why it is such a must-visit when travelling around Malta. There are few other places where you can really get the feel of what it was like when they were originally built.
---
Book your favourite hotel here

Where will you go?
---
Even though it was built in the 17th century, its history goes back many more centuries. When you visit the Red Tower, you will be able to find out about this rich history by reading or listening to the video inside the tower itself.
I strongly recommend coming up to the tower to have a quick walk around, even if you are not that interested in the history surrounding the tower. It commands an absolutely fantastic panoramic viewpoint that will almost certainly be home to one of the shots of the holiday.
---
What To Expect At The Red Tower Malta
Once you get to the tower, you will notice quite a steep and significant stone staircase to the entrance. Fear not! If you don't think you'll make it up the first set, you can walk around to the side and find a smaller staircase. Unfortunately, these are the only two options, therefore, disability access is definitely an issue. 
Once you get inside the tower, you will be greeted by a small reception area where you will be required to pay €2.50 per adult and they only take cash (under 12's go in for free). A lot of the information online is advising €2 but this has increased so do not be caught out!
The tower seems so much smaller on the inside, and that's because it really is. The exterior walls are 4m thick to protect from attack, so this makes the inside look positively cramped. Imagine what it would have been like with a whole contingent of soldiers living out their daily lives!
After watching the video presentation, you will be able to take in the history around the interior by reading one of the many information boards dotted around.
The people who work at the Red Tower are all volunteers so they are always the most knowledgeable and passionate people you could ask for. Make sure you ask any questions you may have and they will be very pleased to help.
After seeing the downstairs, you can take a walk up to the first floor. This is up a steep and narrow wooden spiral staircase and comes out at small lookouts of the interior of the tower. I think this is where you realise that the building really was built for purpose and not comfort. The small windows cast narrow beams of light that almost make you feel like you're in a cave.
The first floor is quite small so you will probably find yourself walking further up the stairs in a pretty short amount of time. This time, however, you will reach the top of the tower. The views from the top are absolutely spectacular. Looking south you can see the whole of Mellieha Bay. If you look to the north you can see the entirety of Comino Island and Gozo.
If you look towards Comino, you will be able to see the Comino tower and get a good feel as to how the warning system would have worked from tower to tower.
This is where to get your cameras out and take some serious panoramic shots which will be difficult to get anywhere else in Malta!
After soaking in everything the interior of the Red Tower has to offer, remember to take a walk around the outside. Its grandeur really becomes apparent when standing in its shadow during sunrise or sunset.
---
How Much Does The Red Tower Cost?
Under 12's – Free
Over 12's – €2.50
National Trust Members – Free
*If you are a member of your country's National Trust, entry may be free so definitely ask on arrival. It is not just membership to the Maltese National Trust.
CARDS ARE NOT ACCEPTED
Bring cash! You do not want to walk up the very steep hill and get a taste of what the views are like at the top, just to have to turn around and go home. 
---
Opening Times For The Red Tower
Winter Opening Times – 16th September – 14th June
Monday to Sunday – 10:00 – 16:00
Summer Opening Times – 15th June – 15th September
Monday to Sunday – 10:00 – 17:00
Read More: Your Guide To Visiting Malta in Low Season
---
How To Get To The Red Tower
By Bus – Take the bus to the Qammieħ bus stop. This will drop you off at the base of the hill and you will have a short, albeit steep, walk to the Red Tower.
By Car – Stick the Red Tower or St. Agathas Tower into your sat nav and it will take you right to the door. There are a few parking spaces near the top around the back of the tower so you should be able to find a space.
Walking – If you are staying in neighbouring Mellieha then I recommend the walk down past the bay and up to the tower itself. It really is a stunning way to introduce yourself to the site.
Taxi – If you don't have a hire vehicle then grab a taxi up to the Red Tower. Download the Bolt app on your phone to make this super simple (similar to Uber).
---
---
Things To Do Near The Red Tower
The Red Tower will not take your whole day to have a look around. I recommend combining your visit with something else in the northern area of Malta. Here is a short list of things to do near the Red Tower to help you plan your visit.
Mellieha Bay Beach
Mellieha Bay is literally minutes away from the Red Tower and is one of the best beaches in all of Malta. I recommend spending the day at the beach and coming up to the tower 30 minutes before closing time. This means you will get some really good late daylight for your pictures and you may even be able to catch the sunset which really brings out the colours of the tower magnificently.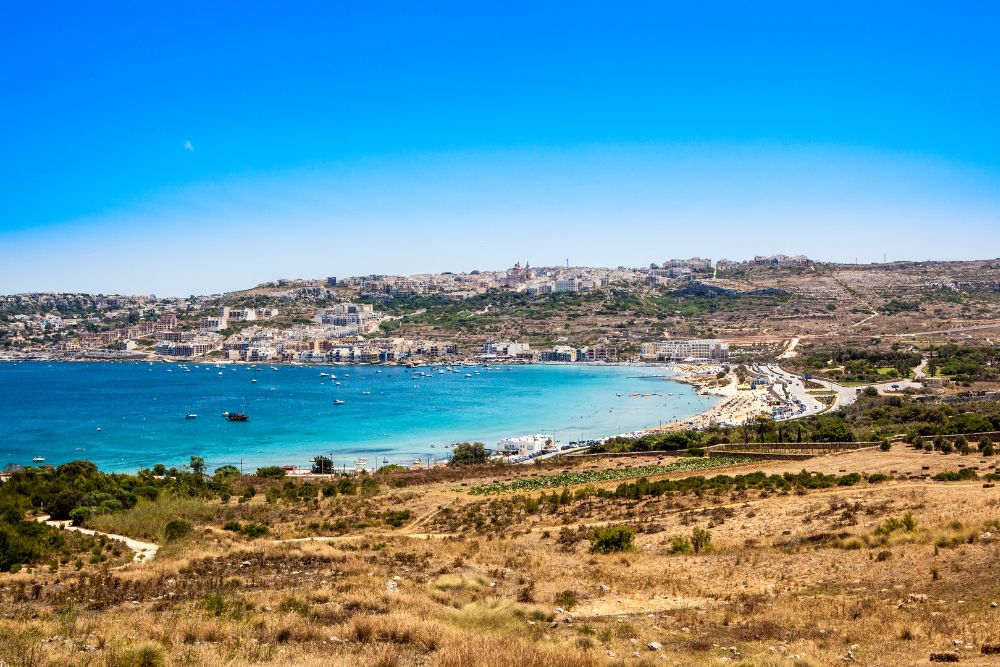 ---
Comino Island
If you take a ferry across to Comino Island then you will be dropped off in the Blue Lagoon on the island's north shore. This water here is absolutely spectacular and could be a really good combination to visit the Red Tower after getting back to the mainland. The Blue Lagoon is definitely party central so if you have small kids or you don't like the party atmosphere when you're trying to relax, then stick with Mellieha Bay above. If you want, you can take a tour to Comino Island and make a day of it on one of these gorgeous boats.
Read More: Your Ultimate 5 Day Malta Itinerary
---
Mellieha Town
If you are looking for a bit of a history day then you could take a look around Mellieha itself before or after travelling to the Red Tower. Mellieha is home to the gorgeous Mellieha Parish Church which is literally unmissable on the cliffside and there is also a wonderfully preserved 500m long WW2 air raid shelter underneath the town which is a very interesting place to explore. It's 500 metres long!!
---
Travelling To Gozo
If you are on your way to Gozo then you will pass the Red Tower on your left before you get to the northern port. I highly recommend jumping off the bus at the Qammieħ bus stop and walking up the hill to St. Agatha's Tower. All you have to do is leave a little bit earlier than you need to (I would say 90 minutes) which will give you time to walk up the hill, have a look around, and walk back down the hill to the bus stop to continue your journey.
---
Popeye Village
Yep, that's right, Popeye Village! Just down the road from the Red Tower is the waterpark/attraction where the Popeye film was created. They have now turned it into a very fun attraction for the whole family so if you're looking for an excuse to get up to the Red Tower, you can then spend the rest of your day at the Popeye Village!
Read More: Check Out Popeye Village and Malta's Other Water Parks Here!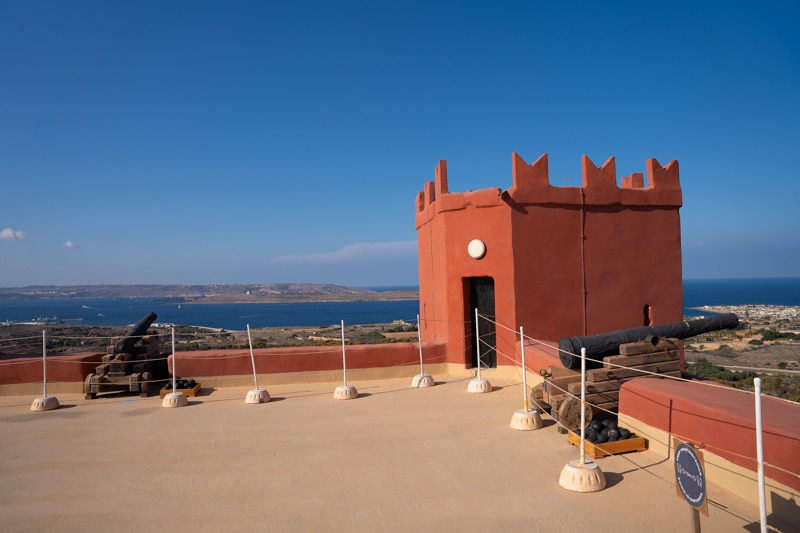 Read More: Is Malta A Cheap Place To Visit?
---
Drone Advice
If you have a drone and you're wondering whether you can fly up near the Red Tower, the answer is yes. However, to fly in Malta you must have the relevant EU certification and you must also have registered with the Maltese drone system. You can find a link here. 
I have a Mavic Air 2 which means I require an A1/A3 EU certificate as well as an A2 EU certificate. If your drone is less than 250g you will only require the A1/A3 which can easily be booked and taken whilst in Malta. For more information check out the CAD website.
Once you have registered and are certified, you will also have to create a flight submission and have this submission cleared.
This all sounds very complicated and long-winded, and I suppose getting to this point can take some time. However, once you have the certificates in your bag and you have created a single flight submission, all future submissions are incredibly easy and fast.
Please do follow all drone regulations as the industry is continuously being squeezed because of people not following these rules.
---
Please let us know if you have any questions or if prices have been updated etc. Also, let me know if you loved the music in the video because Kev's brothers thought it was too overdramatic….
We hope you have a great time visiting!
---