Are you a bit of a foodie when you travel? Cambodia has some delicious food, so try out a Siem Reap cooking class when you're here to learn exactly how to serve up a Khmer food storm!
Khmer Cooking Class At A Local's Home
There is one clear winner for the title of best cooking class in Siem Reap, and that's this Khmer Cooking Class at a Local's Home. You'll visit a local market, try herbs from the garden and cook a fantastic 4-course meal that you then get to eat for lunch! The staff are incredibly friendly and welcoming, the house is beautiful and the food is easy to prepare yet so delicious! You also get access to a full recipe booklet at the end so that you can carry on cooking your favourite dishes even after you've left Cambodia!
---
A Siem Reap Cooking Class
Cooking local and traditional food whilst travelling is such a great way to immerse yourself in the culture of the country you're visiting. You get to speak to people who make this type of food regularly and learn about the different methods, ingredients and flavours that you might not have heard about before!
We love trying out different cooking schools when we travel, so when we saw the opportunity to experience a Siem Reap cooking class, we couldn't say no! Our experience was fantastic, and we can't recommend the Khmer Cooking Class at a Local's Home enough!
Read More: Sunrise At Angkor Wat – The Ultimate Guide
Read our full review below, but if you are looking for something different then there are 5 more excellent cooking classes in Siem Reap that we've researched for you. Just click on the links in the contents box below to read more!
---
The Best Siem Reap Cooking Class Options
There are six Siem Reap cooking classes on this list. They all have their own unique way of doing things, and will suit different types of travellers so have a read and see what you think of each one before booking a cooking class in Siem Reap!
1. Khmer Cooking Class At A Local's Home
This is our top pick, and you only have to look at the hundreds of 5* reviews to see why! We chose to take this cooking class in Siem Reap over the others because of this – not many places have such an impact on their guests that so many people leave a positive review so it must be good!
Check out the reviews of the best cooking class in Siem Reap here!
You can choose to join a class at 9:30 am, 12:30 pm or 3:30 pm so there's flexibility in the activity, and it means that you can plan it around the rest of your day. We chose to visit at 12:30 pm so that we'd be able to eat at the perfect time for lunch!
Our tuk-tuk driver picked us up from our hotel a little before 12:30. The school offers free pickup from within 4km of the city centre, or if you wanted you could make your own way there. I actually enjoyed the experience of being driven through the city on a different kind of tuk-tuk than I'm used to – it was more like a motorbike pulling a cart so it was fun!
Read More: The Best Cooking Class In Hanoi – VIETNAM
We arrived and were greeted by our friendly host Hat, who showed us to our table and offered us some cold water. We were asked to take our shoes off but don't worry, there are flip flops provided for when you go outside to the garden!
Our chef introduced herself as Sivon and she showed us the menu that we could choose from. There were 4 courses, each at least 2 or 3 options which I thought was really impressive. If you're a picky eater or have someone in your group who is, then the chances are that there will be something that everyone can eat!
I was the only one cooking (Kev was on camera duty so check out the video he made!) and chose the green mango salad with smoked fish, vegetable tempura, traditional fish amok and bananas with coconut milk for dessert.
I actually changed my mind about having the smoked fish once we started cooking – it's got a very strong smell! – but Sivon was super flexible and didn't mind at all!
Click here to check the latest prices and availability for this cooking class in Siem Reap!
Before we began cooking, Sivon took us out to the lovely vegetable garden. She showed us lots of different plants that they grow and use, letting me pick some myself. I smelt and tasted some interesting herbs that I had never seen before – it was fun trying things that weren't just parsley or mint!
They also grow their own mushrooms, and it was fascinating to find out about the process of the small packages lined up on the shelf.
It was great to actually learn some things about the food that I would be cooking – we've been in cooking classes before where we have just watched a member of staff plop things in a pan and serve it to us, but this was much more interactive already and I hadn't even started cooking yet!
Read More: Why To Get A Street Food Tour In Hanoi – VIETNAM
Our cooking station was fully ready and waiting for us to begin. The fresh vegetables were beautifully presented on the table, and there were a variety of sauces and seasonings to hand too.
After being handed an apron to wear and feeling 100% the professional chef, I began to prepare the first dish. Sivon explained what to do and I had a lot of fun chatting with her whilst chopping and peeling the different ingredients.
As you can see in the video, I had a few issues with peeling the mango that Kev thought was hilarious – does anyone else do it my way?!
I liked how Sivon encouraged me to taste things as I went along so that my dishes were perfect for me personally. Cooking local and traditional dishes is great but sometimes they might be a little too spicy, or not sweet enough so it was nice to be able to adapt the food.
We prepped the salad, steamed the fish amok, deep-fried the vegetable for the tempura and combined the ingredients on the stove for the dessert. The whole process took around an hour and it felt like the perfect amount of time to spend cooking so much food!
One thing I really appreciated is the fact that every time I needed the chopping board cleaned, or a new utensil, a member of staff was ready to wash it or hand me whatever I needed. Everything was seamless and there was no waiting around because it was so organised.
Sivon offered us some steamed rice as well to compliment the meal which we accepted, and then we sat down to enjoy the meal! Everything was delicious, and despite sharing the meal between us both, we were so full and couldn't finish everything between us!
Sivon also came over and uttered those magic words 'do you like beer?' and provided us with two ice-cold cans – the perfect way to round off our lunch.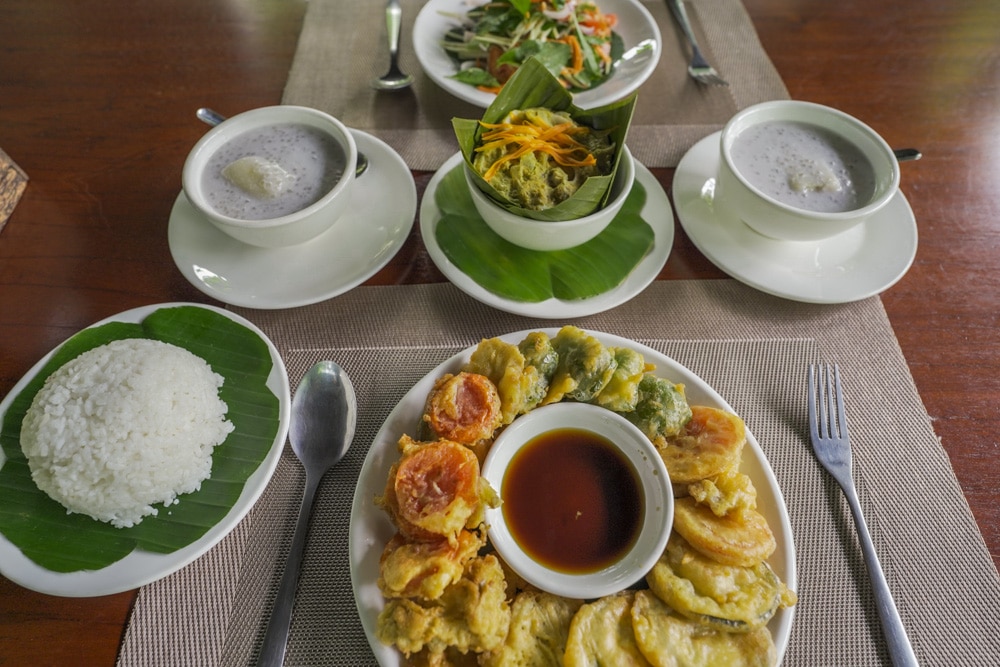 Once our food had gone down, we left the kitchen to visit the market. The markets are open in the morning until just before midday, and open again mid-afternoon so you might visit before the actual cooking class or after, depending on what time you've booked. It doesn't really matter which way you do it, so don't let that be a factor when making your decision to take the class.
We were shown around by Hat, who talked us through the fruit and vegetables that we might not have been familiar with.
The market wasn't too big – I know that some of these places can be overwhelming – but it was interesting to see where some of the food we cooked came from.
There was a section at the back where the vendors were selling meat and fish – Hat told us that the customers here will only buy it if it is incredibly fresh so the fish was being gutted in front of us, so do be prepared for that!
Check prices of the best cooking class in Siem Reap here.
The market tour took around 10 minutes, and when we were finished, it marked the end of our experience. We were driven back to our hotel almost perfectly to the minute when we expected to be and said our goodbyes to our driver.
We had an absolutely fantastic time at this Siem Reap cooking class. The staff, the food, the location, the pace of the class – it was all perfect!
We genuinely could not find anything that we would improve – Hat and his staff have worked incredibly hard to listen to all the feedback they have received over the past few years and have developed a first-rate cooking class in Siem Reap.
I'd highly recommend taking this class – but if you need a little more persuading, just look at the reviews already and I bet you'll be convinced!
---
2. Cambodian Village Cooking Class
Book a spot on this small-group tour
This Siem Reap cooking class is located on the outskirts of the city, so pick-up from your hotel is included in the price. It's a small group tour, limited to only 8 participants, so you'll get lots of chances to speak to your local chef and ask any questions that you might have during the afternoon.
The class begins at 9:30 am, with the market tour happening first. You'll make your way around the market, being taught about the different types of foods that is sold there. Once you're finished here, you'll be taken to the beautiful garden kitchen to begin cooking!
In this Siem Reap cooking class, you'll be cooking 3 dishes that reflect that traditional Khmer cuisine. A typical menu includes fresh rice paper spring rolls, Cambodian curry and bananas in palm sugar. The dishes are already planned, but remember that you adapt them for your taste – for example, if you don't like your food too spicy, then you can easily leave out the chillies so that you actually enjoy your meal!
Check the latest prices and cooking class availability here
The class is very hands-on, meaning you'll do everything yourself, from preparing ingredients, measuring out seasonings, cooking the dish and plating everything up.
Once you've finished making the food, you'll have the chance to enjoy your meal and marvel at your delicious creations! You'll also be offered water, and beer or a soft drink whilst you eat and chat with the rest of the group.
When your Siem Reap cooking class is complete, you'll be driven back to your hotel with a recipe book in hand for you to be able to recreate what you made back at home!
---
3. Cooking Class Experience With Professional Teacher
Book this Siem Reap cooking class here
With over 20 years of experience, this cooking school knows plenty about creating the perfect day for its guests!
You'll need to make your own way to this Siem Reap cooking class, but it's right in the middle of the city on Pub Street, so it's very easy and cheap to get to on foot or by tuk-tuk.
Once you arrive, you'll join your group on a tour of a nearby market.
You'll get to know about the fruit, vegetables and spices that you'll be cooking with, plus you can ask for some help if you want to buy anything. Your guide can advise you on the quality and price of the products, so even if you don't buy anything here, you can be equipped with the knowledge for next time!
Check the latest prices and availability of this cooking class in Siem Reap
After the market tour, you'll head back to the school where you'll choose your meals. Chop, slice and pound up your ingredients – if you decide to make a curry here then you'll be put to work making the paste too!
When you've cooked everything, you'll get the chance to eat your delicious hard work! Don't worry about remembering everything either, as you'll be emailed a digital copy of the recipes too (just make sure that you leave your email address or WhatsApp number before you leave)!
---
4. Khmer Private Gourmet Cooking Class
Book a spot in this gourmet cooking class in Siem Reap
This is the only official private Siem Reap cooking class on my list, so if you would prefer a more personalised experience, then this is the one to choose.
The school offers free pick up to any hotel in Siem Reap. Choose from either an afternoon or early evening class – definitely don't eat beforehand though because you'll be too full to enjoy anything you cook! A market tour is also included in the price, so explore the stalls, speak to the vendors and marvel at the fresh food available.
Check the latest prices and availability for this class here
In this class, you'll get to choose what you cook from a menu. There are 6 starter options, 6 main course options and 3 dessert options, so you're pretty much guaranteed to find something you want to make! If you don't eat meat, you can simply swap this out for tofu, or leave it out completely.
Your host will guide you through the cooking process, explaining the techniques used in Cambodian cooking so that you know exactly what you're doing and why!
Once you've cooked all the dishes, relax and enjoy them in the beautiful restaurant. You'll even get a certificate to prove that you're now a professional!
---
5. Cambodian Dessert Cooking Lesson
Book your space in a dessert cooking class here
If you're all amok-ed out, then try something a little different and focus on the sweet side of Cambodian cooking!
Pick-up and drop-off are included in Siem Reap cooking class, so you'll make your way in a tuk-tuk to the cooking school. Once there, your guide will welcome you and introduce the three dishes that you'll be making.
Check the latest prices and availability for this class here
There's a set menu, and you'll learn all about the ingredients involved – how and where they grow, and home cooking methods to make the most of them. The desserts will be flavoured with lemongrass, ginger, coconut and palm sugar – so come with a sweet tooth!
A recipe card is provided so you'll be able to recreate the desserts back home too.
---
6. Farm, Cook and Taste Countryside Cycling Tour
Book your cycling tour + Cambodian cooking class here
This tour is a great alternative to the standard Siem Reap cooking class, with the added benefit of a scenic cycle through the local countryside!
Your guide will meet you nice and early at your accommodation, and provide you with a bicycle and helmet. Together you'll cycle through Siem Reap's pretty surroundings, stopping at a local village where you'll learn how to pick the best vegetables for cooking with – these will be part of your lunch later!
Check the latest prices and availability for this class here
The cycling tour will continue through the scenic Siem Reap countryside, and you'll stop again but this time at a market where you have the opportunity to see how the local food stalls are run and buy some snacks if you're feeling peckish!
You'll then cycle on, passing farms, villages and plenty of muddy water buffalo!
The actual cooking will take place at a local family's home, where they'll teach you the basics of preparing traditional Cambodian food. You'll make a 3-course meal, and then eat what you've created.
Return to the city with a full stomach and great memories of the beautiful Cambodian landscape.
---
What To Expect In A Siem Reap Cooking Class
It's important to know what to expect from your cooking class in Siem Reap so that a) you'll book the right class, b) you won't be disappointed and c) you don't pay for something you won't enjoy!
Most of the cooking schools in Siem Reap have similar programmes, but there are some small differences between them that might be game-changing for you. Check the information below for the tour that you're interested in so that you choose the perfect cooking class in Siem Reap for you!
Pick Up
If a cooking class in Siem Reap is not very central, then usually they will pick you up from your hotel. Double-check what is included in the price before you book.
Siem Reap is actually quite a small city, so if your class doesn't offer transportation then it probably means that it is walkable or a cheap tuk-tuk ride from the centre.
Market Tour
Most cooking classes in Siem Reap offer some sort of market tour, where you can learn about the ingredients you'll be using. You'll typically spend about 10 – 15 minutes here, but feel free to ask as many questions as you want about anything you haven't seen before!
The cooking schools will likely have a partnership with the vendors at the market so they'll be able to pick things up and let you feel and smell them.
Variety of Dishes
Some cooking classes in Siem Reap have a set meal plan of what you'll be cooking, and others have a menu where you choose from a few options. Depending on how much you know about traditional Khmer food, you might just want to be told exactly what you'll be cooking or you might want to pick your meals yourself.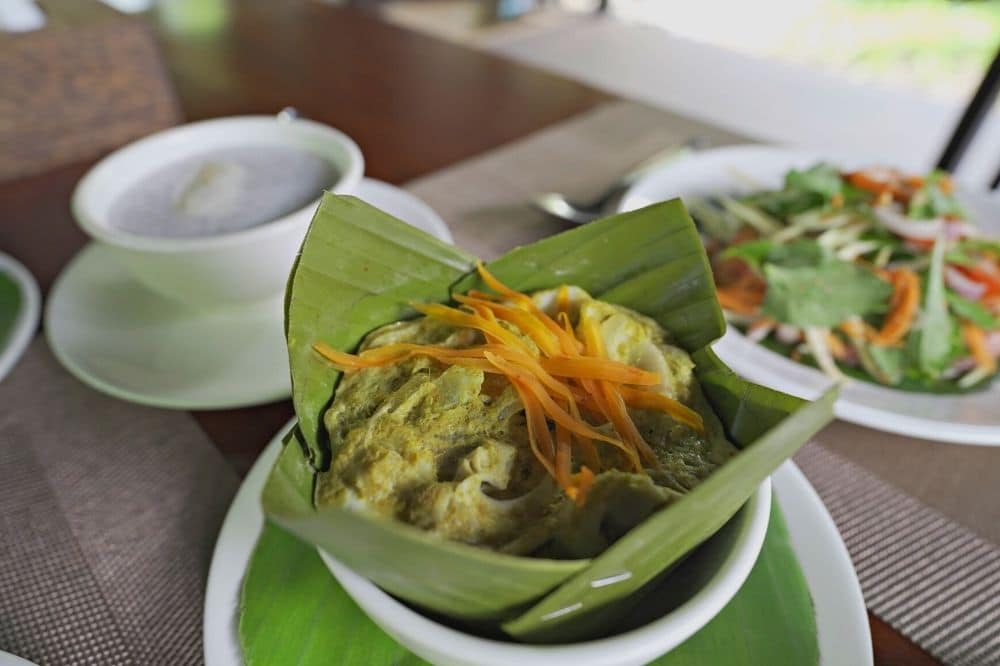 If you have any serious dietary requirements like allergies, it's a good idea to let the school know beforehand. The schools should be able to cater for vegetarians/vegans as Cambodian dishes tend to easily be meat- and dairy-free with plenty of vegetables, seasoning and coconut milk used as standard.
Hands-on Cooking
If you want to really get involved in the action, make sure that you choose a Siem Reap cooking class that allows you to participate and not just watch. Some people prefer to observe and learn, but most people want to actually cook the food themselves.
We've experienced both so check the information and reviews before you book so you know exactly what you'll be doing on the day.
---
---
Other Things To Do In Siem Reap
Despite being a small city, Siem Reap has plenty of fun things to offer once you've finished cooking! As a Siem Reap cooking class will usually last for around 3 hours, you'll have time to take another tour afterwards if you want.
Book in advance to guarantee a space, especially as some tours are running with less staff at the moment which means they're limited on guest numbers.
Get Up Early For an Angkor Wat Sunrise Tour
This is definitely the most popular thing to do in Cambodia, so don't miss out! The incredible UNESCO World Heritage Site of Angkor Wat is an important archaeological temple complex, dating from the 9th century.
Visit the park at sunrise for a unique view of the religious monuments, with a knowledgeable guide who will take you around the old city, teaching you the history of the monks, the magnificent trees and of course the temples.
Check the latest prices and availability here
Take a Tonle Sap Floating Village Tour
The Tonle Sap Lake is the largest saltwater lake in southeast Asia and provides food, homes and transport for many people in Cambodia.
The floating villages live on the edge of the water, so this tour shows you the communities that have been built up here. You'll also get to ride in a canoe along the mangrove forest (in the rainy season from August to January).
Check the latest prices and availability here
Watch a Cambodian Circus Show (no animals involved)
This famous social enterprise circus was created by a group of young artists who had suffered during the Khmer Rouge regime. They decided to open an art school to support local children who are often from challenging backgrounds. The school provides young people with the opportunity to practise their skills in the arts so that they can then go on to join a career that they love and that provides for their families.
Check the latest prices and availability here
Enjoy a Battambang Day Tour
If you've been in Siem Reap for a while, you might be in need of a change of scenery! Take a day tour to Battambang, a stunning city built in the 11th century.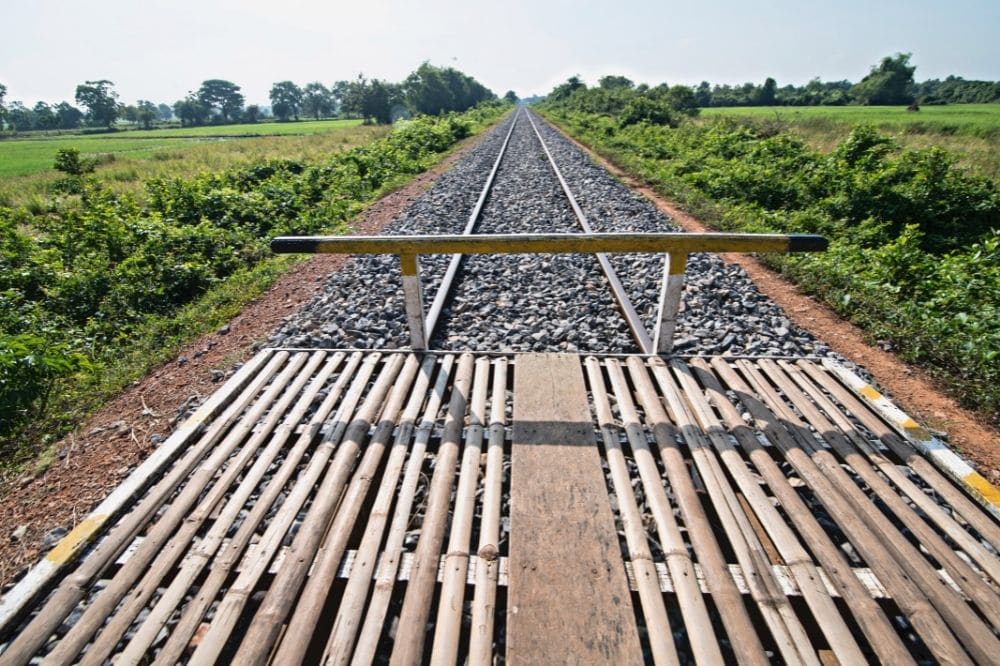 You'll get the opportunity to ride the famous bamboo train, explore historic temples and visit two caves – one with a tragic history and one full of fruit bats awaiting nighttime to fall so they can go off and hunt.
Check the latest prices and availability here
Swim at Phnom Kulen Waterfall
Enjoy a gorgeous drive through the countryside to Kulen Mountain where you'll be able to marvel at the huge Reclining Buddha (Cambodia's biggest in fact!).
Wander along the sacred river, and finally discover the waterfall where you can cool off and relax in the pool.
Check the latest prices and availability here
---
Where To Stay For Your Siem Reap Cooking Class
There are plenty of hostels, hotels and apartments here. You'll easily be able to find somewhere in the city that is accessible to the Siem Reap cooking class that you choose.
---
Book your favourite hotel here

Where will you go?
---
Here are our top picks for the different types of accommodation you can find!
Read More: Stay At One Of These Fantastic Cheap Hotels In Cambodia
Hostel: Onederz
There is literally no better hostel in Siem Reap than Onederz! With over 2000 highly positive reviews, it's the number one place to stay if you're looking for a cheap dormitory with excellent facilities and the perfect central location. They also have private rooms if you'd prefer, and an amazing rooftop pool!
---
Check Out The Reviews Of Onederz Here
---
Hotel: Residence Indochine D'angkor
This hotel is literally incredible. The value for money is exceptional here. Breakfast is included in the very good price, and you get two complimentary transfers for when you arrive and leave. The pool is stunning, the rooms have balconies with pretty garden views and you can go for a massage without even leaving the hotel.
---
Check Out The Reviews Of Residence Indochine D'angkor Here
---
Apartment: Chateau d'Angkor La Residence
The two-bedroomed suite at Chateau d'Angkor La Residence is ideal for families or groups who need a bit more space, and the independence of having a kitchen. There's a bath too, and a washing machine which is so handy!
The hotel is in the heart of the city so you're nearby to all of the restaurants, shops and bars. Daily housekeeping is offered, and you'll get a lovely pool view from this room.
---
Check Out The Reviews Of Chateau d'Angkor La Residence Here
---
Villa: La Rivière d' Angkor Resort
This peaceful and gorgeous villa is ideal if you're looking to relax whilst in Siem Reap without the crowds. With only 14 rooms, La Rivière d' Angkor Resort offers a tranquil setting hidden from the hustle and bustle of the city but only a short walk from shops, restaurants and bars.
With rainforest showers, bathtubs, a minibar and garden views, each suite here is stunning and the perfect place to wind down after a busy day exploring.
---
Check Out The Reviews Of La Rivière d' Angkor Resort Here
---
Frequently Asked Questions About Cooking Classes in Siem Reap
Can you bring children to a Siem Reap cooking class?
Usually, this is ok but check with your school. Children from around 8 should be able to take part with supervision.
How long will a Siem Reap cooking class last?
Usually, these tours last for around 3 – 4 hours, depending on whether transport is included.
Can you take a cooking class in Siem Reap if you're vegetarian/vegan?
Yes! Let the class know as soon as you've booked – they should be able to adjust the menu accordingly.
What is the best Siem Reap cooking class?
---
Have I convinced you to try a Siem Reap cooking class? Let us know in the comments below which one you would like to visit!