Secret Beach Mirissa is not much of a secret anymore! So, let us help you get there and make the most out of your day. You won't regret it.
If you are heading over to Mirissa then you will definitely have heard of Mirissa Beach. The main beach strip in the gorgeous southern town. Mirissa Beach may actually be one of the most beautiful beaches in all of Sri Lanka.
However, this also makes it one of the busiest. Luckily, Secret Beach Mirissa exists to allow the people looking for a little bit of peace and relaxation to get what they want!
I will go over everything you need to know about Secret Beach Mirissa but remember to use the contents if you are looking for something in particular. Let's get to it!
Read More: Galle Is Just Down The Coast So Check Out The Best Things To Do In Galle Here.
---
What Is Secret Beach Mirissa
Secret Beach Mirissa is a small sandy beach split into two main beach areas hidden away towards the west end of the town. Everyone always knows about it but it is just a little more difficult to access than the main strip so people often ignore it.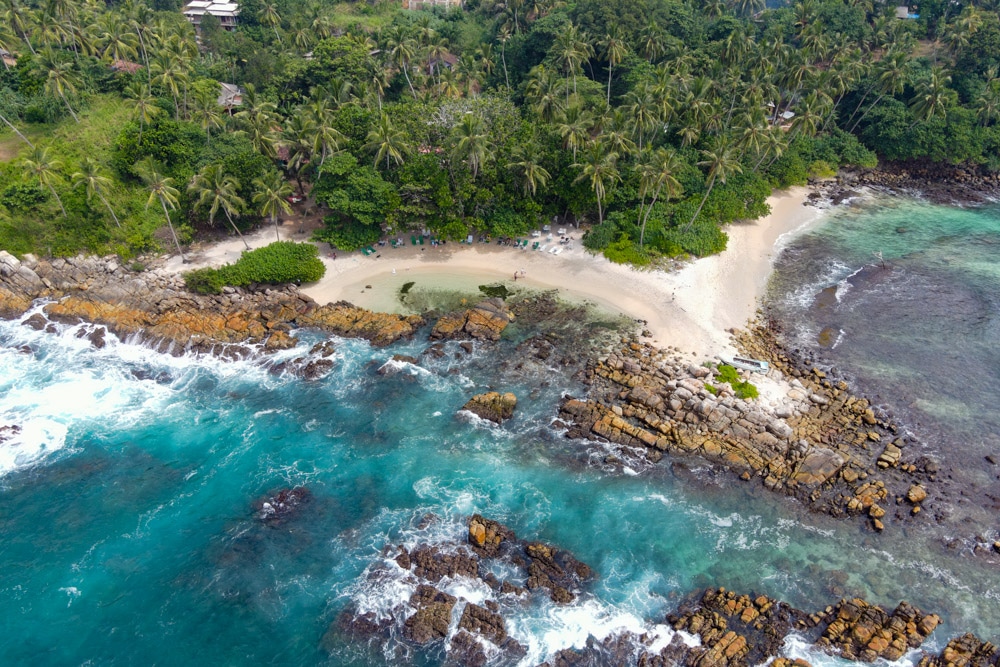 That being said, it really isn't difficult to get to and you can even pay a tuk-tuk to drive you right to the beach so it really is a no-brainer.
Read More: Check Out The Famous Coconut Tree Hill in Mirissa Too!
The sand here is also a tiny bit more course than Mirissa Beach so this could also be a reason people don't make the journey over. However, don't let this put you off, the sand is definitely not uncomfortable or pebbly in any way.
---
How To Get To Secret Beach Mirissa
This is an easy one. There aren't exactly multiple ways to get there so planning is not going to be difficult. Google Maps takes you exactly to the beach so follow the map below and you'll not go wrong. Have a look below for the different modes of transport.
---
Tuk-Tuk
There are Tuk-Tuks all over Mirissa so you won't struggle to find a driver. They will also definitely know where Secret Beach Mirissa is and how to get there so don't worry about giving them directions.
Even if they don't know, you can give them directions using a simple google maps search.
Tuk-Tuk prices fluctuate so I highly recommend downloading the PickMe app whilst you are in Sri Lanka (android, apple). This is like uber but works for everything from Tuk-Tuks to large vehicles.
Read More: The Best Way To Get To Mirissa From Galle
You may find that PickMe is not finding you any drivers as the app is still growing in users. However, it is a really good tool for seeing how much a journey should cost. We use it to give us an idea of what we should be paying so we don't get overcharged.
Pro Tip
Whatever transport you use to get to Secret Beach Mirissa, there is always a tuk-tuk waiting next to Secret Beach to take you wherever you need to go.
If for some reason there isn't, you can ask the bar to give someone a call and they will come and get you.
Read More: The BEST Guest Houses In Mirissa
---
Walking
This is how we chose to get there but that's because we were relatively close to the start of the walk.
The walk itself is quite steep in some areas as the path to the secret beach Mirissa is not along the coast. You have to walk over the hill. It's not the largest hill in the world but if you don't like walking then I don't recommend it.
There is no secret path that only walkers can take so just follow the google directions directly to the beach and you'll get there just fine.
I would recommend wearing actual shoes for the walk though – not flip-flops/sandals – as it is not the smoothest path in areas. You don't want to ruin your day with a sprained ankle or something worse.
Pro Tip
There are multiple cold coconut sellers throughout the walk so you can even stop for a refreshing drink if you need to!
Read More: Only Have A Week In Sri Lanka? Check Out Our Jam Packed 7 Day Sri Lanka Itinerary
---
Scooter
You may be thinking about renting a scooter whilst you are in Sri Lanka and this is another way to get to the Secret Beach Mirissa.
There are multiple car parks where you can pay to park your scooter on the way to the beach. You may get to the steep areas of the road and change your mind about driving all of the way there. This is fine as you will probably be close to a car parking area. The main parking point is on the map below. 200Rs as of 2022
As always, check your travel insurance to see if they actually cover this. If you do not have a motorbike license in your home country then your insurance will, almost certainly, not cover scooter hire. We see too many people injuring themselves and having to pay a lot of money for treatment all over the world because of this.
Tuk-tuks are so cheap here, there really isn't a massive reason to hire a scooter.
---
When To Go To Secret Beach Mirissa
Even though it's called a secret, it is not much of one anymore. I highly recommend getting there before 11 am. We got there around this time and there were already a few early birds there (not a lot though).
At 11:30 am people standing arriving in quite large numbers so if you get here at 1 pm there really isn't a guarantee that you will get a sunbed or a decent spot on the beach.
Read More: Colombo To Mirissa – Complete Guide
---
What To Expect At Secret Beach Mirissa
Beaches
Secret Beach Mirissa is divided into two distinct areas right next to each other. They are known as the Blue Lagoon and Palm Cove.
The Blue lagoon section has a bar, sun lounges, hammocks, food and a small, but calm, area to paddle and swim.
Palm Cove is much more open to the sea and will be quieter all day as this is not where the bar and loungers are.
You may have also heard of Shelly Beach. This is actually part of the Niyana Wella Beach that you will be able to see on google maps. This is not a part of secret beach Mirissa but if you've got there late or you are looking for an even quieter experience then having a walk up to Niyana Wella Beach may be a good option.
You can get there by walking to Sunset Juice bar and along the path on the hill until you see the beach.
---
Rental Prices
The Secret Beach Coconut Bar has access to hammocks and decent sun loungers. Hammocks are free at all times but sun loungers cost 500Rs to hire.
However, if you are planning to buy lunch or drinks there then they are free all day. They are the only option for food and drink down there so it's a no-brainer.
Read More: The Best Things To Do In Mirissa
---
Secret Beach Coconut Bar
This is the one and only restaurant and bar down at the Secret Beach Mirissa. I was pleasantly surprised by the prices as they have no competition here so you would expect some inflation. However, this is not the case. You can expect similar prices to central Mirissa.
You can expect all of the normal dishes, including Italian, Asian and Sri Lankan dishes. They also sell alcohol in the form of beers and cocktails so you can't go wrong there either.
They play reggae music mostly at a pretty decent volume but not distracting in my opinion.
The bar has a toilet but don't expect luxury. It's nice just to have one.
---
What To Take To Secret Beach Mirissa
If you're looking for a snorkel kit then check out this Greatever mask and snorkel. We have been on so many snorkel and boat tours where the snorkel hire was dreadful and it ruins the experience. If you have room then definitely take your own set. Take a look at our recommended kit here.
If you're currently in the market for a drone then take a look at the Mavic Mini 2. The Mavic Mini 3 recently came out which has made the Mini 2 even more affordable. I don't personally think the upgrade is worth it currently (considering the incredible price of the Mini 2). I have flown all over the world and my Mavic drone has never let me down. The small size and weight of the Mini series is also perfect for travellers so it really is a no-brainer. Take a look at the current price here.
If you're stuck on what kind of towel to take with you then take a look at this microfibre poncho. We absolutely love ours and it is insanely helpful when you need to change on the beach. They dry fast and pack down super small so you'll be able to fit one in your day pack easily enough. Check out the price here.
Don't even think about stepping out in the sun without protection! This factor 50 sun cream from Sunbum is vegan, reef-safe and smells like summer, as well as being dermatologist approved! It's non-greasy, easy to apply and doesn't leave a white cast so you can quickly rub it in and get on with your adventures! Take a look on Amazon here.
Water Shoes – The sand is slightly sharp in some areas so you may want to take some water shoes to make the most of the water and beach areas.
Water – If you are walking then make sure you take some water as it can get very hot walking the hill.
Cash– The bar does not accept cards and there is not an ATM anywhere nearby. Take enough money to last the whole day as this will cut your day short.
Swim Suit – This is an obvious one, I don't reckon I need to explain it!
Read More: Beruwala Beach. The True Empty Paradise Of The Sri Lankan West Coast
---
Where To Stay For Secret Beach Mirissa
Budget Accommodation – The Point
We stayed at The Point in Mirissa and really cannot complain about the stay. It's about a 15-20 minute walk to Secret Beach Mirissa which is nearly as close as you can get.
Decent rooms, very good and affordable breakfast and very helpful staff. Check them out here.
---
Luxury Accommodation – Handagedara Resort
Even though we came to the conclusion that it wouldn't fit into that article, it is absolutely gorgeous.
With really nice rooms and a stunning pool you really can't go wrong if you stay here. Check out some images and availability here.
Read More: The Top 10 Boutique Hoteles In Mirissa!
---
Extra Tips For Secret Beach Miriss
Sunset/Sunrise
Secret Beach Mirissa is a fantastic point to see both the sunrise and the sunset. It is, of course, much more popular for sunset as people rarely get out of bed whilst it's still dark; especially whilst on holiday!
Whichever you choose, you're in for an absolute treat.
Turtles
All along the Mirissa coast, there are turtles everywhere. Secret Beach Mirissa is no exception. I highly recommend taking some snorkelling equipment as you have a decent chance of having a swim with these majestic animals.
Read More: How To Get Yourself On An Elephant Safari In Sri Lanka!
Safe To Swim
The Blue Lagoon section is sheltered by a small rock wall so remains quite calm at all times. However, in the middle of the lagoon, there is a little gap in the wall that creates a little blowhole which could be a little worrying for younger children. Just stay with them if you are worried.
Palm Cove is more open to the elements so it's better for snorkelling and swimming but make sure you are a strong swimmer and ask the bar about currents that you should be aware of.
---
---
Other Things To Do Near Secret Beach Mirissa
Whale Watching In Mirissa
If you are planning a trip to Mirissa then you must have read into the whale watching opportunities by now. If not then you simply must do this activity whilst in Mirissa. It's one of the best places in the whole world to see the mighty creatures.
Have a look here for prices and availability for the tour we chose to go on.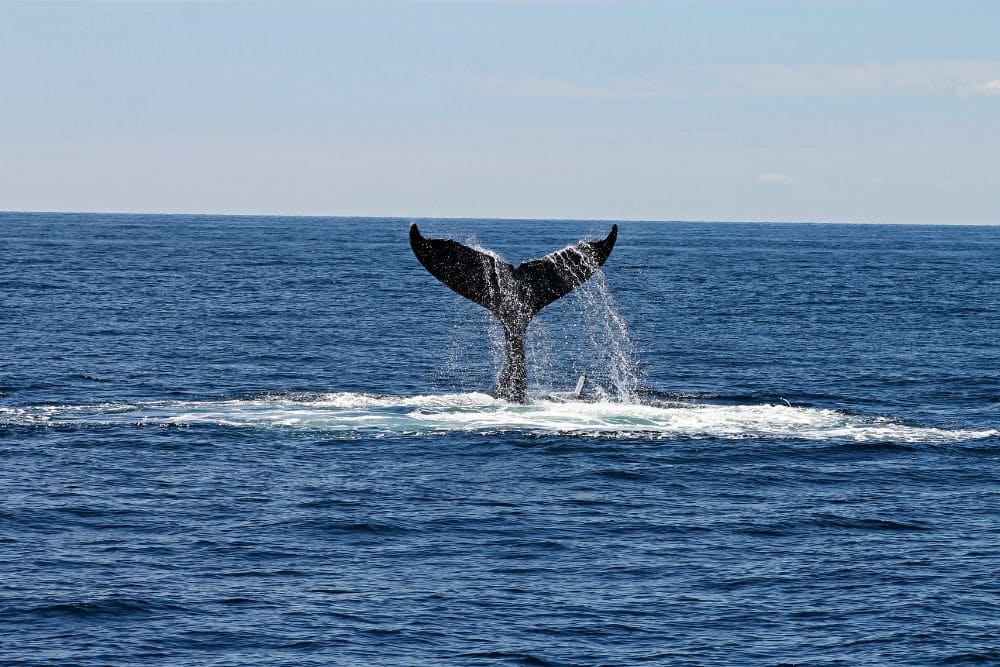 ---
Mirissa Beach
I already know that you're into beaches, otherwise, you wouldn't be on this post! Well, Mirissa Beach is thought to be one of the best beaches in the whole of Sri Lanka.
The waves are so fun to play in, if not a little big. You can really get wiped out by some of the big ones. There may be something wrong with me as I just keep going back for more.
This is also the absolute best place in all of Mirissa to have a meal after sunset. You can look out into the ocean whilst having a candlelit dinner with the freshest fish you can imagine.
Do not miss this whilst travelling in Mirissa.
---
Drone Flying
Mirissa was extremely good to me from the air. It's one of the most stunning places to photograph and video by drone and I highly recommend you do the same.
You have to register and ask for permission to fly all over Sri Lanka which can – and should – be completed before you come to Sri Lanka to avoid delay when you are here. Visit the official Sri Lankan registration page here.
When you are the Secret beach Mirissa, I recommend getting some height and facing directly down at the point (remember not to fly directly over people).
It is difficult to get behind the beach looking out to the ocean as there is a hill. However, try to go parallel to the beach facing the tower to the west. This makes for quite a good composition.
---
Leopard Safari
Just up the road is Yala Safari Park which is one of the best areas in the whole of Sri Lanka to see the incredible Sri Lankan leopard. It was one of the best things I have ever done in my life so I highly recommend it.
Check out the tour we went on here or check out the article I have written about taking safaris in Sri Lanka for more information.
---
---
Frequently Asked Questions
Is The Secret Beach Mirissa Worth It?
Absolutely. It is a gorgeous and usually quiet stretch of beach that is perfect for a relaxing day in the sun.
Is Secret Beach Mirissa Quiet And Peaceful?
It can be if you go early in the morning or not at peak times of the year. However, it does tend to get a decent group of people after midday. This is nothing compared to Mirissa Beach though.
Can I Get Food And Drink At Secret Beach Mirissa?
Yes, there is a bar called Secret Beach Coconut Bar which serves drinks and food for reasonable prices.
Are There Sunbeds At Secret Beach Mirissa?
Yes, they cost 500Rs for the day or they are free if you buy food/drink at the bar. There are also hammocks available for free.
How Do I Get To Secret Beach Mirissa?
There is one road to the secret beach and the easiest way to do this is to follow the google maps directions. This will lead you right there.
---
And that's everything you need to know about the Secret Beach In Mirissa! I hope this article was helpful. If it was, please let me know in the comments section below. If the article can be improved in any way, remember to let me know too!
---