If you've ever considered trying out renting a tuk tuk in Sri Lanka is a great place to start! Here's our honest review of the company we used – Sri Lanka Road Trip.
If you've got a full driving licence, the chances are that you've mostly stuck to driving cars when you need to get from A to B. But have you ever considered driving a tuk tuk?! Renting a tuk tuk in Sri Lanka is super easy – here is all the information you need to know to do it!
This post is a result of a collaboration with Sri Lanka Road Trip. Our tuk tuk rental was complimentary, in exchange for an honest review of our experience.
Read More: How To Spend 10 Days In Sri Lanka or 7 Days In Sri Lanka If You Have Less Time!
Our Overall Experience: Sri Lanka Road Trip
Sri Lanka Road Trip is a company run by a lovely lady called Tanja, who is based in Georgia. She has partnered with local Sri Lankan staff who organise tours, tuk tuk rental and private drivers.
Positives
We enjoyed most of our time whilst renting a tuk tuk in Sri Lanka, and here are the positive points of the company 'Sri Lanka Road Trip' that we noted whilst we had it:
Website
The company website is very informative, and it gave me confidence knowing that they had lots of information on the process of tuk tuk rental in Sri Lanka.
There is detailed information about driving a tuk tuk, from speed limits to fuel prices, as well as a video explaining how to drive one!
The website also mentions that you'll receive a personal introduction to the tuk tuk when you receive it.
I think this is really helpful because most people have not driven a tuk tuk before, so having the resources beforehand and a mini-lesson is great.
Read More: Going To Nuwara Eliya? Check Out How To Get There From Ella
Contact
It was easy to contact the company, and we were immediately given the WhatsApp number of the man who would be organising our tuk tuk for us. He was really helpful and responsive.
He sent us messages asking how our day was and how the tuk tuk was after the first day, so we felt like we were being looked after which was great.
---
Book your favourite hotel here

Where will you go?
---
Drop Off and Pick Up
The tuk tuk was dropped off to us at 8 am sharp, and picked up three days later at the same time.
This was really helpful as we didn't have to make our way to an office or anywhere to get the tuk tuk – we could just wait for it to be brought to us and then we could get started with our trip straight away.
Read More: The Best 5 Star Hotels In Kandy & The Incredible Ella To Kandy Train
Fun
I have to admit that even though I've been driving a car for 13 years now, I was quite nervous about renting a tuk tuk in Sri Lanka! However, after the first day of getting used to the vehicle and the roads (those buses really do not stop for anyone!) I REALLY enjoyed driving!
We drove from Mirissa to Galle and back, stopping at all of the best beaches along the coast, which is mostly one main road. It was super fun and once I had got the hang of it, we had the best time.
Read More: The Best Things To Do In Galle!
Everyone does the touristy things in Sri Lanka – safaris, beaches, hiking and cooking classes – but you can really get to know a different side of the country when you're in your own tuk tuk.
You can travel down streets you wouldn't have looked twice at in a taxi and you can travel at your own pace which is perfect when you see something cool you want to stop at but wouldn't be able to if you were on a tour!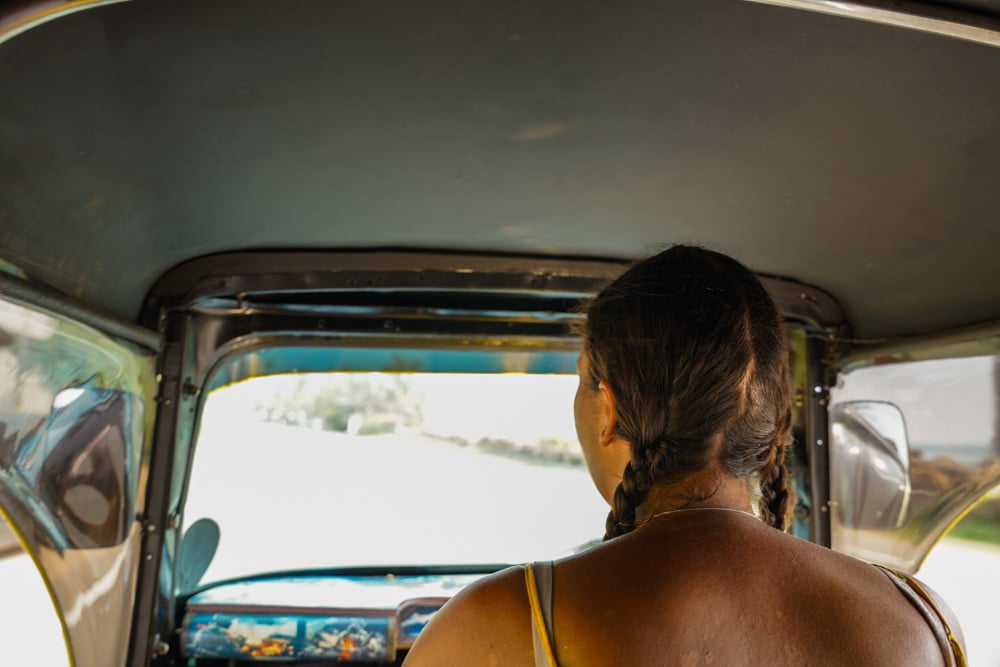 I would definitely recommend renting a tuk tuk in Sri Lanka. There is some gorgeous scenery and a few hidden gems that you can really explore on your own terms.
Negatives
Unfortunately, there were also a few negative points that we have to mention that we experienced whilst renting a tuk tuk in Sri Lanka:
Insurance Complications
We were told that we had to pay $50 for mandatory insurance. We were happy to pay this to be fully covered in case of an accident.
However, there was some miscommunication with this. We were asked to pay $10 for a lower tier of insurance the day before we got the tuk tuk.
I think that they wanted to help us out, and give us a cheaper deal by offering us third-party insurance. This was a kind gesture, but it made us feel uncomfortable because we wanted the fully comprehensive insurance that we were originally told was mandatory.
When the tuk tuk arrived, we could see that the tuk tuk did actually have comprehensive insurance (the driver showed us the documents), but we were still only asked to pay $10.
Again, I think that there was perhaps some miscommunication because we paid a lower price for better insurance, which is obviously great.
Luckily it all worked out fine, but I think that the insurance policies should be discussed and decided upon fully before an agreement is made.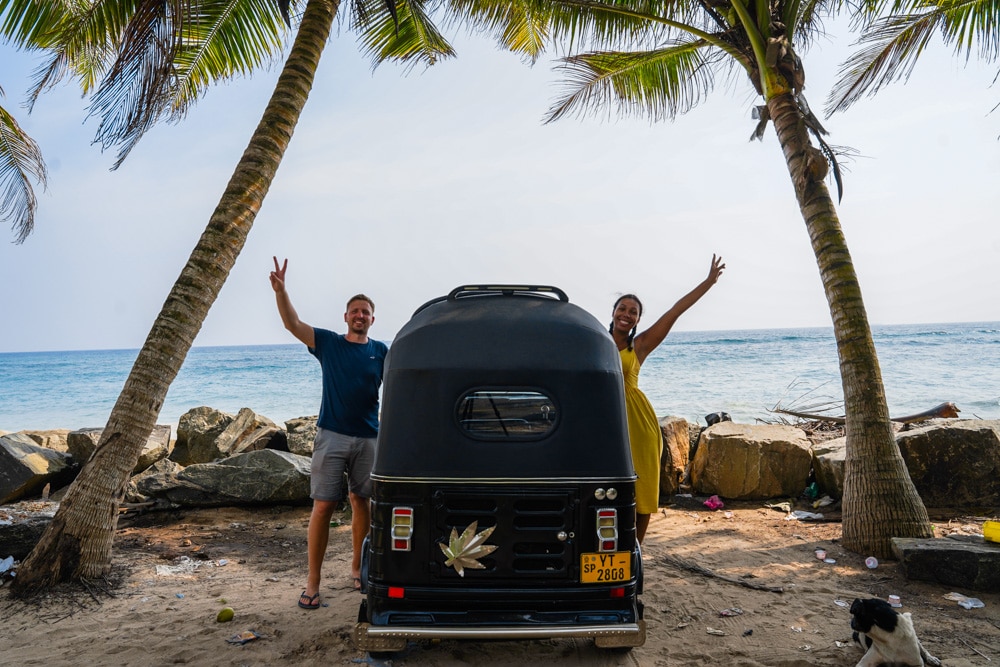 No Lesson
As I mentioned before, the website states that you'll be given an introduction to driving a tuk tuk when it arrives.
However, the driver who brought the tuk tuk didn't offer this, so I had to ask. He briefly showed me a few of the controls, but it was my hotel owner who actually took me out in the tuk tuk and showed me exactly how everything worked.
Read More: The Most Incredible Boutique Hotels In Mirissa
I think we were just a little bit unlucky with the tuk tuk driver not realising that he needed to teach me how to drive!
We spoke to the company about this and they told us that they were going to ensure that everyone does receive this lesson. When your tuk tuk arrives, make sure that you do request this because you'll feel so much more comfortable on the roads.
No Licence
When you book a tuk tuk rental with the company, you can get the special driving permit and licence yourself, or you can ask them to do it for you (for a fee).
We decided it was easier and quicker to ask the company to organise it, which they did with no trouble.
The problem was that we were only sent a picture of the documents. We should have been sent these just in case we were stopped by the police and asked to provide the documents.
We have been told that having a photo of the documents is NOT sufficient and the police won't accept it. If you have paid for your licence, make sure that you physically have it before you start your trip.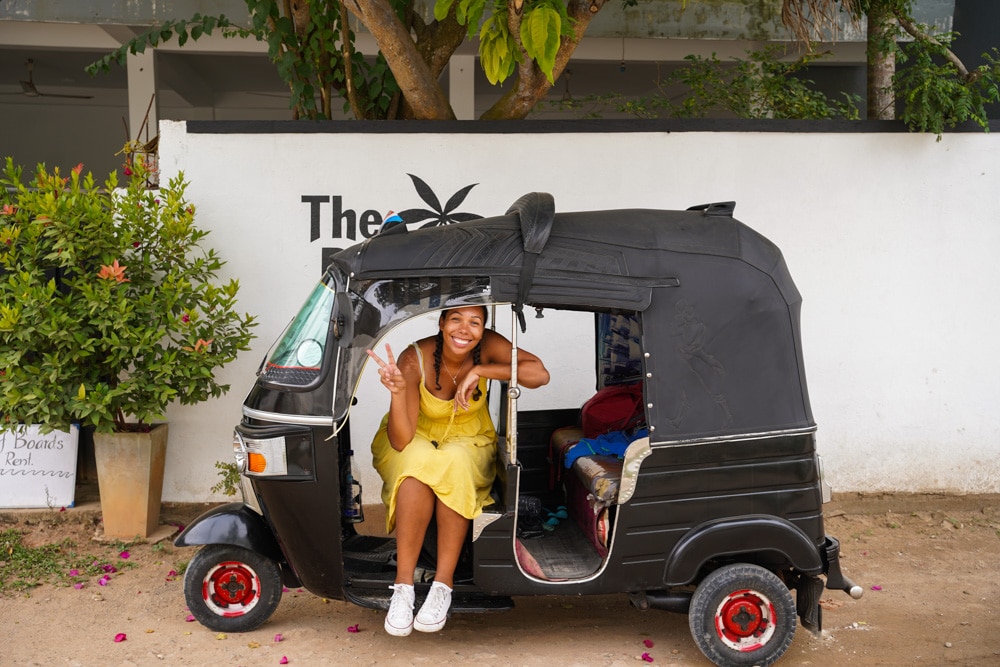 Bad Tuk Tuk
Once we had sorted the insurance and I'd practised for a bit, it was time to hit the road!
Unfortunately, the tuk tuk that we were provided with was not of high quality.
The gear change was extremely stiff and sometimes impossible to change. There were quite a few times where I needed to change gear but it got stuck, so Kev had to lean over from the back and help me change it.
Sometimes the gears slipped out whilst we were driving, which meant I had limited control of the vehicle whilst I tried to get back into gear and accelerate to the right speed.
Obviously, this is dangerous so it was quite scary the first few times when it happened!
When I started the tuk tuk on day 3, it took around 20 minutes for it to start and wouldn't idle on its own. This meant that if I did not accelerate constantly, the tuk tuk would turn off.
It took a while to get used to these issues, which took away some of the fun from our experience.
Tuk tuks do vary wildly in quality, so you might get one that is brand new and amazing! Just be prepared for one that isn't.
Read More: How To Backpack Sri Lanka | Your Ultimate Guide
Overall Opinion
It sounds like there are a lot of negatives – and there are – but since our experience, we have spoken to the company and shared our thoughts.
Tania was shocked about the issues that we had and was very apologetic about the bad parts of our experience. She was very open to our feedback. The problems we had are easy to rectify and I do believe that with a few minor changes, this company would be a good place for tuk tuk rental in Sri Lanka.
For example, as soon as we emailed our concerns, I was asked for an address to send the driving licence to and it arrived within a few days.
There are lots of positive reviews of the company on Trip Advisor – but these come from people who have hired a private driver or a tour, not a tuk tuk rental in Sri Lanka.
I think that communication needs to be improved so that the company can provide a better service to people who plan on renting a tuk tuk in Sri Lanka
The company seemed very happy to take on board our feedback, and I think that they will be able to provide a much better service very soon.
How Long Should You Spend Renting a Tuk Tuk in Sri Lanka?
We rented our tuk tuk for 3 days, but I think that a few more days would have been better for us!
We really enjoyed the freedom that it gave us, and we were sad to say goodbye.
I personally think that if you have the time, at least a week would be a good amount of time to hire a tuk tuk for. It means that you can use the first day to fully get used to the vehicle, and sort out any issues if you have any.
We were a little bit unlucky with some wet weather on our trip, so I was wary of driving whilst it was raining. The clouds also made it quite dark, so I didn't want to drive in these conditions.
If you have a week, then there is less of a rush to get to all of the places you want to so you wouldn't have to drive if it was raining – you could wait until it passed over.
How To Legally Drive A Tuk Tuk in Sri Lanka
There are three things you need to legally drive a tuk tuk in Sri Lanka:
A driving licence from your home country OR an international licence
A Sri Lankan driving permit
Insurance
I would highly recommend asking the company you're hiring to organise the permit for you. It's an added cost but it means that firstly, you know that they know what they're doing and will do it correctly, and secondly, it means that you don't have to go all the way to Colombo to get it yourself.
If you do decide to do it independently, then you'll need to go to the Department of Motor Traffic in Colombo.
How To Drive A Tuk Tuk in Sri Lanka
If, like me a few weeks ago, you've never driven a tuk tuk before, don't worry because it's actually relatively easy once you get the hang of it!
There are a few things that you need to get used to, but after 1 day I was much more confident in driving than I had been in the first hour!
Driving On The Left
In Sri Lanka, you need to remember to drive on the left-hand side of the road! It was easy for me as a Brit because we do that at home, but if you're coming from somewhere that drives on the right, it might take a while to get used to it.
Practise on a few quiet roads before venturing out onto the main roads because although you might see some nutters overtaking for 100m on the other side of the road, you really don't want to find yourself in a situation where you're doing something illegal and dangerous.
Plan your journey well, so that you know if there is a roundabout coming up, or a crossroad. You'll find it much less stressful if you know what is coming up ahead. If you have a passenger, that's even better because they can let you know how far you need to go before you should start to slow down and think about turning etc.
Steering
This is pretty simple and self-explanatory, to be honest. The main difference between steering a tuk tuk and a car is that you won't have a steering wheel in the tuk tuk.
It's basically a set of motorbike handlebars, so remember that whilst you're turning, you are also accelerating with your right hand. Just be careful that you don't turn and rev too hard at the same time!
Changing Gear
A tuk tuk won't have a gear stick, but a handlebar just like the accelerator, on the left-hand side. The twisting mechanism should be easy. Twist towards the windscreen to move into first gear, and then back round to move through neutral, second, third and fourth gear.
It took me a while to get used to passing neutral from second to first and vice versa, but I got the hang of it and then it became second nature.
Reversing
There will be a separate reversing stick on the right-hand side of your tuk tuk. Pull up the reverse stick and then put your tuk tuk into first gear. Your vehicle will now reverse.
Braking
This is pretty self-explanatory but be aware that there is not much space in the footwell of a tuk tuk! The brake pedal is also quite high up off the ground, so make sure you can easily reach it because you'll more than likely need it quickly to avoid other drivers!
Filling Up With Fuel
At most fuel stations, there will be an attendant to fill up your tank. Just tell them what fuel you need (make sure you check this beforehand!) and they'll fill up.
Tuk tuks also have a reserve fuel tank that is quite handy if you aren't keeping an eye on the amount you have left, but don't rely on this! Fill up before you think you need to so that you don't get stuck.
---
Book your favourite hotel here

Where will you go?
---
Animal Crossings!
When driving in Sri Lanka, you have to be aware that lots of animals cross the road without a care in the world!
Dogs, cats and cows are frequently seen walking along the road or even lying in the middle of it, so make sure you are on the lookout for this when you're driving. Most of the time, they slowly move out of the way, but be careful because sometimes a dog will just run out without warning.
You might also be lucky (or unlucky!) enough to be driving along when an elephant crosses the road! This is a fascinating sight but also highly dangerous.
Read More: The Best Places To See Elephants In Sri Lanka
If you do see this, do not get too close and consider whether you can turn around, just in case the elephant decides that it doesn't want you there!
Renting a Tuk Tuk in Sri Lanka
I think that renting a tuk tuk in Sri Lanka is a fantastic thing to do and highly recommend that you do it!
Make sure that you are asking important questions about the driving licence, the insurance and the safety of your vehicle before you drive off – and ensure that you feel comfortable with the manoeuvring and road rules before you speed off into a big city and the rush hour traffic!
---
---
Would you hire a tuk tuk in Sri Lanka? Let us know in the comments below!