Not sure what vehicle you need in Iceland? This complete guide to renting a 4×4 in Iceland will answer all of your questions and recommend a vehicle for you!
Necessary Spacing
The most affordable 4×4 in Iceland is the Dacia Duster. This 4×4 will do most of what you throw at it at a decent price. Check out all of the best hire companies at Keflavik airport here.
We recommend you get the excess waiver for peace of mind.
You need a driver's license in the Latin alphabet (ABC). If you don't have one then apply for an international driver's license before leaving for Iceland.
---
Your 4×4 In Iceland Journey
There is quite a lot to consider when renting a 4×4 in Iceland. In this post, we will answer why you should rent a 4×4 in Iceland and loads of tips and tricks to make sure you make the most of this epic adventure.
Read More: Snowmobiling In Iceland – DO THIS, IT'S INCREDIBLE!
---
Tips For Renting A 4×4 In Iceland
What 4×4 To Choose
The big question on everyone's mind! What 4×4 should I get? With so many options and prices available to you, it can be pretty difficult to decide. It depends on what you're going to be doing so take a look at the recommendations below and choose one that best describes your plans.
---
General Tarmac Driving With The Possibility Of The Odd F-Road – Dacia Duster
The Dacia Duster is, by far, the most commonly hired 4×4 in Iceland. It seems like every couple of road users has one. So, you can be sure that this little 4×4 SUV is going to get the job done. It's also the cheapest option available to you whatever company you decide to go with.
Even if you're planning on doing a lot of f-roads, the Duster will be ok but there are more comfortable options available. Have a look at Dacia Duster prices and availability at Keflavik Airport here.
Read More: The Best Whale Watching Tours In Reykjavik!
---
A Considerable Amount Of F-Roads In The South – Toyota Rav 4
The Toyota Rav 4 is a slightly larger 4×4 SUV than the Dacia Duster and will be more comfortable if you are planning on doing quite a lot of f-road driving on the south coast. I would also say that the Rav 4 is a better choice if there is a group of you as the larger design will give everyone much more space/legroom.
Both 4×4's recommended so far will do the job for south coast f-road driving. However, if you are considering f-road driving in the highlands or the East Fjords then you need to keep on scrolling! Check out the prices and availability of the Rav 4 here.
---
F-Road Driving In The Highlands And East Fjords – Premium SUV List Below
Here is a list of the 4×4's that are recommended for highlands and East Fjord driving;
Land Rover Defender
Toyota Land Cruiser
Jeep Wrangler (What We Had!)
Land Rover Discovery
I have also recommended these vehicles for the East Fjords but most importantly for the highlands. The highlands in Iceland can pose a significant challenge to a driver and some roads straight up require a vehicle with a certain capability and ground clearance for fording rivers and going over boulders.
Some vehicles will not be covered for the highlands so MAKE SURE you do not risk it and get stuck as this will be a very hefty charge.
Renting one of these 4×4's in Iceland will come at a higher price but driving through these remote places where so few people tread and experiencing the isolation and beauty that Iceland has to offer is priceless. So, check out the prices and availability of these vehicles here!
Read More: The Most Unique Hotels In Iceland!
---
What Company To Choose
When renting a 4×4 in Iceland, it can be difficult to know what company to go with. We use rentalcars.com which is basically a comparison website with all of the best rental companies in Iceland. We highly recommend you use it too and can safely say you should be fine going with any that they recommend.
The tool is also very handy for finding a deal as you can filter by vehicle to see where you can get one of the above vehicles for the best price.
Make sure to choose a company that operates at Keflavik Airport as there is a fantastic free shuttle bus directly outside the front door of the airport that takes you to all of the different companies near the airport. Make sure you watch the video for more information about the shuttle bus.
What Company Did We Go With?
We collaborated with Enterprise to make this post and video which is one of the reasons why we went with them. However, our experience was extremely good, as you can expect with such a well-known company, and we HIGHLY recommend Enterprise if you are unsure of who to go with. You can find all of the vehicles available for your dates with Enterprise here.
---
What Optional Extras To Include
Excess Waiver
When renting a 4×4 in Iceland, deciding whether or not to get the excess waiver is going to be one of the hardest and most important financial decisions you make.
Every single hire company will have a damage excess applied to the vehicle and this tends to be around £3000/$3500. This means that if you have any sort of accident or get stuck then you will have to pay the first $3500 of any cost to the hire company.
You will also have to have that money on a credit card as they will want to hold the money for the duration of the hire.
However, if you pay an additional fee for the excess waiver, this will bring down the excess to $0 and you will have to pay nothing if you have any sort of accident (unless you were doing something not covered). You also don't need to have a credit card with the excess as available funds as they will not have to hold this money.
Sounds great right?
The only issue is that it tends to add quite a bit of money to the overall hire cost. So you have to weigh up whether it is financially worth it. We highly recommend doing it for peace of mind but it's up to you.
Read More: 12 Of The Best Helicopter Tours In Iceland
---
Extra Driver
Some companies offer additional drivers at no cost at all and some require a contribution per additional driver. We ended up getting both of us as drivers as there can be pretty long drives and it's good to share. Also, I'm the only one qualified to fly the drone in Iceland so someone had to drive the car whilst I flew!
I recommend putting as many people as additional drivers as you can. No one wants to be driving all the time and missing out on the greatest scenery anywhere on Earth (yes I actually believe that).
---
GPS
Every single person reading this has a smartphone (if you don't, tell me in the comments because that will amaze me). All smartphones have GPS and google maps. So you can just use the satnav on your phone. You don't need to pay for this as an optional extra.
A good tip though is to download the Iceland google maps before you go as the internet can be extremely patchy in the countryside. This will mean that wherever you are you will always have directions. Here are instructions on how to download a section of google maps.
---
Child Seat
Icelandic law states that all children must be seated in an EU-approved child seat. I did some digging and found that up to 36kg children must be in a full back and harness car seat and after 135cm they must be on a booster seat until 150cm.
If you are unsure I have found this article from the Icelandic Transport Agency that goes through this in more detail. You can also contact your hire company and they will know exactly what you will require.
Read More: Incredible Glacier Tours In Iceland
---
Where To Pick Up Your Iceland 4×4
Keflavik Airport. The main two places you can pick up your 4×4 in Iceland are Keflavik Airport and Reykjavik. There is no point in waiting until you get to Reykjavik as the transport to the city will just eat up unnecessary costs.
At the airport, you have multiple kiosks for renting a 4×4 in Iceland and you also have a free shuttle bus that takes you to all of the other rental companies that are next door to the airport so you don't even have to walk the 5 minutes!
The only reason I can think of to pick up your 4×4 anywhere else is that you are flying up north. In this case, you will have to arrange pick-up at whatever airport you are flying to. Don't wait until you are at your accommodation.
---
What To Bring With You
You will need the following items to make sure everything goes smoothly;
Driver's Licence (has to be in the Latin alphabet – ABC…)
Credit Card (for excess if you haven't waived it)
Passport (just in case)
Iceland does not require an international driving license so you can use the license from wherever you passed. However, if it is not in the Latin alphabet then you will need to get an international driving license. The method of doing this differs in different countries but there is usually a small fee involved. You won't have to do any additional tests though.
---
Taking Videos & Pictures
Make sure that you record the condition of the vehicle, inside and out. I recommend that you use video to do this and not pictures as a video will make sure that you do not miss anywhere as it will pick up more information. If you can, get both photos and video.
The hire company will also have their own pictures and make sure you go through them with the company and ensure they have picked up any damage or wear as if they have missed something then they may hold you accountable for the damage.
We have hired vehicles all over the world and have never had any issues with this sort of behavior, however, we have heard stories and there is no reason to not be prepared!
---
Tips For Driving A 4×4 In Iceland
Petrol Stations
Many petrol stations in Iceland are not manned and you simply put in your payment card and pay at the pump. However, we had some problems and many other people have issues with international cards not being accepted at these pumps.
Never fear! There is a solution. Before you go off into the wilderness, you can purchase pre-paid fuel cards from petrol stations with a kiosk. I recommend stopping at one of these shops and buying pre-paid cards equal to how much fuel you think you will need. These cards will work at fuel pumps of the same company and I recommend using N1 as they are dotted around quite nicely in our experience.
Your hire company may also give you a small discount card for a particular fuel company so, if you are not thinking of venturing too far into the wilderness then definitely make the most out of this discount, whoever it may be with.
---
Speeding
Don't do it. It may seem obvious but it can be quite easy to accidentally tip over the speed limit in Iceland as their maximum speed limit (90kmph/55mph) is a lot slower than where most of you are coming from. So, when you are on a two-lane highway you can see why it may be an accident.
However, it is extremely strictly enforced in Iceland with very hefty fines if you are caught. Be very vigilant and make sure you don't come out of Iceland with a $600 speeding fine horror story.
---
Headlights
Your headlights must ALWAYS be on in Iceland. In some 4x4s in Iceland, this is quite easy as they cannot actually be turned off (our first hire vehicle was like this). However, in our most recent experience with renting a 4×4 in Iceland, we had to manually make sure that they were on (Jeep Wrangler).
This can be another easy thing to forget considering that this will almost certainly not be the law where you are coming from. Just add it to a checklist before you drive anywhere and you'll be fine!
---
Careful Of The Weather
There's nothing you can really do about the weather in Iceland but just be aware that the weather can turn very quickly. For example, I was waiting in the car whilst Jade popped into a shop and she was gone for about 10 minutes. She went in when the sun was up and came out with the sun up, she had no idea that I had sat through a heavy hail storm.
There are MANY laybys and small places to stop throughout the roads in Iceland so, if the weather ever gets too much then just stop and wait it out. Remember that it is illegal to stop by the side of the road so make sure you are stopping in an actual layby or car park.
Read More: How To See The Puffins Of Iceland!
---
F-Road/Off Road
Put simply, driving off-road in Iceland is illegal. In some places, f-roads can feel pretty off road but they are always clearly marked. Driving on an f-road is not driving off-road. If you venture off of any marked road in Iceland then you are breaking the law.
This is because they are protecting the ecosystem and environment of the surrounding area and, most importantly, the moss that grows all over Iceland. If you do go off-road and damage anything (car or Earth) then you will be looking at significant penalties.
---
Animals
Like anywhere in the world, you have to be aware of animals crossing the road. There are a lot of wild animals in Iceland so just be sure to keep an eye out. The roads are usually over wide flat plains and you usually have quite a lot of visibility so this should help with that.
---
Not Stopping
You are not allowed to stop at the side of the road anywhere in Iceland. You can, obviously, stop in laybys and car parks but if you pull over by the side of the road (for any reason) you are breaking the law.
Many tourists do this to grab a picture or video of something that looks incredible (which is the majority of everything you can see in Iceland) but it is dangerous and illegal. Even if you think you are completely alone in the middle of nowhere, don't say you weren't warned!
---
Google Maps
The internet is very patchy in the countryside in Iceland so definitely download google maps for offline mode. If you choose Iceland as a whole area to download then you will never need the internet in order to have access to all of the roads and directions you need.
---
Emergency Number
The emergency number in Iceland is 112
---
Roundabouts
Interestingly, on a roundabout in Iceland, the inside lane has right of way. this means that if you come into the roundabout in the outside lane and do not immediately come off at the first junction then the inside lane has right of way at all future exits.
This sounds like it might be complicated and that loads of people are going to be cutting in front of each other but in reality, two-lane roundabouts in Iceland have two-lane exits so the inside never cuts in front of the outside lane.
If you are worried just remember this one rule – if you are leaving the roundabout at the first exit then stay in the outside lane, if you want to come off at any other exit then stay in the inside lane until you want to come off.
Also, you only need to indicate when you are exiting the roundabout and not when entering.
---
Road Closures
In the wintertime, many of the f-roads and even some of the paved roads will be closed due to them being impassable. Plan your journey ahead of time to make sure that you do not reach a closed road as this will usually mean a huge detour and a significant amount of time added on.
Check out all of the up-to-date road closures on the official website here.
---
Single Lane Bridges
In Iceland, you may come across single-lane bridges or short tunnels. They will usually have a sign indicating who has right of way however some of them don't.
If you come to a single-lane bridge and there is no sign indicating the right of way then the etiquette is to allow the closest vehicle to either side to go first. It is common practice to flash your lights to indicate to someone that you are giving them the right of way so you can always resort to this.
---
Manual Or Automatic
If you are thinking of renting a 4×4 in Iceland then choosing between an automatic or manual may have come into your mind. Hire companies will have a range of either for you to choose from if you have a preference.
If you are coming from a country that drives on the left then it may be a good idea to get an automatic as you will have to change gears with the opposite hand to usual if you choose manual. I did this the first time and it was pretty easy to pick up but it's up to you.
---
Speed Limits In Iceland
In Reykjavik – 40km/h
Dirt & Gravel – 80km/h
Paved Roads Outside The City – 90km/h
---
Which Side Of The Road Do They Drive?
In Iceland, they drive on the right side of the road. In our experience, it is very easy to get used to if you are coming from a country that drives on the left. If you already drive on the right then no worries!
---
Why Should I Rent A 4×4 In Iceland?
Access To New Accommodation Options
There are MANY accommodation options in Iceland that are not on bus routes and are way too far to pay for a taxi. Every single one of these options becomes available to you if renting a 4×4 in Iceland is something you do.
We recently stayed at Fossatun Camping Pods which is really in the middle of nowhere and the night we arrived we were greeted with a spectacular Northern Lights display. We couldn't have got that if we hadn't hired a 4×4. Check out our review of Fossatun Camping Pods and all of the other most unique hotels in Iceland here.
---
Reduced Transport Costs
That's right, spending money on renting a 4×4 in Iceland might actually save you money, especially if there are 2 or more of you. Transport in Iceland is not cheap and if you decide to get a bus then expect to be spending most of your time in Iceland sitting on that bus.
For example, if you don't have a 4×4 in Iceland and you want to go to the golden circle then you will have to get a tour bus that goes to the three locations and you are looking at least $60 per person. So you can see that with more than two of you, this price skyrockets very quickly.
If there are 4 of you then renting a 4×4 in Iceland is an absolute no-brainer.
---
Access To New Areas
This is especially true if you are coming in the summer and the highlands and mountain trails are open. You could spend a lot of money getting tours up there but then you wouldn't be able to truly experience relaxing in the glorious Icelandic hills.
Many people who go to Iceland spend all of their time in Reykjavik with the odd tour leaving the city. The number one thing that Iceland has is its incredible natural beauty. Don't spend all your time in the city and miss out on the whole reason to come to this incredible country.
---
More Freedom
We drove to Diamond beach the first time we came to Iceland and on the way, we drove past some waterfalls which we stopped at to have a look and take some pics and carried on our way. This level of freedom and flexibility is something you just do not get with structured tours and activities.
---
Where Should I Stay In Iceland?
We have written a whole article about the most unique hotels in Iceland which you should definitely check out! However, below are our top 3 picks for different budgets in all of Iceland so make sure you check them out using one of the links provided below. If none of the below pique your interest then take a look at the map below which will give you all of the accommodation options available for your chosen dates!
Unique
We stayed in these little cozy wooden huts and it was absolutely perfect. It's in range of the golden circle and we got two incredible Northern Lights displays when we were there. Such a perfect experience at a really affordable price.
Reykjavik
If you are looking to stay in Reykjavik and want all of the comforts of home for a really good price then check out Northern Comfort. They are extremely highly rated and you can save serious money with the kitchenette.
Luxury
One of the best hotels in all of Iceland. You can literally get a room that has private access to a section of the Blue Lagoon reserved just for you. An unbelievable hotel in an unbelievable country. This could be the greatest hotel you ever stay at.
---
What Should I Pack For Iceland?
Winter or summer, you are going to need some warm clothes. Here is a list of our up-to-date recommendations for clothing that you should be taking to Iceland. Click on any of the links to see prices! I have also added a list of travel essentials below that we think everyone should have.
If you are worried about getting cold feet (and you should be) then take a look at these brilliant thermal socks by Hot Feet. They should keep your feet warm in the cold conditions you will be facing, as long as you have decent footwear as well! You get 8 pairs which are also really good for the price. Take a look in more detail here.
It goes without question that you're going to need a jumper. This gorgeous knitted jumper will keep you warm whilst also looking the part (people love the knitted look in the cold!). There are a few colours to choose from the reviews talk for themselves! Take a look here.
If you get particularly cold then you are going to want to take a look at these fleece-lined full-body thermals. If you couple these with decent clothing over the top then the coldest of people should be warm in the coldest of places. Have a look at colours and sizes here.
If you're not a massive fan of fleece-lined hats (Jade isn't) then earmuffs are the way forward. These vegan earmuffs look amazing and come in varying sizes whilst also looking really cute. I personally like the brown faux leather look but there are lots of different colours available. Take a look here.
If you're looking for a pair of warm gloves then check out these waterproof/windproof/thermal gloves. When you're looking for decent gloves then fashion should not be your main priority. I don't know about you but cold hands are the pinnacle of annoyance! These absolutely get the job done and you don't have to take them off to use your phone which is a godsend. Take a more detailed look here.
You absolutely need to have a warm hat when you are visiting cold places so take a look at this gorgeous fleece-lined cable knit beanie. It's a timeless style and will absolutely keep your ears and head warm for your trip! Take a look at different colours here.
This windproof/waterproof jacket is absolutely perfect for keeping the cold out and staying warm when you are visiting such cold places. If you only have a warm waterproof jacket I would seriously consider upgrading to windproof as it makes even more difference than the fleece lining in my opinion. See our recommendation here.
If you're looking for some decent waterproof trousers then take a look at these. They are windproof and waterproof but also insulated which means that you may get away with only wearing these and not having to have an additional layer underneath. They also do a very good job of not looking too much like waterproof trousers. Have a look to see what I mean here.
If you're planning on doing some serious hiking then we recommend you take a look at these Columbia walking boots. They come in loads of different colours and we think that they are really stylish. The most important thing however is that there are comfortable, waterproof and resilient which these are! There is nothing worse than sore feet preventing you from making the most out of your trip so don't put it down to chance. Check them out in more detail here.
---
Things To Do In Iceland
Snowmobiling On A Glacier
We have done quite a few things in Iceland and this is still our favorite. It might actually be the best thing I have ever done in my life. Jade was a little scared at first but by the end, she was shouting for me to put the pedal down. Our full article about snowmobiling in Iceland is here.
There really isn't anything quite like zooming across a glacier in the setting sun. You feel completely alone in the world and it's one of the greatest senses of peace I have ever felt. And all of that over the roar and thrill of the snowmobile! Check out the tour we went on here.
---
The Blue Lagoon
You simply cannot come to Iceland without visiting a thermal spring and there aren't any as famous in the whole country as the Blue Lagoon. The facility itself is absolutely breathtaking and includes a huge lagoon with swim-up drinks bars AND swim-up face pack bars. This is a must-do in Iceland.
---
Glacier Experience
There are a couple of ways you can go up onto the glaciers in Iceland. If you are not wanting to go up on a snowmobile then you could also try doing it from the comfort of a huge converted superbus. Check out the video below to see how we found the experience. You could also go up on a hiking tour amongst other methods. Check out our full guide to the best glacier tours in Iceland here.
---
Whale Watching
There are a couple of places you can go whale watching in Iceland but the most famous are Reykjavik and Husavik. Husavik is the best option but many people are put off of this option due to it being in the North of Iceland. If you want the most convenient whale-watching tour in Reykjavik then click here to find out more. You can also check out our entire guide to whale watching in Reykjavik here or simply watch our video below!
---
The Northern Lights
In the winter months, Iceland comes alive with the Aurora Borealis. We were lucky enough to see two great displays of this in the 3 nights we spent there this year. You can either book yourselves onto a Northern Lights hunting tour or simply get yourself accommodation in the sticks so you can view it from your window.
---
Diamond Beach/Other Beaches
The beaches in Iceland are breathtaking. Their jet-black sand and striking landscapes are picture-perfect. I highly recommend taking a day trip down to Diamond beach and on the way stopping at all of the best beaches that dot the southeast coast. Check out our full guide to the beaches in Iceland here and our complete guide to Diamond Beach here.
---
Waterfalls
Iceland is home to MANY incredible waterfalls but many of these are on the southeast coast near where you will be driving to see the incredible beaches. I recommend that you also stop at the waterfalls along the way to tick off two boxes on one trip. You could also book yourselves onto a waterfall tour if you would rather.
---
Exploring Reykjavik
Most of you will spend some time in Reykjavik so you might as well make the most of your time by jumping on a food/drinking tour of the city. We do these kinds of tours wherever we travel as it gives you a fantastic introduction to the city whilst also tasting some of the best food and drink you can find. Check out our recommended tour here.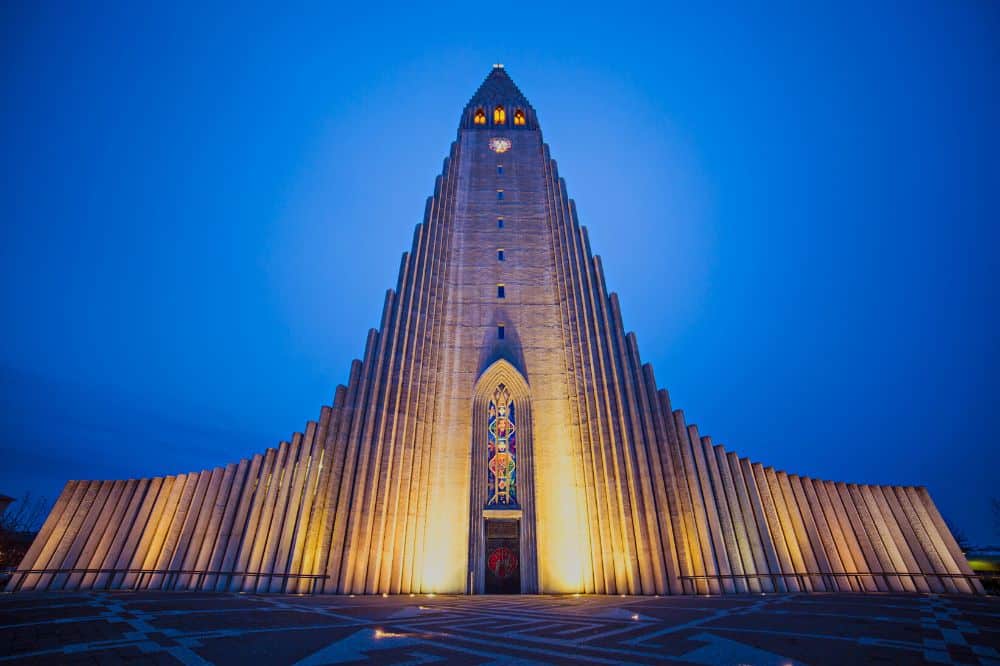 ---
---
Frequently Asked Questions
Is Renting A 4×4 In Iceland Worth It?
Yes, 100%. The amount of freedom, fun, and adventure that it unlocks is worth every single penny. If there is a group of 2 or more of you then it can actually save you money too.
Do I Need A 4×4 In Iceland?
You do not need a 4×4 in Iceland but if you want to drive on f-roads and truly experience the wilderness that Iceland has to offer then renting a 4×4 in Iceland is a legal requirement.
What Are The Best Options For Renting A 4×4 In Iceland?
Budget – Dacia Duster
Intermediate – Toyota Rav 4
Premium – Land Rover Defender/Jeep Wrangler
Can I Get A 4×4 Camper In Iceland?
Yes, you can. If you are thinking about renting a 4×4 in Iceland and want a camper then there are plenty of options available.
How Old Do You Have To Be When Renting A 4×4 In Iceland?
It actually changes for different providers but most are around the 23-25-year-old mark to hire a 4×4 in Iceland. However, there are providers that allow 20-year-olds so have a look around on rentalcars.com for a provider that suits your needs.
Should I Get The Excess Waiver When Renting A 4×4 In Iceland?
We recommend that you get the excess waiver when renting a 4×4 in Iceland. It can add a lot to the overall bill but the peace of mind and not having to have a large sum of money blocked off a credit card is important to us.
What Is The Best 4×4 To Hire In Iceland?
We believe that the best 4×4 in Iceland is the Dacia Duster. It's the budget option and can throw nearly everything you are realistically going to be throwing at it.
What Are F-Roads In Iceland?
F-roads are simply unpaved roads which may be dirt tracks or gravel tracks through the countryside of Iceland. You legally require a 4×4 in Iceland to use these roads.
---
That's our entire guide to renting a 4×4 in Iceland. Please let us know in the comments if you have found this useful or if there is something we have got wrong or missed! Have fun renting a 4×4 in Iceland!
---