This post may contain some affiliate links. We'll get a couple of quid if you use the link – at no cost to you of course. We'll also always be honest and only suggest companies, hotels or products we actually think are worth it!
Living in a Chinese apartment was something that I was really looking forward to! I spent so many hours trawling the internet before we had even signed a contract looking at other people's apartments, and researching on what to expect in relation to price and standards.The cost of living in Beijing depends on your lifestyle, but generally it's very low for ESL teachers. Housing is the most expensive aspect of most people's lives, so take a look at ours to get an idea of what you could buy for your budget.
Our Chinese Apartment
When we finally settled on moving to Beijing, I was annoyed that there weren't as many videos or photos to look at of Chinese apartments.
We are really lucky with ours so I thought I would share some pictures – we are only paying 4000RMB (£400) per month for this two-bedroom in Beijing, which is incredible. You wouldn't even get a room in a smelly London flat for that price!
Living Area

Our living room is spacious and light, but it's also been equipped with the world's most uncomfortable sofa, as well as the oldest TV known to man. We weren't really too worried about this when we signed because we didn't actually test the sofa, and we can't understand Chinese anyway so were sure that our Netflix account would suffice!
In hindsight, we probably would have asked the landlord to buy more comfortable seating or at least some pretty cushions because it's ridiculous to have springs digging in to the daintiest of body parts.
Also, watching television on our laptop is fine but it means searching for something specific that you want to watch and then sitting down to watch it – sometimes it would be nice just to have some background noise whilst we're lesson planning or cooking.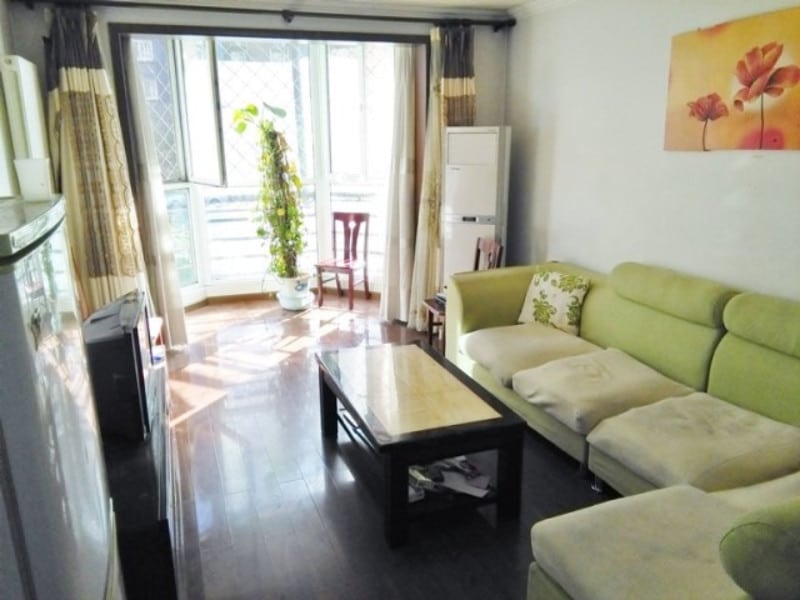 Dining Area
We also have a small dining area which is where we eat, plan lessons and sometimes watch TV. It opens out the apartment which is nice because each room is very accessible.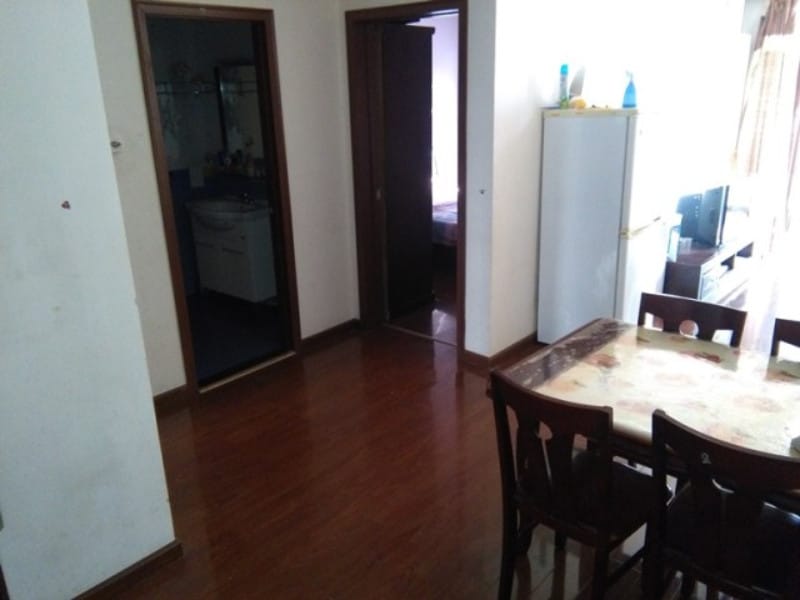 Kitchen
Our kitchen matches the lime green colour of the sofa and it's blindingly gross but it could be a lot worse I guess! We actually now have a small oven which sits next to the sink, but apart from that, this is a typical Chinese apartment as it only has two hobs. There's plenty of cupboard space but there's limited counter space so making a big meal can sometimes get frustrating!
Laundry Room
Our little laundry room is quite handy because it means that the washing machine doesn't get in the way of anything else. As you can see, we also store our BBQ in there so every time we wash clothes, we're reminded of burgers and sausages which is nice…
The washing machine itself only washes in cold water, which I think is a standard in most Chinese apartments but it's infuriating for us! I personally can't see how cold water can wash as well as hot water, so we boil a big pan and sometimes use the hot shower water to top up the wash – very annoying and we'll be looking for a proper washing machine next year!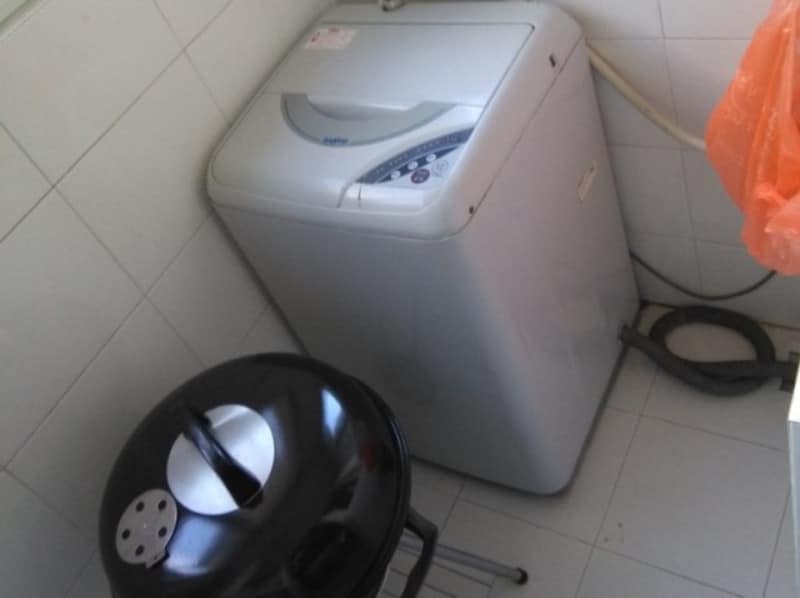 Bathroom
Our bathroom is, again, typically Chinese! Although not so Chinese that we have to squat when we use the toilet…that's western thankfully! The shower is just a shower head hidden behind a curtain, so the floor becomes flooded each time we shower. It drains pretty well but it can be annoying if one of us showers then the other needs the toilet – soggy socks are just the worst!

Bedroom 1
The main bedroom is quite basic but we don't spend too much time in there any more – just when we sleep! There's a wardrobe across the whole length of the wall opposite the window, so that serves us pretty well. The bed is rock hard but that's to be expected in China. Next year we'll look into finding a mattress topper because we've had a few neck and shoulder problems that we're putting down to sleeping on almost a solid wooden mattress!
Bedroom 2
Finally….the unwanted spare room! Actually, it's been quite useful for storing stuff and for when people stay over, but we didn't actively look for a two bedroomed apartment. The agency told us there were no one bedroom places available, and to be honest this one was so cheap that it was just a nice little bonus. We told ourselves that we could use this for when we need to plan lessons or do any blog work, but the desk has become more of a storage space for now!
---
So there you have it! A little insight into our Chinese apartment. Was it what you expected? Have you seen any better or worse places to live in China? Comment below and let us know!