Whatever your Iceland accommodation, you're bound to have a fab time. But if you're looking for something slightly more special, then consider staying in one of (or more, if you're road-tripping!) the most unique hotels in Iceland.
---
The Most Unique Hotels In Iceland
In this post, we'll show you 15 of the best unique hotels in Iceland that you should definitely consider booking! They're all different in their own way, so they're all worth checking out.
Iceland is a fantastic place to travel and explore. Whether you're booking a glacier tour or just road-tripping around the country looking for the best Iceland beaches, you'll need somewhere fun to stay each night too. Here is our list of the best most unique hotels in Iceland!
Read More: Try One Of These Amazing Snowmobile Tours Too!
---
Unique Cabins in Iceland
Fossatún Camping Pods & Cottages
It's one of the most unique hotels in Iceland because … you're camping in a cute little wooden pod!
What better way to spend your Iceland holidays than camping in a rustic cottage in the gorgeous West Iceland region?
The pods at Fossatún Camping have a sleeping area and even a small set of wooden tables and chairs that you can relax on! The pods are heated so don't worry if you're visiting Iceland in the winter – you'll still be snug and cosy! We turned off the heating during the night and were really warm.
You'll need to either bring your own sleeping bags or rent bed linen from the property. This flexibility is great if you're already camping in Iceland and have everything already! We rented ours and were very happy with the quality of the pillows + duvet, and the price was low.
Read More: Hiring A 4×4 In Iceland – COMPLETE GUIDE!
There are two shared kitchen spaces that you can use, and they're both fully equipped with an oven, fridge/freezer, kettle and toaster, plus all the essential utensils. There is plenty of space to eat and socialise too.
You're also always welcome to use the hot tubs – and why wouldn't you?! They're outdoors and perfectly located to spot the Northern Lights on a dark winter's evening if you're lucky.
Take a look at more photos of Fossatun here.
Surprisingly, this little property has an in-house restaurant that boasts impressive views of Troll Falls, so try to eat there at least once during your stay! We decided to go for the two 'duos' on the menu – you get a starter and a main. The food was delicious – try the lamb stew and the mushroom soup!
Breakfast is also excellent – there is a buffet with a range of items from smoked salmon to porridge, with fresh bread and juices.
Grab a beer and sit in the lounge area where you can relax listening to one of the thousands of vinyl records the owner has.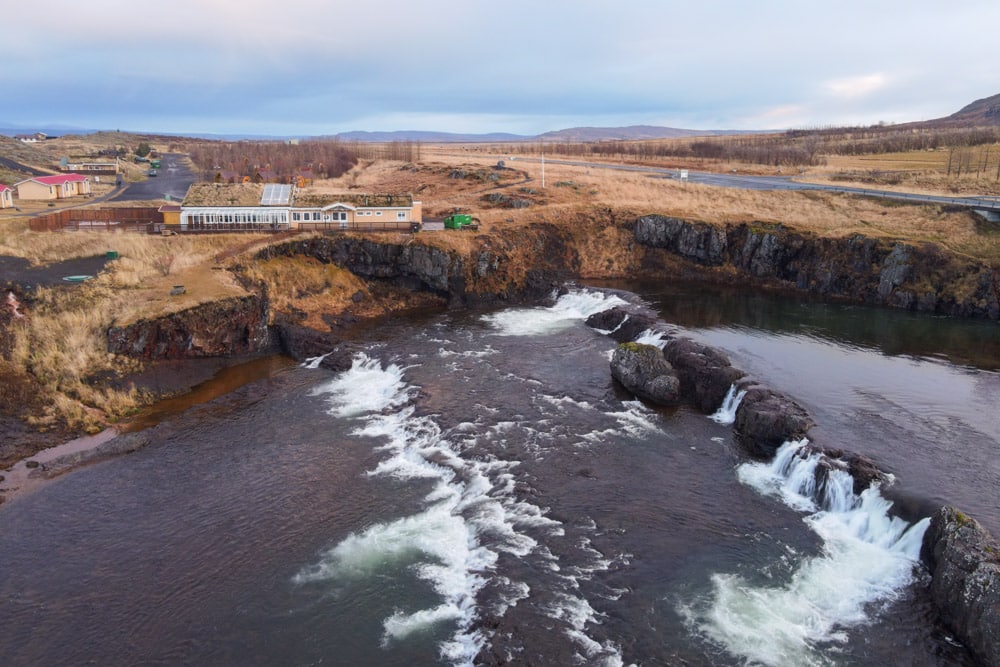 There is free WiFi in the shared areas but will reach the cabins if you're close enough. We also were able to get 4G signal in our cabin anyway – if you haven't got a European sim card then I'd recommend buying an Icelandic one when you arrive.
If you're driving a rented car you can park directly outside your pod for convenience. This was super handy for us as we were arriving and leaving Fossatun during the dark so it was nice to just be able to jump straight in the car without wandering around in the cold finding a car park!
There is also plenty of open space to sit whilst you try and catch a glimpse of the Northern Lights too – we saw them twice whilst staying here in December!
We had an incredible stay in the Fossatún camping pods and would 100% return on our next trip to Iceland! We highly recommend booking a stay at the most unique hotel in Iceland here!
As well as the pods, there are other accommodation options here at Fossatun. You can choose to stay in the Sunset Cottage – a standalone building with private kitchen and bathroom facilities. Take a look at the cottage here.
There are also country hotel rooms – they have a private bathroom so perfect if you want to cook your own food but want a little more space than the pods. Book your hotel room here.
Ásahraun Guesthouse
It's one of the most unique hotels in Iceland because … they're charming self-contained wooden cabins!
If you want to stay in a pod similar to Fossatun but you'd prefer to stay further south, then Ásahraun Guesthouse is for you.
These cabins are also a great option if you want your own private toilet. You'll pay more for the privilege but it might be worth it for you! The shower is shared but there are only 3 pods so it's unlikely to get too busy.
These units also come with a mini kitchen area inside, so they're fairly spacious and great if you're happy to cook your own food. In fact, you need to be prepared to do this because there is no restaurant on-site so go shopping in Selfoss or eat out in the local places. There's also a larger fully equipped shared kitchen for bigger meals.
Ásahraun Guesthouse is close to the town of Selfoss so there are restaurants, shops and a public swimming pool nearby!
There is a lovely hot tub on the property, and the staff (and their dogs) and super friendly!
Click here to check dates and availability.
---
Unique Hotels in Iceland
Hótel Húsafell
It's one of the most unique hotels in Iceland because … it has 4 of its own geothermal heated swimming pools and a golf course!
Hótel Húsafell doesn't only fall under the category of one of the most unique hotels in Iceland; it's also luxury!
The hotel rooms have their own private bathroom, a TV for those early dark evenings inside and free toiletries.
Here you'll also be able to throw in a few rounds of Arctic golf, as there's a course on-site!
You can also swim in one of the geothermal pools located on the property, adjusting the water to your preferred temperature!
Plus, you can take advantage of their complimentary Float Therapy equipment.
You wear a special cap which helps your head to stay above the water, and leg floats so that your body is submerged for a feeling of complete weightlessness and relaxation!
There's plenty else to do nearby too. Take a specially mapped-out hike in the local area – the hotel has created a list of their favourite hikes so ask the reception for more information when you fancy getting out and about.
Click here to book your stay now
Hotel Viking
It's one of the most unique hotels in Iceland because … it's a Viking-themed hotel!
Viking memorabilia and feasts – what else do you need when you're travelling to a Nordic country!?
This themed hotel is one of a kind, and a lot of thought and care has gone into creating a fantastic experience for the guests.
Apart from all the madness and excitement, the hotel is also a great place to sleep. There's free WiFi, and private bathrooms, plus you get breakfast included to set you up for your day. Book a room here.
You can enjoy a Viking feast in the on-site restaurant, where you can BE KIDNAPPED BY A VIKING AND DRINK MEAD!
I think this could potentially be the highlight of your whole trip – I know it's on my bucket list!
Even if you decide that you'd rather not be kidnapped, you can still take part in the fun and listen to Vikings singing and telling stories, choosing an Honorary Viking and wearing cloaks to fit right in.
Click here to check prices and room availability
Hotel Rangá
It's one of the most unique hotels in Iceland because … it has a star-gazing observatory and wake-up calls for the Northern Lights!
If you're worried about missing the Northern Lights while you're cosied up in your hotel bed, Hotel Rangá is the place you want to be. If you want (and why wouldn't you!) the staff will wake you up when the amazing light show begins. You can't beat that for customer service!
Each of the suite rooms has been designed with the influence of one of the seven continents in mind, but the deluxe & standard rooms are also incredible.
There's also a shared lounge area you can hang out in, and meeting rooms if you need them.
Rangá's restaurant offers delicious meals, using locally sourced ingredients inspired by Nordic cuisine. You can expect outstanding quality here – something that not many hotel restaurants can boast!
Click here to check prices and room availability
Frost and Fire Hotel
It's one of the most unique hotels in Iceland because … you can take a dip in the warm river next door!
Surrounded by a hot spring, an imposing mountain and one of the only warm rivers in Iceland, Frost and Fire Hotel is surely one of the best places to stay in Iceland.
Not only are you spoilt with incredible views, but the rooms have been carefully designed with style and comfort in mind.
You also get a great breakfast included in the price – they cook using the traditional method of Icelandic geothermal cooking so that's definitely something to look forward to!
Another great thing about this hotel is that even though you can feel like you're in the middle of the wilderness if you want to see what the locals are up to then you can pop down to the small village nearby!
Take a swim in the warm pool or river, relax in the black stone sauna or stay active and take a hike through Reykjadalur Valley – an area well known for its steam spouts and bubbling mud!
Click here to check prices and room availability
The Retreat at Blue Lagoon Iceland
It's one of the most unique hotels in Iceland because … it's surrounded by a moat of the famous mineral-rich Blue Lagoon waters!
If you're visiting Iceland, you HAVE TO visit the Blue Lagoon. And if you think you deserve a treat (of course you do) then enjoy a night or two at The Retreat.
Not only will you get unlimited access to the magical blue waters of the lagoon, but you can also take a yoga class or a nearby hike if you can tear yourself away from your room.
Breakfast is included, and you can also try out their dinner menus at one of the three restaurants, which are all locally sourced and extraordinarily fresh.
Staying at The Retreat at Blue Lagoon is definitely a special event. You'll be so spoilt, you won't forget your stay here!
Click here to check prices and room availability
Unique Tents in Iceland
Camp Boutique
It's one of the most unique hotels in Iceland because … you can experience 'glamping' in a luxury tent surrounded by beautiful scenery!
If you're into serene views and falling asleep to the sound of the waves lapping against the shore, then this is one of the best places to stay in Iceland!
Only around an hour from Reykjavik, Camp Boutique is certainly that – boutique and unusual!
Sometimes camping in Iceland is not an option, mainly because of the weather – the wind and low temperatures can be dangerous if you're only in a flimsy tent.
However, 'glamping' or 'glamourous camping' fixes those problems and gives you the experience of sleeping in a tent but the safety of a cabin! The tens are only available to book in the warmer months, so if you're visiting Iceland in summer then this is a great option.
Camp Boutique offers a wonderful night's sleep in comfortable beds, a shared kitchen and a fire pit to sit around in the evenings. You'll have a fantastic stay here – the owner will personally make sure of it!
Click here to book your stay at Camp Boutique.
Reykjavik Domes
It's one of the most unique hotels in Iceland because … you can take in the scenic view from bed!
These unique and luxurious domes offer fantastic views of Iceland's natural beauty.
You're treated to soft bedding on a king-size bed and complimentary tea, coffee and Champagne and a hot tub – what else do you need to relax and watch for the Northern Lights?
What's great about these domes is that they are actually part of a bigger campsite, which means that there are other activities going on too.
You can play minigolf and football golf, or you can book to take one of the fun excursions around the country.
The location is great too – near enough to the city centre of Reykjavik that you can go and socialise, but far enough to feel close to nature.
Click here to check prices and see available dates
Sky Sighting Iglúhús
I've added another dome to my list because this one is up in the north, which is a great place to explore away from the typical tourist trail of the Golden Circle and Reykjavik.
Also, domes are bloody cool so why not stay in two?
This room also has a window in the ceiling which means that you can actually gaze up at the stars from your sleeping position – imagine waking up the Northern Lights dancing above your head!
Beware one thing – there isn't any running water here so if you're not used to skipping showers, you might want to prepare yourself. If you love getting back to basics, then this is the perfect place for you.
The toilet is in a little shed next door so you don't have to worry about finding a spot in the wilderness (in fact, please DON'T do that!).
Despite looking quite small, these tents come with a bed, a table and chairs, a kettle and 10L water tank. It's a cute little space that will definitely give you an experience to remember!
Click here to see prices and date availability now
An Icelandic Yurt
It's one of the most unique hotels in Iceland because … you get to experience a Mongolian yurt!
Staying in a yurt in Iceland might sound strange, but it's actually a really fun place to stay! There are only 2 yurts on the property so you'll be surrounded by nature and not other noisy campers!
Make your own fire and pick local berries with the hosts – they're more than happy to help you!
The local area is spectacular (what else would you expect from Iceland!) so you can go hiking during the day and come back to your toasty yurt in the evenings.
You're also given a little breakfast hamper in the mornings which is a really nice touch – breakfast in bed, anyone??
The shared bathroom is set away from the yurts but it's close enough to be able to use it easily in the middle of the night! There's also running spring water from these taps if you need a refill.
Click here to see prices and yurt availability
Unique Buses + Vans in Iceland
Esjan
It's one of the most unique hotels in Iceland because … you sleep in a converted bus!
Yep, a bus! It's one thing sleeping in a converted campervan, but a bus is a pretty awesome type of accommodation!
Obviously, you can't drive away in it in the morning but they are fun to sleep in! Equipped with a kitchenette, a seating area and free WiFi, you'll be extremely comfortable in this unique hotel in Iceland.
They even have some of the original bus passenger seats inside, so you can just imagine the adventures these buses have had and where they have been!
You can open up your curtains when you wake up and be greeted by the incredible mountain views surrounding the campsite.
The clean bathrooms are just a short walk away from the rooms.
If you are interested in hiking, you can take a walk in the local area, to the seafront and up to the mountains. Esjan is situated only 13 miles away from the capital, Reykjavík, and is such a cool unique place to stay in Iceland.
Click here to check prices and availability
Unique Capsules in Iceland
Puffin Nest Capsule Hostel
It's one of the most unique hotels in Iceland because … you're staying in a pod on the island of puffins!
If you are looking for a hostel experience in Iceland, then book yourself into the Puffin Nest Capsule Hostel.
Located on Vestmannaeyjar (the Westman Islands), this hostel is perfect for a few nights' sleep in between spotting cute puffins!
If you've never slept in a capsule before, you have to realise that it isn't a full-on bedroom! It's a bed with a TV at one end, a comfortable bed, plug sockets and a mirror. We stayed in these types of rooms before and they're a really fun and unique accommodation type!
There's a shared lounge area to meet other travellers in too.
Click here to check pod availability and prices.
Hafnarstræti Hostel
For another capsule hostel option, try Hafnarstræti Hostel in Akureyri! This is a great place to stay if you're here for a great chance to spot whales on a cruise!
There are single and double room options, which is perfect for solo travellers or couples wanting to experience the capsule life!
Hafnarstræti Hostel is located in the town centre of Akuyeri which is helpful if you're spending a lot of time there and don't have a car.
There is a shared kitchen so you can stick to a tight budget by cooking all of your own meals.
In the dorms you'll get free WiFi, there's a gift shop and even a little games room!
---
Things To Do In Iceland
Iceland is a stunning country and you'll literally never run out of things to do! You'll probably only be able to fit in a few activities on your trip though so here is a round-up of our favourite and unmissable things to do whilst staying in one of the most unique hotels in Iceland.
Snowmobiling
Glide across a vast glacier and take in the most incredible views – you just can't say no to this!
Even if you've never done anything like this before, I'd highly recommend having a go as it really is a once-in-a-lifetime experience that you can't do in many places!
You'll ride in a 4×4 monster truck to reach the starting point, get geared up and be taught the basics before you set off. You'll get around an hour driving the snowmobile, and it is truly a spectacular sight once you're up on the glacier!
Click to check prices and dates
If you want, you can also combine a visit to the Golden Circle with your snowmobiling trip. Check that out here.
---
Exploring The Golden Circle
You can't visit Iceland without taking a trip to the famous Golden Circle!
Wander around Thingvellir National Park (and maybe even try snorkelling between two tectonic plates!), see the impressive Gullfoss Falls rushing below you and watch as the tremendous geyser of Strokkur erupts every few minutes!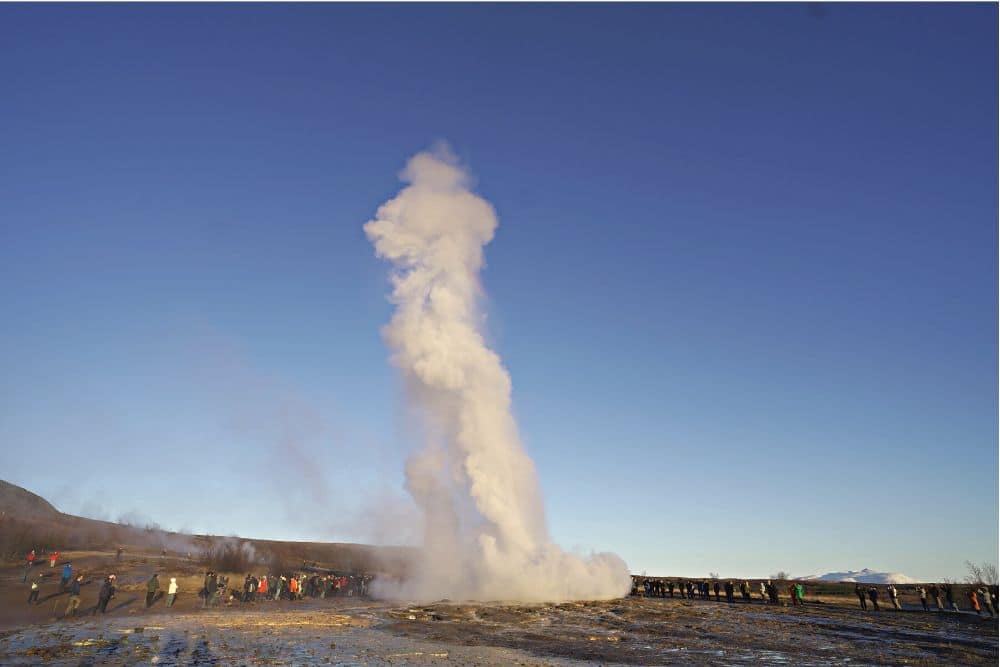 Click here to book the best tour of the Golden Circle.
---
Whale Watching
Iceland has a few great places to enjoy a whale-watching trip from. You can take a boat from Reykjavik, or you can go up north to Akuyeri and Husavik, depending on where the rest of your holiday takes you. Check out our entire guide to whale watching in Reykjavik here or simply watch the video below to see exactly what you can expect!
Some of these tours combine other activities with whale watching, such as puffin watching or chasing the Northern Lights.
Whichever tour you choose, you're going to have an incredible time, especially if you go in the summer.
Click here to check reviews, availability and prices.
---
Glacier Tour
Iceland is full of insane glaciers, and you can get up close and personal with them!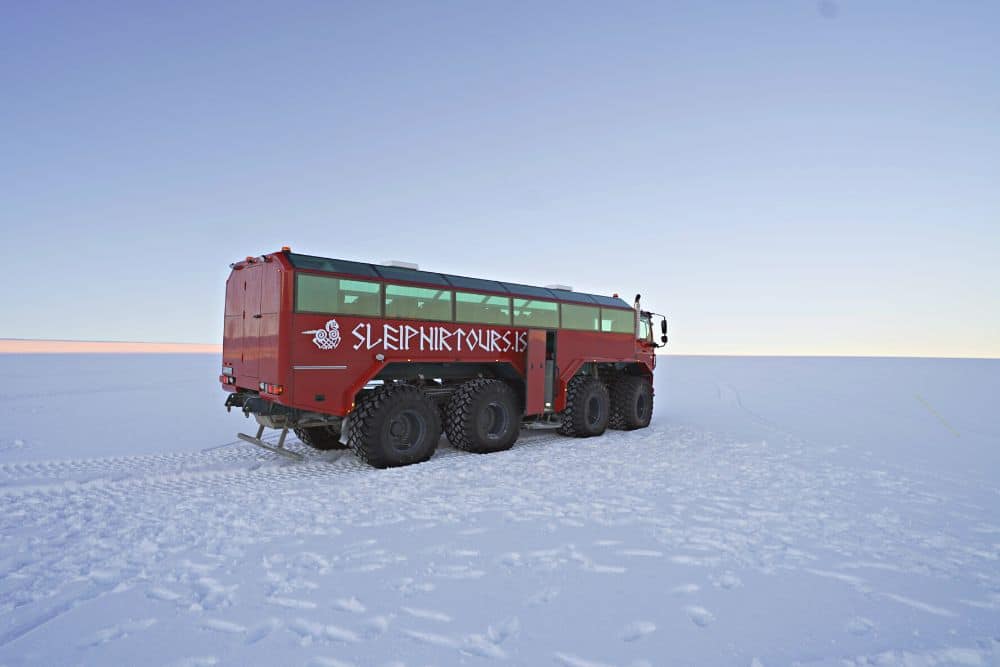 Take a ride in one of the world's biggest converted trucks and bump along the beautiful Langjökull glacier. The views are really out of this world and you'll also get the chance to walk inside a glacial cave – you haven't seen anything like this before, trust me!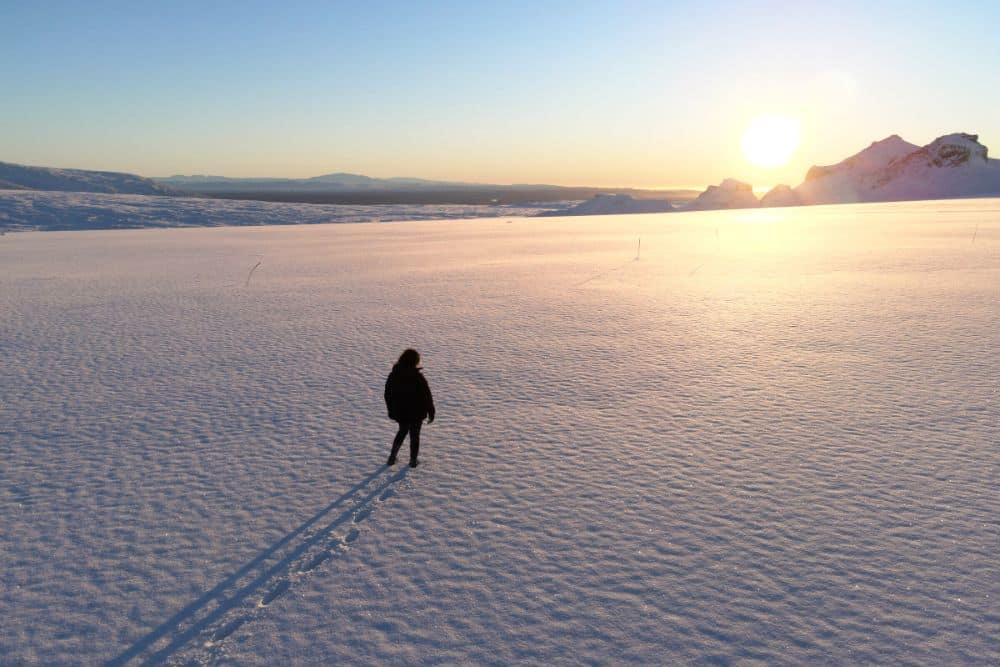 ---
Helicopter Tour
Iceland is striking from the ground, but imagine what it looks like from the sky! Treat yourself to an extraordinary ride in a helicopter over glaciers, volcanoes or craters.
Choose whether to fly over the gorgeous city of Reykjavik and enjoy the views before landing on a nearby mountain, or maybe you'd prefer to take to the air over Thingvellir National Park. You also have options to combine your helicopter trip with a fun ATV ride, or a geothermal area.
You won't get photos like this from many other places, so make the most of it while you can!
Click here to book your seat now.
Read More: Here Are Our Top Picks For Helicopter Tours in Iceland!
Packing List For Iceland
It gets pretty cold in Iceland so we have compiled a list of products that you're going to need to take if you want to make the most out of your trip! Take a look and remember, amazon has deals all the time so make sure to go through the links to see the current price.
This windproof/waterproof jacket is absolutely perfect for keeping the cold out and staying warm when you are visiting such cold places. If you only have a warm waterproof jacket I would seriously consider upgrading to windproof as it makes even more difference than the fleece lining in my opinion. See our recommendation here.
If you're looking for some decent waterproof trousers then take a look at these. They are windproof and waterproof but also insulated which means that you may get away with only wearing these and not having to have an additional layer underneath. They also do a very good job of not looking too much like waterproof trousers. Have a look to see what I mean here.
If you're planning on doing some serious hiking then we recommend you take a look at these Columbia walking boots. They come in loads of different colours and we think that they are really stylish. The most important thing however is that there are comfortable, waterproof and resilient which these are! There is nothing worse than sore feet preventing you from making the most out of your trip so don't put it down to chance. Check them out in more detail here.
If you get particularly cold then you are going to want to take a look at these fleece-lined full-body thermals. If you couple these with decent clothing over the top then the coldest of people should be warm in the coldest of places. Have a look at colours and sizes here.
If you're looking for a pair of warm gloves then check out these waterproof/windproof/thermal gloves. When you're looking for decent gloves then fashion should not be your main priority. I don't know about you but cold hands are the pinnacle of annoyance! These absolutely get the job done and you don't have to take them off to use your phone which is a godsend. Take a more detailed look here.
If you are worried about getting cold feet (and you should be) then take a look at these brilliant thermal socks by Hot Feet. They should keep your feet warm in the cold conditions you will be facing, as long as you have decent footwear as well! You get 8 pairs which are also really good for the price. Take a look in more detail here.
You absolutely need to have a warm hat when you are visiting cold places so take a look at this gorgeous fleece-lined cable knit beanie. It's a timeless style and will absolutely keep your ears and head warm for your trip! Take a look at different colours here.
If you're not a massive fan of fleece-lined hats (Jade isn't) then earmuffs are the way forward. These vegan earmuffs look amazing and come in varying sizes whilst also looking really cute. I personally like the brown faux leather look but there are lots of different colours available. Take a look here.
It goes without question that you're going to need a jumper. This gorgeous knitted jumper will keep you warm whilst also looking the part (people love the knitted look in the cold!). There are a few colours to choose from the reviews talk for themselves! Take a look here.
---
At least one of these unusual places to stay should be on your Iceland itinerary! Let us know where you stayed in the comments below!
---
Click here to repin this post later!