Are you planning a fun trip to Malta in October this year? Find out everything about the beautiful Maltese islands at this time of year – and decide whether it's a good time for you to visit or not!
Necessary Spacing
There are plenty of accommodation choices and things to do in Malta in October, so here are our top recommendations!
In the northern hemisphere, October is often considered wet, windy, dark and gloomy. School is back in full swing, Halloween is creeping up on us (sorry not sorry for the pun!) and there are fewer sunlight hours in the day.
However, it's not all negative, and luckily for you, there's no dreary vibe in Malta in October!
Read More: Your Ultimate 7 Day Itinerary For Malta
There are some really great reasons to spend October in Malta, but there are of course some drawbacks too.
In this post, I'll highlight the best reasons to come to Malta in autumn, as well as mention the very few negatives that you'll need to consider before booking your trip.
Read More: Is Malta Expensive To Visit?
Are You Thinking Of Travelling To Malta In October?
Malta is quite honestly gorgeous at any time of year. The detailed architecture, the long winding beaches and the stunning landscapes are captivating from spring through to winter.
You will experience a different type of holiday in each season, but the great thing is that you'll be truly captivated by Malta whenever you come.
In October, you can expect good weather, plenty of accommodation options and great deals on tours.
Read More: Here's How To Spend 5 Gorgeous Days in Malta!
It might actually be the perfect time to go because you escape the busy crowds of summer, but you do get to experience pleasant sunny days. Malta enjoys over 200 hours of sunshine in October so you don't have to worry about missing out!
Flights To Malta in October
Before you book anything, you'll need to check flight availability and prices.
Luckily, because October is in the low season, you can usually grab a great bargain.
Check comparison sites like Skyscanner for the best deals, and if you're flexible with when you're travelling, you can even sign up to their alerts to see when the cheapest day to fly is.
There are two things to watch out for when booking a cheap flight to Malta though:
Tickets that don't include a baggage allowance

It is easy to be blindsided by a cheap deal – but you can usually expect to pay extortionate fees at the airport if you haven't got baggage included in your ticket.

If you're staying for more than a week, I'd make sure that you have checked baggage, hand luggage AND a personal bag. This just gives you the option to move things around your luggage if you've packed a little too much, and bring souvenirs home too.

Tickets that are operated by a different airline

When you buy from a comparison site like Skyscanner, you usually get good deals for the flight but no added extras and often no perks like refunds, date changes or even a customer service team!

Compare flights, find the best one and then book directly with the airline if you can. You'll often pay the same but you can be confident that if anything goes wrong with your booking, you can call the team up and have it resolved.

Companies like Kiwi.com, Go To Gate and Travel Genio are often hard to get in touch with and don't have control over things like cancellation or ticket changes because they aren't operating the flight, they are just selling the seats.
Read More: How To Spend A Single Weekend In Malta!
Weather in Malta in October
Unless you're a snow fanatic, you will definitely enjoy the weather in Malta in October.
The daily average temperature is 25°C/77°F, with lows of 18°C/65°F.
You can sunbathe, swim and eat ice cream to your heart's content in this climate, but it's also a great time to hike as it's not too stifling hot. This is definitely true for the first half of the month, but make sure you're planning your activities ahead of time and looking at the forecast just in case something does change – which it can rapidly!
Read More: How To Spend A Day Relaxing By The Pool (Prices + Perks!)
The evenings are perfectly cool – I was worried about having to be wrapped up in a thick coat in the evenings but a light jacket was ideal for al fresco dinners and late-night beach walks.
There are usually a few showers and thunderstorms nearer the end of the month. The average temperature doesn't really drop too much though, so you can still go out and explore the cities, taking cover in a cute cafe if you really need to.
The storms don't tend to last very long either – we got caught in the rain in Marsaxlokk, bought a coffee and once we were finished, the sun was shining and it was really quite warm again!
Read More: The Complete 3 Days In Malta Itinerary
What To Pack In Malta In October
You don't have to fret about what to wear in Malta in October. It doesn't have to be too different from packing for the summer months, with the addition of a few items.
Take whatever clothes you feel you best in – you're on holiday after all and it is time to enjoy yourself! – but take a look at my must-haves for an October trip to Malta as well. These are all items that I was either glad I'd packed or gutted that I'd forgotten!
A Light Jacket
As I mentioned before, it does start to get cooler in the evenings in October. A light jacket like this denim one is perfect because you can dress it up or stay casual, and the sleeves will keep the breeze out. A cardigan is a great idea, or if you're like me and obsessed with shackets at the moment then I love this one!
For men, a thin hoodie like this would do the job or something like this for a more smart casual look.
Suncream
You've probably already thought of it – and you've probably decided not to pack it as you can 'probably get it once you're there.' This is true – of course, Malta sells suncream – but it is quite expensive and as it's October, there isn't a huge amount of choice left in the shops.
We struggled to find factor 50 that would last for longer than a week, so I would buy a bottle or two before you go to make sure you're protected.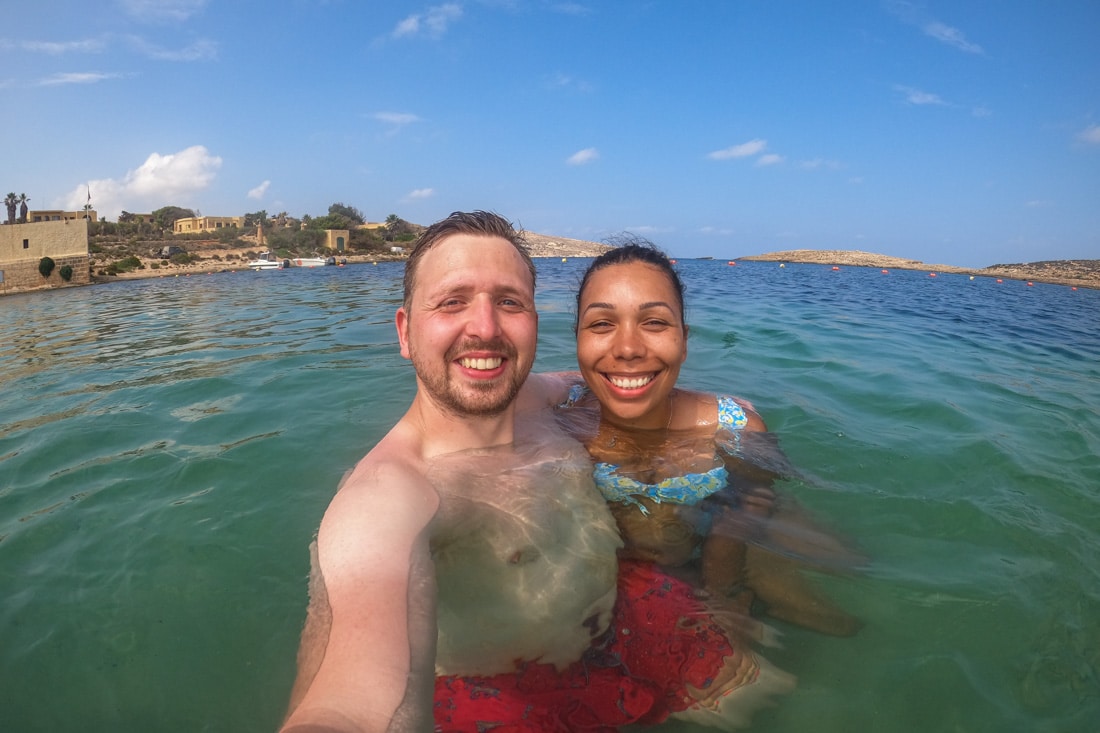 We also only saw big brands that aren't necessarily good for your skin, cruelty-free or reef safe, so bringing your own ensures that you are only buying cosmetics that are environmentally friendly.
This sun protection pack smells great, protects your skin with SPF 50 and is reef-friendly too so you won't be spreading oils and chemicals every time you go for an ocean dip!
The company also does a mineral range too which is great for people with darker skin who don't want a white cast!
Read More: How To Plan The Perfect Honeymoon In Malta
Snorkel Set
October still provides plenty of opportunities to swim, snorkel and dive in the sea, so I would definitely recommend having your own snorkel set.
If you decide to go on a boat tour, many companies would typically provide this kind of equipment, but as everyone is being extra careful with hygiene right now, some have stopped this.
Bring your own and you can enjoy the crystal clear waters on a tour or on your own adventures. You can buy them in Malta but again, as many places aren't offering free rental anymore, you might find yourself stuck with random sizes or limited styles.
Choose your own funky colour and don't forget the kids too!
Walking Shoes
You might be planning on being a beach bum for your whole holiday, but even so, I'd recommend bringing some decent closed-toe shoes. Malta is renowned for being hilly with some difficult terrain in places, so even before you get to a beach you might be climbing over rocks and stones.
Hiking is a popular activity in Malta too, so be prepared for some beautiful walks and don't let your footwear to ruin them.
I'm not saying bring your biggest waterproof hiking boots with ankle straps and matching sticks, but just something that will keep you steady on uneven ground, like your most comfortable pair of trainers. Just don't try and hike somewhere like Comino Island in strappy sandals like a moron (guilty!)
Read More: Check Out Our Malta Camping Guide (Including Comino)
These shoes are supportive and comfortable, plus they come in plenty of different colours. Don't forget to read the reviews to see if they are a good match for you.
Water Shoes
These are something that we didn't bring, which I really regretted when we were paddling out to sea standing on rocks and slimy seaweed!
In so many of Malta's (and Gozo's) beaches, you have to get past the stones to walk on the smooth soft sand. I'd highly recommend getting a pair of walking shoes just to take the edge off entering the water!
They're actually pretty comfy and won't slow you down in the water once you're swimming.
Try this quick-dry pair for all genders.
Changing Poncho
One of these is an absolute must for beach days! A lot of beaches do have changing areas, but if you've got your own poncho then you don't have to worry about queues or dirty spaces.
They're also handy if you're a solo traveller because you can just change where you are and not have to worry about picking up all your belongings to go to the changing room to then come back and find a spot to relax in.
Choose a light microfibre one to minimise space in your luggage as well as drying time.
Hat
The sun in Malta is quite strong, especially on those long hiking days. We walked around the whole of Comino Island and there is NO shade at all.
The main islands offers more protection, but consider bringing a hat with a brim just in case because you don't want to get caught out with sunstroke!
Go casual with a cap like this or choose one for both fashion and protection!
Travel Adapter
In Malta, the plug sockets are type G, which takes the 3-pin rectangular plug. These are the same as in the UK so if you're travelling from there or you have got appliances from there, you're good to go.
There are some sockets that will be adapted to other European plugs, but the 3-pin is the standard.
Bring an international adapter and you just can't go wrong!
Things To Do in Malta in October
The great thing about a holiday to Malta in October is that the vast majority of activities are still available to enjoy, without the hoards of people or sweltering sun!
Here are the top things to do in Malta if you visit in October:
Visit Comino Island
Comino is an amazing place to swim, hike and party – depending on where you go and what time you get here! Arrive early on the local boat to get the best sunbed spots, or to begin your hike whilst the sun is lower.
If you would prefer to get a bigger tourist boat, you'll arrive at around 10.30am and this is when the parties start! Huge food trucks, speakers and cocktail stands pop up everywhere around the Blue Lagoon, and you can drink, dance and splash around all day here if you want to.
Don't forget your suncream, water shoes and hat because even in October, the sun can be relentless and unless you hire an umbrella, you'll be fully exposed to its rays.
Read More: Everything You Need To Know About The Blue Lagoon
Visit Gozo
Gozo is Malta's cute little sister island – although there is nothing small about its beauty! Hire a car and navigate your way around the islands, stopping at charming villages, picturesque beaches and scenic countryside spots.
Spend a morning exploring the incredible Cittadella in Victoria, visit one of the world's oldest manmade religious structures at Ġgantija, and relax on any one of the top beaches.
Read More: Here Are Gozo's Top Beaches! & The Best Farmhouses In Gozo!
Alternatively, take a guided tour and experience Gozo with a local. You'll be taken to all of the best places without the hassle of following a map, taken to lunch and dropped back off at your designated meeting point without fuss.
Stay at the gorgeous Duke Hotel.
Go diving
Malta is an excellent place for diving, whether you're starting out or are your 100th dive. If you only have the time to dive in one spot, then it has to be the Blue Hole in Gozo.
The water is beautifully clear, you'll have the chance to meet the local wildlife and it's a great place for night diving too.
For more information about diving in Malta, click here.
Visit a water park
Malta has one huge water park, Splash and Fun, and lots of other water-based tourist attractions.
Don't miss Popeye Village – it's where the movie was filmed and after a nice dip in the bay, you can explore the props and sets! Buy your tickets in advance here.
Read More: The Best Water Parks in Malta!
As it's low season, you can get cheaper tickets if you visit in October!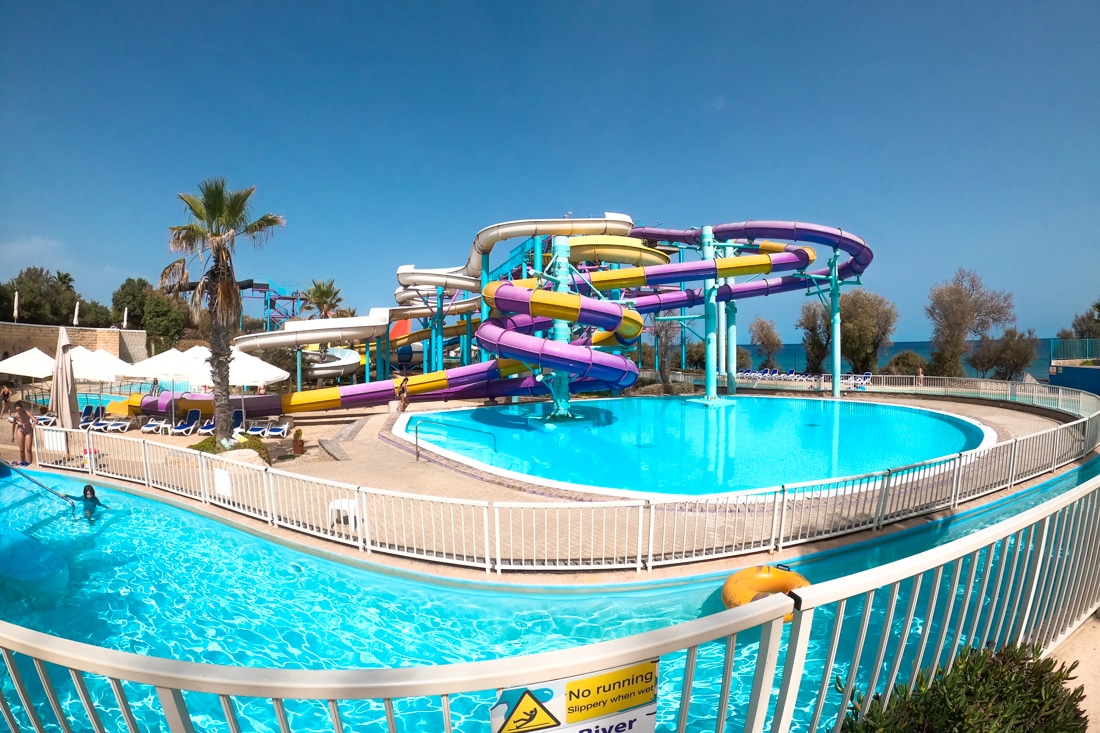 There are a few inflatable courses on the sea in Malta, but some of these do close quite early on so check online if they're still open at this time of year. It often depends on the weather – if it's nice they'll stay open, and if it's cooling quicker than they expected then they'll shut up shop until next season.
Explore Valletta and the 3 Cities
You can't miss the capital and its neighbouring cities.
You could spend all day wandering around Valletta's pretty narrow streets, taking a small local boat across the river and exploring the history behind the famous 3 Cities of Vittoriosa (Birgu), Senglea and Cospicua.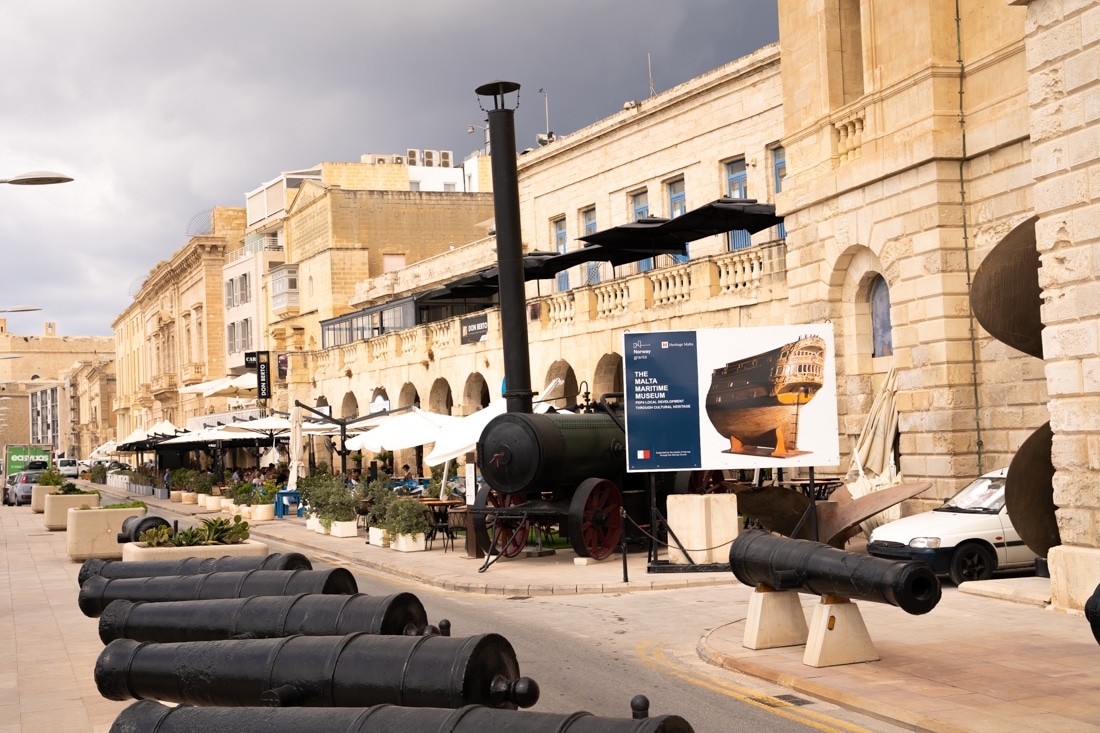 Visit St John's Cathedral, stop at a few of the many museums dotted around and wander around both the beautiful upper and lower Barrakka Gardens.
Stay at Hotel Pjazza Merkanti Boutique
Go beach hopping
Malta has some lovely quaint beaches, spanning from the natural St Peter's Pool area near Marsaxlokk to the Blue Lagoon on Comino, all the way north to the perfect San Blas on Gozo.
Not all of the beaches are sandy (remember the water shoes!) and not all of them have facilities but you will definitely find some stunners in Malta!
Visit the watchtowers
Malta has watch towers dotted around the island, built in the 17th century to warn the soldiers about any incoming attacks from the sea.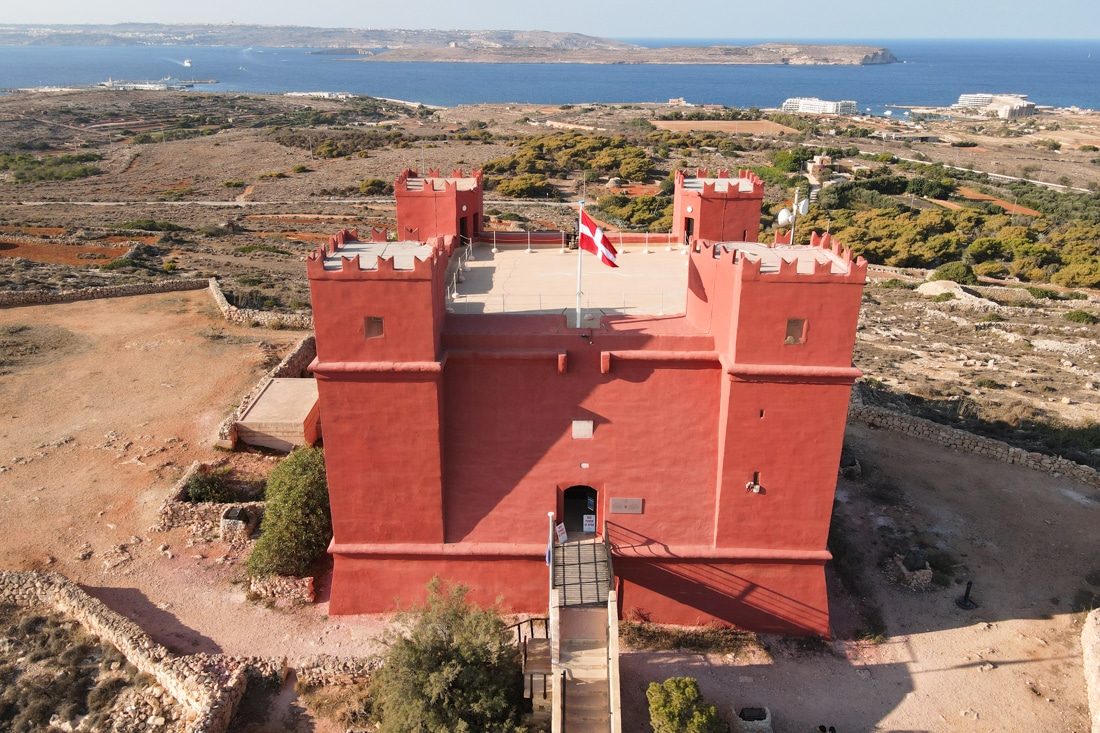 Run by volunteers, many of these towers are open to the public and they are full of fascinating history so definitely check a few out!
Read More: Visit Mellieha's Red Tower
Places To Stay
Malta has some wonderful accommodation options, and usually, the hotels have plenty of rooms spare as it is low season.
---
Book your favourite hotel here

Where will you go?
---
Read More: Where Should You Stay In Malta?
Here are my top recommendations of where to stay in Malta, with choices across the whole island!
Valletta
The capital city is a stunning maze of streets, alleyways and paths, winding past beautiful gardens and historical monuments.
It's really well located and connected by the system, and you'll never run out of restaurants, bars and cafes!
St Julian's
If you're in Malta to party, then you'll want to be staying in St Julian's. The town comes alive at night, there's a great beach and there is a huge selection of hotels.
---
Treat yourself to a few nights at the Mecure St Julian's – you'll need a decent place to rest your weary head!
---
St Paul's
This is the best place for families to stay. There are lots of things to do – an aquarium, inflatable ocean obstacle courses, beaches and more – and plus you've got great access to the islands too.
Many of the tourist boats being their journeys in St Pual's Bay, making it the perfect location if you're looking to do lots of day trips.
Mellieha
We stayed in Mellieha for a month, and decided that it's the best place to stay in Malta in October!
It's got everything you'd need, from great beaches, cocktail bars and restaurants, to easy access to Gozo + Comino, budget accommodation and incredible historical spots.
---
Stay at Solana Hotel & Spa for a place that has it all – live evening entertainment, on-site restaurants and suite room options.
---
Gozo
Gozo is a wonderful place to spend a few nights away from the busier main island. If you hire a car or take a sightseeing tour, you can pretty much see most of the island in a day or two, but you'll want longer to enjoy it all!
---
The Duke Hotel is our top pick in the whole of Gozo because not only is the hotel practising sustainability, but it's centrally located in Victoria and the rooms are gorgeous.
---
---
Read More: Choose Form These Amazing Boutique Hotels in Gozo
Should You Visit Malta in October?
I'm sure you know my opinion now! Malta is a great destination for some late sun, and I'd highly recommend visiting at this time of year over the height of summer.
Book a trip now before you miss out on the best hotels and tours!
Here are my main reasons to visit Malta in October, but I have also noted some negatives that you need to consider when planning to come!
Pros
Weather – plenty of sunshine
Great hotel options + cheaper room rates
Tour companies lower prices
Less busy as it's not peak tourist season
Cons
Weather (can be rainy for the week you visit!)
Nightlife is quieter with fewer tourists
Some tours/activities might be cancelled or stopped at this time of year due to minimal customers
Is Malta hot in October?
October enjoys plenty of sun and heat. The average temperatures range from around 18°C/65°F to 25°C/77°F – but remember than includes overnight drops too! Malta does stay quite hot in October, especially the first two weeks.
Is Malta busy in October?
Malta is slowly entering its shoulder season by this time of year, so there are fewer international tourists around and the locals seem to stay at home more too. There are enough people around for you to feel like you're not alone, but not so many that you're claustrophobic and you can't get served in a bar!
What time is sunset in Malta in October?
The sun begins to set at around 6.45pm at the beginning of the month, and by the end it is setting at what would have been 6.10pm – but Daylight Savings Time ends so its 5.10pm!
Does it rain in Malta in October?
It is sunny more often than it is rainy, but sometimes there are intense thunderstorms that release a huge downpour for a few hours before moving on and letting the sun back out!
Are there mosquitos in Malta in October?
You might feel a sneaky few bites from a mosquito at this time of year, but it's the last month that they're active so you also might never be bothered by them at all!
Have I convinced you to visit Malta in October? Let us know in the comments if you're arranging to go! Don't forget to watch our YouTube videos on Malta to help with your planning too.