Lovers Leap Nuwara Eliya is the closest waterfall to the town and the easiest to get to. Read on to find out how to get there and make the most of your visit.
Necessary Spacing
Lovers Leap falls are best visited in the rainy season (May – September).
The walk is one of the highlights so it is worth visiting even in the dry season.
Get a tuk-tuk up to the start of the trail if you don't fancy a long walk.
You cannot swim in these falls as there is no pool and it is used as drinking water.
---
How To Get To Lovers Leap Nuwara Eliya
Tuk-Tuk
We recommend getting a tuk-tuk up to the drop off point for Lovers Leap. The drive up to the drop off point is not interesting and is quite a long way. If you are really into your walking and have time to spare then scroll down to see how to walk up to the falls.
Read More: How To Get To Nuwara Eliya From Ella
From the drop off point, it is a short walk on practically flat ground to the bottom of the falls. This is by far the easiest and most convenient way to get to Lovers Leap falls.
You shouldn't need a map of the drop-off point, just ask any tuk-tuk driver to take you to Lovers Leap. However, if they want to know exactly where to take you then I have provided a location below. Remember to ask them to stay at the drop-off point for you as you'll be walking a long way back if they leave.
---
Book your favourite hotel here

Where will you go?
---
Walking
I was surprised to see many people advising to walk to Lovers Leap falls from the town. I agree that the countryside is beautiful but the majority of the road up to the falls is steep and not that beautiful. However, I do agree that the last part, on the gravel is.
Either way, it is quite a straightforward walk, so if you have some time then follow the map below. The map takes you to the start of a little path that takes you directly to the falls.
Cycling
There are a few bike hire shops in Nuwara Eliya and the prices are always pretty good. If you are thinking of cycling up to the Lovers Leap waterfall then I would suggest getting a geared bike as this will make it easier to get up the slight hill. However, you should be ok either way.
The gravel path at the end of the route is very holey so remember to be careful! You can use the map above for directions.
Read More: Ella To Kandy – With A Stop at Nuwara Eliya In The Middle
---
Our Experience Of Lovers Leap Falls
I had read quite a lot of different reviews of Lovers Leap waterfall so I didn't really know what to expect whilst we were travelling up. We opted to get a tuk-tuk for the majority of the distance and walk from the drop-off point.
The tuk-tuk drive got really bumpy for the final portion of the trip over the gravel but I think that only added to the experience. We are both tall and you have to try and judge the bumps on the road so you don't put your head through the roof of the tuk-tuk. Actually more fun than it sounds!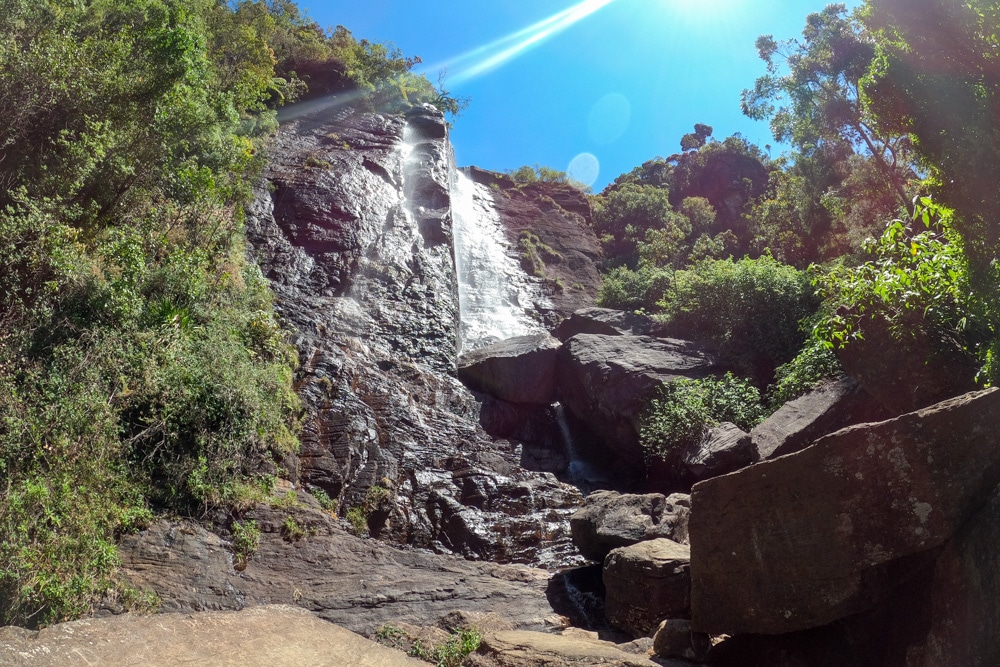 Once we got to the drop-off point, we noticed the gorgeous view you get of Nuwara Eliya in the distance. There is an obvious path leading from the drop-off point up to the waterfall. Just follow this and eventually you will arrive. Enjoy the walk as this is actually one of the highlights of the Lovers Leap waterfall.
Once you get to Lovers Leap waterfall you will be faced with a razor-wire fence and large rocks barring your entrance to the falls. This was strange as I hadn't heard anything about not being allowed near the waterfall. I read the sign that was nearby and there was nothing saying you are not allowed to get closer.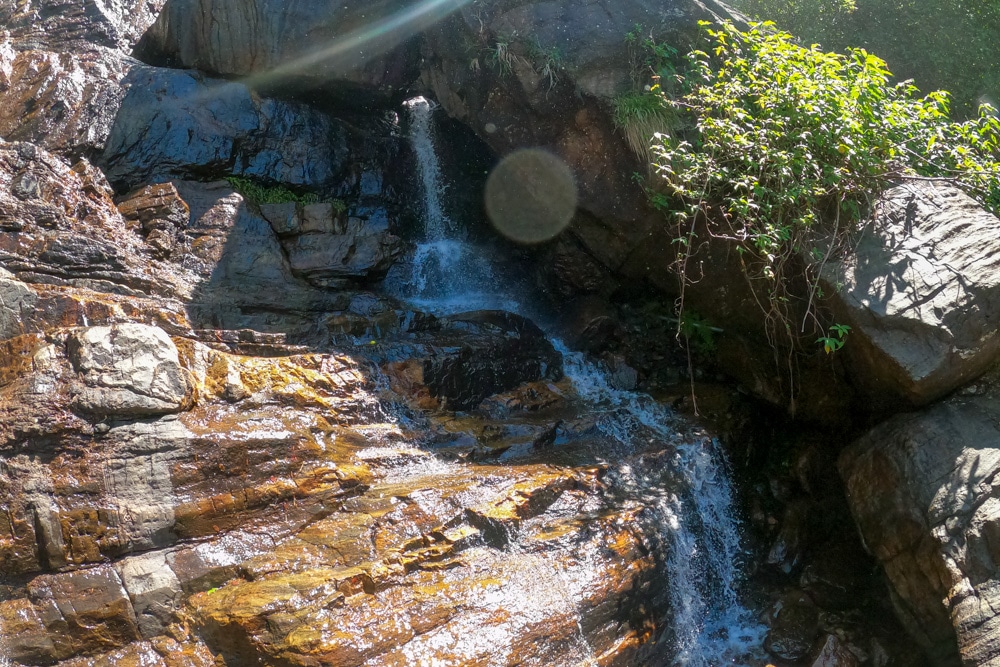 Many other people were also past the fence and there was a clear way through so we decided to take a closer look.
My first impressions of Lovers Leap Nuwara Eliya were quite underwhelming. There is no pool that the water falls into and the flow was pretty low. There was quite a lot of rubbish in and around the falls which slightly ruined the ambience and was also worrying as it is collected and used as drinking water.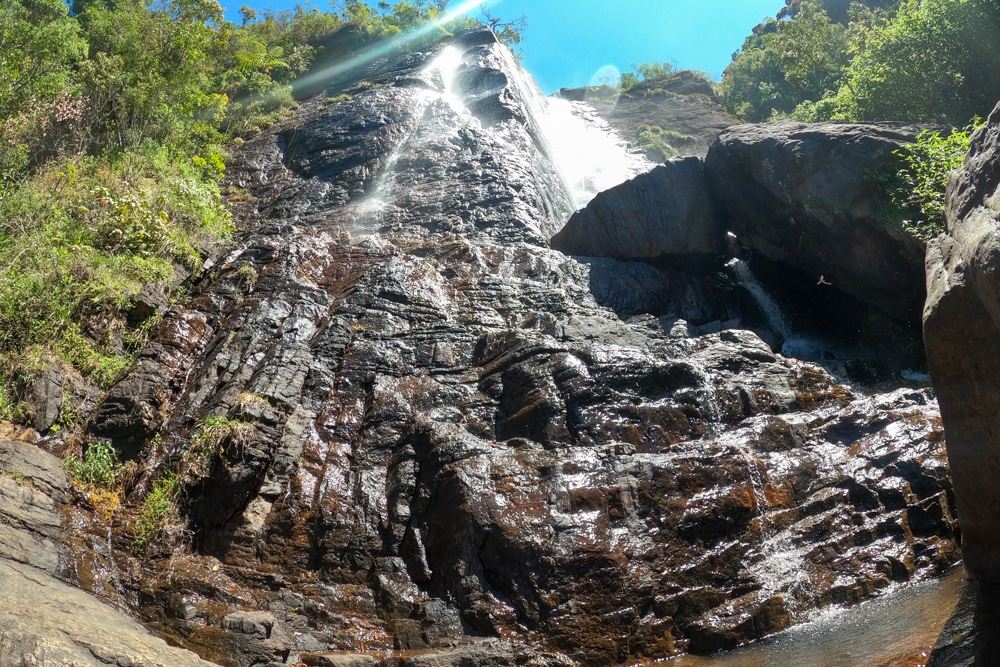 However, the views from Lovers Leap Falls saved the day! Wherever you stand you get incredible views of the valley and Nuwara Eliya town. I think it is very worth coming up just for that. We also came during the dry season which is the main reason for the lack of flow. During the wet season (May – September) the flow is much higher and the falls become a little more spectacular.
Overall, I think Lovers Leap Nuwara Eliya is worth a visit but don't expect too much from the waterfall itself, come for the spectacular views.
Read More: The Incredible Yala Safari Guide
History Of Lovers Leap Nuwara Eliya
It is said that a Prince was hunting in the forests in the area and came across a beautiful girl from a local village. The Prince immediately fell in love with her and they asked the Prince's parents for their blessing.
Unfortunately, this was not forthcoming and they were told that they could not be together. In their despair, they met at the top of the waterfall and leapt to their deaths so they could be together.
Superstitious locals still avoid the waterfall at night to this day. They say that you can still see the ghosts of the lovers in the moonlight.
---
Tips For Lovers Leap Nuwara Eliya
Wear Decent Shoes – If you are planning to walk all the way from town then I recommend closed-toe shoes. You don't have to be wearing walking boots or anything crazy. I walked in Vans and they were perfectly adequate.
Bring A Picnic – If you have got a tuk-tuk to the drop off point then the driver may not wait around for you to finish a picnic, however, if you have walked to the falls then definitely bring a picnic to enjoy with a view!
---
Book your favourite hotel here

Where will you go?
---
Don't Bring A Swimsuit – There is nowhere to swim and you are not allowed to get into the water itself so don't carry extra baggage you don't need to.
Wear Sunscreen – A lot of the walk does not come with any shade so it is quite important to protect yourself from the sun during this walk.
Go During Rainy Season – This is when Lovers Leap Nuwara Eliya is at its absolute best.
Ask The Tuk-Tuk Driver To Wait – If you don't want to walk all the way back to town then ask your tuk-tuk driver to wait at the drop off point. There is no way to call a new tuk-tuk from the top. This includes apps such as Pik Me or Uber.
Read More: Fancy Driving A Tuk-Tuk? Check Out How Here!
---
Where To Stay In Nuwara Eliya
Budget Accommodation – Siril Guesthouse
If you're looking for a decent (very decent) and affordable guesthouse in Nuwara Eliya then look no further.
Siril Guesthouse offers loads of room options, including private rooms and mixed dorms. Definitely check out some images and reviews here.
---
Check Out The Reviews Of Siril Guesthouse Here
---
Luxury Villa Accommodation – Atulya Villa
We stayed at Atulya Villa in Nuwara Eliya and I've got to say, it is absolutely brilliant. The staff helped us with everything we possibly needed and the Villa and the grounds are perfect.
I highly recommend staying here for a few days to really bring together your Nuwara Eliya trip.
---
Check Out The Reviews Of Atulya Villa Here
---
Things To Do In Nuwara Eliya
Boating On Gregory Lake
Get down to Gregory Lake and hire yourself a swan peddle boat! Do not get swindled by the salesmen down by the water. They are asking for 3000LKRs for 30 minutes in a pedal boat and that is insane. We haggled and got 1 hour for 1500LKR's, a much more reasonable deal.
You could also get on a speed boat or jet ski if you really want.
Cycling Around The Lake
If you take a short walk around the lake you will come across someone renting out some bikes. We got a bike for an hour and cycled around the lake which was genuinely a lovely experience. the weather is perfect up in Nuwara Eliya.
Read More: The Best Cycling Tours in Sri Lanka!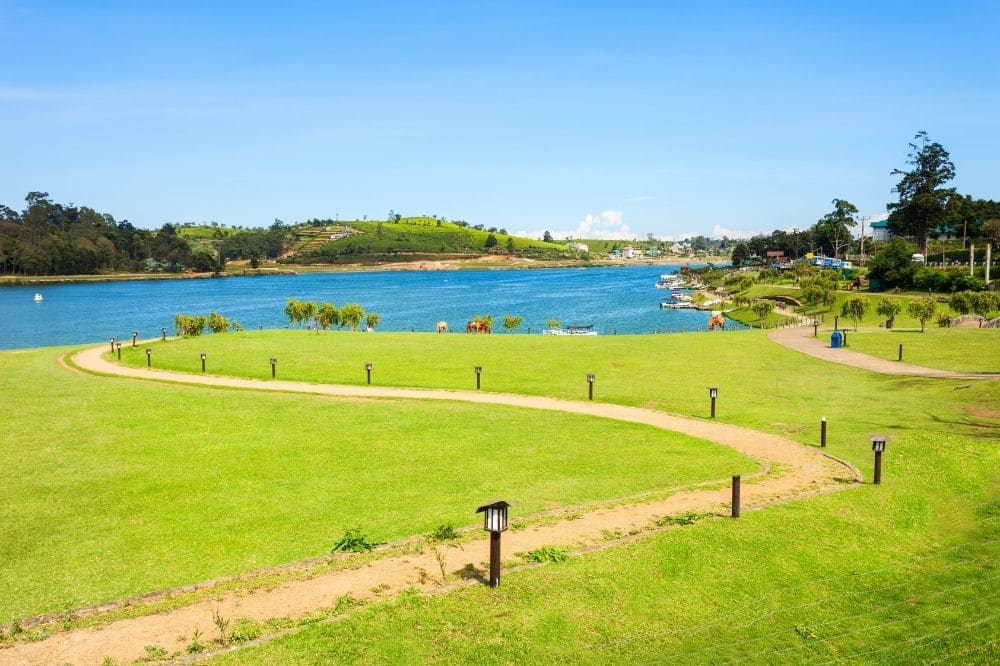 Visiting The Grand Hotel (Multiple Times)
The food at the Grand Hotel is incomparable to anywhere else in Nuwara Eliya and they hardly charge a penny more. I'm not joking either, our accommodation was charging around 1500LKR's for a meal and that is what you can expect at the Grand Hotel. I'll let you guess which was better (and by a long way too!)
They have multiple restaurants serving cuisine from around the world, multiple bars and you can get high tea in the afternoon. We chose to get the celebration high tea and actually sat in a special area next to the fountain reserved for high tea customers.
I highly recommend going up to The Grand during your stay, and spend at least one night there!
---
Check Out The Reviews Of The Grand Hotel Here
---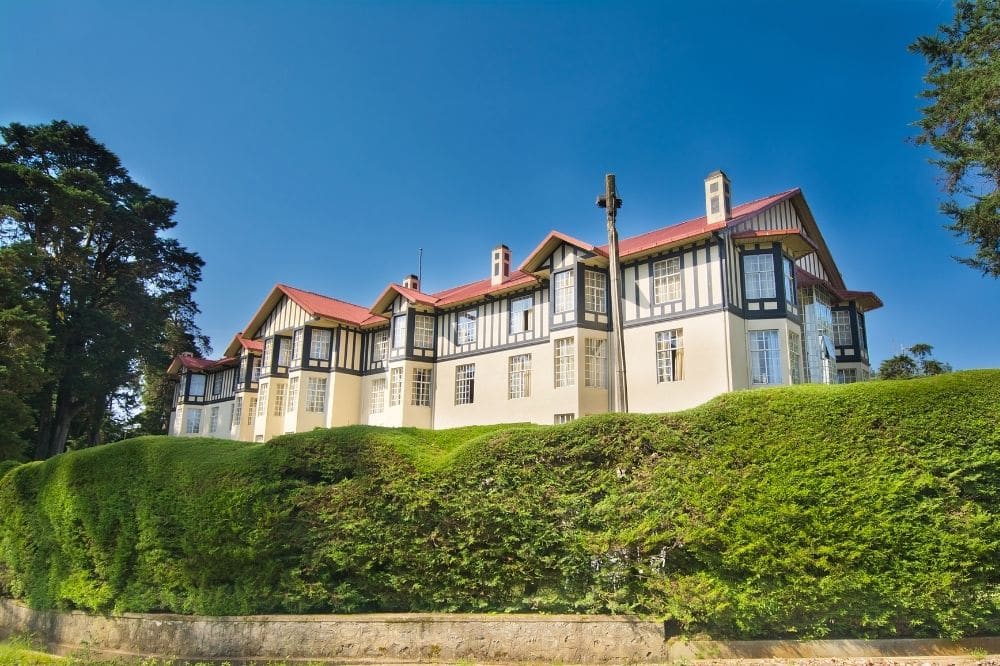 Tea Plantation
There are a couple of Tea Plantations in Nuwara Eliya where you can go and see how the tea is made and processed as well as try some fresh tea with gorgeous views. We went to a tea plantation in Ella so didn't in Nuwara Eliya but you should definitely check it out!
Victoria Park
This is one of the most beautiful places in all of Nuwara Eliya and is a must-visit if you fancy a quiet and peaceful walk through lush gardens. It's a great place for families too as there is a play area for kids as well as a train ride around the park.
---
Frequently Asked Questions
Is Lovers Leap Nuwara Eliya Worth It?
I think the waterfall itself is not that spectacular, especially in the dry season. However, I recommend visiting for the views alone, they are incredible.
How Much Time Should I Spend At Lovers Leap Falls?
I think 30 minutes at the falls is plenty of time to enjoy them. If you take a picnic then I recommend spending around an hour at the falls.
How Long Does It Take To Get To Lovers Leap Waterfall?
If you get a tuk-tuk to the drop off point then the walk is barely 10 minutes. If you walk all the way from town then it depends on where you start but roughly a 1-hour walk there and back.
Why Is Lovers Leap Nuwara Eliya Called Lovers Leap?
It is said that a Prince and local girl were not given permission to be together so they leapt to their deaths from the top of the falls, hence the name.
---
I hope this Lovers Leap Nuwara Eliya guide has been helpful! If it has then let us know in the comments section below! Also, let us know if there is anything you think would make this guide better and we can update the guide.
---