For the vast majority of us, moving to a town with a population of 4000 is daunting, and 4000 is actually still relatively high in terms of how low the population can go out here in the rural Australian Outback. Have a read to see what you can expect to experience!
Necessary Spacing
Book a hostel in a big city so that you have somewhere to stay whilst you look for work
Buy decent sunscreen because the sun down under is no joke!
Hire a campervan once you've finished your work and treat yourself to a trip around Australia.
One of our main issues/worries about coming to the outback was how we will cope with things like; the heat, the isolation and the lack of things to do. But after being here for 3 months we can safely say it's how you spend your own time that will affect whether you enjoy it or go full-on cabin fever.
Work
It's safe to say that you'll be coming out here to do some rural work, for example on a farm or in a hotel/pub, so for the vast amount of your days you'll be working.
Some people I know out here work 7 days a week every week because there is nothing else to do so they might as well make some money. I personally couldn't do that, I like to know I have a day off or a lie-in around the corner as it breaks the week up for me.
However, it goes without saying that the more time you work the less time you'll be trying to find something to do.
The Weather
We are here all the way through the Australian summer so we are feeling the most the outback can throw at us. The hottest it has been so far is 46oC but I have been warned that eventually, it will hit 50oC. We have air conditioning inside the pub so during the day everybody basically hides indoors.
The heat is not the main issue however! The UV in Australia is famously high and most days is registered as extreme. There are some of you out there that try to get quick fix tans by every now and again not applying sun cream or putting on oils with a low protection rating. This is not the place to do it. I have been outside for 20 minutes, in a t-shirt, and have burnt my arms.
Activities
Depending on where you go there will be different things to do in town. Watching a film at the cinema will probably not be high on that list. It's a 6-hour round trip from here to have a movie night. However communal pools and walks will probably be available to you.
Having a drink in the evening might also be something you find yourself doing more and more frequently, especially if you drink wine. You can pick up a nice bottle for around AU$7 and a box of wine (GOON) for AU$12-20. If you can deal with the goon hangovers then you'll be good to roll.
Isolation
If you start feeling trapped it is not easily rectified. The next closest town to us is 3.5 hours to the east and 4 hours to the west. You cannot simply wake up one day and get out of town for a bit.
If you're someone that easily gets homesick or lonely then I would strongly advise travelling with a friend or trying somewhere more urban before venturing out here.
Wildlife
As you'll know, Australia is home to the kangaroo. I, however, did not know how many of them there are. They are so numerous that they are considered a pest and, to put it even more into perspective, every single person I have ever spoken to about it has hit one whilst travelling on the road.
A friend of mine was recently bitten by a White Tail Spider (not where we live but in another outback area). He had to put cream on his bite constantly as it is a flesh-eating venom and was eating away at his wrist. It sounds more dramatic than it is and he was totally fine.
A few days ago an Eastern Brown Snake was on the pavement outside our pub. This particular snake is the 2nd most venomous snake in the world. The snake was killed on-site as is customary for venomous snakes in the outback.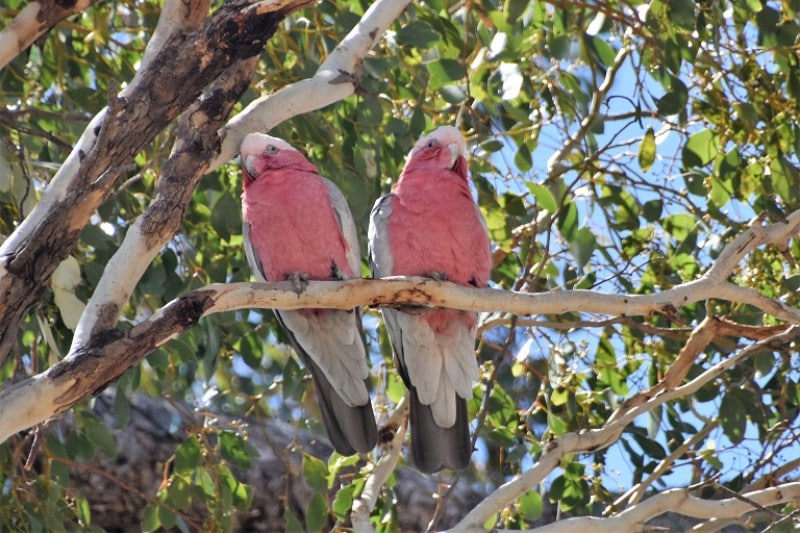 I am an animal lover myself and completely disagree with any sort of violence towards animals. If you are going to come to the outback you have to be prepared for certain things that will happen whilst you are here.
The killing of venomous snakes on site is one of the easier ones to take. They have the ability to quite easily kill anyone, from a child to a healthy adult. You could argue catch and release but that endangers the person who is trying to handle this deadly creature. However, pigging is something you will come across that might affect you more.
Pigging
Simply it is a sport very similar to the, now illegal, sport of fox-hunting in the UK. The only difference is it is wild Pigs and Boars that are being hunted and not foxes. People hunt the pigs on quad bikes or motorbikes with a collection of dogs and when the dogs catch and maim the pig then the hunters cut its throat with a large knife.
Because the boar or pig is often diseased the hunters leave the pig where it is and move on. Some of these hunters keep the blood covering their hands and arms. When we worked in our first outback pub for a week (a particularly popular area for pigging groups) people would come in every day covered in blood and spend 2-3 hours drinking beer without washing it off.
Moreover, if you use dating apps such as Tinder then be prepared for many pictures of people holding up the head of a very large dead pig as their profile picture.
This post isn't here to argue what is right or wrong, just to warn you what you will encounter being in the outback of Australia. In our second pub, a much larger one where we currently stay in Cobar, I have not seen a single person with blood on their hands or even talk much about pigging. So you might not experience this.
The Positives
I thought I would round off the post with the positives of outback living. Going from Beijing (one of the largest cities on the planet), to Cobar in the Outback gives us a unique perspective.
You can do and see just about anything in complete peace. The space you are granted with such a low population density is truly wonderful if that's what you want and a city can simply not provide.
It is also a wondrous way to save money. You'll find there just isn't anything to waste your money on. If saving for your ultimate road trip is the goal then the Outback should be your destination.
And finally, something I have found about relative isolation, you make extraordinarily good friends. You live in such close proximity to people that when you do hit it off with someone then the friendship is much stronger than I have felt before. I suppose this is because if you can be friends with someone whilst basically living in their shadow then you might really have a connection.
---
---
Have you got any more advice for people looking to move out to the Outback and work? Do you have any questions for us about things I haven't covered? Please leave a comment in the section below!