There's nothing better than cruising the stunning waters and relaxing in the sunset on Langkawi. Here are the best Langkawi sunset cruises available right now.
Langkawi Sunset Cruise Experience
This Langkawi sunset cruise is the highest-rated sunset experience on the whole island. We simply had to check it out! Our experience was absolutely 5 stars and we couldn't improve anything about it. The price is fantastic, the staff are great, and the sunset was superb. Check out availability and how to book here!
---
The Perfect Langkawi Sunset Cruise
We obviously think the Langkawi sunset cruise we went on is the best. If you can't improve something then why look elsewhere? But maybe you've watched the video and you want something a little different.
Below is an in-depth review of the Langkawi sunset cruise that we went on and under that, all of the other best Langkawi sunset cruises currently available. Have fun and remember to click through any of the links or buttons to see prices and availability!
Read More: Incredible Kayaking Tours In Langkawi
---
Langkawi Sunset Cruise Experience
As you know, this is the sunset cruise we chose to book and experience. It is the highest-rated Langkawi sunset cruise by a LONG way. No other experience comes close to the number of reviews this experience has and the reviews are high.
To us, it was a no brainer
The cruise starts at Langkawi Yacht Club in Kuah. We decided to opt for the hotel transfers option as we had alcoholic drinks on the cruise so we couldn't use our hire car on this occasion. The pick-up was very punctual and the driver was very nice.
Depending on where you are staying, it may be cheaper to get a local taxi on Grab (android/apple) but you will need a local sim to get the Grab app working.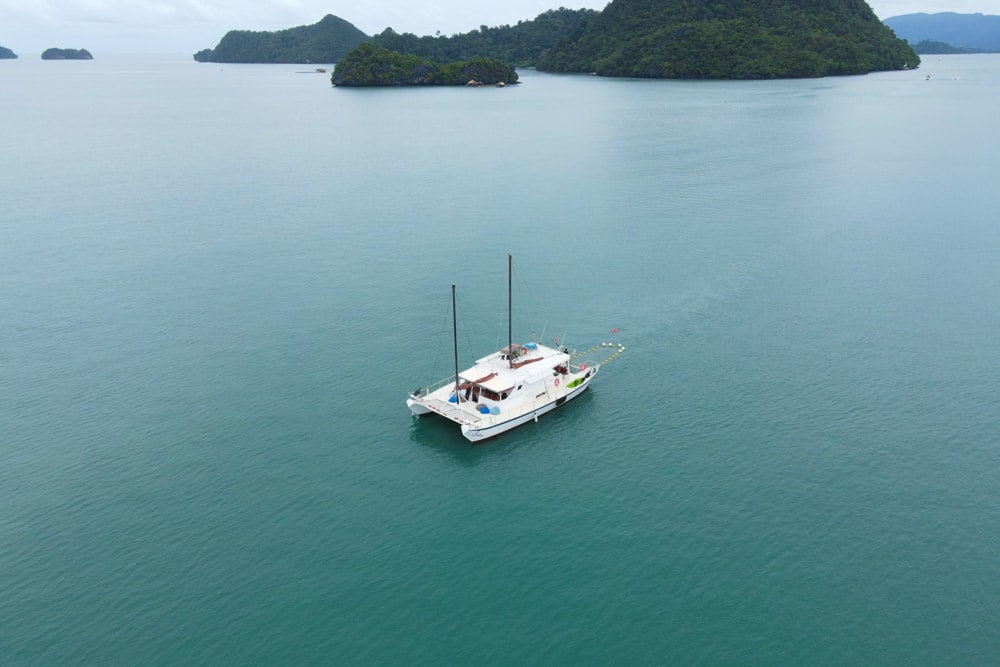 Once we were on the boat, we were immediately taken aback by how kind and funny all of the members of the staff were. Throughout the whole experience, they did everything they could for everyone on board.
Pro Tip
If you want the exact boat we went on then select the 'Sunset Dinner Cruise Only' or 'Sunset Dinner Cruise + Shared Hotel Transfers' options on Klook. The other options will be different boats. Based on the reviews, I am sure these other boats are fantastic though!
The activities we had were jumping in the saltwater jacuzzi and paddle boarding. You do not have to do either of these activities, so don't worry if you want to make yourself look good for a relaxing dinner cruise under the sunset and not have that ruined by falling off a paddleboard.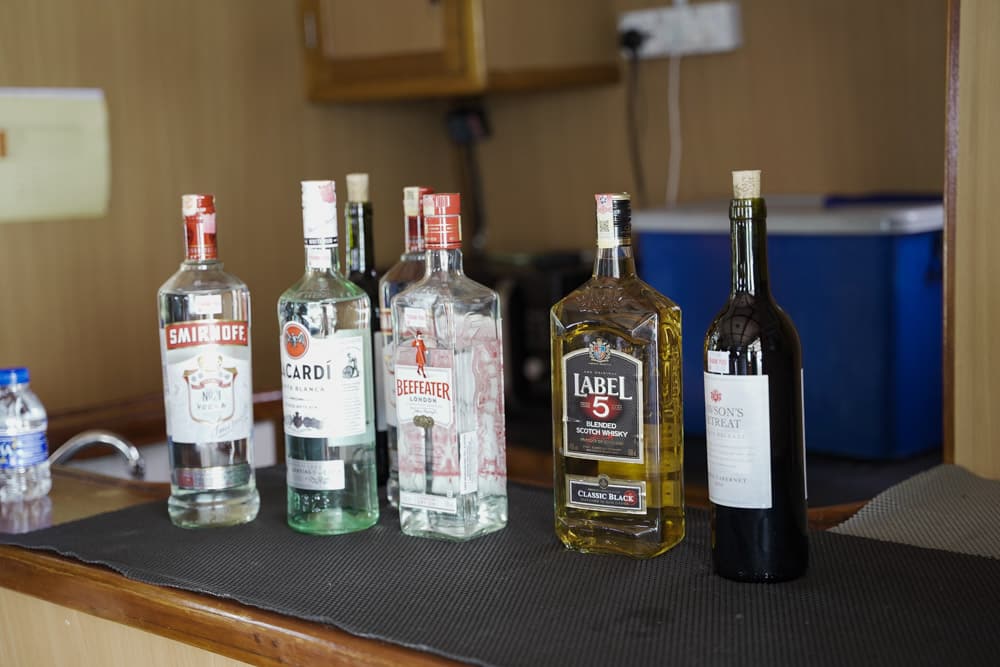 The alcohol consists of vodka, rum, gin, whiskey, and wine. These were on a help-yourself basis (the staff are unable to serve due to the Muslim faith) and that suited me perfectly. There are no queues or wait times, you just go up and pour yourself a drink.
The dinner was better than I expected. As I stated in the video, you can't expect a fine dining experience for this price. But, the food was pleasantly decent and a few of the items were downright excellent. For the price you pay, it is much better than it should be.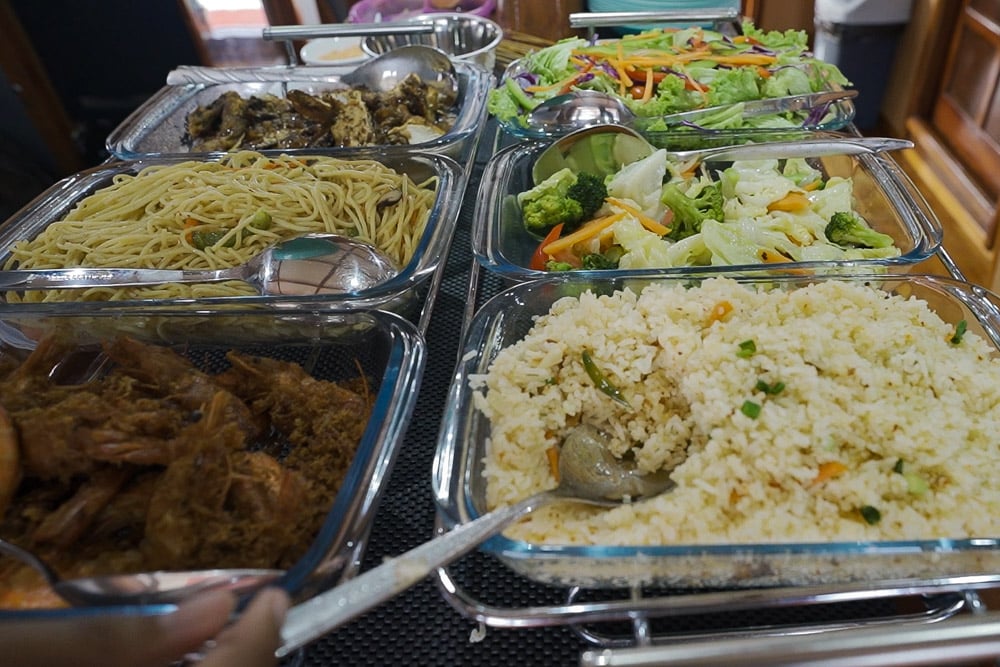 Eventually, the cruise makes it's way around close to where you started and this is where you stop in the bay for the sunset. This part is roughly an hour long and, if you have good weather, the views of the sunset over the bay are amazing.
We HIGHLY recommend this tour. It is one of the best tours we have been on when you take the price and duration into account. Check prices and book here now.
Key Information
Tour Duration: 4 Hours
Pickup Included: Yes (If Selected)
Age Suitable For: All
Tour Pace: Relaxed
Start Time: 4 pm
Dinner Included: Yes (If Selected)
Click here to check availability and prices.
---
Flying Foxes And Wetlands: Langkawi Sunset Cruise
This Langkawi sunset cruise is completely different from the one above. You are on a small wooden boat, traveling through the mangroves and seeing the incredible nature that Langkawi has to offer. The tour ends up at a secluded beach which is where you set up shop to watch the sunset.
This is where the 'flying foxes' part of the tour comes in as during the sunset, huge fruit bats come out and start encircling the island. If you have never seen a fruit bat then you will find out why they are called flying foxes. Truly a sight to behold. See availability and book here!
Key Information
Tour Duration: 2 Hours
Pickup Included: Yes
Age Suitable For: All
Tour Pace: Relaxed
Start Time: 5 pm
Dinner Included: No
Click here to check availability and prices.
---
Premium Sunset Dinner Cruise
This Langkawi sunset cruise is very similar to the one we booked. It is a nice catamaran vessel with drinks, dinner, and a sea jacuzzi included in the price. If our number one recommendation is not available then this is definitely an option.
They do advise throughout that this will be on a 'premium' catamaran so the price is higher than other Langkawi sunset tours. I, personally, don't think it is any more premium than many of the other sunset tours but you will be paying slightly more nevertheless. Check prices and availability here!
Key Information
Tour Duration: 4 Hours
Pickup Included: Yes (If Selected)
Age Suitable For: All
Tour Pace: Relaxed
Start Time: 4 pm
Dinner Included: Yes
Click here to check availability and prices.
---
Sunset Mangrove Cruise
This is a calm relaxing boat journey through the Kilim Geoforest Park to marvel at the incredible nature on offer in Langkawi's most famous nature park. Dinner is then provided on a floating platform where you can sit down and watch the sunset across this perfectly quiet landscape.
I recommend this tour for anyone wanting to see the Kilim Geoforest park as well as the gorgeous Langkawi sunset as it is the perfect option to knock two things off your list in one go. Check out prices and book here.
Key Information
Tour Duration: 4 Hours
Pickup Included: Yes
Age Suitable For: All
Tour Pace: Relaxed
Start Time: 4 pm
Dinner Included: Yes
Click here to check availability and prices.
---
Langkawi Sunset Kayaking
We also did this tour because we wanted to see the Kilim Geoforest park and absolutely love adventure activities like this. We actually wanted to do the kayaking most of all and the sunset was just an added bonus on the end. it ended up being the highlight of our entire trip.
You kayak through the mangroves (plant your own mangrove) visit a floating fish conservation platform and have dinner then go around to a secret beach where you are all on your own. Finally, you watch the sunset in the middle of the ocean in your kayak. A very unique and incredible Langkawi sunset cruise. See availability and book here now!
Key Information
Tour Duration: 4 Hours
Pickup Included: No
Age Suitable For: 8+
Tour Pace: Medium
Start Time: 4 pm
Dinner Included: Yes
Click here to check availability and prices.
---
Langkawi Andaman Sea Dinner Cruise
This Langkawi sunset cruise is also very similar to the top recommended tour in this post. You will likely be put on a catamaran with a slat water jacuzzi, free flow drinks, and bbq dinner. I cannot see anything that makes this tour special or stand out compared to the other options so I do not understand why it is SO much more expensive.
However, it is an option if all other experiences are full and you simply cannot miss it. Check out the price and booking options here.
Key Information
Tour Duration: 3 Hours
Pickup Included: Yes
Age Suitable For: All
Tour Pace: Relaxed
Start Time: 4 pm
Dinner Included: Yes
Click here to check availability and prices.
---
Private Langkawi Sunset Cruise
This is exactly the same experience we had but in complete privacy. Only your group will be on the boat. The price obviously reflects this but if you are in a large group (15 max) or you want the ultimate in luxury Langkawi sunset cruises, then there really isn't anything better. Check it out here.
---
Where To Stay In Langkawi
The Langkawi sunset tours start in different areas around the island so I do not recommend specifically getting accommodation next to the activity. With that in mind, here are 3 of my favorite Langkawi accommodation option. Remember to click through to see availability and prices.
Hostel
A brilliant hostel situated in the small beach town of Pantai Cenang. We stayed in this town during our stay and it is a fantastic option for the whole island. This is definitely THE choice on the island for hostel.
Villa
A quite spectacular villa complex where you can get a whole villa for yourself for an insanely affordable price. The complex is also situated in Pantai Cenang and has a pool, amongst other facilities.
5* Super Luxury
A truly breathtaking resort that is almost certainly the best place to stay in all of Langkawi. Boasting a mile-long private beach and stunning private villas, you cannot get better than this. Take a look at all of the facilities by clicking through the book now link below.
If the three options I have chosen do not suit you then have a look at the map below to see all of the available accommodation options on the island for your dates. Remember to put your dates in!
---
Packing For Your Langkawi Sunset Cruise
Here are a few things that I think everyone should be taking on their Langkawi sunset cruise. Everything is kept up to date so if you need anything on this list remember to click through to have a look at current prices. I have also included a packing essentials list at the bottom which has a few things that I think every traveler needs.
If you haven't already got a swimming costume then what the hell are you doing?! Have a look at this gorgeous high waist bikini and get a swimsuit before you leave. I absolutely love the dual colour option but there are loads of colour options available. Take a look here.
If you need some sunglasses then take a look at our recommended pair right here. Kev has just done 7 months without a pair because he couldn't find any he liked on the trip and it was just a lot of complaining about the sun. Don't be a Kev… Find out the price of not being a Kev right here.
If you're in the market for an action camera then our current recommendation is the GoPro Hero 9. Yes, the Hero 10 is currently the flagship but it doesn't have that much more than the Hero 9 and costs a lot more. The front-facing screen is a godsend for selfies and video and you get the famous GoPro durability and stabilisation that they are now renowned for. Check out current deals here.
If you're stuck on what kind of towel to take with you then take a look at this microfibre poncho. We absolutely love ours and it is insanely helpful when you need to change on the beach. They dry fast and pack down super small so you'll be able to fit one in your day pack easily enough. Check out the price here.
Jade really doesn't get on well with flip-flops so she always takes a couple of pairs of sandals (in case one pair breaks) on every trip we go on. We recommend checking out these CUSHIONAIR sandals which are comfortable, durable and affordable (the holy trinity!). We chose these because they are vegan suede but there are lots of different materials and colours to choose from. Check them out here!
If you don't have a camera then I HIGHLY recommend the Panasonic Lumix ZS70K. It is an affordable point-and-shoot camera that can be picked up and used by anyone of any ability. The camera captures gorgeous images and surprisingly excellent video whilst fitting in your pocket. The main difference between this and your phone's camera is that it also has an incredible optical zoom so you won't miss any of the shots you need to take. Check it out here.
---
Other Things To Do In Langkawi
Island Hopping
This was the single best activity we did in Malaysia when you factor in how much it costs. Check out the full article and watch the video below to see how amazing our day was! I simply have to recommend this tour 100%. Definitely do it whilst you are in Langkawi. Check out the insane price and availability here!
---
Mangrove Tour
The Kilim Geoforest Park is a must-see when you are in Langkawi and what better way to see it than cruising through the mangroves on a small boat or Kayak? Check out our full guide here to all of the ways you can see this beautiful place.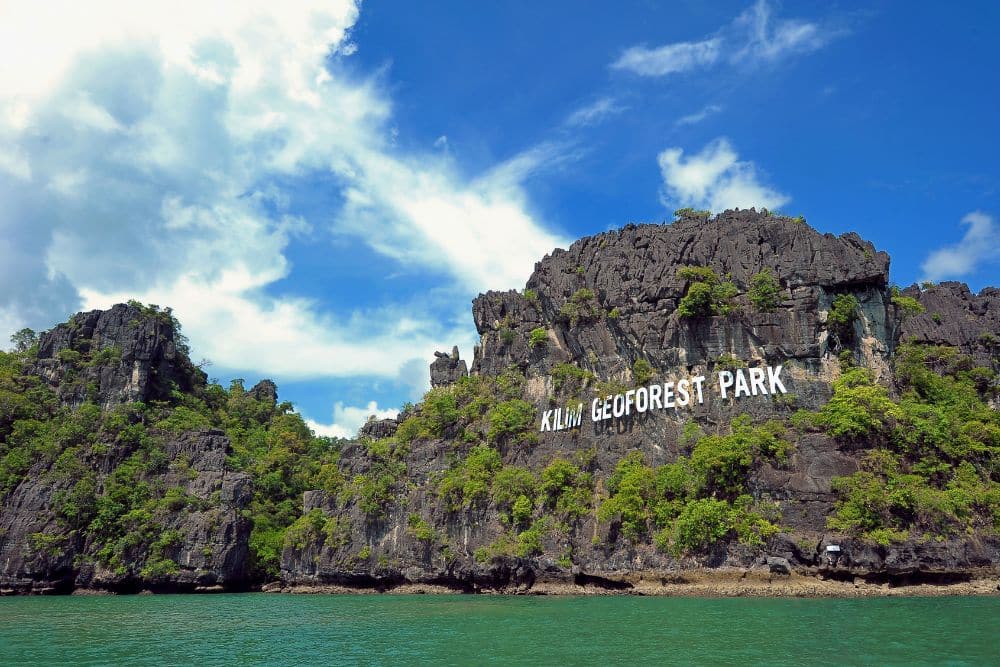 ---
Eagle Square
Eagle square has a huge statue of the Brahminy Kite, the island's official bird. It's quite a cool place to visit but I recommend only going if you are already in Kuah. This works out quite well for most of you as after booking your Langkawi sunset cruise you can come here to see the statue before jumping on your cruise in the evening!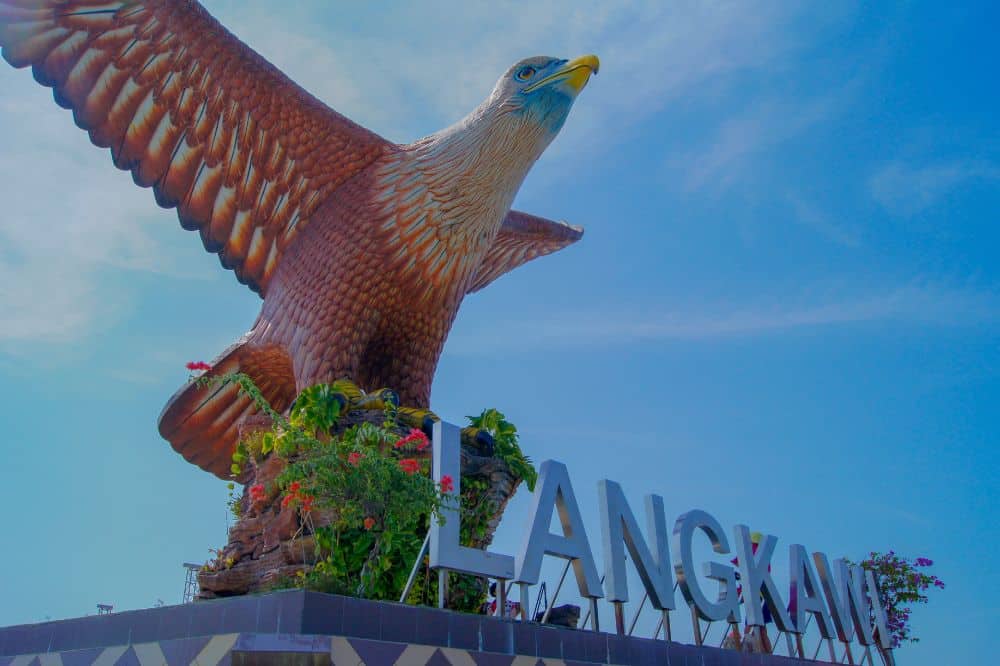 ---
Cable Car & Sky Bridge
The Langkawi Sky Cab covers a distance of 1700m and takes you all the way up to the mountains for the best scenery in all of Langkawi. Then, when you get to the top, you can walk the famous Langkawi sky bridge. This bridge spans over the peaks in the mountains and is truly a spectacular piece of engineering. Check out a tour of the cable car and sky bridge here.
---
Pantai Cenang Watersports
Pantai Cenang beach is where Jade and I stayed for our trip to Langkawi. The beach is unparalleled in all of Langkawi and is the number 1 place to enjoy loads of different watersport activities all year round.
The prices are really competitive and even if you don't want to come down and enjoy the watersports, you should come down to enjoy the beach at least. With gorgeous sand as far as the eyes can see and bars the whole length, its the perfect place to spend a day unwinding.
---
---
Frequently Asked Questions
What Is The Best Langkawi Sunset Cruise?
In our opinion, this sunset cruise is the best. It is also the most highly-rated sunset cruise on the internet so don't just take our word for it!
How Long Is A Langkawi Sunset Cruise?
Nearly all of the Langkawi sunset cruises available start at 4 pm and finish at 8 pm making it 4 hours long.
Is A Langkawi Sunset Cruise Good For Kids?
For kids older than 8 then I think a Langkawi sunset cruise is ab great activity. Any younger than that and they may get restless as the cruises are pretty relaxing with breaks in between the activities.
Is A Langkawi Sunset Cruise Good For Couples?
Definitely. I think this is the best activity that couples can do on the whole island.
How Much Is A Langkawi Sunset Cruise?
They differ in price substantially but if you are looking for a yacht/catamaran and you want food and drink included then you will be looking at $50-$60 per person
---
That is the end of our Langkawi sunset cruise article! I hope that this has been helpful and you managed to choose the perfect cruise for you. If it has been helpful or you have any feedback for us on how to make this article better, please let us know in the comments section below!
---