Visiting most western European countries usually comes with a hefty price tag and leaves a lot of travellers out of pocket after their trip. But is Malta expensive? Find out if you can travel to this beautiful country on a budget!
Read More: Planning The Perfect Honeymoon In Malta
---
Is Malta Expensive?
The answer to this question is going to be different for everybody – we all have different budgets, expectations and standards.
It's also difficult to answer directly because my honest answer is both yes and no!
Malta uses the Euro, and for reference, €1 = £0.85 or $1.13 (in November 2021).
You can definitely travel to Malta on a budget – we lived there for 4 weeks in an Airbnb, cooked most of our own meals and didn't go out partying. The average cost of living in Malta per month was €2,258/£1922/$2,563 (for two people).
That does sound like a lot, but it's €1129 per person, including a month's accommodation. Without accommodation, together we spent €1310 , which equates to €43 a day between us.
We didn't feel like we missed out on much with this budget – we did buy drinks, we went to restaurants and we visited lots of attractions too but we just chose wisely with how, when and where we spent our money!
If you were to visit Malta and stay in a hotel, eat out for every meal, get taxis everywhere and get drunk daily, then you can obviously expect to spend a lot more. That's not new information, but somewhere like Malta, you do have to be careful because one fun day out without a budget can really escalate!
Read through this article to find out which elements of a Maltese holiday are the most expensive, which are the cheapest and where you can save a bit of cash!
Read More: For Ultimate Savings, Check Out Our Camping In Malta Guide!
---
Is Malta Expensive For Accommodation?
This is usually where you will find your money escaping you at its fastest! The best thing to do is work out exactly where in Malta you want to stay first and then decide on your budget.
Read More: How To Decide On Where To Stay In Malta
There's no point in deciding that you want to spend €50 a night on a hotel room, to then discover that you'll have to share a dorm in a tiny village with no running water to even come close to spending that!
Don't worry, Malta DOES have running water but you catch my drift!
There is plenty of choice of where to stay in Malta, but obviously, it depends on what you're looking for from your holiday.
Don't shy away from cheaper-looking guesthouses – often these have super friendly staff who can give you local tips (read: budget-friendly tips!), offer breakfast included in the room rate and can get you discounts on things like car hire.
Or, if you're staying long-term then renting an apartment through Airbnb as we did is always a good choice.
You'll pay less per day, usually have a kitchen to cook for yourself and more space to live in.
However, be careful of added charges like the service + cleaning fees because they are easy to miss until it is time to pay and you've got your heart set on a place!
Approximate weekly cost: Anything from around €300/€350 to €1000+
Read More: 4 Days In Malta – Complete Guide
---
Most Expensive Areas in Malta
Prices for accommodation vary in Malta depending on the area.
Cities like the capital of Valletta, or the old fortified city of Mdina are definitely the most expensive places to stay.
Granted, they're probably also the most beautiful and interesting in terms of Maltese history, so it makes sense.
Valletta is doable for a few nights, but for anything longer than that, you're better off staying in nearby Sliema or Msida.
Mdina – well, it's literally a fortified city and there are 4 accommodation choices. It is an absolutely stunning place to visit, but it is INCREDIBLY expensive to stay in.
Treat yourself to a night but don't expect to spend your whole holiday here!
Here are a few recommendations for places to stay in both of these cities. Remember, everyone's "expensive" is different so I've added these because if you're only staying in Malta for 5 days, they might be in your price range.
If you're visiting Malta for a two-week holiday, then you will probably just want to skip ahead to the next section of the cheapest areas in Malta!
---
Valetta
Casa Asti
This is an example of one of the more budget-friendly places in Valletta.
You can see that Casa Asti looks clean and modern, but the rooms are quite small and there aren't any extras like a fridge in the room.
It's a pretty hotel and for the location, the nightly rate is decent.
---
It's located in the heart of the city, you get a private bathroom and facilities like a TV and minibar.
They have double/twin rooms for tighter budgets, as well as family suites with balconies if you are happy to spend a bit more.
Click here to check room availability and prices.
---
Rooms are spacious and cosy, with added extra touches like slippers and a coffee machine.
The superior suites have a balcony with wonderful city views, and the complimentary breakfast is excellent.
Browse and reserve your room here.
---
Mdina
Palazzo Bifora
This hotel not only has spacious suites with gorgeous city views but the option to have two meals catered as well. There's an outdoor swimming pool at Palazzo Bifora, as well as a bar and garden area.
Breakfast is included in all room rates.
Click here to check room rates and reviews.
---
St Agatha's Bastion
If you are travelling with a family or group of friends, then St Agatha's Bastion is a great option because the place sleeps 5 people.
It is a stunning apartment, with bathtubs, a fully equipped kitchen (with dishwasher and microwave!) and an outdoor pool.
Definitely consider booking here for a unique stay in Malta!
Click here to check availability and prices.
---
The Xara Palace Relais & Chateaux
You just know a place is going to be incredible when you see the word 'chateaux'!
The photos of Xara Palaces Relais & Chateaux speak for themselves.
The great thing about here is that yes, you can stay in the grand suite where you can pretend you're royalty, but there are also rooms catered for the more budget-conscious of us travellers!
It's by no means cheap – you're staying in a 17th-century building within Mdina – but if you're looking for a fancy location then this is a great option.
---
Cheapest Areas in Malta
There are some budget-friendly districts in Malta that are still pretty, fun and safe.
Although it's not on the typical backpacker trail, Malta does have some hostel options, as well as shared rooms in guesthouses and bed & breakfasts.
You're most likely to find cheaper accommodation in either St Paul's Bay (family orientated) or St Julian's (geared towards the party crowd). Of course, there are luxury options, but if you're counting pennies then you're in luck.
Stick to the centre of St Paul's Bay, or near the beach, and you'll find hundreds of hotels to pick from. There's lots to do nearby plus it is easy to get to other areas in Malta.
If you stay in St Julian's, Paceville is the most popular area for nightlife so if you're looking to head out to a new bar each evening then this is a good place to base yourself.
---
St Paul's Bay
Buccaneers Boutique Guest House
Choose from a variety of rooms (sleeping up to 4 people) and enjoy relaxing by the outdoor pool.
You've got the option to eat breakfast at the hotel, and you'll have your own private bathroom which is often not the case when paying less per night!
Click here to choose your room
---
Qawra Point Holiday Complex
Centrally located, it's got everything you need for a week's holiday – a pool, a kitchenette and a balcony.
There's free Wifi, a small games room and a bar on-site if you'd prefer to stay in one night!
---
St Julian's
Inhawi Boutique Hostel
Dormitory accommodation can often be unpleasant, but here at Inhawi Boutique Hostel, you'll be impressed by the clean, modern and spacious rooms.
It's located on the seafront, and amazingly, breakfast is included in the low price so you are already saving money on one meal each day!
You can choose whether to share in a 4, 6, 8, 10 or 12-bunk room, and females have the option to stay in a gendered room.
---
There's a pool, a lounge area, and you will have your own private bathroom which is something that is really important for a lot of travellers!
Spend your free time in the fitness centre, or alternatively, if you're anything like us, then head straight for the on-site bar!
You also get breakfast included in the room rate.
Read More: The Best Boutique Hotels In Gozo
---
Is Malta Expensive To Buy Food?
Food is an important factor to consider when planning out your budget – not only because, well it's food, but also because it's often quite hard to be realistic about what you are going to spend.
We can all easily plan an average daily budget of €20 for breakfast, lunch and dinner, but when you're hungry after a day of exploring and you walk past a pizzeria, how likely are you going to stick to it?
I'd always recommend overestimating food prices when travelling. Give yourself an amount to spend, and then a little extra for those treat days or unexpected last-minute meals.
Taking packed lunches for your days out and then eating in restaurants in the evening is a good plan because even though your sandwiches might look a little sad by 1 pm if you have something to look forward to later that day then you're less likely to buy something out during the day!
Even if you are okay with eating out for each meal, there are still ways that Malta can be budget-friendly.
---
Eating Out
The best budget tip for eating out in Malta is to of course go local. The price of food and drink in Malta can vary depending on your expectations and tastes!
Traditional Maltese snacks like pastizzi are usually no more than €0.60 and they're delicious and filling.
A ftira (a thick sandwich usually filled with meat or fish, tomato paste, capers and olives) is also a great cheap option. Portions are always huge and you can buy excellent ones at plenty of small restaurants everywhere in Malta. Expect to pay around €2 – €3 for one that will fill you up for hours.
Pizza is also a great choice because there's a huge influence from nearby Italy so you will easily be able to find somewhere serving good cheap pizza. However, most places offer theirs with a traditional Maltese spin – whether that's adding local sausage or Gozitan cheeslets.
However, Malta prices for eating out are quite high. You'll often pay over €15 for a main meal.
There are a lot of pubs that serve cheap and cheerful dishes like fish + chips, curries and burgers.
Many places do offer starter portion sizes of the main meals which are cheaper and often more than big enough.
Budget local food in Valletta: Museum Cafe (huge portions so you can split 1 dish between two of you)
Romantic place in Gozo: Al Sale (get the duck ragu!)
Beach club with cocktails in Mellieha: Blu Beach Club (Happy Hour is every day from 4 – 7 pm)
---
Supermarkets
If you're in self-catering accommodation, then you'll need to find the best supermarket nearby to stick up your kitchen.
It depends on where you are located because the chances are that you'll have to get a taxi back once you're laden with bags – so don't trawl the country looking for a cheaper supermarket and then just have to pay extra to get back home!
---
Book your favourite hotel here

Where will you go?
---
You might want to find a local shop to buy your fruit + vegetables from as the supermarkets tend to charge more and also wrap everything up in unnecessary plastic.
Wellbee's – used to be Valyou (best all-round supermarket)
Miracle Foods (mostly frozen foods)
Iceland (same as above)
Our first shop cost us €83.
That included everything for all our meals during the week, plus 9 litres of water (most people don't drink from the tap here as even though it's safe to, the taste isn't very good).
We did a full weekly shop each week and spent a similar amount.
We did eat out sometimes which meant we often had meals to be carried over to the next week, but in our shopping, there were always little extras (wine and chocolate mostly) that snuck in to keep our weekly spend up!
You can also get a loyalty card from Wellbee's but it's probably not worth it unless you're staying for a while.
Approximate weekly cost: Around €80 per week for a self-catering couple. A typical meal in a restaurant will cost from around €10 in a bar/pub to €15 for dinner in a nice restaurant
---
Is Malta Expensive To Explore?
There are so many amazing things to see and do in Malta. The great thing is that nothing is awfully expensive, and there are often deals to stretch your budget further.
Sightseeing
If you are looking to explore and see the famous sights around Malta by yourself, then you can definitely do that without it costing the earth.
Here are the prices for the top things to see and do around the islands!
Read More: Should You Visit Malta in October?
Visit Comino
The local ferry is €13, and you can either purchase tickets at the booth near the boat or online here. Hike, relax on the beach and swim in the Blue Lagoon for free. Or you can book a tour boat which is more fun and slightly more convenient here.
Visit Gozo
Get the ferry across for €4.65 (you only pay on your return to the mainland). Check the schedule here. Hire a car (see below because it's super cheap!) and explore the fantastic beaches + quaint villages for free.
Read More: The Top Beaches To Visit In Gozo
The Citadel in Victoria is a must-see and it's free to enter unless you want to see the museums inside as well which cost €5. Buy your tickets on the day or book them here.
There are some amazing dive sites surrounding Gozo – a half-day will set you back around €35.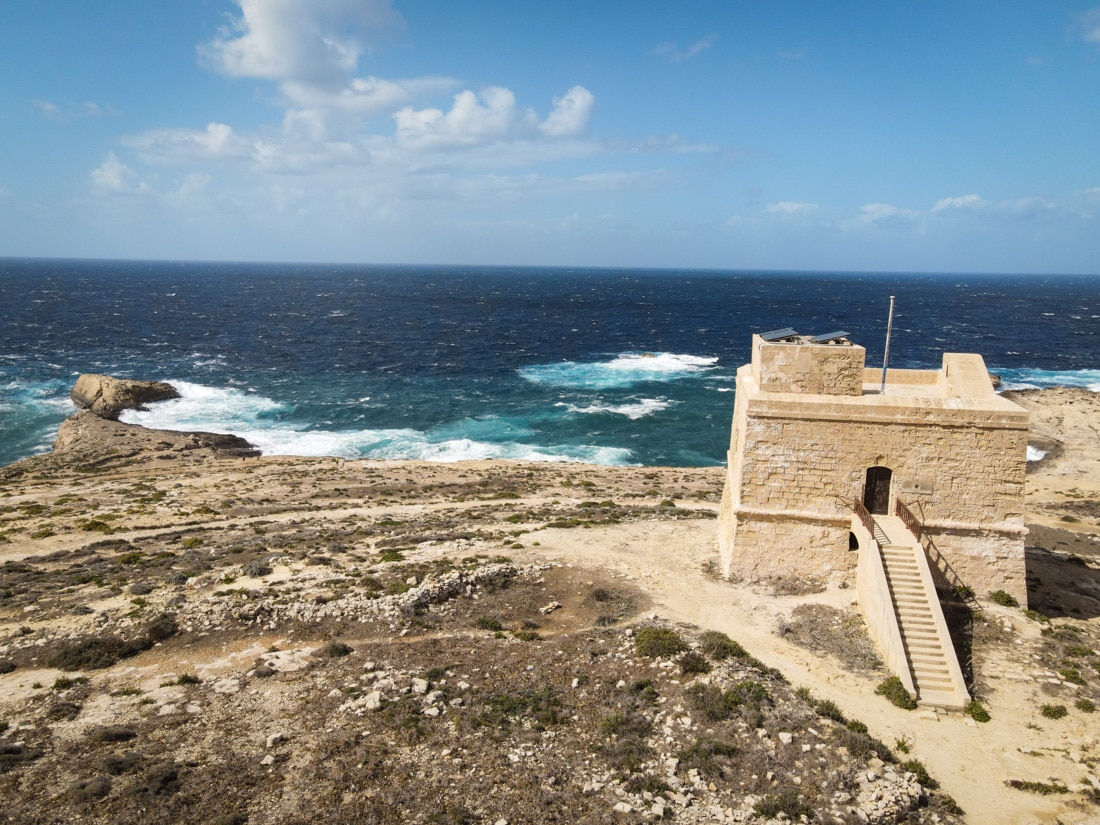 Popeye Village
Great for adults and kids alike, this is the movie set from the 1980 Popeye film! It's now a tourist attraction, set in a beautiful bay, and you can go around looking at all of the old sets.
Take your swimsuits because the water is gorgeous to swim in and there are inflatable obstacle courses.
In high season, it costs €18 for adults, and €14 for children aged 3 – 12. Book your tickets here.
Splash and Fun Water Park
Everyone loves a water park, and Splash has plenty to keep you entertained! It's not the most modern or fancy, but there are lots of slides, sunbeds, a wave pool and a lazy river.
In high season, tickets are €25 but if you would prefer to only spend a few hours there, you can arrive after 3pm and only pay €18.
Read More: The Best Water Parks in Malta
Explore the 3 Cities, Birgu, Senglea + Cospicua
Wandering around the 3 Cities is obviously free, but the best way to get there is by boat. There are two options – the ferry and the luzzu boats. The normal boat costs €2.80 for a return.
The luzzu boats are small fishing vessels similar to gondolas – with an engine on the back! It's €2 per person, and you'll often have to wait for at least 4 passengers for the boat to leave.
Fort St Elmo, Valletta
Malta has an incredible history so taking a visit to Fort St Elmo, which was built in 1552 to protect the island from the Ottoman empire, is not to be missed. It costs €10 for entry.
St John's Cathedral, Valletta
Built in the 1570s for the Knights of St John, this cathedral is simply stunning. It's €15 to get in, but worth every cent to see the incredible artwork and design. An audiobook is included in the entry price. You can also get an incredible walking tour of Valetta here.
The Red Tower
This stunning tower was built to warn the Maltese soldiers of an imminent attack from the north. It's the only one of its colour in the country and offers stunning views once you're at the top.
It costs €2.50 to enter (cash only) and under 12s go free.
Read More: How To Visit The Red Tower, Malta
Approximate weekly cost: Up to you depending on what you do!
---
Tours
Tours can often make your day easier, especially if you're not confident using public transport, or you'd rather someone plan out your day for you.
For example, you can definitely visit Comino Island without getting on a tour boat (we jumped on the local ferry for less money) BUT there are other perks that we missed out on.
On a tour boat, you often get a sunbed, a locker and snorkelling equipment. If you are happy to travel with the crowds, for the price it's probably worth getting a tour.
Read More: Everything You Need To Know About The Blue Lagoon in Malta
Walking tours are also cool because you are taken to places you'd never find on your own, and you usually learn some extra local knowledge from your guide.
Not all tours in Malta are crazily expensive either, so below I've listed the ones that I would recommend you take if you are planning on booking something anyway.
Best Tours in Malta
Comino: Blue Lagoon Trip (fun day out and not much extra than the normal ferry)
Gozo: Hop on Hop Off Sightseeing Tour (only if you aren't hiring a car)
Malta: Hop On Hop Off Sightseeing Tour (only if you haven't got lots of spare time and you don't want to use public transport)
---
Is Malta Expensive To Get Around?
Malta is extremely budget-friendly when it comes to public transport around the country. In Europe, hiring a private driver isn't common like it is in Asia, so if you want to visit different areas of Malta then you'll need to choose the best way to do it from the list below.
Malta is also a very small country which means that getting around is easy and quick.
Bike Hire
In the last few years, public bicycle-sharing schemes have become super popular.
You can pick up and drop off a bike in multiple locations, you can make use of a bicycle whenever you want (as opposed to hiring a bike and being tied to a specific amount of days) and it's relatively cheap for your short trips.
Pros
Cheap for short trips
Multiple city locations
No tie-in
Cons
Not all cities have pickup/drop-off locations
Longer trips can get expensive
In Malta, the most popular scheme is Nextbike. Download the app or sign up on the website here. You can even take a short 'bikeability' course if you aren't a confident rider yet!
For short daily rides, it costs €1.50 for the first 30 minutes, and it's €1 for every additional 30 minutes. If you're using the bikes for an afternoon ride, or to get from A to B then it works out quite cheaply.
It costs €18 for 24 hours though so it will add up if you take a bike in the morning, cycle across the country and then return it!
Buses
This is my favourite way to travel when we are abroad! In general, the positives heavily outweigh the negatives below.
Malta's bus system is great and there are lots of choices to buy different cards/tickets depending on what works out best for you.
Click here to check out the different tariffs.
Pros
Cheap
Regular buses with plenty of stops
You can save money if you travel regularly
App shows you bus times and locations of stops
Cons
Takes the longest to get anywhere
Taxis
We don't like to take too many taxis when we're travelling because prices are usually high for short trips and we'd rather spend our money on other things!
Our trips were usually around €5 for a 5-minute trip.
However, there are times where it is necessary – like when I mentioned earlier about bringing all the food shopping home from the supermarket. Or, if you have an early or super late night flight, taking a taxi is often the best option because nothing else is available.
---
Book your favourite hotel here

Where will you go?
---
You can use the Bolt app to order a cab – it's really easy to sign up and the cars aren't outrageously expensive. The drivers we had were super helpful, opening doors and taking in bags etc.
Download the app here.
You can also get taxis from the airport to various locations around the island, or use the local white taxis. Find out more information here.
Pros
Easiest
Lots of taxis available
Cons
Expensive when you're using it every day
You'll need internet to book on Bolt
Car Rental
This is a good way to get around the island, especially if you are splitting the average cost with a group. There are lots of different car rental companies all over Malta and Gozo, and I would recommend going local over an international company like Hertz.
We hired a car when we went go Gozo, and we were surprised at the cost.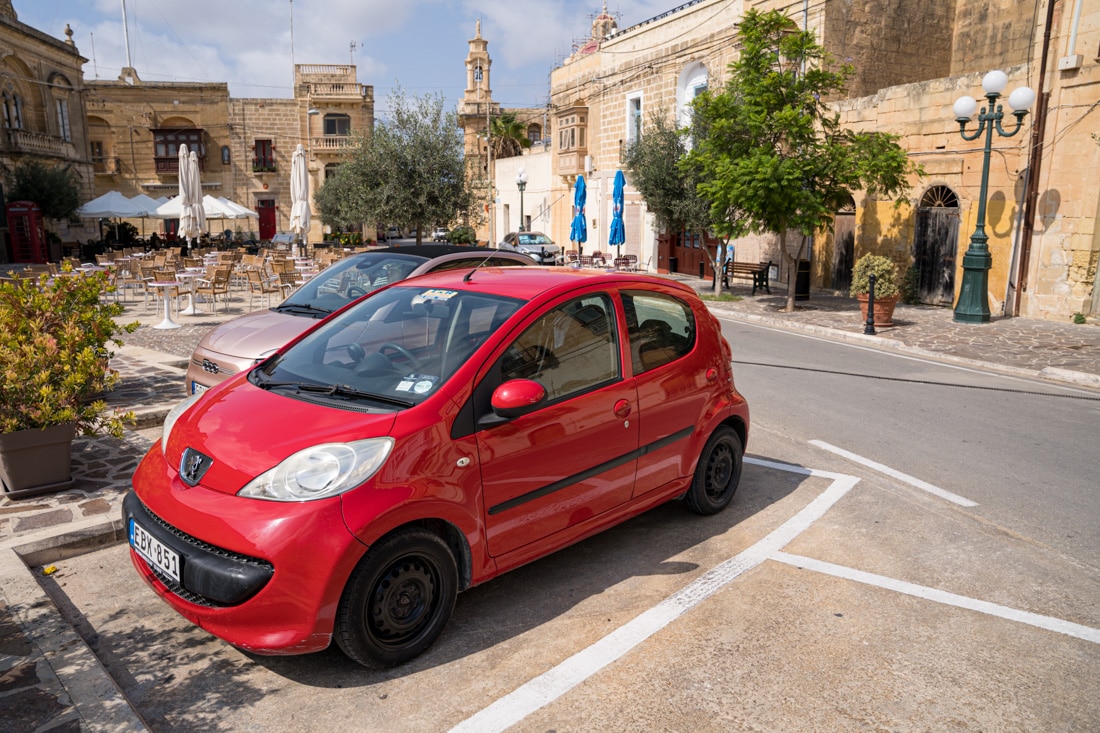 For three days, we spent €60 on our car. It meant that we could explore the whole island without having to rely on bus schedules or expensive taxi fares.
Don't forget that in Malta, people drive on the left so make sure you're comfortable doing that if you do hire a car!
Pros
Cheap for multiple days
You can explore places that buses can't go
Cons
You'll need a driving licence
Roads in Malta + Gozo are often very bumpy and uneven
Approximate weekly cost: From €15 for a weekly bus pass
Is Malta Expensive To Party?
Malta might not be on your radar as a party destination, but there is quite the buzzing nightlife to get to know! The main place you'll want to be is St Julian's – Paceville in particular.
There are bars, pubs, clubs, beach bars, rooftop bars, pool bars, festivals and casinos for you to enjoy – so as you can imagine, there is plenty of time to blow a huge chunk of your budget here!
You don't generally have to pay to enter places unless a specific event is happening. An exception to this is the pool clubs. You often have to pay an entry fee to get access to the pool and bar, and sometimes food + drink is included in this price.
Read More: How To Spend A Day By The Pool in Malta
Drinks prices vary from super cheap to overpriced. In a bar called Bellinii you can get 60 shots for €19.90 (they're watered down but this is still insane!).
You can also expect to pay pretty much the same for two glasses of wine in some of the posher bars so pick the type of place you want to spend an evening and adjust your budget accordingly!
Approximate weekly cost: Up to you depending on what you do!
---
Can You Travel Malta On A Budget?
So, in answer to the question 'is Malta expensive?' I would say no. Hotels, transportation and food is all available at low prices.
However, you do have to be careful and stick to your budget well, or you can easily spend money without realising. Malta can be quite an expensive country to travel if you aren't smart with your money, but it can easily be done on a tighter budget.
The tips for travelling to Malta without spending a lot are pretty much the same for anywhere!
Stay in simple accommodation with a kitchen so that you can cook your own food, keep nights out with alcohol to a minimum, use public transport and scope out the free museums/attractions before forking out money for things you don't need to see!
Is Malta expensive? You get to decide!
---
---
Are you planning a trip to Malta? Let us know what you're budgeting in the comments and we'll let you know if it's feasible or not!
---