This post may contain some affiliate links which means we can earn commission at no extra cost to you.
Visiting Iceland in November is an incredible experience. The country has astounding nature and beauty, super unique things to do and also an interesting history. Read on to find out why you should be exploring the land of fire and ice during November and score some top tips whilst you're here!
Iceland has been on our bucket list for years now. It intrigued us, and we were right to be drawn in because it truly is a captivating country.
There aren't many places in the world quite like it, and we are already planning to return. Whether you're interested in the scenery, the adrenaline activities or just the food (admit it), visiting Iceland in November is a great way to spend your holidays.
This post is full of tips and advice about travelling to Iceland travel in November. Click on the contents box below to jump straight to the information that you need, whether it's what to wear in Iceland in November, where to stay or finding more about the must-do Iceland winter tours.
Obviously, travel has been impacted over the past few years and in Iceland, it has been no different. Make sure you are up to date with all of the changes involving vaccinations, PCR test and eligibility to travel if you're booking a trip!
This website is by the far the best I've seen from any country – it asks you a few very simple questions and then lets you know if you're allowed in or not! Currently, you can visit Iceland if you either are a citizen/have residency, if you are fully vaccinated or if you have proof of recent recovery. 
You'll also have to have proof of a negative PCR test taken within 72 hours of departure to Iceland.
This may change so definitely keep checking the Icelandic government information to stay in the loop!
Why Should You Visit Iceland In November 2022?
Surprisingly, Iceland is a fantastic place to visit all year round. Considering that it's literally the land of ice, summer in Iceland is also a great time to come if you can't visit in winter.
Read More: 10 Reasons To Visit Iceland In June
However, the country really shows off during the colder months. If you can stand the chill and the dark days, you should be coming towards the end of the year.
Talking of light – there isn't much of it in November but I personally thought that it gave a magical feel to our Iceland trip when we were out driving around the ring road at 9 am and the sun hadn't risen yet! It's a weird experience but it does get you up and out of your accommodation so that you can fit everything in during the day.
Read More: Your Guide To Exploring Iceland In 4 Days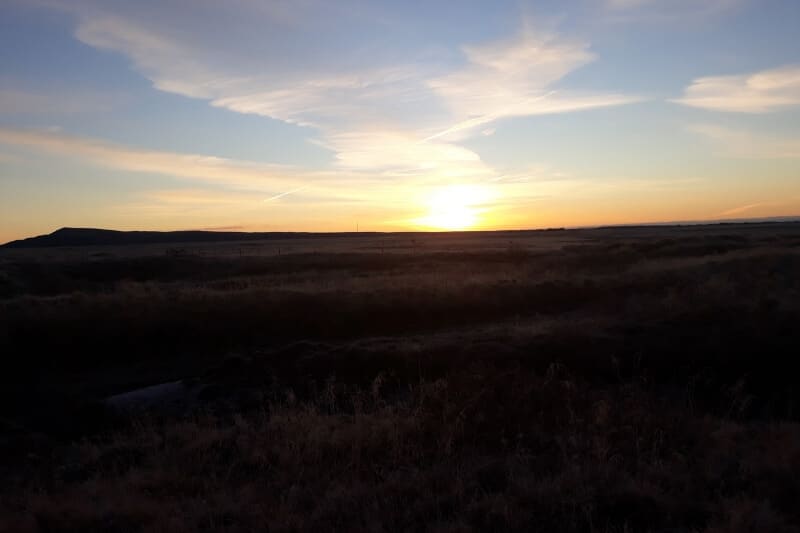 There are also some top things to do in Iceland in November that just wouldn't be possible during the summer months.
You can visit the ice caves, which are flooded after April when the ice melts.
The hot springs are also especially fun during the winter because you'll be standing in literally freezing temperatures one minute, and the next you'll be swimming in 40 degrees (104 Fahrenheit!). It's just not the same shock to the system in summer!
Visiting Iceland in the winter also means that there will generally be fewer tourists around, so you can have some beautiful spots to yourself for longer. Exploring a glacier lagoon is so much more breathtaking when you're alone! Of course, people will always be travelling to Iceland all-year-round but many people don't like to brave the winter months!
During November, it will be easier for you to get that Instagram shot next to a gushing waterfall, or book that dreamy Airbnb at a lower price.
Things To Do In Iceland In November
You certainly won't be without a fantastic Iceland itinerary in November, especially if you're only on a quick weekend break like many people are. We recommend at least 4 days in Iceland – get an early morning flight on day 1 and a late one on the way back so that you can make the most of your time there. That's easier said than done when you're travelling from further afield than Europe but you could easily add an Iceland itinerary to a longer trip.
Pro Tip
If you're flying from Europe, use Easyjet to book your flights as they're a cheap airline. Read the flights details carefully though as often the returning flight will actually be landing at a different airport than your departing one. It could lead to other travel issues or problems with picking up a car left at the wrong airport!
Here are our top picks of what to do in Iceland in November:
A Golden Circle Tour
This has got to be one of the most popular things to do in Iceland. We personally recommend hiring a car and doing it yourself, but if it's your first time driving in winter conditions or you haven't got a licence then there are plenty of guided tours that will take you to the same places.
You'll follow the famous ring road and visit Þingvellir National Park, the Geysir geothermal area and Gullfoss waterfall.
The National Park is a World Heritage Site where not only can you appreciate the incredible natural beauty of the area, but you discover the engrossing history of the early settlers and how Iceland gained independence in the 20th century.
Scuba dive or snorkel between two tectonic plates (you'll need to be certified for diving but you can snorkel as long as you can swim!), marvel at the waterfalls dotted around the park and follow a hiking trail to lead you some wonderful views. You can even camp here!
Less than an hour's drive from the park is the hot spring area where the original Geysir is located. It's unlikely it will erupt whilst you're there – it hasn't properly gone off in around 100 years. The more recent eruptions have been due to earthquake activity but it's not common. However, you WILL see the nearby Strokkur geyser explode and it's such an amazing sight!
You only have to wait 2 or 3 minutes and the boiling hot water will bubble up and launch into the air. The water can reach heights of around 30m – get that slow-mo ready!
Gullfoss waterfall is pretty close too – it literally takes 10 minutes to drive and there is plenty of parking.
Pro Tip
What I loved about all three of these attractions on the Golden Circle was that there was no messing about. You drive there, park up and you're treated to what you came for.
You don't have to walk miles from the car park or pay high entry fees to see the beautiful natural sights!
If you're on a tour, then you'll find that it will be expensive because Iceland is an expensive country in general.
But, if you've rented a car (which actually can be fairly priced) then you will see so much that you don't even have to pay for. The only thing we paid for on our Iceland vacation was our snowmobiling tour which we've talked about below!
The waterfall is loud and a little intimidating, but it's also magnificent. Be careful walking down the steps because they can get super slippery, especially if you're travelling to Iceland in winter.
You can get up close to the falls and you'll be sprayed with water but it's definitely a must-see attraction. Take a wander around the shop at the top. If you've booked one of these amazing snowmobiling tours, it's likely that you'll be picked up from the car park here.
Click here for more information on a Golden Circle Classic tour.
Glacier Caves
If you visit Iceland in November, you'll get the chance to visit an ice cave. During the warmer months, these caves flood because the ice melts. That means winter is the only time you'll be able to get there. Only go with a guide as these areas can be dangerous and unpredictable!
Pro Tip
There is a difference between ice caves and glacier caves. Read your tour description carefully so you know what to expect!
Ice caves – Natural caves with some ice inside
Glacier cave – Caves made purely out of ice (these tend to have that gorgeous blue colour!)
Christmas Shopping
Escaping the festive cheer is difficult at this time of year, but why would you ever want to!?
Iceland in November is full of Christmas markets, performances and activities. You might even spot one of the 13 Santa Claus' around town! If you're wondering what to do in Reykjavík in November, there are plenty of shopping opportunities and Christmas concerts to enjoy too.
Snorkelling/SCUBA Diving
The Silfra fissure is a rift in between the North American and Eurasian tectonic plates. Swimming in between the two plates means that you'll be next to two different continents – how's that for adventure!?
Situated in Þingvellir National Park, the world's clearest water waits ready for you to swim, snorkel or dive into. If you're a certified diver, then SCUBA diving in Iceland is a must-do activity. If you're not certified, then you can still join in the fun with your snorkelling gear.
Yes, it will be cold (around 2 – 4 degrees Celsisus, or 35 – 39 Farenheit) but you'll be required to wear a dry suit which will insulate your body. 
Northern Lights
We won't mess around because we all know why you're going – the Northern Lights. It can't be guaranteed because Mother Nature likes to toy with us.
However, visiting Iceland in November is going to give you a fair chance of spotting that elusive aurora borealis, or Northern Lights to the un-sciencey folk out there.
The long, dark nights are perfect for a viewing but the clouds can block the Lights out so just be aware of that when booking your Iceland trip.
If you are desperate to see the Northern Lights, joining a group tour is a really good idea. Of course, no one can promise that you'll see them, but with an experienced guide taking you to the best spots, you've got a better chance.
This Northern Lights Bus Tour gives you 4 hours to spot the famous green glow, and if you don't then you can book another trip the next day for free. You also get a cup of hot chocolate to keep you toasty! Click here for more information and prices of this tour.
Glacier Hiking
Fancy a bit of a challenging adventure? Hike a glacier and see what you're really made of! You can choose the level of difficulty when booking your hike, but you'll still be open to the elements. You'll be walking for at least 3 hours so you need to be reasonably fit. There are so many different types of glacier tour – from kayaking the glacial waters to walking deep down into the ice itself!
Hot Springs and the Blue Lagoon
You can't book a trip to Iceland without going to the Blue Lagoon! In November, the temperature levels drop but the water in the lagoon stays hot so it's really fun to swim in!
One option is to only visit the Blue Lagoon on its own, but if you want to make the most of your time in Iceland then you should definitely combine activities! You could see the Golden Circle, Kerid Crate AND the Blue Lagoon all in one trip if you want!
You'll be picked up by minibus and taken to the beautiful Golden Circle spots. Keep your camera out because the Kerid Crater is just as stunning too!
Then you'll be taken to relax at the Blue Lagoon where you can wind down the day with a mud mask and drink in the thermal waters! Find out more about this tour here.
You can go in the daytime when you'll get better photos. Or, go at night when there are fewer people around and there's an eerie magical feel to the place!
Included in the price are a towel, a silica mud mask and a drink at the swim-up bar. If you pay a little extra you'll get a dressing gown and another mineral, lava or algae face mask of your choice.
If you do decide to skip the Blue Lagoon, then there are plenty of other hot springs that you can experience. Iceland has an amazing amount of geothermal activity so you'll easily be able to find other springs that are not as popular.
Book your return transport here, or combine it with your entrance ticket here.
A once-in-a-lifetime experience is to stay overnight at the Blue Lagoon's own hotel – The Retreat. It's absolutely stunning, and some rooms give you direct access to the glossy blue waters of the Lagoon.
I'll admit, the suites are pricey but if you're celebrating a special occasion in Iceland and you've got the budget to blow, this is the place to do it!
Click here to see prices and reviews.
Snowmobiling
A super fun and mesmerising day, snowmobiling is the perfect Icelandic adventure. Crossing an incredible glacier and watching the sun go down whilst driving (or being driven if you're a nervous wreck like me!) has got to be high up on your Iceland bucket list.
If you're staying around Reykjavík, take a tour to Langjökull Glacier (Iceland's second-largest).
You'll be picked up at Gullfoss and driven to the base camp in a huge beast of a truck. From there you'll hop onto your snowmobiles and be treated to some incredible views from the glacier.
For much more information about all of the best snowmobiling tours available in Iceland and how to pick the perfect one for you then click here.
An Icelandic Helicopter Tour
If you want to seriously make your trip memorable then you could take to the skies and take a helicopter tour around some of the most incredible sights that you will ever see in your whole life. Iceland looks good from the ground but you can't even imagine the secrets it holds behind those impassable mountains and rugged terrains. 
Take a look at our ultimate guide to helicopter tours in Iceland for more information on the best helicopter tour for you!
Iceland Weather In November
No surprises here – Iceland is cold! However, at this time of year, it doesn't actually get as cold as you might expect considering how far north the country lies.
How cold does ic Iceland in November? Well, the average temperature for November in Iceland is between 1 and 4 degrees Celsius (38 – 41 Fahrenheit). The wind chill can be brutal though so make sure you are prepared for that with the clothes you pack. Windproof clothes are definitely something to consider!
To prepare for all weather scenarios, make sure you pack clothes that you can layer on. When you're hiking around in low temperatures, you can still get really hot so peeling off a thin jacket or some leg warmers would be helpful.
You don't want to only wear a thick jumper and then not be able to take it off to cool down! If you are thinking about visiting Iceland in November weather should be the first thing you think about when you're packing your bags!
There also aren't many daylight hours during this month. Towards the end, you might only see the sun for about 5 hours! It will seem like it's slowly coasting across the horizon, never fully going up.
We visited during the last week of November and the sun didn't rise until 10am!
What To Wear In Iceland In November
Be careful when you're packing because winter clothes will be bulky, but if you're only visiting Iceland for a long weekend then the chances are that you will only be carrying hand luggage on the flight.
Adding extra luggage to cheap flights can be expensive so try and wear your biggest items on the plane and always roll up your clothes in your bag to save space!
Here's our guide to what clothes you should wear in Iceland in November (remember that if you're visiting at a different time of year, you might need to bring less depending on how much you feel the cold!)
Waterproof Trousers
Buying waterproof trousers for Iceland should be a top priority. They should be flexible enough to move in, but sturdy enough to protect your legs from the elements! If you can buy a pair with a fleece layer inside – even better!
The temperatures in Iceland at this time of year don't drop to crazy minus numbers, but you will probably be outside a lot so you'll be thankful for the extra material.
These Camii Mia hiking trousers perfectly fit the bill for women, and they have decent pockets too! They're also a great choice because they're fitted so you don't have to sacrifice too much fashion for comfort (I can't promise that you'll win any Sexiest Traveller Of The Year Awards in these though!).
For men, this pair of Camel Crown Softshell Fleece Pants are such a good deal. Not only are they great value for money, but they have plenty of highly rated reviews online which always makes a product a winner in my book. They will protect you from rain and wind without being too heavy, and they also have an elasticated waistband which is ideal for when you enjoy a hearty traditional Icelandic meal!
Snow Boots
I recommend snow boots over normal hiking boots just for the added extra warmth.
It can make a huge difference to your day if you can't feel your toes, but with a pair of faux-fur lined snow boots like these Aleader ones, you'll stay toasty all day. They have a men's version too.
Windproof Coat
Not  only should your coat or jacket be waterproof, but it needs to shield you from the bitter wind too. It's more likely to be the wind that gives you problems because if it rains, you'll probably go inside. If  it's too windy, you shouldn't have to miss out on your activities just because you didn't dress properly! 
Choose something like this windproof rain jacket. It comes in lots of different colours so you can stand out against the ice if you want!
It's got plenty of handy pockets hidden inside and out, plus the cuffs and hood are adjustable. A men's version is available but it's basically the same coat – just fewer colour options and different pocket placement!
Earmuffs
I used to think earmuffs were reserved for children. That might still be true, but I am proud to join the earmuff club because they are so damn good at keeping my ears warm! I prefer them to wearing a hat because I have mental enough hair as it is.
Get your hands on some of these fluffy earmuffs to protect your ears from the biting cold. If you'd prefer something a little more stylish, you could try a head warmer like this instead.
Fleece Lined Hat
A hat is a staple for most people in their winter wardrobe. If you're not worried about crazy hat-hair like me, then a fleece-lined hat is the way forward. This cable knit beanie does the job perfectly because it covers your ears well too, plus there are over 25 colour options!
Fleece Lined Thermals
Can you tell I hate the cold!? Having an extra inner lining makes all the difference in the winter weather. These full thermal sets are super soft, breathable and come in different colours for you to show off when just chilling in your hotel! Click here for a male version too.
Water and Windproof Gloves
Is there anything worse than having cold fingers?! Maybe having warm fingers but not being able to use your phone? Well, if you're smart you can evade both of these problems by investing in some decent wind + waterproof gloves that have TouchScreen technology.
These highly-rated gloves for men + women are by a company called Cevapro and they're thin enough use on your phone and for driving, but thick enough to keep your hands comfortable. 
Warm Jumper
It's easy to get carried away when packing for Iceland because you think you'll be freezing the whole time. Whilst it is cold, the best idea is to wear layers so that you can take them off easily once you're inside or if you just get too warm. Wearing the thermals and then another normal sweatshirt on top like this makes it easier for you to regulate your own temperature.
Swimwear
It feels like the most unnatural thing in the world when you're packing for Iceland and you have to find a swimsuit to take. What might seems like madness though is actually really important! Iceland is known for its hot springs and outdoor swimming pool culture, so you're guaranteed to find a time to wear it!
In fact, the only time you might feel like a swimming costume is unnecessary is when you visit ta natural hot spring and all of the Icelanders are naked!! It's not weird – it's about being hygienic and not spreading germs into the water! Not everyone will want to be nude, and that's fine, but if there's nobody about then I say whip everything off and be free!!
You are actually required to cover your bottom half in public pools (women are allowed to go topless, just like men do!) but you will have to shower with no clothes on beforehand to make sure you're clean enough to get in. It's actually quite liberating because it's the norm, so no one is staring at you, no one is wondering why you're naked and absolutely no one cares what your birthday suit looks like.
So, you will need to take a swimsuit but you won't always wear it! Try out a new bright colour or patterned swimming costume like this, or these if you're sticking to trunks!
Multi Adapter
 Don't be that person to get to the airport and spend half of your trip money on a travel adapter!
I bought this one from Amazon last year and it's been so helpful both when I'm abroad and when I'm at home. I don't even own a plug socket for my phone which means that I have to find a USB port whenever it needs charging which can be annoying.
This multi adapter is discrete, has plenty of USB ports and it comes with spare plug sockets for different countries that you can easily swap out. These extra pieces come in a soft little bag as well so you don't have to worry about losing them!
Sanitary Wear
This is only applicable to those of you who have periods, but I thought I'd mention it because it's so easy to make a small change that will save you money and be better for your body AND the environment!
You've probably heard of a menstrual cup by now – if not, where have you been!? There are lots of different brands popping up now but the Lena Cup seems to be the most popular.
It's just better all round to bring one with you so that you don't have to stock up on single-use tampons or pads which will take up valuable space in your luggage, especially if you're only taking carry on! Click here to find the right size for you.
Camera and Action Camera
If you're looking to take stunning pictures of Iceland without carrying around a bulky DSLR, then consider investing in this Sony point and shoot.
It takes videos, there's a selfie screen, it connects to your phone via WiFi so you can instantly upload photos to Instagram AND its small enough to hide in your pocket when you're not using it. 
I would also highly recommend buying an action camera like a GoPro.
You don't have to buy the latest model – in fact, the GoPro Hero 5, which is what we have, still does an amazing job of capturing your snowmobiling, diving or caving escapades! Don't be sucked into buying something that has features that you don't need, or is only a fraction better than the previous model.
GoPro have never released a bad camera, so keep that in mind when you're buying! 
Getting Around Iceland In November
When considering your transport in Iceland, you have two main options. Either hire a car or join multiple day tours to discover what the country has to offer. 
There are a couple of pros and cons of each so read carefully and decide what is best for you. If you do decide to drive then book early because cars are a popular mode of transport in Iceland. Car rental tends to be cheaper in the winter too so that's a bonus.
Hiring a Car In Iceland
Iceland isn't a huge country, but getting from the airport near Reykjavik. along the beautiful south coast, to the magical East Fjords and then across the culturally rich north of Iceland could prove difficult if you don't have a car!
Renting a car gives you tons more flexibility, and will be more comfortable as you'll be able to pick and choose when you stop for a break to stretch your legs. Choose a 4×4 so that you can have more control when driving on the icy roads. Hiring a car just means that you can create your own Iceland itinerary.
You'll be able to explore everywhere freely, from Europe's most powerful waterfall in North Iceland to that famous plane wreck down in the south that you always see on Instagram!
If you aren't driving, grab a seat on the shuttle bus to take you straight from the airport to Reykjavik – most tours start from there.
Don't ever go 'off-road' (on the F-roads) as that it actually illegal. The government (and local people!) understandably don't want their precious landscapes to be ruined by reckless drivers.
Fuel is expensive in Iceland – there is no getting around that fact! However, if you're splitting the cost with a few other drivers then driving will work out cheaper anyway.
You also have the option of hiring a motorhome or campervan to drive yourself around in and live in too! They are more expensive of course, but you'll save on accommodation so work out what it more cost-effective for your own needs. 
Click here to browse car rentals and compare prices.
Using Tours In Iceland in November
Joining tours is a great way to have your trip organised for you. You'll also learn a lot from the guides about Iceland that you might not find out if you drove yourself.
One downside is that although tour buses will, of course, have toilet breaks, if you pass one of Iceland's best waterfalls and want to spend ten minutes taking some photographs, it's unlikely that you'll be able to because you'll be on a time schedule!
Actually, we think that a mix between the two is a good option. We hired a car as we wanted to drive all the way to the east side of the country independently. We also took a tour too.
If you have a licence to drive and YOU'RE A CONFIDENT DRIVER, then driving in Iceland in November shouldn't be too hard.
There are icy roads and narrow bridges to cross too. As long as you're slow and careful, you should be okay. Never underestimate the November weather though and if it seems too dangerous to drive, then it probably is!
There are usually public buses to rely on if you do get really stuck, and you're staying close to the town centre.
Iceland tours, however, are excellent ways of exploring the country and getting great tips from local people. Take a look at some of the best tours you can take in Iceland here.
Where To Stay In Iceland
There are plenty of awesome accommodation options in Iceland for you to choose from. Whether you want a unique Airbnb cabin, stay in fancy hotels or jump from hostel to hostel, you'll find something.
Read More: 9 Of The Most Unique Hotels In Iceland
Remember that if you are staying in one location, you might be driving/sitting in a bus for hours. If that doesn't appeal then it might be a better idea to pick more than one accommodation in different locations. That way, you aren't doing any return journeys in one day.
Airbnb
Many people in Iceland have summer cabins, so in November they're usually free for holidaymakers. Staying somewhere like this means that you can cook for yourself (because eating out is incredibly expensive) and you might even be lucky enough to have your own hot tub!
We actually rented the cabin in the picture below through Airbnb. It was a great remote location (but near enough to the next town for emergencies!).
There was space for 6 people and the only downside was that although there was a hot tub, it was essentially just a hot bath outside with no bubbles! Make sure you double-check you'll have what you need and read the reviews of previous stays!
Hotels
There are some beautiful hotels in Iceland, especially the further you get away from big cities like Reykjavík. Imagine watching the Northern Lights from your cosy bed through the floor to ceiling windows!
Of course, you'll pay a premium price but if you have saved up for this trip specifically then you'll have so many options of where to stay in Iceland. WiFi is usually included and some places offer breakfast too, which is a good way to save on food throughout the day if you fill up in the morning!
Hostels
If you're happy to share a dormitory room, then hostels are a great way to save money on accommodation in Iceland. Some hostels do have private rooms and double beds but they'll just be a lot more basic.
I assume you're going to Iceland to experience the country and not solely to test out their accommodation though! If you're going to be out all day anyway, then a basic room is all you'll need.
Plus, many hostels will have their own kitchens so you can prepare picnic lunches to take on your day trips.
Hostels are also good for meeting new people so if you're on a solo trip then it might be a better idea to grab a hostel. If you're using tour buses because you might find some people staying in the same place as you are going on the same trips!
Click here to explore accommodation options in Reykjavik!
Where To Stay Near The Golden Circle
Iceland is full of great hotels, hostels and Airbnb options. One of the main things you need to consider when you're picking your accommodation is the location.
I personally would recommend staying in a few places during your trip because it means that you can slowly make your way to the next attraction without having to worry about crazy early mornings or long drives back. 
If you're looking for somewhere great to stay near the Golden Circle, here are my recommendations:
Best For Budget Travellers:
Farmhotel Efstidalur
This cute farmhouse is owned by a friendly family who will make you feel welcome as soon as you arrive. You can park your rented car on the property for free, and complimentary WiFi is available.
The views are fantastic – keep watch for the northern lights from the geothermal hot tub outside! 
Don't forget to try the homemade ice cream too!
Click here to check room availability and prices for this time of year.
Best For Groups:
Brekkugisting Villa
This 3-bedroom villa is only around 10 minutes drive from Geysir, and offers gorgeous mountain views, a hot tub and free WiFi.
There is also a nearby river that you are allowed to fish in – cook your catch in the cosy kitchen and feel like a true Icelander! 
You can also visit the Icelandic horses who live on the owner's farm nearby.
Click here to check group availability
Best For Treating Yourself:
Icelandair Hotel Fludir
Located only 30  minutes from Gullfoss,  this hotel is the perfect retreat to relax and wind down after a long day's sightseeing! It's also in the same town as the Secret Lagoon, so you could even tie in a trip there after your Golden Circle experience.
The hotel's amenities include a traditional Icelandic restaurant and a garden where you can enjoy a dip in the hot tub.
Click here to book your room now
Frequently Asked Questions
Will it snow in Iceland in November?
There is a fairly high chance that it might snow in at this time of year, but there is no guarantee. In fact, the November weather can be very unpredictable so make sure you are prepared for all cases (except a heatwave, I guess!) Pack layers so that you can add or remove them depending on the weather. If you're hiring a car, ask yourself if you'd be confident driving in snowy conditions just in case. 
Will I see whales in Iceland in November?
It's not the best time of year to go whale watching but there are tours running all year round from Reykjavík if you're happy to take a chance. Go north to Akureyri to improve your chances of seeing a humpback whale. If you don't see a whale, usually the tours will give you a chance to come back on another day to try again. That's not always possible so remember that no one can give you a 100% guarantee that you'll see a whale!
Can you see puffins in Iceland in November?
Unfortunately not! The puffins come out around April time and usually leave by September! If you want a higher chance of seeing the puffins, then I'd recommend visiting somewhere in the middle of these months so you don't miss them!
Will I see the Northern Lights in Iceland In November?
The Northern Lights are a natural phenomenon so there's obviously no guarantee you'll see them. As the nights get longer and there is limited daylight, then your chances do increase but it's a risk. I wouldn't spend more than around $50 on a Northern Lights tour for this reason.
The tours can be useful because the guides know where the best places to look are. Some tours (like the one I recommended above) give you advice on how to photograph the lights if you do see them. You also get the chance to learn about the star constellations too!
Should I drive in Iceland in November?
The roads shouldn't be too hazardous at this time of year, so it should be like driving anywhere else. However, you might have to cross narrow bridges, and if there is heavy snow that could be distracting. If you aren't a confident driver then consider only using bus tours.
However, driving does give you amazing flexibility and I do think it's the best way to travel around the country! Here, people drive on the right by the way!
Is Iceland busy in November?
Surprisingly, tourists are less likely to visit during the winter months. It is cold, but not unbearably so, and you might see the Northern Lights at this time of year too!
What is great about Iceland is that most of the fun attractions don't require tickets or queuing. This means that there won't be a mad rush at a particular time. There are plenty of people in Iceland at this time of year but it is quieter than in the summer months.
---
I hope that you enjoyed reading this post about Iceland in November.
Hopefully, it has helped you plan some fun activities whilst you're there! Let us know in the comments if you have any questions. Or, if you have any tips that you think we should add let us know!
---
Click on the image below to repin this post!