There are some incredible Iceland helicopter tours available to try, but which one is best for you? This guide will make sure you choose the tour tailored to your needs, so take a look now!
New Active Volcano: Helicopter Tour in Iceland
If you're visiting Iceland any time soon, NOW is your chance to fly over an active volcano! The Fagradalsfjall Volcano erupted on the 10th of July and lava is still flowing. The last time this happened, the volcano continued erupting for six months so you have a great chance of seeing something incredible. You will not regret this opportunity!
---
10 Insane Iceland Helicopter Tours!
Iceland is, without a doubt, the most incredible and diverse country I have ever been to when it comes to natural beauty. Wherever you look, whatever the time, you will be blown away. Imagine the views from any of these Iceland helicopter tours – they're absolutely breathtaking, that's for sure!
So if you are thinking about making your Iceland trip even more memorable and unique then have a read through this list of the very best Iceland helicopter tours and make 'impassable' a word for those on the ground.
Read More: Stay In One Of These Unique Hotels In Iceland!
---
New Active Volcano: Helicopter Tour in Iceland (Erupting In July 2023!)
Ever wondered what an active volcano looks like? Well, you're in insane luck with this helicopter tour!
Key Information
Tour Duration: 40 – 45 mins
Pickup Included: On request
Landing or Fly Only: Fly only
Maximum Guests: Private group
Best For: Volcano enthusiasts
Click here to check availability and prices
On this tour, you'll take a 45-minute flight from Reykjavik domestic airport to Fagradalsfjall volcano, where you'll see the lava that made its way out of the fissures in the rock.
The lava is currently flowing from the volcano, and will likely do so for a few months to come. The two most recent eruptions happened only months apart, so there is always a chance that another one will happen again!
Before 2021, the volcano was dormant for 815 years. Since then, the volcano has erupted 3 times so clearly something is going on to provoke it!
Book your lava helicopter tour in Iceland here.
---
Standard Iceland Helicopter Tours
Let's be honest, there is nothing 'standard' about any of these helicopter tours in Iceland! But for those of you who don't need all the extra bells and whistles that some tours offer, this section is for you. These options are also the cheapest, which is great news too!
Mountain Helicopter Tour with Summit Landing From Reykjavik
This is one of the lowest-priced Iceland helicopter tours on my entire list but you certainly still receive an incredible experience.
Key Information
Tour Duration: 30 – 45 mins
Pickup Included: No
Landing or Fly Only: Landing
Maximum Guests: 15
Best For: Families + budget travellers
Click here to check availability and prices
You are picked up from Reykjavik domestic airport and fly straight to the summit of one of the local mountains. The mountain that is chosen is depending on the weather as this will decide whether the helicopter can land or not.
Then you will land on the chosen mountain, soak in the incredible panoramic views outside of Reykjavik city and fly back to the city. Keep an eye out for some recognisable sights, like the famous Hallgrímskirkja church – ask your tour guide to point out anything extra cool!
This is perfect for anyone who is a first-time flyer as the time in the helicopter is less than others on this list but you also get to see and land on a mountain. I'd also recommend this tour for families who still want an adventure as the tour isn't too long, plus the helicopters have seats available for minors. This is the best introduction to Iceland helicopter tours for kids, so they're perfect for family helicopter rides.
This is at the top of our list for a reason – just read the reviews and see for yourself what others are saying. It's an absolutely beautiful experience and one that not many people get the chance to have!
Book yourself onto this tour here.
---
Helicopter Tour: Reykjavik City with Landing at Mount Esja
This tour is very similar to the one above, but having options is always good! They're priced essentially the same, so if one is booked up then you've got more chance of getting a tour in.
Key Information
Tour Duration: 25 – 35 mins
Pickup Included: No
Landing or Fly Only: Landing
Maximum Guests: 6
Best For: If you're on a time constraint
Click here to check availability and prices
There are pros and cons to this tour compared to our recommended one. The flight time is a little shorter but that means that you can squeeze in an Iceland helicopter tour even if you are running on a tight schedule! There are also only a maximum of 6 travellers on this flight which means that you're more likely to have a personalised or even potentially private experience.
You'll fly over the gorgeous capital city, as well as pass over Faxafloi Bay, so you get to see a little bit of nature on this trip too before making your way over to Mount Esja and appreciating the fantastic views from here.
Book your Reykjavik city helicopter flight here.
Unique Iceland Helicopter Tours
If you want something a little bit different to your Iceland helicopter tour, then these are the trips for you. Combining activities together can be not only cost-effective but a great way to squeeze in as much as you can if you're only in the country for a short time!
ATV And Helicopter Adventure Tour
This is a special addition to the list as it adds a whole new dimension to the helicopter tour on the ground as well. It basically combines quad biking with a ride in a helicopter to the top of a mountain to get some insane panoramic views.
Key Information
Tour Duration: 5 hours
Pickup Included: One-way
Landing or Fly Only: Landing
Minimum Age: 6 years
Best For: Adventurers!
Click here to check availability and prices
If you are looking for a proper day out and a real adventure then this literally hits the spot. The other helicopter tours in this list tend to hover around the 1-hour to 2-hour mark (unless you go for a serious private tour) so this is a great way to enjoy a day out.
This tour is 5 hours long! Not all of that is in a helicopter but it's a seriously good way to spend your day.
Make your helicopter experience even more memorable with some added adventure!
You start by gearing up and being taught how to use the ATV if you've never been on one before. When you're all ready, you'll start quad-biking through the wilderness up into the mountains, and once you've reached the top you'll be given some time to take n the stunning backdrop of Reykjavik and potentially a glacier or two depending on the weather.
Next, you'll be driven to the airport where your pilot will be waiting in your helicopter! You'll fly above the city and land on a nearby mountain to capture some photographs of the breathtaking scenery. What a day!
Book your ATV and helicopter adventure here!
---
---
Geothermal Iceland Helicopter Tours
Iceland is the land of ice and fire – so of course, you're going to want to see some of both! These two tours celebrate the country's contrasting beauty by visiting active volcano areas and passing by the frozen mountains on the way.
Reykjavik Helicopter Flight: Geothermal Landscapes
This is one of the best-rated Iceland helicopter tours online for a reason! Well, multiple reasons actually! You'll fly over multiple geothermal areas and spend a little time above the city of Reykjavik too for some insane views.
Key Information
Tour Duration: 1 hr
Pickup Included: No
Landing or Fly Only: Landing
Maximum Guests: 15
Best For: Geography buffs!
Click here to check availability and prices
Your pilot will explain where you are at each point of interest and talk you through the fascinating details of the tectonic activity, geothermal energy and lava fields below you.
This is truly a great experience – read the reviews to see what other travellers have said!
Book your geothermal helicopter tour here.
Helicopter tour: Hengill Geothermal Area with Landing
Seeing Iceland's most active volcano area from the air has got to be on your bucket list! If it wasn't before, it will be after seeing this tour.
Key Information
Tour Duration: 50 mins – 1hr 10
Pickup Included: On request
Landing or Fly Only: Landing
Maximum Guests: 5
Best For: Lava enthusiasts
Click here to check availability and prices
You'll fly over Hellisheiði which is a lava plateau with a power plant in it – all of that geothermal energy is put to good use here! Your pilot will also land so that you can have a good opportunity to take in the beauty around you (don't forget photos too!).
Once you're done, the helicopter will fly over a few different geothermal areas so that you can experience the true and intense power that Iceland usually keeps hidden underneath its icy surface.
Book your Hellisheiði helicopter tour here.
---
Multi-Landing Helicopter Tours in Iceland
Fire and Ice Helicopter tour: Þórisjökull Glacier and Hengill Geothermal Area
If you want to see more than just one side of Iceland, then this is the tour for you. Landing on a glacier might not be enough for you, so land on a volcano too!
Key Information
Tour Duration: 1 hr 40 – 2hr 10
Pickup Included: On request
Landing or Fly Only: Landing
Maximum Guests: 5
Best For: If you want a bit of both!
Click here to check availability and prices
Your first thrill will be seeing the highest waterfall in all of Iceland – Glymur. Watch in awe as the water tumbles down from 198m high! Once you've passed here, your first stop will be Þórisjökull glacier, where your pilot will land and allow you time to walk across the glacier and enjoy the gorgeous scenery.
Back in the helicopter, you'll fly over the famous Þingvellir National Park, so look out for where the Eurasian and Norther American tectonic plates meet, as well as the largest lake in Iceland.
Finally, you'll fly to the Hengill geothermal area, where you can get out of the helicopter again and take a look at the hot springs and feel all of the energy being harnessed here!
Book your Fire and Ice helicopter tour here.
---
Iceland Helicopter Tours From The North
Helicopter Tour from Akureyri: Askja Highland and Surroundings
For stunning and unique views, this tour is a great option. This part of Iceland will truly blow you away!
Key Information
Tour Duration: 2 hrs
Pickup Included: No
Landing or Fly Only: Landing
Maximum Guests: 6
Best For: Geology fans
Click here to check availability and prices
Fancy a trip to the moon? Well, no Iceland helicopter tours will take you there but this one gets pretty close! The Herdubreidarlindir runway was built by NASA to practise their moon landings so you'll get some amazing views here.
The trip takes you across the Askja highlands and includes a flight over an active volcano, a glacier and a waterfall – there's a view for everyone
Book your Askja Highlands helicopter tour here.
---
Modrudalur: North Iceland & Stuðlagil Canyon Helicopter Tour
This is the perfect helicopter tour in Iceland for you if you are interested in the incredible local nature. You'll be treated to views of waterfalls, countryside farms, rivers and basalt columns.
Key Information
Tour Duration: 55 mins
Pickup Included: No
Landing or Fly Only: Landing
Minimum Age: 2+
Best For: Nature lovers
Click here to check availability and prices
After some time flying through the air, you'll land at the famous Studlagil Canyon where you can get some immense photos and take in the stunning views.
Your knowledgeable guide will be able to talk about the history of the area and the natural beauty that you'll see. Take a look at the photos before you book – they speak for themselves!
Click here to book an Iceland helicopter tour to the Stuðlagil Canyon
---
Private Iceland Helicopter Tours
Now, you may be thinking that this really isn't worth the significant additional money it costs.
However, if your budget extends to these tours then the benefits can be enormous. For example, some Iceland helicopter tours allow one person to sit in front of the helicopter to get the most incredible views possible.
In any of the group tours above, you'll be limited to the customer who gets there first and is quickest to ask. The tour companies do say that you will all get a chance to sit at the front, but your time might not be best for the view that you want.
Another issue is that when the helicopter does eventually touch down, you might have some people who want an extra 10 minutes here and there, changing your tour to something that you didn't expect! These sorts of issues may not concern you, but if a private tour is in your price range then kiss these problems goodbye and enjoy the best possible Iceland helicopter experience available.
Private Reykjavik Helicopter Flight: Reykjanes Peninsula and Volcanic Landscapes
Private Iceland helicopter tours really are a once-in-a-lifetime experience that you will never forget and certainly won't regret!
Key Information
Tour Duration: 1hr – 1hr 15
Pickup Included: No
Landing or Fly Only: Fly Only
Maximum Guests: 5
Best For: Small groups
Click here to check availability and prices
Once you've met your pilot and received your safety briefing, your private group will embark on the aircraft and begin your amazing adventure. You'll fly over the Reykjanes Peninsula, seeing craters, beaches, lakes and hot springs. If you were impressed by Iceland's landscape on the ground, wait until you see it from the air!
Book your private helicopter tour now.
---
---
Recommended Packing List For Iceland
It doesn't matter what time of year you take any of these Iceland helicopter tours, it's going to be cold. This list is everything that will make sure that the cold doesn't ruin your trip to this incredible country!
This windproof/waterproof jacket is absolutely perfect for keeping the cold out and staying warm when you are visiting such cold places. If you only have a warm waterproof jacket I would seriously consider upgrading to windproof as it makes even more difference than the fleece lining in my opinion. See our recommendation here.
If you're looking for some decent waterproof trousers then take a look at these. They are windproof and waterproof but also insulated which means that you may get away with only wearing these and not having to have an additional layer underneath. They also do a very good job of not looking too much like waterproof trousers. Have a look to see what I mean here.
If you're planning on doing some serious hiking then we recommend you take a look at these Columbia walking boots. They come in loads of different colours and we think that they are really stylish. The most important thing however is that there are comfortable, waterproof and resilient which these are! There is nothing worse than sore feet preventing you from making the most out of your trip so don't put it down to chance. Check them out in more detail here.
If you get particularly cold then you are going to want to take a look at these fleece-lined full-body thermals. If you couple these with decent clothing over the top then the coldest of people should be warm in the coldest of places. Have a look at colours and sizes here.
If you're looking for a pair of warm gloves then check out these waterproof/windproof/thermal gloves. When you're looking for decent gloves then fashion should not be your main priority. I don't know about you but cold hands are the pinnacle of annoyance! These absolutely get the job done and you don't have to take them off to use your phone which is a godsend. Take a more detailed look here.
If you are worried about getting cold feet (and you should be) then take a look at these brilliant thermal socks by Hot Feet. They should keep your feet warm in the cold conditions you will be facing, as long as you have decent footwear as well! You get 8 pairs which are also really good for the price. Take a look in more detail here.
You absolutely need to have a warm hat when you are visiting cold places so take a look at this gorgeous fleece-lined cable knit beanie. It's a timeless style and will absolutely keep your ears and head warm for your trip! Take a look at different colours here.
If you're not a massive fan of fleece-lined hats (Jade isn't) then earmuffs are the way forward. These vegan earmuffs look amazing and come in varying sizes whilst also looking really cute. I personally like the brown faux leather look but there are lots of different colours available. Take a look here.
It goes without question that you're going to need a jumper. This gorgeous knitted jumper will keep you warm whilst also looking the part (people love the knitted look in the cold!). There are a few colours to choose from the reviews talk for themselves! Take a look here.
---
Where To Fly From
This is a big deal when you are planning your Iceland helicopter tours. Where are you going to be? What else are you planning whilst you are in Iceland? Do you want to go out of your way to get the best possible experience or would you rather not spend additional time getting to a faraway airport?
In this list of best Iceland helicopter tours, there are 2 airports to choose from:
Reykjavik Domestic Airport
Akureyri Airport
The obvious difference is that Akureyri Airport is in the very north of Iceland and Reykjavik Airport is in the south. Do not make the mistake of booking any of these Iceland helicopter tours without checking which airport it is. It may sound like I am stating the obvious but there is a difference of 432km between the two airports so it would be frustrating to get it wrong.
If you are planning to go up north then Akureyri airport has some good options for helicopter tours, however, if you will be staying in the south then I recommend choosing a Reykjavik flight.
---
The Weather
I have read too many negative reviews about Icleand helicopter tours to not bring this up. Every single one of these Iceland helicopter tours is weather permitting. If it is dangerous to fly then your helicopter travel will be cancelled or rescheduled. If you accept your cancellation then you will be given a 100% refund in all cases in this list.
Sometimes you may experience delays to your trip as they wait for a weather system to clear. They would rather wait a small amount of time and get you in the air than cancel altogether. Therefore, I highly recommend not having paid plans immediately after any of these Iceland helicopter tours. If you can, book your flight for the morning and then you'll have the whole afternoon to re-book if you need to.
---
Weight Limits
Many of the Iceland helicopter tours listed above have a policy for anyone over 120kg. If you are over this weight bracket then you will have to purchase another half seat in order to participate in the tour. This is due to the weight balance in the aircraft and not due to the size of the customer. Please do not take this personally – it is entirely a safety measure put in place by the tour operators.
Insurance
You may not know but your travel insurance probably does not cover injury and expenses if you are involved in a helicopter accident. You have to make sure that when you buy a travel insurance policy being a passenger in a small or light aircraft is covered in the activities of your policy.
I understand that it is an unhappy subject but please do make sure you do this as if something did happen, you don't want to be uninsured making things so much worse.
---
Other Things To Do In Iceland
There is plenty to see and do in Iceland, but here are our top recommendations! You can also take a look at our 4-day Iceland itinerary for a more in-depth guide about what to do.
Snowmobile Tour
Whizzing across a glacier on a snowmobile is an incredible experience and one that you can't miss when visiting Iceland! You can choose to either drive or be a passenger, but regardless, you'll have an amazing time and see some epic landscapes.
Snowmobiling & Golden Circle
In our opinion, this is the best snowmobile tour available in all of Iceland. You get an incredible snowmobile experience on the Langjokull glacier as well as being taken around the famous Golden Circle. Both of these activities are a must in Iceland so combine them right here.
---
Glacier Tour
If snowmobiling isn't your thing but you still want to experience visiting a glacier, then there are plenty of cool ways to do that. You can combine it with a cave visit, a ride in a super jeep or even climbing the glacier itself!
Small-Group Glacier Experience From Solheimajokull Glacier
Hike this famous glacier with a professional guide and learn about the area's incredible history. Walking atop a huge sheet of ice is a once-in-a-lifetime experience! This tour is a safe way to do that, as all the equipment is provided and your guide will keep you on the right path.
---
Whale Watching
Luckily, you can go whale watching in Iceland all year round! The best place to do this is from Húsavík, but there are lots of boat tours leaving from Akureyri and Reykjavik too. You're most likely to see humpbacks, but there's a chance of spotting minke, dolphins and even blue whales!
Whale Watching RIB Tour From Husavik
In these small and fast RIB, you get a fantastic opportunity to see the whales up close, without scaring them off with a huge fishing vessel. There will only be 12 passengers total, and your guide is separate from the driver so that they can give you their full attention!
---
Lagoon Swimming
The Blue Lagoon is the most famous of them all, and for good reason! The gorgeous milky blue waters soften your skin and the whole 'outdoor spa' experience is just magical!
Blue Lagoon Entry Ticket
Your ticket includes entry, a mud mask, a drink and a towel, and you get to spend as long as you like in the mineral-rich water. There's a restaurant, a swim-up bar and even a shop to buy some of the amazing spa products from the lagoon.
There are plenty of other hot springs and lagoons to visit though. The Secret Lagoon is another great option, and you can combine it with a Golden Circle tour or just buy a standalone ticket for it.
Take a look at these other natural hot springs and lagoons available to visit in Iceland.
Golden Circle
This is probably the most famous activity you'll do in Iceland, and for good reason! Visit Pingvellir National Park (and find where the Eurasian and North American plates meet!), stand in front of the breathtaking Gullfoss waterfall and watch the geysers spurt out hot water from the ground at a popular geothermal area.
Reykjavik: Golden Circle Full-Day Tour With Kerid Crater
This tour has an insane amount of high reviews, and it is an amazing day out! Not only do you visit all three of the places in the Golden Circle, but you get an additional stop to see the amazing volcanic Kerid crater. It's a fabulous trip for a good price too.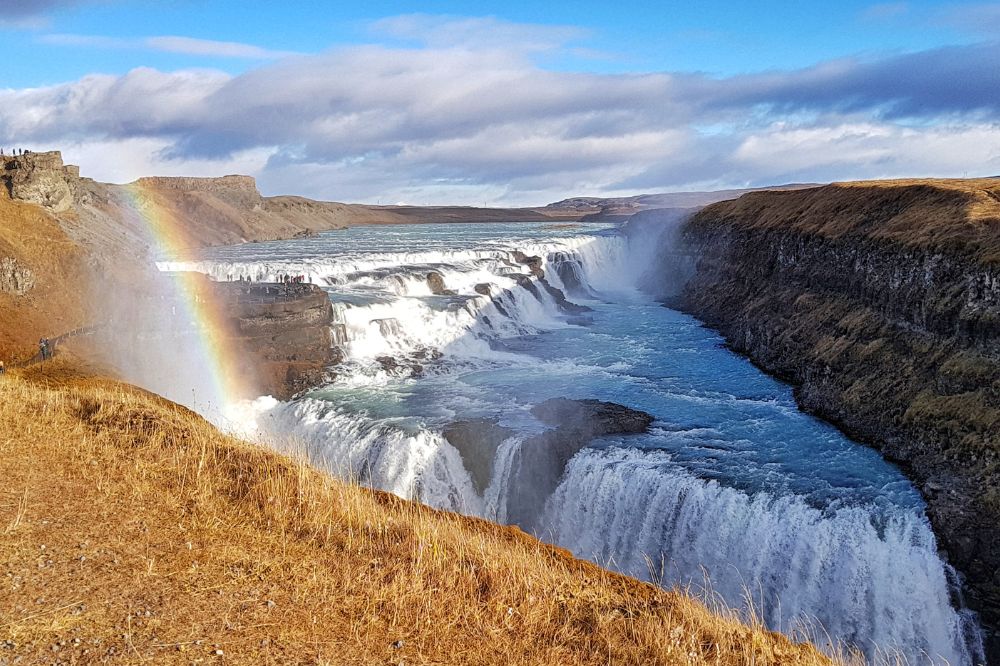 Beaches
Spending an afternoon at the beach probably isn't what you imagined on your Iceland trip, but there are some gorgeous places to visit along the coast. You won't be sunbathing, just taking in the incredible scenery of the natural beauty and wildlife.
Our top recommendations are Diamond Beach, Reynisfjara Black Beach and Rauðisandur Beach. Take a look at our post on the top beaches in Iceland for a full breakdown of each plus approximate costs and directions!
East Fjords
You may not have heard of this part of Iceland as it's much more remote than Reykjavik and it's on the other side of the country from the main airport. However, if you can manage to spend a few days n this part of Iceland, then trust me when I say it will blow your mind!
Read our full guide on the East fjords and find out where the best camping spots, hiking trails and waterfalls are in the region. If you're lucky, you might even spot a reindeer herd!
---
Where To Stay In Iceland
Iceland has some incredible hotels, apartments and guesthouses across the country, but the best places to stay for any Iceland helicopter tours are Reykjavik and Keflavik (the airport) so that you can get to the meeting point easily. Most tours will either pick you up from your hotel in Reykjavik or ask you to meet them at the airport, so staying nearby will minimise travel time.
For groups
These apartments are great if you are splitting the cost. They've got cooking and laundry, and are perfectly located in the centre of Reykjavik.
Hotel
This self-service hotel is great for couples and is located near the airport – great for helicopter tour access! Breakfast is also included.
---
Frequently Asked Questions
How Much Do Iceland Helicopter Tours Cost?
The prices vary from around $220 for a short mountain summit, all the way to $7000+ for a private multi-landing adventure.
How Long Are Iceland Helicopter Tours?
They range from a minimum of 1 hour, all the way to 5 hours.
What Will I See On These Iceland Helicopter Tours?
Depending on the tour you may see, volcanoes, glaciers, waterfalls, coastline, lava fields, geysers, mountains, lakes and geothermal fields.
How Many People Are On Iceland Helicopter Tours?
The different tours vary with the amount of money you are willing to spend. However, this ranges from 3 – 15.
Do You Land or Stay In The Air On These Iceland Helicopter Tours?
The majority of the helicopter tours in Iceland will have at least one stop-off. However, there are some that only stay in the air – double check this before you book.
Should I Get A Helicopter Tour Or A Plane Tour In Iceland?
I recommend a helicopter tour in Iceland because the views you can get are much more significant. A helicopter can get lower, and slower and the viewing ports and angles are usually bigger. A plane is a good option if you are on a strict budget as they tend to be cheaper than their helicopter counterparts.
---
Have we convinced you to take one of these fantastic Iceland helicopter tours? Let us know if you have any questions in the comments below!
Click on the image to repin this post!