Travelling from Hanoi to Hoi An is a fun journey but does take a little time and forward planning to get the cheapest or fastest routes! Here's everything you need to know about the trip.
---
Travelling From Hanoi to Hoi An
The total distance by road from Hanoi to Hoi An is over 800km, so you're in for a pretty big travel day, whatever method of transport you choose!
I've listed each of the ways and my recommendations above as not everyone will have the same priorities, budget, or timeframes. Play around with your dates and times to travel from Hanoi to Hoi An if you can to get the best price, and book at least a week in advance so that you're not stuck with an option you didn't want!
Read More: Here's How To Get Gorgeous Clothes Tailor Made In Hoi An!
---
Fly From Hanoi to Hoi An
Unsurprisingly, this is the quickest way to get from Hanoi to Hoi An! It's not as straightforward as just jumping on a plane though unfortunately!
It's about an hour and 25 minutes flight time, but don't forget you'll have to arrive early to check in and go through security so remember to add on about 2 hours to your journey time when comparing the different routes.
Read More: Your Ultimate 1-Day Hanoi Itinerary
Book a ticket from Hanoi to Hoi An directly through a good airline like Vietnam Airways. We used them plenty of times and were pleasantly surprised with the good amount of luggage allowance, comfortable seats, meals + snacks (even on short domestic flights), and low prices.
We paid $70 for two tickets flying from Hanoi to Hoi An, which included 1 piece of checked luggage + 1 hand luggage bag each.
You'll fly from Noi Bai International Airport – it's a relatively small place and getting through security tends to be quick. They ask you to take off your shoes and put them through the scanner separately, but you are allowed to take liquids through.
A fun way to spend time in the airport before your flight is to use a lounge! The domestic lounge at Hanoi airport costs around $15 (this can change quite often but the point is it's cheap!) and you have access to unlimited food and soft + hot drinks, as well as beer.
Read More: Try One Of Halong Bay's Most Luxurious Cruises
Hoi An doesn't actually have an airport – it's too small for that – so you'll land at Da Nang which is the nearest big city. It's only about an hour's drive (30km ish) but you should plan this onward travel before you arrive so you can just be picked up straight away without having to worry about taxi drivers trying to overcharge you.
Book a shuttle bus and they'll be waiting for you at arrivals. You'll need to give them your flight details so that they can keep updated if your flight is late.
The bus will take you to your hotel in Hoi An if it is central enough. If you're staying somewhere further out, near the beach for example, then the bus will probably drop you off in the centre and you'll have to make your own way to your accommodation. Make sure you have Grab downloaded so that you can book a taxi quickly.
Read More: Where To Find Hoi An's Best Beaches
---
Take The Train From Hanoi To Hoi An
This would be my second option for getting from Hanoi to Hoi An because I think everyone should experience a sleeper train at least once in their lives! It's also the most comfortable out of all the other options.
Read More: Everything You Need To Know About Hanoi's Night Market
The train runs from Hanoi railway station which is not far from the Old Quarter. However, just like with the flying option, you won't end up in Hoi An because it doesn't have a railway station of its own. You'll need to get off the train at Da Nang, and then take a shuttle bus or taxi from there.
Book your shuttle bus from Da Nang railway station to Hoi An here.
Read More: The Whole Way Fron Hanoi To Danang!
There are plenty of trains travelling to from Hanoi each day, but I personally think that the best one to take would be the 15:45 train. It means that you have plenty of time to reach the train station, you can spend the afternoon taking in the views and then the evening eating dinner and relaxing in your cabin. You'll get enough time to sleep and then you'll arrive in Da Nang at just before 9 am which means you have enough time to get to Hoi An and still have almost a full day to explore.
The journey times range from around 15 – 17 hours, which does sound like a lot but trust me, the time really does go quickly! Make sure you've got plenty of dry snacks like crisps, crackers and nuts, and enough water to last the whole trip.
Some trains have a food trolley on, sometimes vendors come around at each station and offer food and sometimes there are hot water dispensers dotted along the train so you can enjoy some instant noodles. However, you can't be guaranteed any of those things so I would stock up on snacks you can eat without needing hot water etc and then at least if food does come around, it's an added bonus and not a lifesaver!
Read More: Take One Of Hanoi's Best Street Food Tours!
You can pick from a soft sleeper or a hard sleeper cabin. The names don't really reflect the bedding, they just differentiate between how many beds they have. Soft sleepers have 4 beds and hard sleepers have 6, so choose depending on how many people you mind sleeping with! Obviously, the hard sleepers are cheaper and tend to be easier to book as people who only want a soft sleeper will book well in advance.
Book your cabin here and be prepared for an adventure!
---
Take A Bus From Hanoi To Hoi An
Taking a bus from Hanoi to Hoi An isn't the most comfortable option, but it's the cheapest and might be the only one if you've left your transport plans until the last minute!
A bus ticket is also cheaper than a train or plane ticket, so that might also influence your decision on how to get from Hanoi to Hoi An.
Essentially, it's the same journey as the train, but just on a bus! You won't have as much space to move around but you'll get a seat that reclines almost entirely back and a blanket.
However, the journey from Hanoi to Hoi An still takes around 17 hours so it might be worth spending a little extra on the train journey.
There will be toilets on the bus, and you'll stop a few times but it won't be the most comfortable journey you'll ever take!
Read More: Here Are Hanoi's Best Cooking Classes + Runners Up!
---
Other Options
To be honest, I don't recommend any other way of getting from Hanoi to Hoi An. You could hire a car or a motorbike, but the risks associated with driving on Vietnamese roads when you're not used to them (or even if you are!) are too high in my opinion.
Not only that, but it would take a long time, you'd have to spend at least 1 night in a hotel to break up the journey and you'd spend a decent amount of money on fuel over the 800km trip.
Read More: Here Is How To Take The Phu Quoc Cable Car
Pick the easy way this time and fly or get a train!
---
Where To Stay In Hoi An
Hoi An has some lovely little guesthouses and hotels in the town, so you'll be spoilt for choice when it comes to picking accommodation. I'd recommend staying in the Ancient Town or within walking distance of it.
---
Other Things To Do In Hoi An
I recommend spending at least 4 days in Hoi An to fit in all of the fun things to do in the city! It's not a huge place, but it's full of Vietnamese cultural highlights and traditions, so it's well worth making the most of your trip and staying a few days.
Read More: Looking For A Halong Bay Day Tour? These Are The Best!
---
Get Clothes Made
You can't come to Hoi An and not get some clothes tailored! The city is famous for its tailors, and for good reason. Three are hundreds of shops selling handmade clothes, and you can get measured up for tailored suits, dresses, skirts, shirts and even shoes.
We visited Bong Tailor and were super happy with our clothes! Kev had a full 3-piece suit made and I had 4 dresses – everything fits perfectly and we looked pretty good at the wedding we wore them too, even if I do say so myself!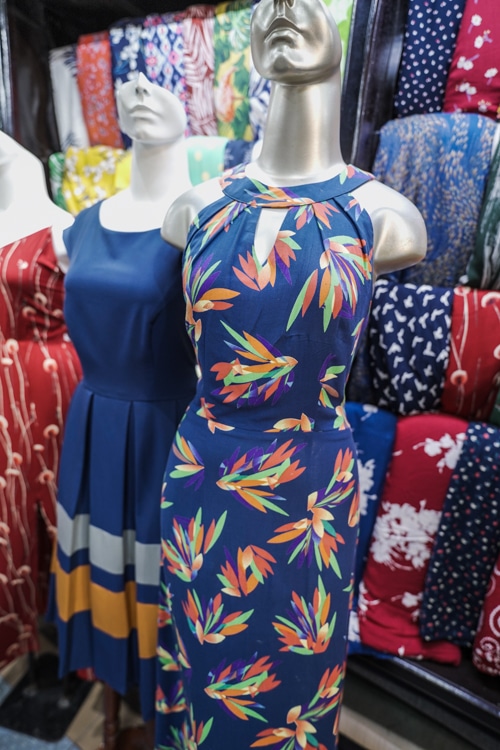 You can get a dress made for as little as $15 and a suit from around $80 so definitely don't miss out on a opportunity to get some pieces custom-made!
Read More: Danang To Hoi An – 7 Ways To Travel
---
Cham Islands
Just a short boat ride away from the coast are the Cham Islands. Take a day trip for snorkelling, swimming and even underwater walking!
If you're looking for a snorkel kit then check out this Greatever mask and snorkel. We have been on so many snorkel and boat tours where the snorkel hire was dreadful and it ruins the experience. If you have room then definitely take your own set. Take a look at our recommended kit here.
Read More: Have A Look At Our 2-Day Hanoi Itinerary In Full Here!
---
Beaches
Hoi An has some lovely beaches along its coastline, and there's something for every type of traveller.
We visited the city's 5 beaches and decided that An Bang Beah is the best. It's the most developed, so you have sunbeds, restaurants, watersports and toilet facilities available, plus there is a large cordoned off section in the water for safe swimming.
Ha My beach is also a good option if you want similar facilities but fewer people. The quality of everything on this beach isn't as good as An Bang, but if you want more peace and quiet but the option to buy a beer then this is the place to go.
If you're planning on going to the beach then make sure you have some flip-flops in the bag. There is nothing worse than getting sand in your shoes or socks and there is nothing better than feeling the sand on your feet. We recommend an affordable pair like these Old Navy casual flip-flops. They will get the job done and shouldn't break almost immediately as other brands might. Check them out in more detail here.
Read our full guide to Hoi An's best beaches here to decide which is the best one for you!
---
Lantern Making
You'll see thousands of lanterns all over Hoi An. They're a popular souvenir at the Night Market, and you can even pay to pose for photos with them at numerous stalls every evening.
If you want a more interesting experience though, you can take a lantern-making class and make your very own! You can choose from different materials, colours and designs and create a personalised gift or just something to display in your own home. The class is really fun and a great way to learn some of Hoi An's history too.
---
Night Market
Most big cities in Vietnam have a popular night market, and Hoi An is no different! It runs every evening from around 5pm until 11pm, and has hundreds of stalls offering snacks, clothes and cute souvenirs.
Read More: Everything You Need To Know About Hoi An's Night Market
The sellers aren't pushy and it's located just south of the Old Town, across the bridge.
Read More: Don't Miss Phu Quoc's Night Market Too!
---
Explore Ancient Town
Getting to know the small little alleyways, shops and cafes is the perfect way to spend a morning in Hoi An. The city is a UNESCO World Heritage site and it is easy to see why. Explore the winding streets, sample the delicious street food and just see where your path takes you!
Read More: Your Essential Guide To Backpacking Vietnam
---
What To Pack
Hoi An is a small town, so make sure that you pack properly before coming because you might not be able to find the things that you need once you're there!
Here are our essentials for travel to Hoi An, plus a few things that we think you should definitely add to your luggage bag!
If you are planning on going somewhere that might have a lot of mosquitos and other bitey creatures then DO NOT forget to pack some insect repellent. We have found that the quality varies wildly depending on where you are so just buy it before you travel to guarantee that you have something decent. Have a look at our recommendation here.
If you haven't already got a swimming costume then what the hell are you doing?! Have a look at this gorgeous high waist bikini and get a swimsuit before you leave. I absolutely love the dual colour option but there are loads of colour options available. Take a look here.
If you need some sunglasses then take a look at our recommended pair right here. Kev has just done 7 months without a pair because he couldn't find any he liked on the trip and it was just a lot of complaining about the sun. Don't be a Kev… Find out the price of not being a Kev right here.
Whether you're climbing mountains and need a fresh cold drink, or catching an early morning flight desperate for hot coffee, you should be travelling with a Thermoflask! It is incredibly insulated and keeps liquids cold for 24 hours, or hot for 12. It also comes with two lids so you can choose whether you need a straw or just a mouthpiece. These stainless steel bottles are BPA-free and come in some beautiful colours too! Check the options out here.
Don't even think about stepping out in the sun without protection! This factor 50 sun cream from Sunbum is vegan, reef-safe and smells like summer, as well as being dermatologist approved! It's non-greasy, easy to apply and doesn't leave a white cast so you can quickly rub it in and get on with your adventures! Take a look on Amazon here.
If you're stuck on what kind of towel to take with you then take a look at this microfibre poncho. We absolutely love ours and it is insanely helpful when you need to change on the beach. They dry fast and pack down super small so you'll be able to fit one in your day pack easily enough. Check out the price here.
If you need protection from the sun then grab a hat before you travel. This Adidas original is affordable, protective and looks the part. Check out the price here.
Using a fanny pack is a love-hate kind of deal. Some people absolutely swear by them and others wouldn't be seen dead in them. Jade and I have different opinions on them so that makes for interesting days out! Either way, if you are a lover then check out the MAXTOP Large Crossbody Fanny Pack as it is really affordable and can be worn in different positions depending on your style. Check it out in more detail here.
Read More: Where To Stay In Ha Long Bay
---
Frequently Asked Questions
---
Have we covered everything you need to know about getting from Hanoi to Hoi An? Let us know if you have any questions in the comments below!