Beijing is a great place to live. But before you take the plunge of moving to China, you'll need to consider the cost of living in Beijing. Can you afford to move? Will you be able to rent a decent apartment? How much will you be able to socialise? Find out how much you need to live in Beijing!
We had expectations about the cost of living in Beijing but the countless internet searches I did return with conflicting information. Some sites claimed that we'd be living like kings for the year and we'd be saving £20,000.
Others played it all down and told us to not accept a salary of less than 15,000RMB (£1783) per month else we wouldn't be able to afford Beijing rental prices.
Both have valid arguments so I thought I'd settle it properly here!
There are plenty of pros and cons of living in Beijing in 2022, but the cost of living here is definitely one of the best things about it!
As ESL teachers in Beijing, we make good money but what's the point in having a lot of money if you just have to spend it all to be able to survive?!
Luckily, Beijing is a cheap city to live in, in comparison to our home in the UK so we are able to enjoy our salaries.
*As of June 2022 the exchange rate is 1RMB = £0.12 or $0.15. The living cost in Beijing in comparison to home will obviously vary slightly depending on the exchange!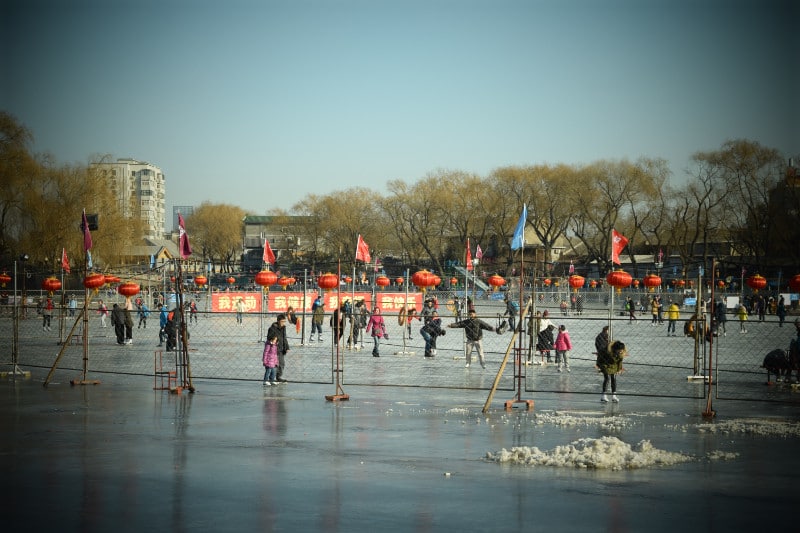 What Is The Average Living Cost In Beijing?
Before you read into how much it costs to live in Beijing in a month, check out these quick typical price guides to everyday things you might buy. These prices are an average so they'll just give you an idea of the money you'll spend regardless of how long you stay in the city.
A bottle of water: 2RMB/£0.22/$0.29
500g of chicken: 20RMB/£2.20/$2.90
30 eggs: 18RMB/£2/$2.60
A small box of imported cereal: 35RMB/£3.80/$5
A local beer in a bar: 30RMB/£3.30/$4.30
A Chinese meal (one main dish and a special fried rice): 40RMB/£4.40/$5.80
A subway journey travelling up to 6km: 3RMB/£0.33/$0.43
A coffee at Starbucks: 40RMB/£4.40/$5.80
A Big Mac meal: 40RMB/£4.40/$5.80
Minimum taxi fare: 13RMB/£1.40/$1.90
Monthly gym membership: 300RMB/£33/$43
Read More: Not Quite Convinced Yet? Here Are 8 Reasons Why You Should Move To Beijing
---
Book your favourite hotel here

Where will you go?
---
What Is The Average Rent In Beijing?
When thinking about your living cost in Beijing, you'll need to plan for rent.
Beijing is the capital city so you're probably going to end up spending more on rent here than anywhere else in the country (the cost of living in Beijing vs Shanghai is probably lower actually).
Saying that we found a two-bedroomed apartment on the outskirts of Beijing for 4000RMB per month in our first year here. £448 was an amazing deal for our place! Read More: Is This Typical Chinese Apartment What You Expected?
You've got to think carefully about where to live in Beijing.
The city is separated by 'ring roads' which makes it pretty easy to navigate and select where you want an apartment.
When we first lived in Beijing we decided to live close to where we worked, so we were outside the third ring road. It could take around 40 minutes to get to Sanlitun, Dongzhimen or even Guomao sometimes but our rent was cheap and our commute was short.
The public transport in Beijing is super low-cost and easy to access so if you don't mind taking your time to get anywhere then I'd recommend saving your money and living outside the third ring road!
If you want to be in the middle of the action, try finding a place within or near to the second ring road. It's more likely that you'll be sharing an apartment here unless you don't feel like saving any of your salary!
The average rent in Beijing for a whole apartment ranges from around 3,00RMB to 10,000RMB, unless you are really wanting something super fancy. You can find somewhere to live for 20,000RMB per month – if that's the case, I want your job!
As there are two of us, we can afford have our own place rather than share with flatmates.
We know lots of people who live in a shared an apartment and so only pay for one room. These prices can be as low as 2000RMB if you look hard enough!
There are pros and cons of each.
If you are moving to Beijing alone, it might actually be better to share as it's a good way to meet people and you'll be able to live in a modern apartment without a hefty price tag.
This year, we decided that we wanted to live a lot more central (plus we changed schools so our commute is still only around 10 minutes!).
We sacrificed space for location and now pay 7,500 RMB for a studio flat. It's not tiny, and the kitchen is separate from the main room so we don't feel too enclosed.
Thinking about where to live in Beijing and whether to choose a whole flat or a shared hutong building can be daunting. Beijing rent prices depend massively on location too so once you actually get there and can view a couple of places, it'll all become a lot easier!
Finding a trustworthy rental agency in a new country can be daunting, so our recommendation is 100% Ziroom. We have used them twice and they are probably the best company to talk to.
Download the app (click EN on the right-hand side to view the listings in English) and begin narrowing down your selections before you talk to an agent.
That way, you can show them exactly the type of thing you are looking for so no-one's time is wasted.
Pro Tip
When you first move to China, you'll need to bring a good sum of cash to get you through until your first pay day. That's to cover your rent deposit, your first 3 month's rent AND the agency fee equal to one month's rent. Read more about the renting an apartment in China here.
Total Cost Of Rent In Beijing
2000 – 4000RMB for a shared room (£220 – £440/$283/$586)
6000 – 9000 RMB for a well-located private apartment £661 – 992/$849 – $1274)
Paying Your Bills
Our monthly bills in China are laughable compared to back home in England.
In our first year, for electricity we needed to go to State Grid and put money on a card, which updated our meter automatically. It normally cost us 100RMB/£11/$14 per month.
When we moved into a different apartment, we were actually able to pay our bills via WeChat – another great use for the app!
We also received a 7-month gas bill that we were scared to open – but it was only 70RMB! The landlord pays for the Chinese equivalent of council tax, plus heating (which is switched on at the same time every year in November, and switched off in March).
The phone company we use is China Unicom, but you also have the option of China Mobile. You top up your phone with the amount of money your contract requires (ours is around 80RMB) It then takes the money from the top-up on your phone on a set day every month.
If you go over your monthly allowance, you're cut off from everything! You can't receive calls or messages, which is disastrous in my opinion, but it makes sure I put money on my phone every month!
Internet is often pre-installed and included in your rental price.
This isn't really a necessary living cost but unless you can understand Mandarin AND enjoy Chinese war-time dramas, you'll want to subscribe to Netflix or something similar.
We did use this in England but it's become a much bigger part of our lives since moving to China! Currently we're paying £9/$11.50 so that we can keep binging our favourites TV shows.
…. Which leads us on to the next important purchase – a VPN (Virtual Private Network)! I can't imagine any foreigner living in China without one. We use Surfshark and it's great. Make sure you download this BEFORE you move to Beijing because it can be difficult to install once you're here!
You can't access western social media in China without using a VPN – so that means no Facebook, Instagram, YouTube, Snapchat, Twitter, TikTok … you name it.
Google is also a huge no-no so if you can't rely on Gmail or Google Maps in China.
Not only that, but many foreign news sites and websites in general are blocked so life can be hard if you don't download a VPN.
Pro Tip
Try out a few VPNs before you commit. We recommend Surfshark because we have used it for over 3 years and we feel it's good value for money. Their customer service is good, and even when the Firewall blocks usage, they are always working on fixes.
Total Monthly Bills
356RMB/£39/$50 per month
The Cost of Food In Beijing Can Vary
Food prices in Beijing can be cheap, depending on your tastes!
We do a weekly shop just like we would back home and make lots of meals from scratch. In a normal week, we'll spend around 500RMB on dinner ingredients, cleaning products and toiletries.
Our local supermarket is actually a Carrefour (the French brand) but they have a wide range of imported and local foods.
We'll eat out once or twice a week too.
Read More: Discover The Real Food Of Beijing!
If you're only buying western food all the time, you can forget about saving money.
The odd treat here and there won't set you back a great deal but you'll probably be drawn to western food more than ever before!
We usually spend around 300 – 400RMB a month on top of our weekly shop on western bits and bobs. April Gourmet and Jenny Lou's are the go-to places to find foreign imports. Carrefour has a good selection but things can often be more expensive here.
If you're eating in a Chinese restaurant, you can expect low prices. Two huge bowls of noodle soup set us back 36RMB/£4/$5 last week in a small restaurant.
If you're looking for something more upmarket, then you'll probably be looking at around 100RMB/£11/$15 for two people – you do get a lot of food though as everyone shares the various dishes in a Chinese restaurant, so you're getting your money's worth!
If you eat out at non-Chinese restaurants, then you'll find that you can pay upwards of 80RMB for a meal for one person. You can easily find Mexican, Thai, Indian, French and British cuisine to name a few.
Our favourite chain restaurants here include QMex (get the bean burrito) Blue Frog (2-4-1 cocktails every day from 4pm!), Tube Station (you can get a 32″ Party Monster pizza here).
The best steak and service is found at Bleu Marine (ignore Google's warning that they have closed down! They've just moved to a different location which you can find on their website).
Total Cost of Groceries In Beijing
2250RMB/£247/$318 per month
Socialising/Drinking Will Increase Your Living Cost in Beijing
This is the one area where the prices in Beijing can get quite high. If we stay local and grab some Chinese beer from a shop to share with a group of friends, then you can spend around 30RMB for a crate, but in a bar, you'd spend that on one pint.
You can buy a bottle of Smirnoff vodka for around 50RMB from April Gourmet or Carrefour so if you'd rather stay at home and drink then it can be very affordable.
There are often happy hours and deals if you look around, so if you're looking to live within a budget but still have fun then get planning beforehand!
There are lots of fun things to do in Beijing, mostly without spending a lot of money too.
We enjoyed checking out the touristy attractions Beijing has to offer, and many of these like exploring the Forbidden City or the walking streets, we paid a tiny amount in entrance fees or nothing at all.
Bigger excursions like visiting the Great Wall or taking the sleeper train from Beijing to Xi'an obviously cost money but they should be affordable whilst living in Beijing.
Total Cost of Going Out In Beijing
1000RMB/£110/$141
The Cost of Shopping in Beijing Depends on Your Habits!
In short – the western shops like H&M and Hollister cost very similar to back home. A few of the make-up shops like Benefit and Mac are a little more expensive, but that's to be expected really.
You could spend a very minimal amount if you bring everything you'll ever need with you, but things like toiletries do have to be replaced so be careful (especially ladies – tampons here are incredibly expensive and not very high quality. Instead, invest in a menstrual cup to look after your body, the environment and your bank balance!)
The best thing to do is to get set up with Taobao and JD as soon as you arrive. These sites are the Amazons of China and you can find some amazing deals on here.
They actually sell pretty much everything, from plants to shoes to curry sauce. You might have to do a little bit of searching if you don't fit into the standard Chinese clothing sizes but we have had some luck and we're most definitely not standard size here!
International online retailers like Asos also deliver to China so it's worth keeping a copy of your address in Chinese and English on your computer so you can get things delivered!
Public Transport In Beijing Is Great
Transport is my favourite thing to mention when talking about the cost of living in Beijing. The day we arrived, we bought a subway card for 80 RMB. This doesn't actually save you any money as opposed to buying a ticket each time you use it, but it's just much easier and faster.
A subway journey across the city is usually a standard 3RMB.
35p!! It's glorious knowing that however far you have to go, you won't be breaking the bank to sit on these spacious, clean and very regular trains.
Even better than the train prices – taxis! We can easily take a taxi from where we live to Sanlitun, which is roughly about a 15-minute drive without traffic. The driver will put on the meter (if they don't then get out immediately!) and it'll cost around 30RMB. That's less than the standard pickup fare back home!
Pro Tip
You can download Didi which is a Chinese version of Uber – except you can book the city taxis through it which are the same price. The app just makes hailing a cab quicker and easier!
Sanlitun is a rich, "western" area of the city. The roads leading there do get very busy, especially on the weekend. This can drive the price up as the meter ticks over even if you're sat in traffic, so sometimes it's better to just get out and walk if you're close.
Tuk-tuks are also a very useful way of getting around the local area. They're pretty speedy little things, and will generally take you anywhere nearby for less than 10RMB. They're handy when you've got lots of shopping or just can't be bothered to walk any further!
When we first arrived in Beijing, we were really scared of getting into one. Mainly because they looked, and probably are, very dangerous as they weaved in and out of the cars. To be honest, we're just used to them now and put just our trust in the driver!
We haven't used buses that often, because the stops are in Chinese characters! Our Mandarin definitely does not stretch that far. The only time we've used them has been when we have been with Chinese speaking friends. Once we learn a route we could probably use them more though.
It's 1RMB per journey – yes, 1RMB! Even cheaper than the subway, but you still have the traffic to sit through and you" likely have to stand.
We also bought bicycles to get to work every day. There are lots of markets that sell bikes for really low prices. We paid 250RMB each for our bikes which were in amazing condition, with a basket, bell and lock.
However, now you're better off downloading another app – Mobike is a popular one – and jump on the bike-sharing bandwagon! You'll have to give your passport details and they also use face-recognition software to confirm you are who you say you are, but after that it's really easy to use.
Find a bike, scan the QR code and it will unlock. Ride to wherever you want to go, lock the bike and your account will be chargd! My 1.5km ride to school costs me 1.5RMB each way – not bad for a daily commute!
Total Cost of Transport in Beijing
300RMB/£33/$46
What Does Living in Beijing Cost?
As a couple, we manage to live on quite a small budget in Beijing.
We eat out regularly, we enjoy wine or beer at the weekends and we have also bought a fair amount of tech for our travels. These include a GoPro, two DSLR cameras and two laptops (check out Jade's which we think is perfect for using whilst travelling) during our time in China.
We also adopted two cats + flew them home to England which cost us a lot.
Including rent, our average living cost in Beijing is around 13,500RMB. That works out at roughly £1487 or $1912. Between two people, that's a pretty decent amount of money to be living on.
That equals out to be an average of £743/$956 per person, including ALL bills! It allows us to send home the majority of our pay which is amazing. Living expenses in Beijing in 2022 can be very low, as long as you don't go crazy!
Living in Beijing in 2022 can be expensive if you're going out to wild parties and hiring a personal driver. But if you're relatively careful then you can start to save a big old pile of cash. Not bad for a teacher, eh!
Frequently Asked Questions
Is it easy to move to Beijing?
If you have a job lined up and can secure a working visa, then yes. However, long-term it is incredibly difficult to move to China in general, especially if you are not even living in the country yet.
Should you tip in China?
No. It can be considered quite rude if you offer money to someone who has served you, as they might feel like you are implying that they don't already make enough money. Saying that, don't be too worried about offending people. If you are in a tuk-tuk, for example, the ride has cost you 9RMB but you only have a 10 and the driver doesn't have change – that's different!
Is it expensive to live in Beijing?
In comparison to other places in China, yes, Beijing can seem expensive. Shanghai probably costs more to live in, as there are a lot more foreigners there, and places like Guilin in the south are even more budget friendly. However, Beijing is still a cheap place to visit!
How much money should I bring to Beijing when I start a job?
The upfront costs of living in Beijing can be quite high because of the way the rent system is paid for, as well as the time it can take to be paid for your first month of work. You'll usually need to pay 3 months rent first, as well as a month's deposit and a month's agency fee (remember that although it seems a lot, it means that you won't pay rent from your first 3 pay cheques, and you should get your deposit back at the end of your tenancy agreement). You also may have to work 6 weeks in advance of your pay because most Chinese companies pay in the middle of the month but their payroll systems begin from the 1st. For example, we began our job on the 1st of September and we weren't paid until the 10th October.
Is it safe to live in Beijing in 2022?
We feel pretty safe in China and especially Beijing, and I can't recall a time when I felt uncomfortable to the point of thinking something bad was actually going to happen. Of course, I always had my wits about me, just like I would in any city. Don't walk around busy tourist attractions flashing your expensive phone to everyone, don't get in unmarked taxis and be careful when you're out drinking that you don't leave your glass unattended. These are all pretty common rules to live by wherever you are though!
---
Do you live in Beijing? Do we spend too much or should we splash out a little bit more? Let us know if you have any questions about how much it costs to live in Beijing!
---
Click on the image below to repin this post!