This small island is love, romance, and perfection all wrapped up in one glorious spot. Let me show you how to plan your ideal honeymoon in Malta.
---
Why Malta?
Malta cemented a place in our hearts during our month-long visit. It was here when we first started filming videos on YouTube, here when the website became our full-time job, and here where we stood near the cliffs of Gozo island, looking out into the dramatic frothing sea as a storm rolled in and I asked Jade to marry me.
Yeah, Malta will always have a place in our hearts.
What's important though, is making sure that we help you get that same feeling. However, the island is so small it should be easy to plan the perfect honeymoon in Malta. Let's get cracking!
I'll start with my perfect 10-day honeymoon in Malta but after that, I have all of the best activities and accommodation options for you to plan your own incredible Malta honeymoon!
Read More: How To Spend A Week In Malta
---
The Perfect 10-Day Honeymoon In Malta
Do you want a ready-made 2-week honeymoon in Malta itinerary or simply inspiration to get the planning off the ground? This is my perfect Malta honeymoon experience.
Days 1-5 – Valletta
Where to Stay – The Coleridge Boutique Hotel
---
Day 1 – Walking Food Tour & Exploring
The first we do in any city that we are visiting is check to see if there is a decent food tour of the city. They are usually a similar price to walking tours and you get the added benefit of eating the best food the whole city has to offer. This is our recommended Valletta food tour.
This tour is in the morning which is perfect as this gives you the rest of the day to walk around Valletta, exploring its gardens, forts, and bars along the way.
---
Day 2 – Up To The Blue Lagoon
Get yourself on a boat up to the Blue Lagoon and swim in the best water on the entire island. You have quite a few hours when you get to the Lagoon so make sure you make the most of it by drinking, partying, jumping off the boat, and generally having the best time ever.
The Blue Lagoon is a massive party during the high season so be ready for many many people, loud music, and pure crazy fun.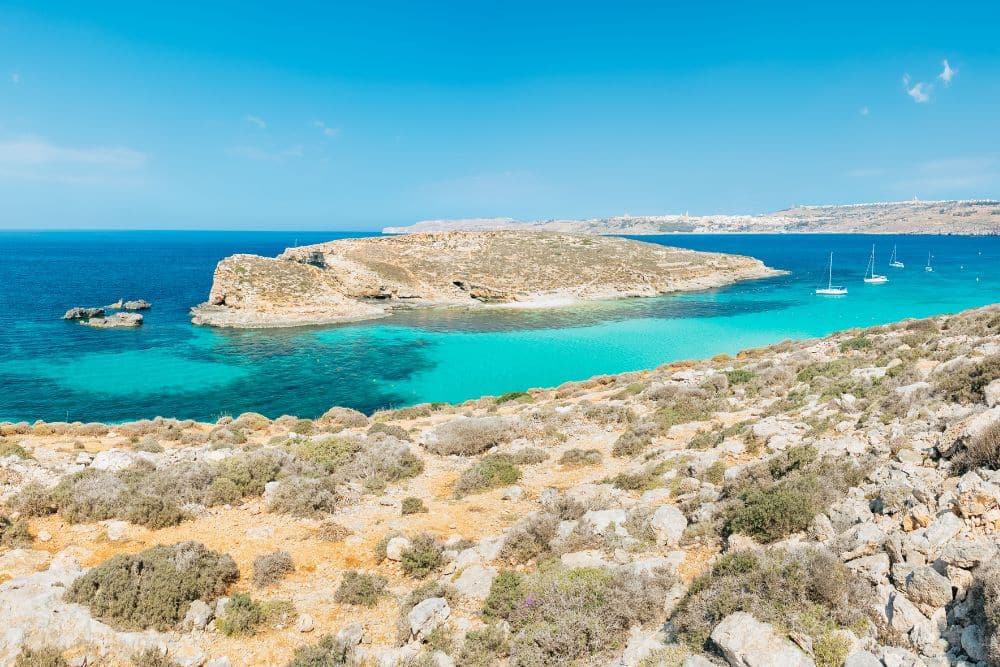 Read More: How To Spend A Single Weekend In Malta!
---
Day 3 – Mdina Sightseeing & Wine Tasting
You simply must visit Mdina as it is such a gloriously beautiful city but it's so small that you would have gone around the whole place in just a couple of hours. Luckily the wine lovers tour comes to Mdina for a couple of hours, giving you time to have a look around.
This is great because you then also get to see and do loads of other activities during the tour, plus get wine and a food platter. It ticks off so many boxes all in one go. Check out the price and availability here.
Read More: The Best Farmhouses In Gozo – WITH INDOOR POOLS!
---
Day 4 – Chill On The East Coast
The east coast of Malta is home to Sliema, St Julians, Paceville, and many more places to explore. I recommend getting a boat across the harbor to the 3 cities and exploring this area for a couple of hours before getting lunch on the harbourfront.
Then, make your way up to Sliema for some shopping in the afternoon. When you start to feel peckish, get down to the Guadalupe boat bar in Sliema Bay and have a bite to eat and drink. If you can, plan this around sunset as the views from the little boat are magical.
In the evening, head up to Paceville for a night out in the country's best bars and nightlife scene. Don't worry if you are not a big club goer, Paceville has a place for everyone to enjoy their evening.
---
Day 5 – A Day By The Pool
There are so many incredible hotels and venues that you can grab day passes to on the east coast of Malta. I recommend making your way up to Grand Hotel Excelsior which has draw-dropping facilities and enjoying the 5th day of your honeymoon In Malta in style.
This is the place to get any spa treatment you might want/need and the day to absolutely pamper yourselves with any luxury food, drink, and services that any good Malta honeymoon can't do without. You can read Jade's full guide to spending a day by the pool in Malta here.
---
Day 6 – 10 – Gozo
Where To Stay – Sant Anton Farmhouse
Read More: The Best Gozo Tours To Make The Most OF Your Visit!
---
Day 6 – Relax At The Farmhouse
After making your way up to the farmhouse, you're going to want to chill out and relax at this new venue. Why not get a couple of bottles of wine in, grab some BBQ food and have a romantic BBQ afternoon by your new pool?
Even writing that makes me want to have a BBQ right now. Ok, you've convinced me, I'm gonna have a BBQ tomorrow. Pity I don't have a pool though.
---
Day 7 – Diving
If you are a certified diver, you cannot come to Gozo without diving at least once. If you are both divers then this is simply a no-brainer! Check out our recommended dives here or check out this great website about diving in Gozo.
---
Day 8 – Ramla L-Hamra Beach
This is the best beach in the whole country and nobody can convince me otherwise! It has the best sand and it is also absolutely huge, so you can always find a secluded spot even at high season. Not only that, it also has some of the best swimming out of any beach as well.
I genuinely suggest spending a whole day here but you could swap this out with spending a day at the farmhouse by the pool to make the most out of that incredible accommodation.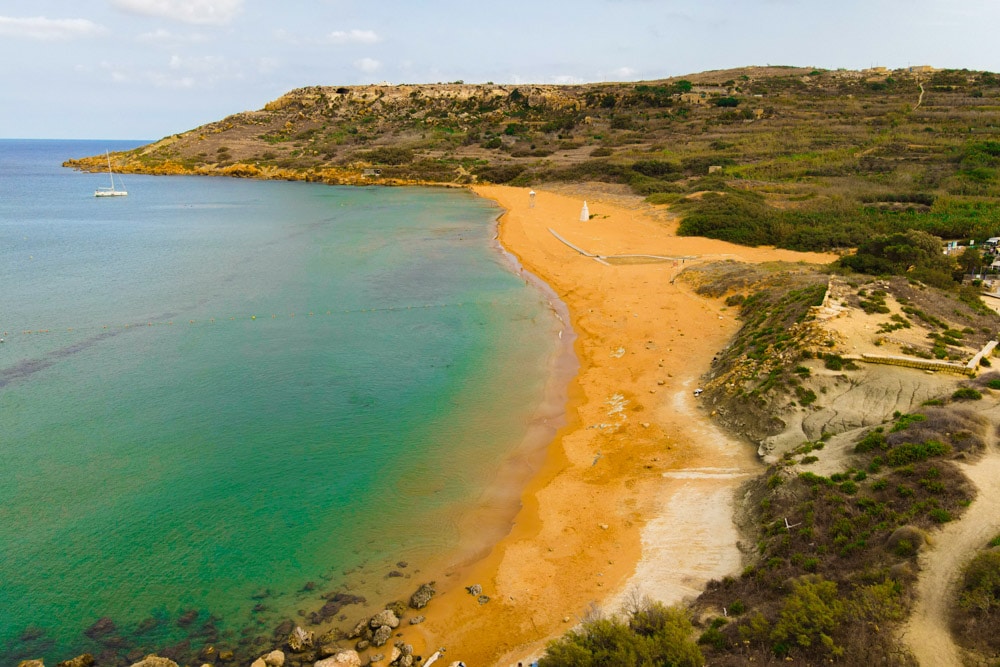 ---
Day 9 – ATV Adventure Around Gozo
This is your last full day of your honeymoon in Malta so why the hell not go out with a bang?! This ATV tour allows you to zoom around some of Gozo's most incredible scenery and taste some of its best food.
The tour is also even better as you won't have to spend hours at the start of the tour picking up other passengers and making your way over to Gozo as you're already there! Check out this activity here.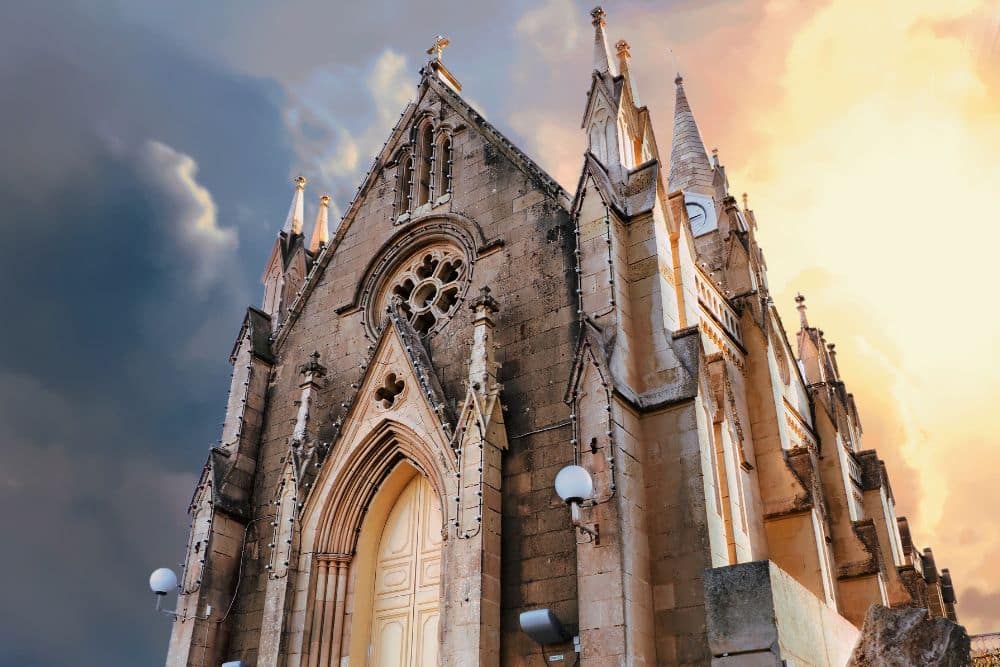 After the ATV adventure, I recommend dressing up nice and heading out for one last dinner at a fancy restaurant. We went to a place called Al Sale and it was absolutely amazing.
When you have a day as incredible as your engagement day and you vividly remember the food then you know it must have been good.
---
Day 10 – Back To The Airport
Just because this is the last day and you're heading back to the airport doesn't mean that you can't have one last little bit of luxury before heading home and truly beginning your married lives together.
Make sure you book your place at the Lavalette departures lounge at the airport to cap off quite an amazing honeymoon in Malta.
---
Where To Stay For Your Honeymoon In Malta
This is, by far, the biggest decision you're going to have to make. We made a video summarising all of the best places to stay in Malta so take a look at that below to get an idea of where you would like to stay and then we'll break down why each place is good for a honeymoon in Malta or take a look at our full guide here.
Read More: Is Malta Expensive? Our Complete Guide
---
Mellieha
Mellieha is a gorgeous little town towards the north of the main island. It boasts a very good location due to its proximity to the north and its short journey to Valetta and the south. It has the incredible Mellieha Bay beach and has loads of things to do within walking distance of the center.
If you decide to take your Malta honeymoon here then you'll be welcomed by the incredible Mellieha Parish Church surrounded by a few good restaurants and bars. It certainly is one of the most romantic locations in Malta in my opinion.
---
St Julians
St Julians is the most active location in all of Malta. This is where most tourists go and where the nightlife is at its most fervent. However, it is also extremely beautiful and is home to some incredible restaurants. I recommend St Julians for a couple who are looking to be in the heart of it all and not necessarily looking for that peaceful serenity that can be found elsewhere in Malta.
---
Gozo
Gozo is the most romantic place in Malta. Am I biased? Yes. But in all fairness, this is where you will find some of the best Malta Instagram spots, picturesque villages, the most incredible hidden restaurants, and some of the best romantic accommodations in all of Malta.
I recommend that you split your time between the mainland and Gozo as this gives you the best of both worlds!
Read More: How To Choose The Best Boutique Hotel On Gozo
---
Valletta
The incredible beauty of the capital, Valetta, cannot be understated. This city is one of the most beautiful I have ever visited and its high stone walls and ancient architecture ooze romance and love. How can anyone visit Valetta, walk through the gardens, visit the small bakeries, get lost in its labyrinth of winding streets, and not fall in love all over again?
Of course, Valetta is very busy and the accommodation here is usually very tightly packed unless you spend the big bucks, but it is an incredible city and it should definitely be towards the top of your list for your honeymoon in malta.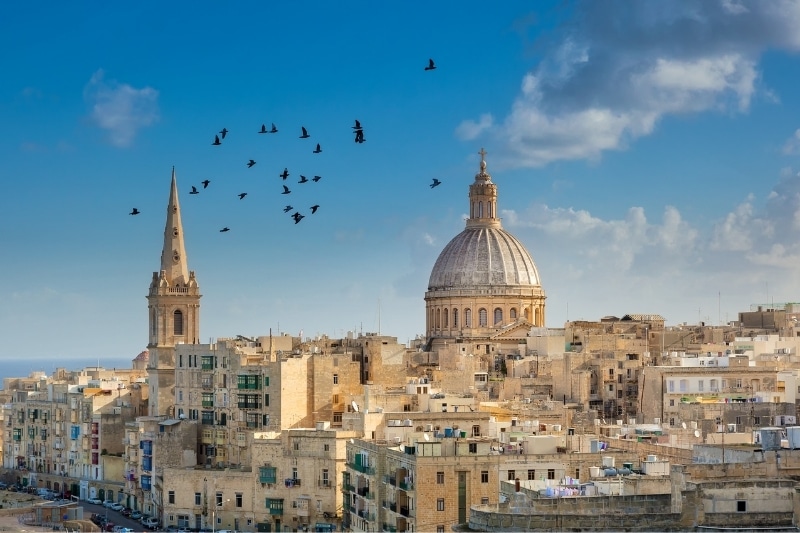 ---
The South Coast
The south coast has a collection of smaller towns that tend to be historic fishing villages. Places like, Marsaskala and Marsaxlokk. These towns are very beautiful but, I believe that there are better places with better access to spend your honeymoon in Malta.
The prices down here tend to be lower so don't rule out the area as it could be a great way to save money if you hire a car to get around the rest of the Island.
---
The 3 Cities
The 3 cities of Vittoriosa, Senglea, and Cospicua are directly opposite the harbor of Valetta. It's literally a 5-minute ferry ride across the water. These cities are so much quieter than Valetta and also have some great restaurants and accommodation options.
If you want to get all of the benefits of the capital but want the peace and quiet of a small rural town then the 3 cities are a fantastic option to get the best of both worlds.
---
Mdina & Rabat
Mdina is a small fortified town of just 300 people in the center of Malta and served as the capital of the island for many centuries. Rabat is the town that surrounds Mdina. Mdina is an incredible place to visit and has some of the best restaurants and views in the entire country.
If you start looking at accommodation options in Mdina then you will see that the price is quite high. this is because of the limited options available. However, if you can push the budget to Mdina then you'll have one of the most romantic trips you could possibly have.
---
Types Of Accommodation
It can be difficult to decide what type of accommodation to choose for your Malta honeymoon. Most honeymooners will opt for an all-inclusive resort with a huge sprawling pool, spa, concierge services, and a room to die for. You may not even have to leave the resort!
However, there are a few different options that you should consider before jumping straight in with the most obvious, albeit brilliant, option.
---
Farmhouses & Townhouses
Farmhouses/Townhouses are often completely overlooked when planning any trip, let alone a honeymoon in Malta. However, these incredibly beautiful converted properties often pack the most charm out of any of the following options. Check out my favorite 4 below.
---
Resorts
Booking a resort for your honeymoon in Malta is probably one of your top choices. I understand the appeal. The quest for a completely stress-free honeymoon where you don't have to think about a single thing other than each other. It's pretty darn appealing. Luckily, Malta has a pretty amazing collection of high-end resorts to make your Malta honeymoon the most memorable. My fave 4 are below!
---
Boutique Hotels
If you are on a budget but still want that taste of luxury, personal service, romance, and style, then choosing a boutique hotel for your honeymoon in Malta may be the best option. Boutique hotels have fewer rooms so you get that calmer more personal touch for a fraction of a 5-star resort. As always, my top 4 are below.
---
Apartments
If the idea of eating in a restaurant every day, getting pampered in the spa, lying in the sun, and generally leaving the real world for your honeymoon in Malta is not what you consider paradise, then an apartment may be exactly what you need. You'll be able to cook for yourselves and have all the comforts and privacy of home. Check out the best 4 below.
---
Villas
This is the pinnacle of accommodation in Malta in my opinion. The extreme luxury and privacy offered by these properties are unmatched anywhere else and this is the option if you have the budget and the desire to disappear into your new home and soak up each other's love in complete opulence. Sounds appealing. Check out the best 4 below.
---
Things To Do On Your Honeymoon In Malta
The Blue Lagoon
You simply have to use one of your days to grab a boat over to the Blue Lagoon on Comino island. This absolutely gorgeous lagoon is probably the best place to swim and relax anywhere in all of Malta so it is a no-brainer to organise during your honeymoon in Malta.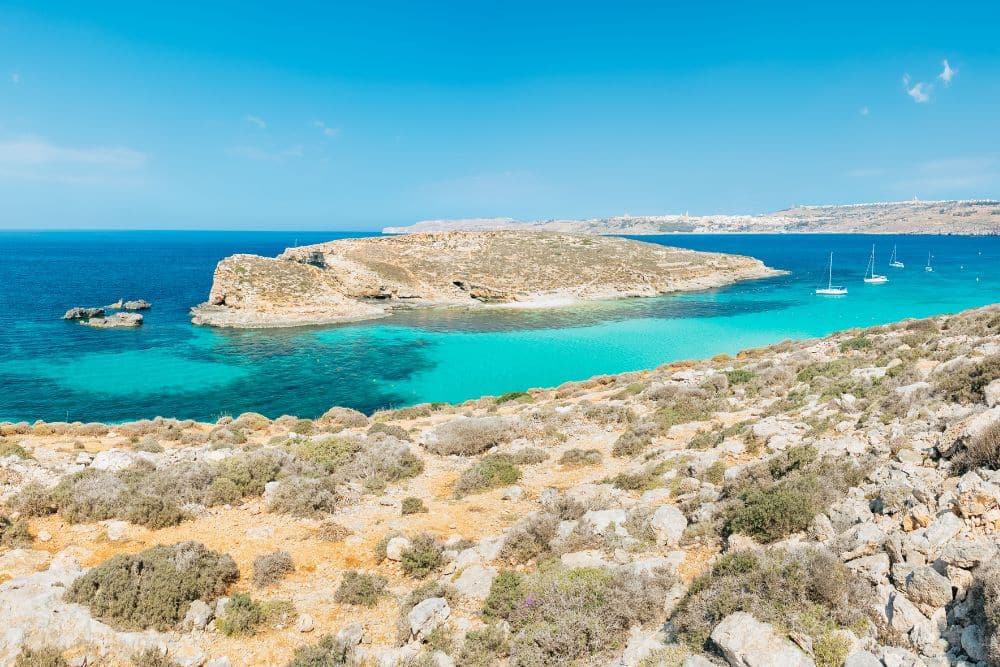 There are a couple of ways to do this. You could hire a private boat to take you over which will give you the most privacy, you could book yourselves on a large group tour (kind of a party boat) which is the most convenient, or you could simply get the passenger ferry across. If it was my Malta honeymoon then I would go for the party boat but it's totally up to you guys!
---
A Drink With The Sunset
We were walking down Sliema bay one evening and came across this very cool boat called the Guadalupe. It is docked in Sliema bay and has a few tables and hammocks on board for people to jump on and grab a drink and bite to eat.
The cocktails were great, the price was more than reasonable and the sunset into the bay was sublime. It's these sorts of small, spontaneous experiences that make Malta so memorable.
---
Diving
If you have dived before then you already know that Gozo is one of the most famous places on Earth to go diving. If you have never dived then there are some fantastic beginner courses to try out as well. Diving is one of those seriously cool activities that everyone dreams of doing but never gets around to it. It's your honeymoon, now is the time.
If you are a beginner then check out this beginner dive and if you have already been diving then check out the certified dives right here.
---
Eating Out
I'm not going to recommend any restaurants. They are so many, I couldn't possibly recommend all of the best throughout the entire island depending on where you are staying. Also, there is a certain beauty to just going and finding somewhere that ticks all of your boxes.
On the day I proposed we found a restaurant in Gozo by just checking out the local village and it absolutely blew us away. If you happen to be in Gozo, check out a restaurant called Al Sale, it was incredible.
---
Day By The Beach
There are some absolutely incredible beaches in Malta. What better way to spend your time on your honeymoon in Malta than soaking up some rays and swimming in the incredibly blue water? I have written a full guide to all of the beaches in Gozo and the best beach on the mainland has to be Mellieha bay.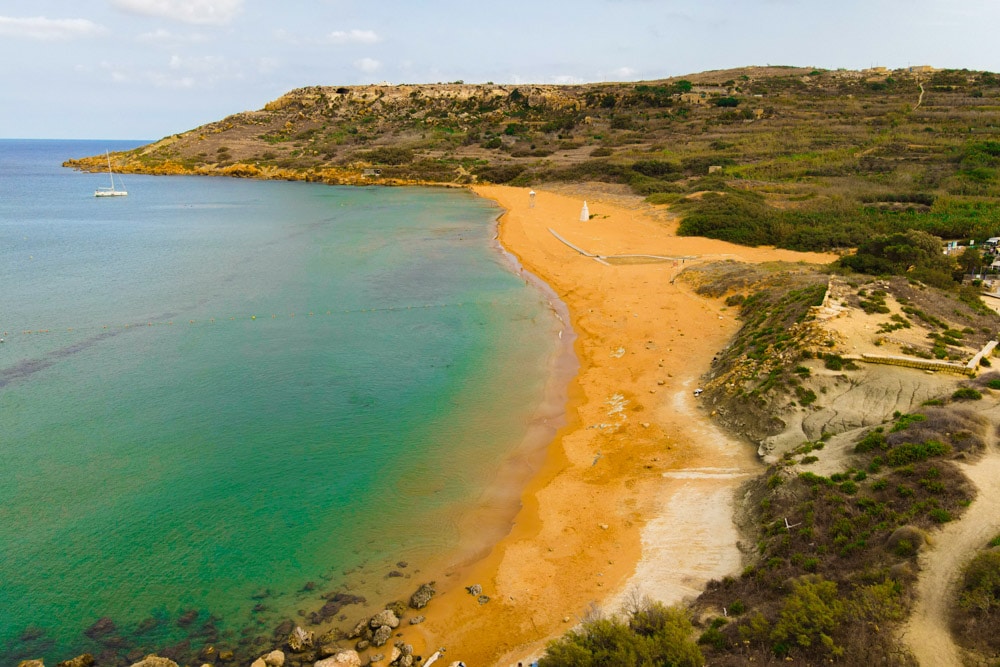 ---
Valletta Sightseeing
You have to spend at least one day in Valletta. It is the romance capital of the country, as well as the actual capital. A really good way to get a good introduction to any city that you visit is to jump on a walking street food tour.
We basically do this anywhere we go as it shows you all of the best spots in the city and what food you should be looking out for. Check out this food tour of Valletta here to see what I mean.
You could also jump onto a walking tour of the city if the food is not really your priority.
I, personally, think that the food tour is the better option as you can then explore the city without a guide together afterward. Getting lost in the winding roads and discovering the best places the city has to offer together, all whilst eating the best food with your newly acquired knowledge.
---
Wine Tasting
Wine? Cheese? Sun? Ancient City? I'm not sure how much I'm going to need to convince you to check out this activity. If you are into wine and cheese like we are then you're probably going to do it! Check it out here.
---
Visit Victoria
Victoria is the main city on Gozo island and is incredible to behold. It seems like everywhere on this small island is perfect. This is another place to visit, explore, and wander around. Exploring its narrow roads, traditional shops, and incredible bars nestled in the most picturesque surroundings.
Remember, a day trip over to Gozo is very easy if you are not planning on spending any time over there. The ferry runs every day and the timetable can be found here.
---
Gozo ATV Adventure
For the more adventurous among you, there are loads of ATV tours around GOZO island exploring its incredible beaches and villages. Check out our top recommendation here.
This tour actually includes the transport over to Gozo from the mainland and comes with a 3-course lunch in the middle. It doesn't get better than this. It's a great way to experience what Gozo has to offer in one day.
---
Charter A Yacht
This has to be the most romantic thing you can do on your honeymoon in Malta. A private yacht charter takes you wherever you want to go. This is the pinnacle of activity luxury and it doesn't get any more exclusive and cool than this.
If you are considering going all out for one incredible experience on your Malta honeymoon then this could well be the option you should go for! Check out the private yacht charter here.
---
What To Pack For Your Honeymoon In Malta
Here is a list of some of the most important things to take on your honeymoon in Malta. Everything is updated regularly so don't worry about out-of-date products!
If you need some sunglasses then take a look at our recommended pair right here. Kev has just done 7 months without a pair because he couldn't find any he liked on the trip and it was just a lot of complaining about the sun. Don't be a Kev… Find out the price of not being a Kev right here.
If you haven't already got a swimming costume then what the hell are you doing?! Have a look at this gorgeous high waist bikini and get a swimsuit before you leave. I absolutely love the dual colour option but there are loads of colour options available. Take a look here.
If you're stuck on what kind of towel to take with you then take a look at this microfibre poncho. We absolutely love ours and it is insanely helpful when you need to change on the beach. They dry fast and pack down super small so you'll be able to fit one in your day pack easily enough. Check out the price here.
If you don't have a camera then I HIGHLY recommend the Panasonic Lumix ZS70K. It is an affordable point-and-shoot camera that can be picked up and used by anyone of any ability. The camera captures gorgeous images and surprisingly excellent video whilst fitting in your pocket. The main difference between this and your phone's camera is that it also has an incredible optical zoom so you won't miss any of the shots you need to take. Check it out here.
---
---
Frequently Asked Questions
---
That is our entire guide on how to plan your honeymoon in Malta. Let us know if this has been helpful or if you need any more information in the comments section below!
---