If you're in Vietnam, don't miss out on an incredible opportunity to get some beautiful clothes hand-made by a Hoi An tailor. You won't regret it!
Necessary Spacing
We visited Bong Tailor, a family-run business that makes the most incredible clothes.
You can bring your own design or use their iPad to browse ANYTHING you want – they'll be able to make it!
Bong Tailor can make your clothes in just a few hours (depending on your fittings) and prices range from $80 – $200 for a suit and $15 – $70 for dresses!
Our top budget accommodation choice in Hoi An is Happy Town Hoi An. For something a little more luxury but amazingly well-priced, stay at Hoi An TNT Villa.
---
Hoi An Tailors
For most of us, getting perfectly made-to-fit clothes is an experience that's out of budget. In the UK, a tailored formal dress can start from around £100 and that's without the cost of the material, regular fittings or extra trimmings!
In Vietnam, the cost of making clothes is much lower – but usually, the items produced are still very high-quality.
Read More: Your Ultimate Guide To Backpacking Vietnam
We visited Hoi An with absolutely no intention of having any clothing made, but ended up leaving with 2 suits for Kev and 4 dresses for Jade! We actually visited two Hoi An tailor shops, but this article is going to focus on the second one as we enjoyed the experience there so much!
Disclosure: Bong Tailor were kind enough to give us a discount on our clothes in exchange for an honest review and video about their Hoi An tailor business. All opinions are truthfully based on our experience!
---
Our Experience With Bong Tailor
Located on the main street of Hoi An's Old Town, Bong Tailor is the perfect place to get bespoke clothes made. It's right at the top of the road, meaning that it's hard to miss – there are so many tailor shops in Hoi An that it can get confusing so having somewhere that's easy to find is a great bonus!
The first Hoi An tailor we actually visited didn't have many good dress options in their design book, so I was a bit disheartened about the fact that I wouldn't be able to find something I liked.
Cue: Bong Tailor!
We moved on and realised that the staff at Bong Tailor were going to be super flexible, budget-friendly and patient – everything we needed!
There are lots of things to consider when visiting a Hoi An tailor (or cloth shop as you might see them called). I think the most important things to think about are cost, time, fitting flexibility and of course, quality. Our experience was positive with all of these things, so I can't recommend Bong Tailor highly enough.
Read More: How To Experience The Phu Quoc Cable Car
Cost
Obviously, cost is a big factor in choosing the right tailor in Hoi An. The point of getting your bespoke clothes in Vietnam is to spend less than you would back home, so keep that in mind when you're ordering.
Luckily, the clothes that you order will almost certainly be more cost-effective than most things you've bought before.
Yes, you can buy fifty items from somewhere like Pretty Little Thing or SHEIN, but let's be honest here – those clothes will more than likely fall apart after a few wears. They're made in huge numbers, so the care and quality you get from a tailored item are just not there.
They also won't fit you as the clothes made by a skilled Hoi An tailor do, and I literally can't stress enough how amazing it is for a dress to fit your body perfectly! I don't ever want to go back to buying pre-made clothes again – although now that we've left Vietnam, my bank balance requires me to!
At Bong Tailor, the dress prices range from as little as $15 for a simple dress to around $70 for something a little more extravagant. For a 3-piece suit, you can spend anything from $80 – $200.
These prices INCLUDE all materials (cloth, zips, buttons etc) and all fittings too. Mimi and Tuyền will spend the time with you to make sure that you are 100% happy with everything before you leave.
Read More: How To Spend A Week In Vietnam!
Time
I'd recommend visiting Bong Tailor on your first day in Hoi An. Their production turnaround is incredibly quick – if you know what you want and it's something relatively simple, they can have your garments ready in just a few hours!
However, if you're fussy like me (and that's not a bad thing considering these clothes are meant to suit you as nothing else has before) then make sure you have a few spare days in case you need extra changes.
Because Bong Tailor is focused on fully bespoke items, you'll need to spend some time planning what you want. You can bring your own designs for the ladies to look at, or you can browse Pinterest on their tablet. This second way is great because once you click on a style you like, the app will show you more of the same – the inspiration is literally endless.
Read More: Check Out The Best Beaches In Hoi An!
I spent at least 2 hours looking at a variety of styles, colours and materials. I'm planning on wearing my dresses to two different weddings next year, so it was important for me to get the designs right! Mimi and Tuyền were so patient with me, giving me advice as to what colours suited me, the length of the splits, comparing buttons to zips and so much more! This must be what the Queen feels like!
Give yourself time to make sure everything is perfect, but even if you've only got 2 or 3 days, visit our favourite Hoi An tailor and they'll create something for you within your time limits. It's literally like magic!
If you have more time, then a good tip is to go start shopping first thing, in the late afternoon or early evening. Lots of Hoi An tailor shops stay open late (around 9pm) which means that you can explore the shop fully without the blazing heat affecting your decisions! I was much more comfortable when we went back for our fittings at 6pm than when we arrived at 12! Try to avoid the middle of the day – not only will you be cooler, but there will be fewer other customers so your tailors can focus solely on you.
Read More: The Whole Way Fron Hanoi To Danang!
---
Fittings
We had to return for a few fittings because I had overcompensated on length and size – it's much easier for them to make something smaller than it is to make something bigger. Sometimes, these fittings were literally hours after I'd tried a dress on. Kev even had his suit altered on the same day too!
Read More: The Best Luxury Halong Bay Cruises
Your Hoi An tailor will measure you up but this is just to get an idea of your body shape and size – 9 times out of 10, you'll need a second fitting to customise the outfit properly. For one of my dresses, it was actually made perfectly so I didn't need them to change anything which is a testament to their skill, but always imagine that you'll need at least 2 fittings.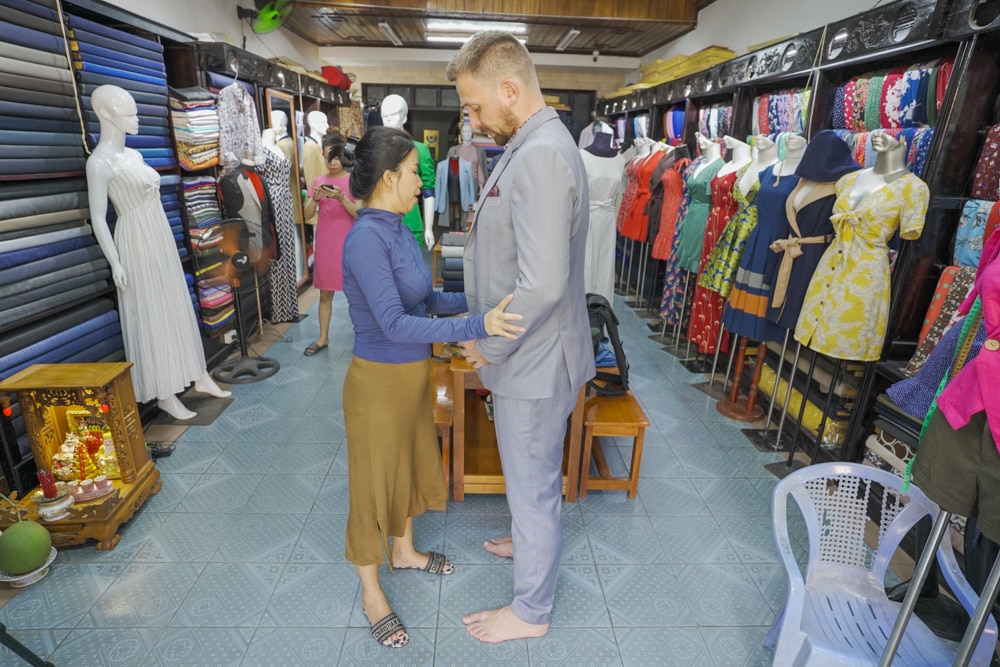 Don't be afraid to tell your Hoi An tailor if something doesn't quite feel right, or if you've changed your mind slightly. Of course, if they've made a whole suit and you decide you don't like the colour, that's a different story and you should be expected to pay for it anyway.
But if you asked for a calf-length dress and once you've tried it on, you realise you would prefer it to sit above your knees, go ahead and ask. They'll let you know if it's possible or even recommended. Remember that tailors in Hoi An are professionals, so they'll know what will work and what won't.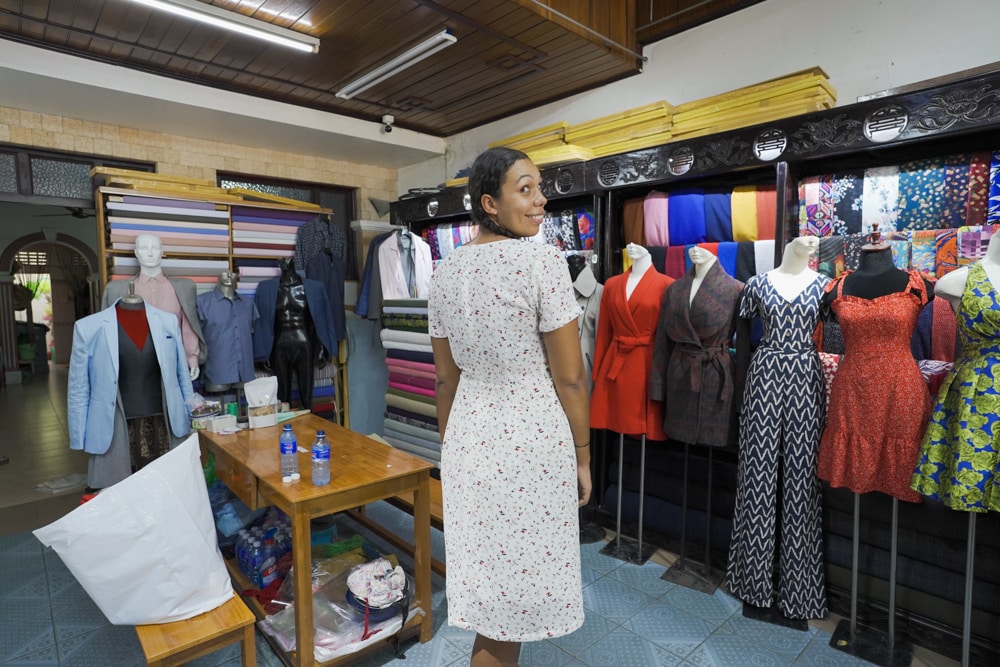 For example, at first, I wanted a zip on the back of one of my dresses, but Mimi advised me that it might not work on that particular design because of where the material began and ended. She said it would probably be uncomfortable and restricting, and once I'd sat down in the dress without the zip, I knew immediately that she was right! It's your design but listen to the experts too.
Read More: Danang To Hoi An – 7 Ways To Travel
What To Expect From Your Hoi An Tailor
Materials
You should walk into a tailor shop in Hoi An and be greeted with hundreds of different fabrics, patterns and designs. The shop should want to show off what they can offer you, so it's a bit of a red flag if everything is hidden in the back!
Read More: How To Travel To Hoi An From Hanoi
Bong Tailor has another shop on the same road with even more materials to choose from, and when I really couldn't choose, Mimi offered to take me up to their warehouse for an even bigger selection! In the end, I found the perfect fabric so I didn't go, but remember that the option is there.
Most have mannequins outside their shops and dotted around, wearing their best pieces. Take your time to look at these because they will show you what quality you can expect from the shop!
Read More: How To Check Out The Hanoi Night Market
Design and Quality of Pre-Made Items
Whilst I was getting changed, Kev decided to surprise me with another dress that he chose. He'd seen a beautiful navy-blue halterneck dress on a mannequin in the shop and asked Mimi for near-replica. I had already noticed this pretty dress standing there but didn't think to actually copy it!
The last time we visited Bong Tailor, Mimi presented me with the surprise dress and I loved it! This just goes to show that if you're not very creative or get frustrated with designing something from scratch, you can literally go window-shopping once you're in the shop – this is a super quick way of finding beautiful clothes with a fraction of the planning.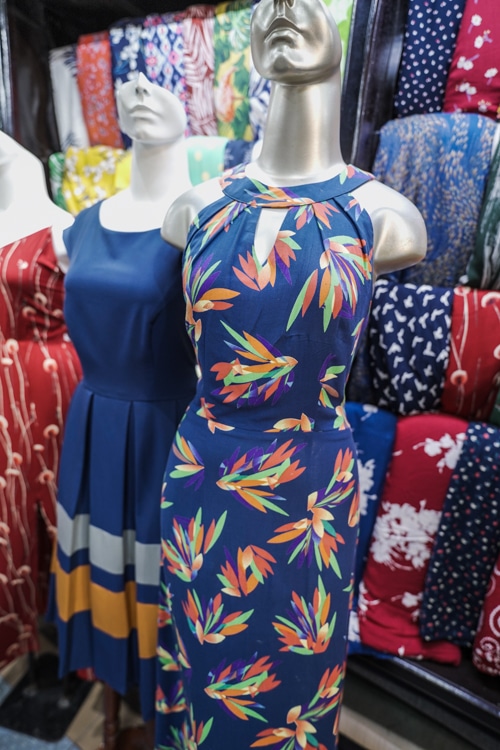 Take a look at the different types of clothes that your Hoi An tailor has already made. Do they have a variety of designs or are they a one-trick pony? Feel the materials – are they high-quality? Look at the stitching of the fabric, buttons + zips too.
One of the things we loved about Bong Tailor is that we were able to really get to know the whole range of materials across the business. Tuyền spent a lot of time helping me with this, layering fabric after fabric across my body to show me how it felt, what it looked like and where it would fit best on my body.
Reviews
Reviews are very personal – especially for a tailor shop as everyone has different tastes, budgets and expectations. However, as a general rule of thumb, they can be relied on to find out about the quality of the product and the customer service you can expect to receive.
It can be overwhelming to look at all the reviews of every single Hoi An tailor – there are hundreds! Filter out the ones with anything less than 5* – the competition is high so you don't need to worry about low-quality shops.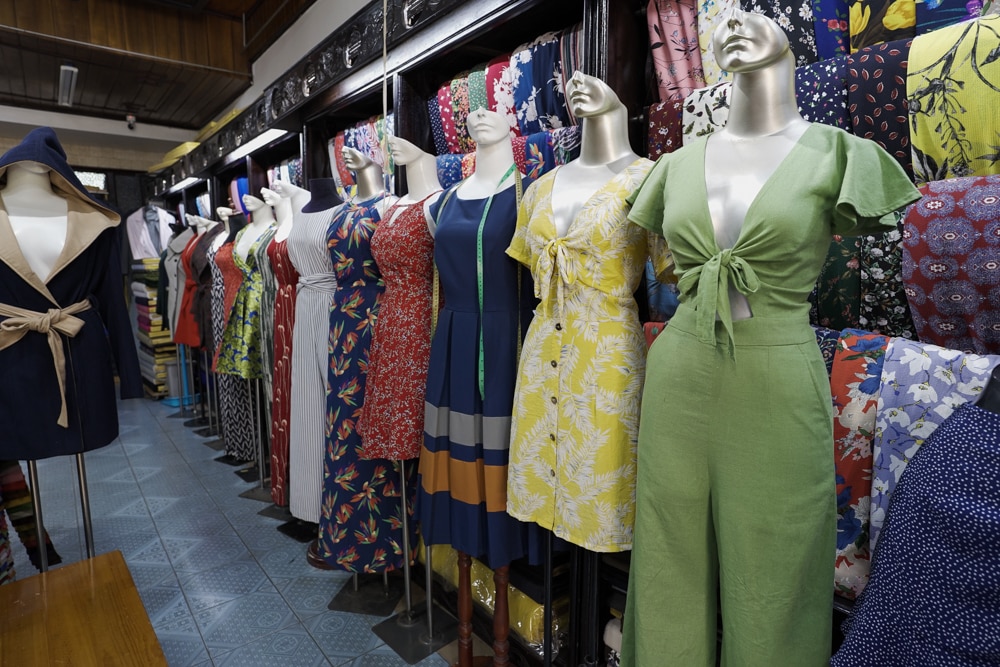 When reading reviews, keep an eye out for anything mentioning bad quality products from a Hoi An tailor. You won't be able to fly back to Vietnam and demand a refund once you've left if your clothes quickly fall to pieces!
Check out Bong Tailor's fantastic reviews on TripAdvisor here.
Don't forget to leave your own review too, especially if you visit a small business like Bong Tailor. They rely on places like TripAdvisor for their "marketing" as they don't have the big budget that the more famous stores have for things like a website or adverts. A few minutes of your time is all it takes, and it would mean the world to the Hoi An tailor staff who are making your beautiful clothes!
Read More: The Very best Tours In Phu Quoc
---
Customer Service
It's so important to feel comfortable with the staff custom tailoring your clothes, because they need to understand exactly what you want and how you want them! Customer service is more than just being nice to you in order to sell you something – it's about being genuinely helpful and wanting you to get the best products possible!
We visited more than one Hoi An tailor, and the first one had higher reviews on TripAdvisor than Bong Tailor. We were quite excited about the experience, but we actually felt a bit let down because the staff were so busy working on other people's orders that we weren't given much attention! We walked in and it took a few minutes for anyone to even acknowledge us – not a great sign when we're here ready to spend money in their shop!
Read More: On A Quick Trip? Visit Hanoi For 1 Day!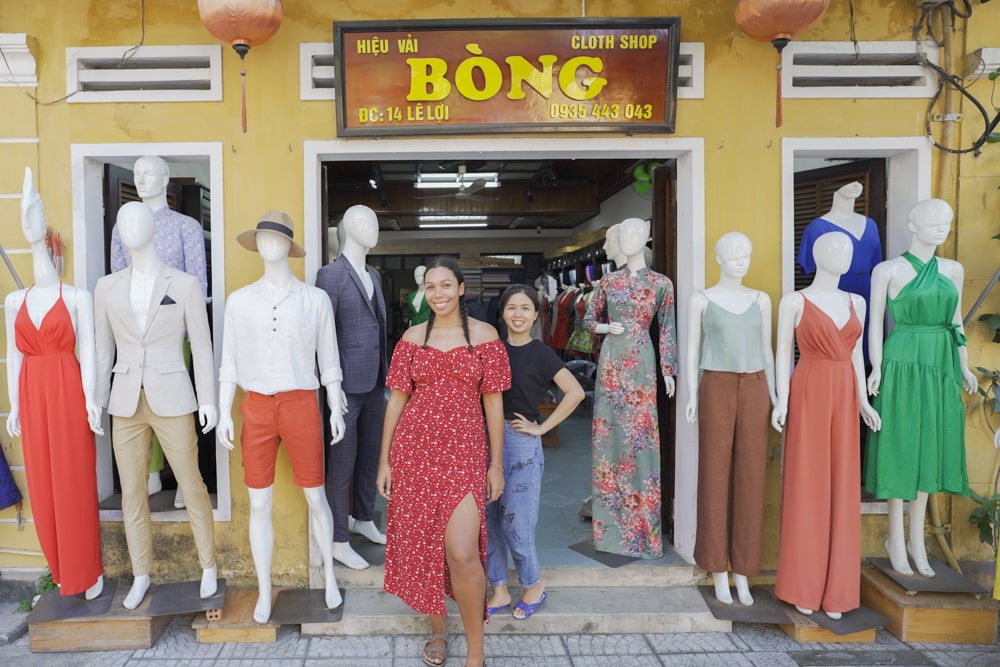 It was a whole different story with Bong Tailor. Mimi greeted us immediately and invited us into her shop without being too pushy. She offered us cold water, showed us the different suit materials and offered us a seat to browse on Pinterest. We really felt like we were valued as customers, which made a huge difference in our experience.
Remember that unless you've agreed to an order, you can walk away and find somewhere like Bong Tailor where the staff will go above and beyond to make you comfortable, relaxed and inspired. Don't be pressured into buying something that you don't absolutely love!
---
---
Other Things To Do In Hoi An
Hoi An is a gorgeous little town with plenty to keep you occupied whilst you wait for your tailored clothes! Here are our top recommendations for things to do in Hoi An.
Read More: How To Visit Halong Bay In One Day
Lantern Making Class
The minute you arrive in Hoi An, you'll notice the gorgeous lanterns hanging from every corner. There are shops selling them, plus doorways where you can pay a small fee to have your photo underneath the lanterns, but you can also take a class to make your own!
Click here to book your spot in a lantern-making class.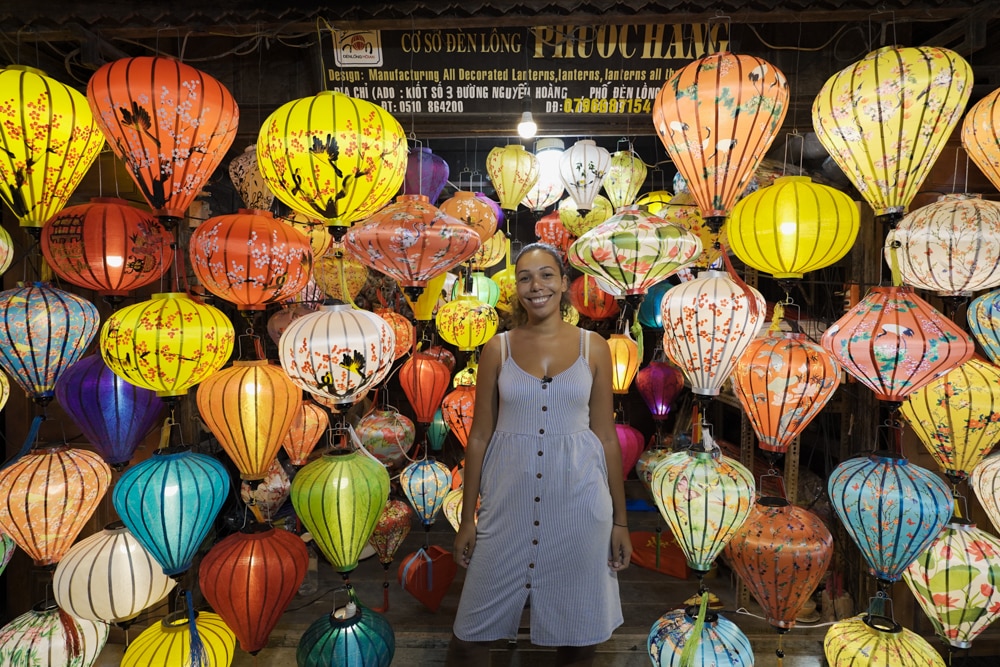 Read More: 9 Fun Things To Do In Vietnam On A Budget
Go Shopping in Old Town
You could easily spend hours wandering around the Ancient Town, visiting souvenir shops, watching the boats go by or trying all the delicious coffee in the area. I'd highly recommend you do so as you really get a feel for local culture and it also gets you acquainted with the town!
Take A Boat Ride
The river is full of boats floating up and down, and it's quite a charming sight, especially after dark. Lanterns are lit so the whole area is just so pretty, and you get to escape the crowds on the bridge and pathways. There are a lot of people trying to get you onto a boat though, so don't rush. You can expect to pay as little as 50,000 VND for a shorter, 15-minute ride per person.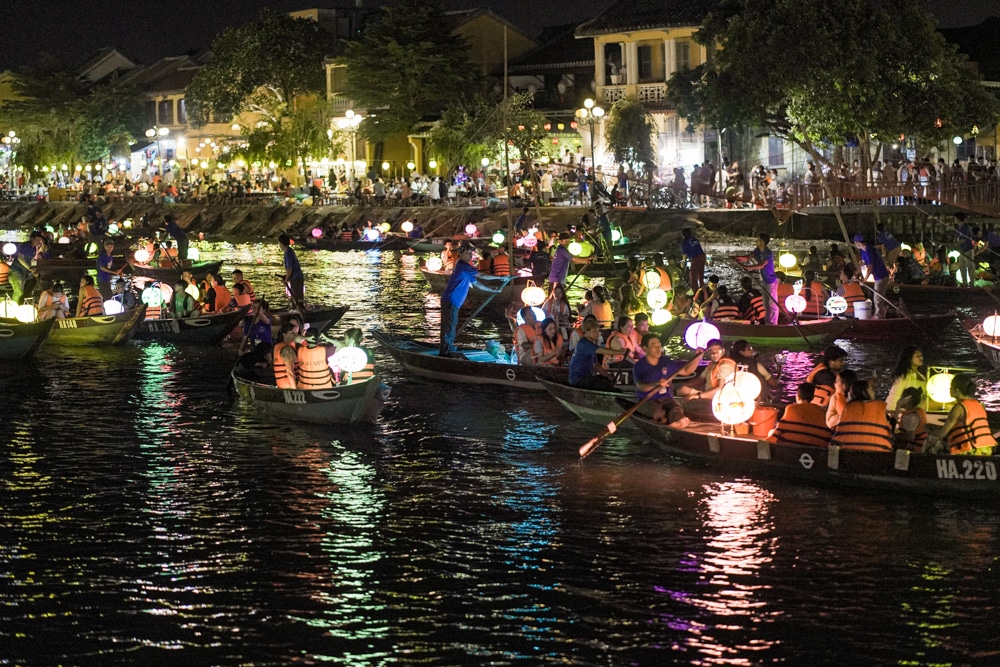 Explore Nearby Islands
For a change of scenery, take a fun snorkelling tour of Cham Islands. You can take a short 30-minute boat trip across the water, and spend an afternoon snorkelling, swimming and beach lounging on these gorgeous islands.
Click here to book a great snorkelling tour to the Cham Islands.
Usually, lunch is included with these trips, and so is the snorkelling equipment so you don't have to worry about planning for these things yourself.
You'll also get picked up from your hotel and dropped off after the trip. A tour like this is suitable for anyone over 8 – even if you're not a strong swimmer.
As well as snorkelling, you get to experience underwater walking with a special helmet – it's a super unique way of seeing marine life!
Check availability for your dates now and book your spot before spaces run out.
Read More: Here Are Our Favourite Cooking Classes in Hanoi!
Visit The Night Market
We love a night market, and Hoi An's didn't disappoint! There are plenty of different stalls selling cute souvenirs, lanterns and snacks. It's on every evening of the week and I'd recommend getting there at around 7. Make your way across the bridge and spend an hour exploring the length of the market. Check out our full guide to the Hoi An night market here.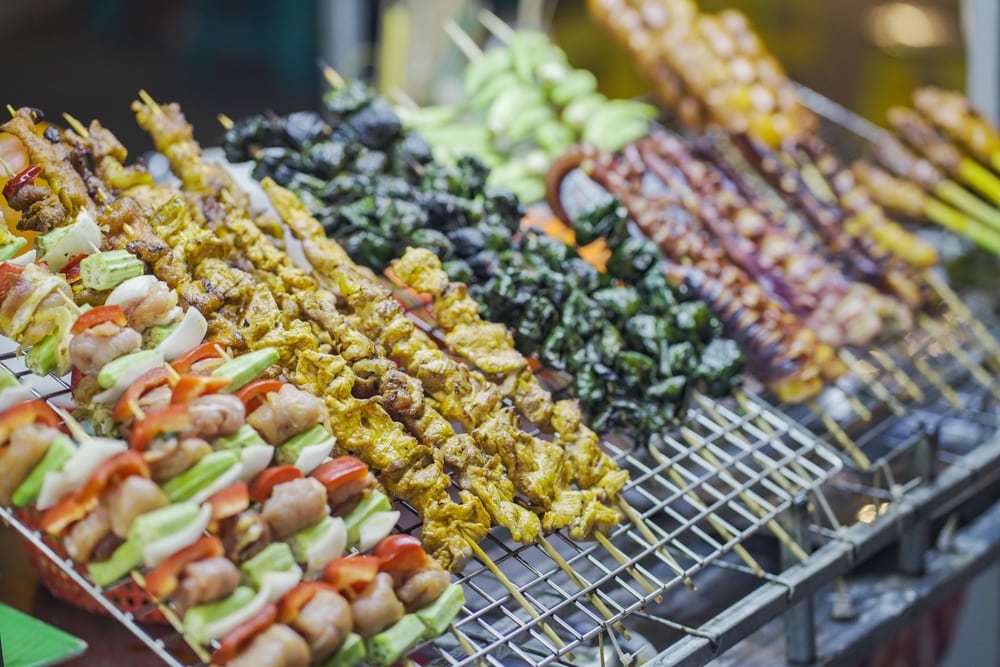 Read More: Try These Incredible Street Food Tours in Hanoi!
Explore The Beaches
Hoi An has some lovely beaches stretching along its coastline. In fact, it's basically one long beach, just split into different sections.
We would recommend going to An Bang beach for sun loungers, drinks and watersports. The quieter end of the beach is Ha My – there are some restaurants set back from the sand but it's relatively underdeveloped which just means fewer people.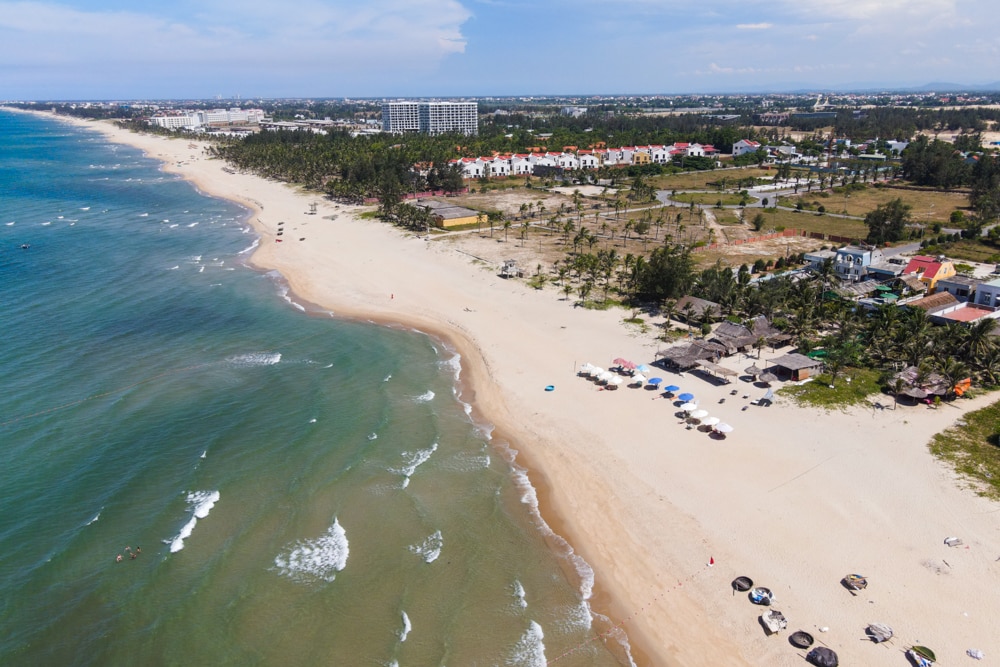 ---
Where To Stay In Hoi An
There are some absolutely stunning places to stay in Hoi An, whether you're on a tight budget or if you've got the flexibility to spend a bit more. One of the best things about Hoi An is that it is quite a small town, so even if you're not staying in the centre, you won't be far from it!
Here are our top accommodation choices for Hoi An.
---
Frequently Asked Questions
How Do I Find A Good Hoi An Tailor?
An important part of searching for a good Hoi An tailor is finding a place with excellent reviews, or from a personal recommendation. We used Bong Tailor and can vouch for their quality, price and customer service!
How Much Is A Tailored Suit In Hoi An?
You can expect to pay anything from $80 up to $200 for a high-quality tailored suit. This price will depend on material, extras and specific requests.
Which Town In Vietnam Is Known For Its Custom-made Clothing?
Hoi An is famous for its tailors and cloth shops!
How Long Does It Take To Get Tailored Clothing Made In Hoi An?
You can get tailored clothes in Hoi An made in a few hours, but give yourself at least 2 days for extra fittings.
How Many Hoi An Tailor Shops Are There?
There are over 300 designated Hoi An tailors, including shoemakers, dressmakers and silk specialists!
What kind of clothes would you get made by a Hoi An tailor? Let us know what you buy in the comments below!