The Hoi An night market is covered with gorgeous lanterns illuminating the streets with a wondrous array of colour and beauty. Check out the full guide here!
Necessary Spacing
The Hoi An night market is situated across the river from the ancient town along the entirety of Nguyen Hoang Street (about 300m).
We recommend you get there at 7 pm as this is the best time for the overall vibe.
Our top activities for Hoi An include a lantern-making class and a walking street food tour.
Our top recommended accommodation options near the market are: Boutique, Villa & Homestay
---
The Hoi An Night Market
Hoi An night market is nestled inside the famous UNESCO world heritage site that is Hoi An ancient town. This is the perfect setting for a night market of this quality and beauty. The market attracts huge numbers of tourists, both domestic and international, but also photographers to capture the town in all its radiance.
If you are planning on visiting, which you definitely should, then make sure to read this guide to make the most of your time there. We also go into detail about other things to do in Hoi An so make sure you scroll down for those recommendations too!
Read More: How To Get Tailored Clothes In Hoi An!
---
Where Is The Hoi An Night Market
Let's start with the most obvious question, where actually is the Hoi An night market? Well, it occupies the entirety of Nguyen Hoang Street in the Hoi Ancient town but you do have to cross the Hoai river as it is on the far bank.
As you can see in the video, just crossing the bridge with all the crowds is interesting! Either way, have a look at the map below which will show you exactly where the Hoi An night market is and you use this as a guide.
Read More: How To Spend A Week In Vietnam
---
Opening Times
We say in the video that it starts at 7 pm when in fact you could get there at 5 pm. However, we really don't recommend this as people are still setting up and you miss the vibe of a busy Hoi An night market. Get there for 7 or later to really get the most enjoyment out of it!
Monday To Sunday: 5 pm – 11 pm
Read More: Danang To Hoi An – 7 Ways To Travel
---
Things To Do At The Hoi An Night Market
Shopping
Of course this needs to be at the top! There are loads of stalls over the 300m stretch of market and they sell everything from clothes and souvenirs to art and sculptures.
We have been to quite a few night markets and sometimes you can tell the quality of the products are pretty shoddy. However, I found that the quality at the Hoi An night market was pretty good. Obviously, this may change throughout the market so make sure you know what you're buying!
We ended up buying a nice hand-painted coconut bowl and a candle holder styled as a traditional Vietnamese villager. They already have pride and place on our shelves at home and they look great.
There are quite a few clothing stalls that offer a very good selection and if you can't find anything in your style or size then some of the stalls will measure you up, make to order and have them complete by the very next day! Read our full guide to getting clothes tailored in Hoi An right here.
Pro Tip
Haggling – Everyone is always told to haggle throughout the whole of Asia and sometimes I think people go too far. We are always told that everything is marked up 300% and we should go in hard to get a discount.
I go by one really simple rule. If you are happy with the price then pay the money. If you are not then haggle down until you are, if the vendor isn't happy with the price you want then move on. This way, no one feels like they have been ripped off.
Read More: The Whole Way Fron Hanoi To Danang!
---
Eating Local (and not so local) Cuisines
I certainly don't recommend eating before you get to the Hoi An night market! There are loads of food stalls throughout and they offer a huge array of different food to indulge yourself on.
Many of these stalls are catered towards foreign tourists (banana and Nutella pancakes) but don't be scared about trying the more local cuisines! If you don't know much about Vietnamese food then definitely jump on a walking food tour in Hoi An.
We did this in Hanoi and it taught us so much about the local food as well as gave us an amazing insight into the town.
Either way, these are the sorts of food you can expect to see at the Hoi An night market;
Banh Mi (crusty bread baguettes with a variety of fillings)
Cao Lau (pork and greens on a bed of rice noodles, specific to Hoi An)
BBQ (a huge variety of BBQ'd meat and veggies which I refer to as things on a stick)
Fruit Cups (different fruit chopped up and put in a cup)
Spring Rolls (fried thin pastry rolls with a variety of fillings)
Quang Noodles (a meat and noodle dish served with a small amount of flavoured broth)
Ice Cream Rolls (ice cream with a large list of add ons which is then rolled up)
Pancakes (large choice of fillings and toppings)
Read More: How To Get To Hoi An From Hanoi
There is also a large number of restaurants in the local vicinity where you can buy basically whatever you wish. We even went to a very nice Italian on one of the nights which is only a short walk from the Hoi An night market, so never fear!
Read More: Check Out The World Longest Cable Car In Phu Quoc
---
Drinking At The Hoi An Night Market
If you watched the video then you no doubt heard the loud beats in the background around the entrance to the market. Well, there are quite a few large bars which will cater to all of your drinking needs throughout your visit.
In fact, the whole of the riverfront near the Hoi An night market is basically only bars, including the famous Mr Bean bar…
Not only that but if you walk back across the bridge into the ancient town then you will be faced with even more bars and pubs. Needless to say that getting a drink here is not very difficult.
If you are looking for a drink in the night market itself then there are plenty of stalls selling cold drinks in the street for very affordable prices.
We were not there during the peak season and it was still pretty darn busy. However, if you go during the high season then expect quite a decent nightlife near and around the Hoi An night market. If this is not really your thing then make sure you get to the market around 7 pm as the partying starts a lot later.
Read More: Hoi An Or Da Nang?! Which Should You Choose?!
---
Boat Ride On The Hoai River
Taking a romantic boat on the Hoai river next to the Hoi An night market is a tourist favourite, and when I say favourite, the river is absolutely packed full of them. To be fair, they do actually look pretty cute and you can get some really nice shots on the water with the boat lantern illuminating your face.
You don't have to book this in advance as there are MANY sellers trying to get you in their boat, there are even people riding around on mopeds and jumping off if you glance at a boat. You will see what I mean when you get there.
The size of the boats varies quite a lot depending on whether you are a couple, small group or family. This means that the price also varies quite a lot but, as I said before if you are happy with the price then go for it!
Read More: Take A Look At Another Night Market In Phu Quoc
---
Please Don't Buy A Floating Candle
I don't know if this is the official name of these but you know the ones I mean. You put a little candle in a floating container, make a wish and send it off down the river. It looks stunning when they are all flickering in the moonlight rushing between the assembled boats.
But, and you know where this is going, this is environmental insanity. I said to Jade 'surely they are paper boxes to minimise the impact', but no, many (if not all) are made out of plastic. I cannot even begin to imagine the amount of plastic waste that is being churned straight into the sea in Hoi An.
Even if it is paper now, it's still ridiculous as I guarantee that most people are just doing it to take part and don't even believe in the ritual.
If it is something you believe in or is part of your culture then please try to reconsider. There are thousands of these being released in Hoi An every single day and there must be a better way. Hoi An is such a beautiful town and we should be part of keeping it that way.
Read More: Hanoi's Night Market Is Probably Our Favourite
---
Accommodation Near The Hoi An Night Market
There are loads of accommodation options near the Hoi An night market but here is a selection of our absolute favourites. Remember to click through to see images and all of the reviews!
Homestay
Right next to the Hoi An night market, D Central is the affordable option that still has insanely high reviews and fantastic rooms and facilities. The breakfast here is even affordable at £2 / $2.2 and they have free bike here too! It just keeps getting better.
Villa
Serenity Villa is a really nice little option for people who want a tiny bit more luxury in their lives. That luxury includes a gorgeous inner courtyard pool and daily housekeeping. They do some crazy sales (70% off as of writing) so remember to take a look now.
Boutique
La An Central is for those who know and love the boutique vibe. Those smaller more intimate experiences with little additional touches like a spa and wellness centre and bar on the grounds. All three of these options have incredible reviews so remember to check these out through the links!
Read More: All Of The Best Tours In Phu Quoc
---
Other Things To Do in Hoi An
Hoi An is a brilliant place to visit and it would be a waste if all you did was take a look at the Hoi An night market during your visit! Here is a list of all of the other best things to do whilst you are here.
Read More: In Hanoi For One Day? Check Out This Brilliant Itinerary
---
Explore Hoi An Ancient Town
The ancient town of Hoi An is a UNESCO world heritage site for a reason, it is absolutely beautiful and the history is impeccable. The only way I can recommend to visit the town is to just turn up and wonder the winding streets until you can no more.
Make sure you go down the small alleys too as they can lead to the most perfect coffee rooms, restaurants and shops that you would normally never see!
---
Tailored Clothes
When we were in Hoi An we knew we were going to be getting a dress made for Jade for a couple of weddings we had coming up. We ended up getting me 2 suits and Jade 4 dresses and we were incredibly happy with all of them!
To read exactly who we went with and how to do it then check out our full post here, there's a video about the whole thing too so you can really prepare yourself before you go!
Read More: Want To Visit Halong Bay In Style? Have A Look At The Best Luxury Cruises Here
---
Explore The Nearby Islands
The Cham Islands are just across the water from Hoi An and you can get a little boat over to spend the afternoon snorkelling, swimming and enjoying the beaches on these gorgeous islands.
If you're looking for a snorkel kit then check out this Greatever mask and snorkel. We have been on so many snorkel and boat tours where the snorkel hire was dreadful and it ruins the experience. If you have room then definitely take your own set. Take a look at our recommended kit here.
Usually, lunch is included with these trips, you should get picked up from your hotel and tours like this are suitable for anyone over 8, even if you're not the most confident swimmer.
If you want something extra special then you can even put on a special helmet that allows you to walk along the bottom of the seabed!
If you're stuck on what kind of towel to take with you then take a look at this microfibre poncho. We absolutely love ours and it is insanely helpful when you need to change on the beach. They dry fast and pack down super small so you'll be able to fit one in your day pack easily enough. Check out the price here.
Some people are saying that there is nowhere to change on the boat but we have never had that problem because we have the towel above!
Check out the availability and book here!
Read More: Starfish Beach On Phu Quoc Island!
---
Lantern Making Class
After 1 day in Hoi An, you will realise that it is probably the capital of the world when it comes to gorgeous lanterns. What better way to get involved in this tradition than by taking part in a lantern-making class!?
Check out availability and prices here
Read More: Want To See Halong Bay Without The Crazy Multi-Day Cost? Have A Look At Day Tours Here
---
Explore The Gorgeous Beaches
There are some absolutely amazing beaches in Hoi that you simply have to check out. In reality, there is one massive single beach that runs all the way up to Da Nang Which is over 30km!
Check out our complete guide to the beaches in Hoi An right here to maximise your beach days.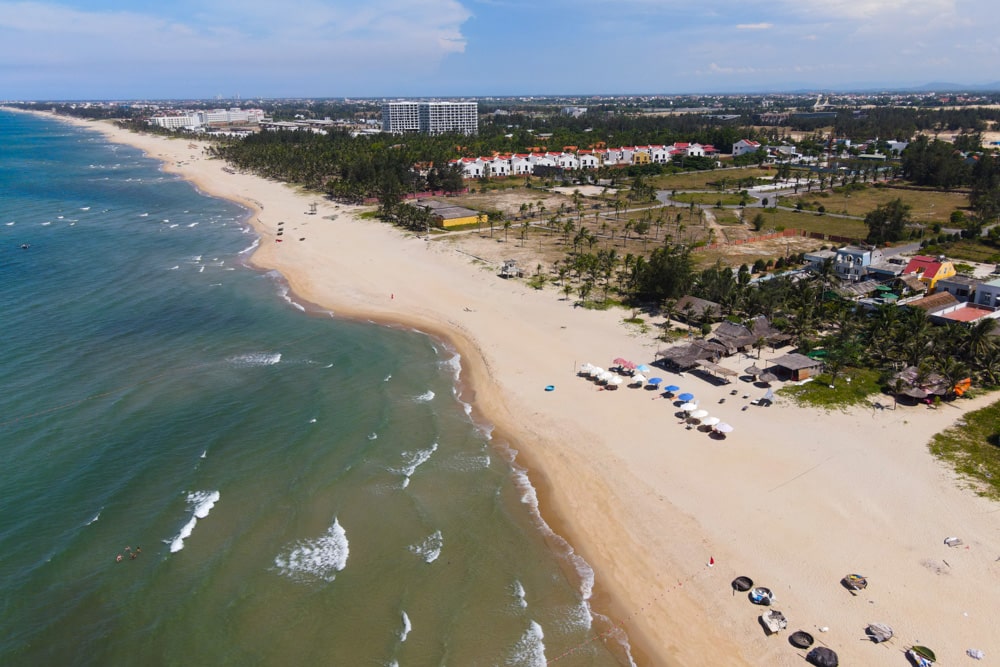 Read More: Check Out The Amazing Cooking Classes In Hanoi
---
What To Pack For The Hoi An Night Market
There aren't many things that you will need to take to Hoi An night market but we have also listed everything we think you need to take to Hoi An in general and some packing essentials for everywhere around the world!
For city exploring and shorter hikes, you'll need a decent day pack. We recommend one like Osprey's Arcane, as not only can it hold a 15″ laptop, water bottle and everything else you would need day to day but it is also incredibly stylish (we think). We have used Osprey for loads of different bags over the years and they have all been perfect. Check out the Osprey Arcane on Amazon here.
Jade really doesn't get on well with flip-flops so she always takes a couple of pairs of sandals (in case one pair breaks) on every trip we go on. We recommend checking out these CUSHIONAIR sandals which are comfortable, durable and affordable (the holy trinity!). We chose these because they are vegan suede but there are lots of different materials and colours to choose from. Check them out here!
---
Frequently Asked Questions
What Time Does The Hoi An Night Market Open?
It officially opens around 5 pm but I don't recommend getting there until 7 pm as people are still setting up at 5 pm and the vibe isn't right yet.
Where Is The Hoi An Night Market?
It runs the whole length of Nguyen Hoang Street across the river to Hoi An Ancient town.
How Long Should I Spend At The Hoi An Night Market?
We recommend 1-2 hours. It is not the biggest night market in the world so you don't need longer than this.
Is The Hoi An Night Market Crowded?
It can get very busy at times but I think this adds a lot to the whole experience. If you really don't like crowds then pick a weekday and go at around 5.30 pm.
What Can I Buy At The Hoi An Night Market?
Everything from clothes and souvenirs to jewellery and dinner. The Hoi An night market is a very typical example of a Vietnamese tourist market.
Should I Get Food At The Hoi An Night Market?
Definitely! There is a wide variety of local and international food in and around the market.
---
So that's our entire guide to the Hoi An Night market. If this guide helped or you have anything you would like to add then please let us know in the comments section below!
---