Travelling around on public transport in Sri Lanka is an incredible way to experience the local culture, with some astounding views along the way. Find the best option to get to Hikkaduwa from Colombo in this post!
Hikkaduwa is a gorgeous, friendly beach town that sits along the west coast, in between Colombo and Galle.
Read More: The Best Things To Do In Galle!
This means that it is an easy place to get to, whichever method you choose.
Watch the video below as you can get an idea of what the train journey will be like for you if that's what you decide to do.
---
Book your favourite hotel here

Where will you go?
---
You can opt for comfort, ease, price or speed – but unfortunately, you can't really get all of those things in one journey!
However, the good news is that Hikkaduwa is only around 140km away from Colombo, so you'll never spend too long on a trip.
In this post, I've outlined 5 of the ways that you can travel to Hikkaduwa from Colombo.
I have my own personal preference for the best way to take the journey, but please read this post to make up your own mind! You can see what I think at the end of the article.
Our opinion on what is comfortable, easy, cheap and quick might be completely different so don't forget to consider that when making a decision on your transport!
At the bottom of this post, I've included some top recommendations of where to stay and the best things to do in Hikkaduwa, so everything you need for your trip is literally right here.
---
Getting The Train To Hikkaduwa From Colombo
You will probably have heard about the insane train journeys that you can take in and around the countryside, but did you know that the train journey from Colombo to Hikkaduwa is also beautiful?
Read More: Here's How To Take The Train From Kandy To Colombo
I love taking Sri Lankan trains – I actually think that they are the best way to get around the country, with the added bonus of some great views too.
Don't get me wrong, there are some negatives but for the short journeys that you take in Sri Lanka, I think the positives outweigh them.
---
Colombo Fort Station
There are two main train stations in Colombo, but Fort is the one you should be going to.
It's easy to find and easy to navigate, plus most trains stop here so it's better to travel from here.
Colombo airport is only around 35km away from the train station, but you'll have to get either a taxi or a bus to it. The bus terminal is at the Airport Aviation Admin Complex, just a few minutes' walk from the airport exit.
The other one is Maradana. You could get on here to try and get a better seat or ensure that you actually get a seat to begin with, but double-check that your train does stop at Hikkaduwa!
Read More: How To Get To Mirissa From Colombo
---
Train Classes
There are 3 classes of train carriage: 1st, 2nd and 3rd. Within these classes, the quality of seat and carriage can vary depending on the actual train you get on, but not massively.
Depending on the time, you'll get on either an express, commuter, intercity, long-distance train or the night mail train. They aren't too different in quality so don't arrange your timings around the different types of train.
If you pay for 3rd class seats, you'll get a 3rd class experience. If you pay for 2nd class, you'll get a 2nd class experience BUT in my opinion, this is often better than the 1st class.
First-class trains will (often – not always!) have air-conditioning, but that means the windows are closed and you don't fully get to experience what it is truly like to take a train in Sri Lanka.
Second and third-class carriages have fans, but the windows will almost always be open, bringing in a beautiful breeze whilst you take in the scenery.
The actual seats are comfortable enough in all classes.
The only issue with 2nd and 3rd class is that these seats never actually sell out, which means that 1419495 people might also be trying to grab a seat on the train.
If you are mad enough to get on a train in the capital city at rush hour, then you might have to stand for a while.
To book a first-class ticket, you have to book with an agency as you can't actually book online yourself – someone has to go to the office in person.
Book with a company such as 12Go at least 5 days in advance. You also can't use the confirmation email as a ticket – you have to go and exchange that for a paper ticket which you then take to the train station.
The distance on the railway between Colombo and Hikkaduwa is only 95km, and the journey takes around 2 hours.
To be honest, all of that seems a lot of hassle for a journey that is so short, especially when the alternative train carriages are decent enough to enjoy.
---
Ticket Prices
A first-class ticket from Colombo to Hikkaduwa will cost you around 1350LKR (£5/$7) if you book with 12Go.
For a second-class ticket that you buy at the station, you'll pay around 190LKR (70p/94¢).
If you're set on going third class, then a ticket will only cost you 105 LKR (39p/52¢).
These prices can fluctuate slightly – but any increase won't break the bank!
---
Train Schedules
The train schedule below gives you all the information you need about when to take a train.
However, be aware that sometimes, the trains arrive at the station plenty of time before they leave – sometimes this could be hours.
When looking at the timetable on the website, make sure you look at the time that the train DEPARTS from the origin station (in red), not when it ARRIVES (in green).
Sometimes though, the trains only sit in the station for less than a minute. If you have lots of bags/people to get on the train, be fully prepared to jump on because you don't get a huge window of time!
Ask the station staff on the platform which end your carriage will be on. It saves the hassle of trying to get to the right part of the platform when the train does come in.
You can just get on in any carriage in MOST trains, and we have never had anyone come round to see our tickets, but I would try to avoid this if you can!
Here's the current train schedule showing trains going to Hikkaduwa from Colombo.
| | | | | |
| --- | --- | --- | --- | --- |
| Departure Time From Colombo | Arrival time in Hikkaduwa | Duration | Frequency | Available Classes |
| 06:10 | 07:44 | 1hr 34 | Mon – Sat | 2/3 |
| 06:50 | 08:58 | 2hrs 8 | Daily | 2/3 |
| 10:30 | 12:22 | 1hr 52 | Daily | 2/3 |
| 14:40 | 16:21 | 1hr 41 | Daily | 1/2/3 |
| 15:10 | 16:37 | 1hr 27 | Daily | 1/2/3 |
| 15:50 | 17:19 | 1hr 29 | Daily | 2/3 |
| 16:46 | 18:29 | 1hr 43 | Mon – Fri | 2/3 |
| 17:00 | 19:04 | 2hrs 4 | Not on Sat + Sun | 2/3 |
| 17:30 | 19:36 | 2hrs 6 | Not on Sat + Sun | 2/3 |
| 17:51 | 20:09 | 2hrs 18 | Mon – Fri + Sun | 2/3 |
| 18:17 | 20:18 | 2hrs 1 | Not on Sat + Sun | 2/3 |
| 19:30 | 22:29 | 2hrs 59 | Daily | 2/3 |
The Colombo To Hikkaduwa Train TimeTable
You can also use this official Sri Lanka railways website for up-to-date times and frequencies.
This website will only give you information about a direct train journey. If you want to go somewhere that isn't on one of the more popular routes, then just organise your trip individually and make sure you give yourself enough time to get off and buy tickets for the next leg!
Taking a train to Hikkaduwa from Colombo is by far the cheapest way to get there, so keep that in mind if you're on a tight budget.
Read More: How To Backpack Sri Lanka On A Budget
---
Getting The Bus To Hikkaduwa From Colombo
Unfortunately, taking a bus around Sri Lanka is nowhere near as easy, convenient or comfortable as taking a train!
It's difficult to find cross-country information on a national website because the buses are run by different private and government companies.
There isn't a huge difference in quality or price, but one thing that you might notice is that the privately owned bus drivers are not as careful on the road.
It is common for drivers to race each other and to get to a bus stop as quickly as possible because it means more money for them – obviously, the government-run buses don't need to do this.
If you want a state-owned bus, get on a red one.
The private companies usually decorate their buses with their names, and they are usually brightly painted a different colour.
You'll have to change buses at least twice but be prepared for late arrivals which might affect the next leg of your journey.
The best thing to do is use Google's own transport system to check which buses you can get on from Colombo to Hikkaduwa.
---
Ticket Prices
Bus tickets are also cheap, but you'll probably end up paying a similar amount to a train ticket, depending on the class.
To get from Colombo to Hikkaduwa, the latest information online here says that it will cost 202LKR. Double-check with the driver but this is going to be the approximate cost.
Try and give the exact change to the driver – they won't want to or be able to break big banknotes so don't attempt to pay for 1 bus ride with a 5000LKR note!
---
Bus Tips
I personally wouldn't take a bus over a train if I could help it. There's not much space for your body, let alone any luggage you might have!
Some drivers (especially on state-owned buses) won't stop if you've got too much luggage because it means that the bags are taking up precious space that could be paid for by a person.
You might want to offer (or you might be told) to pay for a ticket for your bags too.
Plus, the drivers can be … reckless to say the least.
The buses whizz round corners like there's no tomorrow, so have your wits about you and hang for dear life so that you don't get injured!
Also, be aware that the bus driver is not going to stop for 5 minutes whilst you wiggle your way down the aisle to get off at your destination. Be prepared and get close to the door in plenty of time!
---
How To Take The Bus
If you don't have another option though, the example below shows that you can get a couple of different buses from Colombo to Hikkaduwa.
It will take at least 3 hours, but I would allow for more because you just can't rely on the timings.
If you can, find an employee at the Colombo Bastian Mawatha bus station.
They should be able to point you in the right direction of which bus to take, and possibly what time it will arrive!
It might even be worth doing this the night before you want to travel so that you don't waste time waiting for a bus that won't come for another 5 hours!
Read More: Try Out This 10 Day Sri Lanka Itinerary
---
Getting A Taxi To Hikkaduwa From Colombo
As soon as you have WiFi or a local sim card, download the PickMe app.
You'll be able to order a taxi (or even a tuk-tuk if you haven't got a lot of luggage and your accommodation is nearby).
Pro Tip
You can buy a local sim from the stands at the airport. We HIGHLY recommend doing this as internet reliability and speed in Sri Lanka is not good.
There are some really good deals on data – we bought sims card from Airtel, got 30GB for a month and paid 1000LKR each (£3.60/$5).
We're limited to 1GB per day, but we do get unlimited social media streaming which includes YouTube, Facebook and WhatsApp.
Once you've downloaded the app, it's really easy to book a taxi from your current destination to wherever you want to go – in this case, Colombo to Hikkaduwa.
You can choose from a variety of car types/sizes. Be mindful of how much luggage you have because the smallest car type (called 'flex' – seats 3 people) is EXTREMELY small – they're basically tuk-tuks with a bit of a bigger boot and closed windows!
We've had 2 suitcases, 1 carry-on and 1 large backpack in one of these vehicles and managed to fit it in, but we had to squeeze and pile things on top of Kev to do it!
You're looking at paying approximately 6200LKR (£22/$30) for the 'flex' option to get to Hikkaduwa from Colombo.
The prices increase as you increase the size and quality of the car. For the 'car' option that seats 4 people, you can expect to pay around 8200LKR (£30/$41).
Remember that these are all approximate prices, and they can fluctuate depending on the time, day and demand.
---
Hiring A Tuk Tuk To Get To Hikkaduwa From Colombo
Yes, really!!
Those cute little vehicles you see weaving in and out of the traffic on a daily basis can actually be hired out – and you can drive them yourself.
It's the ultimate Sri Lankan road trip idea – chugging down the highways in a little tuk-tuk, stopping wherever you want and taking as long as you need!
---
Legal Requirements
There are a couple of things that you need to legally be able to drive a tuk-tuk, but the process is very simple.
You need a full driving licence in your home country, a Sri Lanka Driving Permit and insurance.
If you have an International Driving Licence (which I would recommend getting before you travel), then this process will be easier for you.
Home Country Driving Licence
This will need to be a full licence -so if you've only got your provisional, you won't be able to drive a tuk-tuk in Sri Lanka!
Make sure your licence has got plenty of time left before it expires too!
Sri Lanka Driving Permit
You can usually choose to get this in two ways.
The first option is to ask the company you are hiring the tuk-tuk from to organise it for you. This will typically cost around 8000LKR (£30/$40) and you need to give them at least 2 business days' notice.
The second way is just to do it yourself, but you'd need to go to Colombo and visit the Department of Motor Traffic.
Bring with you:
Your passport
Photocopies of your passport page
Hour home country driving licence
Photocopies of your home country driving licence
Insurance
Any decent rental company will provide you with insurance. It's a legal requirement so ask to see the documents and what they cover.
I'd also recommend talking to your own insurance company to see if they will cover you for any medical or hospital treatment you might need if you're in an accident.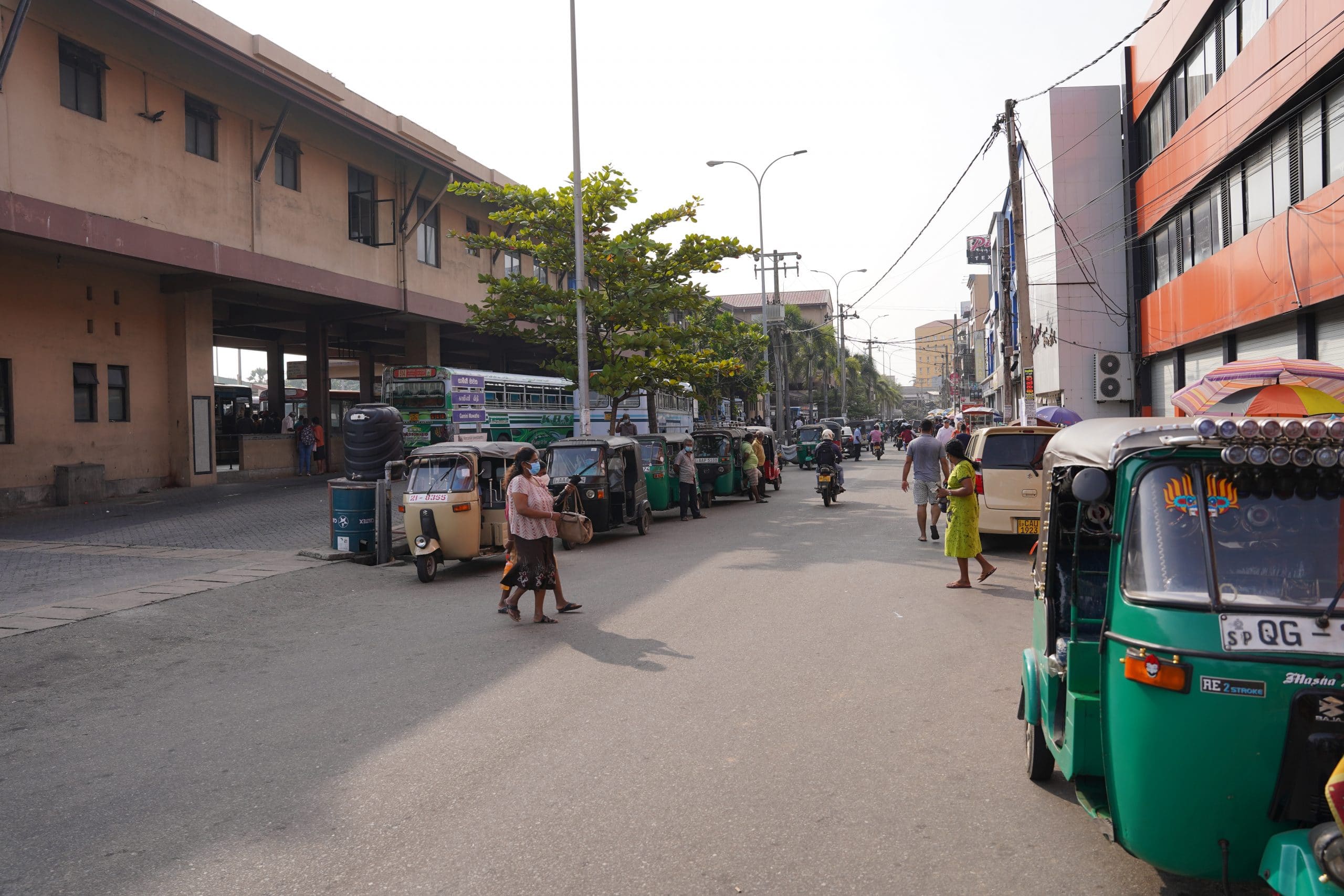 ---
Driving A Tuk-Tuk in Sri Lanka
I would personally recommend taking your tuk-tuk out of the cities and along the well-laid roads down the coast or in the countryside.
You will be driving on the left in Sri Lanka, so if you're not used to that be prepared!
If you hear a vehicle horn, tuck yourself into the left as much as possible and beep back. Drivers here often just throw themselves around a corner unless they hear a response, especially buses!
There are different speed limits in cities, the countryside and on highways, but a tuk-tuk can only go around 45km an hour so you won't be in any danger of going too fast!
The distance from Colombo to Hikkaduwa is only around 140km so you could easily do this trip in one day. However, different rental companies have their tuk-tuks based in a variety of cities, so speak to them first to see where you can pick up and drop off the vehicle.
You'll pay more if you only hire the tuk-tuk for a few days – long rentals of over 2 months tend to get the best discount.
You can hire a tuk-tuk for as little as 2800LKR (£10/$14) but that's only if you are using it for a long time. Short-term rentals will cost you around 5000LKR (£18/$25) per day.
Read More: Planning On Jumping On The Best Train Trip In The World? Check Out The Ella To Nuwara Eliya Gudie Here
---
Hiring A Car To Get To Hikkaduwa From Colombo
If hiring a tuk-tuk isn't for you, but you want the flexibility of your own vehicle, then you can also easily rent a car.
You can go directly with a car rental company like this one, or you can rent a car through the PickMe app.
For two days, I was quoted 18500LKR (£68/$91) for a car that would hold 4 people.
You can choose to get a smaller or bigger car, but don't forget to accommodate for your luggage space too.
---
Where To Stay In Hikkaduwa
Great accommodation is easy to find in Hikkaduwa, so all you need to do is figure out your budget, decide on whether or not you need A/C and then read a few reviews online.
Hikkaduwa is quite a small town, so location shouldn't be a huge issue.
You can pretty much walk anywhere you want to go, but if that's not an option then you won't be hard-pressed to find a tuk-tuk driver ready to take you around.
Here are our top picks for budget, mid-range and luxury hotels or guesthouses in Hikkaduwa. All of the options have been rated over 8/10 so you know that people are enjoying their time there!
---
Budget Hotel Option in Hikkaduwa
There's good WiFi, it's literally a 2-minute walk from the train station and the beds are comfortable.
The owner will do everything to make sure you're having a good stay, so I would highly recommend this guesthouse if you want to keep your spending low.
Book a room at Roshan's Guesthouse here.
---
Mid-Range Hotel Option in Hikkaduwa
Drifters Hotel & Beach Restaurant
There's a swimming pool on-site if you don't fancy going to the beach, as well as a restaurant serving up food.
A great breakfast is included in the price, plus even the basic rooms have private bathrooms and a pool view.
Click here to book your room at Drifters Hotel.
---
Luxury Hotel Option in Hikkaduwa
Suite Lanka
There are some fantastic hotel options in Hikkaduwa, but Suite Lanka is one of the best.
With extra-large double beds, a hotel bar and gorgeous beach views, you'll enjoy every minute spent here.
Breakfast is included, and you can relax with a wonderful massage without leaving the hotel.
Enjoy a meal in the restaurant, or if you'd prefer, eat in your room or on the private beach.
Considering the quality of this accommodation, the price is an absolute STEAL too!
Book your luxury stay at Suite Lanka here.
---
The Best Thing To Do In Hikkaduwa
Hikkaduwa is a lovely beach town, with a relaxed vibe. There's not a huge amount to do, but it's a great place to spend a few days chilling out.
You'll find local restaurants offering tasty Sri Lankan dishes, as well as cute cafes and upmarket hotels serving up fancy meals.
The number one thing to do in Hikkaduwa, and the reason why I would highly recommend visiting even if it is just for 1 day, is to see, swim and snorkel with wild turtles!
These gorgeous animals visit the aptly named Turtle Beach daily, to feed and also lay eggs in the right season.
The best thing about this activity is that it's not something that's organised by tour guides, and there are conservation volunteers hanging around on the beach to make sure the turtle's arent harmed by excitable tourists.
This not only means that the animals are safe, but it's also completely free to meet these magnificent giants!
Get your snorkel or hire a set on the beach for 500LKR (£1.85/$2.50).
If you're looking for a snorkel kit then check out this Greatever mask and snorkel. We have been on so many snorkel and boat tours where the snorkel hire was dreadful and it ruins the experience. If you have room then definitely take your own set. Take a look at our recommended kit here.
I saw a lot of information online saying that the best time to go was in the morning when there were fewer tourists around. However, we went twice and in the early morning, the tide is out quite far which means the turtles spend more time in the deeper waters by the reef.
---
---
Whichever method of transport you decide to take to get to Hikkaduwa from Colombo, your journey will be an adventure!
We personally recommend taking the train as it is quickest, easiest, cheapest and most comfortable! You really can't go wrong with a second-class seat, watching the gorgeous coast go by and experiencing Sri Lankan public transport like a true local!
---