The Hanoi Night Market impressed us with its authentic feel compared to other SE Asian night markets we have visited. Check out this guide to find out why!
---
The Old Town Hanoi Night Market
You have probably heard about the Hanoi night market in the famous Hanoi Old Quarter so you may be sitting there wondering why I have used the word 'hidden' in the title. Everyone knows about it Kev! What the hell are you talking about?!
Well, Jade and I have been to quite a few night markets in our time and Hanoi impressed us a lot. It isn't geared towards tourists anywhere near as much as most markets and the local entertainment was very good. The hidden aspect of the Hanoi Night Market is the buzz and the vibe of the market. The locals absolutely love it and you feel like you're taking part in something rather than a tourist fraud.
Read More: The Best Luxury Halong Bay Cruises (as good as it sounds)
---
Best Time To Visit The Hanoi Night Market
The official opening times are as follows;
Friday, Saturday & Sunday – 6:00 pm – 11 pm
There is absolutely no way you should go down at 6 pm though. Most people are still setting up the stalls and half the products won't be on display. Also, the entertainment and bustle won't be there either which is half the experience.
We (and everyone else) recommend getting there around 8 pm and spending the rest of the evening bobbing about the winding streets trying to find the best stalls and hidden little areas of entertainment.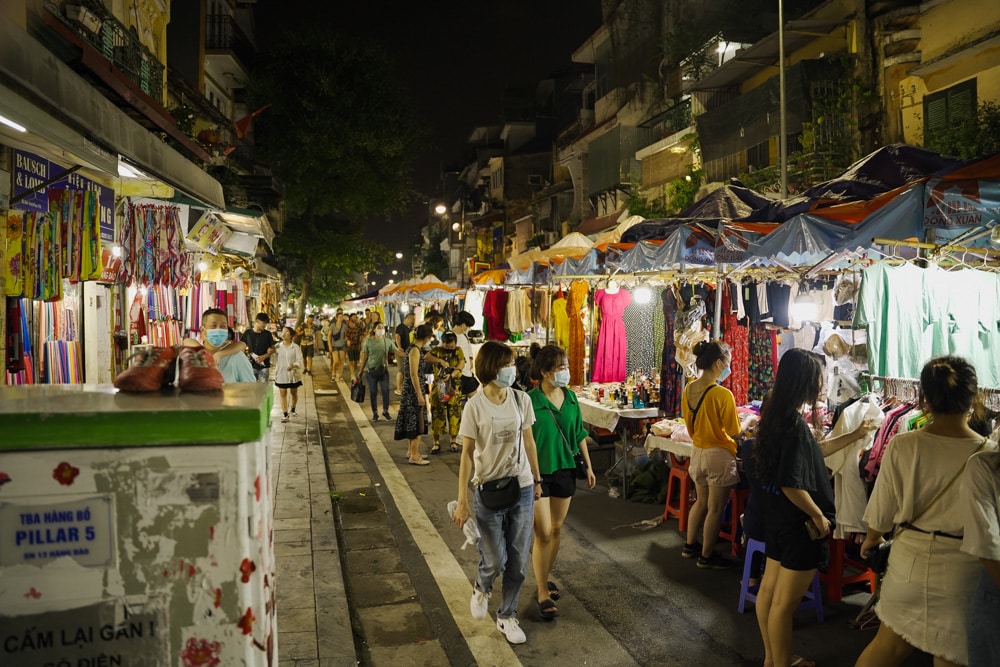 Read More: Is The Phu Quoc Night Market Even Better? Find Out Here!
---
What To Buy At The Hanoi Night Market
Anything you want!
Ok, I'll be a bit more helpful. The Hanoi Night Market has all sorts of things on offer but the vast majority can be grouped into these categories;
Jewellery
Clothes
Souvenirs
Everyday Items (normal stuff you would get at a supermarket)
the market itself is actually much more geared towards the locals than tourists so expect large areas of the market to be stuff that a tourist is probably not going to be that interested in. However, the closer you get to the lake the more souvenir stalls there are.
There are some pretty cool souvenirs available. I recommend something like a chopstick set because you might actually use it. I do really like the idea of buying one of the signs in Vietnamese. Translate them to see what they say and it would be a decent thing to hang on the wall back home.
---
Entertainment At The Hanoi Night Market
No joke, there is a tonne of entertainment at the Hanoi night Market. It's one of the things we were most surprised about. Usually, night markets are just stalls and food.
Read More: Your Ultimate Guide To The Phu Quoc Cable Car
The Hanoi night market had a roller blade racing derby, a children's entertainer, multiple bands throughout the whole of Old Quarter (including a rock band and traditional Vietnmanese performances), small electric children's cars for them to ride around in, dancing and a cooking demonstration.
And this is assuming we saw it all which I can almost guarantee we did not.
The fun part of the entertainment is that it is not all in one central place for you to sit and watch each performance. they are spread out all over the place and (being tourists) we had no idea where or what anything was. This forced us to walk around the whole of the Hanoi Night Market in search of the next cool thing.
If you're not really planning on doing any major hiking then we recommend that you check out these AKK walking shoes. There are extremely lightweight, breathable and have memory foam insoles to make them super comfy. Don't make the mistake of spending loads of money on insane walking boots if you don't need to! Check them out here!
Read More: Check Out The Best Beaches In Hoi An!
---
Food & Drink At The Hanoi Night Market
At first, I was going to write about the lack of food in the actual market because it was very difficult to find something substantial. However, I have come to the realisation that this is probably done on purpose.
The Hanoi Old Quarter is overflowing with restaurants and you have to stray from the Hanoi night market a tiny bit to be in the middle of a fantastic Bahn Mi street or Bun Cha restaurant.
Read More: The Essential Guide To Backpacking Vietnam
I could write an entire article about walking the streets of Hanoi Old Quarter in search of the best food and learning about all of the local delicacies. OH WAIT I DID. For all the information you will ever need about getting food in Old Quarter then check out our Hanoi Old Quarter food walking tour article here.
In my opinion, the best food in Hanoi is Bun Cha. It is a variety of meats in a noodle soup and it is immense. I recommend getting something to eat before the market. Grab dinner at about 7 pm and relax until 8 for a night in the Hanoi night Market.
Read More: Have A Look At Our 2-Day Hanoi Itinerary In Full Here!
---
Where Is The Hanoi Night Market
Everything I read before we went and visited said the market went from Hang Dao Street to Dong Xuan Market (see the map below).
However, this is just a tiny part of the market. True, almost all of the stalls are here but the market actually extends to many of the side roads and partially around the lake.
The entertainment is not on this road whatsoever. So to experience the Hanoi night market to the fullest then you really have to explore much further than the 'official' area. Below I have included everywhere I think you should check out.
I do think you should start at the Hang Dao Street section though. it's a brilliant introduction to the market.
Read More: The Beautiful Hoi An Night Market
---
Pro Tips For The Hanoi Night Market
Haggling: All across SE Asia you will hear the infamous 300% markup claim. This means that you can expect all prices to be triple that of the actual reasonable price. However, this is quite often not the case. In some cases, vendors are selling products at a good price right off the bat and can become annoyed with hagglers. This does not mean that some are not hyper-inflating their prices. It all comes down to what you would consider a fair price. If you are happy with the amount then pay, if you are not then haggle down to a point that you are happy. If you are not happy move on. Don't overcomplicate the situation by trying to get someone even further down than you think is necessary.
What to wear: This depends on the time of year but we were caught in a huge thunderstorm when we were at the Hanoi night market so I recommend taking a thin rain jacket around with you during your time in Hanoi.
How long to stay: If you get there at 8 pm then I recommend spending the next couple of hours walking around the market and entertainment and then having some beers or bia hoi in the winding streets of Old Town.
What to avoid: The most northerly section of the market is very tedious as nearly every single stall is selling the same things and there is nothing else going on. I would start halfway down the main strip of the Hanoi night market and work your way towards the lake and beyond.
---
Where To Stay At The Hanoi Night Market
Below is a selection of our recommended accommodations for easy access to the Hanoi night market. Hanoi tends to book up quite quickly so make sure to book your accommodation now as you can always cancel later with the free cancellation feature (check to see if your hotel is applicable).
---
Other Things To Do In Hanoi
Hanoi is so much more than just a weekend night market so make sure you check out these other things to do in Hanoi to make the most of your time there. Check out our one-day Hanoi Itinerary if you only have a very short amount of time!
---
Street Food Tour
This is the best thing we did in the whole of Hanoi; so much so that we did it twice with two different companies. you get to experience the Hanoi Hanoi Quarter with a guide but also get to learn about the food of Hanoi which is definitely its best attribute.
We had a fantastic time on both of our walking food tours so check out our full guide to this here or check out the recommended activity below.
---
Cooking Class
This is another activity that we did in Hanoi and absolutely loved. We try to do a cooking class wherever we go and recommend it hugely to all of our readers. So many people find incredible food abroad and then struggle to recreate it when they get home.
Usually, cooking schools give you a recipe booklet when you visit so you'll have no problem making these amazing meals when you get home. Check out our full guide to cooking schools in Hanoi or check out the recommended activity below!
---
Halong Bay
If you are in Hanoi then you already know about Halong Bay. If you don't then you HAVE TO check it out. We went twice; once on a 1-day tour and once on an overnight cruise.
It is a VERY good experience and you simply have to see the beauty of this UNESCO world heritage site. Check out our full guide here or book the recommended tour below. We have also written a full guide to best 2 night Halong Bay cruises here.
Read More: The Best Accommodation In Ha Long Bay
Read More: The Best 1 Day Halong Bay Tours!
---
Visit The Historic Museums
Hanoi has some absolutely incredible museums to visit. Many of the museums centre around the Vietnam War but you will be surprised about the other options available. you can easily make a few days out of just visiting the museums.
You can visit these museums on your own pretty easily or you can book a tour to visit some of the main ones with a guide. In our experience, these can be expensive but also offer an incredible amount more information. If you are very keen on the museums then I recommend getting a guide.
Click here to book a Hanoi museum tour.
Ho Chi Minh Museum
Affectionately known as Uncle Ho, this museum is dedicated to Ho Chi Minh himself and shows the impact he had on the country.
Hỏa Lò Prison Museum
This is the infamous POW prison that prisoners were kept in during the Vietnam war. It is well renowned for its terrible conditions and was nicknamed the 'Hanoi Hilton' by prisoners. This is a very interesting short visit.
Vietnamese Women's Museum
The Women's Museum provides a fascinating insight into the role that women have played in Vietnam's history, culture and heritage. The exhibits focus on Women in Family, Women in History and Women's Fashion.
National Museum of Vietnamese History
This is the type of museum that you will find in most capital cities and has over 200,000 displays showing the history of Vietnam through the ages. A highlight would have to be the shipwreck from the 90's.
Museum of the Vietnamese Revolution
A museum all about the french colonisation of Vietnam and the subsequent history that followed this event. A very interesting visit for anyone interested in recent history.
Read More: Check out this incredible tailor in Hoi An
---
Train Street
A very famous landmark in Hanoi where you can sit in cafes right next to the track to see the trains go by. This has always been a bit of a landmark but recently the local government have decided to crack down on the street for safety concerns so if you are interested, get in before it's gone forever.
Read More: 3 Ways To Get To Hoi An From Hanoi
Water Puppet Show
Probably the most famous tourist attraction in the Hanoi Old Quarter, the water puppet show is a must-see whilst you are in Hanoi. You can get tickets here or you can get them on the night. It is slightly more expensive to pre-book with this link but you can guarantee your spot in the theatre.
Wander Around The Old Quarter
If you are looking for a more slow-paced and adventure-oriented day out then simply walk through the Old Quarter trying to discover a new restaurant, bar or attraction hidden in the winding streets.
We spent many hours during our trip finding new places and this led us down all sorts of strange places and alleyways leading to rooftop bars and egg coffee hangouts. A must-do.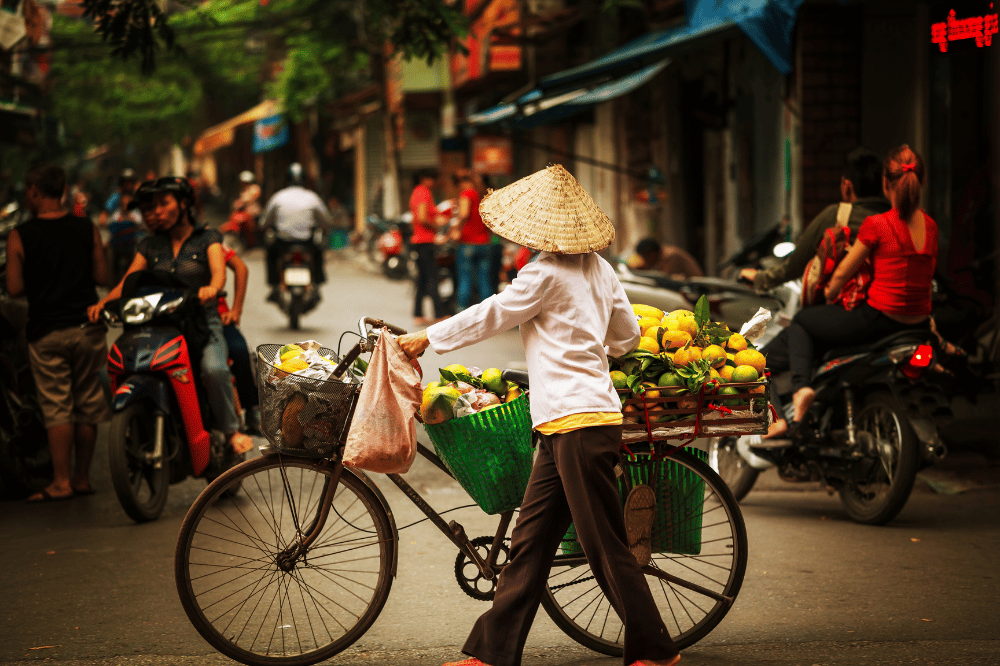 ---
What To Pack For Hanoi
These are the absolute essentials if you are visiting Vietnam and especially Hanoi. Remember to check out our full packing list guide for even more suggestions.
If you're looking for a rain jacket then the most important 2 things are waterproofing and foldability. It needs to keep the water out and fit into a small pouch to fit in your luggage well. This Columbia raincoat does both of these things very well whilst also looking pretty good (for a raincoat). They have almost too many colours to choose from but take a look at your options here!
For city exploring and shorter hikes, you'll need a decent day pack. We recommend one like Osprey's Arcane, as not only can it hold a 15″ laptop, water bottle and everything else you would need day to day but it is also incredibly stylish (we think). We have used Osprey for loads of different bags over the years and they have all been perfect. Check out the Osprey Arcane on Amazon here.
If you're worried about powering your devices on your trip then the simple solution is to take this EPIKA worldwide travel adapter. We have used it all over the world and it has worked flawlessly. Being able to charge up to 5 devices by USB (4 USB-A's + 1 USB-C) plus a full power outlet socket is incredibly useful and works as an all-in-one solution. Check it out on Amazon here.
If you're worried about your devices losing power throughout the day then we recommend the Anker 10,000mAh power bank. Anker actually makes quite a few power banks but this one comes with a USB-C and USB-A port which means that you'll be able to charge any of your devices regardless of connection. The 10,000mAh capacity is enough to completely charge an iPhone 12 twice so you should be good for a number of days with this beast. Have a look at the price here.
If you're worried about the security of your bag then make sure you grab this set of combi padlocks from SURE LOCK. Many attractions have lockers where you have to pay to use a padlock so they will come in very handy, not just for securing your bag. Grab yours here.
Don't even think about stepping out in the sun without protection! This factor 50 sun cream from Sunbum is vegan, reef-safe and smells like summer, as well as being dermatologist approved! It's non-greasy, easy to apply and doesn't leave a white cast so you can quickly rub it in and get on with your adventures! Take a look on Amazon here.
---
---
Frequently Asked Questions
---
There you have it! The complete guide to the Hanoi night market. If this Hanoi night market guide has been helpful then please do leave a comment below. If you didn't enjoy the Hanoi night market then please let us know why and any useful tips we may have missed!
---