If you're looking for a Gozo farmhouse with indoor pool then this is the list for you. Here are the best options + other information to make your trip amazing!
---
The Best Gozo Farmhouse With Indoor Pool + Runners Up
I have included all the information you will need to make your decision on which Gozo farmhouse with indoor pool you are going to choose for your holiday.
The only thing I haven't included is the price as this changes throughout the season and the year. Remember to click through any of the links or buttons to see the up-to-date prices and availability right now!
Read More: All Of The Best Boutique Hotels In Gozo!
---
#1 – Ta' Giga Farmhouse
Ta' Giga is a monstrous 6-bedroom farmhouse that holds up to 12 people! It has a lush outdoor and indoor pool with a huge outdoor area that has plenty of space for a family BBQ.
The entire farmhouse has a very new feel to it with every room being very similar in design. Other Gozo farmhouses in this list have a more homely, antique feel to them but if that's not what you're looking for Ta'Giga Farmhouse is our number one recommendation for Gozo farmhouse with indoor pool! Check out the property in more detail here.
Read More: Planning The Perfect Honeymoon In Malta
---
#2 – The Escape
In truth, I couldn't decide between Ta' Giga and The Escape so treat them both as top recommendations! It all comes down to what you are looking for. The Escape is a 300-year-old building converted into a stunning 4-bedroom holiday home with indoor and outdoor pools.
The home sleeps up to 10 people, has a games room, a hot tub, and is fully equipped for BBQs and dinner parties. The only real difference between The Escape and Ta' Giga is the style of the farmhouses. The Escape has a much more homely comfortable feel where you'll feel a certain magic wherever you sit or sleep.
I think I prefer The Escape but make sure to check both of these out and see what you think! Check it out in more detail here!
---
#3 – The Hamlet 3
The Hamlet three is a fantastic Gozo farmhouse with indoor pool that sleeps up to 9 people, although I would recommend 8. It has a very modern design mixed with gorgeous limestone throughout mixing the old and new perfectly.
The Hamlet 3 has access to an indoor and outdoor pool, sauna, and a fully equipped gym on-site! It also has everything else you can hope for including; a huge terrace, BBQ facilities, a beautiful kitchen, and loads more. This is one of the best Gozo farmhouses with an indoor pool for groups of friends or families. Check it out in more detail right here!
Read More: 5 Days In Malta – Complete Guide
---
#4 – Ta'Spiru
Ta'Spiru takes the trophy for the most elegant Gozo farmhouse with indoor pool in this list. It oozes class and contemporary design everywhere you look. It also has 2 of the best pools in the entire list too with a brilliant space for both indoor and outdoor pools.
Ta'Spiru can hold up to 12 people, making it one of the bigger Gozo farmhouses in this list so if you are in a large group then this is a great option. Check out more images and availability here!
---
#5 – Ta'Ganna Farmhouse
Ta'Ganna Farmhouse is identical to Ta'Giga which is our number one recommended Gozo farmhouse with indoor pool. I have put it at number 5 primarily to get some different options for you to look at in the list. Ta'Ganna sleeps 12 people and has two great pools.
The house is very spacious with each space seemingly going on forever. This makes it a fantastic option for groups of friends and family but maybe not so good for small groups/couples looking for something a bit more romantic and cozy. Check out more images and availability here!
Read More: The Best Places To Stay In All Of Malta
---
#6 – Naduri Farmhouse
Naduri sleeps up to 9 people (recommended 8) but this could be one of the better options for small groups or couples. This is because the communal areas are slightly smaller than the other Gozo farmhouses in this list.
This isn't necessarily an issue because for couples you don't really want huge areas. The indoor pool is also one of the coziest and best for couples to have a glass of wine whilst relaxing in the heated water. Due to its lower price, this could also be the best option for groups of friends or family looking to get the best deal! Check out the prices and availability here!
---
#7 – The Hamlet 2
Guess What! The Hamlet 2 is adjacent to and basically identical to The Hamlet 3. Both of these properties are absolutely immaculate and I couldn't improve them in any way. The fact that the indoor pool is attached to the outdoor pool via a little door makes it even better!
I just checked the price for a week in June and the price shocked me. If you have a group of 8 of you and were splitting the cost, this becomes incredibly affordable straight away. It has all of the facilities you can imagine including; a hot tub, indoor and outdoor pool, BBQ facilities, lounge areas, 4 bedrooms, and an incredible kitchen. Check it out in more detail here!
Read More: Looking For A Tour Of Gozo? Check Out The Very Best Here
---
#8 – Ta Majsi
Ta Majsi is bottom of the list but don't let that fool you! It can sleep up to 10 people and is incredibly good value with prices up to half of the other Gozo farmhouses in this list. The images of the property are not so good but show a real cozy farmhouse vibe with an incredible underground indoor pool, a stunning courtyard, and good spaces.
Depending on what happens to the prices of the Gozo farmhouse with indoor pool in this list, Ta Majsi may be the cheapest option so take a look if you are trying to find the best deal on the whole island! Check out the prices and availability right here!
Read More: A Week In Malta – Complete Guide
---
When To Go To Your Gozo Farmhouse With Indoor Pool
Malta and Gozo are fantastic places to visit all year round. However, September is, by far, the best time to visit Gozo. The crowds have gone, the temperature has come down to a manageable level, AND all of the prices of accommodation have come down too.
We were there during September and we visited all of the best places, including the Blue Lagoon and Comino island. It was more than hot enough to enjoy swimming in all of the beaches on Gozo and enjoying all of the incredible culture the country has to offer.
If you cannot go to ao Gozo farmhouse with indoor pool in September then any time from April-October is fantastic. Outside of this time, it may be slightly too cold to enjoy the beach life but still warm enough to experience everything else Malta/Gozo has to offer!
Read More: Planning A Trip To Malta In October? Find Out How Here!
---
How Long To Stay In Gozo
I would book a 10 day trip to a Gozo Farmhouse with indoor pool. You'll fly in, make your way up to Gozo, on the ferry, and get to your farmhouse with only half of the first day remaining. You will have to do this on the last day too. So, 10 days means that you get a solid 8 days enjoying everything that your accommodation and Gozo island has to offer!
---
What To Take To Your Gozo Farmhouse With Indoor Pool
Here is a list of all of the things i think are super important to take with you to your Gozo farmhouse with indoor pool. Everything is kept up to date so click through any of the links to get these necessities before you go!
If you need some sunglasses then take a look at our recommended pair right here. Kev has just done 7 months without a pair because he couldn't find any he liked on the trip and it was just a lot of complaining about the sun. Don't be a Kev… Find out the price of not being a Kev right here.
If you haven't already got a swimming costume then what the hell are you doing?! Have a look at this gorgeous high waist bikini and get a swimsuit before you leave. I absolutely love the dual colour option but there are loads of colour options available. Take a look here.
If you're looking for a portable speaker then check out the JBL Flip 5. In my opinion, it is the best portable speaker in the world right now in terms of price and quality. Going to a secluded beach and listening to decent-sounding music makes all the difference so take a look here!
Travelling with hundreds of books isn't feasible, so packing a Kindle is a no-brainer! The latest Paperwhite has a 6.8″ display so it's much better than reading on your phone. There's also a warm backlight and an incredible 10 weeks of battery life! This version is even waterproof so you can relax by the pool with peace of mind. I've had my Kindle for 10 years and it's still perfect – this is a purchase that will last you a lifetime! Check out the full specs here.
If you're worried about powering your devices on your trip then the simple solution is to take this EPIKA worldwide travel adapter. We have used it all over the world and it has worked flawlessly. Being able to charge up to 5 devices by USB (4 USB-A's + 1 USB-C) plus a full power outlet socket is incredibly useful and works as an all-in-one solution. Check it out on Amazon here.
If you're looking for a snorkel kit then check out this Greatever mask and snorkel. We have been on so many snorkel and boat tours where the snorkel hire was dreadful and it ruins the experience. If you have room then definitely take your own set. Take a look at our recommended kit here.
Whether you're climbing mountains and need a fresh cold drink, or catching an early morning flight desperate for hot coffee, you should be travelling with a Thermoflask! It is incredibly insulated and keeps liquids cold for 24 hours, or hot for 12. It also comes with two lids so you can choose whether you need a straw or just a mouthpiece. These stainless steel bottles are BPA-free and come in some beautiful colours too! Check the options out here.
Don't even think about stepping out in the sun without protection! This factor 50 sun cream from Sunbum is vegan, reef-safe and smells like summer, as well as being dermatologist approved! It's non-greasy, easy to apply and doesn't leave a white cast so you can quickly rub it in and get on with your adventures! Take a look on Amazon here.
If you're stuck on what kind of towel to take with you then take a look at this microfibre poncho. We absolutely love ours and it is insanely helpful when you need to change on the beach. They dry fast and pack down super small so you'll be able to fit one in your day pack easily enough. Check out the price here.
Jade really doesn't get on well with flip-flops so she always takes a couple of pairs of sandals (in case one pair breaks) on every trip we go on. We recommend checking out these CUSHIONAIR sandals which are comfortable, durable and affordable (the holy trinity!). We chose these because they are vegan suede but there are lots of different materials and colours to choose from. Check them out here!
If you're planning on going to the beach then make sure you have some flip-flops in the bag. There is nothing worse than getting sand in your shoes or socks and there is nothing better than feeling the sand on your feet. We recommend an affordable pair like these Old Navy casual flip-flops. They will get the job done and shouldn't break almost immediately as other brands might. Check them out in more detail here.
If you don't have a camera then I HIGHLY recommend the Panasonic Lumix ZS70K. It is an affordable point-and-shoot camera that can be picked up and used by anyone of any ability. The camera captures gorgeous images and surprisingly excellent video whilst fitting in your pocket. The main difference between this and your phone's camera is that it also has an incredible optical zoom so you won't miss any of the shots you need to take. Check it out here.
---
Things To Do In Gozo
Beaches
Gozo is home to some of the best beaches in all of Malta and I should know because we visited all of them! It's also a day that I am not going to forget in a hurry as it was the same day I proposed to Jade high on the clifftops near Dwejra Tower. I digress! Check out our whole guide to the beaches of Gozo here for some additional inspiration!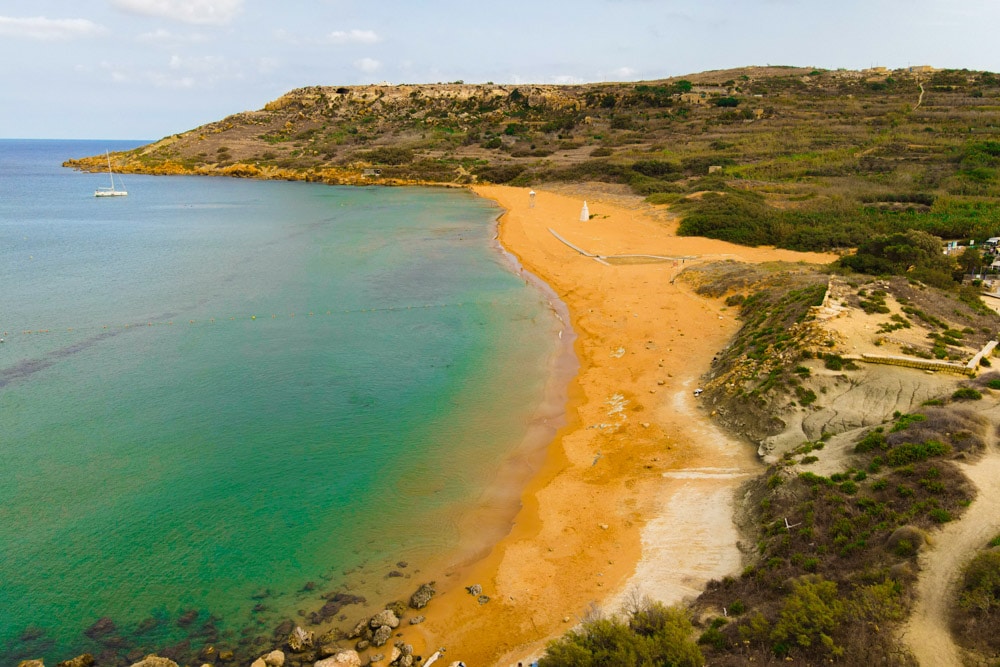 ---
ATV Adventure
There are some absolutely incredible ATV tours that take you all over the island in a cool 1-day adventure that includes lunch and some incredible views. The tours are all VERY highly rated so check out our recommended ATV tour on Gozo here!
---
Victoria & The Citadella
How can you not visit the incredible historic town of Victoria and the immense Cittadella in the center of the island? the history of this place goes all the way back to the bronze age so even giving you a synopsis here would be pages of information. the only way for you to truly appreciate this place is to visit.
---
Diving
Gozo is one of the best places in the whole world to go diving. Some of the underwater systems here are absolutely world-class and you simply HAVE to check it out if you are a certified diver. There are courses for beginners too! Check out our recommended dive activity here!
---
Blue Lagoon – Kayaking Adventure!
There are plenty of ways to see the amazing Blue Lagoon and Comino island and we have written a whole article right here! However, as you are in Gozo, you have access to some cool Kayak adventures that take you from Gozo all the way to the Blue Lagoon, the caves, and swimming opportunities. Check out our recommended Kayak activity here!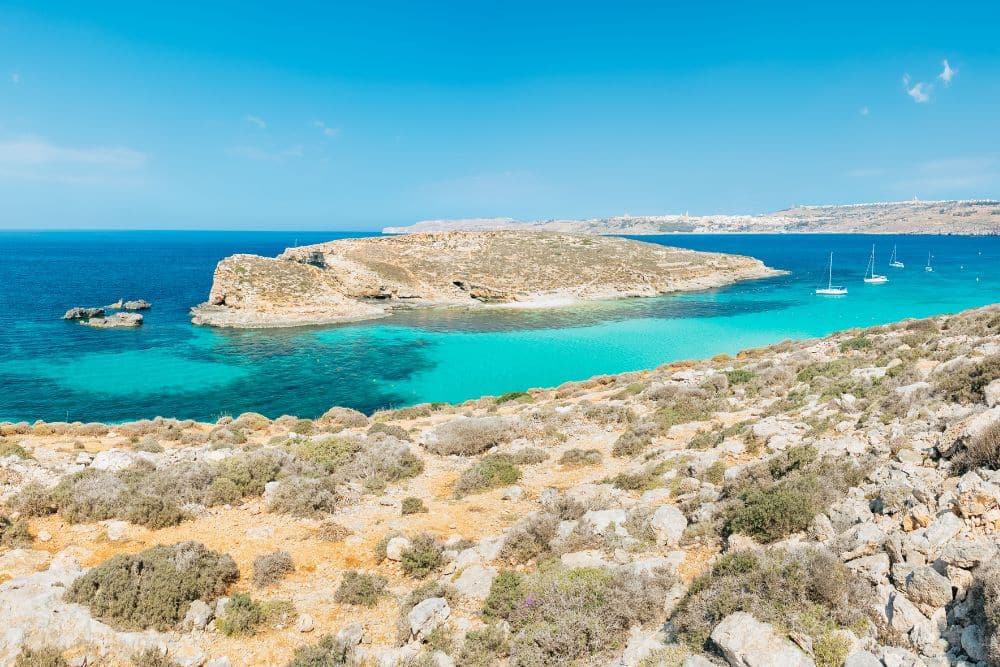 ---
Island Tuk Tuk Tour
Just like the ATV tours but instead of riding on a loud and scary ATV, you get to relax in a chauffeur-driven tuk-tuk to all of the best sights on Gozo island including; the Cittadella, Xlendi beach, Sanap cliffs, the Blue Lagoon, and more! Check it out right here!
---
Things To Do In Malta
Just because you are on Gozo island, it doesn't mean that you can't go to the mainland whenever you want. The Gozo Ferry runs 24 hours of the day and gets you across the small channel very quickly; it also has space for cars and other larger vehicles!
---
Valletta
You cannot come to Malta and not visit Valletta. This city is one of the most beautiful places I have ever visited in my life and you cannot help to be in awe everywhere you look. I highly recommend jumping on a walking food tour of the city or just a walking tour if that makes more sense to you!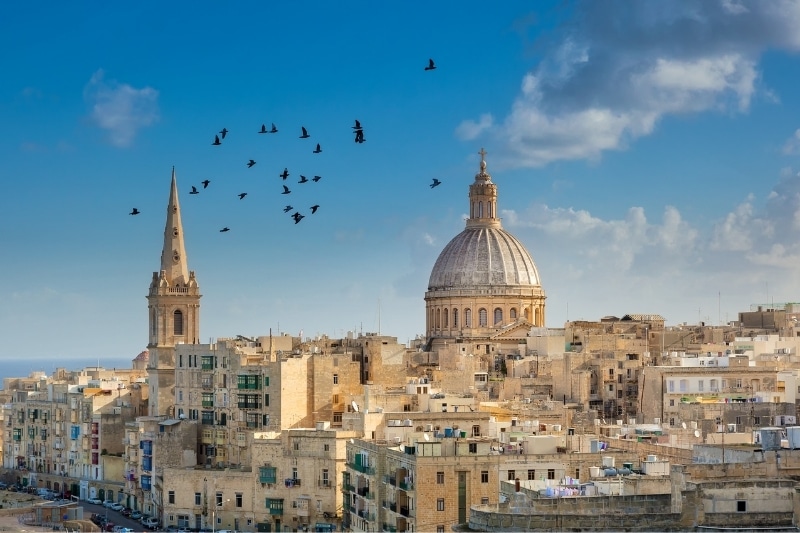 ---
Mdina
Mdina is the ancient capital of Malta and is a truly spectacular fortified city of incredible architectural beauty. Wondering around the streets here is one of the most romantic things you can do in Malta and I highly recommend finding a small tea room to have some cake (and maybe wine). Check out our recommended tour of Mdina here.
---
Waterparks
There are actually a few options for waterparks in Malta so check out our guide to all of the waterparks in Malta here. I, personally, recommend visiting Splash 'n' Fun but if you have younger kids then Popeye Village maybe the best option!
---
Day By The Pool
There are loads of incredible resorts that offer day passes in Malta where you can have the 5-star luxury usually only afforded to the customers of those resorts. We have written an entire article looking at all of the best places to spend a day by the pool in Malta here!
---
Romantic Drinks
This is more of an insider knowledge tip! There is an absolutely fantastic mini floating bar boat in Sliema harbour that allows you to drink a brilliant cocktail whilst watching the sunset into the harbor. The boat's name is Guadalupe and you can find out more about it right here!
---
---
Frequently Asked Questions
---
That's our entire guide to Gozo Farmhouses With Indoor Pools. Please let us know if you found this article helpful and if there is anything we can add to make it even better!
---