Sri Lanka has some incredible scenery, and taking the Galle to Colombo train means that you'll experience the gorgeous coastline! Find out how to enjoy the journey and make the most out of your trip.
Necessary Spacing
We recommend 2nd class tickets from Colombo Fort to Galle – Pre-Book Here!
We don't recommend 1st Class unless you really need A/C.
The 06:55 am or 07:25 am trains are the best two of the day.
---
The Galle to Colombo Train Journey
Taking a train in Sri Lanka is one of the highlights of most people's trips! It sounds dull, sitting on a train for hours on end, but it really is a whole experience in itself.
The views are just incredible, and you're bound to meet some interesting passengers on your Galle to Colombo train trip – whether that's a group of teens playing the drums, a seller bringing round hot tea or a fellow foreign traveller with stories and recommendations for the island.
If you've travelled through the centre of Sri Lanka and made your way across the south coast, then the chances are you'll find yourself in Galle. It is an attractive, colonial city, with a fascinating history with plenty of fun things to do.
Once you've explored, you'll probably be making your way back up to Colombo and towards the airport. Here's all you need to know about taking that trip – don't forget to watch the video too to give you a sneak peek of what to expect!
Read More: Before You Leave Galle, Visit These 10 Incredible Beaches!
---
Galle Train Station
Making your way to Galle Station is easy. It's located just outside the Galle Fort area, which is a popular place to stay and explore. It's also next to the bus station, which is handy if you're arriving in Galle by bus but are quickly leaving on the train.
When you enter the station, you'll see the main ticket office in front of you. The entrance to the platforms is on the left-hand side, so keep your ticket out to show the guards and just go through the barrier.
There is some information on the right of the entrance hall about the timings of the trains but I would personally ask a staff member to double-check this information.
Don't forget to ask them what platform your train is arriving at too because you won't be told automatically and there isn't anywhere to find out once you've passed the barrier.
There are three platforms so you won't get lost but listen out for changes in the platform. They don't give these announcements in English so if you hear one, speak to a guard to see what is happening.
After the entrance barrier, there is a little shop on the left selling snacks.
---
Timetable for the Galle to Colombo Train
As you can see, the different trains take different lengths of time. The best Galle to Colombo train to get would be the 7:25 because it means you get a full day in Colombo, and you can choose the first-class carriage if you want. It doesn't run on a Saturday though so the next best would be the 6:55 in a second class seat.
This is an overview of the timetable but if you want to check other journeys too, use this website.
| | | | | |
| --- | --- | --- | --- | --- |
| Departure Time | Arrival time | Duration | Frequency | Available Classes |
| 03:15 | 06:42 | 3hrs 37 | Mon – Fri | 2/3 |
| 04:10 | 07:26 | 3hrs 16 | Mon – Fri | 2/3 |
| 05:00 | 07:54 | 2hrs 54 | Mon – Fri | 2/3 |
| 06:00 | 08:08 | 2hrs 8 | Mon – Fri | 2/3 |
| 06:55 | 08:51 | 1hr 56 | Daily | 2/3 |
| 07:25 | 09:28 | 2hrs 3 | Mon – Fri | 1/2/3 |
| 08:50 | 12:35 | 3hrs 45 | Mon – Fri | 3 |
| 10:25 | 12.42 | 2hrs 17 | Daily | 2/3 |
| 14:45 | 17:11 | 2hr 26 | Daily | 2/3 |
| 15:35 | 18:11 | 2hrs 36 | Daily | 2/3 |
The Galle To Colombo Train Timetable
---
Train Carriage Classes
Most Sri Lankan trains offer 3 classes – first, second and third. However, on this Galle to Colombo train trip, you can only choose a first-class ticket at a certain time. Most of the trains on this journey only have second and third-class carriages, but luckily they are both decent enough to travel on so you can still enjoy it!
Read More: Fancy Going On The Best train Journey In Sri Lanka? Check Out The Ella To Nuwara Eliya Train Here
First Class
Obviously, this is the most expensive, and it's meant to be the 'fanciest'! It does depend on the train you get though – Sri Lanka is slowly rolling out more updated trains but unfortunately some of the trains are still really old!
In first-class, you'll get a soft individual seat and the carriage will usually have air conditioning.
You have to reserve these before you travel, and there is only one train that has a first-class carriage on this journey.
I'd only recommend going first class if you want the observation carriage for a trip in tea country – otherwise, I don't really think it's worth the extra money!
Second Class
In my opinion, this is the best class to travel in as it is comfortable, you get good views and it is incredibly cheap.
You can reserve a seat here if you want by going to the train station early and asking for a specific seat, or you can book one online.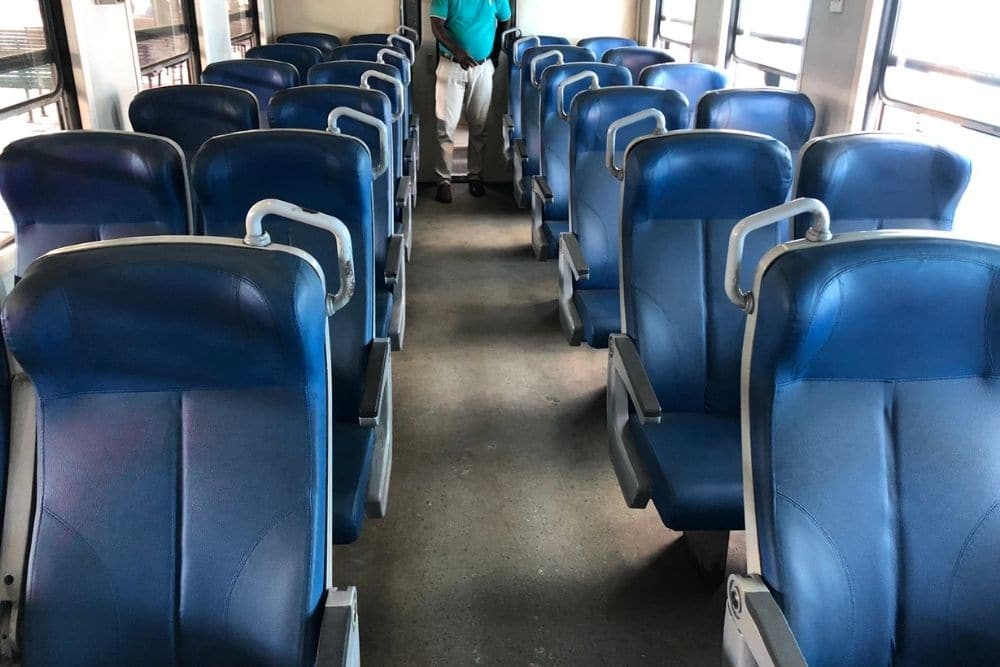 You'll probably get a seat in second on this journey but there are some routes that are much busier where we had to stand or sit on the floor the whole way (Kandy to Colombo for example).
The chairs are comfortable and the main reason to choose this over third class is that it tends to be quieter. This isn't the case for all journeys though, so I would suggest buying a second class ticket and seeing which carriage has the most space.
If second is too busy, move to third. At least if the guards come round (which they rarely do) you will have bought the more expensive ticket and can explain that there wasn't enough space for you in the other carriage.
Third Class
This is the last resort option, but only because for a few pennies more you could get a better seat in second. Third-class is still decent – there are fans, toilets and cushioned seats so you won't be uncomfortable.
We actually had third-class seats for this trip because we didn't have enough cash on us to buy second class tickets! As you can see though, the carriage was more than ok.
Sometimes, these carriages only have benches that run along the side of each, like on the Tube or a subway train. They're still ok to sit in and the doors open really wide so you get excellent views from here!
Read More: How To Spend 10 Days in Sri Lanka
---
Cost of the Galle to Colombo Train Trip
Each class will cost a different amount, and these prices are subject to change.
1st Class seats: 600 rupees.
If you want this ticket, you'll have to book ahead. Try the new government system or buy your tickets with a reputable agent.
2nd Class seats: 240 rupees
3rd Class seats: 135 rupees
You don't need to book ahead for these seats – you can buy second and third-class train tickets at the station.
---
How to Buy Tickets for the Galle to Colombo Train
There are now three ways to buy your tickets for the Galle to Colombo train.
At the station
Through an agent
Through the government system
If you want to buy a ticket at the station when you arrive, simply go to the correct counter selling the right class. There are four counters but you'll need either the second or third one depending on your choice of ticket. If you're wanting to buy or collect your first-class tickets, you need to go to the second counter as well.
If you want the reassurance that you have a ticket before you travel, book through an agent like 12Go. They will reserve your tickets for you, and then send them to your hotel in advance of your Galle to Colombo train.
Read More: Everything You Need To Know About Backpacking Sri Lanka
In early 2022, Sri Lanka Railways began selling ticket reservations online. You still need to collect your ticket from your departure station before you travel, and you can't choose your seat but it's still helpful. When I tried searching the trip from Galle to Colombo, it would only give me 2 options of train, so this wouldn't be very helpful if you weren't flexible on your times.
---
Duration of the Galle to Colombo Train Trip
This journey is a relatively short one, but do be prepared for delays. It's only 113km of track, but each train is different and takes a different amount of time to get to your destination!
You can see from the timetable above that the shortest time it will take you on the Galle to Colombo train is 1 hour 56 minutes, and the longest time is 3 hours 37 minutes. The only time I can imagine you'd take the longer train is if you have a flight to catch and it's your only option!
Sometimes the trains are late arriving or don't seem to be travelling as fast as they should be. Allow extra time in your day for the train to be late to Colombo Fort Station.
---
Tips for Taking the Galle to Colombo Train
This trip isn't too difficult but there are a few things to note before you set off.
The biggest tip for this journey is to make sure you get there early. Buy your tickets, and relax at the station rather than relax in your hotel and get your tickets last minute! They don't sell out, but at certain times or on public holidays the queues can get really long which might make you miss the train.
The trains often don't stop for very long in the station. Sometimes they're there for 20 minutes or more, sometimes it is less than 1 minute so you don't have a lot of time to get on, especially if you have lots of luggage! The Sri Lanka Railways schedule does tell you the arrival time and the departure time of the train, which is helpful.
Try to sit on the left-hand side of the train for the best views, especially nearer to Colombo. You'll get to watch the gorgeous blue ocean and palm trees go by.

Take cash with you to the station – you won't be able t buy your tickets with a card.
Read More: Here's Your Guide For The Hikkaduwa To Colombo Train Route
---
Book your favourite hotel here

Where will you go?
---
Colombo Fort Train Station
Colombo Fort Railway Station is one of the most important in Sri Lanka, receiving and sending out trains to many parts of the country.
It's larger than the station in Galle, but the general layout is very similar.
You might have to walk on the bridge to reach the exit, so if your train was very busy and you've got lots of bags, I'd be patient at wait before walking up the stairs – if people are in a rush they won't care that you're carrying things and it could get dangerous.
Read More: How To Take The Train From Kandy To Colombo
There will be many people outside trying to get you to take a city tour in their tuk-tuk. I would recommend downloading the PickMe app to get an estimate of prices to your hotel. If you go directly with a driver, it will be a little more expensive but it does mean that they get all of the money and instead of the app taking a fee, so I do think it's worth getting a general idea of the cost so you aren't being ripped off.
Don't get scammed into taking a tour – they'll just take you to gem shops and clothing stores so you can buy things there that they'll get some commission from them. If you WANT to experience that then fine, but if you just want to go straight to your hotel then firmly let them know.
---
---
---
Let us know in the comments if you have any questions about the Galle to Colombo train journey!