Renting an apartment in Beijing might not be as easy as it would be renting somewhere in your home country. There are different rules and different norms to adjust to. Be prepared before you move and pick the right home for yourself without the hassle!
Moving to China is a big step for most people. We weren't sure where to start, mainly because of the language barrier. When we arrived, renting an apartment in Beijing seemed really daunting, but it actually was really easy and only took us 1 day to organise everything. Your search for apartments shouldn't be stressful because there are literally thousands of places being rented out every day.
Not only that, but there are cultural and societal norms that Chinese people follow, which may not make sense to a foreigner. Check out these couple of things you're going to need before you move to Beijing to help you out.
Trying to pick the best apartment in Beijing to rent whilst juggling the new environment around you can be tricky. The best thing to do is to be organised and know exactly what you want, what you'll settle for and what you definitely will not pay for.
Read More: 10 things To Know Before Moving To China
Questions To Ask When Renting An Apartment In Beijing
This may seem like a simple enough question when choosing an apartment for rent in Beijing, but it will vary depending on your lifestyle and what you're used to. The following will most likely be similar to a list you'd write back home, with some added extras. A typical Chinese apartment is fairly small, and will come with basic furniture. Ask the estate agent to show you places that tick all of your boxes – otherwise you could be wasting each other's time.
---
Book your favourite hotel here

Where will you go?
---
How many bedrooms are there?
If you're thinking of living in a big city like Beijing, you won't find a five-bedroomed apartment in a high-rise building. Do you actually need a spare room or can you store your junk cleverly enough in cupboards?
Read More: 8 Reasons Why You Should Move To Beijing
How many bathrooms are there?
Again, it's unlikely to find multiple bathrooms in city housing. Often, hutong houses won't even have their own dedicated bathroom, so be aware of that if you're trying to live somewhere a bit more authentic.
How big is the kitchen and what appliances does it come with?
Many expats claim to eat out every day. You may be able to get some amazingly cheap food out and about, but a decent kitchen is essential for others.
Despite China being one of the largest countries in the world, living space is limited, which means that you're unlikely to find a sprawling kitchen with a breakfast bar and double fridge. In fact, a fridge will often be moved into the dining or living room instead!
Remember though, that most Chinese people will only use the hobs and a rice cooker, and there's unlikely to be a built in oven especially if you're on a budget.
You can buy small ovens that sit on the counter (even if you buy one just for your Christmas dinner, it's worth it!) or you can learn to make some pretty decent frying pan meals!
Which floor is the apartment on?
You might find the perfect apartment in Beijing on the first floor. Or, it might be on the 25th floor, and the lift will be broken. Think about whether or not you could climb the flights of stairs every day if there was a power cut!
If you definitely don't want stairs, then consider living in a hutong where everything is on one floor.
Are there air conditioning units?
In many countries, air conditioning units are a given. In the UK, it's almost never heard of to have air conditioning in your house.
However, China's seasons are very diverse, and you'll want to be prepared! In the summer, the temperature can reach over 40 degrees, even in the north. In the winter, it can drop to -20 degrees, so you'll be blasting the reverse hot air cycle!
Check to see if there are air conditioning units in each room – you don't want to be cosy in the living room but freezing in bed!
Does the landlord allow pets?
It might not be relevant to you, but many foreigners adopt pets in China and the landlord needs to be made aware of this.
Yes, people hide their animals from their landlords, but they also run the risk of being thrown out of their homes. If you do have a pet or are thinking of getting one, be honest from the start.
Another point to think about is if they do allow pets, that might mean that the previous tenants let their animals run riot and there might be cat hair floating around everywhere. If you have allergies then its good to know if animals lived in the apartment before you!
Are the windows covered?
As I mentioned before, in China apartment buildings can be scarily high. So high in fact, that without a mesh or bar around your window, you wouldn't want to go near it without a harness! Also, if you have young children or animals then a covered window makes all the more sense. Double check all of the windows in the apartments that you visit.
Is the apartment fully furnished?
If you're planning on staying in China for a long period of time, then you might want a blank canvas apartment. Not only are there lots of local furniture markets that you can haggle at, IKEA is pretty popular too. Just be aware that people really do fall asleep in the display beds!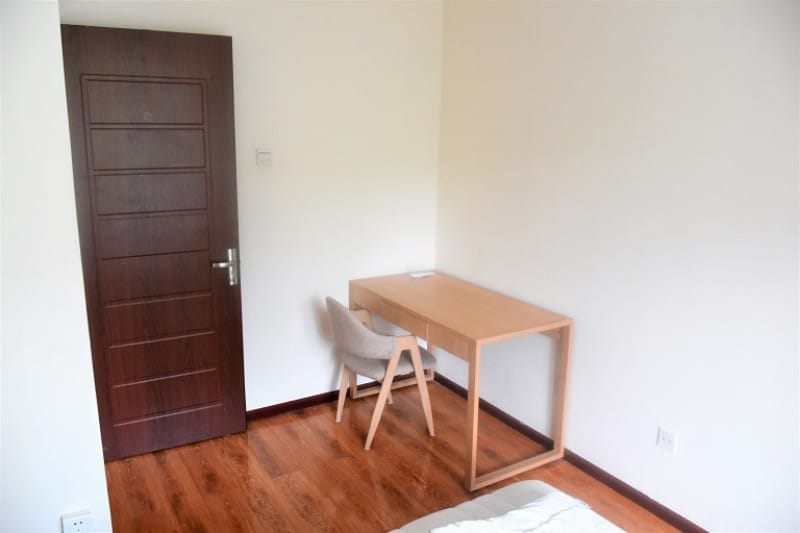 Only staying a year? You'll probably want to find a fully furnished place that will feel complete as soon as you empty your luggage. There are some great furnished apartments for rent in Beijing that we looked at, but there are also some terrible ones so take your time!
What do the beds feel like?
Talking of furniture, be prepared to sleep on a bed of stone unless you buy a decent mattress topper. Beds are traditionally hard because people believe they are better for your health.
This can be true but you might find the extent to which your landlord believes this to be a bit extreme. Check out the beds before you rent, and adjust your budget accordingly for when you move in if you have to buy a mattress topper. You could even negotiate and get a whole new bed in!
What's the location like?
This is one of the most important things to think about when renting an apartment in Beijing.
Assuming you know which city or town you'll be living in, you need to know if you want to be right in the centre or on the outskirts. Bear in mind that rental price will go up significantly if you live in Beijing's CBD!
Do you need to be near a subway station? How about your workplace? Would you be able to use public transport late at night to get home if you needed to?
Would you be living in an area with other expats – some people would prefer that, others want to escape that and live fully amongst the locals.
Read More: The Ultimate Guide To Teaching In China
What Will You Spend?
Price is a huge factor to consider when renting an apartment in Beijing, or anywhere across the world. It's not just the monthly rent though. When renting in China, you need to be prepared to spend money on the following:
How much is rent in China?
In Beijing, you can get a one bedroom apartment for 4000RMB per month. You can also get a room in a shared apartment closer to the city for a similar price. In other cities and towns the cost will vary, but look around and compare what other people are paying.
You also will have to pay three month's rent first. Rent is often taken every three months, so that means there will be months where you don't need to pay. It also means that you'll be paying triple every quarter! To pay rent, you might be asked to bring everything in cash, use WeChat (as it will be linked to your bank account) or download their specific app for tenants.
Read More: How Much Does It Cost To Live In Beijing
Deposit
You'll need to put down a deposit to secure your new home, and protect the landlord from you destroying the place. This is usually a month's rent, and you'll need to pay this upfront.
Agency Fee
If you are renting through a real estate agent, which we do recommend, then you'll have to pay an agency fee. In the UK, this is normally covered by the landlord but in China, you need to foot the bill. This also tends to be a month's rent, and you'll pay it at the same time as your deposit.
Adding all of this up means that you need to be prepared to pay a lot of money upfront. In the typical Beijing apartment example above, that would mean you would need to pay 20,000RMB before you have even received the keys to your apartment.
It sounds like an expensive way to do things, but as long as you don't mess up the place, you will get your deposit back. Plus, a lot of that money would have just come out every month anyway. It just sounds like a lot because it's all come out at once!
Bills
Luckily, bills are not expensive at all, so your extra monthly costs won't break the bank. Living in China can be very cheap, even in a big city like Beijing.
The heating is state controlled, so your radiators will turn on in November, and off in March. There's nothing you can do about that, so if you are feeling extra chilly in October, whack up your reverse cycle air conditioner., and vice versa in the Spring.
It should also be paid for by the landlord so no worries there. Electricity can be paid as you need it on a pay-as-you-go card.
Water and gas are very affordable, especially as you're only using the gas to cook and water to shower – you'll be very lucky if you get a bath! You might be able to use WeChat to pay these, or a worker might come round every so often with a machine to read the meter.
You'll then get a bill stuck to your door and they'll come back a few days later to receive the money. Also take into consideration other monthly expenditures, such as Netflix or a decent VPN.
Read More: The Very Best Apps For China
Extra Info About Renting An Apartment In Beijing
China is a fun place to live and there are huge perks to choosing it as your home base. Picking the right area and apartment to live in can be tiresome, but here are some tips to make your choice easier:
General Living
IKEA is reasonably priced and there are two in Beijing. It's a good place to start when you've just moved in and you need pots, pans and all the essentials.
Bike sharing systems are very popular now. Scan the QR code on the bike and use it for as little as 2RMB per day Having access to bikes makes it easier to commute to work, even if the apartment you're renting in Beijing is far away.
Money
A great apartment in China can be put up for rent one day, and be snapped up by the next. When looking at places, be aware that someone might already have looked around earlier that day. If you like somewhere, have the money ready to go.
Talking of money, it is not unheard of to pay the full amount of money in cash. Yes, even that 20,000RMB! Some agencies prefer cash, and some will only take payment via WeChat or their own dedicated app. Have everything prepared so that you can offer whatever they need.
Read More: Why We Love Wechat!
---
Book your favourite hotel here

Where will you go?
---
Proof of Condition
Take pictures of the apartment with the agency before you move in. You don't want to be charged to clean the apartment at the end of your rental agreement if you have to clean in when you move in too. Check the meters and make sure the correct numbers are written down.
Washing
If you're used to the luxury of a hot water washing machine, then you'll be disappointed with the laundry system in China!
Most machines don't have a hot water setting, so all of your clothes will be washed with freezing cold water.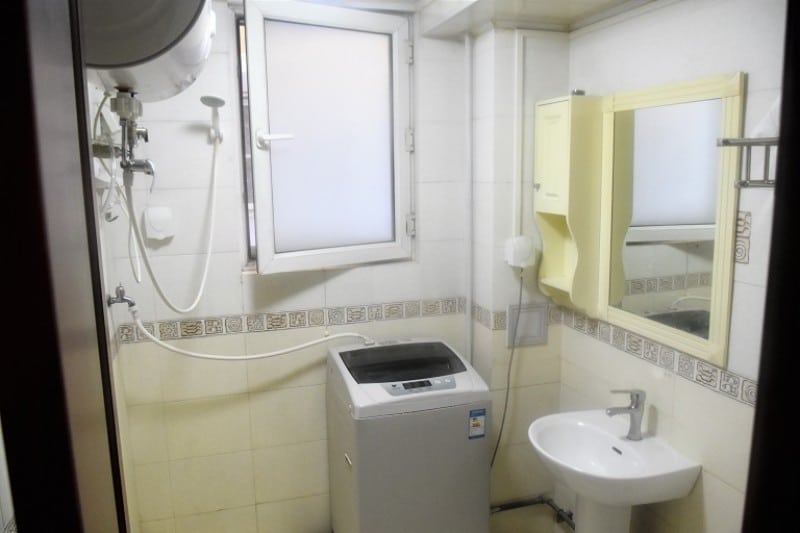 They also tend to open at the top, and spin your clothes round a pole in the middle so that your favourite t-shirt will stretch in the most ridiculous way possible. You'll also more than likely find your washing machine to live in the bathroom.
Bathrooms
Bathrooms in general are not as bad as people might think in China. There will be a western toilet, and a shower head. However, it is uncommon for there to actually be a separate shower. In a typical apartment in China, there won't be a partition between where you stand to wash and the rest of your bathroom.
This means that the whole room becomes flooded when you shower. You'll have to invest in a rubber broom to push the excess water down the plug hole once you're finished.
Contracts and Agencies
Agencies like Ziroom are great. In many of their apartments in China, they provide a smart TV, free WiFi and are always on call to help. It is advisable to take a good English and Chinese speaking friend with you to choose your apartment in China.
You want to make sure everything is clear, and any questions you may have aren't gone unanswered because of the language barrier. A friend can negotiate the finer details (like having a new bed or adding pets to your contract like we did). An agency is also less likely to rip you off if you have a local friend.
Unfortunately, the chances are that you'll have to sign a rental contract that's written purely in Chinese. This where your Chinese friend will really come in handy!
---
---
Choosing a nice apartment in China can seem like a daunting task, but you could find your new home in less than a day. Make sure they stick to your budget when they show you a place too! Choose a location that you're fully comfortable with and be sure to challenge anything that doesn't quite sound right.
Remember that the best way to search for apartments is to write a list of things you want and things you don't. Take a local friend to a couple of agencies nearby and ask them to show you pictures first. Think of everything you need to ask before you go house hunting!
---
Have you ever thought of renting an apartment in Beijing? Is there any other advice you'd give to someone doing it for the first time? Let us know in the comments below!
---
Click on the image below to repin this post!