Finding the most ethical elephant sanctuaries in Chiang Mai can be overwhelming. Luckily we've done the research for you and found just four places that truly treat the animals with the care and respect they deserve. Take a look and book a visit to your favourite!
2-Day Tour At Kindred Spirit Elephant Sanctuary
We visited the only 4 elephant sanctuaries in Chiang Mai that have the World Animal Protection approval rating and they were all fantastic. However, we think that the best elephant sanctuary in Chiang Mai is Kindred Spirit Elephant Sanctuary.
The 2-day tour was an incredible experience, and the best way to see elephants in Chiang Mai in our opinion. There is also the option for a 3-day visit too. The cultural aspect was so interesting and the staff at Kindred Spirit truly love the animals and do everything they can to make their lives better!
---
The Most Ethical Elephant Sanctuaries In Chiang Mai
Elephants are one of those animals that just make you think 'wow'. Getting up close and personal to these incredible creatures at a Chiang Mai elephant sanctuary is a dream for so many people, but recently more and more of us are realising that our dreams often mean a nightmare for the elephants.
We found the World Animal Protection site and were shocked to find that out of the tens of elephant sanctuaries in Chiang Mai, only FOUR are supported by the charity. This doesn't mean that every single one of the other places is terrible, but the four on our list abide by strict guidelines and welfare standards so you know that they are working hard to create a good life for their elephants.
We were lucky enough to visit these and experience something different in each place. We would highly recommend a visit to at least one of these ethical elephant sanctuaries in Chiang Mai to see how the animals can be treated well by humans and still provide an income for the local families in the more rural areas of Thailand.
Read More: The Chiang Mai To Bangkok Sleeper Train
---
Kindred Spirit Elephant Sanctuary
Kindred Spirit is one of the elephant sanctuaries in Chiang Mai focusing on looking after the local community as well as the animals.
Kerri and her husband Sombat opened it in 2016, with the aim of providing a home to the elephants where they could live with minimum interaction with humans – the way nature intended.
The local villages also benefit from the sanctuary by earning an income from the homestay guests, the land they rent out and the jobs that the organisation creates. The people here are part of the Karen Hill Tribe, which is an ethnic minority group originally from Myanmar, who came to Thailand years ago in search of better opportunities. Part of the experience at Kindred Spirit is getting the chance to stay with a local family and learn about their culture, language and history.
---
What Programme Would I Recommend?
I would recommend the 2-day/1-night programme at Kindred Spirit Elephant Sanctuary. This is what we did, and we had a fantastic time (plus you'd have extra activities included too).
You need at least an overnight stay here to fully appreciate the village and the elephants, plus it's so far from the city that you might just be too tired to enjoy it!
If you wanted to spend a bit more time here, you can also book the 3-day/2-night package. You'll get the experience everything that you would in the 2-day option, but you'll get an opportunity to learn more about life in the village, and the history, language and culture of the people who live there. You'll also get another day hiking in the forest to spend some more time with the elephants.
Kindred Spirit also offers two really cool internship programmes. You can join the Elephant Research Programme or the Photography/Marketing Internship. These are incredibly unique opportunities where you can get really involved in activities such as collecting data on the elephants, or taking photos of the elephants and assisting with social media promotion.
Read More: The Ultimate Guide To The Sunrise At Angkor Wat
---
Our Experience
On our visit to Kindred Spirit, we spent the night in one of the homestays and met the elephants in the morning. We were on the 2-day/1-night package, which usually includes pickup from the city.
As we were actually already at another of the ethical elephant sanctuaries in Chiang Mai – BEES Elephant Sanctuary – for the day Kerri kindly offered to pick us up from there instead. This meant that we missed the first few hours of the programme, but this was our choice as we needed to visit both places in a short amount of time and for a normal trip for you, this wouldn't happen!
We were driven through gorgeous mountains along bumpy roads and welcomed to the village. The actual village isn't very is quite large, and we were shown to our homestay where we would eat and sleep for the night.
Our double room was well equipped, with a good mosquito net, plug sockets, a fan and water. The bed was comfortable too! Kerri showed us the bathrooms which might not be what you are used to but they are fine! There is a seated toilet (we've been big advocates of the squat since living in China but a lot of people aren't used to it!) and a cold-water shower – trust us, after a sweaty hike, that's all you'll want!
Kerri then talked us through her welcome presentation, which was really informative. We asked A LOT of questions – we were all really tired and hungry but she was so patient with us! – because the story behind the elephants and their mahouts in Thailand was so interesting. This is where we learnt most of what we know about elephants and how difficult it is to provide a safe place for them to live without exploitation. Kerri is a fountain of knowledge and you can really see her passion for the animals and her community.
Afterwards, our homestay host brought over our dinner and we were given a traditional blessing called a 'geeju' before we ate. We'd asked for a vegetarian meal, and the food was simple but delicious.
After dinner, we retreated to our room and had a great sleep. Despite the weather being hot all day, It was cool enough at night that we didn't even need to use the fan which was a nice change from the city!
In the morning, we were given breakfast and met Kerri for the start of our walk. We had to drive for around 15 minutes (be aware that you may have to hike the whole way depending on where the elephants are!) to find the elephants who were off doing what they do best – foraging in the forest! The males and females are sometimes in different areas here, so we went off in search of the girls first.
The hike to the elephants was about another 15 minutes – it wasn't too hard but it was very much uphill so definitely bring good shoes! The views on this walk are incredible and you can often hear the snapping of trees or the trumpet of an elephant in the distance, which was just magical knowing that they were out there truly just living their best lives.
Read More: How To Visit The Sticky Waterfalls in Chiang Mai
We found 2 mahouts, which meant 2 elephants nearby! We spent some time watching them and learning about their past and how they came to be at Kindred Spirit. We were always a decent distance away from the animals, so as not to disturb them as well as for our own safety.
It's so important to remember that although the mahouts are nearby and the elephants trust them, these animals are huge, strong and wild so you need to be quiet and mindful when you're nearby.
After a while, we walked back down the hill where Sombat was waiting to drive us to the next location. It didn't take long to find the boys – they were all together on a nearby hill. They were a little more active than the ladies, breaking huge trees to munch on, stepping on branches like they were matchsticks and moving surprisingly gracefully through the forest!
We sat and chatted with Kerri about their elephants, and one story I love is about how KSES have managed to keep three generations of family together! Too Meh is the oldest and has a daughter and two grandsons here, which is lovely considering elephants are so clever and have feelings towards their family just like we do.
When it was time for lunch, we found a scenic spot near the road and opened up the lunches that had been packed for us. Kerri also produced a few packets of noodles, which Sombat proceeded to cook in such a cool way! He quickly made a fire and propped up a bamboo stem against a stick.
He poured water into the bamboo and waited for it to boil – a jungle kettle! The noodles were put in an open bamboo stem and then filled with boiling water. We ate them with rice and garlic cabbage – it was such a tasty and fun meal!
We made our way back to the village and prepared ourselves for the long journey back to Chiang Mai. It was such an eye-opening and fun experience, and the typical programme also includes basket-weaving and getting involved with the cooking too!
---
How Else Can I Support Kindred Spirit?
Kindred Spirit is unique in the fact that there is a huge emphasis on learning about the local community and Karen tribes who live in the remote villages in the mountains. There are lots of ways that you can support the sanctuary and the villages, even if you can't visit right now.
One of the easiest ways is to donate using this fundraising form! You can also donate directly through PayPal if you'd prefer. All funds go towards things like food (for the dry season as it's more difficult for elephants to get what they need at this time), helping the community and bringing more elephants back home to the forest.
As so many tourist camps have been closing over the past few years, more and more elephants are at risk of having nowhere to go. Kindred Spirit is supporting these extra elephants which means that they really do need all the extra help they can get!
---
Chang Chill
The story behind Chang Chill is really interesting, as they actually rebranded and changed their whole ethos in 2017. World Animal Protection got in touch with them and asked them to rethink how they were conducting their business.
Under the name Happy Elephant Valley, the camp let tourists ride, feed and bathe the elephants. However, with the support of WAP, the owners decided to let the elephants live as they would in the wild, socialise with other elephants instead of humans and just be free to enjoy their lives without working. Chang Chill is now one of the most ethical elephant sanctuaries in Chiang Mai.
---
What Programme Would I Recommend?
Chang Chill is one of the sanctuaries that is relatively close to the city, which means that you can enjoy the 1-day visit without having to travel too far in one day. I'd recommend this full-day experience as there's plenty to enjoy in one day and it doesn't take up too much of the rest of your holiday.
There is also usually a half-day option, which is even better if you want to cram lots of other Chiang Mai activities in as well. You can choose to go in the morning or afternoon, and the programme is similar to the full day one, but just finishes earlier.
If you wanted to stay for longer, Chang Chill does offer an overnight programme too. During the days, you'll take part in the typical day tour activities, and in the late afternoon/evening, you will get the chance to visit a local farmer and collect vegetables for dinner. You'll help cook dinner and learn about the history and culture of the communities nearby.
*At the moment, the half-day programmes and overnight stays aren't running but keep checking back to see when they start them again!*
---
Our Experience
We were picked up from our hotel in the city at around 8 am. It was a relaxed 1.5-hour drive to the park, and our guide Goi introduced herself and explained to us how the day would go.
Once we'd arrived, we had around a 5-minute walk down to the main area where we could leave our bags and where we would eat lunch. It wasn't a difficult walk, so you don't have to worry about your fitness levels here. It was downhill on a muddy track though, so I wouldn't say it was accessible for those with wheelchairs or prams.
There was tea, coffee and water waiting for us at the bottom, which was a nice touch after an early start!
Goi introduced us to the four female elephants that we would meet that day. She told us that they only have females in order to control the elephant population in their care. Two of the elephants are owned by Chang Chill, and the other two are rented.
Goi was full of information about each elephant – we could tell that she is personally invested in their happiness which was lovely to see.
We began our walk to find the elephants who were roaming around the forest looking for food. The tracks are easy enough to walk on with sturdy shoes – don't wear flip flops – and we only had to walk for around 5 minutes when we heard the familiar rustling of the trees!
Goi gave us plenty of time to take in the beauty of the creature we were all there to see. She talked lots about the benefits of elephants living in the wild and gave us fun facts about elephants (did you know that elephants eat for up to 16 hours a day!?).
The walk to the elephants wasn't very difficult for most people – if you have mobility issues then I'd recommend staying on the observation platform and waiting for the afternoon when the elephants come down for their snack and water play!
We were lucky enough to see all of the rest of the elephants nearby, wandering around the forest and walking up and down incredibly steep areas that even I wouldn't have attempted! Goi and her team were super attentive and answered so many questions from our group.
It was great talking to them about the transition of the sanctuary, and how, being very sceptical at first, they had been convinced that this was a better life for the elephants AND they would still be able to make money from tourism.
It's easy to forget about the people in this industry, but everyone involved in an unethical tourist camp still needs an income, and the staff at Chang Chill have been able to have that without compromising the welfare of their elephants anymore.
Lunch was served on the observation deck with beautiful views of the river. Everything was vegetarian and delicious, with plates of vegetables, curry, rice, omelette and fruit. We had plenty of time to relax and wind down after an exciting morning, but more was still to come!
We then moved down to the open pavilion and were given huge buckets of mangoes as a treat for the elephants. Instead of hand-feeding them, we placed them in tubes ready for the elephants to work the fruit out with their trunks.
Next, we had an elephant cooking class! The elephants need vitamin supplements as they can't always get what they need in the forest. Goi showed us lots of different ingredients and explained the benefit of each one.
We then got stuck in, mashing and grinding everything together, creating huge balls of mush. These balls were also placed in the tubes, and the elephants came running down the hill ready for their afternoon snack.
It was a fantastic extra activity to take part in and it rounded off the day nicely. We watched the elephants eat for a while, and as it had been raining intensely in the morning, they decided to play in the mud which was just wonderful to watch.
Chang Chill really has completely changed their whole ethos and business model, and it's all made such a huge difference to the elephants who can now live freely but still generate an income for the local people.
---
How Else Can I Support Chang Chill?
As with all of the ethical elephant sanctuaries in Chiang Mai (and across the whole world!) Chang Chill has suffered greatly due to the current situation, as they have had hardly any tourists for the past two years.
They too could use some extra help and funds, so if you are in a position to, then they'd really appreciate a donation. Their goal is $12,000 to cover six months of costs, and currently, they're at $2300. Click here to give anything, no matter how small!
---
Elephant Nature Park
Elephant Nature Park is one of the most popular ethical elephant sanctuaries in Chiang Mai – it makes sense as it has been promoting ethical elephant treatment since the nineties! The owner, Lek, has advocated for a safe space for retired and injured elephants, as well as ones who need rescuing from poor conditions and treatment at elephant camps across the country.
The park is not only home to elephants, but dogs, cats, buffalo and even pigs who have suffered in the past and now live a free life at ENP.
Elephant Nature Park is focused on creating a haven for its elephants, but there is also a lot of work on forest restoration, cultural preservation and education for its visitors so that we as guests can spread the word.
The main difference between ENP and the others on this list is that this park was directly built for elephants, instead of just locating an area in the forest for them to roam around.
There are pros and cons to this – firstly, Elephant Nature Park is the most family- and mobility-friendly place, being completely flat, having ramps to the buildings and also being only 60km from the city.
However, it also means that the elephants are not living in their natural habitat. They have a good amount of space but they don't live in the forest like the others do, which you could argue is not the best life for them.
Many of the elephants here though have been extremely sick, with injuries requiring lots of medical care and with mental health issues, so living at Elephant Nature Park is certainly a better place for them than their previous homes!
---
Our Experience
We joined the Single Day Visit, which began at 8 am when our guide Tommy picked us up from our hotel. We drove to the park, which only took about an hour and a half.
The minute we arrived, we spotted elephants walking around the park, meeting their friends and snacking on the trees.
We were shown to our table, where we could leave our things, and Tommy talked us through how Elephant Nature Park began, the work that it does to support elephants and the local community, and why bathing the animals was no longer part of the programme.
We had actually visited Elephant Nature Park back in 2017, and we bathed them, splashing water over their backs and enjoying being so close to them. However, in 2018, the policy changed so that the elephants now only bathe themselves.
This is because ENP realised that the activity wasn't really benefiting the elephants, only the tourists, so they decided to move to a hands-off approach instead. You can still enjoy watching the elephants in the water, but on their own terms now.
We started our walk around the park, starting with a visit to the kitchen where the staff were making medicine balls for the elephants. This involved A LOT of rice, mountains of mangoes and bananas, and even special elephant cakes – see more on that below here!
Our walk carried on into the park, and we began meeting the elephants and learning about their stories. It was so interesting hearing about how each elephant has its own social life – sometimes they like to be alone, sometimes they have a best friend who they spend all their time with, and sometimes they argue with their friends and decide to keep themselves to themselves again! Tommy knew so much about each elephant, which is pretty impressive considering there were at least thirty there!
We spent the morning visiting different groups of elephants, and then we headed back to the main building for lunch. The vegetarian buffet was huge, with a selection of tasty Thai food and a few Western dishes too. You definitely won't go hungry on this trip!
After a relaxed lunchtime, we carried on with our walk around the park. We had an epic encounter with some of the baby elephants too.
They were very young and had been born at the park which means that they have never suffered at the hands of humans and were extremely playful. It began to rain very heavily, and the babies sprinted outside to play in it.
I think it's one of my favourite memories ever, watching them slide around in the mud, wrap their trunks around their mahouts and chase each other in and around the water.
All of us guests had taken cover from the rain in one of the shelters, but that didn't stop the baby elephants from storming in and weaving through us. They were just loving life, and it was incredible to see the result of elephants who had no reason to fear anything.
Once the rain had cleared, we went over to see the cats and dogs! The cats live in the Cat Kingdom in pure feline heaven. There are warm beds and plenty of hidden nooks and crannies for them to explore. The dogs also have a large section, with both indoor and outdoor areas to walk around freely.
It's great to be able to visit a place like ENP and know that they are doing their best to rescue all sorts of animals who have either been born with a disability (the pig we saw had no use of its legs but uses a wheelchair to get around!), maybe hit by a car or born into a puppy farm for example.
---
What Programme Would I Recommend?
I think the best programme that Elephant Nature Park offers is their Single Day Visit. You get a long time at the park getting to know the animals, and it's the cheapest option which is why I recommend it.
There are a variety of other programmes too, ranging from a shortened day visit (the same as the single day but for less time) to overnight visits lasting 1 night or a whole week.
The overnight stay involves similar activities to the day trip, but you'll get more time with the animals and flexibility in the schedule, as well as rustic hut accommodation and two more meals.
The 7-day volunteer experiences focus on either the local community, the elephants or the dogs. If you have the time, these are great once-in-a-lifetime opportunities to really understand how the organisation works and how you can have an impact too.
---
How Else Can I Support Elephant Nature Park?
Along with the typical donations and sponsorships, Elephant Nature Park also has some unique ways that it has developed in order to raise money!
Save Elephant Foundation is a non-profit organisation created to manage different projects supporting animals and the eco-tourism industry. Through SEF, you can donate to the park, with funds going towards food, new land, supporting local communities and more. You can also sponsor an elephant or a dog. Adopting a dog is also possible and ENP will help you through the international transport process.
Elephant Emporium is also a part of SEF, and focuses on supporting the mahouts to generate more income in different ways such as creating products to sell online. You can buy items such as handmade jewellery, bags, t-shirts and even ENO branded coffee.
My favourite way to support the elephants though is to buy them a cake! No, they aren't eating a Victoria Sponge, but a cake made completely out of fruit. You can buy one of these cakes for a special occasion – for example, if it's your friend's birthday, then you would buy a cake for the elephants.
The staff present the cake to your chosen elephant (or you can suggest that the park picks an elephant who hasn't had a treat in a while!) and take photos and videos whilst they eat it.
You can add a personalised message to the cake too, and I think it's such a lovely way of connecting people with the elephants, whilst donating money at the same time.
---
BEES
BEES, or Burm and Emily's Elephant Sanctuary opened in 2011 by a couple who wanted to provide a safe place for elephants to live where the humans work for them, not the other way around.
The ethos of this sanctuary is to just let elephants BE. There's a strict hands-off policy, to allow the elephants to walk freely without being pressured to do anything they don't want to.
At BEES, the elephants are put back into an enclosure overnight. This is because it's important that they don't go roaming around on other people's land, stealing food and damaging crops or buildings. The elephants are not harmed in any way, and it's a necessary precaution that the sanctuary takes in order to provide a great life for them. Each elephant has their own space and personal mahout to care for them during the night as well.
Find out more about BEES and its elephant programmes here.
---
What Programme Would I Recommend?
I would recommend the 3 night/ 4 day package at BEES.
As BEES is one of the ethical elephant sanctuaries in Chiang Mai that is a 4 hour drive away from the city, I would recommend visiting for more than just one day. Their 3 nights/ 4 days package is the best option because you get to know the staff better, you get to know the elephants better and it's a bit more hands-on.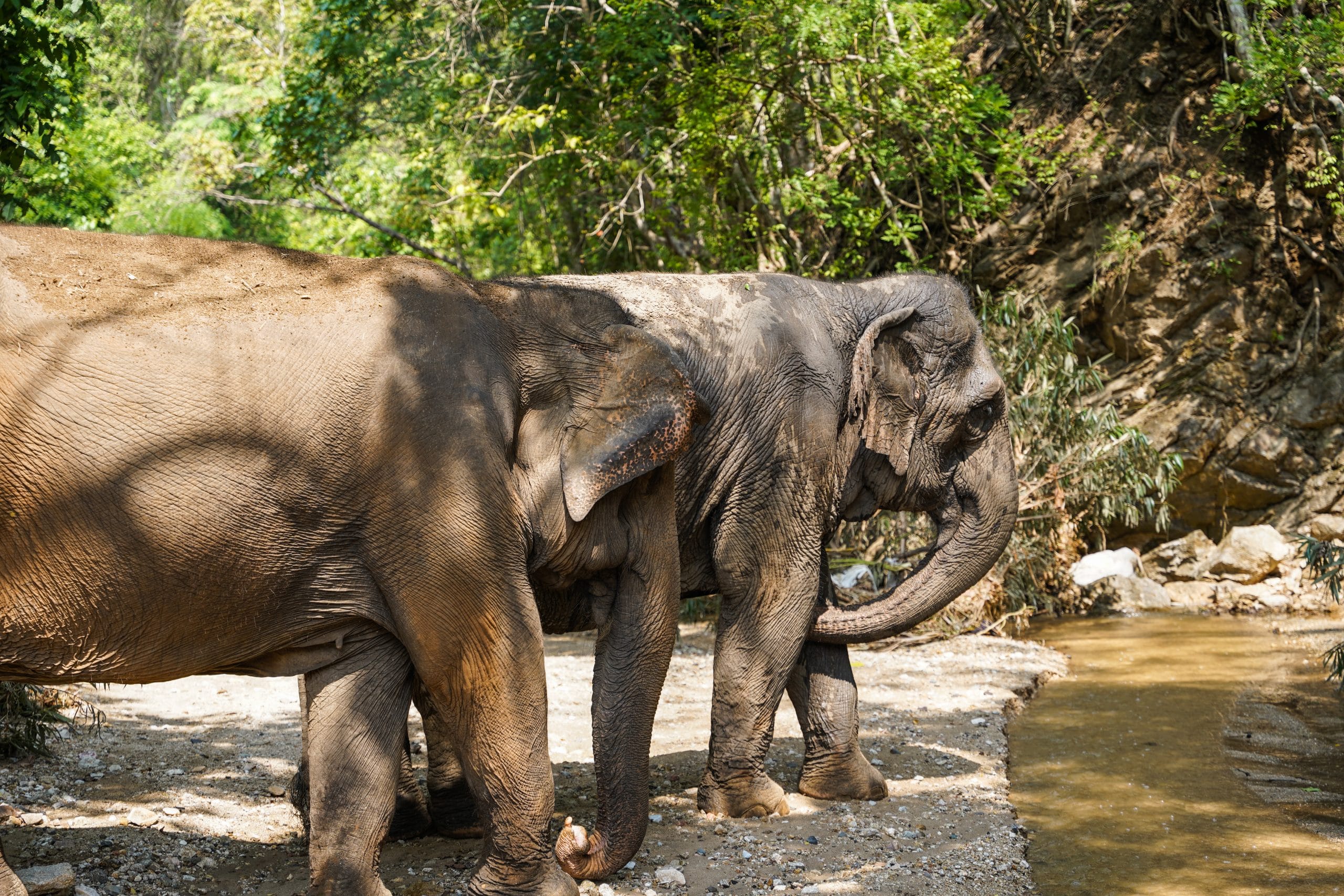 BEES has a strict no-touching policy, so you won't physically be more interactive with the elephants, but you'll get the chance to help make food supplements, and clean their enclosures (sweeping poo might not be a selling point for most people but it's a unique thing to do!) and just generally being more hands-on with life at the sanctuary.
You get to stay in local Thai-style accommodation, and you'll get to eat tasty homemade meals in the communal 'cat cafe' area.
There is a week-long programme too, which would be amazing but only if you have that much time to spare! If the only reason you're visiting Thailand or Chiang Mai is to spend time with elephants, then this is a good option but if you haven't got a week to spare, don't feel like you will be missing out by just spending 3 nights here!
---
Our Experience
As we were only visiting BEES for one day, we needed to arrange our own transport to and from the sanctuary. This worked for us as we were visiting Kindred Spirit later that evening, but for all typical visits, I would recommend joining at least an overnight stay at BEES in order to make the most of the trip!
Our taxi picked us up at 4 am and we began the long journey through the gorgeous mountains towards the sanctuary. On our arrival, Burm (and plenty of friendly dogs!) greeted us and showed us to the breakfast room where we were offered huge portions of eggs, fruit, cereal and toast. He even let our taxi driver relax for a few hours before his long trip home, and gave him some breakfast which was so kind and thoughtful.
---
Book your favourite hotel here

Where will you go?
---
After we'd been fed and watered, we began preparing for our elephant walk. The rescue dogs like to get involved and follow you everywhere, so we jumped in a truck and drove a short way to start the hike so that the dogs would stay behind.
We began a leisurely walk through the forest and were able to chat with the team and two other people on our tour. After around 5 minutes, we met our first elephant! Burm explained that some of the elephants prefer to walk alone, and some like to stick together with their friends. It was incredible to see the elephant just so at peace in her natural habitat, slowly munching through the unlimited food and being looked after by her mahout.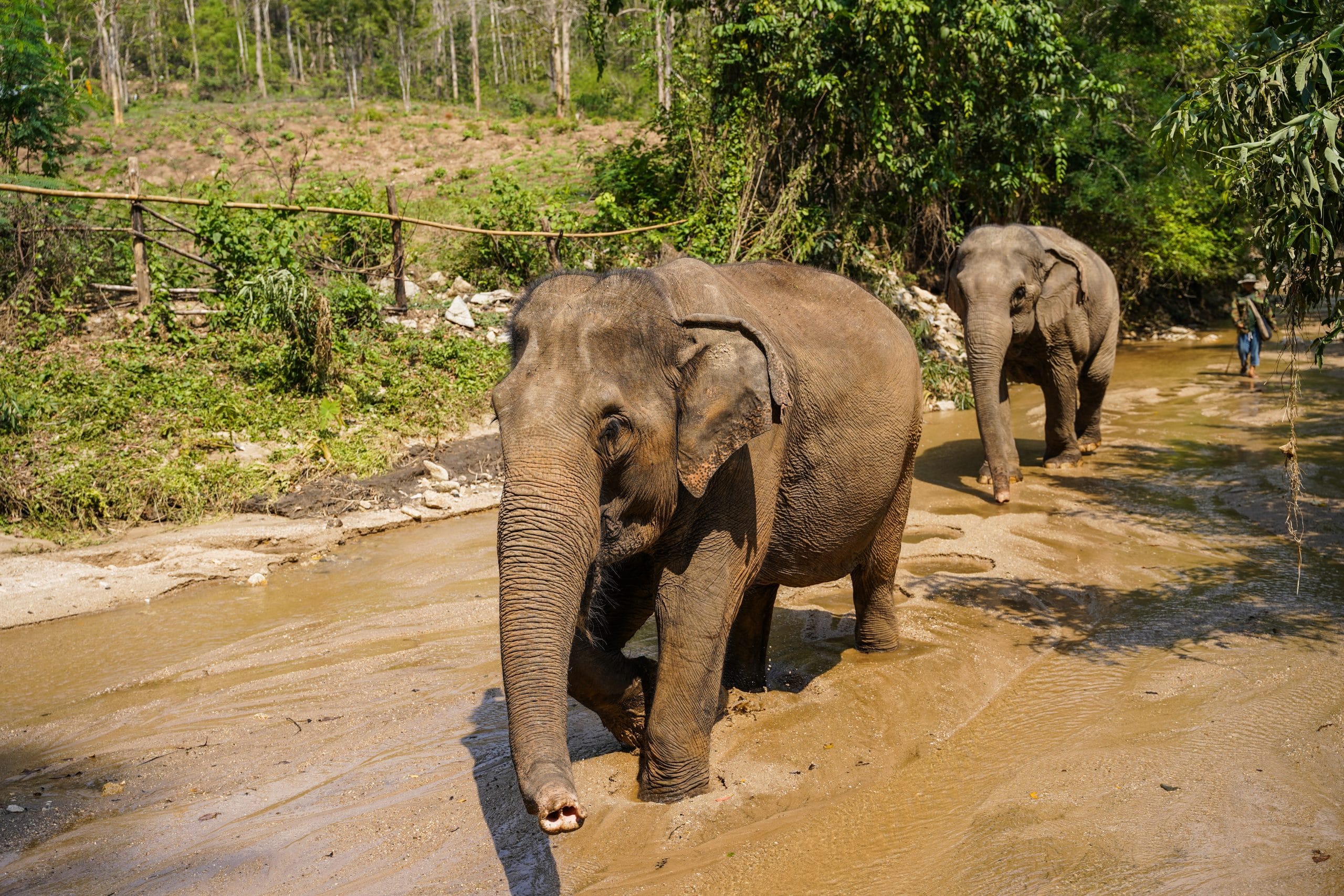 The next two elephants we saw were close by, and they had decided to walk together. We kept a good distance away from them, but they were so big that we felt like we were close enough! They wandered through the trees, leading us to wherever they wanted us to go.
What we loved about this trip is that it was such a good pace. We had a really good time talking with everyone, enjoying nature and trying to avoid sinking in the mud (we did not succeed!).
There were times when the elephants had walked quite far in front, but we were still enjoying ourselves so much. The group were shown different kinds of plants and taught about the elephants' history and some of us even went inside a bat cave that we passed!
The elephants were of course the main show, but we really liked the relaxed social aspect of this tour. Burm was a fantastic guide, and everyone felt relaxed around him.
We walked along the river towards an observation deck, where we were able to watch the elephants snack on the long grass, and have a rest from walking.
On the return trip, we stopped by the river where we ate the packed lunch that was provided for us. We enjoyed a vegetarian meal of noodles, crackers and fruit, and then decided to relax by getting in the muddy water!
Not long after, the elephants decided to join us, and we were treated to an amazing view of them splashing around the in the water, cooling themselves down and shading from the sun in the long grass on the bank. It was incredible to be able to watch the elephants bathing out of choice, and not just because the tourists had paid to see it happen.
We walked back to the base with the elephants, who were put away for the evening into their large enclosures for their own safety and welfare.
The group relaxed and chatted in the communal area for a while before we were picked up to go to our next destination (usually your taxi will arrive around this time if you're on a day trip arranging your own transport or you'd carry on with activities in your programme).
The whole day was tiring but amazing and we couldn't stop smiling, remembering how well cared for the elephants are and how much their welfare is at the forefront of everything BEES stands for.
---
How Else Can I Support BEES?
If you're unable to visit the sanctuary, or you've been inspired after meeting the retired elephants, you can donate money to help support the ongoing hard work that Burm and Emily (and the local community) do. Donate to the sanctuary here.
You can also adopt one of their beautiful elephants for a 6 or 12-month period. You'll receive a Certificate of Adoption, and life updates every three months. It's a great way to support the elephant sanctuary in Chiang Mai even if you can't visit right now.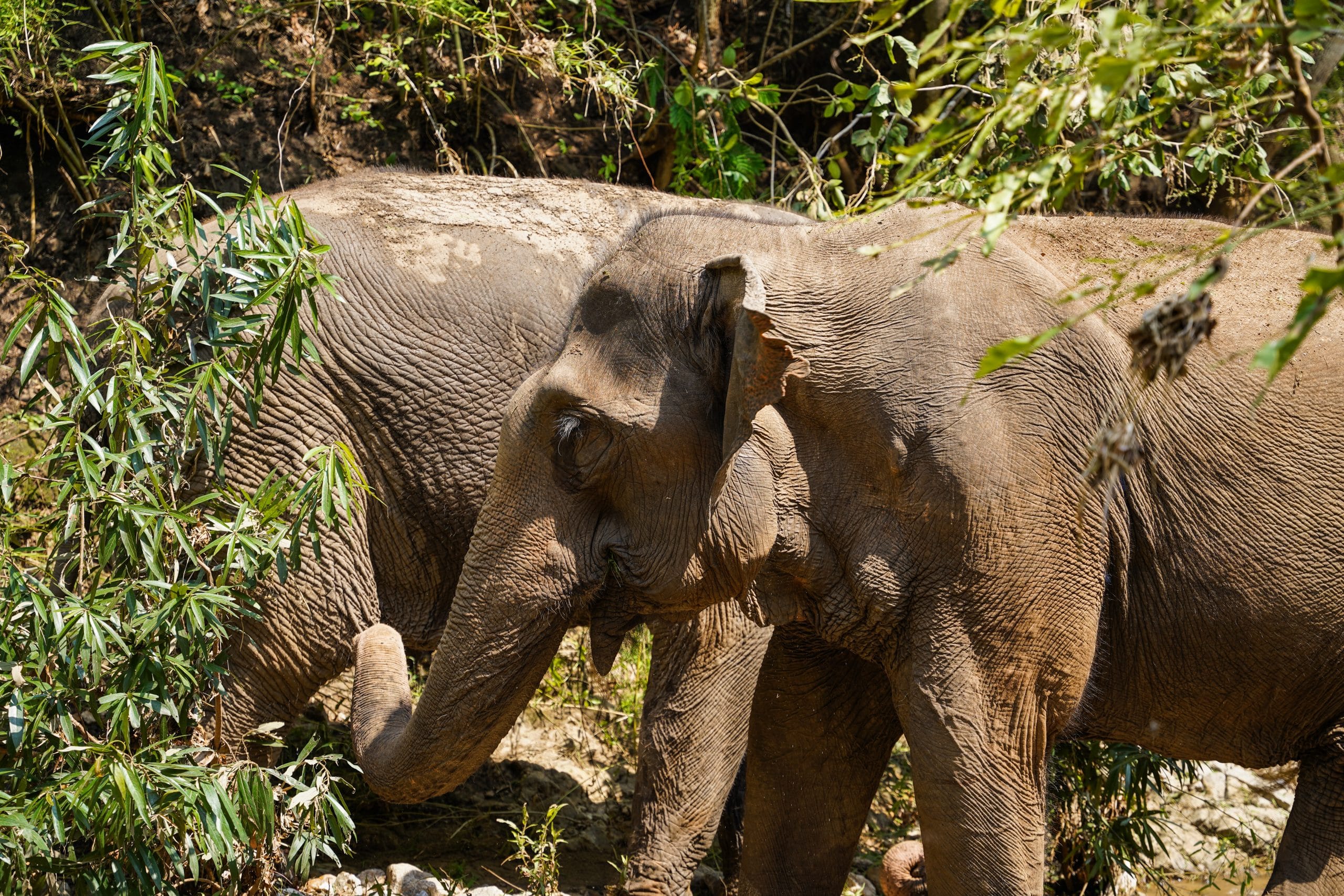 If you can't commit to adoption but you still want to help, then you can buy supplies for the sanctuary. One of the biggest costs is food – the elephants have access to the forest but also need fruit and vegetables like pumpkins, bananas, watermelons etc. These are all grown locally and seasonally which means that the money can be paid to local farmers, increasing the income for the community.
The animals at the sanctuary also often need medicine, so you can send enough money to purchase the supplies needed.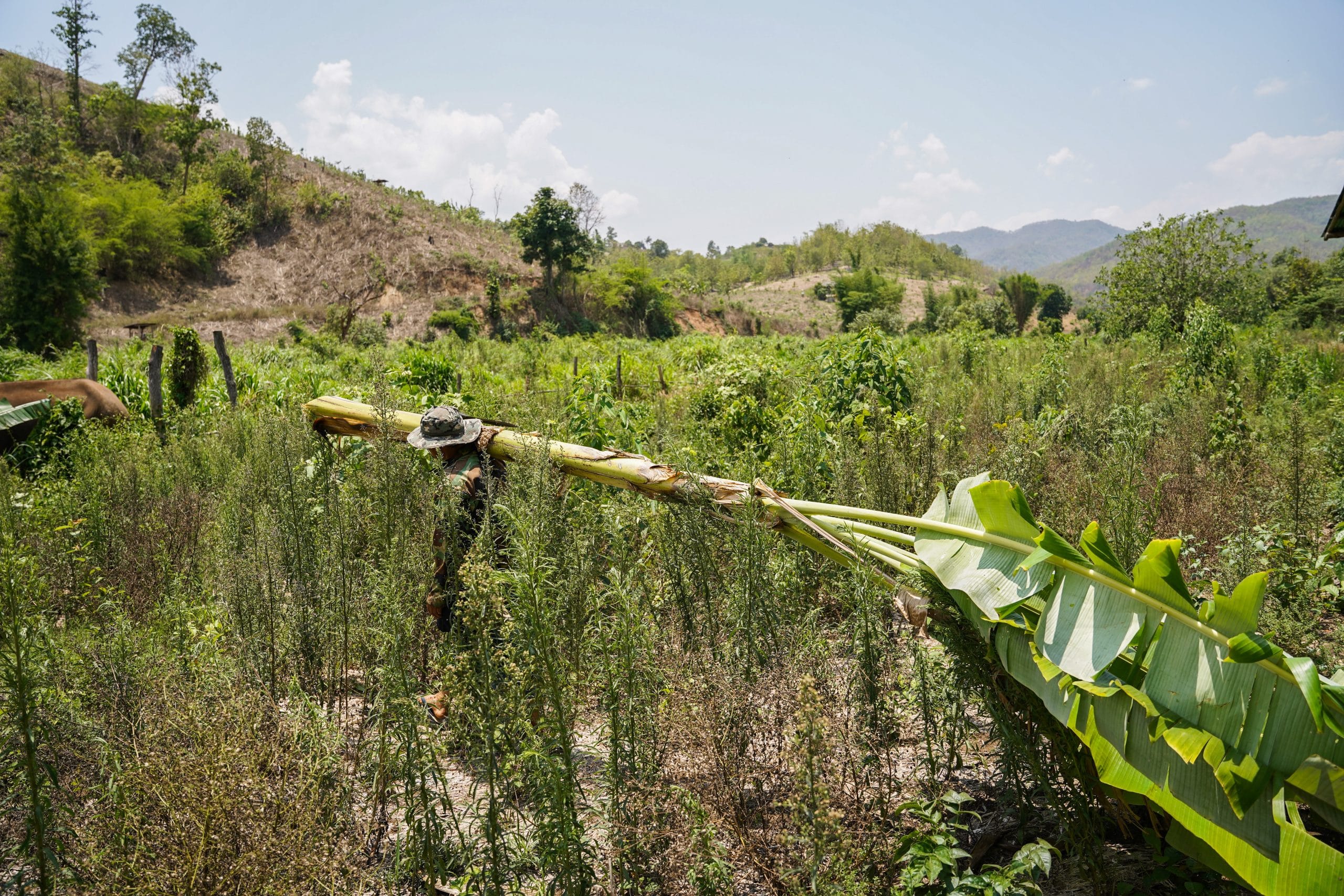 Fuel is also a big ongoing cost at BEES. They need to use the trucks for transport, collecting food and taking sick animals to and from a vet service in the area if necessary. You can purchase a fuel package to support this need.
Spreading the word about the ethical treatment of elephants is a free and easy way to help all of the elephant sanctuaries in Chiang Mai and beyond. If you don't have money to spare, consider following the sanctuaries on social media, sharing their posts and discussing the issue of elephant abuse with your friends and family!
Which Of These Ethical Elephant Sanctuaries In Chiang Mai Do I Recommend?
This is actually a more complicated question than it seems! Each of these ethical elephant sanctuaries in Chiang Mai is very different to the other and will be suited for different types of travellers.
I don't think one place is specifically any better than the others – they all do amazing work and we thoroughly enjoyed our visit to every park! I've highlighted the best programmes that each sanctuary offers above, however, you might want to do something different at a particular place.
For example, you might be hooked on the idea of visiting one of these ethical elephant sanctuaries in Chiang Mai for a whole week but none of my recommendations gives that option – that's where the list below comes in handy!
Here are my top recommendations for each type of programme!
---
What Makes Each One An Ethical Elephant Sanctuary Chiang Mai?
The ethical elephant sanctuaries in Chiang Mai that are on this list have all decided to focus on the animals' happiness and welfare. When we spoke to the staff, they all said that their job is to work for the elephants, not the other way around!
Elephants are wild, regardless of if they've lived their whole lives in captivity because they have not been domesticated for hundreds of years. A lot of people like to compare elephants to horses, but this is wrong. Horses have been living alongside humans for thousands of years, and have been bred to develop a tame disposition.
This is of course a whole different debate on the treatment of horses, but it's important to know the differences between them and elephants. Elephants, although they have been forced to work with humans for many years, are wild and have to experience a process of 'crushing' in order to follow instructions.
Usually, this happens to babies, who are stolen from their mothers, chained up and abused until their will is destroyed. They're physically harmed, starved and confined in cages. Only then can an elephant be 'trusted' to work for tourism, giving rides and performing tricks because they're fearful of their keeper.
The animals at the ethical elephant sanctuaries in Chiang Mai on this list have all been rescued from awful conditions and working lives.
The main question you have to ask yourself when considering where to go is this: would the elephants be doing this in the wild? If not, then you need to find somewhere else!
No riding
In the past few years, a lot of tourists are realising that elephant riding is not okay. There are some companies who still offer this service, which means that there is a demand for it, but this demand is falling.
If you didn't know, elephant riding is extremely cruel, and cannot be carried out without causing distress and harm to the animal.
No bathing
In the wild, elephants might splash around in the river with their families. However, they do that completely out of choice, and not because a tourist has paid to throw a bucket of water over their heads.
Being sent to the river multiple times a day every day isn't natural, and the elephants shouldn't be forced to do anything they wouldn't do in the wild.
No hand-feeding
Elephants are more than capable of finding the tons of food per day that they need. Sometimes, a sanctuary might supplement their diet with vitamin balls – these typically include ingredients like salt and rice husk to ensure the elephants are drinking enough and to increase their fibre intake if they need it.
However, these should always be left in a place that the elephants can access themselves – when was the last time you saw an elephant in the wild being fed grass or fruit by anything other than its own trunk?
No touching
This is linked to all of the activities above. Elephants only need human intervention if they're sick, or if they're a danger to humans. This means minimising their interaction with humans as much as possible so that they don't become reliant on people. This rule also protects us – if you're hugging an elephant and it suddenly decides it doesn't like you, then you're in trouble.
Keeping a safe distance away from the elephants is the best way to watch them.
Mahouts
A mahout is an elephant keeper – someone who looks after one (or in some cases, two) specific elephant day in and day out. They aren't necessarily the owner, but traditionally they care for the animal as if they were and have a very special bond with them.
There is a lot of talk in the media about how mahouts treat their elephants badly, but this issue isn't black and white, and it's important to support sanctuaries that look after their mahouts as well as their elephants.
Usually, a mahout begins working with their elephant from a very young age. However, it's also common for people to join this career as they can't find any other employment. It's a tiring, physically demanding and dangerous job. Elephant riding camps often pay very little, offer no insurance and illegally hire refugees so that they have no official responsibility for them if something happens to them whilst at work.
The owners of the elephants decide where they go and if they work, so if a mahout's elephant is sent to a camp, then they might need to go with them because they can't lose their income. On the flip side though, if an owner decides that they want their elephant to live a happy life in a sanctuary, then the mahout can go with them and enjoy the benefits of working for respectable employees.
---
What To Bring To These Elephant Sanctuaries In Chiang Mai
For most of the trips and activities offered at the sanctuaries, the packing list will be very similar. Make sure that you carefully read the information provided by the place itself, but here is a rough idea of what you'll be expected to bring:
If you're not really planning on doing any major hiking then we recommend that you check out these AKK walking shoes. There are extremely lightweight, breathable and have memory foam insoles to make them super comfy. Don't make the mistake of spending loads of money on insane walking boots if you don't need to! Check them out here!
Whether you're climbing mountains and need a fresh cold drink, or catching an early morning flight desperate for hot coffee, you should be travelling with a Thermoflask! It is incredibly insulated and keeps liquids cold for 24 hours, or hot for 12. It also comes with two lids so you can choose whether you need a straw or just a mouthpiece. These stainless steel bottles are BPA-free and come in some beautiful colours too! Check the options out here.
If you don't have a camera then I HIGHLY recommend the Panasonic Lumix ZS70K. It is an affordable point-and-shoot camera that can be picked up and used by anyone of any ability. The camera captures gorgeous images and surprisingly excellent video whilst fitting in your pocket. The main difference between this and your phone's camera is that it also has an incredible optical zoom so you won't miss any of the shots you need to take. Check it out here.
Don't even think about stepping out in the sun without protection! This factor 50 sun cream from Sunbum is vegan, reef-safe and smells like summer, as well as being dermatologist approved! It's non-greasy, easy to apply and doesn't leave a white cast so you can quickly rub it in and get on with your adventures! Take a look on Amazon here.
If you need protection from the sun then grab a hat before you travel. This Adidas original is affordable, protective and looks the part. Check out the price here.
If you're stuck on what kind of towel to take with you then take a look at this microfibre poncho. We absolutely love ours and it is insanely helpful when you need to change on the beach. They dry fast and pack down super small so you'll be able to fit one in your day pack easily enough. Check out the price here.
It's also a good idea to bring a change of clothes just in case you decide to go swimming in the river yourself, or just get too muddy! The trainers you bring will likely be ruined (especially if you visit when it's recently rained) so either buy a cheap pair you can throw away or bring your very old ones!
The cover-up is for if you are visiting a local village. Out of respect for their culture, you'll be asked to cover up your knees and shoulders, so bring something lightweight that won't make you too hot.
---
Frequently Asked Questions About Ethical Elephant Sanctuaries In Chiang Mai
Can I volunteer at any of the elephant sanctuaries in Chiang Mai?
You can volunteer for a longer period of time at Kindred Spirit and Elephant Nature Park.
What is the best time of year to visit these elephant sanctuaries in Chiang Mai?
November to March is a good time to visit Chiang Mai because it's the dry season. However, we were caught in a few crazy storms on our elephant visits and it was so fun to see them playing in the rain!
Can my children visit these elephant sanctuaries in Chiang Mai?
Yes, most of the sanctuaries accept children. However, I would only recommend visiting Elephant Nature Park if you have children as it's one of the closest sanctuaries to the city, and it doesn't require hiking through the forest.
Can I donate to any ethical elephant sanctuaries in Chiang Mai?
Yes! Take some cash with you to either put in a donation box, or officially adopt an elephant which means you'll receive regular updates and photos of your new friend!