The Ella to Nuwara Eliya train is the highlight of the Ella to Kandy route. But it's not the only way to get there. Let's have a look at all of your options.
Necessary Spacing
By Train (Best Option) – Get the train from Ella train station to Nanu Oya Train station. From Nanu Oya get a tuk-tuk (available at the station) to your hotel in Nuwara Eliya. Book your Train Here
By Taxi – Download the Pick Me app (android/apple) and use this to book an affordable taxi. If there are no cars available then ask your hotel in Ella to arrange this.
By Bus – Ask your accommodation in Ella for an up-to-date bus schedule as busses can be infrequent and temperamental (not a recommended option).
---
Ella To Nuwara Eliya
We personally chose to take the train from Ella to Nuwara Eliya and we recommend this as the best option. Ella to Nuwara Eliya is considered by many to be the absolute best train journey in all of Sri Lanka, even pipping the Nuwara Eliya to Ella route.
The journey itself makes its way through the Sri Lankan mountains and offers truly incomparable views of the valleys, forests and peaks of this stunning country.
Read More: Want To Rent A Tuk Tuk In Sri Lanka? – Check Out Our Guide!
By Train
In our opinion, this is the best option to get from Ella to Nuwara Eliya. Simply book your tickets here or use the search form below and you will be on your way. Remember that the train station you are going to is Nanu Oya.
We HIGHLY recommend booking reserved seats as when we went, we didn't and ended up getting a seat. However, there have been times when we have had to sit on the floor for 4 hours because we didn't reserve. Pre-book guys…
Pro Tip
It doesn't matter which side of the train you sit on, they both have incredible views from both sides. The first half is better on the left and the second is better on the right so don't worry too much.
Available Classes
Different trains will have different availability for classes but there is this craze of people getting 1st class as it sounds luxurious. If you are on a budget, 2nd and 3rd class reserved is absolutely ok. I recommend getting 2nd class reserved as the difference is negligible and it's a lot cheaper than 1st.
1st Class – Air-conditioned carriage with sealed windows and comfortable seats.
2nd Class – Non-air-conditioned but windows open and fans are in the carriage. The seats are also comfortable in this class. This is the best option in our opinion.
3rd Class – Differs significantly from train to train. Usually benches for up to 6 people per pod. These benches may be solid or have a slight cushion on them. Usually, no fans and toilets tend to be the squat variety. We have taken 3rd class quite a few times in Sri Lanka and it is absolutely fine BUT I highly recommend not doing it for this trip as it gets very busy.
Read More: Fancy Spoiling Yourself? Check Out These 5 Star Hotels In Kandy
Timetable
| | | | | |
| --- | --- | --- | --- | --- |
| Departure Time | Arrival time | Duration | Frequency | Available Classes |
| 06:39 | 09:05 | 2:26 | Daily | 1/2/3 |
| 09:21 | 11:48 | 2:27 | Daily | 1/2/3 |
| 11:12 | 13:51 | 2:39 | Daily | 1/2/3 |
| 12:05 | 15:40 | 3:35 | Daily | 2/3 |
| 15:32 | 17:52 | 2:20 | Daily | 1/2 |
| 18:58 | 21:55 | 2:57 | Daily | 1/2/3 |
| 21:45 | 00:03 | 2:18 | Daily | 1/2/3 |
The Ella To Nanu Oya Train Timetable
From Nanu Oya Train Station
After you arrive at the Nanu Oya Train station, simply jump into one of the waiting tuk-tuks and drive the 10km into town. This will cost you around 1000LKRs. For more convenience, you could arrange a tuk-tuk to pick you up from the station with your accommodation. This way you should get a competitive rate and you won't risk no tuk-tuks being there.
---
By Taxi
If you want pure convenience for your Ella to Nuwara Eliya journey then this is, of course, the best option. There are a number of apps you can use, for example, uber (android/apple) and Pick Me (android/apple). However, these apps tend to be very temperamental outside of Colombo.
Definitely try Pick Me first as this is your best option to get a competitive price, however, if you are unable to get a ride then simply ask your accommodation in Ella and they will arrange a local driver to pick you up and take you to your hotel in Nuwara Eliya.
This option is nowhere near as scenic as the train and it is considerably more expensive (unless you are in a sizeable group). However, sitting in an air-conditioned vehicle from door to door does sound better than a train carriage to many.
If you would like to book your taxi in advance then have a look at prices here.
Read More: Want To See The Animals Of Sri Lanka? Check Out The Best Elephant Safaris, Yala Safaris and Udawalawe Safaris!
---
By Bus
This is by far the worst option for this trip. Yes, it can be the cheapest, however, if you are trying to go ultra-budget then go for a 3rd class train ticket instead. The price difference is very minimal and the experience is much better, especially if you get a reserved ticket.
However, if you are 100% keen on the bus then I recommend speaking to your accommodation in Ella and asking for their help. Busses do not run on a schedule here and widely differ from day to day. The locals seem to know how this chaos comes together and will be able to offer much better insight than anything you will find online.
Pro Tip
If you have large suitcases then I really suggest not using this option. There is very limited space on some of these busses and it will cause issues and annoyance for you.
Read More: How To Do Everything In Sri Lanka In 7 Days! Or You Could Try The Same Thing In 5 Days?
---
Book your favourite hotel here

Where will you go?
---
Ella to Nuwara Eliya – Our Experience
Many people choose to do the whole Ella to Kandy route and go right on through Nuwara Eliya; don't do this! Nuwara Eliya is now one of my favourite places in all of Sri Lanka and after spending 3 days here, I am sure you will feel the same.
Read More: Planning On Going To Galle, Check Out Our Transport Guide Here
This isn't to say that we didn't have our issues. Whilst travelling through Sri Lanka, we have been purchasing train tickets as we arrive at the stations as it is not that busy and we have been easily able to get seats for all of our trains, sometimes being almost alone in the carriage.
However, when we did this for Ella to Nuwara Eliya, the train was much busier. We bought 2nd class seats and we ended up sitting in 3rd class. Whilst this was not a huge issue as 3rd class is perfectly fine, it shows that these trains can get busy and you may end up sitting on the floor or not sitting at all (as was the case when we went from Nuwara Eliya to Kandy).
Did this affect our enjoyment of the world's greatest train journey? Not hugely. But, if you have decided to go from Ella to Nuwara Eliya by train then pre-book your tickets here or ask your accommodation for help to purchase reserved seats. Do this as soon as possible (preferably more than a month before you intend to do the trip).
Throughout our Ella to Nuwara Eliya journey, we were able to cross between the left and right sides of the train and I've heard some people online suggesting that one side is better than the other. Let me put this to rest. We are talking about extremely tight margins as both sides have ample breathtaking moments.
We enjoyed both sides from our 3rd class seating and I can confirm that the difference is negligible. At the beginning of the Ella to Nuwara Eliya train journey you may find that the left is better but this quickly becomes the right after an hour or so.
Read More: Know About The Turtles Of Hikkaduwa? Check Out How To Get There Here
After we got to Nanu Oya train station, we simply jumped into one of the waiting tuk-tuks and drove the 9km into town to our hotel. This cost us around 1000LKRs which is what you can expect for this sort of journey.
Overall, the Ella to Nuwara Eliya journey is one that we absolutely recommend but one that you should definitely reserve to make the most out of your trip.
How To Buy A Ticket
You can see all of the available pre-booking options here or use the search bar below.
If you do not have the option to pre-book or book online then you can book a taxi on the day using the Uber (android/apple) and Pick Me (android/apple) apps. Or you can simply go to the station before your train and book a ticket at the booth.
I do not recommend this as we did this and we ended up not sitting in the class that we had paid for due to lack of space.
What Nobody Tells You
You might not get a seat – If you do not book online and get a ticket on the day from the station then there is a good chance that you will be standing or sitting on the floor for the entire time. It is an incredibly busy station and this is made worse by the trains arriving mostly full already.
No announcements in English – The announcements on the platform are in Sri Lankan and trains routinely get their platforms changed and times altered. Make sure you ask someone on the platform if there is an announcement as this may be affecting your train (trains don't hang about for very long in Sri Lanka).
People come round with food and drinks – I recommend getting some snacks before your trip but people do come round with drinks and snacks periodically during the trip.
Not all trains are created equally – Some of the trains are quite new and have good facilities and some of the trains are older and have significantly fewer facilities.
The trains don't stop for long – In Sri Lanka, you are sometimes lucky to get 1 minute to get on the train. Therefore, do not worry if you are getting in on the wrong class, you can always walk through the train to get to your seat. Just get on the train.
A taxi/bus is a lot less scenic – If you choose to get a taxi or bus then you will miss the incredible scenery offered by the Ella to Nuwara Eliya train.
The busses are crazy – The busses in Sri Lanka drive extremely aggressively as most of them are competing against each other for fares. If you don't like the sound of this then this is no the option for you.
Taxis may not have seatbelts – If you manage to get a taxi from an app then they probably will have seatbelts but a local driver has almost certainly removed them from the back. I don't recommend getting a taxi without a seatbelt as they already drive aggressively here.
---
Accommodation In Ella
Budget Accommodation – Green Paradise
If you're looking for something pretty close to town and an exceptional value for money then check out Green Paradise. It really is an absolute steal for the quality of the accommodation and the views you get from the property.
---
Check Out The Reviews Of Green Paradise Hotel Here
---
Peaceful Accommodation – Chill Ville
Chill Ville is a little out of town which comes coupled with extreme serenity and peace. The views here are absolutely insane and I'm sure you will fall in love with the place. The reviews speak for themselves, check them out here.
---
Check Out The Reviews Of Chill Ville Here
---
Accommodation In Nuwara Eliya
Budget Accommodation – Siril Guesthouse
If you're looking for a decent (very decent) and affordable guesthouse in Nuwara Eliya then look no further. Siril Guesthouse offers loads of room options, including private rooms and mixed dorms. Definitely check out some images and reviews here.
---
Check Out The Reviews Of Siril Guesthouse Here
---
Luxury Villa Accommodation – Atulya Villa
We stayed at Atulya Villa in Nuwara Eliya and I've got to say, it is absolutely brilliant. The staff helped us with everything we possibly needed and the Villa and grounds are perfect. I highly recommend staying here for a few days to really bring together your Nuwara Eliya trip.
---
Check Out The Reviews Of Atulya Villa Here
---
---
Things To Do In Ella
We have an entire post about this so check it out here! Watch the video below as well to see the best things to do in Ella.
Spoiler: Jade's head was okay!!
Things To Do In Nuwara Eliya
Boating On Gregory Lake
Get down to Gregory Lake and hire yourself a swan peddle boat! Do not get swindled by the salesmen down by the water. They are asking for 3000LKRs for 30 minutes in a peddle boat and that is insane. We haggled and got 1 hour for 1500LKR's, a much more reasonable deal.
You could also get on a speed boat or jet ski if you really want.
Cycling Around The Lake
If you take a short walk around the lake you will come across someone renting out some bikes. We got a bike for an hour and cycled around the lake which was genuinely a lovely experience. the weather is perfect up in Nuwara Eliya.
Read More: The Best Cycling Tours in Sri Lanka!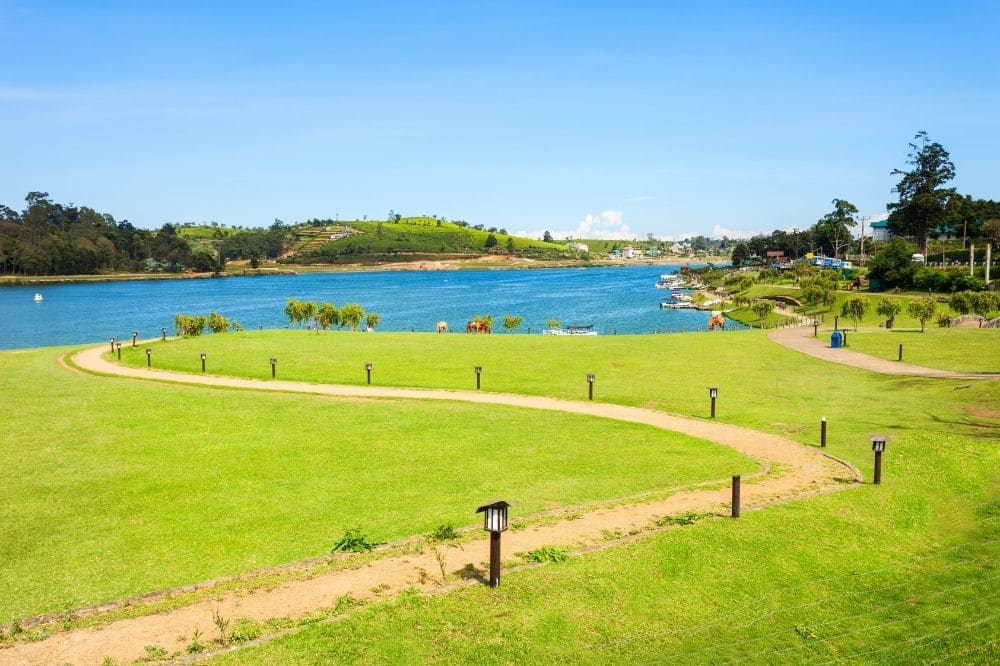 Visiting The Grand Hotel (Multiple Times)
The food at the Grand Hotel is incomparable to anywhere else in Nuwara Eliya and they hardly charge a penny more. I'm not joking either, our accommodation was charging around 1500LKR's for a meal and that is what you can expect at the Grand Hotel. I'll let you guess which was better (and by a long way too!)
They have multiple restaurants serving cuisine from around the world, and multiple bars and you can get high tea in the afternoon. We chose to get the celebration high tea and actually sat in a special area next to the fountain reserved for high tea customers.
I highly recommend going up to The Grand during your stay. You can also spend the night here for the ultimate luxury trip!
---
Check Out The Reviews Of The Grand Hotel Here
---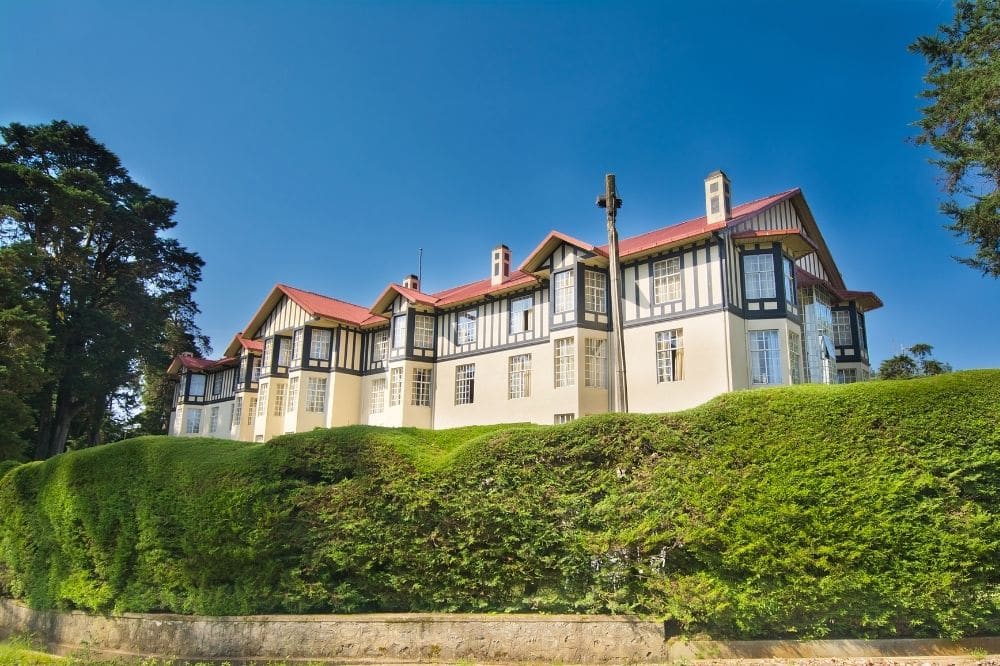 Tea Plantation
There are a couple of Tea Plantations in Nuwara Eliya where you can go and see how the tea is made and processed as well as try some fresh tea with gorgeous views. We went to a tea plantation in Ella so didn't in Nuwara Eliya but you should definitely check it out!
Lovers Leap
Come to Lovers Leap waterfall in the wet season as when we went it was a little underwhelming. However, the walk up is nice and you get some pretty decent views from the top.
The legend goes that a local prince fell in love with a common girl and the coupling was not approved of so they jumped off the falls. A bit dramatic I think but a fun story nonetheless
Take a look at our complete guide to visiting Lovers Leap falls here.
Victoria Park
This is one of the most beautiful places in all of Nuwara Eliya and is a must-visit if you fancy a quiet and peaceful walk through lush gardens. It's a great place for families too as there is a play area for kids as well as a train ride around the park.
---
If you know of any other tips or tricks to make the Ella to Nuwara Eliya trip better than please do let me know in the comments section below!
Frequently Asked Questions
What is the best way to travel from Ella to Nuwara Eliya?
Definitely the train! It is the most convenient and cost-effective way to travel from Ella to Nuwara Eliya, plus it is also the most stunning by a considerable margin.
What is the fastest way to travel from Ella to Nuwara Eliya?
The fastest way to travel from Ella to Nuwara Eliya is by taxi.
What is the safest way to travel from Ella to Nuwara Eliya?
The safest way to travel from Ella to Nuwara Eliya is the train. The cars are quite aggressive in Sri Lanka and the buses are even worse.
Should I take the train from Ella to Nuwara Eliya?
Yes. It is the most convenient and most cost effective way.
Is there food available on the Ella to Nuwara Eliya train?
Some trains have food carts but all trains have people walking up and down the aisles with food and drink. However, this is not a scheduled thing so I recommend bringing snacks for the journey.