The awesome Ella to Kandy train ride is one of the best in the whole world. We show you how to do this route and experience a cheeky detour on the way.
Necessary Spacing
Have a look at the times and pre-book your tickets here. We recommend 1st or 2nd class. 1st class has A/C but the windows don't open. 2nd class has fans and open windows.
Both sides of the train are equally as good as each other. The train takes just over 6 hours.
---
Ella To Kandy
Many people choose to start this incredible route in Kandy and come down to the south of the island. However, during our two visits to Sri Lanka, we have come to the conclusion that visiting the island anti-clockwise is the better option.
Check out our 7-day Itinerary and our 5-day Itinerary to see exactly what I mean.
If you decide to go this way you will have to jump on the Ella to Kandy train, starting in Ella. So let's get straight into it!
---
Booking & Reserving Your Seats
This is the most important thing in this whole guide. Some of the trains on this route will have plenty of spaces left and some of the trains will be utterly full. You DO NOT want to do the Ella to Kandy train sitting on the floor of the carriage, or worse, standing like sardines. The Ella to Kandy train is over 6 hours long and that would ruin the entire experience.
Believe us, we did half the journey, from Nan Oya to Kandy, on the floor and it was not good.
You can completely prevent this from happening by reserving your seats in advance. The Kandy to Ella trains have reserved carriages exactly for this reason and you will simply stroll onto the train and sit in your allocated place.
You can book in a variety of ways but we recommend booking your Ella to Kandy train here or using the for entry directly below!
---
Ella To Kandy Train Timetable
| | | | | |
| --- | --- | --- | --- | --- |
| Departure Time | Arrival time | Duration | Frequency | Available Classes |
| 06:39 | 13:03 | 6:24 | Daily | 1/2/3 |
| 09:21 | 15:53 | 6:32 | Daily | 1/2/3 |
| 12:05 | 20:37 | 8:32 | Daily | 1/2 |
The Ella To Nanu Oya Train Timetable
As you can see from the timetable, there are two very obvious choices to recommend and one to avoid. You really do not want to be getting on the 12:05 as the end of your journey will be in the dark and it is 2 hours longer than the other two express trains.
Avoid the 12:05 at all costs.
Read More: Renting A Tuk-Tuk In Sri Lanka! As Good As It Sounds?
Our Ella To Kandy Train Experience
We chopped our Ella to Kandy train into two parts as we wanted to stop off in Nuwara Eliya on the way through. We highly recommend doing this and I go into more detail below on how and why to do this.
However, we got to Ella and book our tickets at the booth (the same thing we did throughout all of Sri Lanka). We were there during a particularly low tourist time and thought that we wouldn't need to book tickets.
Up until this point we had never had any issues with buying tickets at the station and didn't think this would be any different. We booked 2nd class as we, personally, think this is the best class due to the comfort and the possibility to open the windows.
The train started to roll in and by this point, the station had become properly packed. We managed to get on the train with our ridiculous amount of bags and we found ourselves sitting on 3rd class seats in a relatively spaced-out carriage.
We peered down the train to see how the 2nd class carriages were looking and decided it was not worth risking our 3rd class seats by venturing up to 2nd class. This was definitely the right option as 3rd class is really not as bad as it sounds and we ended up having quite a lot of fun.
We took the trip up to Nan Oya (the station for Nuwara Eliya) and jumped off there. Did we learn our lesson and then book our Nan Oya to Ella tickets in advance? No.
I think you know where this is going. Five days later we were back at Nan Oya to do the final leg of our Ella to Kandy train. This time you could hardly move on the platform and as we clutched our 2nd class tickets (that we bought on the day), looking down at our insane amount of bags, the reality sank in.
That reality was intensified when the train rolled into the station and it became apparent that the carriages were already bursting at the seams. Would we even get on the train?
Well, the answer to that was yes. We went to the quietest section of the platform and got onto the closest carriage to us. It turned out that we had got onto the 2nd class reserved carriage, which we were not allowed to be in.
I asked the guard if there was any way we could upgrade but he advised that every seat in the 1st and 2nd reserved was taken at various stages of the trip. However, we may have been lucky, because the door out of the reserved section was unable to be opened.
What was blocking it? I am not exaggerating when I say that other passengers on the train were literally forced up against the glass and every single person in the neighbouring carriage was unable to move or sit for the entire journey (4 hours).
In our carriage, where we were not meant to be, there was no one in the isles and we had a whole area near the door where we could sit on the floor. We didn't plan this but the guard didn't kick us out of the train which was a bit of a result.
Therefore, sitting on the floor for 4 hours as the scenery went by was actually one of the better outcomes for this particular train journey if you don't book and reserve in advance. Don't be like us, reserve your ticket.
Apart from that, our journey was pretty spectacular. The views are as immense as they sound and you can spend the whole time just looking out of the window and admiring the natural beauty that Sri Lanka has in such abundance.
People come around the carriages, offering food and drink throughout the journey, however, these are not official and I cannot say if your train will have these vendors or how often they will be so always take food and drink with you on the Ella to Kandy train.
When we got to Kandy, we had a tuk-tuk waiting for us which was organised by our accommodation. If you do not have this option then there are loads of tuk-tuks waiting in the car park to take you wherever you need to go.
---
Things To Do In Ella
Before you jump onto your Ella to Kandy train I assume that you will be in Ella for a few days at least? Well, Ella is one of our favourite places in all of Sri Lanka and we have written a complete guide to all of the things to do in Ella which you should definitely have a look at. We also made a video about some of the best things on the list which is below!
Remember to check out these accommodation options too!
Budget Accommodation – Green Paradise Book Here
Extremely close to the town centre and is exceptional value for money considering its location and the stunning views.
Best Choice Accommodation – Hotel Mississippi Book Here
A pretty new building with stylish rooms and decent views. The location is just south of the town but close enough to make this peaceful and close to the action.
5 Star Accommodation – 98 Acres Resort & Spa Book Here
This is some serious luxury right next to Adams Peak and the Nine Arch Bridge. This makes it very good for this 7 day Sri Lanka itinerary.
---
Things To Do In Kandy
I don't recommend staying in Kandy for too long as, I think, there is not too much to do here and there are better places to go during your visit to Kandy.
That is my personal experience with Kandy though as other absolutely love the place. Either way, here is a list of some of the best things to do and some very good accommodation options whilst you are there.
Budget Accommodation – Resort Beam Book Here
If you are looking for budget accommodation that has all of the basics down and will do everything you need it to do then Resort Beam has comfortable beds and clean rooms with a good location to town.
Best Choice Accommodation – SWP Eco Lodge Book Here
This lodge is in a fantastic location and really is a fantastic accommodation choice to maximise your time in Kandy. It is also not going to break the bank like some of the insane 5 star choices below.
5 Star Accommodation – Check Out The Best Here
If you need the best of the best then we have written an entire article about the best 5 star hotels in Kandy. See the article here.
---
Book your favourite hotel here

Where will you go?
---
Temple Of The Sacred Tooth
The story goes, when Buddha was cremated, they found his left canine in the ashes and this has, over the centuries, found itself at the Temple Of The Sacred Tooth. You will not see the tooth itself but the grounds and temples are worth a visit either way.
---
Kandy City
Kandy is unbelievably popular to tourists, somewhat more popular than other areas of Sri Lanka that I believe to be more interesting! However, the area is also made considerably busier as Kandy is also extremely popular for Sri Lankans which makes this one of the busiest places in all of Sri Lanka.
This is not necessarily a bad thing, the markets, street food and souvenir shopping is great here and if you like the hustle and bustle then this is the place to be.
---
Ceylon Tea Museum
Tea in Sri Lanka has an interesting story behind it and I understand how that may sound; tea? interesting? Well, if you're like me (I don't even drink tea) then you might think to not have this in your list of things to do in Kandy. However, it is actually a good visit and I recommend checking it out.
---
Kandy Lake
Kandy Lake is a beautiful lake at the top of Kandy. It is a hotspot for wildlife and you can expect to see all sorts of animals walking around its shores. I recommend spending a few hours simply walking around and trying to spot all of the different incredible creatures.
---
Detour To Nuwara Eliya
Halfway through the Ella to Kandt train journey, you will come across a small station called Nan Oya. I highly recommend you jump off here and book yourself a 3 day stay Nuwara Eliya. It is a beautiful little town with lush fresh air and cool places to go and places to eat.
We have written an article on how to get to Nuwara Eliya from Ella so check that out if you are interested and here is a list of some of the best accommodation and things to do in Nuwara Eliya!
Budget Accommodation – Siril Guesthouse
If you are looking for budget accommodation that has all of the basics down and will do If you're looking for a decent (very decent) and affordable guesthouse in Nuwara Eliya then look no further. Siril Guesthouse offers loads of room options, including private rooms and mixed dorms. Definitely check out some images and reviews here.
Luxury Villa Accommodation – Atulya Villa
We stayed at Atulya Villa in Nuwara Eliya and I've got to say, it is absolutely brilliant. The staff helped us with everything we possibly needed and the Villa and grounds are perfect. I highly recommend staying here for a few days to really bring together your Nuwara Eliya trip.
Boating On Gregory Lake
We went on a small swan paddle boat and it was actually really fun. The salesmen by the water are asking for 3000 rupees for 30 minutes which is a joke but we managed to get them down to 1500 rupees for an hour which is pretty good I think.
There are also options for a speed boat ride or jet ski if that's more your thing.
Cycling Around The Lake
If you have a walk around the lake near the entrance, you will find some people renting out bikes. We rented a bike each for an hour and had a cycle around the lake. It's a really nice ride and I recommend packing a picnic as there are plenty of places to stop and enjoy the lake in relative privacy.
Read More: The Best Cycling Tours in Sri Lanka!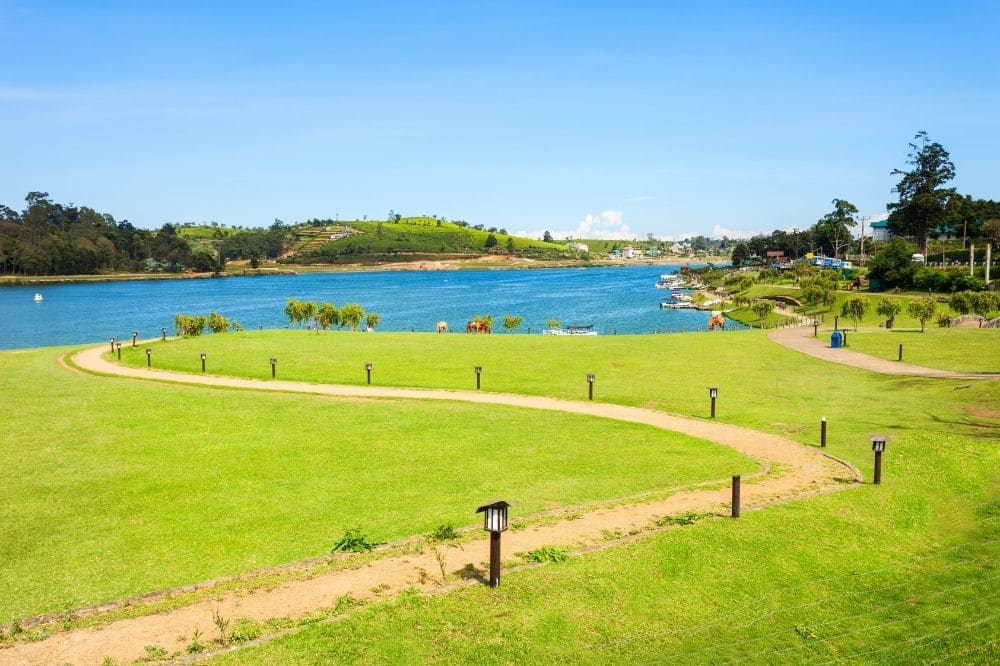 Visiting The Grand Hotel (Multiple Times)
The Grand Hotel has multiple bars and restaurants on its grounds and they are the best places to eat and drink in all of Nuwara Eliya. The food is so much better than anywhere else and the amazing thing is the price is comparable to everywhere else too. You can expect to pay around 1500LKRs for a meal and you will not be disappointed.
I highly recommend going up to The Grand during your stay.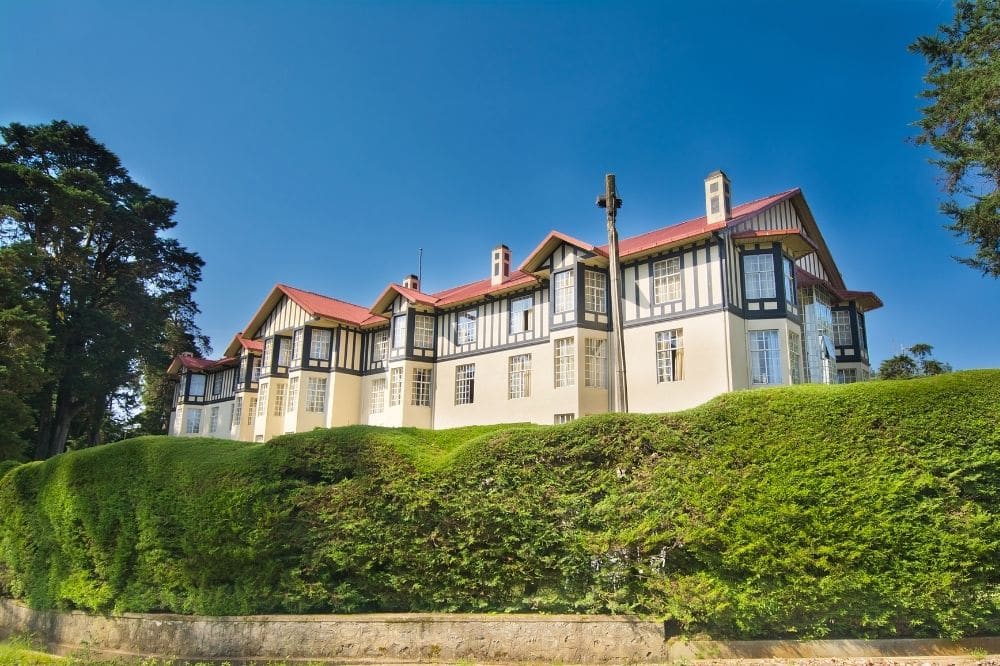 Tea Plantation
There are tea plantations all over Sri Lanka and I recommend you go visit one whilst you are here. Nuwara Eliya is no exception and if you haven't already then this is a great place to get to see how they make Sri Lankan tea.
Lovers Leap
We went to Lovers Leap waterfall in the dry season and it was a little underwhelming. However, it's a beautiful walk up to the falls and the views alone are worth the trip! Take a look at our complete guide to Lovers Leap Waterfall here.
Victoria Park
If you are looking for somewhere to relax and stop worrying about the neverending heat and escape the business of other areas then Nuwara Eliya and Victoria Park are the places to be. If you have kids, there is also a playground so a decent place for families too.
---
Ella To Kandy Train Tips
Announcements Are Not In English – The train announcements for the Ella to Kandy train are not in English on the platform. If something is announced and people look to be moving or going somewhere, it is always best to check what has been announced with one of the platform guides
Vendors Come Round With Food And Drink – This is not on an official capacity so I cannot say if they will be on your train but on our Ella to Kandy train there were people selling food and drink.
Reserve Your Seats – If you've made it this far then you already know why but 100% reserve your seats as you REALLY do not want to be sitting on the floor, or worse, for the whole 6.5-hour journey.
The Trains Don't Stop For Long – Have your bags ready and get on the train asap. They do not stop for long and you don't have time to faff about on the platform.
Neither Side Is Better – We sat on both sides throughout our trip and just when we thought one side was better, the other side would blow us away. We also had the option to change sides throughout some of our trips and we always thought the other side was better. The grass is always greener I suppose…
---
Frequently Asked Questions
How Long Is The Ella To Kandy Train?
Express trains are 6.5 hours and the slow train is 8.5 hours.
Should I Bring Food And Drink For The Ella To Kandy Train?
There are vendors throughout the journey but they are not official and may not be there on the day you are so always bring food and drink.
Should I Reserve Tickets For The Ella To Kandy Train?
Yes, there really is no downside to it and you guarantee a seat to enjoy this incredible journey. Book Here
Which Side Should I Sit For The Ella To Kandy Train?
Both sides are incredible. I couldn't pick a better side so don't put too much thought into it.
Should I Book 1st Or 2nd Class For The Ella To Kandy Train?
I actually think reserved 2nd class is the best option on the Ella to Kandy train. In 1st class, you cannot open the windows which is a big downside for me.
---
I hope this Ella to Kandy train guide has been helpful! Please let me know if it has been and your experiences of the Ella to Kandy train in the comments section below! If you can think of any way to improve this article please also let us know in the comments section below.
---