Danang to Hoi An is roughly 30km and there are 6 ways to complete this journey. Read to find out the best way to get from Danang to Hoi An for you!
Necessary Spacing
If you are coming into the airport then book your shared shuttle transfer right here. It's the easiest and most convenient way in my opinion.
If you are arriving anywhere in the town then either arrange collection with your hotel in Hoi An or download the Grab app (android/apple) and get a taxi to your hotel.
These are our three top accommodation options for Hoi An | Homestay | Villa | Boutique Hotel
---
Traveling From Danang To Hoi An
Here is a quick breakdown of all 7 options to travel from Da Nang to Hoi An.
| | | | | |
| --- | --- | --- | --- | --- |
| | Cost | Time (m) | Rating | How To Book |
| Shared Shuttle | £5/$6 | 50-90 | 5* | |
| Private Shuttle | Varies | 45 | 5* | |
| Arranged By Hotel | Varies | 45-90 | 4* | Call Or Message The Hotel Prior To Arrival |
| Taxi | $15 | 45 | 4* | Use The Grab App (android/apple) |
| Tour | $84 | Varies | 3* | |
| Bus | $1.1 | 90-120 | 1* | Buy On The Day |
| Motorbike | $5 | 45 | 0* | Do Not Do This |
I'll go into a bit more detail about all of the different options below! Remember to click on any of the links to see updated prices, reviews, and availability for your chosen dates.
Read More: The Hoi An Night Market – Complete Guide
---
A Map From Da Nang To Hoi An
---
#1 Shared Shuttle
If you are flying into Da Nang International Airport (and there are less than 3 of you) then this is THE option to choose from. It's by far the cheapest option (apart from the public bus) and it is easy, seamless, and quick.
When you book, you will be given lots of time slots to choose from. Choose the one closest to your arrival time. After you come out of the airport there will be a representative waiting for you with your name on a card and will take you to the shuttle bus.
The bus may also have other people on and may stop at a few places to pick up other passengers. This is why the time varies from 50mins to 90mins. This service will drop you off at your hotel so there is no travel time once you get to Hoi An.
The shuttles themselves are of decent quality and the drivers are all very professional. They have insane reviews on get your guide so check that out here and check availability below!
Read More: The Whole Way Fron Hanoi To Danang! & The Perfect 7 Day Vietnam Itinerary!
---
#2 Private Car – Booked
This is with the exact same company as the shuttle above but instead of a shuttle you get a private car/shuttle (depending on the size of your group).
It is quicker and more convenient than the shuttle but it is more expensive. This cost difference gets smaller and smaller the more people you have in your group. Check out the prices here to see what I mean.
So, I recommend this option for groups of at least 3+.
You may be thinking, why not just get a local taxi? Well, a local taxi from the airport will try to charge you a huge premium if you are being picked up from the airport and if you decide to use the Grab app then you will need a local sim card.
If you don't want the hassle of haggling, being ripped off, or getting a local sim then this takes all the stress out of the experience! Check out more information and book here. (you will need to change the option to private transfer to see the price).
Read More: Hoi An Or Danang? Which Should You Choose?
---
#3 Taxi
We ALWAYS get a local sim if we are going somewhere our sim does not work. In SE Asia these sims are usually very affordable and make the entire trip much more manageable and simple.
The reason I say this is, with a local sim you will be able to download and use Grab (android/apple). This app is a taxi/ride app and, in my experience, works very well and has very competitive rates.
It will remove the need to haggle (which I dislike) and you will be able to get a taxi very fast from wherever you are. So, this is definitely the best option if you are arriving in Hoi An from any other mode of transport, other than by air.
Pro Tip
The only thing that I would say is that some Grab taxi drivers will immediately cancel the job and try to charge you the same fare/more. This is because they do not agree with the % that Grab takes. If you go this route then you lose all the customer service that Grab offers (which is very good) but you may get a cheaper fare. It's up to you.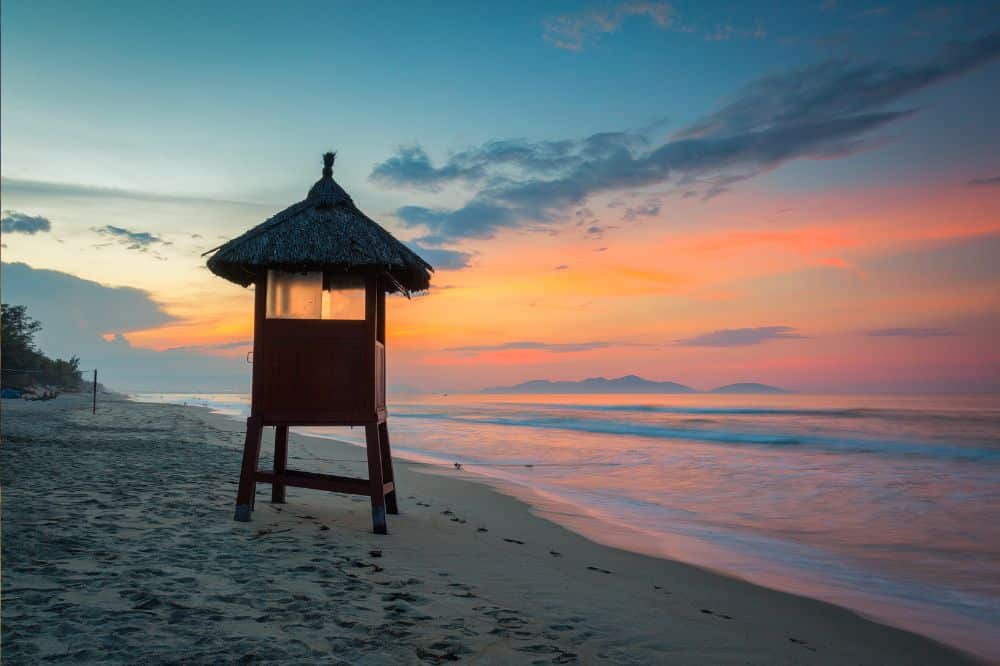 ---
#4 Arranged By The Hotel
If you want the most convenient and easiest way to do the Da Nang to Hoi An trip then just ask your hotel to sort out transport. Contact them before you arrive, let them know exactly where you want to be picked up from and they will arrange a driver for a fee.
They may send a shuttle bus, a taxi, or a private vehicle depending on the hotel but it is probably the simplest way of organizing this. The fee is usually slightly higher than you can get if you do it by yourself but this is usually negligible.
Once you arrive at the hotel, they will ask for payment and that's the whole transaction completed. This is actually the way we did it. I still think going for the shared shuttle is a better option as it is slightly cheaper than what we paid and it will be a nicer bus.
---
#5 Tour
This is only an option if you are planning on staying in Da Nang. It is a very cool city and it has some incredible things to do but I would actually suggest coming down to Hoi An for a couple of days at least.
Either way, if you do not have time for that then jump on this one-day tour of Hoi An and the tourist hotspots of the area. You will visit the archaeological ruins of the Champa Kingdom and then take a guided tour of the incredible Hoi An Ancient Town.
This is a fantastic option if you are set on not staying in Hoi An but it will cost more than the other options on this list. Check out the price for you and your availability here!
Read More: How To Get From Hanoi To Hoi An
---
Other Options To Travel From Da Nang To Hoi An
#6 Bus
The bus from Da Nang to Hoi An is the most affordable option on this list. However, in most cases, it is also the slowest and most difficult.
If you are coming from the airport then the closest bus stop is 3km away so you will have to take another bus/taxi to the closest stop (or walk but…who wants to do that?). Once you actually get to a station, buying a ticket is relatively easy and the busses do run very frequently throughout the day.
If you have luggage then I recommend you just avoid the bus altogether. You will pay a little extra but the main issue is if the bus is busy then it can be difficult just to get the luggage on the bus.
If you have a small bag and want the most cost-effective way of travelling then the easiest way is to plan your trip with google maps. Simply put in your arrival point in Da Nang and your arrival point in Hoi An and it will give you the option to choose the bus, this will then give you the closest bus station to you.
Remember! Look out for the yellow buses, they are the ones going to Hoi An!
---
#7 Motorbike
Do you have a motorbike license in your home country? If not then your travel insurance WILL NOT cover you for any accidents or injury as a result of riding a motorbike, including as a passenger.
If you do then you also have the option of getting a Grab Bike which is just the same as using the Grab app for a taxi but you will be picked up on a motorbike. It's not a lot cheaper and it is only available to people with basically no luggage so I just think it's a worse experience in general.
Read More: The Best Luxury Ha Long Bay Cruises!
---
Where To Stay In Hoi An
If you haven't already booked your accommodation for Hoi An then here are a few of our absolute favorites at different price points. Remember to click through to have a look at availability and prices!
Homestay
Right next to the Hoi An night market, D Central is the affordable option that still has insanely high reviews and fantastic rooms and facilities. The breakfast here is even affordable at £2 / $2.2 and they have free bike here too! It just keeps getting better.
Boutique
La An Central is for those who know and love the boutique vibe. Those smaller more intimate experiences with little additional touches like a spa and wellness centre and bar on the grounds. All three of these options have incredible reviews so remember to check these out through the links!
If these 3 options don't suit you then have a look at this accommodation map of Hoi An. Remember to put your dates in to see what is available for your stay.
---
Things To Do In Hoi An
Get Clothes Made
Hoi An is the best place in the whole of Vietnam to get tailored clothes. We weren't even going to do it but we ventured into a local tailor (Bong Tailor) and we were so impressed by the value and the professionalism that we ended up designing and ordering a few dresses for Jade.
After seeing how good the dresses came out I secretly designed and ordered a dress for Jade while she was changing and ordered myself a suit for an upcoming wedding. Watch the video to see how immense the whole experience was (or read the full article here) and remember to check out Bong Tailor when you visit Hoi An.
---
Cham Islands
The Cham Islands are very close to Hoi An and you can jump on a local tour boat to go and visit for the day.
If you're looking for a snorkel kit then check out this Greatever mask and snorkel. We have been on so many snorkel and boat tours where the snorkel hire was dreadful and it ruins the experience. If you have room then definitely take your own set. Take a look at our recommended kit here.
Usually, lunch is included and you should also be picked up from your hotel. This sort of your is suitable for anyone over 8 and you do not have to be a confident swimmer to enjoy the trip.
If you're stuck on what kind of towel to take with you then take a look at this microfibre poncho. We absolutely love ours and it is insanely helpful when you need to change on the beach. They dry fast and pack down super small so you'll be able to fit one in your day pack easily enough. Check out the price here.
---
Beaches
There are a few gorgeous beaches to relax on after your Danang To Hoi An trip. We visited all of the beaches in Hoi An to see which are the best for you so check out the video below to see where you want to go and soak up the rays.
---
Lantern Making
You probably already know this but Hoi An is basically the global capital for lanterns. They are literally everywhere which justifies the nickname of Hoi as the lantern city. SO! What better way to spend your time here than in a lantern-making class?
You will learn how to make a lantern and they will specifically teach you how to make lanterns that fold flat so you will be able to fit them in your luggage to bring back home with you.
Check out how to book and prices right here!
---
Night Market
The Hoi night market is one of the most beautiful night markets we have been to in all of Asia. The lantern booths with places to take photos really make this a photographer's paradise. Check out our video on the Hoi An night market below for more information on how to make the most of your visit (or view the whole article here).
---
Explore Ancient Town
Ancient Town in Hoi An is a gorgeous part of Hoi An that has winding streets with no cars or motorbikes. You can really get lost just walking around the shops, bars, and cafes. This is also the location of all the tailors and night market so you will probably be heading down here anyway!
---
What To Pack
Here is a list of a few of the most important things to pack on your Danang to Hoi An trip. After I will also include an essentials list that all travellers should have in their bags.
If you haven't already got a swimming costume then what the hell are you doing?! Have a look at this gorgeous high waist bikini and get a swimsuit before you leave. I absolutely love the dual colour option but there are loads of colour options available. Take a look here.
For city exploring and shorter hikes, you'll need a decent day pack. We recommend one like Osprey's Arcane, as not only can it hold a 15″ laptop, water bottle and everything else you would need day to day but it is also incredibly stylish (we think). We have used Osprey for loads of different bags over the years and they have all been perfect. Check out the Osprey Arcane on Amazon here.
If you don't have a camera then I HIGHLY recommend the Panasonic Lumix ZS70K. It is an affordable point-and-shoot camera that can be picked up and used by anyone of any ability. The camera captures gorgeous images and surprisingly excellent video whilst fitting in your pocket. The main difference between this and your phone's camera is that it also has an incredible optical zoom so you won't miss any of the shots you need to take. Check it out here.
If you're not really planning on doing any major hiking then we recommend that you check out these AKK walking shoes. There are extremely lightweight, breathable and have memory foam insoles to make them super comfy. Don't make the mistake of spending loads of money on insane walking boots if you don't need to! Check them out here!
---
Frequently Asked Questions
What's The Best Way To Travel From Danang To Hoi An?
Is Danang To Hoi An An Easy Journey?
Yes. It is roughly 45-90minutes depending on the transport you choose but after reading this guide you will see that it is an easy journey.
How Long Does It Take To Get From Danang To Hoi An?
It takes roughly 45-90 minutes to get from Danang to Hoi An. It's 45 minutes by taxi or private shuttle and up to 90 in anything that is shared.
Can I Get From The Airport In Danang To Hoi An?
Yes. I recommend you get a shared shuttle as it is very convenient and affordable. However, you could also get a taxi on the Grab app or ask the hotel to arrange transport for you.
---
That's our entire guide to travelling from Danang To Hoi An. Let us know in the comments section below if you found this helpful or would like to improve this guide in any way!
---