Choosing between Danang or Hoi An can be quite difficult for anyone who only has a short amount of time in Vietnam. Let me help you make the choice!
---
Danang Or Hoi An
Both locations are very famous for their own reasons so you're sure to have a fantastic time whichever you choose; Danang or Hoi An. However, they are also very different so it is important to make the right choice if you only have time to go to one.
I'll break down the main reasons to go to Danang or Hoi An and then offer my own recommendation below.
Read More: The Complete 7-Day Vietnam Itinerary
---
Danang Or Hoi An | Key Differences
Introduction To Hoi An
Hoi An is a medium-sized town of around 120,000 people famous for its incredible culture, including an amazing UNESCO World Heritage site (Hoi An Ancient Town). This ancient town is picturesque perfection with narrow streets and boutique shops and accommodations, all decorated with beautiful colourful lanterns which the town is so famous for.
Your experience in Hoi An would be one of peace, relaxation, and re-energizing.
Hoi An does attract MANY tourists and this can mean that the narrow streets and peaceful walks can become the complete opposite in the high season leading to a bustling and lively vibe with many thousands of people experiencing the beauty of the town.
This does not mean that Hoi An becomes loud and tiresome, it's just a different vibe than you may get in the low season; it's something to consider when choosing between Danang or Hoi An.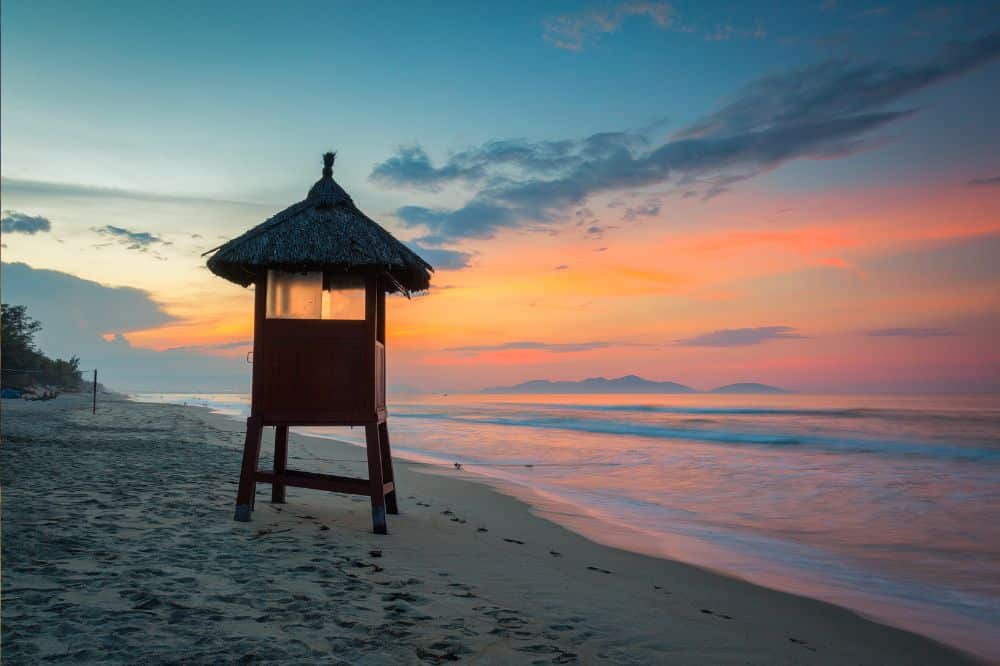 ---
Introduction To Danang
Danang is the polar opposite of Hoi An in literally everything. It is a large modern city of 1.2 million people with high towers, malls, world-class beaches (one of the most incredible beaches in the whole of Vietnam), and every restaurant and accommodation option that you could ever desire.
As Danang is a large city, this comes with lively nightlife, busy streets, and plenty of things to do in the city itself. Other than My Khe Beach, Danang does not have any other hugely famous attractions that make it stand out from any other large city in Vietnam but it has been built from the ground up to accommodate tourism so rest assured that you'll fit right in here.
---
Key Differences
Read More: Hanoi To Danang – How To Make This Journey!
---
Danang Or Hoi An | Activities & Things To Do
Hoi An
Ancient Town
This UNESCO world heritage site is a gorgeous little area with local crafts, tailors, coffee shops, and more, all tucked into its charming streets and narrow offshoots. You have to visit the ancient town if you come to Hoi An – it's the best place in the whole town.
---
Beaches
Hoi An might be small but it still has a decent amount of beaches. When we visited, there was only one that was truly recommendable but check out our article comparing the beaches in Hoi An here. An Bang is the one that stands out and is a very good beach with great accommodations and restaurants. It might not be able to compare to My Khe in Danang but it's still very good.
---
River Boat
When you venture down to the Ancient Town after dark, you will notice many small boats going up and down the river, all with lanterns bobbing in the dark. This creates a truly magical scene. If you would like to participate then simply approach (or be approached by) one of the many sellers and ask for a ride!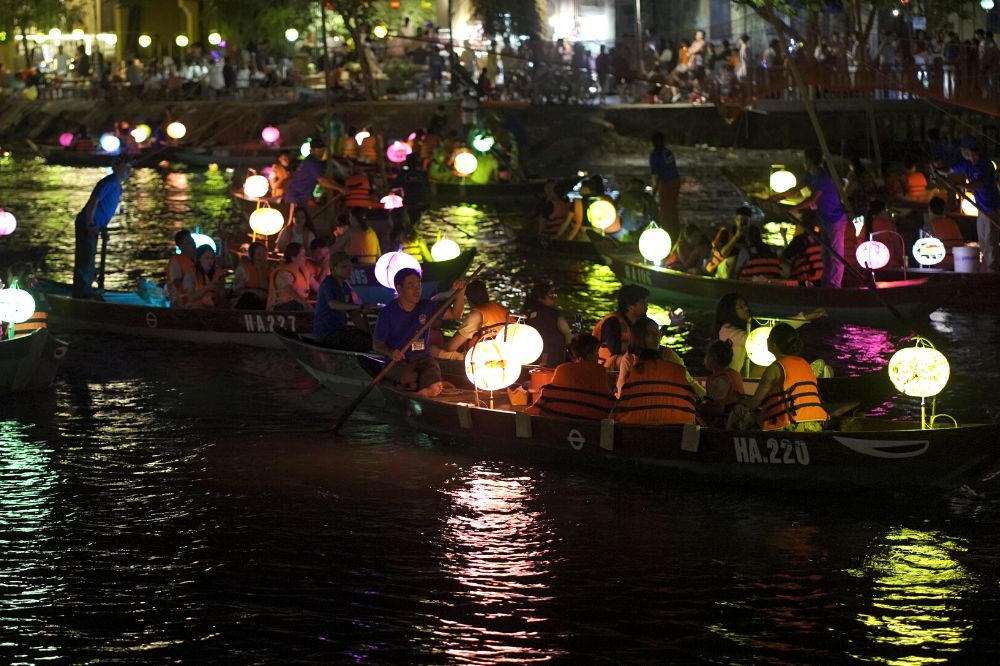 ---
Night Market
The Hoi An night market was a welcome surprise compared to other night markets we have visited before. It was pretty, well stocked, and had plenty of food stalls in and around the market. It also didn't have too much of a 'tourist trap' feel to it and you could relax whilst having a walk around. Check out our guide to the Hoi An night market here or watch our video below!
---
Tailored Clothes
This is got to be one of the most fun things to do in Hoi An. We decided to get some suits and dresses made whilst in town (Hoi An is famous for its tailors) and we were not disappointed! Bong Tailor, where we went, didn't have a book of designs, they just told you to bring a picture of anything and they would make it. Check out our full guide to tailors in Hoi An or watch our video below!
---
Lantern Making
Hoi An is the world centre for lanterns so what better way to get involved with this than jumping on a lantern-making course in Hoi An? This course will show you how these beautiful lights are made and allow you to make and take home one you have designed and made yourself (they are collapsible so you can fit them in your luggage!). Check out availability and price here!
Read More: 7 Best Ways To Get From Danang To Hoi An
---
Danang
My Khe Beach
My Khe Beach is one of the longest white sand beaches in all of Vietnam; it just seems to go on forever. There are areas of My Khe that have all the facilities in the world and then there are quieter more secluded spots to find. If you're staying in Danang then you simply must come down to My Khe for at least one day.
---
Dragon Bridge
Dragon bridge is a bridge in the shape of a dragon… However, this is no ordinary dragon-shaped bridge! At 9 pm on Friday, Saturday, and Sunday the dragon breathes fire and water in a really cool display! If you have some time in the evening then this is well worth a little visit.
---
Asia Park
Asia Park is a decent theme park in the centre of Danang. If you are travelling to Danang with children then you should really check it out! If you don't have children with you and you are not in Danang for very long then I would say skip Asia Park for other things on this list.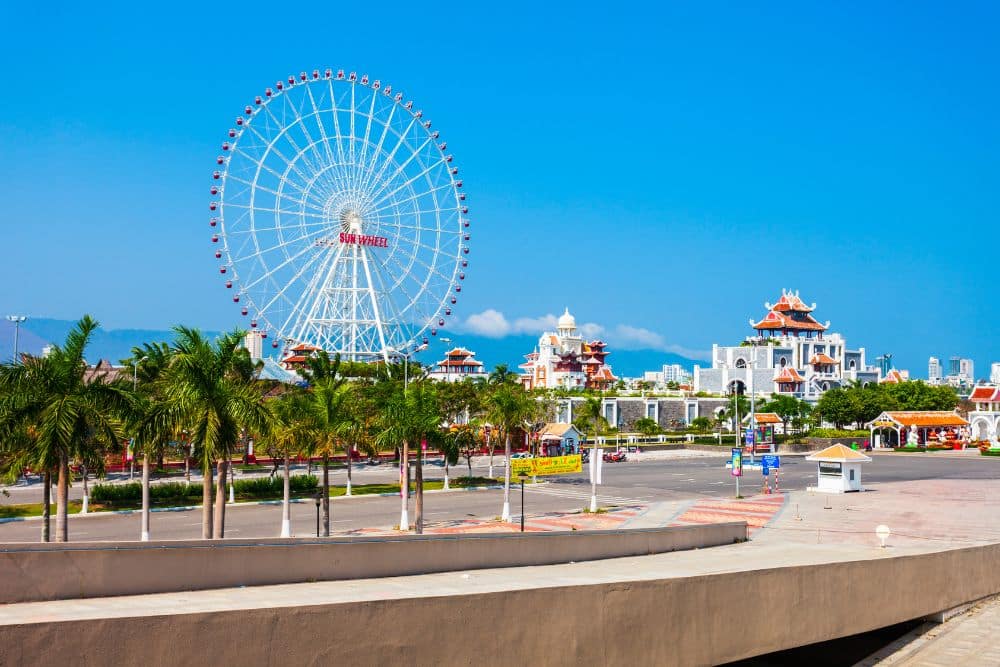 ---
Sky 36
If you are looking for a good night out then Sky 36 in Danang has to be the best bar in the city for drinks, dancing, and views. There will be cheaper places in the city but none can rival the rooftop niche that Sky 36 does so well.
Read More: Hanoi To Hoi An – The Best Ways To Get There
---
Accessible Via Both
The Marble Mountains
The Marble Mountains are a group of 5 limestone hills with smooth marble throughout. They have various pagodas, religious shrines, and some breathtaking views and walks. This makes them a huge tourist attraction in the area. Due to their proximity to both Hoi An and Danang, they are accessible from both. See our two recommended tours below from each city.
---
Ba Na Hills
Ba Na Hills is somewhat of an enigma for me. It is the location of the famous Ba Na cable car and the Golden bridge (a huge bridge over the side of the mountain being held up by huge stone hands). However, there is also a theme park on the top of the mountain in the style of a French village. I generally believe that Ba Na Hills resort and complex is designed for domestic/Asian tourism, more than western tourism but, if you have kids, it's well worth the journey. See both options below.
---
Cham Islands
The Cham Islands are just off the coast of both Danang and Hoi An and are a great place to go snorkelling and relax on a lush peaceful island. There are tours starting in both Hoi An and Danang but I recommend getting it from Hoi An so you don't have to sit in the car picking people up in different locations.
---
My Son
My Son is the most culturally significant religious complex of the Cham dynasty. It is a large area of temples and buildings that is an absolutely fantastic day out for anyone even remotely interested in temples and historical sites.
---
Food Tour
A food walking tour is the one thing that we REALLY recommend everyone to do when they first arrive in a city and visiting either Danang or Hoi An is no exception. It's a fantastic activity to get you to grips with the city and the food so you can enjoy the rest of your stay.
---
Cooking Class
If you have just been on a food tour and realize you want to be able to make this stuff for the rest of your life then the only option is to jump on one of the amazing cooking classes in Danang or Hoi An. We love doing cooking classes wherever we are and have amassed a significant collection of recipe books from around the world!
---
Danang Or Hoi An | Best Beaches?
Hoi An has some pretty good beaches but they are no match for the massive My Khe beach at Danang. Simply put, if you are trying to compare beaches between Danang or Hoi An then Danang is the easy winner. This doesn't mean that Hoi An has rubbish beaches so remember to check out our article on Hoi An's beaches here! If you want to see how epic the beaches of Danang are then check out this sick article here!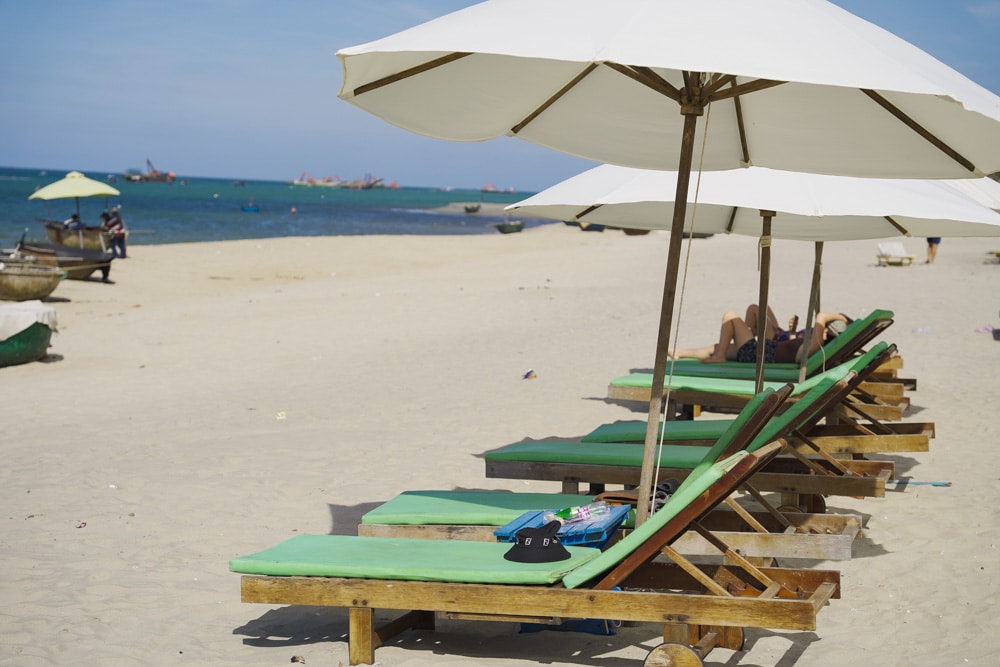 ---
Danang Or Hoi An | Where To Stay
Hoi An
Hoi An is a mixture of cute homestays, boutique hotels, large resorts, gorgeous villas, and pretty much everything in between. Staying in the town proper will get you some really nice small options that take the local beauty and combine that vibe with their property. Check out our favourite 4 options below!
---
Danang
Danang may not have the quirky gorgeous accommodation of Hoi An but it certainly has many more options across the city for all different budgets. Check out our favourite 4 options below!
---
How Easy Is It To Go To Both?
Danang and Hoi An are 30km apart so you could be wondering 'why the hell can't we go to both?', and you should be. It is REALLY easy to explore both of these incredible destinations in a very short space of time. Many of the tours in this article even have Hoi An included as an extra because it's so close.
If you literally only had one day then you would have to make a decision but if you can push it to two days then it would be easy to experience both locations. If this was the case, I would recommend staying in Danang and doing a day trip to Hoi An.
---
My Recommendation | Danang Or Hoi An?
In my opinion, Hoi An is a better destination than Danang. If I had to choose between Danang or Hoi An then Hoi An would be an easy winner. Danang is not a bad place to visit but Hoi An has so many more amazing things to do and see than Danang, plus its incredible architecture and beauty make it stand out.
---
What To Take To Danang Or Hoi An
If you need some sunglasses then take a look at our recommended pair right here. Kev has just done 7 months without a pair because he couldn't find any he liked on the trip and it was just a lot of complaining about the sun. Don't be a Kev… Find out the price of not being a Kev right here.
If you are planning on going somewhere that might have a lot of mosquitos and other bitey creatures then DO NOT forget to pack some insect repellent. We have found that the quality varies wildly depending on where you are so just buy it before you travel to guarantee that you have something decent. Have a look at our recommendation here.
If you haven't already got a swimming costume then what the hell are you doing?! Have a look at this gorgeous high waist bikini and get a swimsuit before you leave. I absolutely love the dual colour option but there are loads of colour options available. Take a look here.
If you're in the market for an action camera then our current recommendation is the GoPro Hero 9. Yes, the Hero 10 is currently the flagship but it doesn't have that much more than the Hero 9 and costs a lot more. The front-facing screen is a godsend for selfies and video and you get the famous GoPro durability and stabilisation that they are now renowned for. Check out current deals here.
If you're looking for a snorkel kit then check out this Greatever mask and snorkel. We have been on so many snorkel and boat tours where the snorkel hire was dreadful and it ruins the experience. If you have room then definitely take your own set. Take a look at our recommended kit here.
If you're stuck on what kind of towel to take with you then take a look at this microfibre poncho. We absolutely love ours and it is insanely helpful when you need to change on the beach. They dry fast and pack down super small so you'll be able to fit one in your day pack easily enough. Check out the price here.
Don't even think about stepping out in the sun without protection! This factor 50 sun cream from Sunbum is vegan, reef-safe and smells like summer, as well as being dermatologist approved! It's non-greasy, easy to apply and doesn't leave a white cast so you can quickly rub it in and get on with your adventures! Take a look on Amazon here.
Whether you're visiting religious temples or windy beaches, this long cover-up by Moss Rose is perfect for wrapping around your shoulders. It's lightweight and has so many uses, plus it looks great too! One size fits all and there are so many different patterns to choose from. Click here to get yours.
Using a fanny pack is a love-hate kind of deal. Some people absolutely swear by them and others wouldn't be seen dead in them. Jade and I have different opinions on them so that makes for interesting days out! Either way, if you are a lover then check out the MAXTOP Large Crossbody Fanny Pack as it is really affordable and can be worn in different positions depending on your style. Check it out in more detail here.
---
---
Frequently Asked Questions
---
I hope I helped you choose between Danang or Hoi An! Let me know in the comments section below if we helped or if there is anything else we can do to improve this article!
---