We take a look at all of the Dalvik whale watching opportunities as well as other incredible things to do in Iceland to make the most of this incredible country!
Arctic Whale Watching
There are not many options for Dalvik whale watching but luckily there doesn't need to be. This Arctic Whale Watching tour is the best in our opinion and ticks all the boxes! Check it out here.
---
The Best Dalvik Whale Watching Tours
Dalvik is not as well known for whale watching as the nearby Husavik and Akureyri, however, there are a few Dalvik whale watching tours available for anyone who is keen!
Wherever you end up going whale watching, the north coast is an absolute gold mine for spotting whales (and other wildlife) so you're sure of an awesome experience!
Read More: Renting A 4×4 In Iceland – Complete Guide!
---
#1 – Arctic Whale Watching
This 3-hour journey into the incredible landscape of Eyjafjordur is breathtaking before you even see any whales. The sheer drama of the Icelandic scenery is a joy to behold and is at its absolute peak in the north.
The company boasts a 98% success rate in this area so your chances of seeing whales are pretty darn high. There are a couple of other options below but I think this is the number one Dalvik whale watching experience available right now. Check out prices and availability here.
Key Information
Tour Duration: 3 Hours
Pickup Included: No
Age Suitable For: All
Need To Take: Warm Clothing
Start Time: 10 am
Tour Pace: Medium
Read More: The Incredible Snowmobiling In Iceland Guide
---
#2 – Speedboat Whale Watching
This tour is with the same company as above but in a RIB (rigid inflatable boat). This means that you are much more exposed to the weather but you'll be going ALOT faster. This, of course, maximizes your chances of seeing whales even more as you are able to get around much faster.
Now, if it was me, this would be the Dalvik whale watching tour I would choose. It's not my number 1 recommendation because it might not be suitable for everyone BUT there is no better way to get closer to whales than on a RIB. I also love the thrill and speed of the adventure as well. Check it out in even more detail here.
Key Information
Tour Duration: 2 Hours
Pickup Included: No
Age Suitable For: All
Need To Take: Warm Clothing
Start Time: Lots Of Options
Tour Pace: Fast
Read More: The Most Unique Hotels In Iceland!
---
#3 – Midnight Sun Whale Watching
If you have checked out the tour above and looked at availability, you may have noticed that, at certain times of the year, you can go Dalvik whale watching at 11 pm. This is their midnight sun whale watching experience! You can pick this time in June, but there are other later evening options throughout the summer
During the summer months, there is a time when the sun never fully goes beyond the horizon and you have sun all night long. Imagine going on a whale watching tour during this magical golden period. Well, if that's something that sounds good to you then just book the 11 pm option!
---
When To Go Dalvik Whale Watching
You can go whale watching in Dalvik all year round however, the best time to see whales in Iceland is between April – September.
this is because this is the prime feeding time and there are more species and quantity of whales to be seen at this time.
Don't let that put you off going at another time if you can only visit outside of these months. You will still have a fantastic chance of seeing them and many tour (above included) have free tours available if you do not see a whale.
Read More: The Best Golden Circle Tours Available Right Now!
---
Where To Stay In Dalvik
Dalvik is a small town and does not have an abundance of accommodation options to choose from. However, we have found 4 of the best options below so check them out now.
---
What To Take Dalvik Whale Watching
All of the tours above will offer overalls to help protect against the cold, HOWEVER, they are not all in one super suits so you will still have to take warm clothing on your Dalvik whale watching experience. Here is a list of things that we recommend you take with you on your trip.
If you are worried about getting cold feet (and you should be) then take a look at these brilliant thermal socks by Hot Feet. They should keep your feet warm in the cold conditions you will be facing, as long as you have decent footwear as well! You get 8 pairs which are also really good for the price. Take a look in more detail here.
It goes without question that you're going to need a jumper. This gorgeous knitted jumper will keep you warm whilst also looking the part (people love the knitted look in the cold!). There are a few colours to choose from the reviews talk for themselves! Take a look here.
If you get particularly cold then you are going to want to take a look at these fleece-lined full-body thermals. If you couple these with decent clothing over the top then the coldest of people should be warm in the coldest of places. Have a look at colours and sizes here.
If you're not a massive fan of fleece-lined hats (Jade isn't) then earmuffs are the way forward. These vegan earmuffs look amazing and come in varying sizes whilst also looking really cute. I personally like the brown faux leather look but there are lots of different colours available. Take a look here.
If you're looking for a pair of warm gloves then check out these waterproof/windproof/thermal gloves. When you're looking for decent gloves then fashion should not be your main priority. I don't know about you but cold hands are the pinnacle of annoyance! These absolutely get the job done and you don't have to take them off to use your phone which is a godsend. Take a more detailed look here.
You absolutely need to have a warm hat when you are visiting cold places so take a look at this gorgeous fleece-lined cable knit beanie. It's a timeless style and will absolutely keep your ears and head warm for your trip! Take a look at different colours here.
This windproof/waterproof jacket is absolutely perfect for keeping the cold out and staying warm when you are visiting such cold places. If you only have a warm waterproof jacket I would seriously consider upgrading to windproof as it makes even more difference than the fleece lining in my opinion. See our recommendation here.
If you're looking for some decent waterproof trousers then take a look at these. They are windproof and waterproof but also insulated which means that you may get away with only wearing these and not having to have an additional layer underneath. They also do a very good job of not looking too much like waterproof trousers. Have a look to see what I mean here.
If you're planning on doing some serious hiking then we recommend you take a look at these Columbia walking boots. They come in loads of different colours and we think that they are really stylish. The most important thing however is that there are comfortable, waterproof and resilient which these are! There is nothing worse than sore feet preventing you from making the most out of your trip so don't put it down to chance. Check them out in more detail here.
If you don't have a camera then I HIGHLY recommend the Panasonic Lumix ZS70K. It is an affordable point-and-shoot camera that can be picked up and used by anyone of any ability. The camera captures gorgeous images and surprisingly excellent video whilst fitting in your pocket. The main difference between this and your phone's camera is that it also has an incredible optical zoom so you won't miss any of the shots you need to take. Check it out here.
---
What Can You See Dalvik Whale Watching?
Humpback
You have a very good chance of seeing a humpback whale on any of the above tours. They are absolutely huge and have the quintessential tail raise as they dive deep, you might even be lucky and see a breach! (jump out of the water).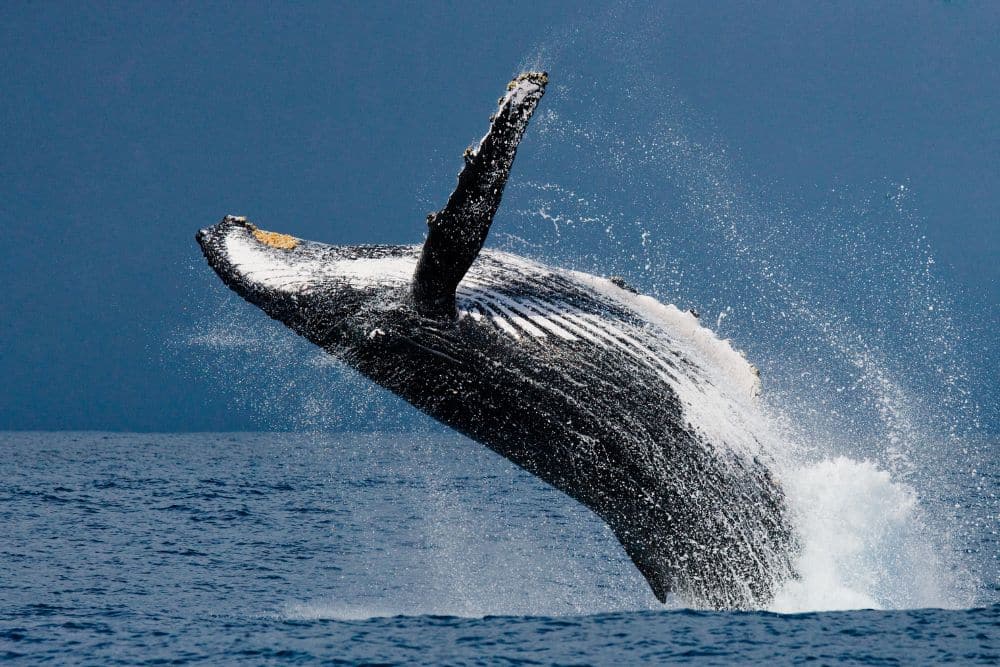 ---
Minke Whale
These are much smaller than the humpback but are much more likely to come over to the boat to see super close up!
---
Blue Whales
Not the most common of sight but not completely out of the question. The mighty blue whale is the biggest creature on the planet and it'll be an incredible day if you get to see one.
---
Porpoises & Dolphins
Quite a common sight during Dalvik whale watching tours, but still very cool and pretty nonetheless!
---
Killer Whales
This is probably the rarest out of the animals discussed here but there is still a chance! If you get to see an Orca then I'll be very jealous!
---
Other Things To Do In Iceland
Hiring A 4×4
If you are going to hire a vehicle in Iceland then we HIGHLY recommend hiring a 4×4. This is especially true for the north of the country which is where Dalvik is. We have written a complete guide to hire a 4×4 in Iceland here and we have the video below to explain it more!
Bath In Beer
Just outside Dalvik is a cool spa where you can literally jump into a bathtub full of beer, PLUS the whole experience comes with unlimited beer on tap! I don't really know what else to say so click here to book if you're interested!
---
Blue Lagoon
You can't come to Iceland without visiting the Blue Lagoon on the south coast. You will almost certainly be arriving at Keflavik airport so make sure you spend some time on the south coast to visit the Blue Lagoon! Click here for tickets and transport from Reykjavik!
---
Snowmobiling
We went snowmobiling in Iceland and it was the single best thing we have ever done. You get to drive up onto the glacier, change into snowmobile clothes and take one of these beasts up onto the perfect snow-capped ice. It is worth every penny. Click here for prices and availability.
---
Ride Up To A Glacier
If you don't want to take a snowmobile up onto the glacier then why not visit this ice wonderland in the comfort of a converted superbus? Check out the video below to see our adventure on the glacier bus and click here to book the exact tour we went on!
---
See The Puffins
If you are going during the summer months then you should definitely go and see the puffin populations that come in for mating. Iceland is home to 60% of all the world's puffins and their breeding grounds are a sight to behold! Check out the full guide here!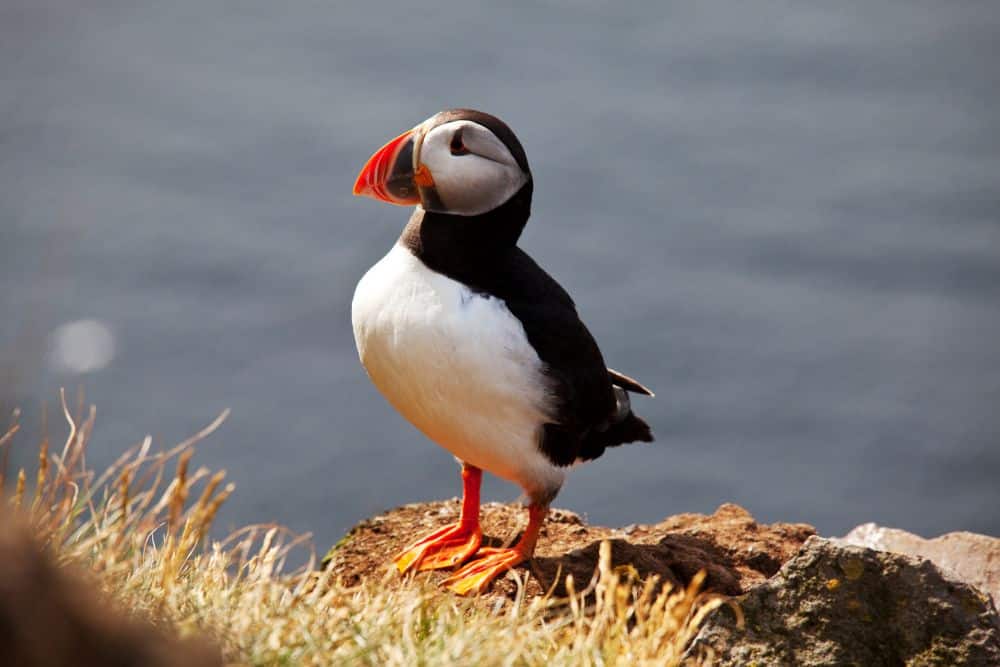 ---
---
Frequently Asked Questions
Can I Go Whale Watching In Dalvik?
Is Dalvik Good For Whale Watching?
The whole of the north coast of Iceland is great for whale watching and Dalvik whale watching is no exception. The one operator in Dalvik boasts a 98% success rate.
What Is The Best Dalvik Whale Watching Experience?
How Long Are Dalvik Whale Watching Tours?
How Much Does Whale Watching In Dalvik Cost?
Dalvik whale watching costs from $80-$120 per person depending on the tour.
---
That's our whole guide to Dalvik whale watching. If this has been helpful or if there is anything we can do to improve then please let us know in the comments section below!
---