Ready to snap your latest Instagram post in Sri Lanka? That's the reason you want to visit the famous Coconut Tree Hill Mirissa, so read this guide to find out everything you need to know about it!
Sri Lanka is famous for its beautiful coconut trees all around the country. You'll see them everywhere, along with tourists and locals alike trying to find the best angle for a photo!
Coconut Tree Hill Mirissa is no different, so use this article to plan your trip well before you visit it.
Read More: Here Are Even More Fun Things To Do In Mirissa!
What Is The Coconut Tree Hill Mirissa?
To be perfectly honest, the name says it all! There is a small hill in Mirrissa, where a collection of coconut trees grow. As I said, coconut trees grow all around Sri Lanka, so what makes this part different?
The viewpoint from the hill makes it a good place for a photo, especially at sunrise.
Read More: Use This Tried + Tested 10 Day Sri Lanka Itinerary!
It's also far enough away from traffic, noise and restaurants (and the blaring reggae music usually coming from the beach bars!) but close enough that you can visit before breakfast from any hotel in Mirissa and be back for a mid-morning snack!
It's attracted a lot of attention in recent years, so naturally, we had to go and have a look to see what all the fuss was about!
Where Is It?
Mirissa is on the south coast of Sri Lanka, about 170km away from Colombo. It's a cute beach town, with plenty of bars, restaurants and cafes to keep you watered and fed (we've been here two weeks now and haven't had to return to the same restaurant for any of our meals!)
Read More: How To Get To Mirissa From Galle
Coconut Tree Hill is a mound quite far east of Mirissa. It's past the end of the main beach, but you can easily see it from the strip.
Take a look at the map to see exactly where Coconut Tree Hill in Mirissa is, and keep this in mind when making your way there!
At first, we confused Coconut Tree Hill with Parrot Rock, which is another great viewpoint you should visit!
Parrot Rock is closer to the town centre, and you can access it directly from the beach, whereas you have to walk along a rocky path to reach Coconut Tree Hill Mirissa.
How To Get There
There are a few different ways to get to Coconut Tree Hill Mirissa.
Get A Tuk-Tuk
This is what we did, and I was glad because even at 8 am the temperatures were high and walking all the way to the hill was not appealing!
Our tuk-tuk took us from our accommodation, which was at the very opposite end of Mirissa Beach, to the bottom of the hill. It cost us 300 rupees (£1.10/$1.48) and was definitely worth it. The journey took around 5 minutes.
Read More: Your Ultimate Guide To Budget Travel In Sri Lanka
We had to climb up to the hill, along a bit of a dubious and overgrown pathway! It only took a few minutes to get up there though, and it wasn't a difficult climb.
Walk
You could just walk the whole journey if you wanted. If you do that, there are a few different ways to get to the hill.
Most people enjoy the beach walk, so you can just carry on walking along the shoreline until you get to the hill.
Read More: Our Guide To The Secret Beach In Mirissa
If you're walking along the main road, you need to find the right turning. It's helpfully named Coconut Tree Hill Road, so you really can't miss it!
Turn in and walk down the little road towards Sunset Bar.
There's a small fork in the path – you can stay right and walk towards Sunset Bar, or turn left to go along the fence. There IS a path there, but as you'll see on our video, it's just very narrow and overgrown!
Route 1
If you want to walk past the bar, keep going straight until you see the cute signpost. Walk left past this, and along the beach until you can start climbing up – eventually you'll get to the top!
Sometimes the water is a bit rough or too high, so I'd recommend choosing the second route below just in case.
Route 2
The wild path is very short – it only takes around 30 seconds to walk through, and then you'll come out onto a dusty upwards track. Walk for a few minutes and you'll see the trees come into view!
Read More: The BEST Guest Houses In Mirissa
How Long Does It Take?
Obviously, this depends on how you choose to get to Coconut Tree Hill Mirissa.
It only takes around 10-15 minutes to walk along the beach or the main road, from the other end of Mirissa Beach. You're probably going to visit directly from your accommodation, so just plan it from there.
Once you've arrived at Sunset Bar, it's only about another 5 minutes until you'll reach the top of the hill.
Read More: Is It Worth Taking A Cooking Class Here?
What To Expect
Check the Coconut Tree Hill Mirissa hashtag on Instagram and you'll see plenty of magical photos showing off Sri Lanka's waterfront between the palm trees.
However, before you get there, be prepared for a little Insta vs Reality!
Coconut Trees
Yes, of course, there are coconut trees! It's a pretty scene, and it's really lovely to be able to look out into the ocean, watching the surfers battle the crashing waves.
Read More: How To Go Whale Watching in Sri Lanka
Once you've finished taking photos, you can chill around the area lower down (to avoid photobombing anyone else!) and just take some time to appreciate the area's beauty.
Litter
As soon as we arrived, I was a little underwhelmed because of all of the litter dropped in holes around the hill. Plastic drinks bottles, straws and empty food boxes were scattered around, with no thought for the health or aesthetics of the environment.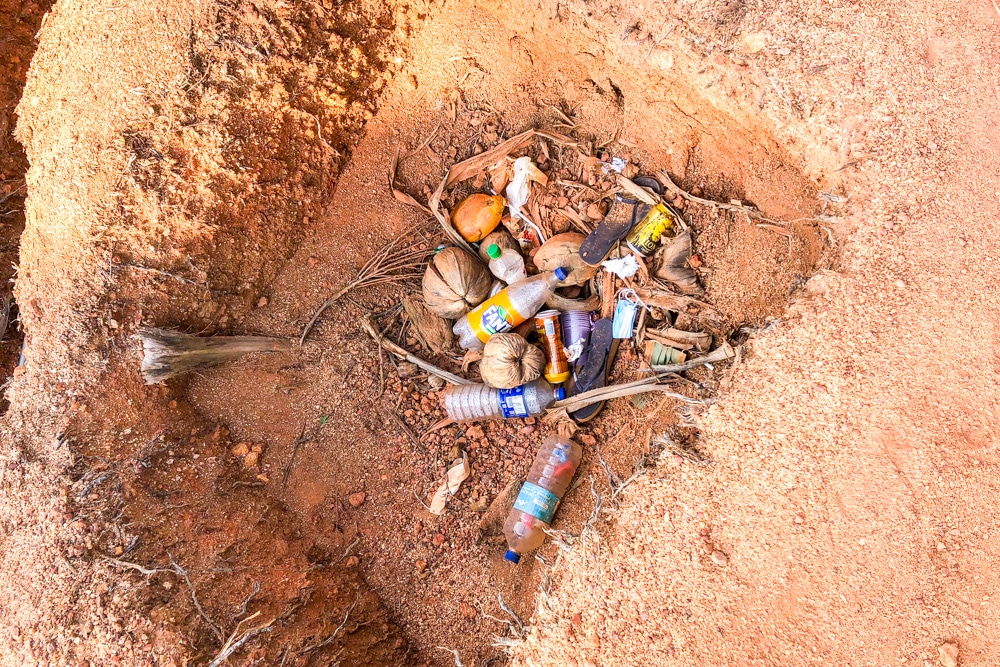 I have never been able to understand why people don't take their litter with them – you brought it so just take it back!?
Crowds
We arrived at around 8 am and there were already 4 different groups of people setting up tripods for their shot. We formed a little queue, but luckily no one took too long and we were able to snap some great photos with nobody else in the frame.
At one point, we were the only two people there which was great for drone flying!
As we left about half an hour later, more groups turned up so I would recommend getting to Coconut Tree Hill Mirissa before 8 if you want to be alone.
The best time would actually be to visit at sunrise – but lots of other people probably have the same idea so just be prepared to be patient and wait your turn!
Read More: How To Get To Mirissa From Colombo
What To Take
There are a few things that I'd recommend bringing with you to make the most out of your visit to Coconut Tree Hill in Mirissa.
Camera + Tripod
Obviously, you're going to want to take your camera to get some good pictures and videos!
If you don't have a camera then I HIGHLY recommend the Panasonic Lumix ZS70K. It is an affordable point-and-shoot camera that can be picked up and used by anyone of any ability. The camera captures gorgeous images and surprisingly excellent video whilst fitting in your pocket. The main difference between this and your phone's camera is that it also has an incredible optical zoom so you won't miss any of the shots you need to take. Check it out here.
If you're looking for an affordable tripod/selfie stick then check out this Bluehorn 40″. It has a wireless button to make taking pics and videos easy and doubles as a tripod for a small camera and your phone. Basically, every single traveller has a selfie stick because of how convenient they are so check out our recommendation here.
Drone
It's a great place to fly a drone because you get to capture the gorgeous trees, the ocean and the beach.
If you're currently in the market for a drone then take a look at the Mavic Mini 2. The Mavic Mini 3 recently came out which has made the Mini 2 even more affordable. I don't personally think the upgrade is worth it currently (considering the incredible price of the Mini 2). I have flown all over the world and my Mavic drone has never let me down. The small size and weight of the Mini series is also perfect for travellers so it really is a no-brainer. Take a look at the current price here.
Kev is fully registered and insured, and I have become very good at my job as a spotter! I have to keep track of the drone when it's in the air – it's a legal requirement to have someone do that for you in Sri Lanka.
HOWEVER, please don't be like the TWO other doofuses we saw there who flew without being registered or insured in Sri Lanka!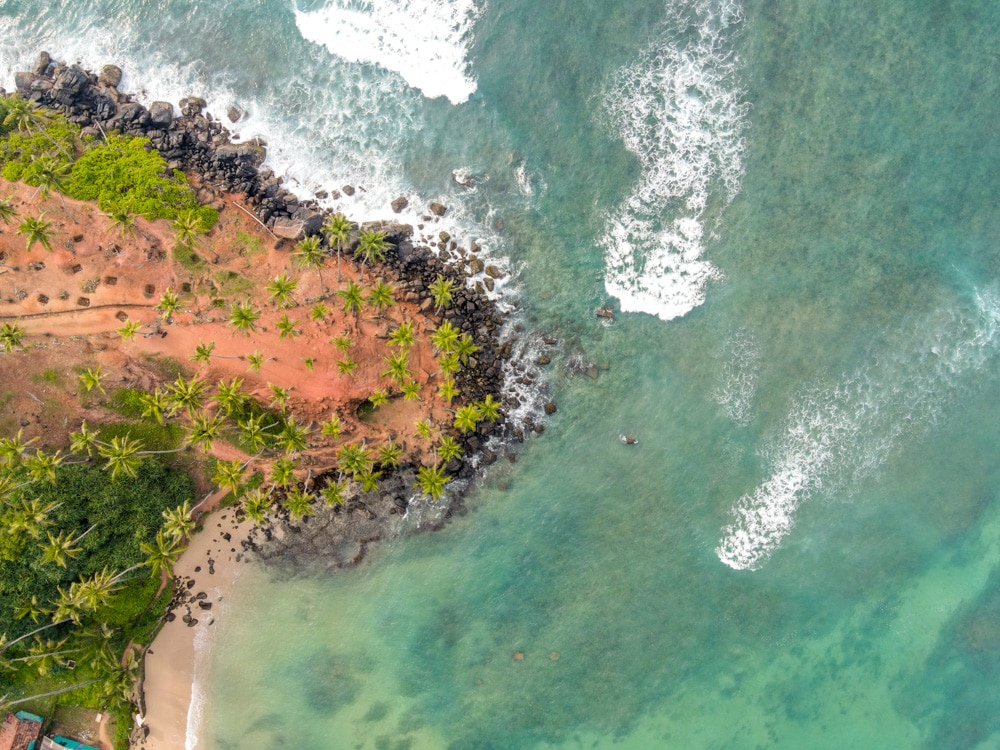 It is a bit of a pain to go through all of the paperwork, phone calls and emails to legally fly the drone here but it really is so dangerous to do it without.
You might think that it's just a bit of paper, but in reality, the aviation authorities need to know what is flying in their airspace to avoid any conflict or confusion.
Being uninsured also means that if you do hit someone, you'd be expected to pay out of your own pocket and that will not be cheap!
Don't be a drone doofus – read the rules here, register and get yourself insured!
Appropriate Footwear
As it's not a huge hike, I didn't think that this would be an issue. However, I do think that you should wear closed-toe shoes because there are some loose rocks on the path.
If you're not really planning on doing any major hiking then we recommend that you check out these AKK walking shoes. There are extremely lightweight, breathable and have memory foam insoles to make them super comfy. Don't make the mistake of spending loads of money on insane walking boots if you don't need to! Check them out here!
It can get quite slippery, especially on the tracks leading directly up to the hill – yes, I almost fell over, and yes, you can see it in our video!!
I wore Converse but they're not great for grip so ideally wear a pair of trainers or something designed to keep you upright! You can always take them off if they're ruining the aesthetic of your photo 😉
Where To Stay Nearby
Mirissa is full of great guesthouses, hostels and hotels, so you will be spoilt for choice when picking somewhere to stay.
Read More: The Most Stunning Villas That Mirissa Has To Offer & The Most Incredible Boutique Hotels In Mirissa!
Luckily, Coconut Tree Hill is not too far from some great options, so if you are solely picking your accommodation based on how easily you can get to the hill in early morning, then you'll be fine.
Here are our top picks for places to stay near Coconut Tree Hill Mirissa!
Guesthouse: SunRay Rest – Beach View Homestay
This guesthouse is literally a few minutes' walk from Coconut Tree Hill Mirissa, so you'll be able to catch that sunrise easily!
Not only that, but SunRay Rest often offer discounts such as 25% off a whale watching tour if you've booked a room here!
The owners are super welcoming, and you can grab a good breakfast here each morning too.
---
Check Out The Reviews Of SunRay Rest Here
---
Read More: Find More Budget, Mid-Range + Luxury Hotels in Mirissa Here
Hostel: Hangover Hostel Mirissa
Stay at Hangover Hostel Mirissa if you are looking for a place close to the beach, somewhere with a kitchen and a great atmosphere!
Choose from a bunk bed in a dormitory, or a double private room.
Everything is close by and there's even entertainment in the evenings!
---
Check Out The Reviews Of Hangover Hostel Here
---
Hotel: Sea World Boutique
Nope, not *that* Sea World! This boutique hotel is set right on the beachfront, and is gorgeous inside and out.
There's a shared lounge area, but you'll get your own private bathroom.
Enjoy a few meals at the lovely on-site restaurant, and a few more cocktails at the bar!
---
Check Out The Reviews Of Sea World Boutique Here
---
Villa: Saltasia Boutique Beach Villa
Mirissa has some incredible villas, and Saltasia is only a ten-minute stroll from Coconut Tree Hill.
With a gorgeous outdoor pool facing the ocean, and beautifully decorated rooms, it's a fantastic place to spend your Sri Lankan holiday.
There's a lovely garden where you can eat breakfast daily, which is included in the room rate!
---
Check Out The Reviews Of Saltasia Boutique Beach Villa Here
---
---
Are you ready for your adventure to Coconut Tree Hill in Mirissa yet? Don't forget to watch the YouTube video at the top of this post to help you visualise exactly where to go and what to expect of this famous beauty spot!