Getting from Chiang Mai to Bangkok by train is one of the most popular ways to get between the two cities. We show you the best and most affordable way to do this trip!
Necessary Spacing
Travelling from Chiang Mai to Bangkok by train is a safe and affordable option which will take around 12-14 hours to complete.
We recommend the 2nd class sleeper on the #10 train – which can be booked here!
Don't forget to watch the video below which goes into detail about the whole trip!
---
The Sleeper Experience Video
Let's be honest, train travel can be daunting, confusing and uncomfortable. But sometimes it's just the best way to get from A to B! That's definitely the case for getting from Chiang Mai to Bangkok, and luckily the journey is actually easy, cheap and comfortable enough.
---
Train Options/Timetable
Before we dive into our experience, tips and how to purchase your Chiang Mai to Bangkok by train tickets, let's have a quick look at the current train timetable.
| | | | | |
| --- | --- | --- | --- | --- |
| Train Number | Departure Time | Arrival Time | Duration | Notes |
| #102 | 06:30 | 21:10 | 14hrs 40 | Seating Only + Slowest |
| #8 | 08:50 | 19:25 | 10hrs 35 | Seating Only + Fastest |
| #52 | 15:30 | 05:25 | 13hrs 55 | Sleeper + No 1st Class |
| #14 | 17:00 | 06:15 | 13hrs 15 | Sleeper + 1st Available |
| #10 | 18:00 | 06:50 | 12hrs 50 | Sleeper + 1st Available |
The Chiang Mai to Bangkok by train timetable
Fastest Train
The fastest Chiang Mai to Bangkok train is the #8 leaving at 08:50 am. This train is considerably faster than its counterparts, however, this is seating only and takes place throughout the day. This means that you actually lose a day in Bangkok as that's a day spent on the train. The trains that go overnight use the time that you would normally be sleeping so I don't personally recommend the #8 train.
Slowest Train
The #102 train leaving at 06:30 is not only the slowest but is also the worse Chiang Mai to Bangkok train in this timetable by a considerable margin. It takes place throughout the day, has the least comfortable seating and is the longest by quite a margin. I would avoid this train.
The Best Train
I personally recommend the #10 Chiang Mai to Bangkok Train. It comes with the most options for class (including a ladies-only 2nd class), takes the least time of all the sleepers and gets into Bangkok at a reasonable time. The #10 train is also one of the newest so you will be spoilt with some of the best facilities of all the trains.
Pro Tip – Chiang Mai To Siem Reap
If you are thinking of travelling overnight to Bangkok on the #52 sleeper train to then grab the early morning 05:55 am train to the Thai-Cambodia border, you will not make it.
They are always considerably late so do not plan for this. I recommend getting a bus or minivan in Bangkok to the border as they run much more frequently than the trains.
Read More: Check Out The Insane Sunrise At Angkor Wat
---
How To Buy A Ticket
We used 12 go and it was exceptionally easy. After you book your tickets, you will have to pick them up on the day of your train. You pick them up from a hotel across the street from the train station called Bossotel.
This entire exchange can be seen in our video and it was entirely painless and easy. I highly recommend using the box below to book your tickets in advance.
The price when we went was 1000 Thai Baht ($32/£25) for a 2nd class sleeper. This is subject to change so make sure you click through the form below to check current prices
Read More: The Best Boutique Hotels In All Of Chiang Mai
---
The Different Sleeper Classes Explained
The following classes will all be a little different in quality throughout the Chiang Mai To Bangkok trains as some trains are newer than others but the basic facilities that I will describe should be consistent throughout.
1st Class Sleeper
These are individual cabins that house up to 2 people in a bunk bed layout. When you are not sleeping these will be folded into a long padded chair for you to sit on. The rooms come with air conditioning, power and a door.
This is the best option if you want the most comfortable experience on your Chiang Mai to Bangkok by train journey. However! Many people think that if you are a solo traveller and you book a cabin you will be put in the cabin on your own. This is incorrect.
You will be asked to advise your sex when booking the ticket and this is important as they will only put you with someone of the same sex.
2nd Class Sleeper AC/No AC
The 2nd class sleeper carriages are essentially lots of 2 people pods on either side of the train that converts to bunk beds. You may get the option to get an AC carriage or a non AC carriage. We got a non AC carriage (comes with fans) and it actually turned out to be a little cold in the night.
However, I recommend that you get an AC carriage as those carriages tend to have more plug sockets which means you shouldn't be sharing with someone else on the train.
We recommend the 2nd class AC sleeper over the 1st class as we think it is much better value for money.
Read More: How To Explore The Chiang Mai Sticky Waterfalls!
---
Our Chiang Mai To Bangkok By Train Experience
We actually chose the #52 train as it was supposed to get into Bangkok at 05:25. We then thought that this would mean we would be able to get the 05:55 train to the Cambodian border. Our train ended up being over an hour late and we can almost guarantee yours will be too.
We started by picking up our tickets from Bossotel across the street from the station and walked over to the platform. With Asian railway stations, it can be quite a mixed bag so we didn't really know what to expect.
Well, the Chiang Mai railway station is a delight. The platforms are all squeaky clean polished tile ((which makes wheeling luggage really easy) and there are facilities to occupy time if you have to wait a while for your Chiang Mai to Bangkok train. This includes a nice little restaurant/bar in the car park which I recommend checking out.
When we got to our platform, I was pleasantly surprised to see signs indicating carriage numbers alongside the rails. This is pretty darn helpful as the carriages are never in numerical order so just because your ticket says carriage number 1, it doesn't mean that's where it will be.
When the train arrived, we immediately boarded and made our way down our carriage to find our seats. These were, again, easy to find as the seating is very well numbered.
We were a little concerned about luggage as we have 2 huge suitcases and 2 hand luggage bags (yes we will be reducing this for our next trip) and this amount of luggage has hampered us on other services throughout Asia. However, each two-person pod has its own luggage rack that can easily accommodate the biggest of bags.
As we were setting up we noticed that other pods had tables attached and found our removable table underneath one of the central pillars ready to be attached. This was very easy and it just slips into the hole in the wall. If you can't find yours, simply ask the guard and they will happily assist with this.
We then noticed that we did not have a plug socket anywhere near our pod and there were only two located in our whole carriage. These were already in use by other passengers so this is something to consider if you are choosing the 2nd Class no AC carriage (the AC carriages have more sockets).
The trip started with us watching the world go by outside the window and chatting about our experiences on this trip so far. The seats were comfortable and the train was steady so it was easy to sit back and relax.
Around 8 pm (can be whenever you want, just ask the guard) the guard comes round to convert your seats into bunk beds. We are both over 6 feet tall and were a little worried about the length of the beds. I can confirm that if you are 6'2″/186cm or lower then you will be absolutely fine on the top or bottom. However, the bottom is slightly wider and you get to enjoy the view.
We then sat on the bottom bunk and watched a few Netflix episodes and called it a night around 10pm. We both found that the beds were perfectly comfortable for sleeping, but the top bunk has an issue with being very bright. they do not turn off the lights during the night and if the light affects your sleep then I highly recommend a sleep mask.
We got out of bed around 5:10 am, optimistic about being on time. By 6 am the guard had converted our beds back into seats and we were watching the world go by. We finally got to Bangkok about 1.5 hours late but we were both quite impressed by our Chiang Mai to Bangkok by train journey.
---
Why Travel From Chiang Mai To Bangkok By Train?
I am sure that you have considered other ways to However, I believe that the train is the best option and here is why;
Affordability – The bus is usually the cheapest but the train is a very close second and you get so much more space and comfort for the price.
Experience – Of course the flight will be the quickest but you miss all of the countryside sights! Also, the bus can be very bumpy and uncomfortable which the train just isn't.
Luggage – You may have seen small pieces for the plane but if you have any baggage then this price will go up very quickly to add this to your journey. No need with the train.
---
What Nobody Tells You!
Setting Up The Beds – You can ask for your bed to be set up at any time so if you really want to lie down then you don't have to wait until the evening; you can just ask whenever.
There Is Hot Water – People like to make noodles on the train and there is a carriage with hot water to cook these noodles. However, you will probably have to walk a fair distance to it and if it isn't working then you might miss out.
There Are Vendors On The Train – Throughout your journey, there will be people walking up and down selling food and drink. These are reasonably priced so you won't go hungry. I recommend taking food and drink either way, just in case.
The Beds Are Comfy – This is a preference of course but I actually thought they were much more comfortable than I thought they would be.
Don't Get First-Class – So many people suggest getting 1st class over 2nd class but I just cannot justify the price increase at all. 2nd Class is really good and as soon as your curtain is across your bed, you are completely private.
They Don't Turn The Lights Off – This could be an issue for people who can't sleep in the light. I recommend getting a sleep mask if this is you.
People Get On Throughout The Journey – Chiang Mai is not the only stop people will get on. People were still getting on the train around 10 pm for us so do not spread your stuff around thinking that the train is just not full.
---
---
Other Ways To Travel From Chiang Mai To Bangkok
Of course, there are other ways to get from Chiang Mai to Bangkok. I will go through these options briefly here.
Bus
You can get a bus that is actually a little bit faster than the train but significantly less comfortable. If you are trying to maximise your time or you simply want to try out the bus then check out the bus here.
Plane
This is a very good option if you need to get to Bangkok in the quickest possible time and you have minimal luggage (only hand luggage and this is the best option). Check out flights here.
Taxi
Taxi is so much more expensive than the other options and literally has no benefits over any of the other options. Avoid getting a taxi from Chiang Mai to Bangkok at all costs.
Car
You could also drive! Make sure that you have an international driver's licence though as it's illegal to drive in Thailand without one. The journey will take around 9 hours so either share the driving with a friend or split it over two days.
It won't be very economical but some people prefer to have the flexiblity of stopping where they want, especially if you turn it into a week-long road trip.
---
Book your favourite hotel here

Where will you go?
---
Accommodation In Bangkok
Affordable But Classy – Lamphu Treehouse Boutique
We stayed here for a week whilst we were in Bangkok and we were incredibly impressed with the service and standard of the hotel considering the very reasonable price point.
And when I say reasonable, I am talking almost backpacker hostel prices. The location is also extremely good and within walking distance of Koh San Road. Check out images and reviews here.
Studio Accommodation – Montana Bangkok
You get an entire studio (or more), including a kitchen and washing machine for an insanely good price.
If you want that little touch of home when you are visiting Bangkok then definitely take a look at Montana House. I cannot sell it as well as the images and the price does so check out Montana Bangkok here.
---
Accommodation In Chiang Mai
Great Vibes – My Chiang Mai Boutique
We featured My Chiang Mai as one of the best boutique hotels in Chiang Mai – we have written a whole article and video about these here.
It is extremely affordable and is in a great location. Check out this beautiful hotel here.
Boutique Luxury Without The Price Tag – Ping Nakara Boutique Hotel
Watch the video and you will see exactly why Ping Nakara is on this list. It looks like it would be out of most people's price point until you realise that it is very affordable.
Of course, it is more expensive than My Chiang Mai (above) but I highly recommend you check it out to see what I mean.
---
Things To Do In Bangkok
This is an entire post on its own but here are a few of the best activities to do in Bangkok whilst you are there!
Wat Pho – Reclining Buddha
Wat Pho is also known as the temple of the reclining Buddha and for good reason! There is a giant 45m long Buddha lying on its side! The temple complex itself is quite a gorgeous place to visit but I highly recommend going just to see this huge famous statue.
Chatuchak Market
Chatuchak market is a truly huge market that you can get lost in due to its sheer size. It sells everything from food to clothes and everything else you can think of. If you want that Asian bustling market vibe then there are few other places to get it in this much of a dose.
Thai Massage
Thai massage is famous all over the world for a reason. The price is insane and the quality is unarguably amazing. You will find people trying to get you into their massage parlour all over the city and you will find yourself saying no quite often. Just say yes!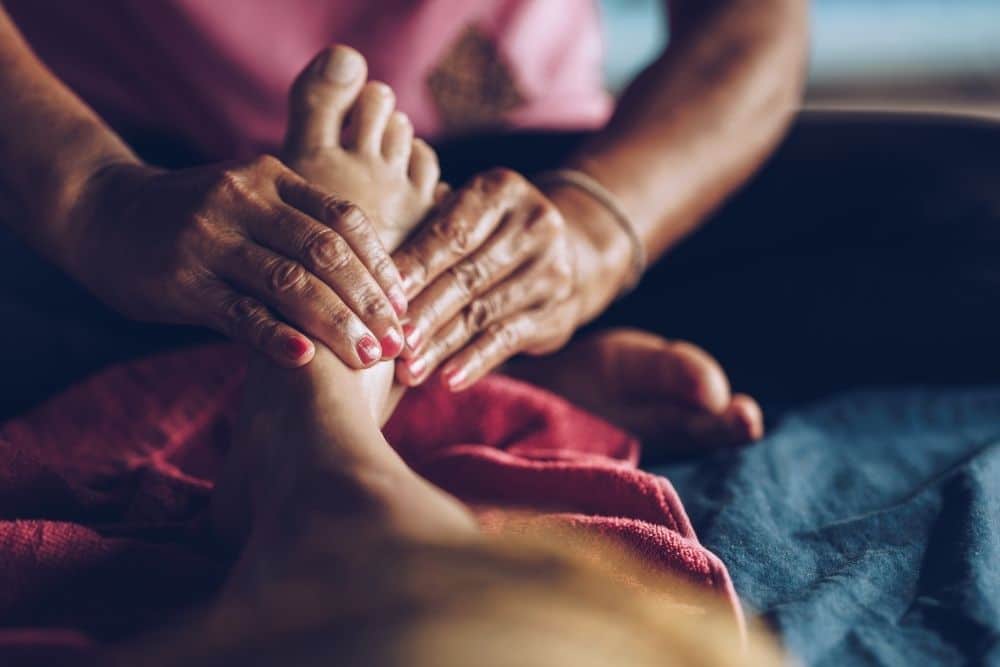 Rooftop Bar
We went to the Mariott rooftop bar and it wasn't actually that good. the views were good but the drinks were pricey and not up to the price tag by a long way. However! There are so many places in Bangkok that are not like this and there are few other places in the world where you can get this 'top of the world' feeling at this low price. Just avoid the Mariott.
Street Food
Street food is everywhere in Bangkok. Some will sell you a whole meal and some will sell small bites. Experiment with the street food and try to find something new that you might like. You're on vacation so just throw yourself in the deep end!
Songkran Waterfight
If you happen to be in Bangkok (or anywhere in Thailand) during the Songkran festival then you will actually find it difficult not to be in a water fight. There are always unaware foreigners with all of their bags walking through town getting absolutely drenched. Plan ahead!
Koh San Road
Koh San Road is a very famous street with market stalls, nightlife and an extremely busy party vibe i the high season. If you want a cheap night out to let your hair down then there aren't many places in Bangkok better than Koh San Road.
Frequently Asked Questions
How Far Is It From Chiang Mai To Bangkok By Train?
The distance between Chiang Mai and Bangkok is just over 700km. It takes around 12-14 hours by train, 1.5 hours by air and 10-11 hours by bus.
How Long Does It Take From Chiang Mai To Bangkok By Train?
The Chiang Mai to Bangkok train takes 11-14 hours.
What's The Best Way To Get From Chiang Mai To Bangkok?
If you only have a hand luggage bag then flying is probably the best option but if you have large bags then the best way is Chiang Mai to Bangkok by train
What Is The Chiang Mai To Bangkok By Train Journey Like?
The beds are comfortable and the train is smooth. The scenery is gorgeous and the price is good. For the best experience jump on the #10 sleeper train as this is the newest train in the current fleet.
Should I Do Chiang Mai To Bangkok By Train?
Yes, the train is affordable and comfortable.
---
So, make sure to book your tickets in advance and let us know in the comments if you agree with everything we have said in this post. If you have any suggestions for approvals then let us know too!
---