Finding a great car rental in Langkawi will make a huge difference to your trip to the island! Here are our top tips for making the most out of your Langkawi rental car.
---
Your Guide To Car Rental in Langkawi 2023
Renting a car abroad can be a daunting prospect, but in Malaysia, it is quite easy and you don't have to jump through any strange hoops to do it!
You can either pick up your car at the airport or if you want to get a feel of the island and its roads before you drive, you can visit one of the car rental locations later.
We thoroughly enjoyed our Langkawi car rental and would 100% recommend that you don't rely on public transport whilst on the island if you're there for more than a few days.
Here are our top tips for getting the best hire car experience in Langkawi!
Read More: The Best Sunset Cruise Trips In Langkawi!
Top Car Rentals in Langkawi [Review]
We decided we wanted to rent a car in Langkawi for one main reason – to save money! We knew that we would be taking a few tours which required us to either get a taxi to the starting point or pay extra to be picked up.
We used Rental Cars to find our car but Klook is also a great option if you're in Asia for booking car rentals and tours.
After checking multiple reviews, we decided to use Kasina. The ratings were high and there was a local office within walking distance from our hotel. We had already been in Langkawi for a few days so didn't need to collect from the airport, but they do offer that service.
Once we'd confirmed our booking, we visited the office and spent around 20 minutes inside organising paperwork. The staff were super friendly and helpful – we didn't receive any sort of payment for creating a video about our Langkawi car rental but they allowed us to film our experience which was great.
Everything was explained to us well and then we were shown our vehicle! When you book a car, the company usually does mention that the car you'll receive will be a certain model or similar. Don't go in expecting an exact make and model unless you have specifically agreed on this in advance.
We were given a car in the 'compact' category which was perfect for us. It was a manual 5-seat Proton Saga with A/C. It was actually extremely spacious and comfortable, even for us long-legged travellers!
The staff gave us all of the information we needed – what type of fuel to use, what side of the road to drive on and speed limits on nearby roads. They also showed us the minor scratches and bumps the car already had, and encouraged us to take our own photos so that we could be in agreement about the condition of the car before we took it. They couldn't have been more helpful or friendly.
We paid 118 MYR per day, plus 18 MYR for insurance which is roughly $31. There were zero issues with the car, and would definitely use Kasina to hire a vehicle again.
Check prices for your Langkawi car rental here.
---
How To Choose The Best Car Rental Company In Langkawi
There are quite a few Langkawi car rental companies, and it can be overwhelming deciding on where to spend your money. Not only could you waste carefully saved travel funds if you pick a bad agency, but your safety could be in jeopardy as well.
Reviews
I spend hours looking at reviews for hotels and tours, so doing the same for our car rental in Langkawi was no issue! You tend to get a good feel for the type of business somewhere by reading about other people's experiences. Sometimes people give terrible reviews for reasons you aren't fussed about so it also gives you a good starting point for forming your own opinion – you aren't spending your money just based on good marketing!
I wouldn't expect anywhere to have thousands of 5* reviews because everyone has different expectations, but for a car rental agency, I would make sure that there are at least a couple of hundred reviews so that you can read through and work out what you would be looking for and also want to avoid.
Photos
This is another really great way of understanding how a business works. You can see the type of cars they offer, and if the photos are uploaded by a customer that's even better because they won't be edited or angled in a particular way to only look good!
Check Google for the company you want to use to see reviews and photos.
Insurance Options
Depending on your budget (and driving style!) you might want different insurance options to choose from. Most places offer either basic protection or full protection.
Our excess was 1000 MYR ($232) which we thought was pretty standard.
The main difference between basic and full protection is that things like the windscreen, chassis and tyres will be covered if you spend that little bit more.
Check with the company to see what they offer and if you can cover yourself fully without breaking the bank. Don't forget that extras like child seats and GPS devices probably won't be covered under the insurance.
What Car To Choose
This all depends on a few factors like size of your group, luggage, length of time you'll be driving and how far you'll be going.
Compact Car
This is what we opted for and it was perfect. Our Proton Saga was classed as an 'economy manual' which was the lowest category in the car rental office. Other compact cars might be something like a Honda City or a Perodua Myvi.
This doesn't mean it was bad – in fact, I'd recommend this option for two to four people (two to three if you've got luggage). We weren't looking for a fancy car with all the latest gadgets so we were happy. However, it did come with A/C which is more than we can say for some of the other cars we've rented over the years, so luckily, basic and low-budget in Malaysia doesn't mean you'll have to suffer!
Mid-Sized Car
For families, this would be a better option. We don't have children but we do know that there is so much more in terms of what you have to bring on a day trip, plus car seats, so you might want a bit of extra space for everyone's things.
You'd be looking at something like a Honda Accord or a Toyota Camry, for reference.
This might also be a good choice if you are driving long distances. Obviously, Langkawi is quite small so you won't be driving hundreds of miles in one go, but for an hour's drive or more, you might prefer to be in a bigger vehicle.
SUV
In an ideal world, I'd always drive an SUV so if you have the budget, then go for it! They look good, they're safer to drive and there's always much more space
In this category, you'll find something like a Nissan X-Trail (we bought one of these in Australia and fell in love with it!) or a Toyota Rush.
If you've got a big group or family, then a 7-seater might be the only choice. The added benefit is that these cars tend to be a little more luxurious but they also don't break the bank!
Commercial Van
For those of you who want to make a statement, or just have plenty of friends (!) then you'll need a minivan. There are plenty of options with vehicles having 6 – 10 seats and an enormous amount of luggage space!
You can get something smaller like a Toyota Avanza or opt for the biggun and go for a Nissan Urvan!
---
What To Bring With You
Don't just turn up at the airport or the car rental office in Langkawi without any documentation! Be prepared otherwise you won't be permitted to take your car, which just wastes time and effort on your part!
Driving Licence
A no-brainer, surely!
You will need to have had your licence in your home country for at least 1 year (and you also need to be 23 years old to hire a car in Malaysia!).
For people with a licence using the Latin alphabet (a,b,c) you don't need to have any special type of licence. However, you will need a valid translation to English if you're original licence is in another language.
For everyone else, you'll need an International Driving Permit, which you can use for up to 90 days in Malaysia. After that, you'll need to convert it to a Malaysian licence, but this is usually reserved for people actually moving to the country.
Credit Card
Most places will require a deposit before you drive the car away, and sometimes they will only accept a credit card for this. They'll usually put a certain amount on hold and then release the money when the car is returned safely.
A lot of places will accept a debit card but it's helpful to have a credit card to hand just in case.
If you don't have a credit card, read the small print before you book anything.
Passport
It's a good idea to have your passport, or at least a copy of it, on you at all times when travelling anyway. I personally would bring the real thing to a car rental in Langkawi just in case.
Most places will ask for it because they need to know a bit about you to make sure you don't burn their car and try to flee the country! Fair enough, I think.
Hotel Address
Again, this is something you should have written down (on paper) anyway, but the car rental company might want to know this for similar reasons to the above. They need to know where to find you if you don't return the car on time or if there is something else they need to discuss with you.
---
Extras You Can Include
Usually, a place offering car rental in Langkawi will just offer the basics – a car! However, there might be some optional extras that you can add for a small fee to maximise your comfort and enjoyment of the car!
Extra Driver
If there's more than one of you who can drive, I'd recommend adding an extra driver to the policy. It means that there is less pressure on one person, you can take turns if you're tired and also it gives someone the opportunity to experience driving abroad!
Full Protection Insurance
This isn't always worth doing, but if it's a couple of extra dollars then it's good for peace of mind! Having an accident and then still having to pay for the tyres could be quite demoralising!
Child/Infant Seat
I know that some people like to travel with their own car seat for their children, but this can be extremely annoying especially if you're travelling to multiple destinations. It is often easier to just add one (or two) to the car rental policy once you're in Langkawi. It's also good to know that you have the option.
GPS Navigator
These aren't as popular as they once were as everyone tends to use Google Maps nowadays (you can download locations before you travel so that you can always have access even when you are offline). However, not everyone's phone works well plus running the map drains battery so you might just prefer to add a device and use that.
Map
Ask the company you've chosen for car rental in Langkawi for a map of the island. They'll usually throw one in for free when you pick up the car. Online maps are good but something it's better to get an overview of a place with a large physical map.
---
Fuel For Your Car Rental In Langkawi
This is something that is often overlooked when pricing up how much it will cost for a car rental in Langkawi. Always have an idea of how much fuel you're going to have to use, and also make sure you give yourself plenty of time to fill up before you need to return the car – you don't want to be fined for being later because you forgot to research nearby fuel stations!
Full To Full
Most places offering car rental in Langkawi will hand you over your car will a full tank of fuel. They'll then expect you to return it full too.
Level To Level
Sometimes, your car won't be full but you'll be required to return it with the same amount in. If this is the case, take a photo of the fuel gauge and make sure you discuss how much they expect bank. Get this written down if you can.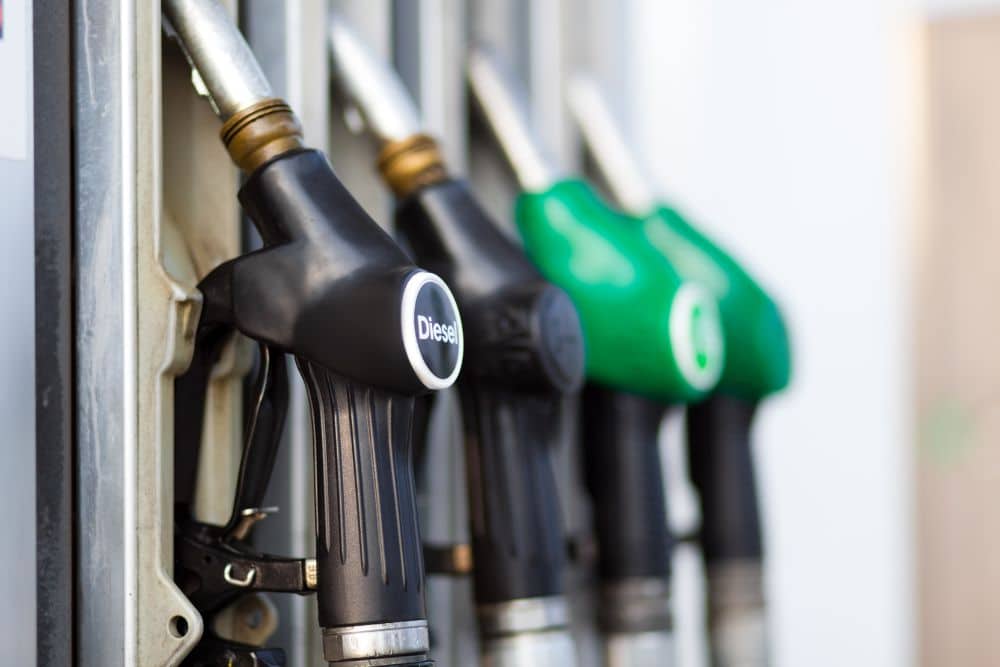 Finding Fuel Stations
There are plenty of fuel stations dotted around Langkawi but these are mostly in towns in the west and south of the island. You won't find many in the east, so if that's where you're planning on spending most of your time, make sure you put enough in to get you back!
Fuel Costs
This obviously will vary from station to station, and average prices can drop/increase overnight too. However, in general, fuel is cheap in Malaysia. As of January 2023, you can expect to pay between around 2 and 3 Malaysian Ringgit per litre. That's about $0.40 – $0.70!
---
Malaysian Driving Rules
For us Brits, there weren't many driving rules that were too different. It made our driving experience a lot more relaxing knowing that we were confident using the roads. I can't imagine any of the Malaysian driving rules are too different to most other countries either, but here are a few to remind yourself of when booking your car rental in Langkawi.
Drive On The Left
This is probably the most important one to know! In Malaysia, you need to drive on the left-hand side of the road. It's a pretty simple rule but one that you might need to remind yourself if you usually drive on the right.
The most difficult issue people face with this rule is that it means that as a driver, you're actually on the right-hand side of the car. Familiarise yourself with this position in the car park before you drive out onto the roads if you've never done it before.
Seatbelts
It is the law to wear seatbelts in the front seat in Malaysia. However, I don't know anyone in their right mind who wouldn't wear a seatbelt in the back too. Let's ignore this rule and imagine it's the law to always wear a seatbelt at all times!
Driving Licence
You must carry your driving license with you at all times, even when you only have a car rental in Langkawi.
Speed Limits
Always keep an eye out for signs, but as a general rule of thumb, speed limits in Malaysia are:
Expressways – 110km/h
Federal roads – 90km/h
State roads (towns/cities) – 60 – 90km/h
---
Why Should I Rent A Car In Langkawi?
If you're on the fence about choosing a car rental in Langkawi, here are the reasons we think it's a fantastic idea!
Freedom
This might not seem like a deal breaker – but it really should be! Renting a vehicle in Langkawi means that you can go anywhere whenever you want. You can stop off if you see some beautiful scenery – which you will here! – or even a little group of monkeys on the side of the road!
It gives you the option to go exploring in places further afield than your hotel. You might want to stay in Kuah, but visit Perdana Quay for the day, and then move onto Pantai Cenang for sunset. It's a great way of seeing so much more of this gorgeous island!
Cheaper Than Taxis
If you do want to visit multiple places in one day, you could of course use a taxi service. We used Grab a few times and whilst it's a great app, there are downsides. We often had to wait a while for a driver to pick up the ride, and it also got quite expensive when we looked at visiting the other side of the island.
Car rental in Langkawi is relatively cheap (and fuel costs hardly anything) so you'd definitely save money if you had lots to see around the whole of the island.
For some of the tours we went on, they offered pickup from our hotel to the starting point. Whilst this was convenient, it also added up so we decided to hire a car to offset those costs.
Lack of Public Transport
This is actually a really good thing to research when considering booking a car rental in Langkawi. We could not find much information on buses travelling around. Buses also don't always go where you want to go, they can be late or just not turn up at all! That's not ideal if you're planning on a tour, or even if you go somewhere fairly remote and struggle to get back home.
---
Fun Things To Do In Langkawi
Once you've got your car rental in Langkawi, there is plenty to see and do across the island – now you can get in your car and just go!
Sky Bridge + Cable Car
The Sky Bridge is the longest free-span and curved bridge in the world. It's 125m in length and the views from it are insane.
You can also get a cable car up to Machincang Mountain, with options of standard, glass-bottomed, 360° or even private gondolas.
Island Hopping
The smaller islands around Langkawi offer some incredible beaches, mangrove forests and natural lakes to explore. I'd highly recommend an island hopping tour – they're unbelievably well-priced and you get to see plenty during the day!
Check availability for the tour we enjoyed here.
Read More: Here Are The Top 6 Island Hopping Tours In Langkawi!
Jet Ski Tour
For the thrill-seekers around, you definitely need to hire one of these jet skis in Langkawi!
If you want the above island hopping experience but with the exciting addition of jet skiing to your destination, then try out this tour.
If you have never jet-skied before then you can try a beginner's lesson to improve your confidence before you try out the full-day island tour. Book that here.
Mangrove Forest Kayaking
Langkawi has some spectacular mangroves and you can choose to visit them by kayak or standard boat. We chose a sunset kayaking tour through the forest, which also involved us planting new baby mangroves! Use your car rental in Langkawi to reach the starting point – our tour was quite far from the main beaches to it was super helpful!
Click here to book your mangrove experience.
Read More: Compare The Best Mangrove Tours Here
Read More: Check Out The Best Kayaking Tours Here
Sunset Cruise
This was our favourite tour of the trip! It's actually the only one we didn't use our car rental in Langkawi for because we wanted to enjoy a few alcoholic beverages – you've got to let your hair down once in a while!
Book your romantic all-inclusive sunset cruise here.
Watersports
There are plenty of opportunities to have some fun with some water sports on the main beaches in Langkawi. It's often cheaper to book online than just finding somewhere on the beach.
Click here to book in advance.
---
Where Should I Stay In Langkawi?
There are great accommodation options in Langkawi, from budget-friendly hostels to fancy beach resorts and popular global hotel chains.
Take a look at our top picks for places to stay – the island has a few main towns that you'll likely want to stay in whilst using your car rental in Langkawi:
Pantai Cenang
Plenty of water sports, restaurants and souvenir shops.
Pantai Tengah
A more chilled-out vibe with family-friendly hotels.
Kuah
Cheapest (duty-free!) shopping.
Pantai Kok
Plenty of attractions (including the famous cable car), restaurants + shops.
Tanjung Rhu
Gorgeous beaches and clear waters.
What To Pack For Langkawi
Packing for a trip to Langkawi doesn't have to be stressful! The weather is going to be similar throughout the year – yes, there will be rainy days but I'd prepare for those whatever time you visit. Don't forget you'll have plenty of space for your luggage if you opt for car rental in Langkawi.
If you are planning on going somewhere that might have a lot of mosquitos and other bitey creatures then DO NOT forget to pack some insect repellent. We have found that the quality varies wildly depending on where you are so just buy it before you travel to guarantee that you have something decent. Have a look at our recommendation here.
If you need some sunglasses then take a look at our recommended pair right here. Kev has just done 7 months without a pair because he couldn't find any he liked on the trip and it was just a lot of complaining about the sun. Don't be a Kev… Find out the price of not being a Kev right here.
If you haven't already got a swimming costume then what the hell are you doing?! Have a look at this gorgeous high waist bikini and get a swimsuit before you leave. I absolutely love the dual colour option but there are loads of colour options available. Take a look here.
Travelling with hundreds of books isn't feasible, so packing a Kindle is a no-brainer! The latest Paperwhite has a 6.8″ display so it's much better than reading on your phone. There's also a warm backlight and an incredible 10 weeks of battery life! This version is even waterproof so you can relax by the pool with peace of mind. I've had my Kindle for 10 years and it's still perfect – this is a purchase that will last you a lifetime! Check out the full specs here.
Don't even think about stepping out in the sun without protection! This factor 50 sun cream from Sunbum is vegan, reef-safe and smells like summer, as well as being dermatologist approved! It's non-greasy, easy to apply and doesn't leave a white cast so you can quickly rub it in and get on with your adventures! Take a look on Amazon here.
If you need protection from the sun then grab a hat before you travel. This Adidas original is affordable, protective and looks the part. Check out the price here.
If you're planning on going to the beach then make sure you have some flip-flops in the bag. There is nothing worse than getting sand in your shoes or socks and there is nothing better than feeling the sand on your feet. We recommend an affordable pair like these Old Navy casual flip-flops. They will get the job done and shouldn't break almost immediately as other brands might. Check them out in more detail here.
We all know that tampons and pads are bad for the environment (not to mention uncomfortable and expensive!) so get yourself familiar with a reliable menstrual cup, like this one from Sirona. These can be reused for up to 15 years – think of the money and plastic waste you'll save! Made from medical-grade silicone, Sirona's cup is designed for comfort, sustainability and protection. Click here to choose the right size for you.
---
---
Frequently Asked Questions About Car Rental In Langkawi
If you haven't already got a swimming costume then what the hell are you doing?! Have a look at this gorgeous high waist bikini and get a swimsuit before you leave. I absolutely love the dual colour option but there are loads of colour options available. Take a look here.