Camping In Malta is an adventurous albeit frustrating endeavour. Let me try to take some of the frustration out of your camping trip to Malta!
Necessary Spacing
After doing a little research, you might be thinking that you really don't have many options available to go camping in Malta. You couldn't be further from the truth!
Go camping in Malta during late winter/early spring to avoid too many crowds and the heat.
The best place to go camping in Malta on an official site is Mosta Scout Campsite & Activity Centre.
The best free camping in Malta is at Tal Ful on Comino Island. Take a boat trip there and enjoy the party vibes during the day.
---
Your Camping In Malta Guide
Camping in Malta is a great way to explore the lesser-known activities and landscape views of this beautiful country. Sometimes a hotel just doesn't cut it when you're after an adventure!
There are a variety of places to camp in Malta – ranging from sites with shower blocks, archery ranges and kitchens, as well as back-to-basics free camping so check out the best type for you!
Read More: The Best Place To Stay In Malta For You
---
Official Camping
All of the following campsites and camping areas are official spots, either privately or government-owned and regulated. I do go on to talk about wild camping in Malta but these are definitely your best options to have the best camping in Malta experience.
---
Tal Ful – Comino
This is the only campsite in the official campsite list that does not cost a penny to use. This makes it one of the most popular sites for camping in Malta. To use these facilities you do not have to notify any public department.
Tal Ful was set up as camping on Comino island was becoming abused and litter and damage were starting to appear all over the island and its protected environment. Yeah, people are dumb.
Read More: Is Malta Expensive?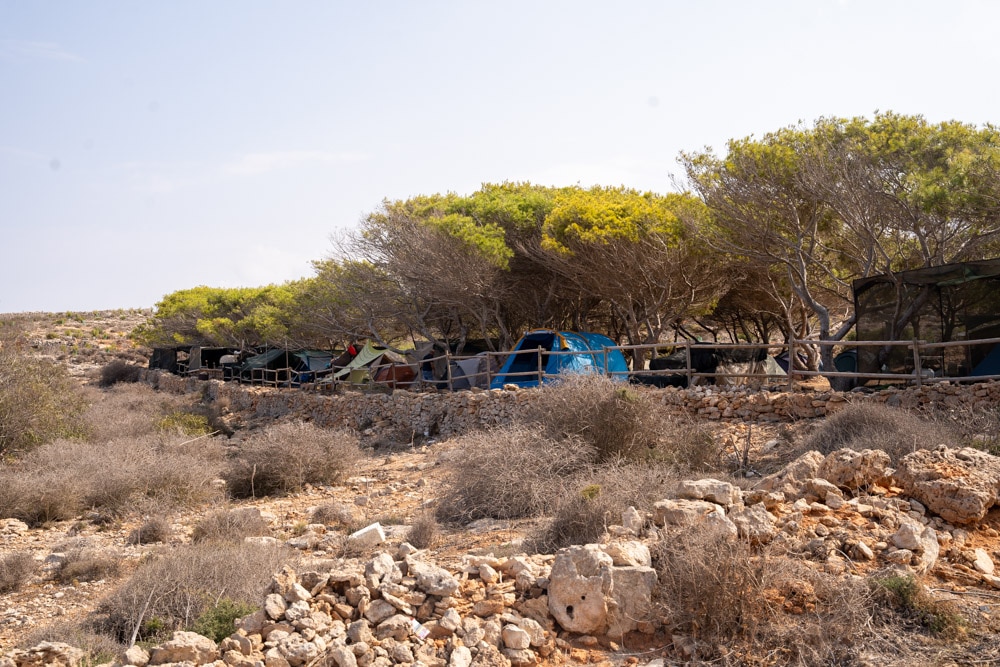 However, this has given birth to a well-equipped (shower and toilet facilities) free campsite on the island which is a very well-needed improvement for the island.
The campsite is situated on the ridge next to the famous Blue Lagoon. The views of the Blue Lagoon are literally to die for and it is pretty easy to access from the drop-off points at the Blue Lagoon.
Read More: Everything You Need To Know About The Blue Lagoon Malta
Some people suggest getting a boat round to St Marija bay for better access to the campsite but I think it's easier just to walk from the Blue Lagoon.
When we were there, the campsite was half full with semi-permanent setups on all of the shady plots under the trees. However, there was plenty of space to set up your equipment without shade.
I strongly recommend getting there nice and early to avoid disappointment – there would be nothing worse than lugging your tent and equipment all the way to the island to not be able to stay there!
Please put your rubbish in the bins provided. Comino is becoming a dumping ground for straws, pineapples and other rubbish and it is only a matter of time before stricter regulations come in. Don't be a part of the problem.
---
Mosta Scout Campsite & Activity Centre
If you're in a family or large group then this is probably the best camping in Malta experience you can have! The campsite boasts all of the amenities you would ever need plus the ability to organise large-scale activities (abseiling, archery and team building).
The sites tend to have incredible views and each plot is a decent size. You can have your own fires, although they cannot be on the ground.
Read More: How To Spend An Epic 5 Days in Malta
Music can be played up until 11 pm, although you will be asked to keep it down if it is particularly loud and repetitive.
I recommend this campsite for families or groups of friends which are not planning on being too rowdy (the campsite is mostly for families).
Definitely check out their website for a detailed list of everything they offer.
1-10 people – €30 (including shower and toilet use)
There are additional charges for a number of facilities so be sure to have a look at up-to-date fees here.
---
Ruby's Camping – Gozo
Ruby's Camping Site is located in the north of Gozo island with gorgeous views of the Mediterranean sea and Marsalforn town.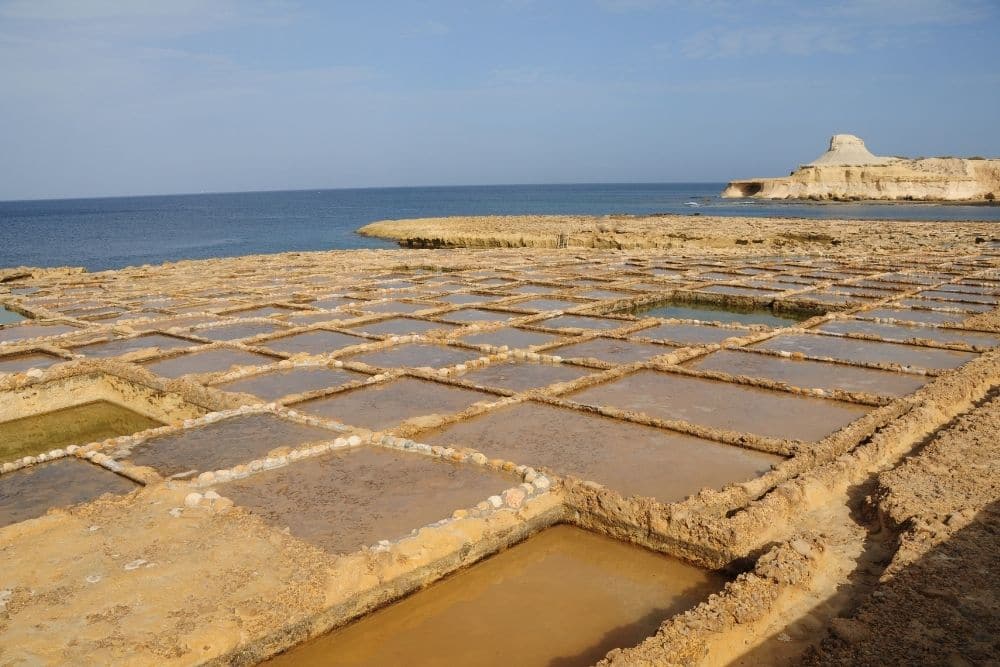 The site comes with showers, toilets and an outside dining area. This is the sort of place you come to for ultimate peace and quiet.
The campsite doesn't have a website but you can ask questions and make reservations on the official Facebook page here.
I highly recommend this campsite for couples and small groups travelling around Gozo. It's a great place to relax for a day or two in the hills.
Read More: Our Definitive 3-Day Malta Itinerary
---
Ghajn Tuffieha Campsite
This is another Scout Association campsite so you can expect good-sized plots that are some of the (if not the most) well-maintained sites for camping in Malta.
Every plot comes with running water and electricity which is much more than the vast majority of sites in this list.
The site is right next to the beautiful Golden Bay beach which is literally just down the road.
€5.35 per plot per day
€4.55 per person per day
€14.45 for two people and one site per day
With these prices, this is much cheaper than Mosta Scout Campsite & Activity Centre for small groups.
Make sure you check the most up-to-date prices here as they can change over time.
The campsite also comes with all of the other facilities you would expect a full-fledged campsite to come with, like kitchens and good shower/toilet blocks. Some of these facilities come with additional costs. Toilets and showers are included in the plot fee.
They make it nice and easy to book online so visit their booking page here to get started.
Read More: How To Spend A Single Weekend In Malta!
---
Mellieha Council Permit Camping
In Mellieha, there are 4 campsites that require a permit from the council to be used. It is relatively easy to do this. First, go to the Malta permits website. Tis website manages permits for all councils and all things in all of Malta.
Register with the site. You may need a Maltese ID card to make it work. When I tried to register, it did not accept my international passport number but I got it to work by just putting in a random number! I understand this is not the way it should work but if it doesn't accept your ID card then what can you do?
After signing up, start a new request and choose the council of Mellieha in the drop-down menu. In the permit type, find the camping permit option. Then select one of the following 4 campsites that you would like to stay at. It costs €5 per person per day and it will calculate the cost after you put in your dates.
You will probably get the permit that day but definitely apply 3 days before you want to camp to be extra sure. I'll go into the 4 campsites in a little more detail below but there are all very similar.
Ahrax tal-Madonna (Campsite 1)
This is the first of the 3 Ahrax campsites to the far north of Mellieha. This one is on a ridge overlooking the sea. There are a lot of complaints about the mess here but it's a decent-sized space so you should be able to get an area that isn't bad.
That being said, the locals do try to organise clean-ups every now and again so you might be lucky.
There are no facilities here so you only have what you take with you, and be prepared to skip the shower for your time here!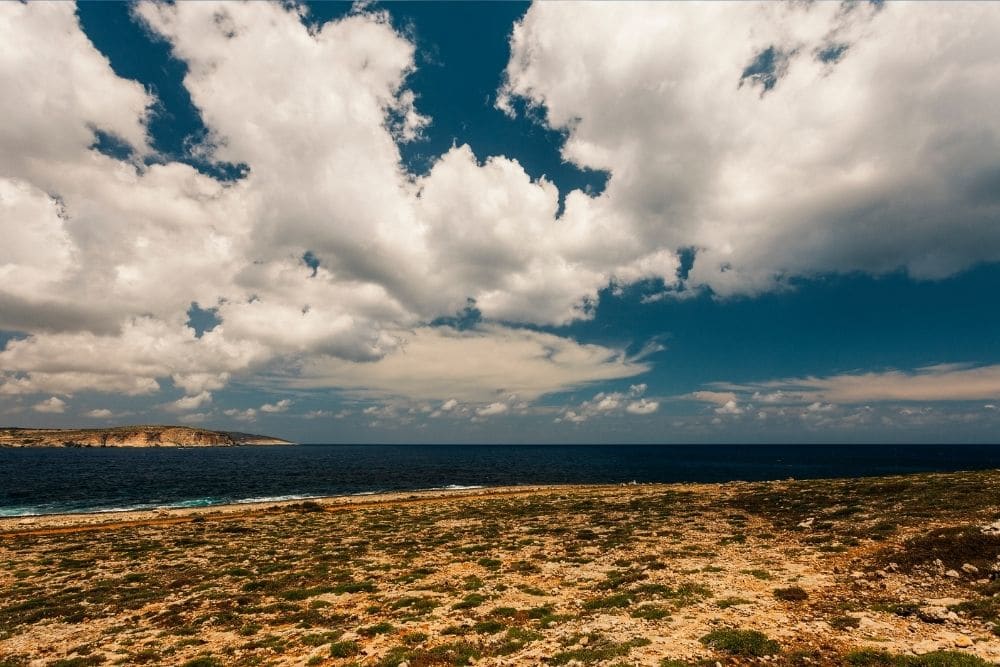 Ahrax tat-Tunnara (Campsite 2)
Just a little further east is the second of the three Ahrax campsites in Mellieha. This is almost a carbon copy of the first but the views are a little better in my opinion.
It is on a ridge so you will have to walk down the hill to get to the water but this shouldn't take you long and it's worth it due to the views you get.
Again, there are no facilities here so be prepared!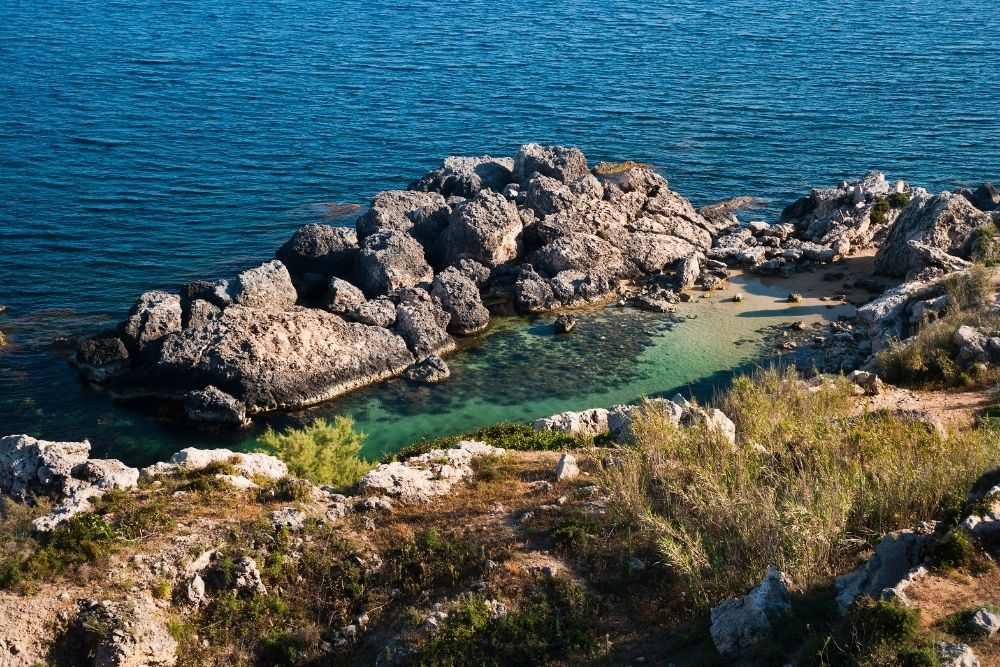 Ahrax tar-Ramel (Campsite 3)
The last of the Ahrax campsites and potentially the best. It is situated right on the tip of the peninsula and this is probably the best place to stargaze and catch incredible sunsets.
All three of these campsites are neglected by the people who go there with many people leaving large quantities of rubbish. Please do not contribute to the problem – take everything you brought away from the campsite.
As expected, there are no facilities here (although there is talk of a mobile toilet being available at certain times).
Qortin it-Twil Campsite (Campsite 4)
This is further north but still very close to the 3 Ahrax campsites listed above. It's a flat site with some good opportunities for stargazing but does not have any facilities and the views are not as good.
If you can get a permit for one of the three Ahrax campsites then I would suggest trying there first, but this is not the worst place in the world if you cannot get a permit for the others.
---
Malta Campsite
And lastly, Malta Campsite. Not the most original of names but at least it's pretty descriptive!
This is a caravan park and does not have the option to camp. Furthermore, it doesn't have very good reviews and the website looks to be permanently down.
If you're looking to go camping in Malta then browse right on by Malta Campsite and keep on looking.
---
Wild Camping
Wild camping in Malta is not officially allowed. And as you can see from above, there is a decent amount of places where you can pitch your tent legally and not expect any problems.
However, this does not stop people from doing it and it is largely accepted by locals throughout the island.
Do I recommend it? No, because there is nothing worse than getting somewhere, pitching and then being asked to move on.
However, there are two ways to attempt this if you really want to go wild camping in Malta.
Ask permission from the landowner – a great way to go wild camping without the issues is to simply ask a landowner to do it on their land. If there is just a small group of you and you are respectful then you may be surprised about how many people will allow it. Just make sure that you leave absolutely no trace so the next people are as lucky as you.
Ask the council – you can contact all the local councils by looking on Wikipedia for which council you are in and then doing a quick Google search for their contact details. Again, you may be surprised by their answer, they want to be as accommodating as possible for visitors.
If you do manage to get permission (because you really shouldn't go camping in Malta without the necessary consent) then here are a few tips to follow:
Be discreet – Not everyone will love having campers nearby, even if you have the landowner's permission. If you're going to do it then stay away from the paths and don't play loud music, especially after around 11 pm.
Don't start a fire – this should be a no-brainer but starting a fire in the middle of someone else's land, potentially destroying habitats and making you stand out like a beacon in the dark, is not a good idea.
There should be absolutely no evidence of you being there whatsoever.
Be prepared for people to have a problem with it. There are a lot of small local issues in Malta and people are very weary of the constant abuse of the rules. If people approach then you're going to have to be respectful and explain that you have permission. If possible, get it in writing.
---
The Best Time To Go Camping In Malta
You can camp all year round in Malta so don't worry if you've already planned to go at a particular time and you've then decided to add a camping adventure in the last minute!
However, if you are planning to go camping in Malta and you have all the time in the world then I recommend going camping in Malta in the late winter/early spring.
Read More: Our Epic Guide To A Week In Malta
The rains will have made Malta bloom in lush green which will cover the campsites in a blanket of beautiful flowers and grass.
In the summer, these campsites are barren and dusty, and let's not forget to mention the incredible heat at this time of year.
Not only that, these are the low seasons so everywhere will be peaceful and you may even be able to get entire sites or beaches to yourself. How incredibly peaceful would that be?
The summer is still an incredible time to come to Malta so don't be put off by my recommendation that you visit in the winter. You'll be able to completely enjoy the stunning beaches and be almost guaranteed to not be rained on, which is always a plus.
On another note, if you're not only going to be camping then I recommend visiting Malta in October and here's why.
---
Camping Stores In Malta
Sometimes it is difficult to bring all your gear with you on the plane. So, if you don't have everything you need to have a successful camping in Malta experience then take a look at the following 4 shops that should solve your problem.
---
What To Pack For Camping In Malta
Packing for a holiday is tough enough, let alone planning for camping! Malta is similar to plenty of other places in Europe, so check out our essential packing list for the whole trip, then our added extras you'll need for camping!
---
Best Tours In Malta
I know you're already going to Malta so check out these few tours in Malta that will compliment your camping in Malta experience to the full.
Blue Lagoon and Comino Catamaran
Visiting Comino and the Blue Lagoon is the number 1 thing you must do in Malta. Maybe you are already planning to go to Comino and camp, you don't need a tour if that's the plan.
However, if you're not, the best way to do it is by boat. And you cannot go wrong with this catamaran tour. Just look at the reviews…
---
Valletta Food Tour
You have to see Valletta and you have to eat so… It's a no brainer! Plus you'll get to try food that you may not have originally thought of due to the language barrier or lack of local knowledge.
If you're a couple then I highly recommend doing tours like this. Me and Jade live for this stuff.
---
Self Drive Electric Car Tour
This is so damn popular in Malta it's a joke. People love it. You basically get a pre-programmed electric car that talks to you throughout the journey like a tour guide.
It takes about 2.5 hours and it's a lot of fun and probably something you've never done before. It's also relatively affordable which makes it a great option.
---
Gozo Jeep Tour
Finally, the last of the must-see destinations, Gozo island. When I say it's beautiful, I really mean it. I proposed to Jade here amongst one of the most stunning and dramatic landscapes I've ever seen.
It's small so you can see all of the best sights in a single day, especially if you go on a jeep tour like this one. The expertise of the local guide really means no time is wasted.
---
---
Frequently Asked Questions
How Much Does It Cost To Go Camping In Malta?
It varies from €5 per day to €30 per day for specialist campgrounds, although this can sometimes include up to 10 people so check out the whole article!
When Should I Go Camping In Malta?
I recommend camping in the winter and spring because the temperature is better and the countryside looks incredible. You can also enjoy it in the summer but it is a little hot.
How Long Should I Go Camping In Malta?
I recommend taking a tour around the campsites in Malta and spending a couple of days at each location. This way you can enjoy the walks throughout the island too.
Can I Get In Trouble Wild Camping In Malta?
Yes, you can so make sure you ask permission from the landowner or get a permit from the local council.
Are There Facitilties At Campsites In Malta?
Official campsites have decent facilities but some paid-for council campgrounds do not so always check before heading over.
---
There you go guys, a comprehensive guide to camping in Malta. I hope it's helped and if it has, please let me know in the comments section below! Also, if you have any more information about camping in Malta, make sure to let me know so I can improve this guide.
---