Looking for party central or a peaceful day by the waves? Let me tell you how to get both out of the gorgeous Blue Lagoon Malta and Comino Island!
---
Spending A Day At The Blue Lagoon Malta
The Blue Lagoon really is as stunning as you have heard or can imagine. Its crystal blue waters almost glow with the sunlight and the glossy smooth water hardly ripples with a wave. It is a must-visit for anyone coming to Malta.
You may not be surprised to find out that these gorgeous attributes have made it an extremely popular destination for tourists, which in turn has made it popular for the tourism industry.
Watch the video above to see the stunning bay without crowds (spoiler: we had an early start that day!)
Read More: How To Spend An Awesome 5 Days In Malta!
---
Different Ways To Enjoy The Blue Lagoon, Malta
The Blue Lagoon Malta is a fantastic place to visit if you want to party by one of Malta's most famous and most beautiful bays but not always so good if you want some peace and quiet.
But, fear not, my zen-loving travellers! I can show you how to relax with the quiet lapping of the waves OR have an incredible time partying on Comino Island!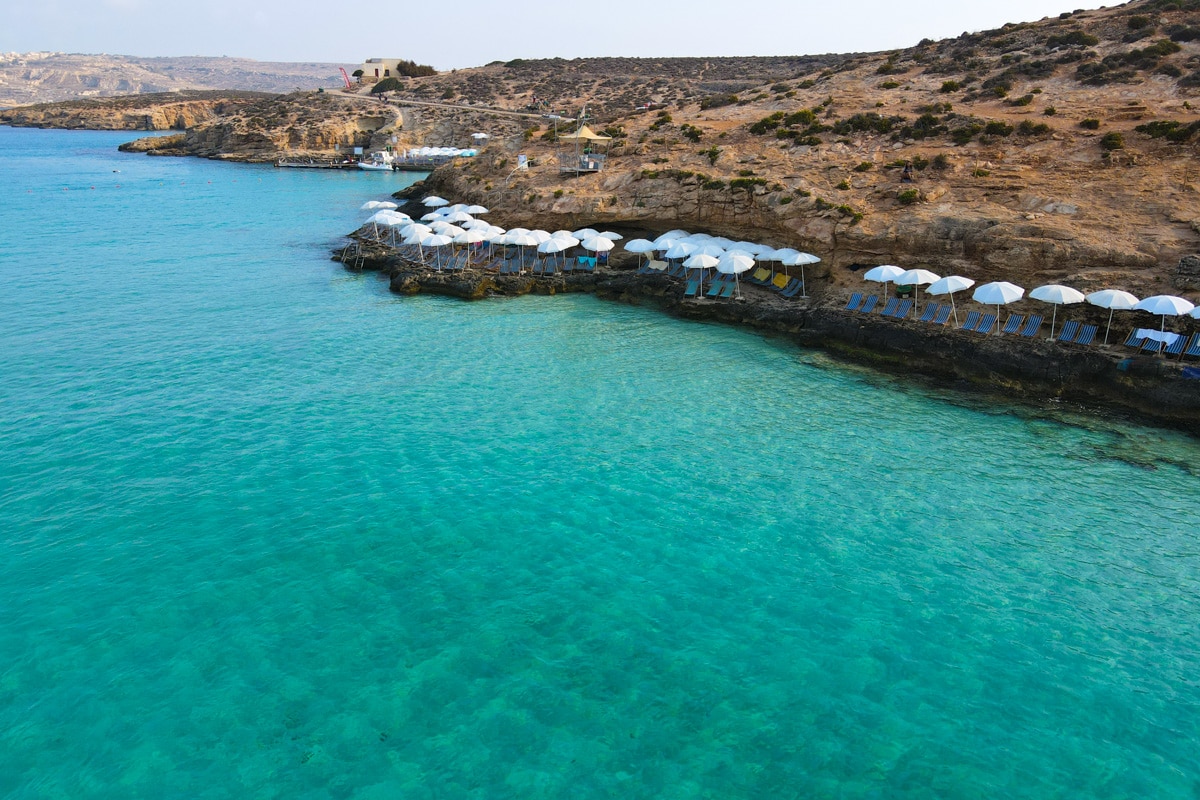 I've organised this post into sections so that you can choose one that best suits you and find out how to best enjoy the Blue Lagoon Malta depending on what you're looking for.
Click the links to jump down to where I explain exactly how to get the most out of your day, or if you want to know everything you need to know about the Blue Lagoon Malta, then just keep scrolling and I will explain everything. Enjoy!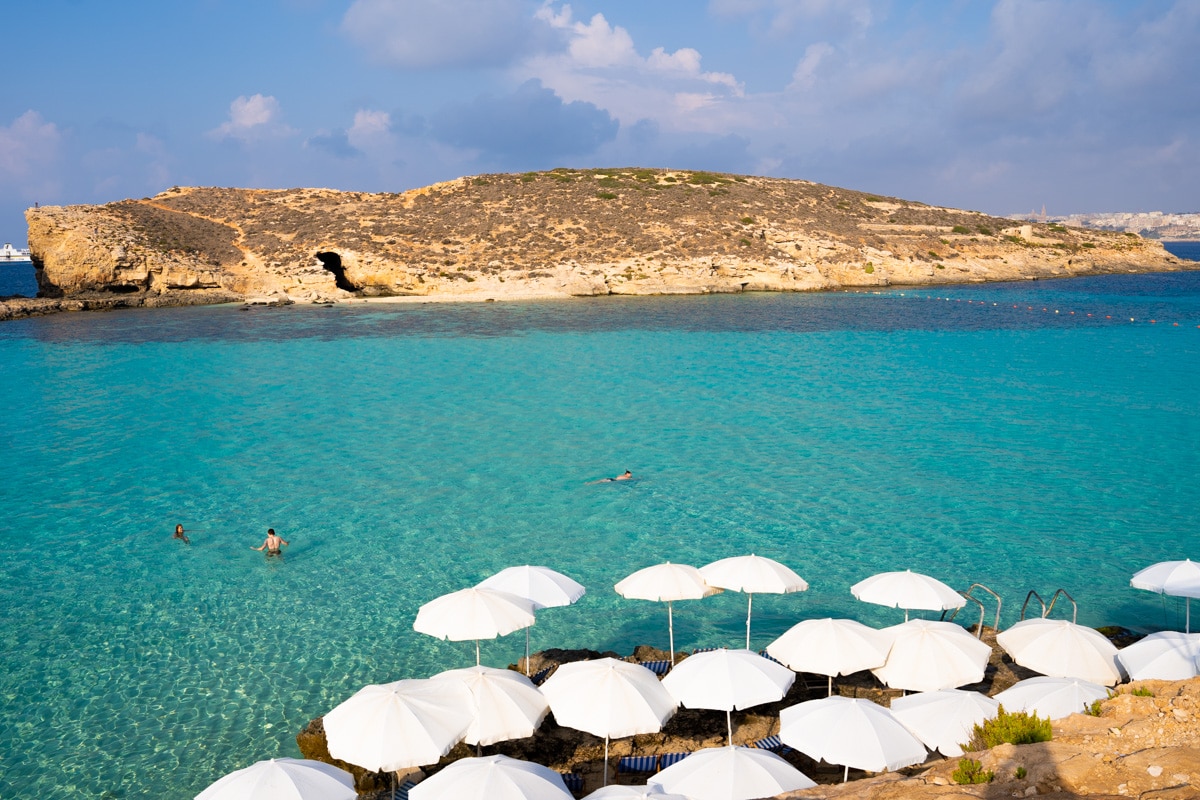 Read More: The Packed 3 Day Itinerary For Malta
Party Cravers
The vast amount of people coming to the Blue Lagoon Malta are looking for a party and this is the place to have it! Pretty affordable drinks and a huge area to swim create a quite brilliant combination.
How To Get To The Blue Lagoon, Malta + When
The Blue Lagoon Malta gets very busy very quickly in the high season so do not book a boat a minute later than you can. I highly recommend booking tickets for one of the Blue Lagoon boat tours because they come with their own sun loungers and the ones at the Blue Lagoon are eye-wateringly expensive for the whole day! 1 umbrella and 2 deckchairs can cost as much as €20 on the shore!
You can book a boat that visits multiple locations other than the Blue Lagoon, and has facilities, slides, sun loungers, and TRANSPORT! It is literally a no-brainer. Do yourself a favour and take a look at availability here.
I haven't convinced you? Do you think you'll get a better deal by going with local transport and finding a space on the shore without a sunbed? It's not a terrible option for sure. If you get an early 8 am ferry from Cirkewwa ferry terminal then the Blue Lagoon Malta will basically be deserted when you rock up.
The problem is, the companies that provide sun loungers cover the whole area like sardines. The walkways and paths are literally as tight as they possibly can be, so you will struggle to find a place to lay your towel without relegating yourself to a boulder away from the action (and to be honest they put them on the boulders as well…).
Seriously. Book a Blue Lagoon cruise and concentrate on the things that matter – swimming, drinking and catching some rays.
See some more of the best options for booking a boat below.
If you're getting a tour boat (which you should be) then you'll get there around 10 am – 12 pm and spend roughly 4-6 hours at the Blue Lagoon. The party really starts going at 12 so I recommend choosing a tour around this time to maximise your party time.
If you are looking for a bit of time to psych yourself up then grab an earlier boat arriving around 10 am.
If you have decided to not buy Blue Lagoon Malta tickets for a tour boat then get the earliest possible boat from Cirkewwa Terminal. We got one at 8.30 am which was the earliest time we could get one. Check out the Comino ferry website to book.
Read More: The BEST Gozo Tours Right Now
---
Peace Seeker
So you want to experience the Blue Lagoon in Malta without the crowds, rubbish, music and noise? We hear you. It really is a tranquil place.
How & When To Get There
This one is easy. There is only one way to experience the Blue Lagoon without the crowds. You have to get there as early as possible. The earliest boat we could get was 8.30 am but this was after peak season.
All of the tour boats are getting there around midday so the beach is basically deserted this early in the morning, especially if you go during September/October.
Read More: Is Malta Expensive? Budget Guide + Cost Breakdown
At this time, you can swim in the water and look up at the clear blue sky almost completely alone. There will be the odd other early bird and maybe some staff putting up deckchairs but by 9 am it's already sweltering so spend the first few hours of your day relaxing and taking it all in.
Of course, this tranquillity is not going to last all day! When the boats start rolling in, it is going to transform quite fast into the party fest it is so known for.
However, this is when you pull the pro move!
Santa Maria Bay (Santa Marija Bay) is an easy 20-minute walk away and is always much much quieter than the Blue Lagoon. There aren't any loungers or facilities here, but trust me when I say it is worth giving those up! Not only do you get gorgeous views on the hike to the bay, but the water is beautiful, the sand is soft and best of all, it's peaceful!
I would head over at around 11.30 am and get yourself a spot on the beach for the rest of the day. This is the best way to maximise the peace and quiet that you so crave.
---
I Want It All!
You want the quiet. You want the soul of the party. You want the cocktails and you want the peace. Well, luckily there is always a way!
How & When To Get There
There are two ways to get both experiences from the Blue Lagoon in Malta.
#1 – Get to the Blue Lagoon nice and early on a morning ferry to Comino. Experience the peace for the first few hours of the day and then join in the party when it starts to get going at around 12 pm -1 pm. This is a pretty decent option if you want a full day at the Blue Lagoon.
#2 – Ok, so you're going to have to be a little bit adventurous for this one. You may know that on the other side of the Blue Lagoon is a small beach called Cominotto Beach. Well, people swim over to it and snorkel around it but throughout the day it stays much quieter than the Blue Lagoon on the main side.
Get all of your possessions in a waterproof bag, something like this, and swim over to Cominotto beach and set up camp there.
You're close enough to benefit from the music and all of the facilities as it is a short swim back to the main side and you also benefit from the relative quiet of Cominotto Beach.
This is the ultimate Blue Lagoon experience in my opinion.
I wouldn't recommend it if you don't have a waterproof bag. It's a pretty good way to ruin your day by getting all of your stuff wet before you even begin.
For this, I would get an early Comino ferry. Check out their times here.
---
What To Do At The Blue Lagoon Malta
Apart from drinking, chilling, enjoying the sun and swimming? Jeez, you're a hard-to-please bunch.
Snorkelling
All around the Blue Lagoon Malta are fantastic rocky areas and even a reef by Cominnotto (one of the Maltese islands opposite the Blue Lagoon). These areas are teeming with life so if you have some snorkelling gear or your tour comes with it included/for hire, then take a look at the underwater life in more detail!
If you're looking for a snorkel kit then check out this Greatever mask and snorkel. We have been on so many snorkel and boat tours where the snorkel hire was dreadful and it ruins the experience. If you have room then definitely take your own set. Take a look at our recommended kit here.
Water Sports
There is a little kiosk where you can hire a little boat, book parasailing, jet skis and other water sports available to do around the Blue Lagoon Malta. These won't actually happen in the Blue Lagoon Themselves as it is not large enough but still something to pass the time!
Drinking
Your boat may have a bar but I recommend getting off and discovering some of the mobile bars at the Blue Lagoon. This is where you can find the extremely popular pineapple cocktails. This is where they have spooned out the insides of a pineapple and filled it with a cocktail. Prices are around €10 for the first but go right down to €5 for refills. I highly recommend this.
Put your damn pineapples in the bin after use!
The area surrounding the Blue Lagoon is a sea of discarded pineapples (which isn't that bad because of decomposition) but they all have plastic straws in them. This is a really quick way to get places like this closed off.
---
Important Things To Know About The Blue Lagoon Malta
Apart from being a beautiful place on a remote island, there are a few things to note about the Blue Lagoon in Malta. It's a dreamy place to visit but make sure you're prepared because you won't be able to return easily if you've forgotten something or if it's not to your liking!
Accessibility
Comino is not in the slightest bit accessible. Some of the paths are straight-up hazardous if the slightest bit damp. You can still enjoy a Blue Lagoon Malta boat trip but I highly suggest doing that from a tour boat that is accessibility-friendly, like the one below:
Shade
There is no shade on Comino, apart from under the umbrellas. If you are coming off the boat then make sure you have plenty of water and sun cream. We struggled to find affordable high-SPF suncream in Malta, so I'd recommend buying it before you go!
Don't even think about stepping out in the sun without protection! This factor 50 sun cream from Sunbum is vegan, reef-safe and smells like summer, as well as being dermatologist approved! It's non-greasy, easy to apply and doesn't leave a white cast so you can quickly rub it in and get on with your adventures! Take a look on Amazon here.
Bring Cash
We found that we could pay with a card at a few of the stalls but some of them were cash only and there are no ATMs. You should be able to pay for your drinks with your card but for things like the lockers, bring cash.
No sand
It's all sand underwater which is why the lagoon is such a beautiful colour. However, the shore is a rocky area. This means that getting a sun bed is pretty much obligatory to enjoy your day – even more reason to get a tour boat!
Facilities
There are shower and toilet facilities on Comino Island, next to the Blue Lagoon Malta. They are just up the hill on the ridge.
If you're stuck on what kind of towel to take with you then take a look at this microfibre poncho. We absolutely love ours and it is insanely helpful when you need to change on the beach. They dry fast and pack down super small so you'll be able to fit one in your day pack easily enough. Check out the price here.
Lockers
There is a locker van on the ridge that charges €5 – €8 for a locker for the day. You can even leave a large suitcase with them for €5. I don't know why you would have a large suitcase on Comino but it's nice to know there is an option!
Powerbanks
There is a power bank van so don't worry if your phone is running low. You can pay to charge it up on the ridge above the Blue Lagoon.
However, it's always handy to have your own just in case they're already taken or you don't want tospend any more money.
If you're worried about your devices losing power throughout the day then we recommend the Anker 10,000mAh power bank. Anker actually makes quite a few power banks but this one comes with a USB-C and USB-A port which means that you'll be able to charge any of your devices regardless of connection. The 10,000mAh capacity is enough to completely charge an iPhone 12 twice so you should be good for a number of days with this beast. Have a look at the price here.
---
Best Time To Visit The Blue Lagoon Malta
We visited the Blue Lagoon Malta at the very end of September, and it was PERFECT. Obviously, there are plenty of factors affecting this – weather, crowds, prices, and tour availability – so here's a breakdown of the year and the pros and cons of going at different times! I've also mentioned the best time of day to go as this depends on what you're looking for.
March – May
March is not the warmest month but it's certainly going to be quiet at the Blue Lagoon. Come May and you will start to be able to sunbathe comfortably and the crowds will definitely not be in full swing.
June – August
As you can imagine, these are the absolute busiest months when the temperature and crowds really soar. If you want to come during these months, expect the Blue Lagoon to be very busy and very loud. You can still have a great time of course, but this is the time to definitely book a tour to maximise your experience.
September – October
In my opinion, this is the best time to visit the Blue Lagoon in Malta. The weather is still gorgeous and the summer crowds have left the island much quieter. You can easily get the whole place to yourself early in the morning and even at peak times, you'll not be overwhelmed by tourists. If you can, this is the time to go.
Read More: Why You Should Definitely Visit Malta in October
9 am – Midday – This is the quietest time at the Blue Lagoon as the tour/party/ferry boats all start arriving around midday. This is the best time to get some peace and quiet before it all starts to kick off in a big way.
Midday – 4pm – This is the busiest time to come and if you're looking for a buzzing drinking day with loud music and beautiful surroundings then this is the time to come. There aren't many places in all of Malta that can compete with the party that is The Blue Lagoon.
4 pm – Onwards – It slowly gets quieter and quieter as the day progresses as the boats and tourists all start to leave at scheduled times. If you want to enjoy the evening at the Blue Lagoon, I recommend camping at the Tal Ful camping site just above the Blue Lagoon. It's the only place to camp on the island and is currently free of charge.
If you're thinking about camping in Malta anywhere, be sure to check out our complete guide to camping in Malta here.
---
What Else To Bring To The Blue Lagoon Malta
Like I mentioned before, Comino Island is remote and you can't just jump back on a boat to the mainland if you've forgotten something. You'll be able to buy food and drinks but that's it, so make sure you come fully prepared for your day trip to the lagoon and the island! I mentioned a few items to bring above, but here is the rest of my Blue Lagoon Malta packing list.
Food and Drink
Although there are food and beverage vans right at the lagoon, you can always save some money by bringing your own to drink on the beach. Just remember to clean up after yourself!
If you are thinking about walking around the island then bring much more water than you think you'll need. The sun is literally relentless and you can become dehydrated quite quickly.
I'd recommend using one of these water reservoirs in your backpack – they keep the water relatively cool and they're easier to carry around than a big bottle. You'll need a bag that is designed to hold one though – this is similar to the one we use (same brand but slightly different design).
Good Footwear
You can manage in flip flops but you won't be exploring much beyond the Blue Lagoon. If you want to even remotely explore the island then you'll need something with laces at least. Beyond the Lagoon the paths are rocky and slippy in places.
Comfortable water shoes are one of the best things to bring on your trip! They'll protect your feet from rocks, hot sand and critters, plus having a pair means that you won't ruin your everyday shoes. These quick-dry beach shoes have one of the best ratings I've ever seen! They come in 37 different colours, multiple size options (handy for bigger-footed people like us!) and are super lightweight so don't weigh down your luggage.
Swimwear
If you haven't already got a swimming costume then what the hell are you doing?! Have a look at this gorgeous high waist bikini and get a swimsuit before you leave. I absolutely love the dual colour option but there are loads of colour options available. Take a look here.
Snorkelling Equipment
If you're looking for a snorkel kit then check out this Greatever mask and snorkel. We have been on so many snorkel and boat tours where the snorkel hire was dreadful and it ruins the experience. If you have room then definitely take your own set. Take a look at our recommended kit here.
---
Things To Avoid At The Blue Lagoon Malta
Comino Island is idyllic but there are some things that you have to be aware of when you visit. You don't want to ruin your trip because you did something stupid!
Leaving the designated swimming spots
I strongly recommend staying within the designated swimming spots. This is for a variety of reasons. Firstly there can be quite strong currents beyond the Blue Lagoon.
Secondly, if you do get into trouble, it can be difficult to get back on land due to the high cliffs.
Thirdly, and most importantly, there are a lot of boat trips in the peak months, all of which are situated just outside the swimming zones. You don't want to get too close to a boat that doesn't know you're there!
Getting a Sun Bed On Land
Obviously, if you come over on an early ferry and you want to spend the whole day at the Blue Lagoon then this is your only option, so definitely do it.
However, I think there are insanely overpriced and if you get a tour boat then you will get a sunbed on the boat as well as transport. If you can do that then it's a much better option.
---
What Else Is There To Do On Comino?
The Blue Lagoon is not the only place to see and thing to do on Comino. The island has a surprising amount of activities for something so small.
Read More: How To Spend A Week In Malta
Santa Maria Bay
This small sandy beach about 20 minutes from the Blue Lagoon is absolutely stunning and always quieter. It has got some beautiful swimming and incredible views and gorgeous soft white sand.
We nestled ourselves between some trees and really absorbed the tranquillity of the place. I highly recommend you check it out before you leave Comino.
Saint Mary's Tower
If you are already in Malta or have ever been before you will know that Malta is covered in watchtowers overlooking commanding positions, sticking out along the horizon. Well, Comino is no different and Saint Mary's tower is a 20-minute walk from the Blue Lagoon and is worth checking out if you are a fan of the rich history of Malta.
Cominotto Beach/Island
This is the small beach opposite the Blue Lagoon. You can swim across to it from the Blue Lagoon and enjoy the relative peace in comparison to the mainland. If you are spending all day at the Blue Lagoon then stick on some water shoes and swim across to have a little exploration of this tiny island.
Hiking
We decided that we were going to walk around the entire island to see exactly what you can see in one day. It was a gorgeous (but extremely hot) hike that I seriously recommend taking the time to do.
The highlight of this walk has to be that very very few people do it so you can be in the middle of the island and not be able to see another human as far as the eye can see. It's quite a strange feeling for somewhere so small.
Saint Mary's Battery
Whilst walking around Comino, you will eventually get to Saint Mary's Battery on the southeastern side of the island. This is an interesting little fort sticking out over the cliffs. It has been renovated a little and has some cannons to show you what the fort would have looked like all those years ago.
Santa Maria Caves
This is a great diving spot where you can expect hundreds of fish to swarm all around you due to this area being a popular spot for feeding the fish. I recommend having a look at Atlantis Diving for more information.
The Crystal Lagoon
This lagoon is just south of the Blue Lagoon and rivals it for crystal blue waters. Hence the name. I prefer Cominotto beach to escape the crowds but the Crystal Lagoon is quite a good place to visit too. It is very close but very few people go down there compared to the main attraction (the Blue Lagoon). It's not the most accessible so I don't recommend taking a look unless you have decent shoes or water shoes.
---
Frequently Asked Questions