Yala might be the best safari you can do in all of Sri Lanka. We outline which Yala safaris we recommend and how to make the most of your day!
12-Hour Yala Safari With Shehan Safari
We have been with Shehan Safari TWICE and both times were absolutely epic. You have to book with a registered tour provider to see Yala and Shehan Safari is a great choice. I highly recommend the 12-hour safari for reasons I go into in the article. Lastly, this is a private tour which is also recommended as you get much more say over the overall tour experience.
---
Yala Safaris
We loved going on the first of our Yala safaris so much that we went back for more. And considering the first time was literally incredible, I was surprised that the second trip lived up to our expectations!
Read More: Looking For Elephants? Read About The Best Elephant Safaris In Sri Lanka!
Even though we strongly recommend the 12-hour Yala safaris, we are also aware that this is not feasible for everyone. So, below we go into detail on all of the Yala safari options available to you in detail and provide you with the very best tour options available.
---
12 Hour Full Day Yala Safaris
Let's get straight into the big one: the 12-hour full-day Yala safari option. Before I delve into a typical itinerary, let me explain why I believe this is the best way to go.
Let's be completely honest, most people going on Yala safaris are hoping for one sighting above all; a leopard. I don't blame you and that's what we were most looking forward to as well.
However, it's really not a guarantee that you're going to get to see one. To be honest, the chances of a decent sighting are actually pretty low. When I say 'decent' I mean seeing the entire animal at a reasonable distance for a decent amount of time.
There is a pretty good chance of catching a glimpse or seeing one at a significant distance.
Anyway, the best time to see them is at dawn and dusk. And when I say the best time, you're massively more likely to see them during this time than midday. They disappear into the bush to sleep in the trees and shade throughout most of the day because of the heat.
This is the main reason why morning and afternoon safaris exist and midday safaris do not; most of the animals are resting during this time.
If you go on a half-day tour then your driver is going to have a limited amount of time to make sure you see as much as possible. They rush around in a large group of jeeps trying to jostle for position and tick as many boxes as they can, no matter how good the sighting may be.
If you go for a full day safari then your driver can make much more professional decisions; like when to stop and wait.
Read More: I Know You Love Animals! So Have A Read Of Our Ultimate Guide To Whale Watching In Mirissa!
On our first Yala safari, our driver sat and waited for nearly 40 minutes in one place. All of the half-day jeeps zooming past and taking no notice. We were there for so long that I started to think it was a waste of time.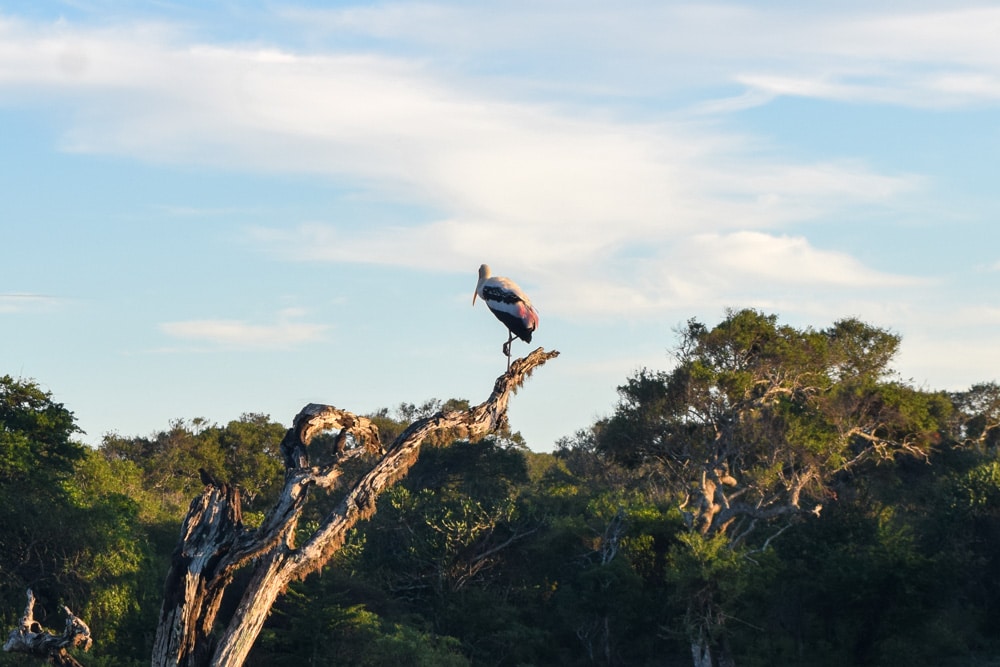 Eventually, he points to the left of the vehicle and a leopard slowly emerged from the bush and walks adjacent to the vehicle, crosses the road right in front of us and walks into the fields. Absolute perfection.
This was only possible because the driver did not have a strict time schedule and could make decisions based on that fact.
This was exactly the same on our second tour. We, unfortunately, didn't have as good a sighting with a leopard but we had an incredible sighting of the much rarer sloth bear which was equally as incredible.
That was a bit of an essay to explain one thing… The 12-hour full day Yala safaris are by far the best way to go if you are able.
Read More: Not Convinced On Yala? Check Out All Of The Safaris In Sri Lanka Here.
Typical Itinerary
Hotel Pickup – Depending on pick up location. They will be arriving at Yala before 6 am so expect a pickup time of around 5.00 am if you are staying in Tissamaharama (which is recommended).
Drive To The Park Entrance – The driver will go and arrange entry to the park whilst all of the jeeps for the day are parked outside the entrance until the 6 am opening time. There are toilets here so if you need to go, this is your last chance until lunch.
Enter The Park – At 6:00 am the park opens and everyone enters the park!
First Game Drive – From 6:00 am until 12:00 your driver will point out all of the animals you can see throughout the park. They will also be using a phone/radio to communicate with other drivers about sightings.
12:00 – 2:00 pm – This is lunchtime. Yes, it is 2 hours long which is quite a long time. However, during this time the park is completely closed and no one is allowed to drive around. This will be the same with all operators. Lunch is actually served next to the beach within the grounds of the park so it's a great location to enjoy this time.
2:00 – 6:00 pm – Second game drive. This will be your second opportunity to see the animals of Yala National Park.
6:00 pm – Drop off at your hotel, depending on how far the journey is.
Who To Use
We have used Shehan Safari for both of our 12 hour Yala Safaris and could not be happier with the experience provided. Check availability and prices here.
To see all of the 12 hour Yala safaris available to you then click here to see a full list.
---
Half-Day Morning Yala Safaris
There may be some very good reasons why you are unable or do not fancy jumping on a complete 12 hour Yala safari. These include; young children, budget and available time. If this is the case the 2nd best option available for Yala safaris is the morning half-day tours.
You will actually have a couple of options in this regard, the 5 hours and 7 hour morning tours.
The biggest difference between the two will be the animals that your tour guide will be trying to get you to see. the 5-hour tour will be an all-out search for a leopard. You will not stop to watch any other animals. You will see other animals as you drive around but the vehicle won't stop.
Read More: The Perfect 10 Day Sri Lankan Itinerary, The 7 Day Itinerary OR The 5 Day Sri Lanka Itinerary.
The 7-hour tour will start in the same way but towards the end of the tour you will have a couple of hours to see other animals and the end will not be quite so speedy.
You will be amongst other jeeps in a sort of convoy or group for the entire duration of these tours as you all try your best to get to the confirmed sightings.
As I said before, we all want to see a leopard, so this is not necessarily a bad thing. I prefer the relaxed nature of the full-day tour but if you don't particularly care about the peacocks and water buffalo then this might be the option for you!
Typical Itinerary
Hotel Pickup – Depending on pick up location. They will be arriving at Yala before 6 am so expect a pickup time of around 5.00 am if you are staying in Tissamaharama (which is recommended).
Drive To The Park Entrance – The driver will go and arrange entry to the park whilst all of the jeeps for the day are parked outside the entrance until the 6 am opening time.
Enter The Park – At 6:00 am the park opens and everyone enters the park!
Game Drive – From 6:00 am until the end of your tour (either 5 hours or 7) your driver will do everything possible to make sure you see a leopard. They will be using a phone/radio to communicate with other drivers about sightings.
Who To Use
Throughout this article, you will see many recommendations for Shehan safari. They are brilliant and if they run the tour we will be recommending them. Click here to see availability and pricing. Remember to put your date in first and it will then give you the option to select the type of safari you would like.
To see all of the Yala safaris available to you then click here to see a full list.
---
Half-Day Evening Yala Safaris
This is, in my opinion, the 3rd best option for Yala safaris. It costs the same as the 5 hour morning safari and you get a slightly lower chance of seeing the leopards than the morning Yala safaris.
It's still a pretty good chance but there are really only 2 reasons why you would choose this option.
Arrival time near Yala National park and available time.
You don't fancy waking up at 4.30 am.
I completely understand if you are short on time and the afternoon is the only available time you have. Leopards are most active during dawn and dusk so you still have a decent chance of a sighting.
If you are sitting there thinking that you want a half-day tour and you don't really fancy waking up, do yourself a favour and go for the morning tour. The animals are just a little more active then and your chances are a tiny bit better.
Apart from that, you only have 1 option for the afternoon Yala safaris and that is a 5-hour tour, unlike the 7-hour option you also have for the morning tours.
This tour is basically the exact same tour as the 5 hour morning tour where your driver will utterly prioritise the leopards and other rare sightings. You will not be slowing down for peacocks and water buffalo.
Read More: How To Backpack Sri Lanka On A Budget!
This is also not just 'in my experience'. Tour operators actually state in their tour entries that it will be a full-speed safari, only concentrating on seeing the leopards. However, if you are looking for a slower-paced Yala safari but only want the 5-hour option, you can speak to your operator and they will alter the tour for your needs.
Read More: The Best Wildlife Tours In Sri Lanka
Typical Itinerary
Hotel Pickup – 1:00 pm. This depends on where you are staying but the plan is to get to the entrance at 1:45 pm.
Enter The Park – At 2:00 pm you will enter the park.
Game Driver – From 2:00 pm to 6:00 pm you will drive around the park looking specifically for leopards.
Hotel Drop Off – Expect to be back at your hotel at around 6:30 pm depending on where you are staying.
Who To Use
Shehan Safari offers a 5-hour afternoon safari that will tick every box. Check out availability and prices here.
To see all of the Yala safaris available to you then click here to see a full list.
---
Overnight Yala Safaris (Yes These Are Immense!)
When I first went on a Yala safari, I teared up when the leopard walked past our car. It was so majestic and rare that the moment got to me. I knew, as it was happening, that it was a once-in-a-lifetime experience.
Since then, Sri Lanka has made huge strides in the overnight options in Yala National Park. And I'm left thinking if my experience with the leopard was once in a lifetime, then what could this experience feel like?
I have found the 3 best options for overnight in Yala national park including 3 different price points for all budgets.
They all have an almost identical itinerary which I will outline below but come with a varying degree of accommodation quality and extras. You really just have to click on the 3 options above to compare them and see which one is the best for you.
Overnight Yala Safari Itinerary
Hotel Pick Up – There are a few cities in which pickup is offered. The whole plan is arranged so you are getting to Yala National Park at around 12:30 and your accommodation within the park at around 1 pm. This could be as far away as Colombo or Galle so expect a pick up quite early if you are a long way away.
Arriving At The Accommodation – This will be around 1 pm when you will be given a tour around the area and get comfortable.
Lunch – Before the afternoon game drive, you will be served lunch at the accommodation. This is all-inclusive, including alcohol.
Afternoon Game Drive – This will be your first game drive and will be from around 2:00 pm until 6:00 pm
Evening Meal – At around 6:30 pm you will arrive back at your accommodation and enjoy a brilliant dinner with a campfire under the stars.
Stay Overnight
Second Game Drive – 05:00 am on day 2 you will have breakfast and start your second game driver (or trek, depending on the experience you book). This will vary in length so definitely check out the options above for more details.
Hotel Drop Off – After this (around 12 pm) you will start your journey back to wherever you were picked up from.
Who To Use
The three tours we recommend can be found here.
They have been chosen due to their varying prices so make sure to check out the prices by going through the links above.
---
What You Might See On Yala Safaris
Sri Lankan Leopard
These majestic creatures are almost always at the very top of everyone's wishlist for spotting. They are endemic to Sri Lanka and are one of the rarest big cats in the world because of this.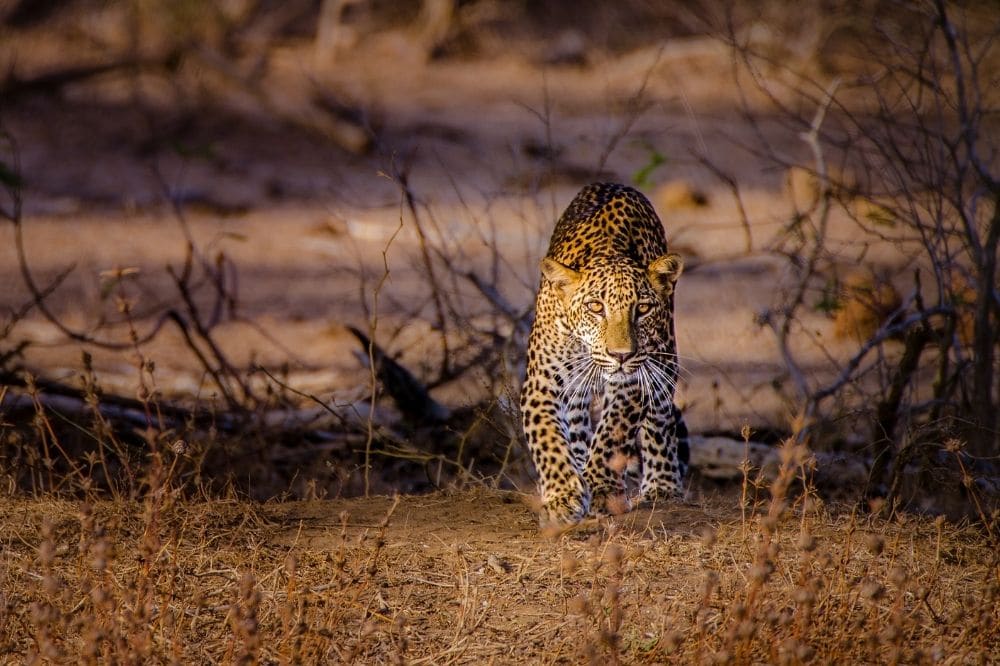 Asian Elephant
There are better national parks to see Asian elephants in Sri Lanka but you have a very good chance of seeing them here on Yala safaris.
Read More: See Even More Elephants On An Udawalawe Safari
Sri Lankan Sloth Bear
The rarest animal in Yala. We managed to see one on our 2nd full-day tour and the driver said it happens less than once a month and he is in the park nearly every single day.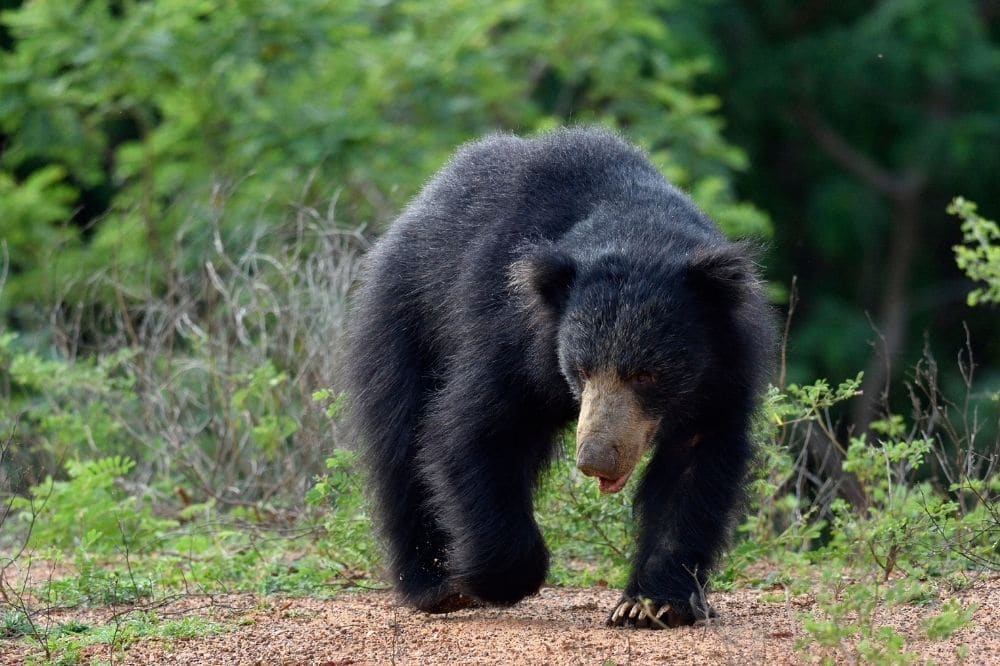 Peacocks
The national bird of Sri Lanka and an animal that is very common in Yala. Try to get a picture of the male's famous feather show!
Water Buffalo
These are everywhere in Yala national park and if you don't see one then you have had your eyes closed. They are so much bigger than I ever realised.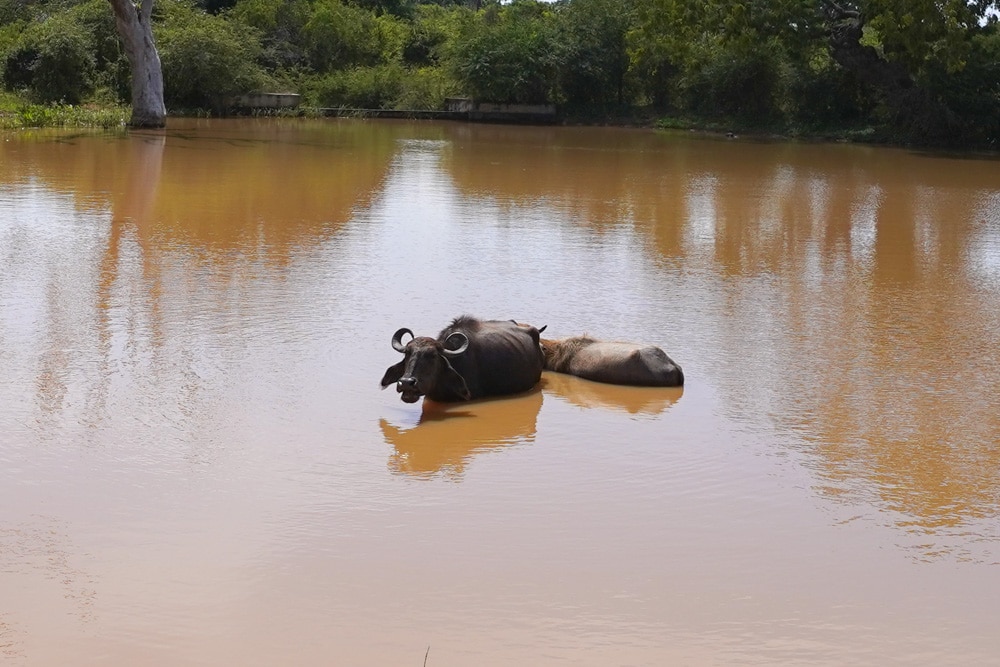 Toque Macaque
As you drive around you may come across a pack of these playful monkeys. If you see one, you'll probably see 50!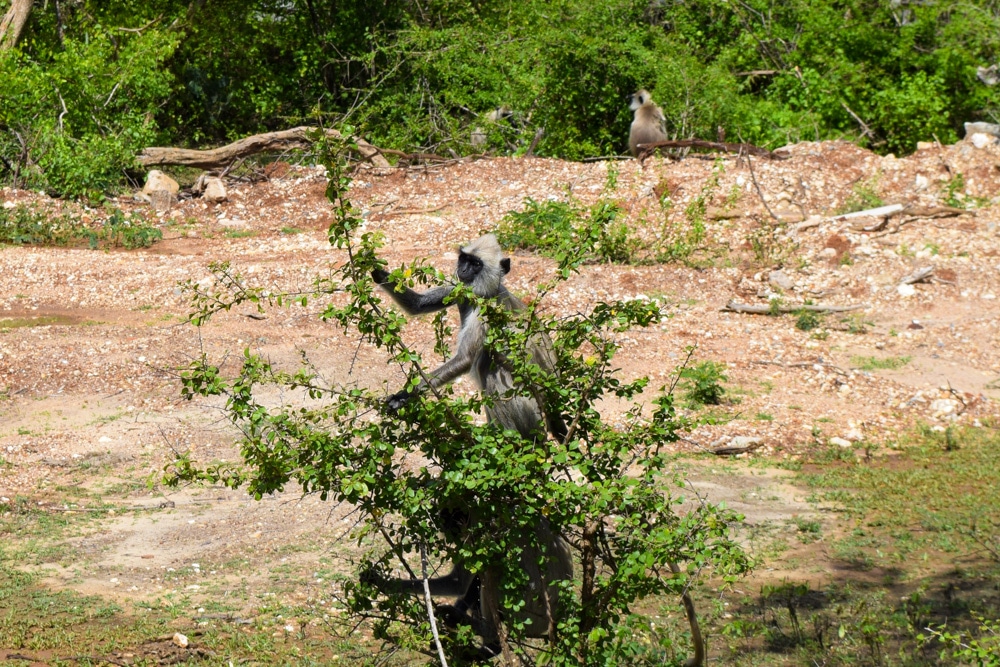 Spotted Dear
There will be very large herds of spotted deer throughout the park. Remember, these are the main source of food for the Sri Lankan leopard so if you can hear warning cries then a leopard is nearby!
Saltwater Crocodile
I am always in awe of these incredible beasts/ You don't realise how big they are until you are up close with one and after that, you don't want to be up close ever again…
---
Where To Stay For Your Yala Safari
I strongly recommend staying in Tissamaharama. This is close to the entrance of the park, all of the tours will provide free pick up from this town and you won't have to get up at an even more ridiculous time to get to the park by 6:00 am.
Read More: Staying In Mirissa During Your Trip? Check Out The Lushest Villas That Mirissa Has To Offer
---
Book your favourite hotel here

Where will you go?
---
The Best Budget Accommodation – Hotel Birds View
Good location, good beds, good breakfast and beautiful location. All for a very affordable price. If you're looking for somewhere to spend the night on a budget then this is definitely the best place in Tissamaharama. Check out availability here.
The Best Resort – Thaulle Resort
If you're looking for some luxury then check out Thaulle Resort. This place has everything. Gorgeous pool, spa, fitness centre, restaurant and more. Going on a full day safari can be tiring, so why not recoup somewhere as peaceful and incredible as here. Check out pictures and costs here.
---
What To Bring On Your Yala Safaris
If you're not really planning on doing any major hiking then we recommend that you check out these AKK walking shoes. There are extremely lightweight, breathable and have memory foam insoles to make them super comfy. Don't make the mistake of spending loads of money on insane walking boots if you don't need to! Check them out here!
If you need protection from the sun then grab a hat before you travel. This Adidas original is affordable, protective and looks the part. Check out the price here.
Don't even think about stepping out in the sun without protection! This factor 50 sun cream from Sunbum is vegan, reef-safe and smells like summer, as well as being dermatologist approved! It's non-greasy, easy to apply and doesn't leave a white cast so you can quickly rub it in and get on with your adventures! Take a look on Amazon here.
Water – The safaris we have recommended all provide water throughout the safari but bring some just in case. If they forget then it could ruin your whole day.
---
Camera Recommendations
If you don't have a camera then I HIGHLY recommend the Panasonic Lumix ZS70K. It is an affordable point-and-shoot camera that can be picked up and used by anyone of any ability. The camera captures gorgeous images and surprisingly excellent video whilst fitting in your pocket. The main difference between this and your phone's camera is that it also has an incredible optical zoom so you won't miss any of the shots you need to take. Check it out here.
If you already have a camera then make sure that you keep your shutter speed at least 1/1000 throughout the trip, especially when you are zoomed in. Animals can be unpredictable and fast. You don't want blurry images ruining your memories.
---
History And Conservation At Yala National Park
Yala national park became protected in 1938 and has only grown in size since then. However, it has had a rich history many years before this time. Check out the wiki if you're interested in reading up a bit more.
Conservation is ongoing at Yala national park but they face difficult challenges in some of the outer blocks where uncontrolled tourism, encroaching agriculture and poaching all pose issues.
If you're interested in conservation then check out the official Sri Lankan conservation page.
---
Frequently Asked Questions
Are Yala Safaris Worth It?
In my opinion, this is the best thing to do in all of Sri Lanka. So yes…
What Yala Safaris Are Available?
Morning, evening and full-day tours are available. The best option for most is the full-day tour.
How Long Are Yala Safaris?
They range from 5 hours to 12 hours with options in between these durations.
Can I Stay Overnight In Yala National Park?
Yes! This is one of the best activities you can do at Yala National Park
What Is The Best Way To Explore Yala National Park?
A full day 12-hour safari coupled with an overnight stay at one of the safari accommodations. I cannot think of a better and more comprehensive way to experience this incredible place.
---
So that's it! Everything you need to know about all of the Yala safaris. If this guide was helpful or you have anything to add then please let us know in the comments section below!
---