There are some fantastic destinations to travel in April – all of them special for their own reasons. Whether you're looking for some relaxing beach time, or you're a history buff looking to explore an ancient city, April is a great time of year to travel.
Some of the many great places to travelin April have great weather, and others are in their low season so prices are more competitive. Planning to travel in April is a great idea, so here are some perfect places to visit this month!
Istanbul – Compass and Fork
Tulips, smaller crowds and fantastic weather are three great reasons to visit Istanbul in April.  Istanbul can be hot and crowded in the summer, so generally March – May is considered a good time to visit.  April brings sunny weather and warm days, perfect for sightseeing, and it is before things get busy.  Attractions are less crowded, lines are shorter and prices are cheaper.
While the Netherlands is known for its tulips in the Spring, don't be fooled, Turkey is the home of tulips and the International Tulip Festival held each year in April sees Istanbul transformed with tulips.  They are everywhere- at all the monuments and palaces, in medians on the roads, and in all the public parks.
Make sure to visit Emirgan Korus, a local park, with the most amazing display of tulips I have ever seen! (And you can visit the nearby Tulip Museum as well.)
See more from Compass and Fork on Instagram and Twitter!
Check out the best hotel deals in Istanbul at HotelsCombined or Booking.com!
Find fun things to do in Istanbul!
---
Taiwan – Second Half Travels
One of the best months to visit Taiwan is April. In late spring, the weather is pleasantly warm without the oppressive heat and humidity of Taiwanese summer.
Try to travel in April at the beginning of the month, as rainfall picks up towards the end with the approach of the monsoon. As spring temperatures rise, mountainsides and lowlands burst into bloom, and you can enjoy colorful blossoms at a variety of flower festivals.
One of world's greatest religious festivals usually takes place in Taiwan in April. This extraordinary folk tradition celebrates the birthday of the beloved sea goddess Mazu.
During a nine-day multi-city pilgrimage, an image of the deity is paraded from her home in Taichung to visit smaller branch temples. Millions of devotees pay homage to the goddess in a lavish celebration featuring an incredible variety of cultural performances. Being Taiwan, food plays an essential role in the festivities, and benevolent locals provide a constant stream of free snacks to refuel pilgrims and spectators alike.
See more from Second Half Travels on Facebook!
Check out the best hotel deals in Taiwan at HotelsCombined or Booking.com!
Find fun things to do in Taiwan!
---
Tokyo – The Travel Sisters
Tokyo is a great destination any time of the year, but I think that April is the best time to visit Tokyo thanks to the pleasant weather and Japan's celebrated cherry blossoms. During the winter, Tokyo can be cold but by April the temperature starts to warm up, making it easier and more enjoyable to walk around and enjoy everything that Tokyo has to offer.
Highlights include Shibuya Crossing (the world's largest and most famous intersection), the fish market with its famous tuna auction and people watching at Yoyogi Park and the surrounding Harajuku area.
For a few weeks in the spring, Tokyo parks, gardens and riverbanks are overtaken by delicate pink flowers and visitors keen on indulging in some cherry blossom viewing (hanami). The cherry blossoms are fleeting and last less than a few weeks – they are usually in full bloom in Tokyo in early April.
Hanami can involve anything from relaxing or having a leisurely picnic in a park (two of the best parks in Tokyo for cherry blossom viewing are Ueno Park and Shinjuku Gyoen National Garden) to a sake-fueled party underneath the blossoms.
See more from The Travel Sisters on Twitter and Facebook!
Check out the best hotel deals in Tokyo at HotelsCombined or Booking.com!
Find fun things to do in Tokyo!
---
Though you could visit the Netherlands any time of year, I'd recommend that you travel in April. Not only can you see all the sights that make the Netherlands famous – the canals of Amsterdam, the windmills at Nieuwe Schans, and so on – but April is when the tulips are at their glorious peak.
In April, you'll see tulips everywhere you go, but the epicenter of tulip tourism is Keukenhof in Lisse. Keukenhof is a flower exhibition, but that doesn't fully express its scale.
Thirty-two hectares of land is filled with ornate flowerbeds holding a mind-boggling array of tulips (7 million tulips of 800 varieties!) and other bulb flower varieties. Don't miss it.
If you can, extend your visit to Keukenhof by renting bikes and exploring the countryside around Lisse. That's where the tulip industry is concentrated, and the brightly colored fields are magnificent.
If you still haven't had enough of spring flowers, check out Giethoorn, in the middle of the country. This village is laced with small canals lined with picturesque thatched homes.
You can admire their lovely gardens as you pass by on an electric-powered rental boat. Be sure to take rain gear, though: you can never count on the sun in the Netherlands!
See more from Rachel's Ruminations on Instagram and Facebook!
Check out the best hotel deals in the Netherlands at HotelsCombined or Booking.com!
Find fun things to do in the Netherlands!
---
Venice is a dreamy magical city! We went there in 2017 and I am still enchanted by the beauty of this picturesque city! My favourite month in Venice is April. That's when there are fewer tourists, the weather is cool and you get everything cheaper! Although it can still be cold at night, spring makes itself felt with blooming flowers in gardens and a good chance of sunshine.
Visit Teatro La Fenice and watch the opera, enjoy a cuddlesome gondola ride and share a mouth-watering gelato in Venice. You can also take a wine tour, or take an early morning walk and just soak in the beauty of this extraordinary place.
See more from Travelogue Connect on Instagram and Facebook!
Check out the best hotel deals in Venice at HotelsCombined or Booking.com!
Find fun things to do in Venice!
---
Costa Brava – With Husband in Tow
The Costa Brava includes the stretch of coastline that runs along the Mediterranean, from just north of Barcelona, all the way to the Catalan Pyrenees. It is anchored by the city of Girona, but along with the series of coastal towns and villages, is one of the top gastronomy corners of Europe.
Although the Costa Brava can be packed in the summer months, the spring is an ideal time to visit. Crystal clear blue skies, warm sun in the afternoons, and temperamental spring winds from the north show off the rugged nature of the Costa Brava.
As the region warms in spring, the flowers bloom, including the red poppies and yellow wildflowers that grace roadsides around the region.
And, for food travelers to the Costa Brava, it's a perfect place to travel in April. There are a series of gastronomy campaigns and festivals in April. These include Sopars Maridats, where top restaurants and DO Emporda wineries offer pairing dinners.
Girona also hosts a 10 day Girona Gastronomy week to promote local cuisine and Catalan products. And, L'Escala celebrates Suquet, a traditional seafood stew. The DO Emporda wineries start to bottle their latest vintage, and tours to the vineyards show the first signs of grapes blooming on the vine.
See more from With Husband in Tow on Instagram and Facebook!
Check out the best hotel deals in Costa Brava at HotelsCombined or Booking.com!
Find fun things to do in Costa Brava!
---
Nusa Penida – Cycloscope
Nusa Penida is among our favorite places on earth. Here the Balinese culture is more authentic, visiting this island will get you an idea of how Bali probably looked like 40 years ago.
Besides this compelling cultural aspect, Nusa Penida is also a marvel of nature, with its dramatic cliffs, crystal clear water, white sand beaches, and unique landscape.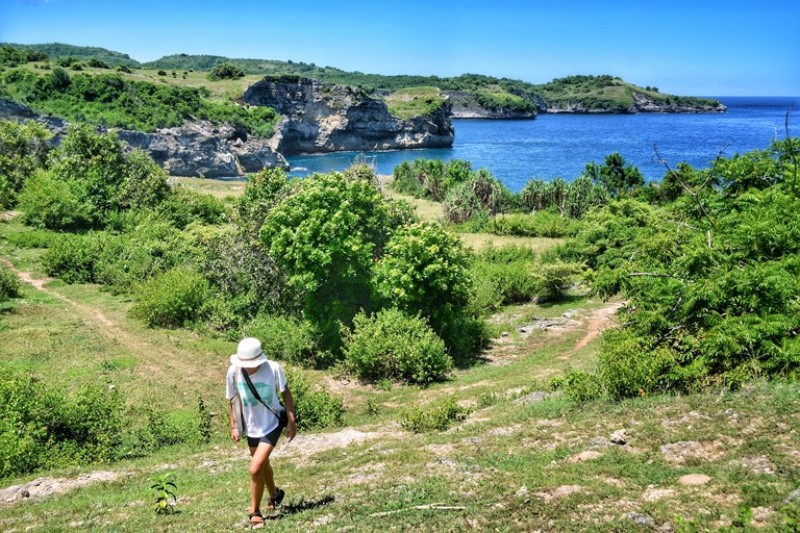 Nusa Penida is a great place to travel in April, water temperature is at its warmest point and rain is scarce. Even though the driest period is summer (July, August), April has the huge advantage of being off-the-peak-season, meaning fewer tourists, and cheaper prices.
See more from Cycloscope on Instagram and Facebook!
Check out the best hotel deals in Nusa Penida at HotelsCombined or Booking.com!
Find fun things to do in Nusa Penida!
---
Tel Aviv – My Adventures Across The World
Tel Aviv is a fantastic city to visit in any season, really. So full of life, friendly, with so many things to do, great bars, restaurants, clubs: it's easy to fall in love with it.
Spring is the best season to visit Tel Aviv, and April is a perfect month.
That's when the city is in full bloom; days are finally getting longer, and there's more time to enjoy the city parks, the beaches, and the sights scattered around town.
The weather is perfect: warm enough to go to the beach, get in the water and catch some waves, yet not nearly as hot as it gets in the summer time, when it's virtually unbearable to stay outside.
Locals love to keep themselves active, and they can regularly be spotted biking, skating or running on the waterfront, or engaging in endless beach volley or matkot (a paddle ball game).
Families take their children and their dogs for walks in one of the many city parks. Cafés are full of people enjoying a cold drink. And right before sunset, they all get closer to Jaffa, to admire the sun going down and listen to the Muezzin calling to prayer. It's simply a fabulous city.
See more from My Adventures Across The World on Instagram and Facebook!
Check out the best hotel deals in Tel Aviv at HotelsCombined or Booking.com!
Find fun things to do in Tel Aviv!
---
At the mouth of the Douro estuary sits Portugal's second city, Porto, as the gatekeeper to this famous wine growing region. As spring starts to spread it's warmth over the vines in the valley, Porto flings open its doors, sets up its pavement cafes and is ready once more for the summer's visitors.
On the Cais Ribeira, grab a table in one of the many riverside restaurants and sample Portugal's famous gastronomy and wines.
Street musicians play and the world wanders by. Porto has a relaxed, shabby chic vibe. Its' a compact city that you can easily navigate on foot, by tram, cable car or even tuk tuk. Fabulous views from the Dom Louis Bridge show a city that has shed its winter layers and is ready to grab a glass and party. Authentic markets, museums, art, culture and a UNESCO world heritage historic quarter are all waiting to be explored.
As April warms up, you can catch a vintage tram from Porto to the seaside village of Foz for a paddle in the sea and to enjoy the beachside cafés. As they say in Porto when they're enjoying a glass of port 'saude', cheers, to April in Porto.
See more from Where Jo Goes on Twitter and Facebook!
Check out the best hotel deals in Porto at HotelsCombined or Booking.com!
Find fun things to do in Porto!
---
Rome – Got My Backpack
Rome remains a beautiful destination all year round, but I can highly recommend travelling in April as the spring weather takes hold and the city celebrates the Easter holidays and its birthday.
The Italian capital is a unique European city, with ancient ruins at its heart giving a fantastic insight into the past. Top attractions include the infamous Colosseum, the Roman Forum and the Vatican.
During Easter, Italians and pilgrims from around the world flock to the capital for celebrations. Don't miss the 'Via Crucis' or 'Way of the Cross', a torchlight procession on Good Friday lead by the Pope from the Colosseum to Palatine Hill.
Also in April is Natale di Roma – the birth date of Rome (April 21st). You can expect parades, fireworks and free entry to museums across the city. It is only on this day that a unique occurrence can be observed at the Panethon as the midday sun aligns with the opening in the roof to fill the courtyard with light.
Top Tip: It can get busy during the April celebrations so be sure to check attraction opening times and try booking in advance to secure queue jump.
See more from Got My Backpack on the blog and Instagram!
Check out the best hotel deals in Rome at HotelsCombined or Booking.com!
Find fun things to do in Rome!
---
Australia's Red Centre is unlike anywhere else in the world; surrounded by vast outback, enormous monoliths and incredible landscapes.
Visiting this part of Australia is something everyone must experience in their lifetime, and in my personal opinion, April is very the best month to do so! At this time of year, the scorching summer heat is slowly coming to an end – days are cooler, mornings are fresh and rain isn't overly frequent.
Although this is a very popular destination throughout all months, crowds certainly aren't as busy during this time as it's the very start of the shoulder season… Activities aren't as hard to book which is, of course, an added bonus!
Not to mention that strolling around Uluru and Kata Tjuta is much more pleasant in the milder conditions; when the temperatures are low but the skies are still beautiful and clear. Wake up early for a beautiful pastel sunrise, and settle down in the evening at the sight of some of the world's most magical sunsets.
Can it get any better? I certainly think not!
See more from Travel For Difference on Facebook and Instagram!
Check out the best hotel deals in the Red Centre at HotelsCombined or Booking.com!
Find fun things to do in the Red Centre!
---
As April approaches, everyone is in need of a holiday, one that is care free and fun filled. Look no further than Hawaii. With six main islands, there is something in Hawaii for everyone. Besides, who doesn't love a good tan in April! During this month, you should expect little rainfall with temperatures ranging from 21ºC (69ºF) to 28ºC (83ºF).
If you want shopping, surfing, restaurants and bars, then Oahu is your island. If you want adventure and incredible landscapes, then Kauai is your island. Then there is Maui, which is a mix between Oahu and Kauai.
Last but not least, if you want a beach, then take your pick as all of the islands guarantee pristine sandy beaches and crystal clear water! There are also a few less-known islands that are worth exploring if you have the time.
What is attractive about Hawaii also, is that you could easily visit for 5 days or spend a couple of weeks there. It is also a destination that you could return to multiple times due to its laid back nature.
See more from The Adventures of Kate and Olly on Pinterest and Instagram!
Check out the best hotel deals in Hawaii at HotelsCombined or Booking.com!
Find fun things to do in Hawaii!
---
Armenia – Kami and the Rest of the World
One of the places I enjoy visiting in April is Yerevan, the capital of Armenia. I've already been there three times at this time of the year (and five times in total) and this April will be no different. Yerevan is one of my favourite cities ever – but it's definitely interesting and has this undeniable charm that makes me return there on every occasion.
In April the weather is already good but not too hot (which might be an issue in the summer time), everything starts to bloom and outdoor cafes open up their premises for those seeking relax in the sunshine.
The chances you will see the iconic Mount Ararat – the holy place for the Armenians – are very high in that month. April is also a special time of the year for Armenians – 24th of April is known as the Armenian Genocide Remembrance Day.
On that day thousands of people walk to Tsitsernakaberd – the Genocide Memorial – to lay flowers at the eternal flame and commemorate those who lost their lives over 100 years ago.
I definitely recommend being in Yerevan around 24th of April, take part in the commemoration events and feel the special atmosphere created by the Armenians.
See more from Kami and the Rest of the World on Facebook and Twitter!
Check out the best hotel deals in Armenia at HotelsCombined or Booking.com!
Find fun things to do in Armenia!
---
Peru – My Walk In The World
Travelling in any country during the rainy season can prove to be difficult. Since the wet season occurs between December and March in Peru, April is a great time to visit.
Although Machu Picchu can be a challenge throughout the year due to its altitude, you will have better visibility during the dry season. If you decide to hike the Inca Trail, consider doing so between the months of April to October.
In addition to this wonder of the world, Peru offers valleys of ancient ruins, deep canyons, dazzling lakes and even sand dunes! The second deepest canyon in the world, Canon del Colca, is home to the giant Andean condor which is known to be one of the largest flying birds in the world.
Just hours from Colca Canyon is the highest freshwater lake, Lake Titicaca. Here, you can find the Uros people who live entirely on self-made floating islands! Whether you love the outdoors, natural wonders or culture, Peru is the ultimate destination to visit in April.
See more from My Walk In The World on the blog and on Instagram!
Check out the best hotels in Peru on HotelsCombined or Booking.com !
Find fun things to do in Peru!
---
Are you planning to travel in April? Check out the blogs we featured for more information on these amazing destinations!